Dubai weather and climate as a magnet attract millions of tourists. I can confidently say that the city's climate is one of the most exciting aspects of staying and living here. Dubai is known for its hot weather, but there's so much more to the climate than just the heat. This urban oasis is located between the desert and the Arabian Gulf. Its warm weather, crystal-clear seawater and lots of sunshine are the perfect ingredients to help you rejuvenate and recharge. In this article, you will learn all you need to know about Dubai's climate and weather by month, from the temperature and seasons specifics to the best time to visit and popular things to do during each season.
What is the weather like in Dubai
Dubai is located in the Arabian Desert, which means that it has a hot and arid climate. The city experiences very little rainfall throughout the year, with an average of 100 mm of rain annually. This makes it one of the driest cities in the world. For tourists, it is ideal because they can enjoy the sunshine and participate in outdoor activities, which are in great abundance here. Using a smart irrigation system, the local government ensures that the city stays green throughout the seasons, and you will find many lush parks and lawns.
Even though the temperature ranges extremely per season, with highs of up to 50°C during the summer months and lows of around 14°C during the winter, the average annual temperature in Dubai is about 30°C. This is very comfortable for exploring many Dubai's attractions, water sports, swimming, cruises, desert safaris and other activities.
The humidity levels in Dubai can be quite high in summer due to its proximity to the sea, with an average of around 60-70% throughout the year.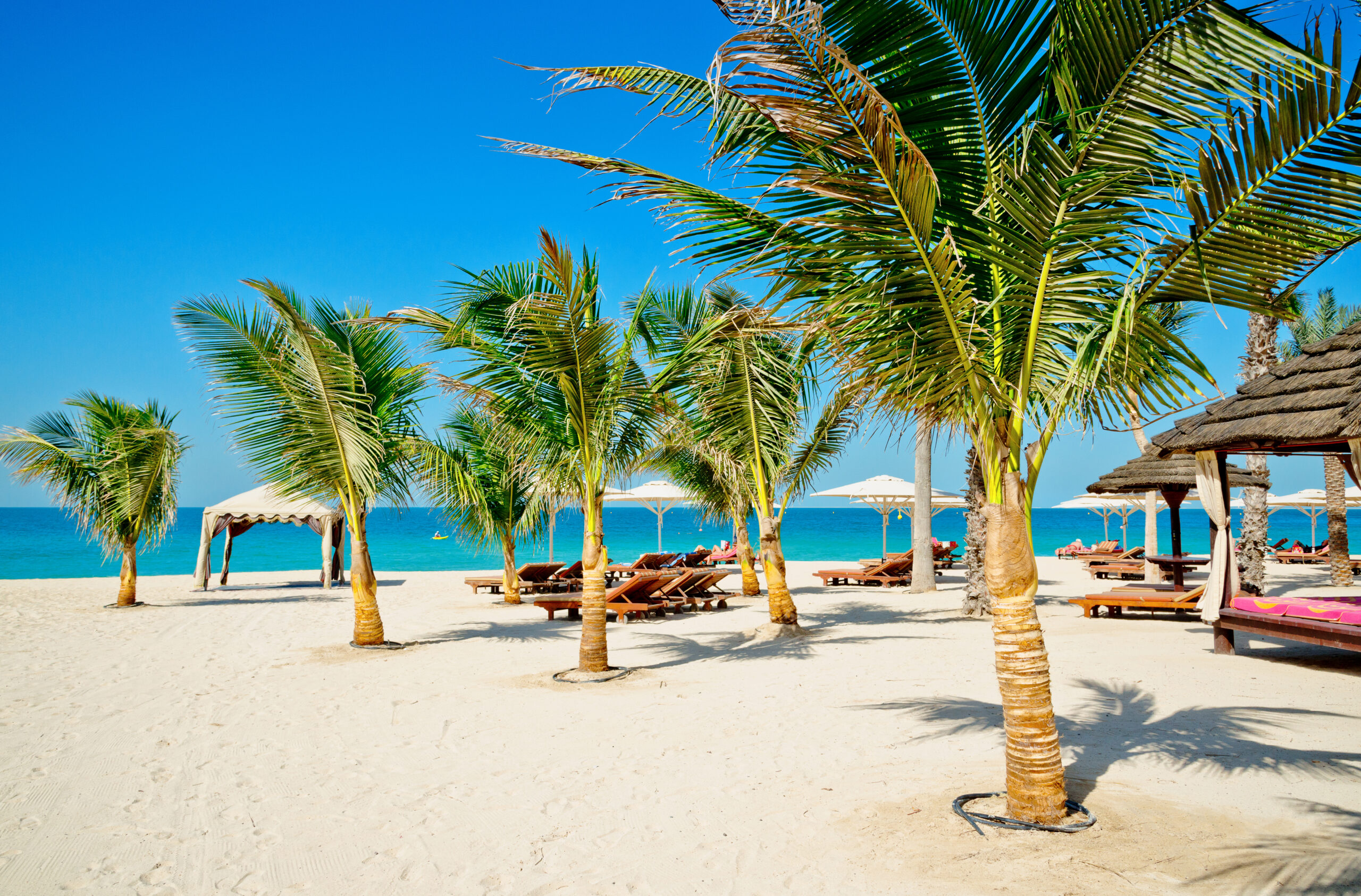 Dubai weather today
Are you interested to know the current temperature in Dubai? Check the Dubai weather forecast to the right of this article in the desktop version or below the article if you are using a smartphone. The helpful widget shows details, such as the temperature, wind and humidity in Dubai now, as well as the weather forecast for the coming three days.
Understanding the seasons in Dubai
Later, I will talk about spring, summer, autumn and winter, but many say that Dubai actually has two main seasons: summer and winter. The summer season runs from May to September, while the winter season runs from October to April. However, it's worth noting that the seasons in Dubai are not as distinct as in some other parts of the world with a more moderate climate.
Spring weather in Dubai
Spring in Dubai is a great time to visit, as the weather is warm but not too hot. Temperatures during this season usually range around 20-30°C. The humidity levels are also relatively low during spring, which makes it a comfortable time to be outside.
March brings heavenly weather for beachgoers, with the water temperatures rising to 24°C. You can easily get a bronze tan in the afternoon and enjoy a pleasant breeze at night. In April, the day temperature often stays around 30°C. It will be a brilliant idea to escape to Dubai to get your dose of vitamin D if the weather is still cool in your region.
Many tourists also choose to spend the May holidays in Dubai. The water temperature is very comfortable, and the air temperature fluctuates between 25 and 35°C. If you decide to come, plan your trip in advance, as this is the last month before the hot summer, and hotel rooms will be limited.
Dubai weather in March
Air temperature: 16°C to 28°C
Sea temperature: 22°C
Dubai weather in April
Air temperature: 17°C to 33°C
Sea temperature: 25°C
Dubai weather in May
Air temperature: 25°C to 37°C
Sea temperature: 28°C
Summer weather in Dubai
Summer in Dubai is notoriously hot, with temperatures often reaching 50°C during the day. The humidity levels are also very high during this season, making it feel even hotter. If you do not like extreme heat or have health issues, I'd recommend coming in a different season. The weather can be very uncomfortable, affecting the whole experience.
If you're planning to visit Dubai during the summer months, it's important to stay hydrated and avoid spending too much time outside during the hottest part of the day. Also, remember to bring light clothes made from natural fabrics. A big plus of the summer period is that there will be fewer tourists, meaning that hotel and flight prices will be lower. In July and August, temperatures stay on average around 35°C, but can easily rise to 50°C during a heat wave.
Dubai weather in June
Air temperature: 27°C to 40°C
Sea temperature: 30°C
Dubai weather in July
Air temperature: 29°C to 41°C
Sea temperature: 32°C
Dubai weather in August
Air temperature: 29°C to 41°C
Sea temperature: 33°C
Autumn weather in Dubai
Autumn in Dubai is a transitional season, with temperatures starting to cool down from the extreme heat of the summer. The weather during this period can be quite pleasant, with average temperatures ranging from 25 to 35°C. It's a great time to be outside and enjoy all that Dubai has to offer.
In September, the heat gradually subsides, and tourists return to Dubai. The air temperature will still be above 30°C, but you will find the escape in the sea and pools equipped with a cooling system. October and November are great months to come to Dubai to escape the autumn blues! The sea temperature around 25-27°C is ideal for swimmers, and the air temperature is also lovely.
Dubai weather in September
Air temperature: 25°C to 38°C
Sea temperature: 32°C
Dubai weather in October
Air temperature: 20°C to 35°C
Sea temperature: 29°C
Dubai weather in November
Air temperature: 17°C to 30°C
Sea temperature: 27°C
Winter weather in Dubai
Winter in Dubai is the most comfortable time of year, with average temperatures ranging from 16 to 25°C. The humidity levels are also quite low during this season, making it a popular time for outdoor activities such as cycling, walking and going on a safari. However, be prepared that the weather can sometimes be quite unstable, with occasional sandstorms and rainfalls.
If you are going to Dubai in winter, I advise you to take light and warm clothes with you. During the day, swimwear for the beach or the pool will suffice, but in the evening, you may need a sweater or light jacket. The Dubai sea temperature ranges from 18 to 24°C, but if it seems cold, many Dubai hotels can offer you heated pools.
Heavy rainfall can happen in January and February, but to keep up the spirits, there are so many indoor activities and attractions. For example, visit many of the city's luxurious malls like the Dubai Mall and museums, including the Museum of the Future.
Dubai weather in December
Air temperature: 14°C to 25°C
Sea temperature: 23°C
Dubai weather in January
Air temperature: 13°C to 23°C
Sea temperature: 21°C
Dubai weather in February
Air temperature: 13°C to 25°C
Sea temperature: 20°C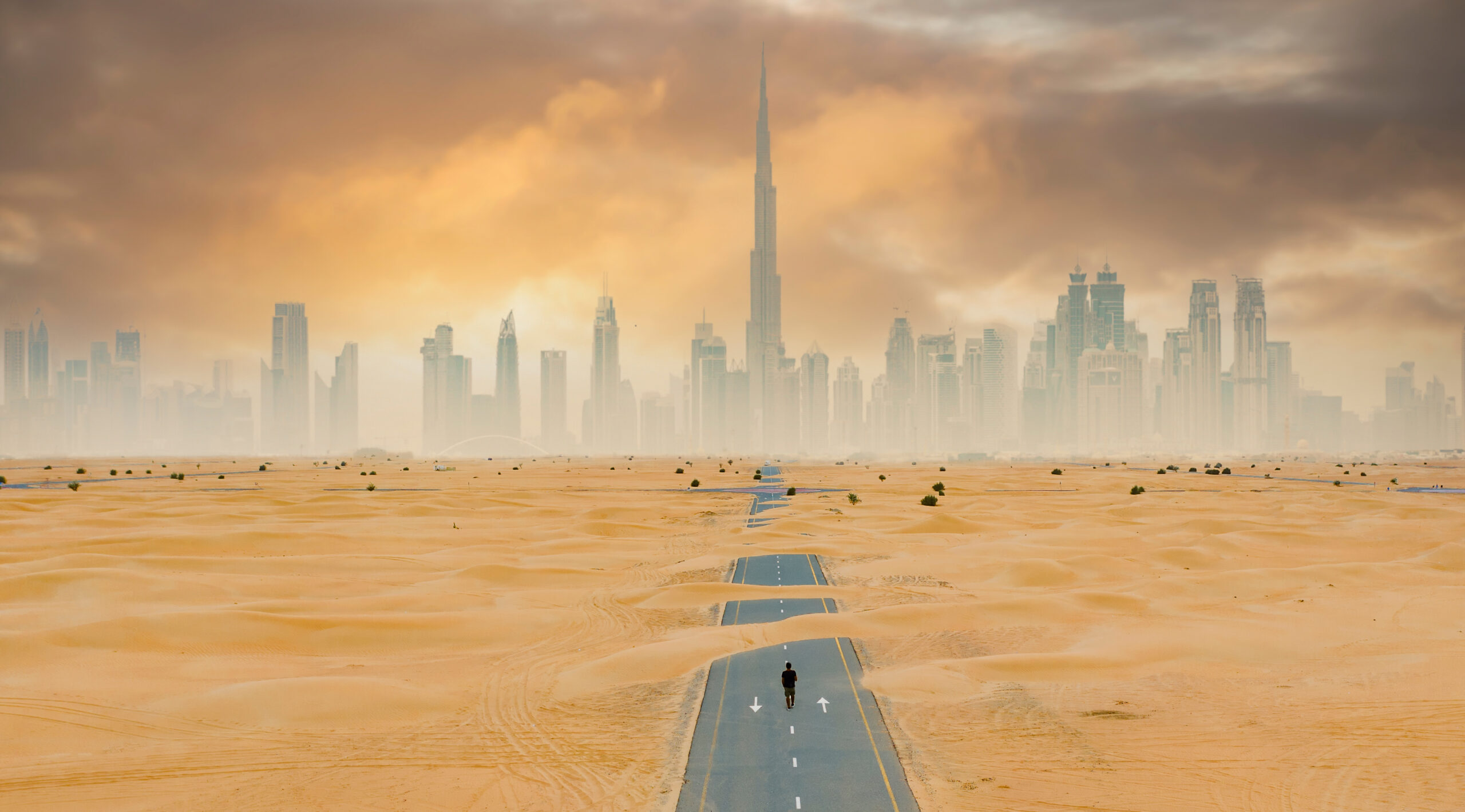 What are the hottest and coldest months in Dubai
What is the maximum temperature in Dubai? The hottest months in Dubai are July and August, with temperatures reaching up to 50°C. The coldest months are January and February, with average low temperatures going down to 14°C.
When is the rainy season in Dubai
Does it often rain in Dubai? Well, Dubai doesn't really have a rainy season, as rainfall is quite rare throughout the year. However, if you do happen to visit during the winter months, you may experience some rain, which is also related to cloud seeding operations in the UAE. February is the wettest of all winter months. I recommend bringing an umbrella and a light (rain)jacket.
In case of showers, they can often be quite heavy and cause flooding in some areas. Due to Dubai's climate specifics and construction speed, many buildings are not particularly rainfall-proof, so rain leaks are possible (even in 5-star hotels). Fog is also quite common during the winter months, especially in the early morning.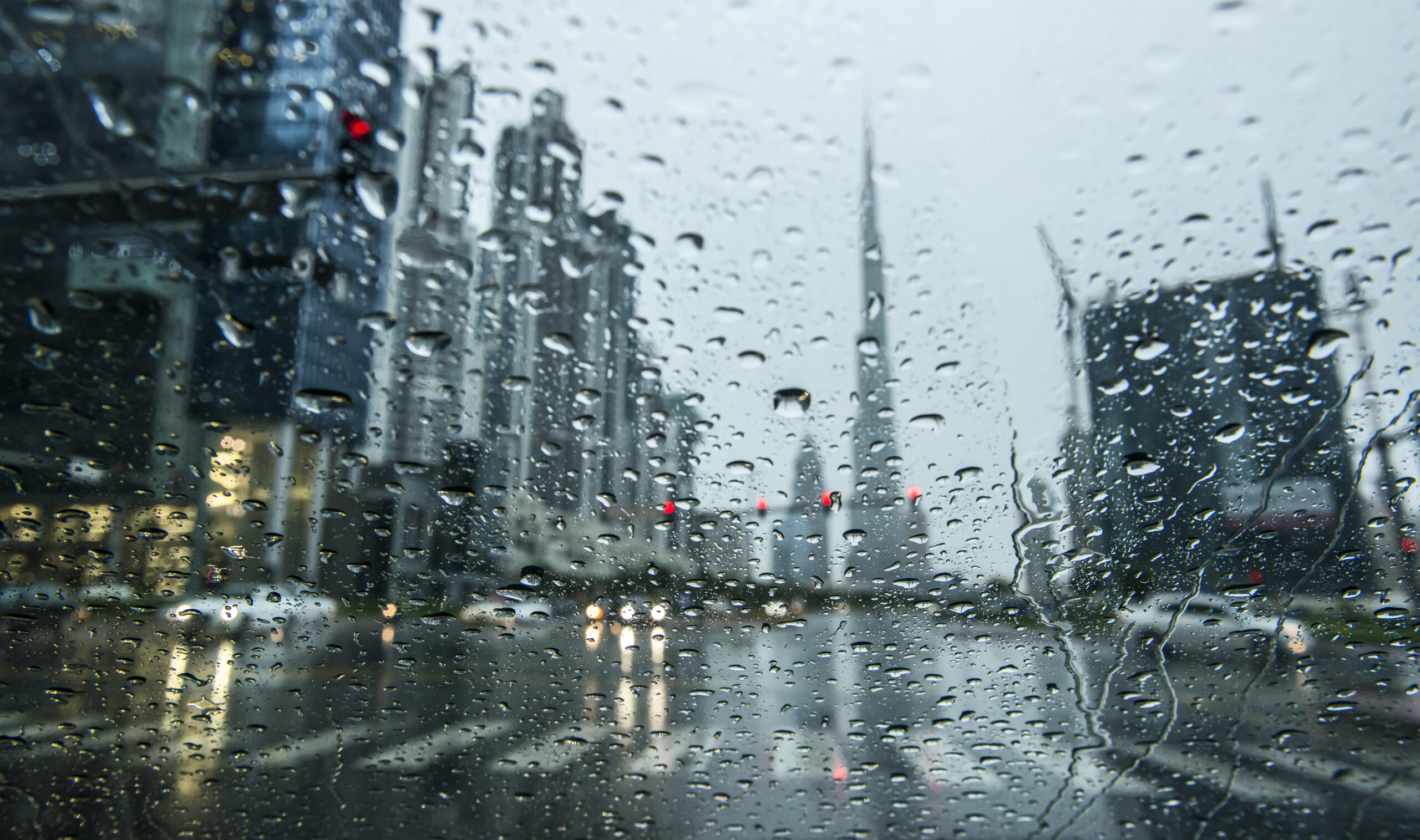 What is Dubai's seawater temperature
If you are fond of swimming, it's good to know that Dubai's sea temperature is quite warm throughout the year, with average temperatures ranging around 25-30°C. This makes it a great destination for water sports such as swimming, snorkelling and diving. In winter seawater in Dubai cools down to 20°C, and if it is too cold for you, I recommend using the pools, many of which are heated.
What is the best time to visit Dubai
The best time to go to Dubai really depends on what you're looking for. If you want to enjoy outdoor activities and take advantage of the city's beaches, then October to April are the best months to visit Dubai. You can enjoy outdoor things to do such as aqua activities, cycling, boat cruises, safari and visiting many lush parks. Keep in mind, that this period coincides with a high season, so the accommodation and flight prices will be more expensive.
Winter months are particularly attractive due to the city's busy cultural and entertainment agenda. During this season, you can visit, among other things, the Dubai Shopping Festival, the Art Dubai Fair, the Dubai International Boat Show and a couple of cycling races.
However, if you're looking for a more affordable trip to Dubai, then visiting during the summer months can be a good option. Hotels and flights will be much cheaper compared to a high season, but the weather can be rather uncomfortable for some. During the summer months, you can take advantage of the city's air-conditioned indoor attractions, such as shopping malls, theme parks and museums or visit one of the water parks. Remember that certain activities close for the summer month, including Dubai Miracle Garden and Dubai Global Village.
Dubai weather and climate are truly unique, and experiencing them is a must for anyone who loves sun, sand, sea and adventure. Whether you're planning to visit during the winter months or the height of summer, there's always something to see and do in this vibrant and exciting city. Book your trip to Dubai today and discover the wonders of this incredible destination for yourself.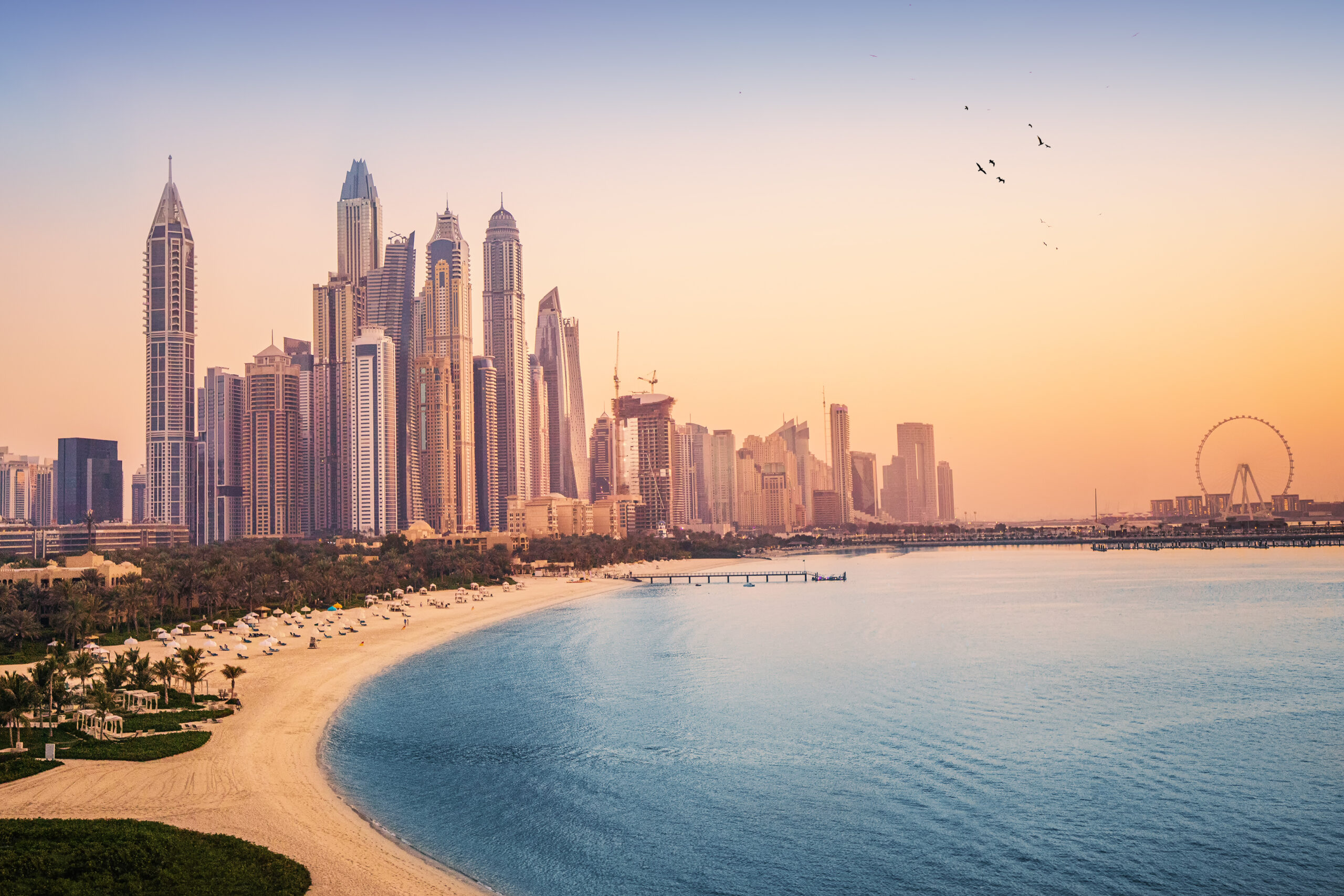 What to pack to prepare for Dubai's climate
If you're planning to visit Dubai, it's important to pack accordingly.
Summer: During the summer months, make sure to bring light, breathable clothing, a hat, swimwear and plenty of sunscreen.
Winter: During the winter months, bring all of the above and layers as the temperature can drop quite significantly at night. Taking an umbrella and a scarf to protect you from rain and sandstorm (if you want to visit the desert) might also be a good idea.
And no matter what time of year you visit, make sure to stay hydrated and avoid spending too much time outside during the hottest part of the day.
Ready to experience the wonders of Dubai's climate for yourself? Book your trip today and discover all what this incredible city has to offer!
Prepare for your Dubai trip
Did you find this post helpful? Then click that little heart below and share it with your friends and family. Have fun in Dubai!