Bike rental in Dubai will help to explore one of the most popular tourist destinations in the world in a healthy and budget-friendly manner. With its endless stretches of sandy beaches, crystal-clear waters and fascinating urban landscapes, it's no wonder that cycling is becoming increasingly popular in the city. And with good reason – cycling is a great way to get around and see all of Dubai's stunning attractions.
Many rental shops in Dubai offer both regular bikes and electric bikes. With these bicycles, you can easily discover the city and save on transportation costs. Not to mention, cycling is a great way to stay healthy and fit. Let's deep dive and find out more about popular bicycle rentals in Dubai, bike rental prices and best places to go pedalling in Dubai.
Can I cycle in Dubai
Absolutely. Dubai might be more known for its highways and supercars, but you will be surprised to see how many cycling paths and tracks there are in the city.
The local government is increasingly investing in infrastructure for cyclists, creating more dedicated lanes, areas and bike rental points. There is even a new futuristic plan for the coming years to develop The Loop, a 93-kilometre climate-controlled cycling route that will use only renewable energy.
What is the best season and time to cycle in Dubai
When you decide to rent a bike in Dubai, it is always a good idea to see if it's the right season. It hardly ever rains in the city, but the desert sun can make your adventure quite uncomfortable at certain times.
Biking in Dubai is ideal in cooler months, from October till April. In hot summer months, temperatures can easily rise to 45° C (113 °F) or even higher, making your journey quite unpleasant. To enjoy your ride, go pedalling either in the morning or later in the afternoon, and don't forget to apply sunscreen and take enough water with you.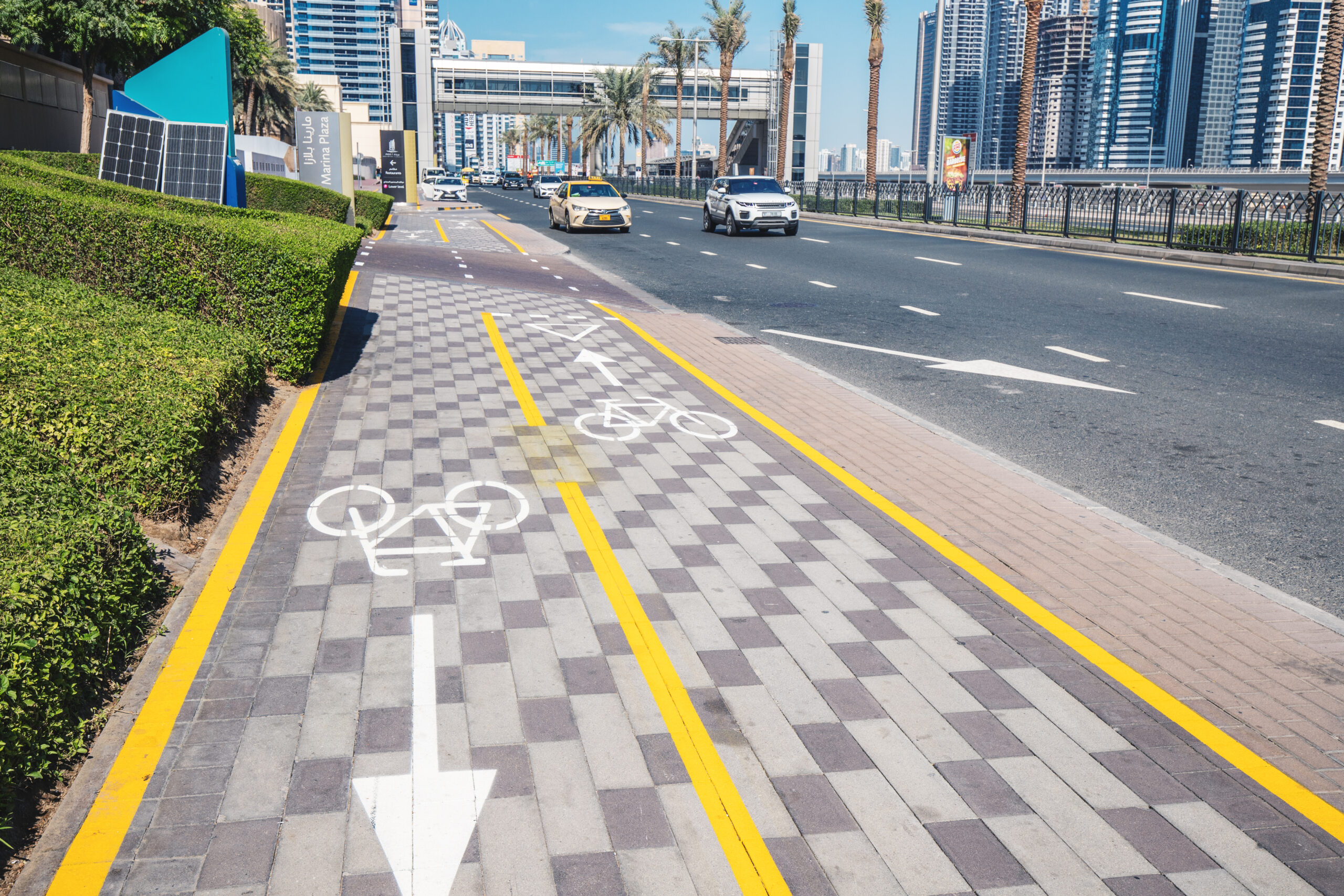 What bicycle types can I rent in Dubai
You can rent several bike types in Dubai, including city bikes, mountain bikes, road bikes or racing bikes, hybrids, e-bikes and even kids bikes. You can find plenty of rental shops or stations across the city, but the offer may vary.
You can rent a city bike for a relaxing journey to take in the views and make stops for pictures. If you're interested in exploring the cityscape, a road bike is also an excellent option. These bikes are comfortable and fast. Such racing bikes are ideal for speed lovers and can be used on multiple city tracks.
If you're looking for an adrenaline rush, mountain bikes are perfect for you to use outside Dubai. They have wide tires that provide stability on uneven surfaces, and they're easy to ride even if you're not experienced. Hybrid bicycles are great for leisurely rides or light trail exploration.
How much is bike rental in Dubai
Are you interested in bike rental prices in Dubai? If you want to rent a bicycle in Dubai, you can expect to pay, on average, the following:
City bikes: AED 20-50 per day
Junior bikes: AED 60-80 per day
Berg family bike: AED 70 (45 minutes)
E-bikes: AED 100-200 per day
Road bikes: AED 150-300 per day
Mountain bikes: AED 150-200 per day
Depending on the rental company, there are many Dubai bike rental packages to choose from, including 45 minutes, 1 day, a week, a month and even a year. You can see more details below. Besides, many add-ons are available. For instance, you can rent a helmet for about AED 50 per day.
Where to rent a bike in Dubai
Whether you are looking for Dubai road bike rentals, mountain bike rentals, e-bike rentals or regular city bike rentals, there are plenty of stations, service points and shops to choose from. If renting from a shop, do not forget to bring your ID. Check out the best options below if you want to rent a bike in Dubai.
Careem Bike Dubai
In 2019, Dubai's Roads and Transport Authority (RTA) and Careem started a new bike rental project. Their ambitious plan includes launching 350 automatic rental stations and a fleet of 3,500 bicycles, many of which are already in use. These bikes are painted blue or green and have a Careem Bike logo.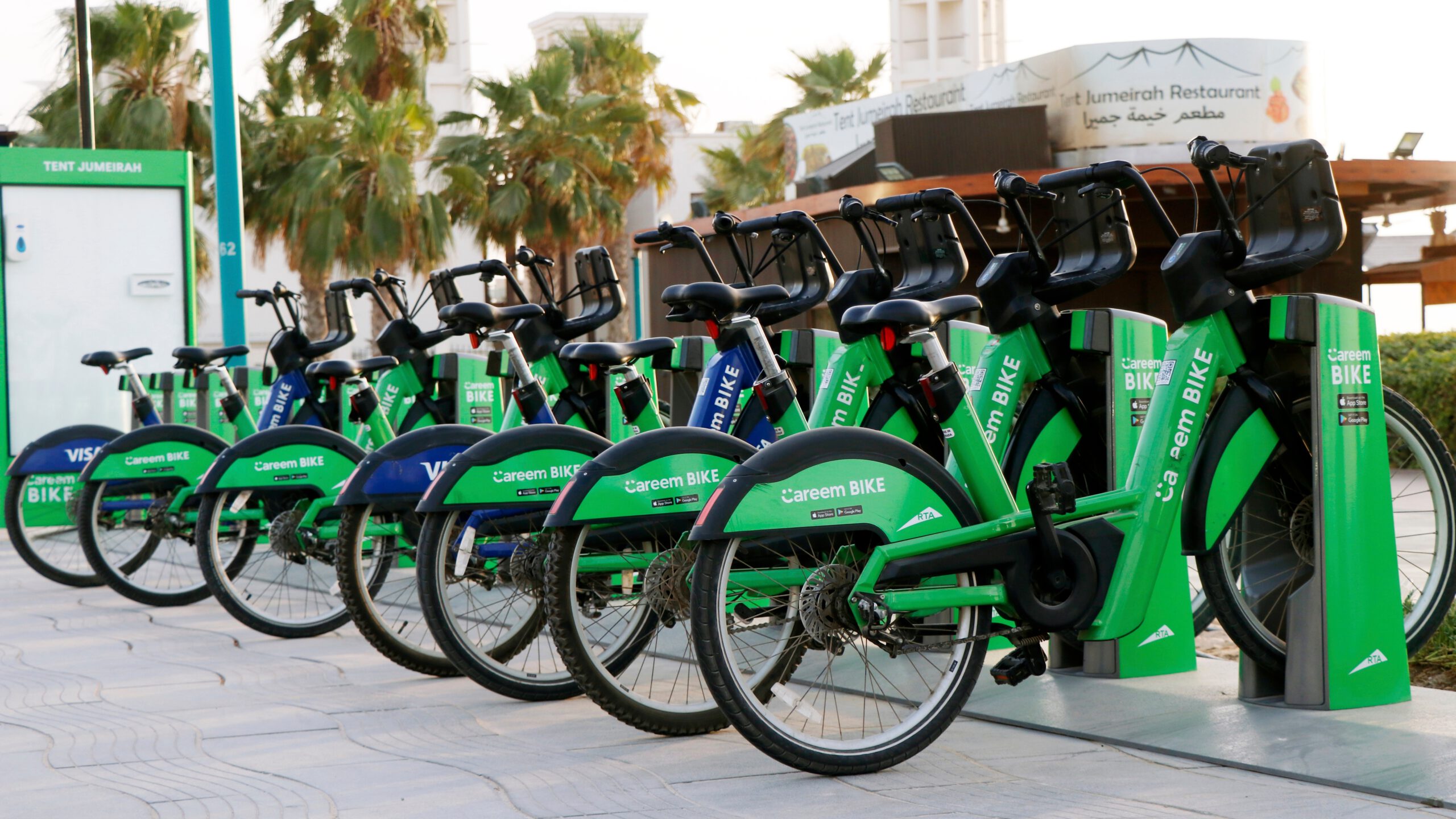 How much is Careem Bike rental in Dubai
You can choose from different packages. Careem Bike rental in Dubai is AED 20 per day, AED 50 per week, AED 75 per month and AED 420 per year. You can take as many rides as you want, but each is limited to 45 minutes. An additional AED 10 fee will be charged for extending one ride by 30 minutes.
Where can you rent a Careem Bike
Careem Bike rental points in Dubai are currently located in the following areas:
Downtown Dubai
Deira
Al Karama
Dubai Water Canal
Palm Jumeirah
Jumeirah Beach Road
Jumeirah Lake Towers
Barsha Heights
Dubai Internet City
Dubai Media City
Al Mankhool
Al Qudra
Umm Suqeim
El Quoz
How to use Careem bikes
If you would like to rent a bike using Careem Dubai, follow these steps:
Download the Careem Bike app, select a membership package and a payment method.
Go to a nearby Careem Bike rental point and unlock the bicycle (scan the QR code on the bike or enter a 5-digit code from the app in the docking station).
Wait for a green light or a beep and remove the bike from the dock.
You can now enjoy unlimited 45-minute rides during your package duration or extend each ride for a fee.
After each ride, put the bike back into the dock at any rental point near you, and wait for a green light or a beep.
That's it! If you see a red light, it means the bike is not properly placed.
BYKY Dubai
Another popular bike rental service in Dubai is BYKY. They offer regular city bikes, e-scooters, kids bikes and multi-seat family bikes. Therefore, you can make a fun trip with the whole family and spend fun-filled quality time. BYKY rental points can be found in many tourist places, for instance, next to the Dubai Mall, Dubai Marina Carrefour, Al Barsha Pond Park and Zabeel Park.
BYKY rental prices range from AED 20 for a city bike (30 minutes) to AED 70 for a Berg family bike (45 minutes).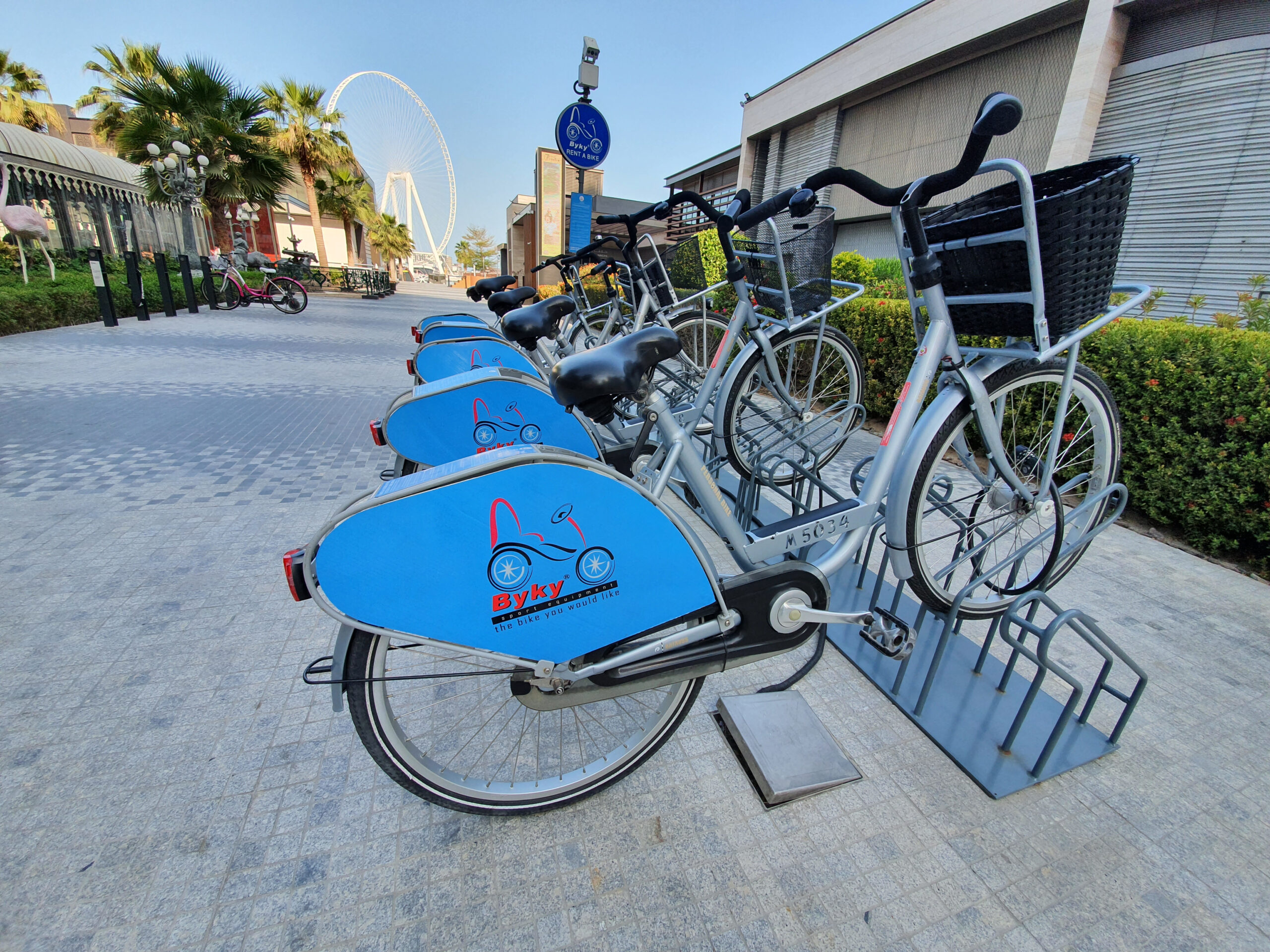 Wolfi's Bike Shop Dubai
Wolfi's Bike Shop is a reliable service with over 20 years of experience in the UAE. They offer bike hire in Dubai, Al Ain and Abu Dhabi. You can choose from a large fleet that includes road bikes, e-bikes, mountain bikes, junior bikes and more. Several models are available online, but you can also give them a call to check the complete list. Prices at Wolfi's Bike Shop in Dubai start from AED 150 for a daily road bike rental.
Location: Sheikh Zayed Road
Prices: From AED 150
The Cycle Hub Dubai
The Cycle Hub is one of the best bike rental shops in Dubai and has its branches in Motor City next to Dubai Autodrome and in Jumeirah. The staff are very friendly and can help you get the most suitable bike. Their bike rental fleet ranges from road bikes for AED 150 to electric MTBs for AED 350 (24 hours).
Besides, the Cycle Hub Dubai organises group bike rides. If you like socialising and want to meet other cycling enthusiasts, you can join a Sunday Morning Al Qudra Road Ride, Nad Al Sheba Mondays Beginners Ride and Tuesdays Social Ride or The Cycle Hub MTB/Gravel Ride Mushrif Park.
Location: Dubai Autodrome and Jumeirah
Prices: From AED 150
Hello Bike Dubai
If you are looking for Al Qudra bike rental shops, besides a famous Trek Bicycle Store you can also check out Hello Bike Dubai. They strive to help cyclists of all levels to enjoy desert cycling. A two-hour rental of road bikes, city bikes and mountain bikes costs AED 99. Al Qudra cycling track is very popular, so I recommend booking in advance.
Location: Al Qudra Cycle Track
Prices: From AED 99
Revolution Cycles Dubai
Revolution Cycles Dubai is a highly-rated rental shop near Dubai Autodrome where you immediately feel welcome. You can expect quality products and great service. Rental prices for 24 hours range from AED 150 to 200 for a road bike (including a helmet).
Revolution Cycles Dubai also facilitates group cycling, and you can join one of their rides, including Al Qudra night rides on Tuesdays or morning rides on Saturdays.
Location: Dubai Autodrome, Motor City
Prices: From AED 150
Best cycling places in Dubai
Even though not all cycling paths and tracks in Dubai are interconnected, there are already plenty of areas where you can go exploring on two wheels for many kilometres. Here are some of the best cycling places in Dubai.
Jumeirah Street cycling track and Jumeirah Beach cycling path
This 19-kilometre cycling track runs from Al Hudaiba to Umm Suqeim parallel to Jumeirah Street and passes through many attractions, including the Etihad Museum, Jumeirah Mosque, La Mer Beach and the Mercato Mall. It is also connected to the Dubai Canal cycling track.
If you fancy a more relaxing ride, there is also a 2-kilometre long Jumeirah Beach path. You will be able to enjoy the sea breeze and stop for a swim with a fascinating view of the Burj Al Arab. Fun fact is that Mohammed bin Rashid Al Maktoum, the ruling sheikh of Dubai, used to bike here as well.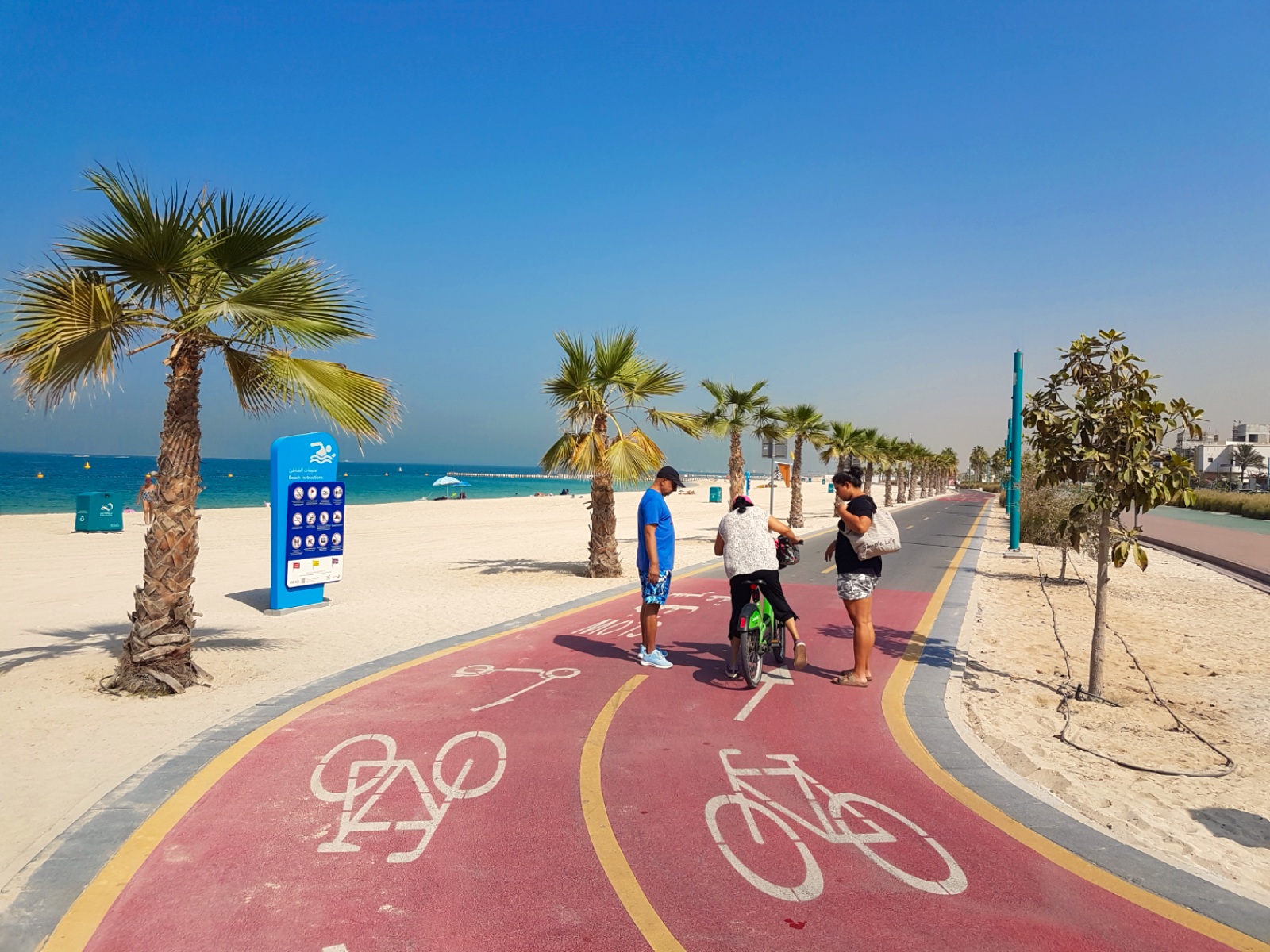 Dubai Water Canal cycling track
Set in one of the new development areas, this track has a 6-kilometre route along Dubai Water Canal and a further 13-kilometre extension in Meydan. You will pass through the green Safa Park and several modern bridges with a stunning view of Downtown Dubai and Burj Khalifa.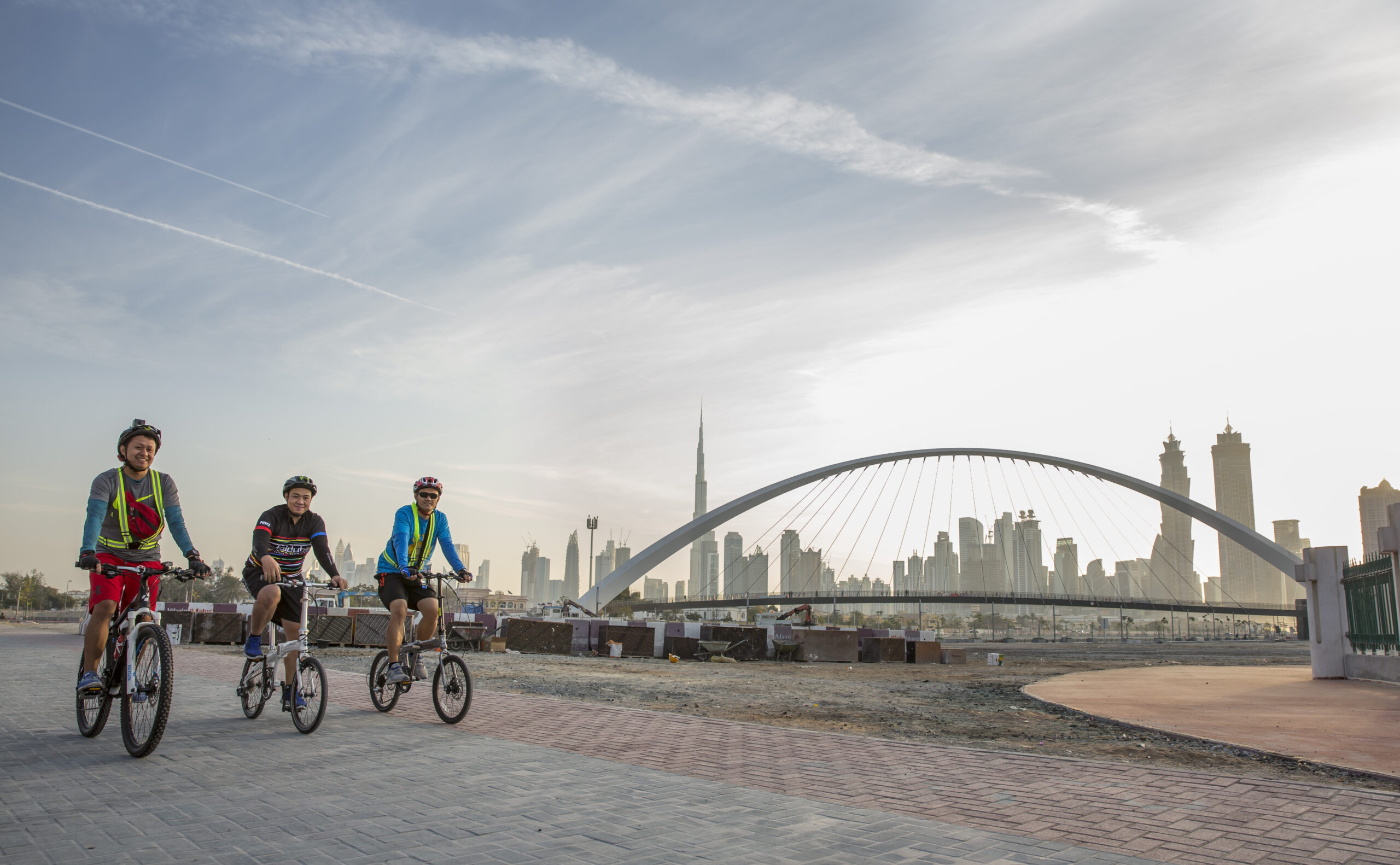 Dubai Marina cycling track
This track is 5 kilometres long and passes through one of the most scenic areas in the city — the man-made Dubai Marina. In my opinion, it is a great option for leisurely pedalling and enjoying the panorama. The area is very family-friendly and car-free. There are several bike rental stations in Dubai Marina, including Careem Bike.
You will be able to stop at multiple waterfront cafes and restaurants, go shopping at the Dubai Marina Mall or try a thrilling XLine Dubai ride (the world's longest urban zipline). This area also serves as a departure point for multiple Dubai boat tours and is directly linked via a bridge to Bluewaters island.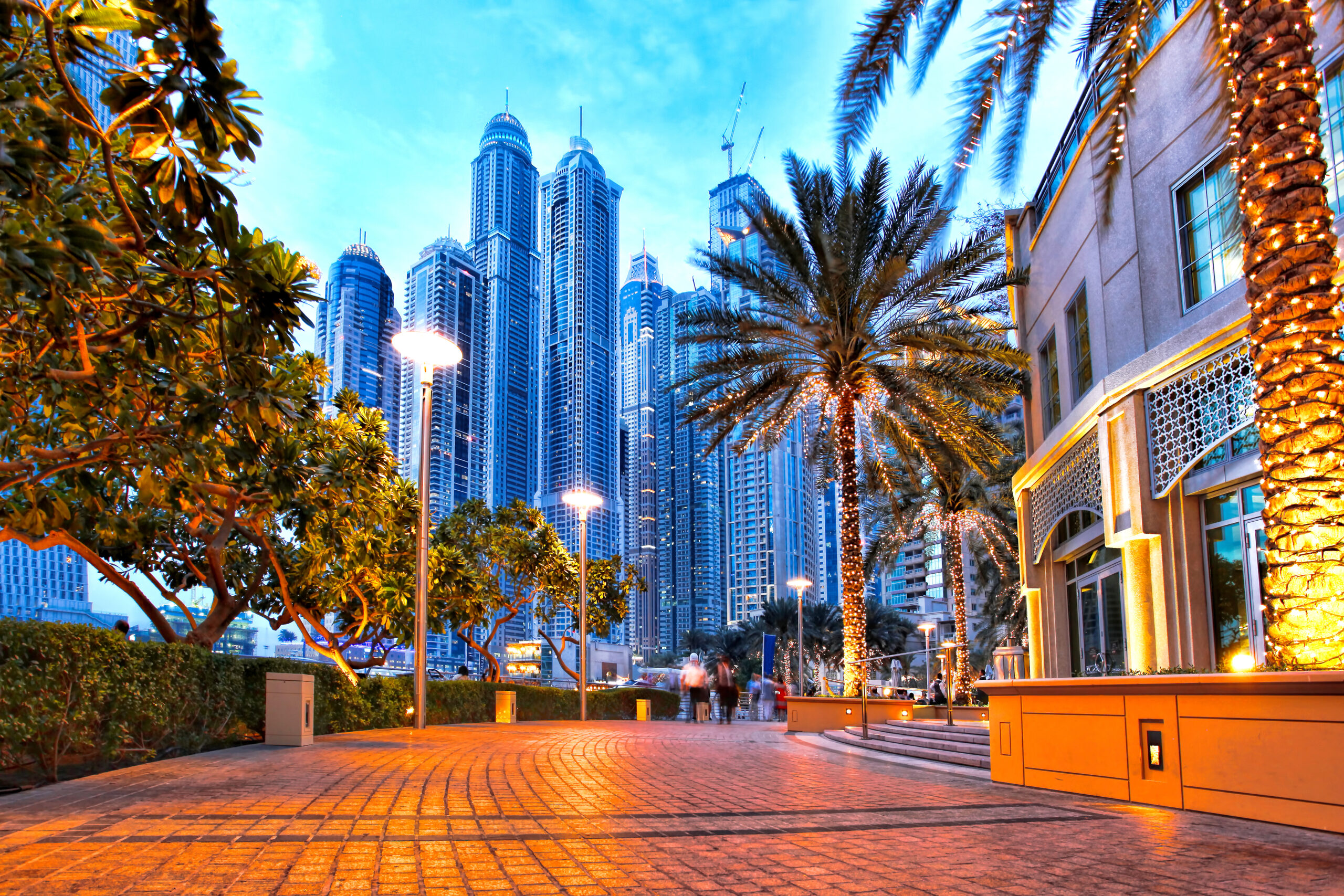 Al Qudra cycling track
Fancy biking right in the middle of the golden sand dunes? Opened in 2015, Al Qudra cycling track is almost 70 km long and circles in the desert to the east of Dubai. It is more suitable for active and experienced cyclists. Based on your endurance, you can either choose a lighter 18-kilometre route or a 50-kilometre route running past the famous Bab Al-Shams resort.
Dubai's Al Qudra track has on-site bike rental shops (Trek Bicycle Store or Hello Bike Dubai), a parking lot and even changing cabins. Due to the hot climate, several shaded recreation areas have been set up along the route.
Don't forget to bring enough water to avoid dehydration and energy bars. I recommend arriving early in the morning or late in the afternoon so you can escape the heat and enjoy the enchanting desert sunrise or sunset. Part of the route is also illuminated, but cycling alone after sunset is not advised. If you rent a bike from the on-site bike rental stores, be sure to check their working hours and reserve your bike in advance to avoid disappointment.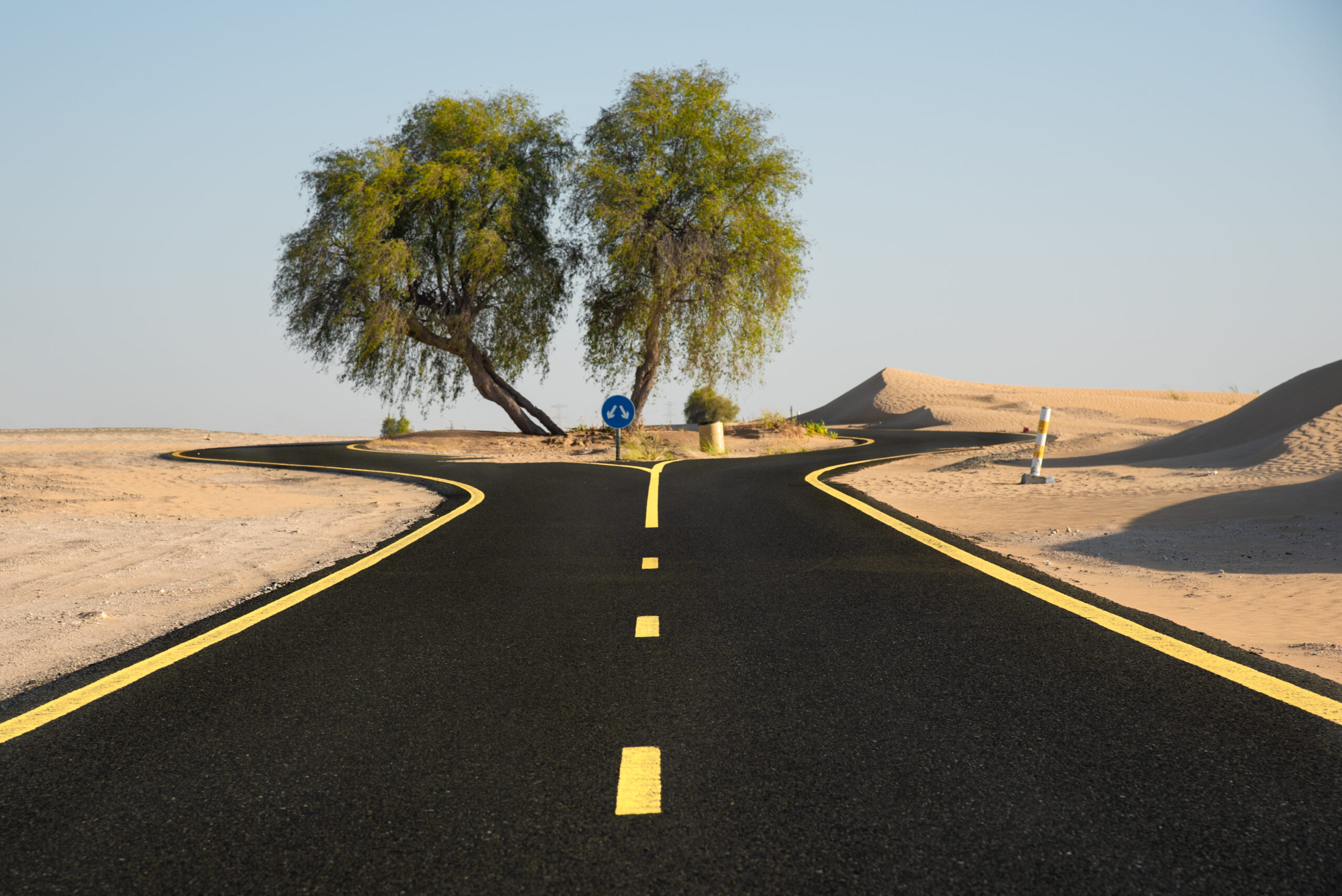 Nad Al Sheba cycling track
The Nad Al Sheba Cycle Park Dubai, located within the former camel racetrack, is a world-class cycling facility that offers three loops from 4 to 8 km. This well-maintained track with a Burj Khalifa backdrop winds through the suburban area and provides a quiet retreat from the city hassle. You will also find various facilities on site, including showers and toilets.
Loved by many families, the park is suitable for cyclists of all levels and even has a dedicated track for kids. You can immediately introduce your little ones to the traffic rules and learn road signs.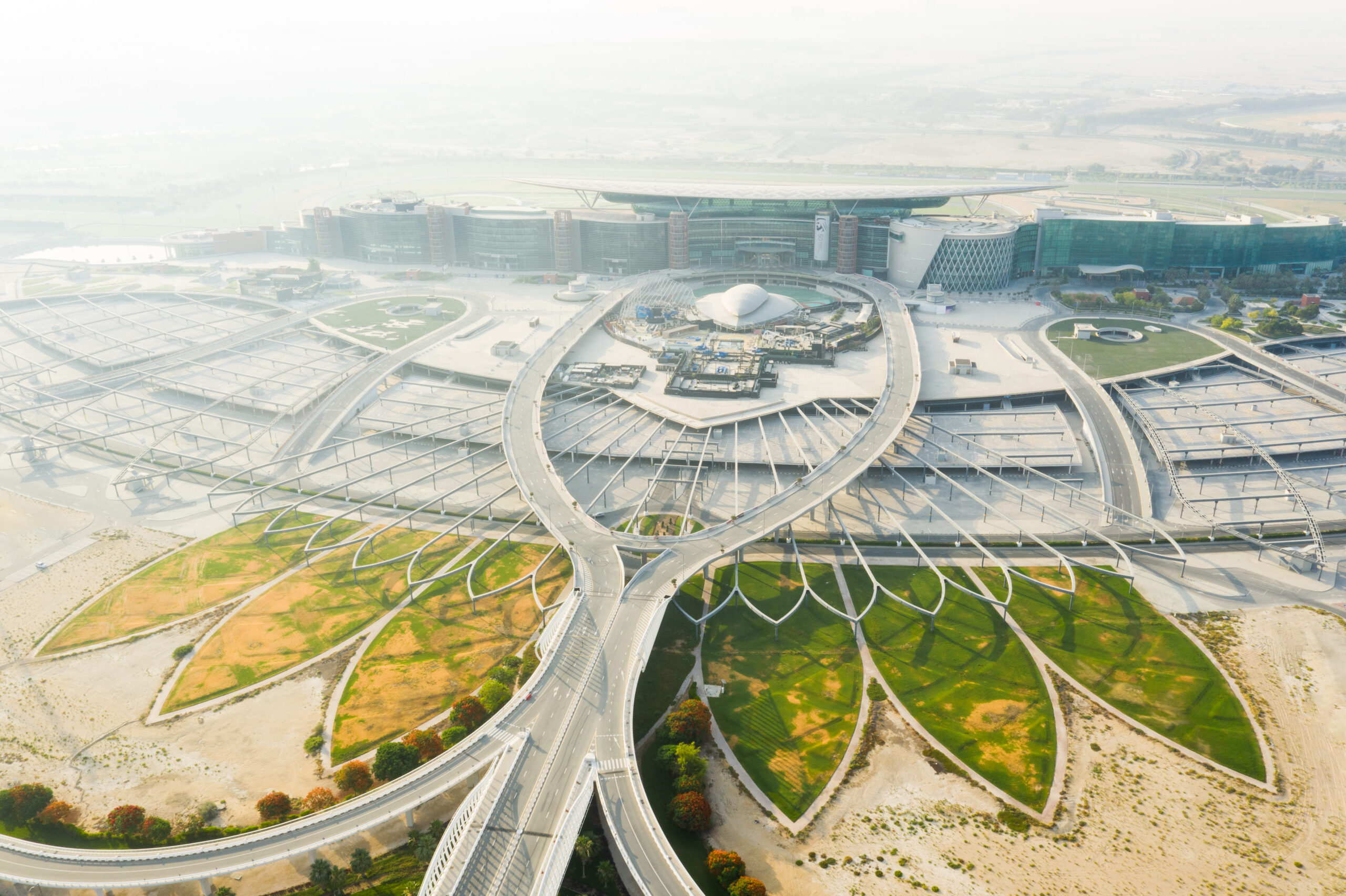 Dubai Autodrome cycling track
Dubai Autodrome might be more known for heated races on four wheels, but on Wednesday nights, its 2,5-kilometre track becomes available to fitness and cycling enthusiasts.
Despite limited availability per week, it is a great spot for beginners, families and kids. You can bring your own bike or rent it at one of the nearby bicycle rental stores, including Revolution Cycles Dubai and The Cycle Hub.
Palm Jumeirah cycling paths
If you happen to be in Palm Jumeirah, there are also a few spots where you can go pedalling. For example, in a shady Al Ittihad Park where a cycling path runs parallel to the Dubai Monorail. You can stop at the Nakheel Mall, grab a bite and visit an amazing View at the Palm observation deck.
Crescent Road cycling track is one of my favourites in Dubai. It is ideal for early morning fitness or a leisurely evening ride with romantic sunset views. Along the route, you will see not only the sun setting over the horizon, but also luxury hotels, including Atlantis the Palm and Atlantis The Royal, Dubai Harbour and Ain Dubai. The view is truly unique!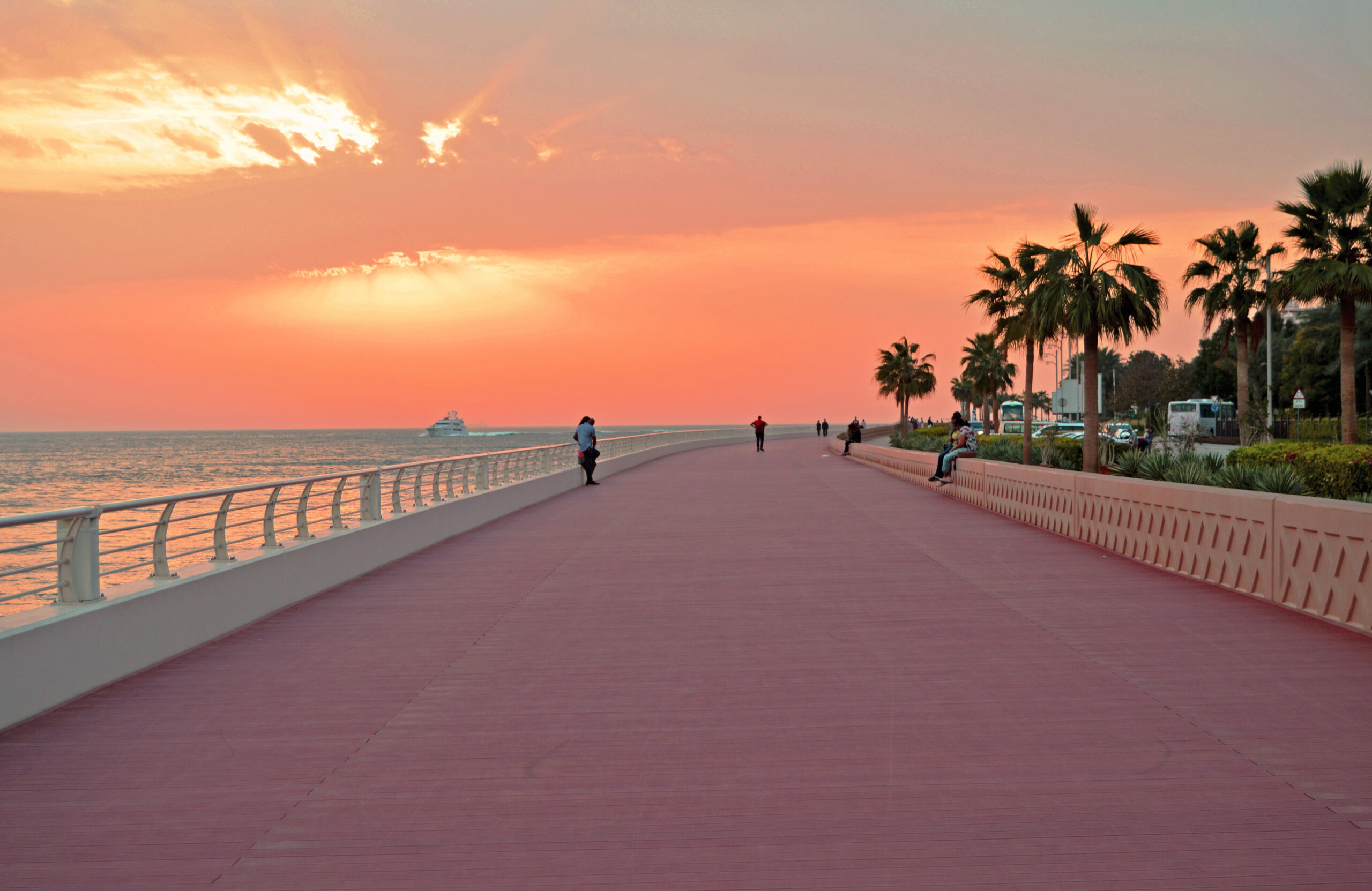 Hatta mountain biking track
If you would like to take a break from the city bustle, make a trip to Hatta — a scenic area in the Hajar Mountains, about 135 km to the east from Dubai. It is a popular tourist destination where you can go picnicking, kayaking or even mountain biking along a 52-kilometre track with four challenging levels.
Hatta mountain biking is a fun and adrenaline-filled sport that can be enjoyed by people of all ages. When you're thinking of a challenging outdoor activity, mountain biking is definitely worth checking out. Not only is it a blast to ride, but it can also be a healthy way to get your daily dose of exercise. If you are looking for Hatta mountain bike rental points, check out Hatta Mountain Bike Trail Centre or Hubbers Bike & Adventures Shop.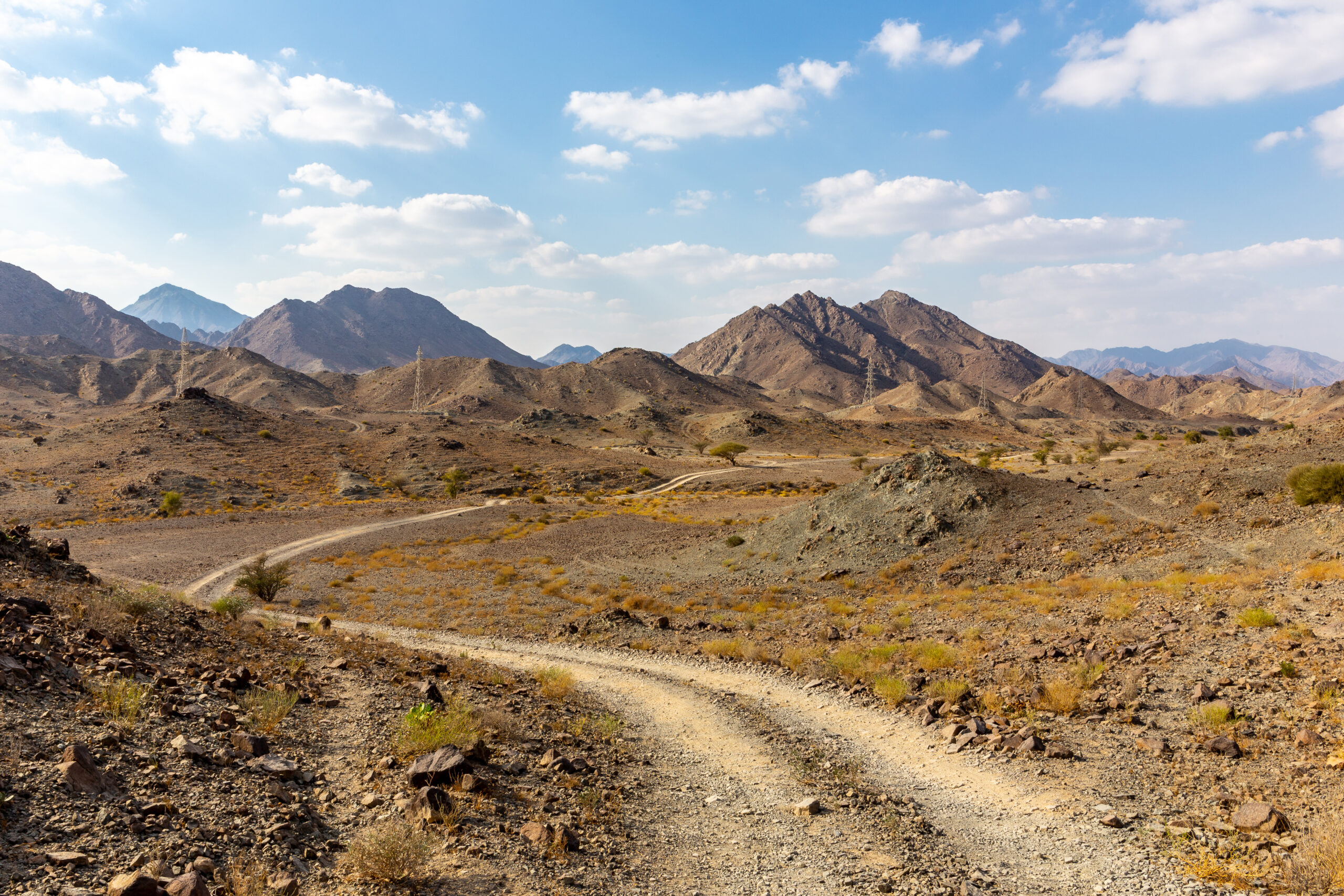 Rules for cyclists in Dubai
If you go biking, there are several basic Dubai cycling rules you need to know:
Stay on designated tracks and paths, cycling on jogging and pedestrian lanes is not allowed (unless they are shared with cyclists).
Avoid cycling on roads with speeds exceeding 60 km/h.
Wear a helmet for safety.
The maximum allowed cycling speed is 20 km/h in urban areas and 30 km/h on dedicated tracks.
Only foldable bikes are allowed in Dubai Metro and Dubai Tram.
Your bike should have fixed lighting.
You should get off the bike while crossing the street using a pedestrian crossing.
Road cycling races in Dubai
The Dubai road cycling fever reaches its climax from late February to the beginning of March when the city welcomes two popular road cycling races.
The Spinneys Dubai 92 Cycle Challenge annually attracts thousands of participants from all over the world. It runs along a 92-kilometre route, hence the name. Various categories of participants can join the race, including youth and corporate teams.
The famous UAE Tour cycling race is held annually on the country's highways. It appeared in 2019 after merging two smaller races, the Dubai Tour and the Abu Dhabi Tour. Part of the route also passes through Dubai, so you will have a chance to cheer many famous names from the world of race cycling.
Prepare for your Dubai trip
Did you find this post helpful? Then click that little heart below and share it with your friends and family. Have fun in Dubai!