Dubai is a popular tourist destination, and you can easily explore its attractions using a Dubai taxi. Taxis in Dubai are cheap, reliable and fast. There are many taxi companies offering their services in the city. Taxi fares and car models range per carrier, and you can typically expect to have a ride in vehicles from Toyota, Hyundai and Nissan to Lexus and Tesla. The Dubai Government has also recently revealed the plan to make the fleet fully electric and hydrogen-fuelled in the coming years. What is the best taxi service in Dubai? What is a taxi fare in Dubai? How to book a taxi in Dubai? How much is a taxi from Dubai Airport? You will find answers to these and many other questions in this helpful guide.
Pros and cons of taking a taxi in Dubai
Cheap and efficient
Good choice of taxi service providers
Comfortable, clean and modern cars
Multiple taxi booking options
Taxi service to/from Dubai International Airport (DXB) and other cities available
Waiting time can go up during rush hours and weekends
Can get stuck in traffic during peak hours
Dubai taxi companies
According to estimates, taxi services in Dubai are provided by about 100 carriers, but as a tourist, you will probably just need to know three main ones.
Dubai Taxi Corporation (RTA Official taxis)
RTA (Road and Transportation Authority), directly or through subsidiaries, manages practically all public transport in Dubai, including taxis. One of the subsidiaries is Dubai Taxi Corporation (DTC) which operates more than 10,000 taxis in the city. It is almost half the entire fleet, so there is a high chance you will use their services during your stay in Dubai.
Their cars of mainly Japanese and South Korean brands are available 24/7, they are modern and comfortable. Standard cabs fit three passengers, but you can also order a van if you travel with a family or large group. You can recognize official DTC cabs in Dubai by their distinct cream colour, but the roof colour differs depending on the service.
Dedicated pink-roofed taxis with female drivers are available for ladies. To travel in style, you can choose a DTC limousine service — expect an elegant Lexus or Tesla to pick you up. DTC also offers a service for people with special needs. Finally, Airport Taxis will bring you from Dubai International Airport (DXB) to any destination within Dubai or to other UAE emirates.
DTC taxi fares in Dubai are regulated, and you will pay for your ride based on the metre reading. You can learn more about Dubai taxi prices below.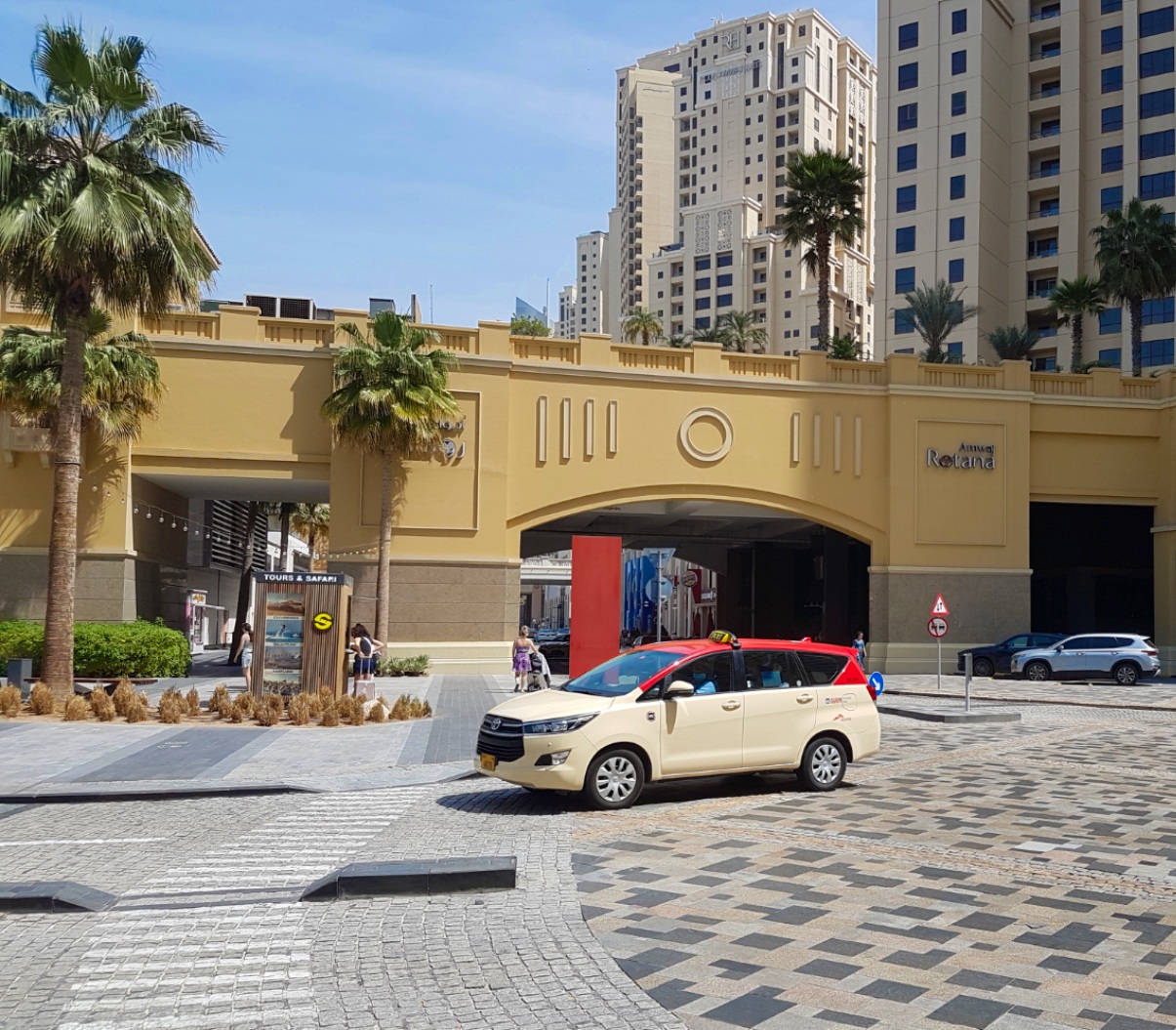 Careem Taxi
Talking about Dubai taxi companies, I should also mention Careem. It is a very reliable and popular carrier. Originally from Dubai, they now operate in many countries in the Middle East, Asia and Africa. This ridesharing company is also responsible for a Careem Bike rental service and a food delivery service.
Careem was actually acquired by Uber in 2019 but continues operation under its own brand name. You also have an option to book a Hala taxi via Careem.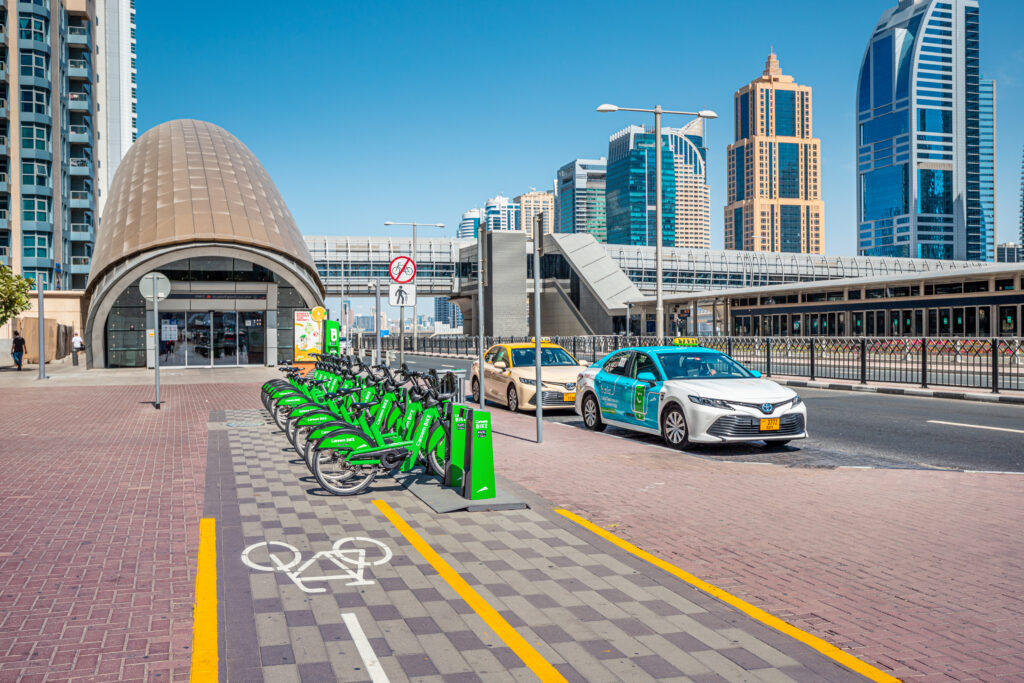 Uber in Dubai
Uber in Dubai is a private carrier that offers rides in standard and high-end car models, predominantly white Lexus. Such vehicles are certainly more comfortable than RTA taxis and add extra luxury to your journey, but from my experience Uber rides are also pricier.
Uber offers in Dubai the following products: Select, Black and UberXL. If you already have an Uber app installed, you can continue using it in Dubai, and the payment will be automatically deducted after your ride using the payment method linked to your account. If you are looking for cheap taxis in Dubai, I suggest considering other options such as official DTC or Careem taxis.
Dubai taxi companies list also includes such carriers as Yango, Arabia Taxi, City Taxi, Union Taxi, Oneroad Taxi and XXRide.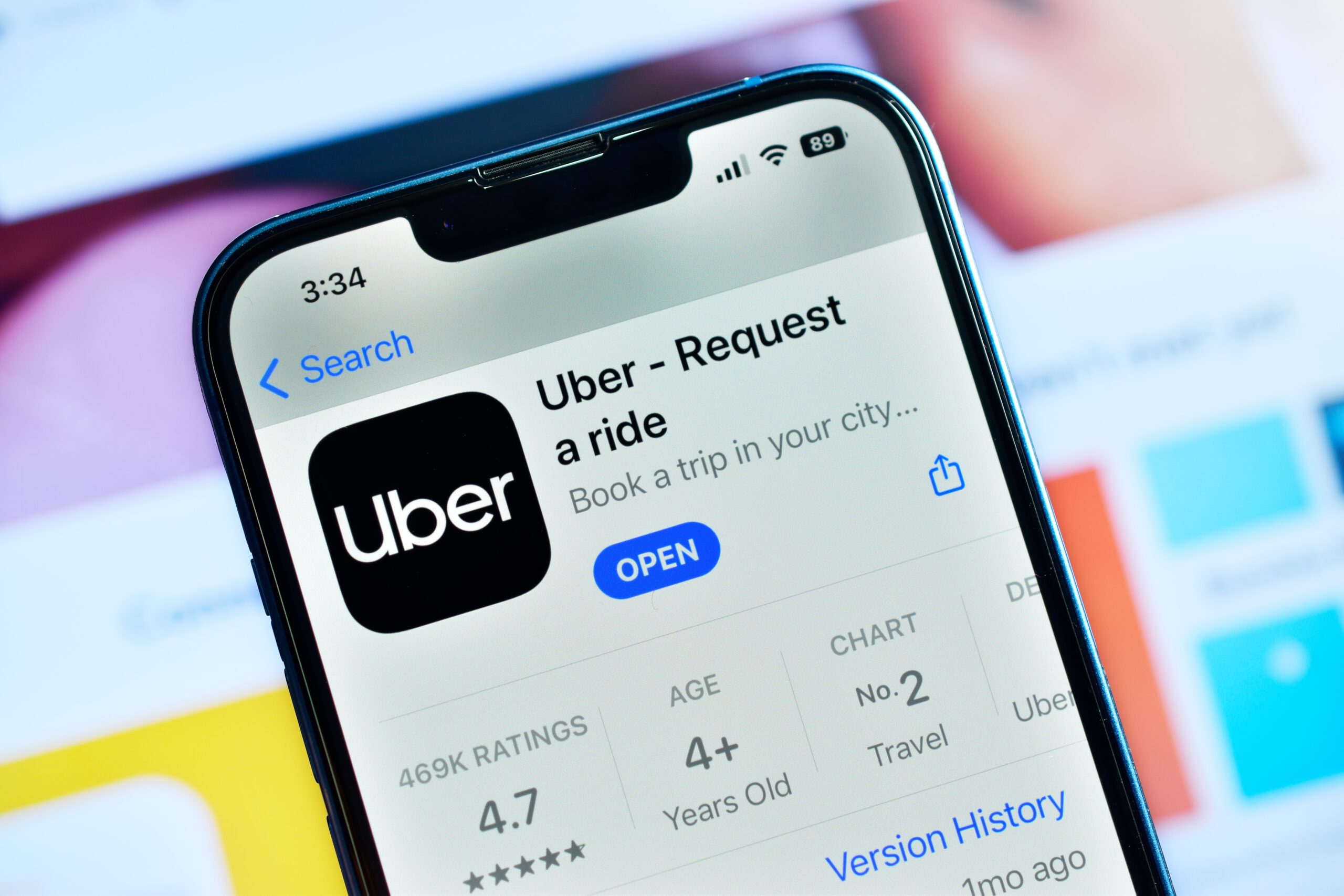 How much are taxis in Dubai
Are taxis expensive in Dubai? No, due to low petrol prices, Dubai taxis are pretty cheap compared to many capital cities. Official regular DTC (RTA) taxis have a fixed fare which is revised occasionally. If you are wondering about Dubai taxi costs, check the prices below:
Base taxi fare from 06:00 to 22:00 without booking: AED 5
Base taxi fare from 22:01 to 05:59 without booking: AED 5.50
Metre fare per km: AED 1.97 (March 2023)
Minimum ride cost: 12 AED
Booking fee: AED 10 to AED 12
Waiting fee: AED 30 per hour
Airport pick-up base fare: AED 25
Here is an example to demonstrate how taxi fare in Dubai is calculated. Suppose you need to go from the Dubai Gold Souk to the Dubai Mall in the afternoon and you flag a cab in the street. Your ride distance will be about 15 km in this case.
Your taxi fare: AED 5 (base rate) + AED 1.97 x 15 km = 34.5 AED
How to pay for a taxi in Dubai
You can pay for a taxi ride in Dubai using many options, including cash, debit and credit cards, mobile phone, Apple Pay, Samsung Pay and even a NOL card (except a red one).
Which taxi is cheaper: DTC, Careem or Uber
Looking for a cheap taxi in Dubai? From my experience, official DTC (RTA) taxis are the most affordable. Careem taxis might be more expensive due to booking fees and higher base rates. Uber is the most expensive of the three, but you can opt for it if you prefer more comfort or rely more on an Uber app.
Where can I get a taxi in Dubai
There are several ways to take a taxi in Dubai:
Hail a taxi in the street: just raise your hand, and the first available driver will pick you up.
Book a taxi: you can call, send an SMS or use various apps, including RTA, DTC and Careem (more info below).
Go to a taxi stand: there are over 50 taxi ranks in Dubai near major attractions, metro stations and shopping malls. Boarding is on a first come, first served basis. If no taxis are available, you can send an SMS to 4774. Write a short message mentioning your taxi rank number. You will be assigned a car and will receive a confirmation via SMS.
Hailing a taxi is typically an excellent and cheaper option because you will avoid booking costs. However, things might get more complicated during rush hours, weekends and special events in the city. In such cases, booking a taxi will be a safer choice, especially if you have an appointment or want to go to the airport to catch your flight.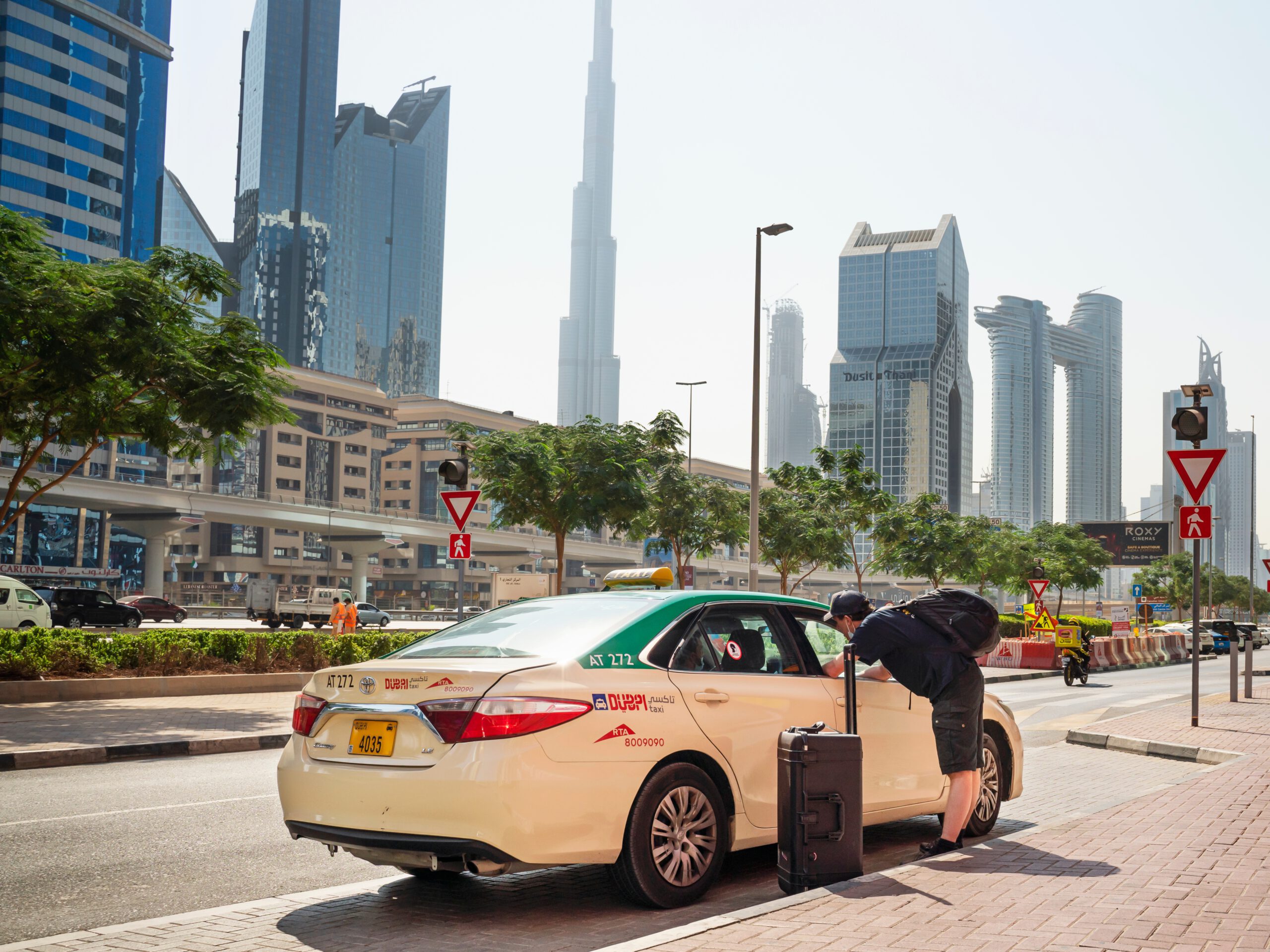 How to book a taxi in Dubai
Dubai taxi booking is very easy, and you can do it online, by phone, via SMS or a mobile app. Please keep in mind that there will be a booking surcharge added to your ride.
By phone: to book an official DTC (RTA) taxi, call a dispatch centre at +971-4-208-08-08 (or 800-880-88).
Via SMS: only available for getting a taxi at the taxi stand. Send a quick message to 4774 with the taxi stand number.
Via mobile apps: you can download RTA, S'HAIL or DTC apps for official taxis, Careem or Uber apps.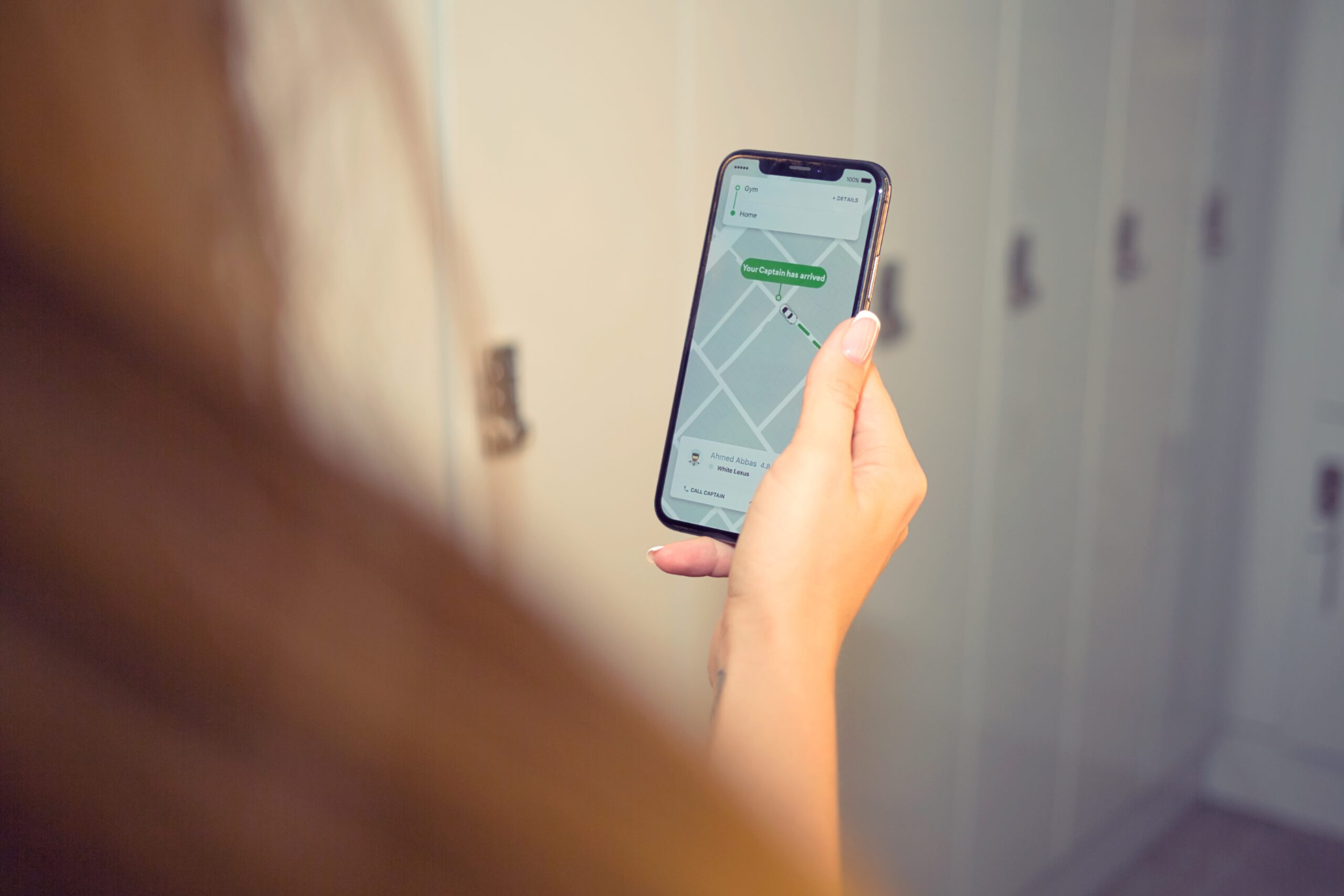 How to get a taxi at Dubai Airport and how much it costs
Are you looking for a taxi from Dubai International Airport (DXB) to your hotel or other accommodation? Follow the signs and go to an official taxi rank outside of Terminals 1, 2 or 3. Join the line, and you will be allocated a cab. Waiting time is typically 5 to 10 minutes, but it can certainly fluctuate during the day.
How much is a taxi from Dubai airport? You will pay a taxi fare of AED 1.97 per km + an AED 25 airport pick-up fee. You might be eventually offered an upgraded cab at the taxi stand. Just say you would like a regular RTA cab to avoid any additional costs.
If you prefer to avoid crowds and save time after a long flight, I recommend booking an airport transfer from Dubai International Airport to your hotel in advance. The driver will meet you outside the arrival area, holding a sign with your name, and escort you to the car. This service is also excellent if you need a bigger vehicle or have a lot of luggage (including special equipment etc.)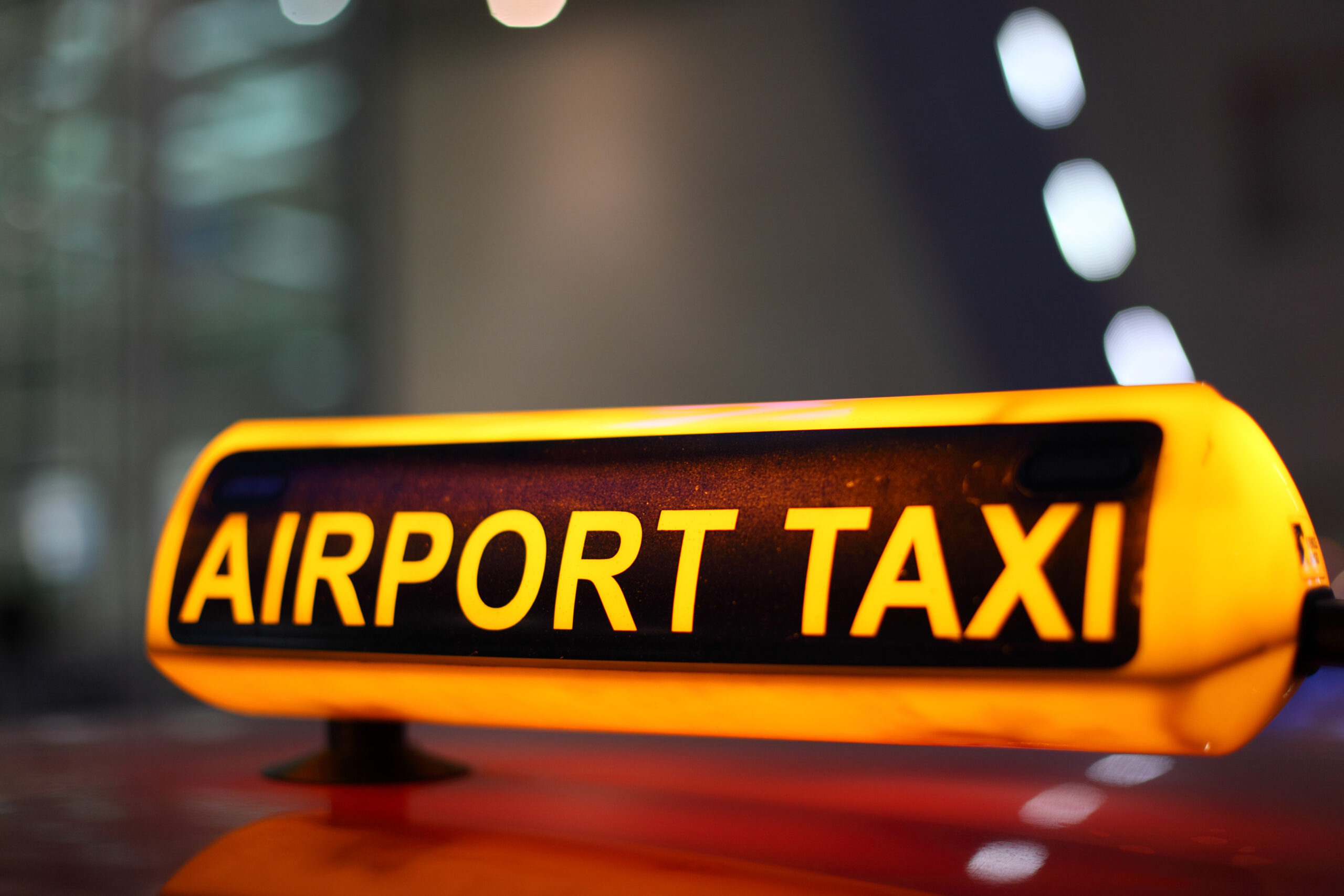 Taxis between Dubai and Abu Dhabi
You can take a taxi from Dubai to Abu Dhabi to get to the UAE capital quickly. The ride between Downtown Dubai hotels and Abu Dhabi will cost you AED 250 to 300.
Alternatively, opt for a pick-up service or a bus from Ibn Battuta or Al Ghubaiba bus stations to Abu Dhabi.
Taxis between Dubai and Sharjah
You can take a taxi from Dubai to Sharjah: the journey from Downtown Dubai will cost you AED 70 to 90.
Alternatively, book a transfer or travel by one of the available bus lines to Sharjah.
Are Dubai taxis safe
Absolutely. I have taken cabs in Dubai many times and never had any issues. The majority of taxi drivers originally come from Pakistan, India, Nepal or Bangladesh. They are very polite and neatly dressed. They all speak good English, and you can engage in the conversation to learn more about Dubai or a typical life of a taxi driver in the city.
Cars can go pretty fast, but don't worry because drivers have extensive experience. Some have worked on Dubai roads for 15 to 20 years.
Drivers normally follow the navigation system displaying the shortest route. However, occasionally it happens that they 'take a small detour to avoid traffic jams' to round off the amount due for a ride.
Are pets allowed in Dubai taxis
In general, pets are allowed in regular Dubai taxis, however if you flag a cab on the street, the driver may refuse to take you aboard. For animal lovers , I suggest either calling a regular cab and mentioning that you will be travelling with a pet or using special taxi services including Chauf-fur Pet Taxi, Petlove and Happy On Board.
Prepare for your Dubai trip
Did you find this post helpful? Then click that little heart below and share it with your friends and family. Have fun in Dubai!