Dubai Tram is an important type of public transport that was launched in 2014. Along with the metro, buses and taxis, it plays a significant role in bringing passengers to their destination safely and quickly. If you plan to stay in Dubai Marina, Jumeirah Beach Residence, Al Safouh and Palm Jumeirah or visit these areas, you might end up using a tram in Dubai. In this article, you will learn all you need to know about the Dubai Tram route, map, stations, ticket price, cabin classes and fines.
What is Dubai Tram
Dubai Tram is a modern 15 km tramway that is connected to the Dubai Metro network and runs from Dubai Marina to Al Sufouh along the Persian Gulf coastline. It is a comfortable and cheap way to move around, saving you money and time. You can undoubtedly take a taxi to travel within Dubai Marina. Still, in the evening rush hours, practically all main roads will be packed due to heavy traffic jams, so Dubai Tram is a great solution for hassle-free rides.
The Dubai Tram network is operated by Keolis in collaboration with RTA (Dubai Roads & Transport Authority). All cabins are air-conditioned, and equipped with Wi-Fi, digital displays and tram stop alerts. It is also fully accessible for wheelchair users. Besides, all tram drivers are required to take an alcohol test before their shift to guarantee passengers' safety.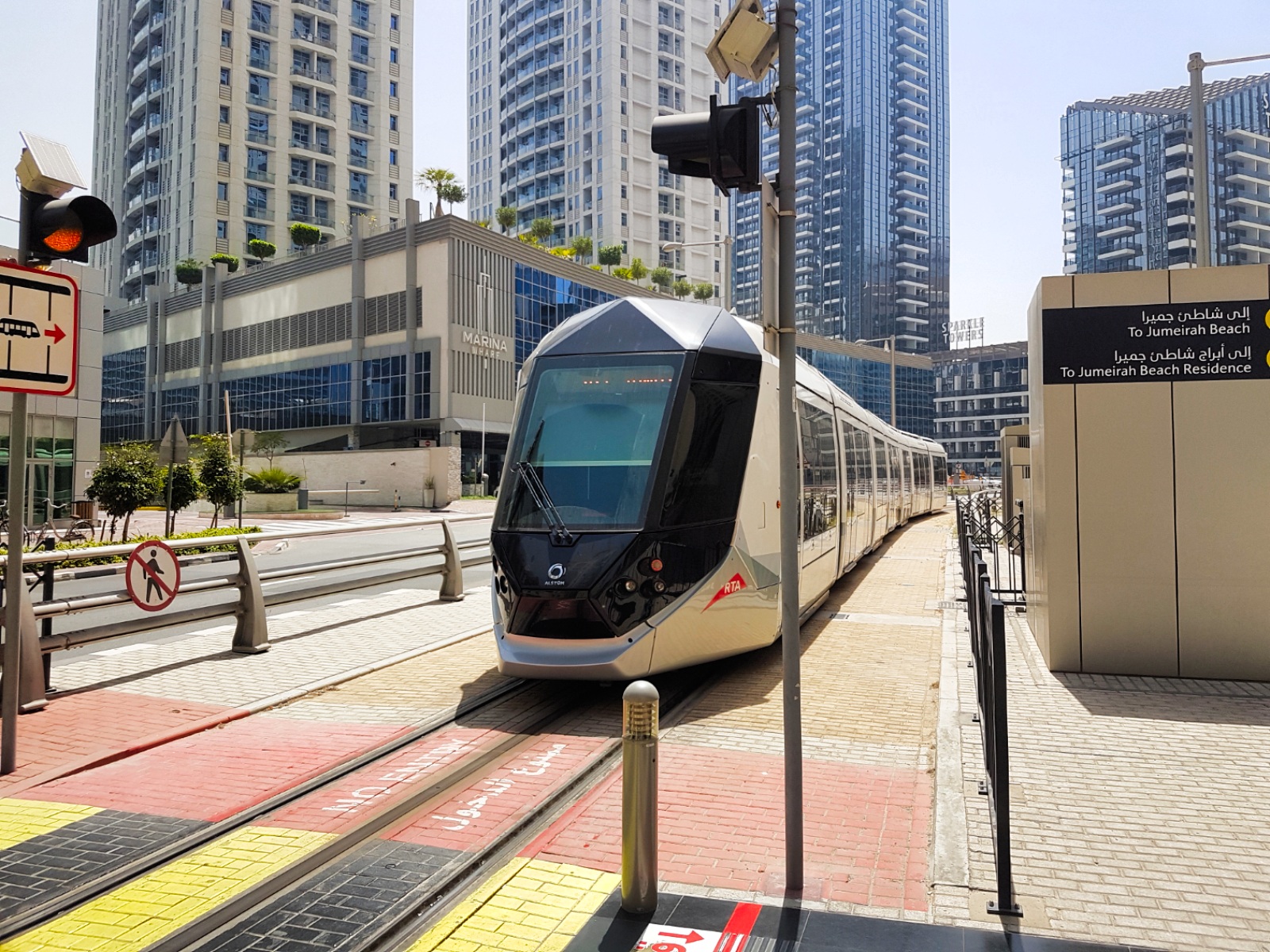 Dubai Tram route
One of the most significant parts of the Dubai Tram line passes through Dubai Marina. Therefore it is often referred to as the Dubai Marina Tram. The Dubai Tram route covers such areas as Jumeirah Beach Residence, Dubai Marina, Dubai Media City, Dubai Knowledge Village and Al Safouh.
You can use Dubai Tram to transfer to Dubai Metro (red line) and Palm Monorail. Please see the Dubai Tram map and stops overview below to learn more about transfer stations.

Dubai Tram stops
The Dubai Tram route currently includes 11 stops. The tram network is connected to the Dubai Metro line at the following stops:
Dubai Marina tram stop Sobha Realty metro station (red line)
Jumeirah Lake Towers tram stop DMCC metro stop (red line)
Taking the red metro line, you can reach such popular destinations as the Mall of the Emirates, the Dubai Mall, Burj Khalifa, the Museum of the Future and Expo City Dubai. You can also use Dubai Tram to go to Palm Jumeirah. The tram network is linked to Palm Monorail at the following stop:
Palm Jumeirah tram stop Palm Gateway monorail stop
You can then enjoy your ride through the Palm Jumeirah island all the way to Atlantis, The Palm. It is handy to know that you will need a separate ticket to use the monorail in Dubai.
Here is a complete list of Dubai Tram stops:
Jumeirah Beach Residence 1
Jumeirah Beach Residence 2
Jumeirah Lake Towers (transfer DMCC metro stop)
Dubai Marina Mall
Dubai Marina (transfer Sobha Realty metro station)
Marina Towers
Mina Seyahi
Media City
Palm Jumeirah (transfer Palm Gateway monorail stop)
Knowledge Village
Al Sufouh
Timings
On weekdays, the tram in Dubai runs 19 hours a day, and on Sundays the working hours are shorter. The entire journey takes about 40 minutes. To see up-to-date Dubai Tram timings, I suggest using the RTA journey planner, RTA and S'hail mobile apps, Google or timetables at any tram stop.
Tram in Dubai operating hours:
Monday to Saturday: 06:00 to 01:00 (next day)
Sunday: 09:00 to 01:00 (next day)
Departure frequency: every 8-10 minutes
How much is the Dubai Tram ticket
Do you want to know the Dubai Tram ticket price? If you are in a hurry, please see the prices directly below. After that, I will explain how they are calculated.
AED 4 for NOL Red ticket holders
AED 3 for NOL Silver card holders
AED 6 for NOL Gold card holders
To begin with, in order to use the tram in Dubai and public transport in general, you should purchase a NOL card. Once you have your NOL card, you can start paying for your trips.
Typically, the fare is calculated based on the following criteria:
how many transport zones you cross (7 in total, Dubai Tram operates within 1 zone)
which type of NOL card for public transport in Dubai you use
which cabin class you choose (silver/standard or gold/first)
whether your NOL card allows transfers or counts every ride as a single trip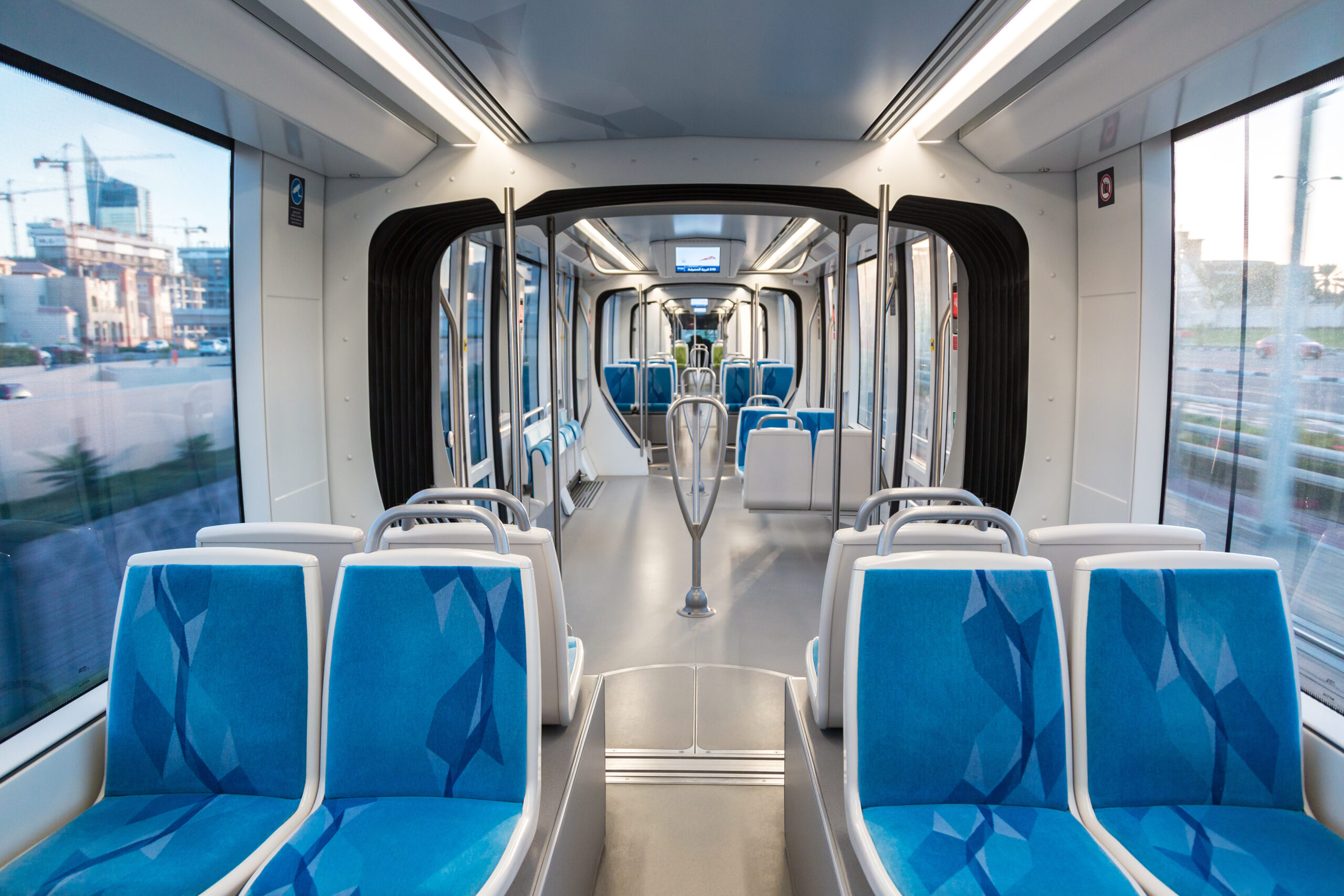 What are the Dubai NOL card types
There are four main types: NOL Red Ticket, NOL Silver Card, NOL Blue Card and NOL Gold Card. They have different prices and vary in terms of the benefits they offer. I will explain their similarities and differences!

What is the Dubai NOL Red ticket
Unlike the rest, this is a disposable paper ticket, which counts every journey by a specific mode of public transport as a single trip. Every time you change to a different mode, it will be counted as another ride. This ticket is valid for 90 days or 10 rides and can be used for the metro, bus and tram. You can choose to travel in a silver (standard) class or a gold (first) class if more comfort is your thing. The first-class fare when you travel with a red ticket is exactly double of a standard class one.
The NOL Red ticket costs AED 2 and can be recharged for a maximum of 10 trips or 5 daily passes. What is a daily pass? Great question! You can load your NOL Red ticket with a pass for unlimited rides for a day. It costs AED 20 to travel in silver-class cabins or AED 40 in gold-class cabins.
NOL Red ticket price: AED 2

NOL Red ticket validity: 90 days or 10 rides

NOL Red ticket top-up limit: 10 rides or 5 daily passes
What is the Dubai NOL Silver card
It is possibly one of the most common transportation cards in Dubai. A regular NOL Silver card allows you to pay for your metro, bus, tram, water taxi, abra, ferry and taxi rides. In addition, you can also use it to pay for the RTA parking. Travelling by metro or tram with this card, you will need to board a silver-class cabin (often referred to as a standard or 2nd class).
The NOL Silver card costs AED 25, but it will be already preloaded with an AED 19 balance, so you can immediately begin your journey. The card is valid for 5 years, and you can top it up for a maximum of AED 1,000 (anonymous card) or AED 5,000 (registered card).
NOL Silver card price: AED 25 (including AED 19 balance ready to use)

NOL Silver card validity: 5 years

NOL Silver card top-up limit: AED 1,000 (anonymous) or AED 5,000 (registered)
What is the Dubai NOL Gold card
It is very similar to the Dubai NOL Silver card, but the main difference is that you will be able to take seats in the upgraded gold-class carriages (very similar to the first class). The card cost and validity are also the same, however you will pay more per ride, which is not surprising because you will be travelling first class.
NOL Gold card price: AED 25 (including AED 19 balance ready to use)

NOL Gold card validity: 5 years

NOL Gold card top-up limit: AED 1,000 (anonymous) or AED 5,000 (registered)
What is the Dubai NOL Blue card
It is a personal card with a photo which is excellent for daily public transport users. One of the benefits is that your balance can be restored if you accidentally lose the card. The Dubai NOL Blue card costs AED 70 with preloaded AED 20 credit immediately available for your trips. The card is valid for 5 years, and you can top it up for a maximum of AED 5,000.
NOL Blue card price: AED 70 (including AED 20 balance ready to use)

NOL Blue card validity: 5 years

NOL Blue card top-up limit: AED 5,000
Which Dubai NOL is better for transfers
All NOL card types (except the NOL Red ticket) allow transfers. You are given 30 minutes to transfer from one mode of transport to another. Travelling time within one or more zones should not exceed 180 minutes, with a maximum of 3 transfers allowed.
If you ride a tram in Dubai, you can use your NOL card to transfer to a bus or the metro. For Palm Monorail, you will need to buy a separate ticket, as your NOL card is not valid there.
Have Fun Dubai's Tip: For tourists, I recommend buying a NOL Red ticket or NOL Silver card. The red ticket is cheaper, but you can pay with it only for single trips. It is also allowed to add unlimited daily passes to a red ticket. With a silver card, you will pay less per ride and transfer, but the card price is higher (though most of that amount will already be on your balance). The silver card is a better option if you intend to travel regularly.
How to use Dubai Tram
Get on the tram at dedicated stops. They are spacious, air-conditioned and have seatings. Hold your NOL card to the orange validator at the tram stop before boarding to check in.
When you get off the tram, tap the validator again to check out. The Dubai Tram fare for the journey will be deducted from your card and shown on the screen.
You should have at least AED 7.50 on your balance before checking in. Not enough balance? To top up your NOL card, go to a ticketing machine. It accepts cash and payment cards such as Visa, Mastercard and UnionPay. Place the NOL card in a slot and top up the balance. Remove the card when you see the message on the screen and hear a beeping sound.
Enter a cabin (silver or gold) that your type of NOL card allows using, otherwise you may get a fine. There is also a designated carriage for women and kids. Is it obligatory for female passengers to use a special cabin in Dubai Tram? No, but you may prefer to use it for religious reasons or if you need more space for a stroller.
What are the tram fines
Please be aware of the following fines when riding the tram or other public transportation in Dubai. If you refuse to pay for your journey or provide a NOL card, you will be fined AED 200. The same rules apply if you travel with an expired or forged NOL card
For carrying alcohol you will have to lay out AED 500. Littering or spitting may result in a fine of AED 100, while smoking may result in a fine of AED 200. Crossing the tracks outside the designated areas may be followed by an AED 1,000 fine. Being polite and following the guidelines is a great way to stay out of trouble.
Tips for using Dubai Tram
To sum up, here are my tips for using the tram network in Dubai:
Check the tram timetable and map before you travel.
Make sure you have the right NOL card for your tram journey.
Do not forget it should be topped up with enough credit before boarding.
To check in, tap the orange validator at the tram stop and tap it again after your ride to check out.
Keep your NOL card safe, as you may need to show it to a ticket inspector.
Take a seat in the cabin class corresponding to your NOL card type.
Be aware of a designated cabin for women and kids marked accordingly.
Prepare for your Dubai trip
Did you find this post helpful? Then click that little heart below and share it with your friends and family. Have fun in Dubai!