What to do in Dubai with kids is one of the hot questions for families looking for a unique and memorable holiday. Of course, the city is well-known as a playground for all ages, but when it comes to things to do in Dubai with children, the options are practically limitless. From stunning playgrounds and gorgeous beaches to incredible theme parks, waterparks and world-class shopping malls. Dubai offers a range of activities that will keep your little ones entertained throughout your stay — so that you can also enjoy a deserved vacation!
From my experience, one of the most appealing aspects of Dubai as a family destination is its diversity. Whether your family is into adventure sports, thrilling rides, cultural exploration or simply enjoying a relaxing time on the beach, there's always something for everyone. And almost every day, there are new experiences added that will excite children of all ages. Not surprisingly, I see so many families visiting the city and then returning again and again.
Your children will be fascinated by the city's futuristic architecture and kid-friendly attractions, while also getting a taste of its rich history and culture. Whether it's the towering Burj Khalifa, the exciting waterslides at Atlantis Aquaventure or the tranquil desert landscapes, Dubai is a destination that promises a wealth of unforgettable experiences for your family. In this guide, I will tell you about the top 14 activities in Dubai for kids. Moreover, to better prepare you for the trip, I will share my tips about the best season to travel to Dubai with children, popular areas to stay, places to eat and much more. Enjoy reading!
Best time to visit Dubai with kids
Deciding when to visit Dubai with your family can greatly enhance your experience. The city's desert climate means it has two main seasons: hot and hotter. Jokes aside, there is a hot summer season and a cooler winter season, when tourists flock back to the city. You can read more about Dubai's weather and climate via the link above.
Winter season
The best time to come to Dubai with kids is during the cooler months, between October and April. This is the period when the weather is most pleasant, averaging around 24-30 degrees Celsius. Moreover, it is exactly when Dubai comes alive with numerous outdoor activities and events, making it an ideal time to explore the city with your children.
Summer season
However, if your travel plans fall during the hotter months, fear not. Yes, it will be scorching hot outside. But Dubai is well-equipped to handle the heat, with most attractions, shopping malls and even bus/tram stops air-conditioned. Plus, summer in Dubai can be an advantage as it's off-peak season, meaning fewer crowds at major attractions and potentially cheaper accommodation and flights.
On the other hand, be prepared that popular outdoor attractions, such as Dubai Miracle Garden, Dubai Garden Glow and Global Village close in May and gradually reopen from September to October.
Remember, no matter when you choose to visit, Dubai always has many indoor activities to keep your family entertained. From indoor skiing at Ski Dubai to exploring the Underwater Zoo, the city ensures that your family vacation is filled with fun and adventure, irrespective of the weather.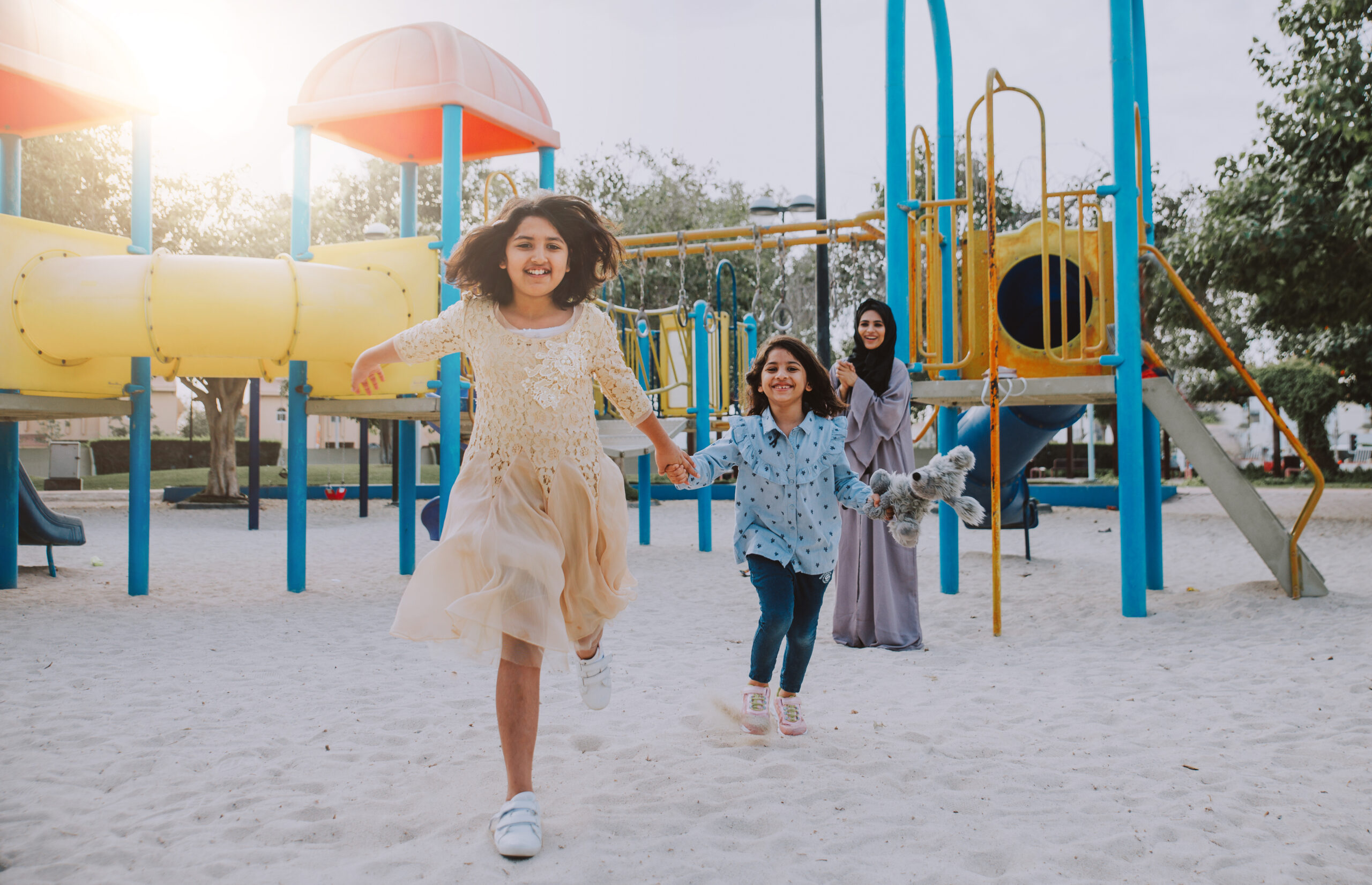 Is Dubai safe for families
When it comes to visiting Dubai with kids, safety is of utmost importance. Well, I have good news for you: Dubai is considered one of the safest cities in the world. It has an extremely low crime rate, and the government places a high priority on maintaining safety and security for both residents and tourists. You can even leave your purse on the beach and go swimming, it won't be stolen. And valuable items lost or left in public places are almost always returned to their owners.
The city is incredibly clean, and strict laws are in place to ensure public decency and respect. Furthermore, healthcare facilities in Dubai are top-notch, with excellent pediatric care available in case of emergencies.
However, as with any travel destination, it's important to take regular precautions. Keep a close eye on your children, especially in crowded places, and ensure they understand basic safety rules.
Have Fun Dubai's Tip: Dubai is a very open and welcoming city, but it is still located in a Muslim country. If you travel with older kids, explain to them Dubai's basic customs and rules. It can help your family to avoid any trouble caused by cultural nuances if you arrive from outside the Arabic region.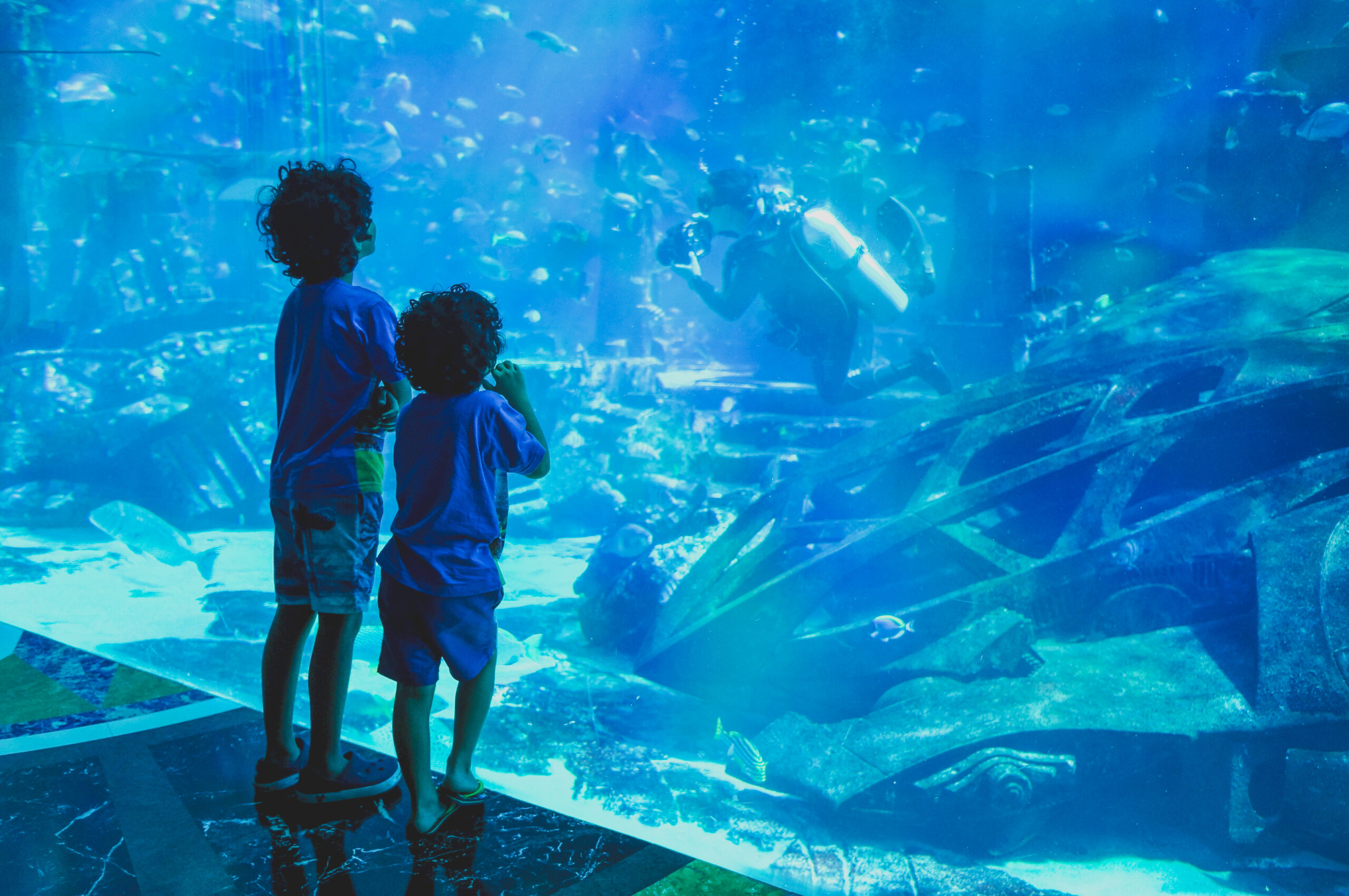 Best way to get to a hotel from Dubai Airport with kids
There are two main airports: Dubai International Airport (DXB) and Al Maktoum International Airport (DWC). After a long flight, the last thing you want to worry about is how to get to your hotel with your tired kids in tow. Are you familiar with this challenge? Thankfully, Dubai offers a range of convenient and family-friendly transport options.
Dubai International Airport, where most of the flights arrive, is well connected to the city. So here are the best options for travellers with children:
Taxi: There are plentiful taxis available in the designated area, including larger ones for families with lots of luggage. Alternatively, you can opt for Uber or Careem (a Middle Eastern equivalent) — they have a dedicated pick-up zone in Terminals 1, 2 and 3.
Private transfer: This is a great option for families, especially if it's your first time in the city. You get a Meet & Greet service in the arrivals hall, and the driver will navigate you to the vehicle. You can preorder a booster or any other type of child seat. Depending on the car model you book and your destination, prices may match the taxi rates. But you actually get more for the same price. Book a private Dubai transfer here.
Metro: If your family is up for an adventure, the Dubai Metro links directly to the airport and is a clean, safe and efficient way to travel. The red line has stations at Terminals 1 and 3 of Dubai International Airport, and trains go directly to such places as Burj Khalifa, the Mall of the Emirates and Dubai Marina. Moreover, you can change to the green line at Union Station or BurJuman Station.
Where to stay in Dubai with children
Choosing the right area and accommodation is a crucial part of any family holiday, and Dubai certainly doesn't disappoint in this regard. The city offers a wide range of family-friendly neighbourhoods, hotels and resorts. Dubai Marina, JBR, Bluewaters, Jumeirah and Palm Jumeirah are my favourite areas for families travelling with children.
Consider these factors to choose the best area to stay in Dubai with kids:
Location: Choosing where to stay with children depends on the attractions you want to visit. To be close to the beach and waterparks, consider Jumeirah Beach Residences (JBR), Dubai Marina, Jumeirah or Palm Jumeirah. To enjoy shopping and Burj Khalifa views, opt for Downtown Dubai. To be next to theme parks, such as Motiongate and Legoland, book a night or two at one of the hotels inside Dubai Parks and Resorts.
Public transport: Staying close to the metro stations can make it easier and quicker to reach different attractions, reducing travel time and ensuring your kids have maximum fun! However, remember that the Dubai Metro has only two lines, and there are no stations on Palm Jumeirah or close to many Jumeirah beaches. You will need a NOL card to use public transport. Alternatively, rent a car in Dubai to avoid the hassle.
Budget: If you are ready to splash, choose areas near popular attractions or beach resorts. For budget-conscious travellers, I recommend neighbourhoods like Deira and Al Barsha.
Accommodation type: You can choose among many property types, from beach resorts to private apartments and villas. For those seeking luxury, hotels like Atlantis The Palm and Jumeirah Beach Hotel offer spacious family rooms, kid's clubs, multiple dining options and direct access to beaches and waterparks. If you prefer self-catering options, Dubai Marina or Downtown Dubai are the areas with plenty of serviced apartments.
To learn more, read my summary of the best Dubai areas for tourists.
Top 14 attractions for kids in Dubai
OK, now let's talk about what to do in Dubai with kids. It's no exaggeration to say that the city itself is a giant playground full of amazing things to do. One thing is certain, don't try to do them all at once in one day, it won't be possible. They require quite some time to visit and are located in different parts of the city. Instead, I suggest that you focus on those that appeal the most to you and your children.
Here are 14 popular attractions for kids in Dubai that you shouldn't miss:
Aquaventure Waterpark
Located in Atlantis The Palm, Aquaventure Waterpark is the largest waterpark on the planet by number of waterslides according to the Guinness World Records. It has over 105 thrilling water slides, a 700-metre private sandy beach, a river ride with rapids, several pools with sunbeds and much more. This is a great place to cool off from the heat.
Try such legendary rides as Odyssey of Terror, Shockwaves and Zumerango or visit the quieter Splasher's Kids Play Area for toddlers and preschoolers. This waterpark is definitely one of the best activities for kids in Dubai. Moreover, you can buy a combi-ticket and visit Lost Chambers Aquarium nearby.
Suitable for: all ages (but due to the high thrill level of most slides I recommend it for older children), height restrictions per attraction apply
Book your Atlantis Aquaventure Waterpark tickets here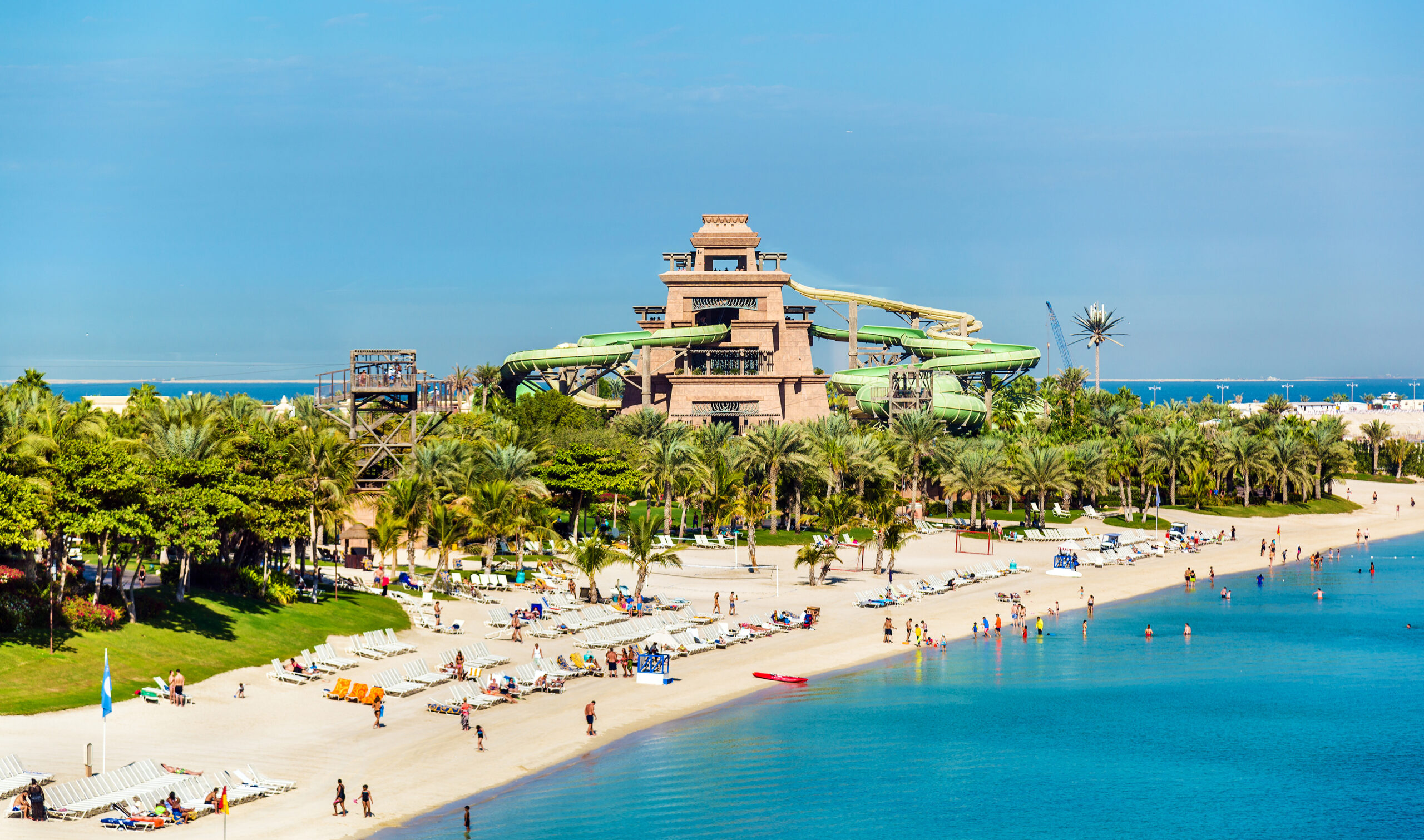 Dubai Aquarium & Underwater Zoo
Located in the Dubai Mall, Dubai Aquarium & Underwater Zoo with over 33,000 marine animals (140 species) is the largest in the city. Furthermore, it boasts a 10-million-litre fish tank, the biggest in the world, which the mall visitors can see even from the shopping hall.
Children love the 48-metre-long walk-through tunnel with a 270-degree view of the aquatic world and a glass-bottom boat ride. You will see colourful displays of fish, rays and sharks and even the gigantic King Croc weighing 750 kg. Moreover, adventurous older children can join exciting activities, such as Cage Snorkelling, Shark Dive and Scuba Diving.
Book your Dubai Aquarium & Underwater Zoo tickets here
Dubai Fountain
While you are here, why not visit another iconic landmark just next door? And it's totally free! Located at the base of Burj Khalifa, the Dubai Fountain offers a spectacular water and light show, choreographed to music. It's a mesmerising spectacle that your kids will love.
Just imagine the jets that shoot water up to 150 metres into the sky synchronised with various songs, including international and Arabic hits. I recommend visiting the evening fountain shows which run every 30 minutes from 18:00 till 23:00 for about 5 minutes. The atmosphere is truly magic! You can get a table at one of the cafes with Burj Khalifa and Dubai Fountain views or even book an abra boat ride to cross the fountain lake.
Book your Dubai Fountain boat ride here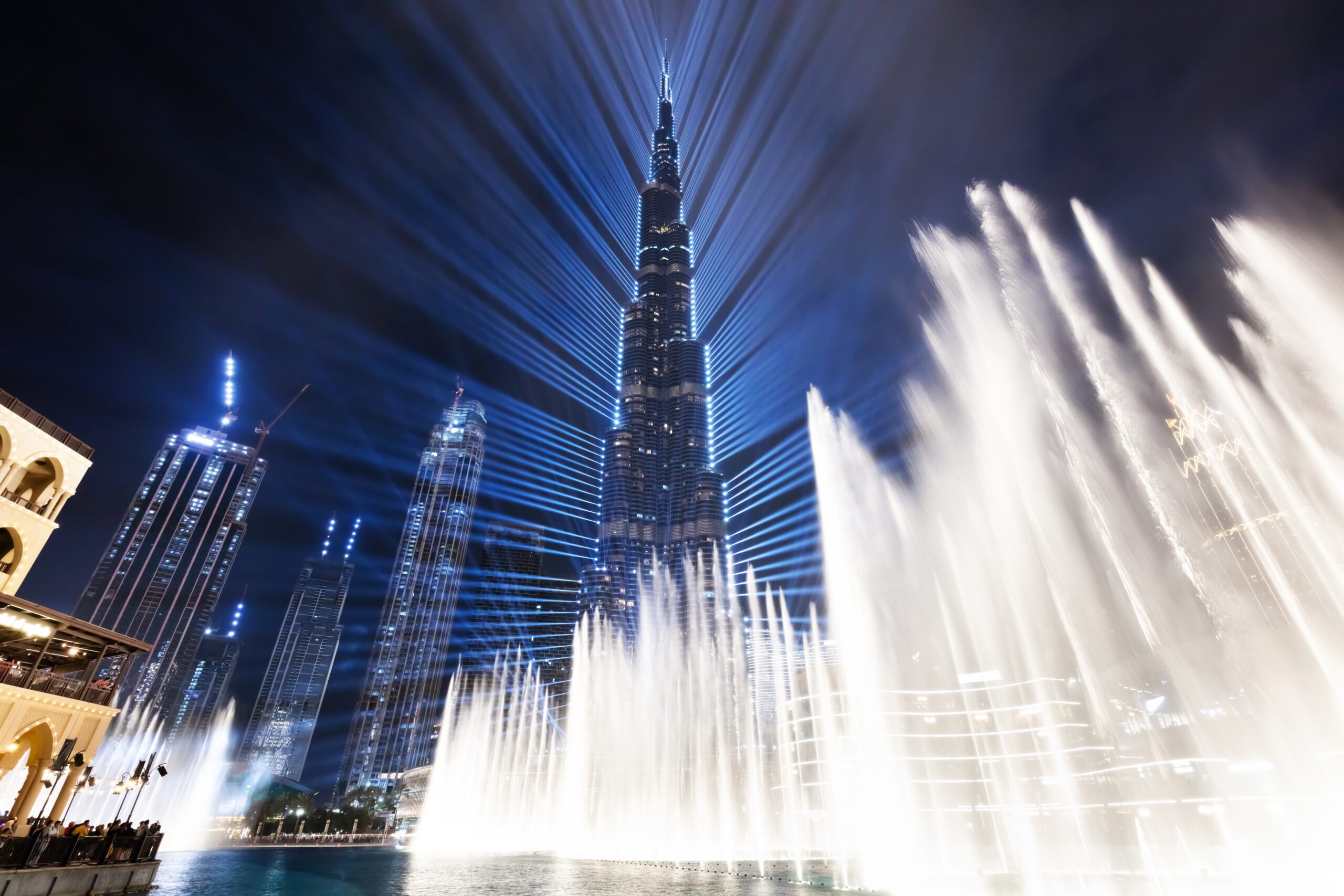 KidZania Dubai
By the way, if you want to have a short break from the kids and shop at the Dubai Mall (yes, it's totally worth it), I have a great solution. KidZania Dubai inside the shopping centre is an interactive children's city where kids can role-play adult professions, from firefighters to chefs, in a safe and fun environment.
In total, there are about 40 areas for children from 2 to 16 years old. There are professional and friendly supervisors on-site, so if your kids feel comfortable they can explore the whole venue on their own while you are away. Adults are allowed to leave and re-enter for free. I think this is a win-win for both!
Suitable for: all ages (but most activities are for kids aged 4-16 years)
Book your Dubai KidZania tickets here
Dubai Ice Rink
Dubai Ice Rink in the Dubai Mall is a popular choice, offering public skating sessions, disco sessions, skating lessons and even ice hockey. If your children are not into role-playing, but you still want to shop, offer them to go skating. For 90 minutes (each session's duration) you can enjoy your shopping spree.
A ticket to this massive Olympic-sized ice skating in Dubai includes socks and skates (many sizes available) Don't forget to grab a sweater and pants because the temperature is maintained at -5 degrees Celsius. If your kids don't feel very comfortable on the ice yet, you can rent a funny skating aid to lean on.
Suitable for: aged 4 and above (children under 120 cm must be accompanied by an adult)
Book your Dubai Ice Rink tickets here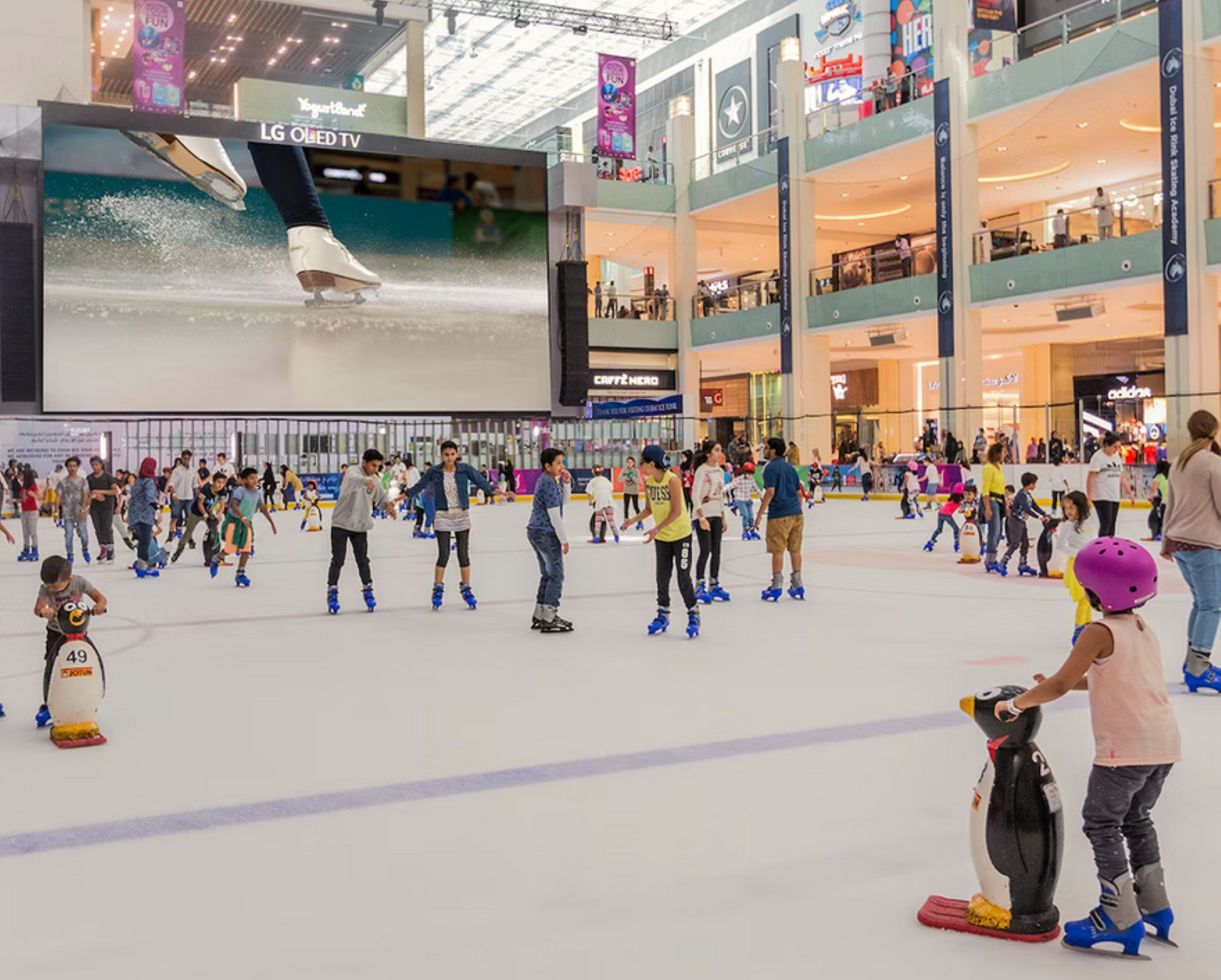 IMG Worlds of Adventure
IMG Worlds of Adventure is the world's largest indoor theme and amusement park. On 140 thousand square metres, you will find more than 20 thrilling rides and attractions. With six zones, including Marvel and Cartoon Network, it offers an array of activities, from thrilling roller coasters to interactive dinosaur adventures.
If you are looking for the best places to visit with kids in Dubai, this is a great option. A nice thing is that IMG Worlds is indoors and air-conditioned, meaning you can enjoy the rides without worrying about the heat. Young visitors will definitely fall in love with Avengers: Battle of Ultron, Spider-Man, Powerpuff Girls and other attractions
Suitable for: all ages (but I do not recommend it for toddlers), height restrictions per attraction apply
Book your IMG Worlds of Adventure tickets here
Dubai Parks and Resorts
If you are looking for the best Dubai activities for kids, don't miss Dubai Parks and Resorts. This is the Middle East's largest integrated resort destination. It features several theme parks and playgrounds including Motiongate Dubai, Legoland Dubai, Legoland Waterpark and Neon Galaxy. You can even stay at one of the on-site hotels with the whole family.
Motiongate amusement park is a must-do activity for movie buffs. 40 amazing attractions are spread across 4 zones, such as DreamWorks Animation, Columbia Pictures, Smurfs Village and Lionsgate. This is the place where many favourite movies, from Shrek and Madagascar to Kung Fu Panda and Ghostbusters, come to life, and children can meet different characters.
Suitable for: all ages (but I do not recommend it for toddlers), height restrictions per attraction apply
Book your Motiongate Theme Park tickets here
Legoland Dubai is an interactive park, where you and your children can set the imagination free in the LEGO world. Marvel at the iconic landmarks made of LEGO bricks or create your own structures and figures. In general, you can enjoy 40 exciting rides and attractions.
Suitable for: families with children aged 2 to 12, height restrictions per attraction apply
Book your Legoland Theme Park tickets here
Legoland Waterpark is another venue that will excite all the LEGO enthusiasts. Located within Dubai Parks and Resorts, it boasts 20 unique themed slides for both children and adults. At Build-A-Boat you can get creative and build your own aquatic vehicle, visit the Joker Soaker playground with a huge bucket that showers water or join the Red Rush, a family-sized raft slide following a 95-metre-long curving track.
Suitable for: families with children aged 2 to 12, height restrictions per attraction apply
Book your Legoland Theme Park tickets here
Neon Galaxy inside Dubai Parks and Resorts is an indoor playground for young kids and teenagers. It boasts rope climbing, slides and ball pits. Young visitors will have a great time at the Space Jungle, Solar Storm, Slide Central and other zones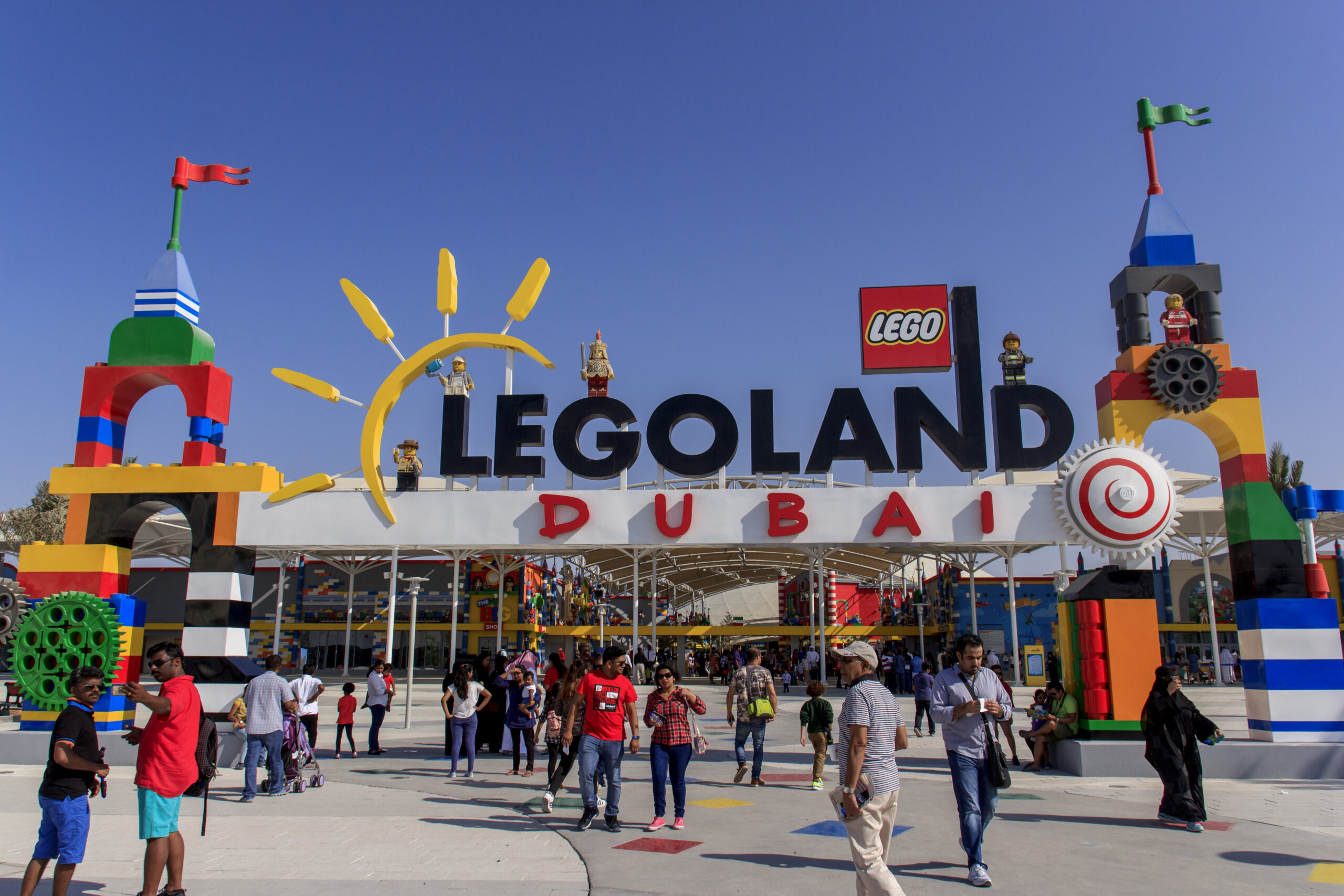 Ski Dubai
Winter attractions for kids in Dubai? Yes, it is possible. Located in the Mall of the Emirates, Ski Dubai is an indoor ski resort offering snowboarding, skiing, tobogganing or just playing in the snow. It features two sections where the temperature is maintained at -2 to -4 degrees Celsius.
The first one offers an 85-metre hill with five slopes. It is ideal if you want to relive your ski holiday, but now in the middle of the desert. On the other hand, you might prefer the Snow Park with tobogganing, an exciting snowball fight, leisurely ice cave exploration and other activities. You can even opt for an encounter with Gentoo and King Penguins for up to 40 minutes. Keep in mind that you will need different tickets to enter either of the sections, and there are several ticket options.
Suitable for: aged 3 years and above
Book your Ski Dubai tickets here
Dubai Miracle Garden
From the winter wonderland let's move to the floral wonderland. Dubai Miracle Garden is a seasonal park, open from October to May, with 150 million flowers arranged in beautiful compositions, shapes and structures. This is a must-visit attraction in Dubai for families with children.
From the moment you step in, you will find yourself in the ocean of aromas and colours. The famous replica of the Emirates A380 aircraft, Teddy Bear, Smurfs, Disney Castle, Mickey Mouse and multiple tunnels are sure to conquer the heart of your child. And you will not be an exception either. Come to take stunning photos and enjoy fragrant scents either in daylight or after sunset.
Book your Dubai Miracle Garden tickets here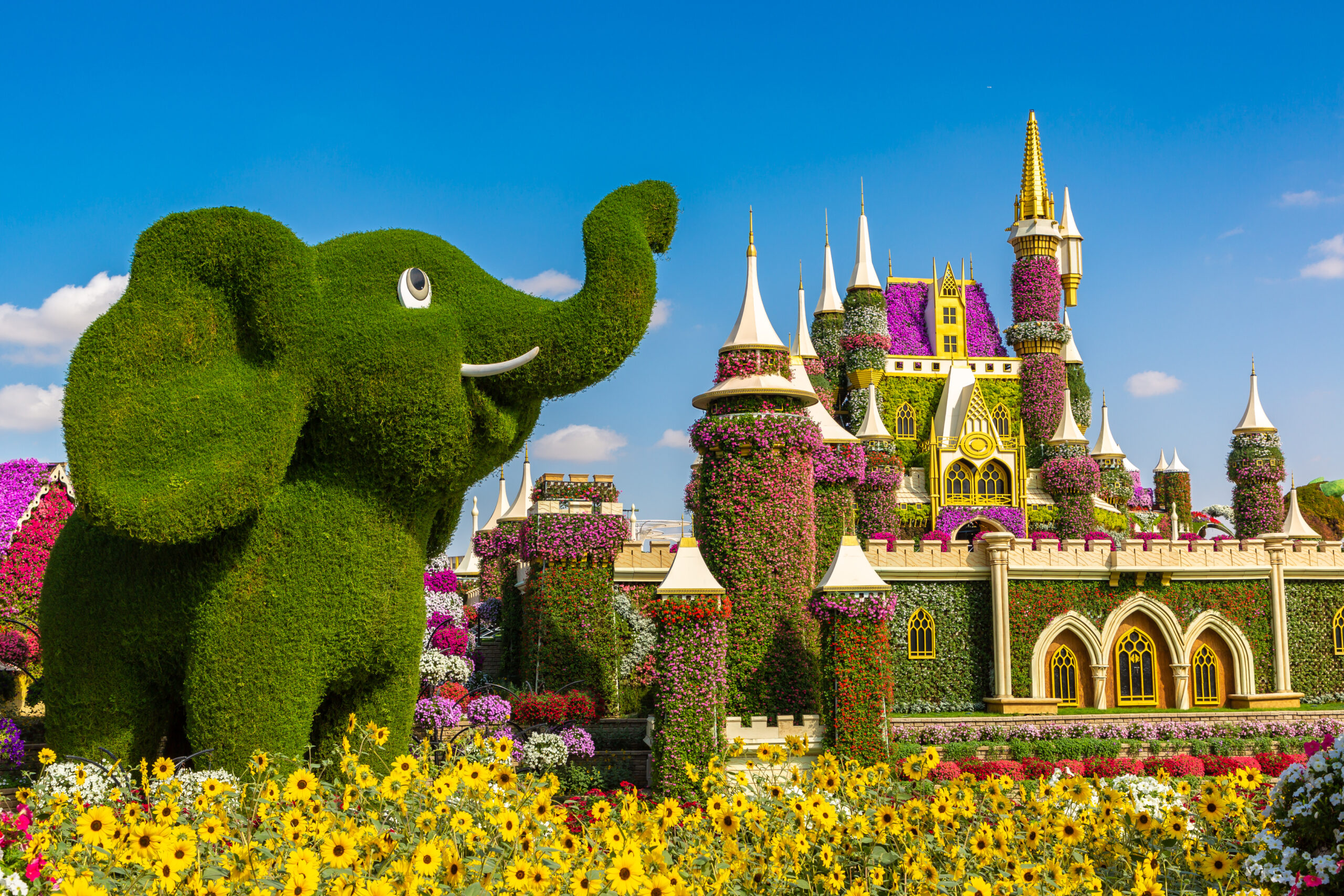 Dubai Butterfly Garden
Don't leave yet, another family-friendly attraction is just around the corner from the flower park. Dubai Butterfly Garden features 9 domes which are home to 15,000 butterflies from the Philippines, Thailand, Costa Rica and other exotic countries. The park is indoors, so you can visit it any time of the year.
Your kids will be amazed by thousands of beautiful creatures fluttering around. You can even see them up close if they land on your arm. If you are visiting with younger kids, please explain to them the park rules, as butterflies are very fragile. Avoid touching butterflies and do not bring food or drinks so that their natural enemies do not get inside.
Book your Dubai Butterfly Garden tickets here
Wild Wadi Waterpark
Waterparks are definitely among the best things to do in Dubai with kids. Wild Wadi is another fantastic aquapark offering more than 30 rides and attractions for the whole family. Moreover, it boasts fantastic views of Burj Al Arab. I love this water paradise because its design is inspired by the tales of Juha, a popular character from Arabian folklore, so you get introduced to the local heritage.
Venture to Jumeirah Sceirah, the tallest and fastest slide in the Middle East, or Burj Surj which sends riders through a series of spiralling tubes. Juha's Dhow and Lagoon is a family-friendly area of the park with over 100 water games, slides, water cannons and a large tipping bucket. If you stay at the Jumeirah Beach Hotel and some other properties nearby, you get free unlimited access to Wild Wadi Waterpark.
Book your Wild Wadi Waterpark tickets here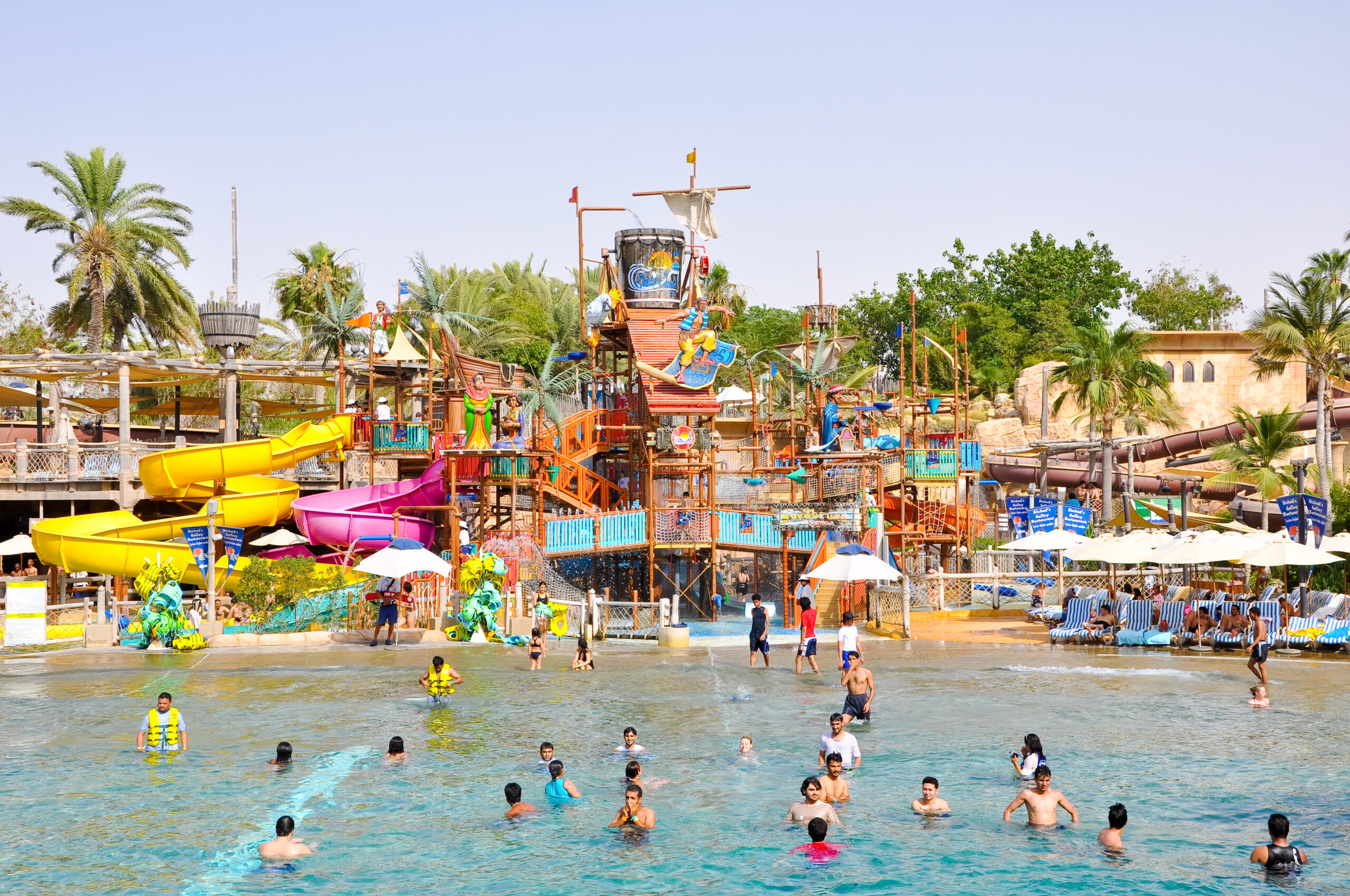 Desert safari
Dubai desert safari is one of the most exciting activities you can do with your kids. Take a thrilling ride through the dunes, enjoy sandboarding or a camel ride, watch traditional dancers while enjoying a barbecue dinner or try henna painting. This is a one-in-a-lifetime experience that will stay in your memory for a long time.
Even though kids typically love desert safaris, some of them may get scared while dune bashing or riding a camel. A lot depends on how adventurous they are. After all, you know your children better. But to avoid disappointment, I would talk to them and show them pictures first before booking a safari. At the end of the day, it's important that all family members enjoy it and have a smile on their faces while posing for a desert photo.
Suitable for: aged 3 and above
Read more about the best Dubai safaris here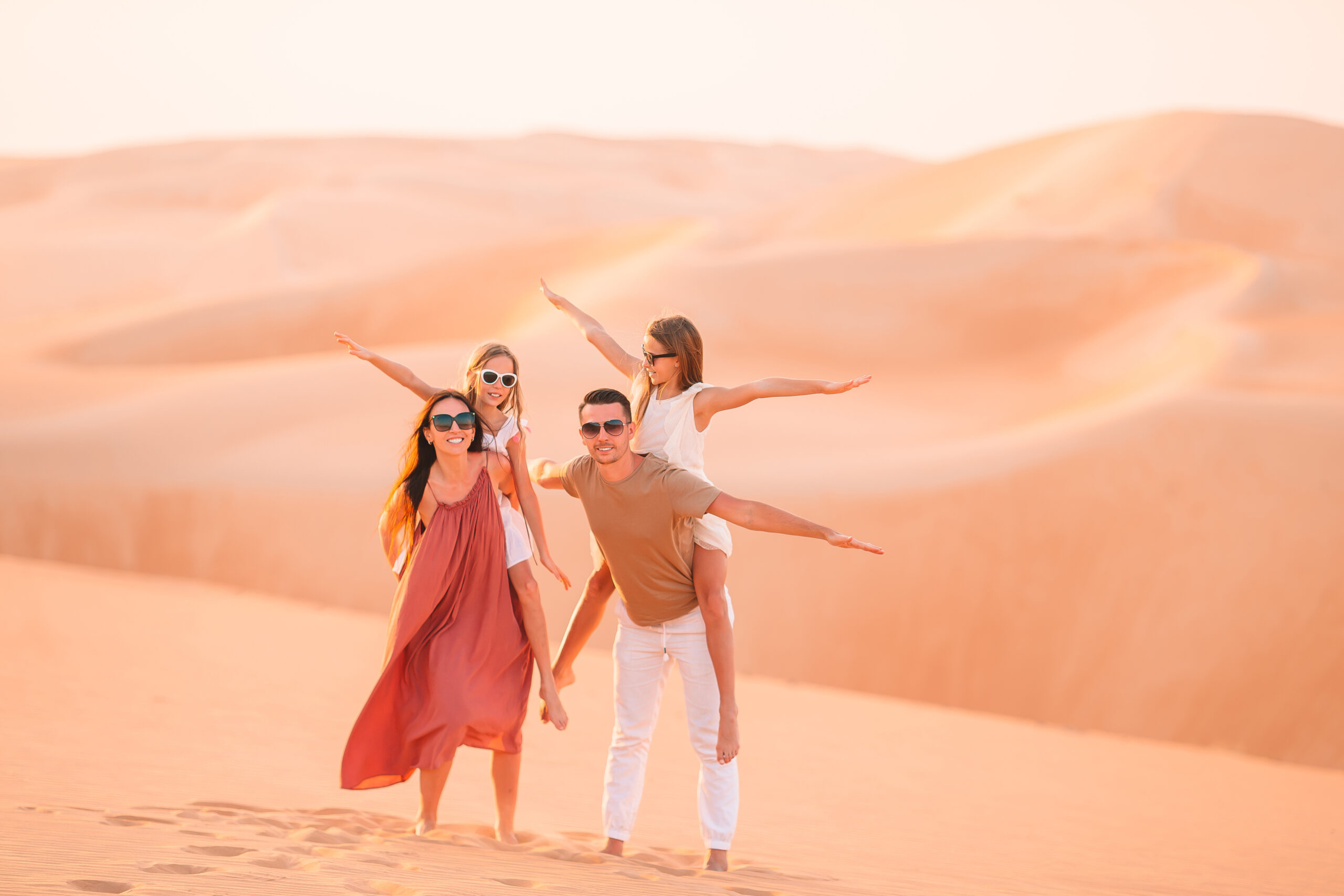 Global Village Dubai
Did you know that in Dubai you can travel around the world in just a few hours? Yes, the quickest world journey is possible at Global Village Dubai. You can browse its endless pavilions representing over 90 countries and featuring famous landmarks, shop for local goods and dine at more than 200 stalls and cafes.
This open-air theme park welcomes visitors every day from 16:00 from October to April, so the desert heat will not bother you. Global Village is popular among kids due to its multiple rides, stunt shows, concerts, acrobat performances, fireworks, the Ripley's Believe It or Not! Museum and much more. Come with a family and you will have an amazing night. Entrance tickets are cheap, but you will need to pay an extra fee to get to certain attractions and shows.
Book your Global Village tickets here
Dubai Garden Glow
This is another open-air seasonal attraction that makes its comeback every September and is open until July. Dubai Garden Glow is the biggest glowing garden in the world, located in Zabeel Park. It features colourful glow figures created from more than 100 million LED lamps. In my opinion, it's a great backdrop for stunning family pictures. Every time I come to the park, it is filled with kids of all ages.
In fact, it's a combi-garden that consists of the Glow Park itself, Dino Park with more than 120 life-size dinosaur replicas, Art Park and Magic Park. A Dubai Garden Glow ticket gives access to all of them, except Magic Park.
Book your Dubai Garden Glow tickets here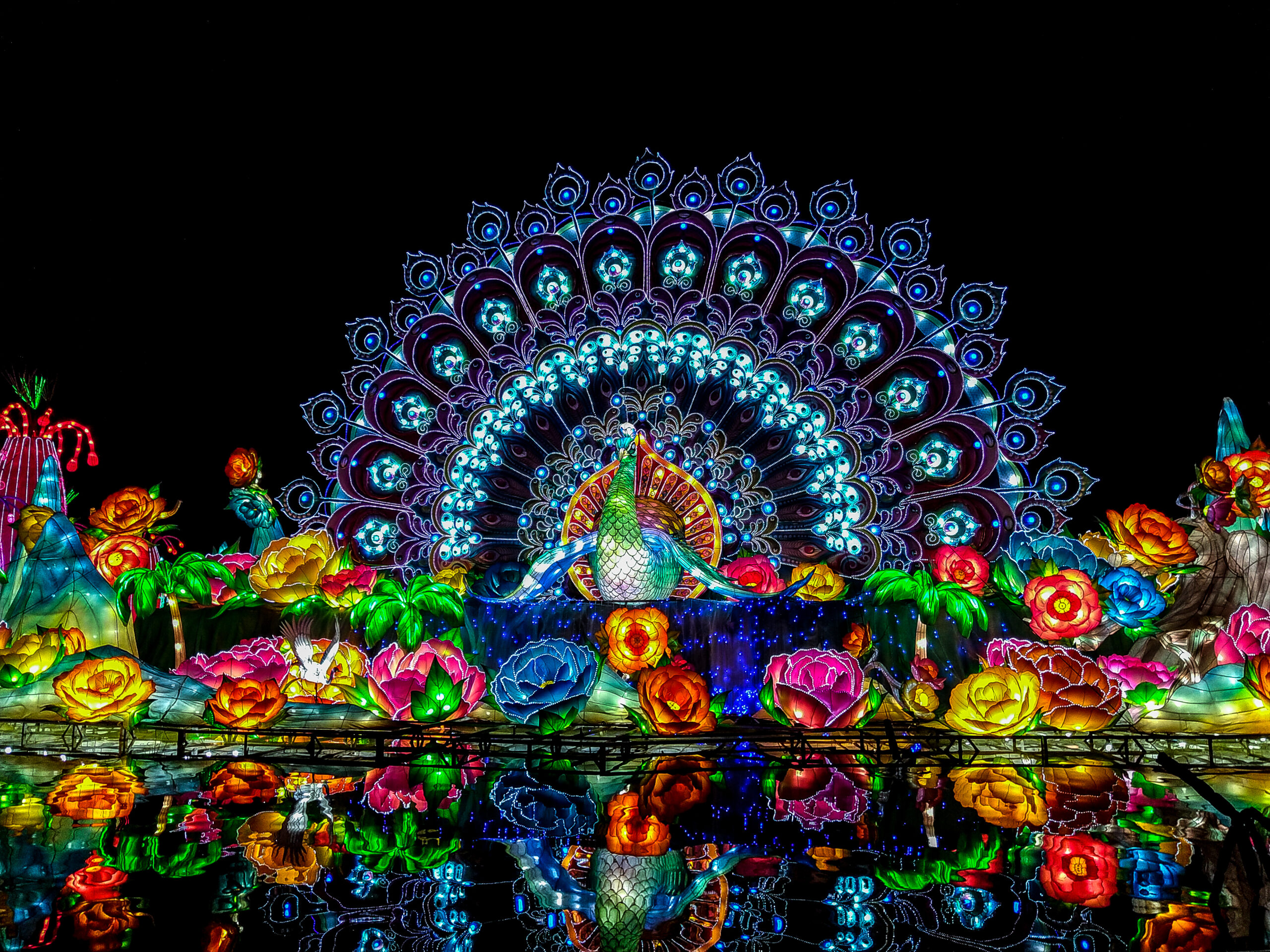 What else to do in Dubai with kids
While the top attractions are a must-visit, there are plenty of other activities in Dubai for kids. The city's numerous public parks offer vast green spaces, playgrounds and even miniature trains. The beaches are an ideal setting for a paradise-like holiday and a stroll around historic quarters with narrow lanes and wind-tower houses offers a glimpse into Dubai's past. So here are a few more tips if you are still deciding what activities to pick for your family.
Popular Indoor children activities in Dubai
Dubai's weather can be harsh, but that doesn't mean the fun needs to stop. The city offers a host of indoor activities to escape the heat. Apart from those I have mentioned in the top 14 list, there are other popular options you can explore.
Bounce Dubai is a massive indoor trampoline park that promises a fun-filled day for the whole family.
OliOli is an interactive children's museum with eight galleries, each designed to inspire and engage young minds.
Magic Planet with several branches (including those at the Mall of the Emirates and City Centre Deira) is one of the popular indoor amusement parks in Dubai. It offers different rides and interactive arcade games.
Dreamscape is a virtual reality experience in the Mall of the Emirates. This attraction is suitable for kids from 10 years old and combines cutting-edge technology with great visuals.
Museum of Illusions is dedicated to the art of illusion, and its 60 exhibits will literally blow your mind.
Yalla! Bowling with 12 lanes and a vibrant atmosphere is a great place to stay active and spend an unforgettable time with a family while bowling.
PlayDXB inside the Dubai Mall with a wide range of arcade games is a fantastic option for gamers of all ages.
Dubai Mall Dino is a real dinosaur skeleton that is 155 million years old. Show it to your kids while visiting the mall.
Dubai Dolphinarium inside the Creek Park organises several exciting shows every day featuring smart and friendly dolphins, sea lions and exotic birds.
Trampo Extreme at the Dubai Mall is a trampoline venue where young visitors can try various activities from bouncing to wall climbing and weightless trapeze.
Best Dubai parks for kids
When it comes to outdoor fun, parks in Dubai for children are plentiful. The city boasts numerous beautifully maintained parks, providing a perfect respite from the hustle and bustle. It is handy to know that entrance to many Dubai parks is not free, but the fee is minimal and you can use a NOL card to pay.
Zabeel Park is one of the biggest and most popular in the city. It features a large lake where you can rent pedal boats, a mini-golf course, picnic areas and the Dubai Frame, from which you can enjoy panoramic views of both old and modern districts.
Safa Park is a favourite amongst families, with its vast lawns, playgrounds, barbeque areas, a football field and beautiful views of Downtown Dubai.
Creek Park, located on the banks of Dubai Creek, offers stunning views and features bike rentals, cable car rides and the Children's City where children can explore the world of science, nature and culture. Moreover, it is home to Dubai Dolphinarium with dolphin and bird shows.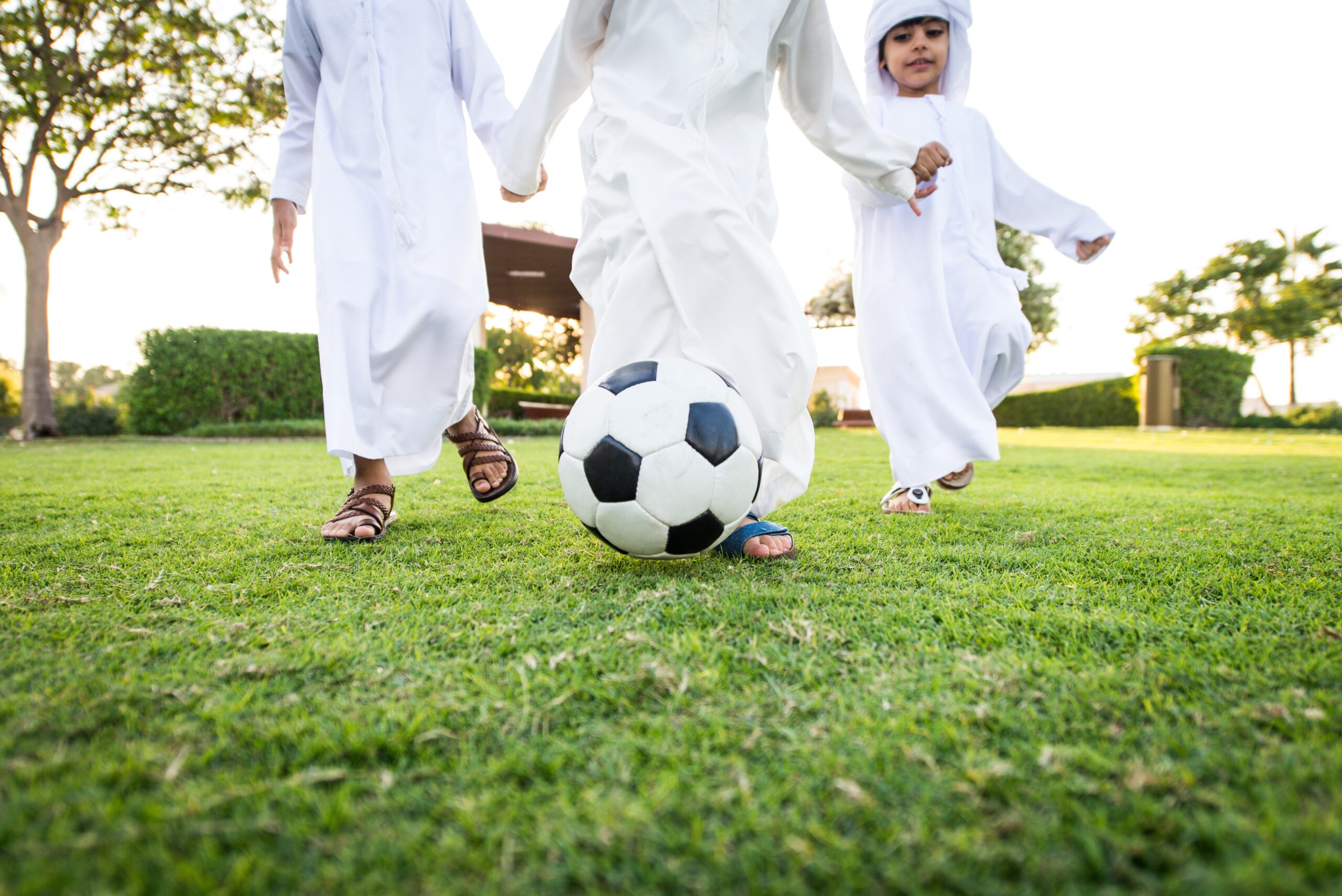 Outdoor playgrounds
I hope that by now you are already convinced that Dubai is a very child-friendly city. But to give you an extra argument, I wanted to mention a few words about outdoor playgrounds. Dubai offers plenty of outdoor playgrounds where kids can explore, play and create unforgettable memories.
They are located everywhere across the city, from popular tourist spots to residential areas and parks. You can find them in JBR, Dubai Marina, Jumeirah Lakes Towers, Al Barsha, Deira, Palm Jumeirah, Dubai Hills and even a few hundred metres away from Burj Khalifa.
Equipment differs per playground. In some places, you can find swings, slides, cargo nets and monkey bars, while others have football and basketball fields. Moreover, next to popular tourist spots, you can even often find mini attraction parks with trains, kids cars for rent, toy fishing ponds and much more.
Best Dubai beaches for families
Dubai's pristine beaches are perfect for a relaxing family day out. Most public beaches are free and offer excellent facilities like play areas, picnic spots, showers and food venues.
JBR Beach is my absolute favourite choice for families. Located near The Walk in Jumeirah Beach Residences, it offers a range of water sports, camel rides and plenty of dining options.
Kite Beach, famous for kitesurfing, also features a play area for kids and a 14 km running track.
Al Mamzar Beach Park is a beautifully maintained park with several coves and beaches, providing a perfect spot for picnics and swimming. Keep in mind that entrance to this beach requires a small fee.
Jumeirah Open Beach is a great option for fitness enthusiasts and families. It boasts a well-maintained jogging track, picnic spots and showers.
You can find all you need to know about top beaches in Dubai here.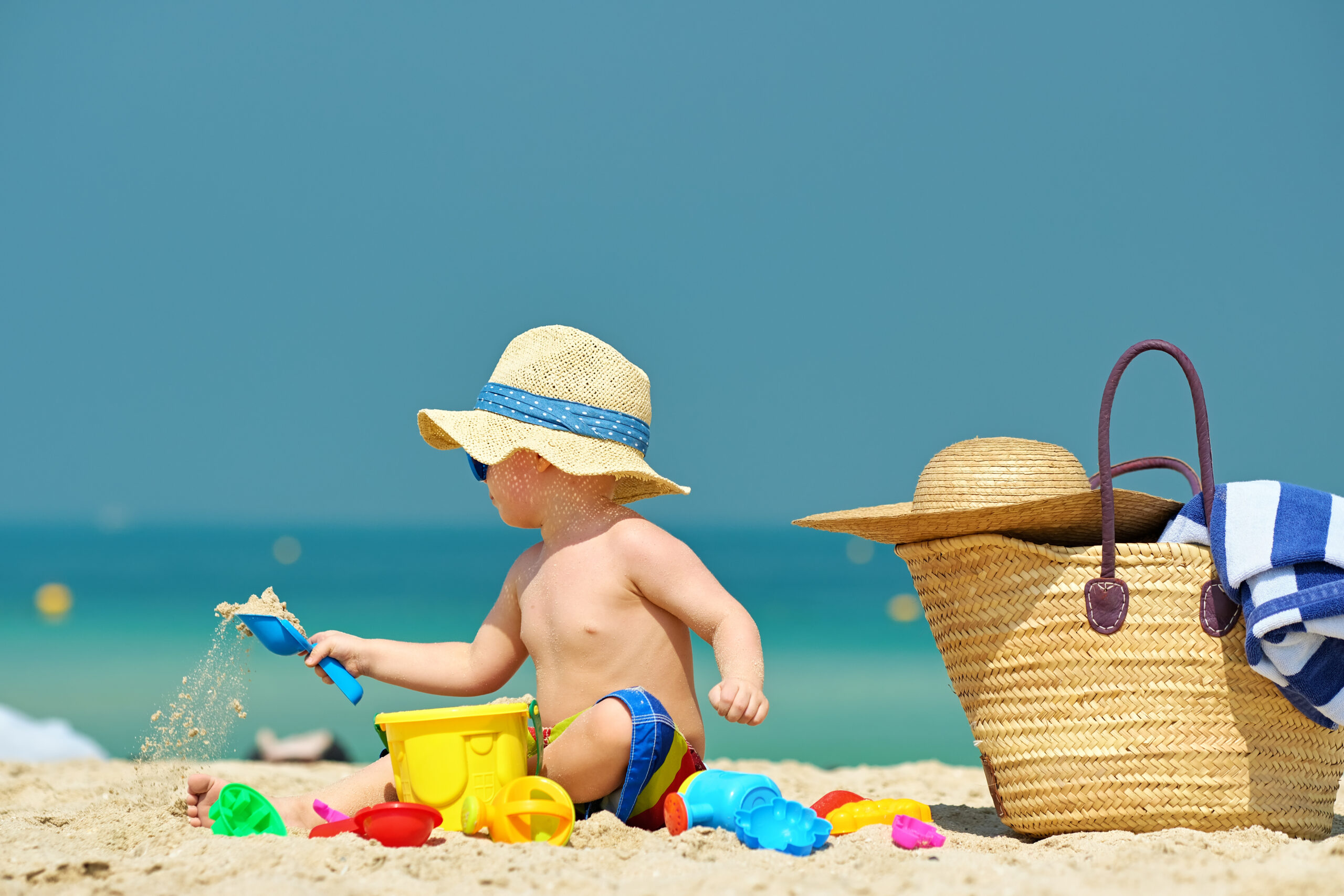 Exploring the unique Dubai culture with children
Introducing children to new cultures can be a rewarding and eye-opening experience. Visiting Dubai with kids offers numerous opportunities to explore and learn about Emirati culture and traditions.
Visit the Sheikh Mohammed Centre for Cultural Understanding for a traditional Emirati meal and a chance to learn about local customs. Book your visit here
Take a short abra boat ride across Dubai Creek to enjoy the views of the historic neighbourhoods.
Go for a walk around old quarters including Bur Dubai, Al Fahidi and Deira for a glimpse of history.
A visit to a local mosque, like the Jumeirah Mosque, can also provide insightful cultural exposure. However, you will need to join an organised tour to enter this religious building. Via the link above you can find my tips to prepare for the visit.
Don't forget to taste the local cuisine. Traditional dishes like biryani and camel milk Ice cream are a must-try! To try all the local flavours, visit the local restaurants, such as the Arabian Tea House or Al Khayma Heritage Restaurant. Book a meal at Al Khayma Heritage Restaurant here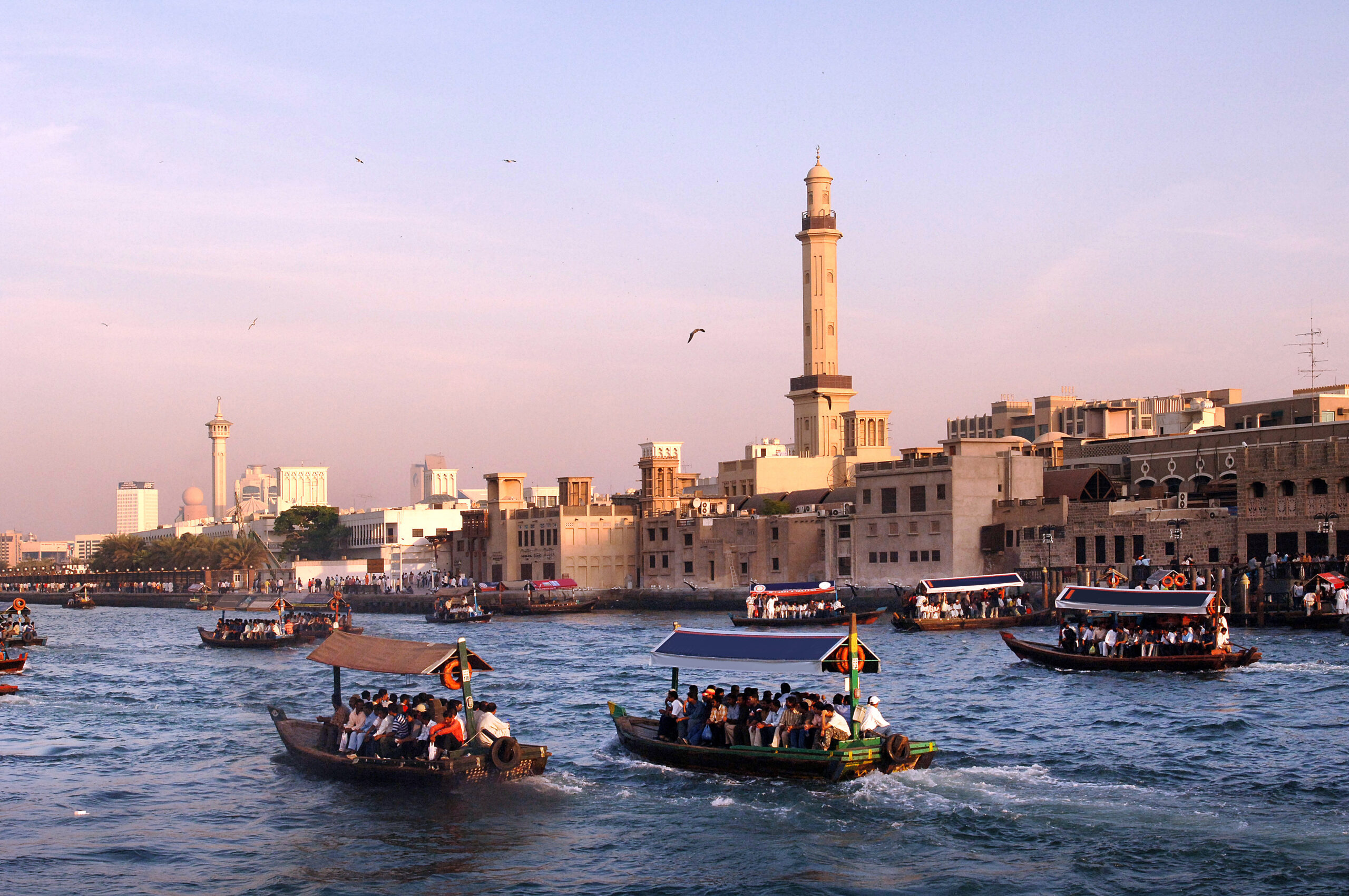 Best hotels in Dubai for families with kids
Dubai is home to some of the world's most luxurious hotels, many of which are perfect for families. If your budget allows that, it's best to book a room in one of the beach resorts. Of course, they are not cheap, but they include many facilities for kids or even access to waterparks.
Atlantis The Palm is a firm favourite, offering a range of kid-friendly activities and attractions, including the Aquaventure Waterpark I have mentioned above and the Lost Chambers Aquarium.
Jumeirah Beach Hotel is another excellent choice, with its five swimming pools, many restaurants and bars, a KIDS Club and complimentary access to Wild Wadi Water Park. Moreover, you will be able to enjoy views of Burj Al Arab literally every day from here.
Read here about 10 top beach hotels in Dubai for a memorable stay with your family.
For a more culturally immersive experience, I recommend Al Maha, a Luxury Collection Desert Resort & Spa that offers a unique stay in the desert, with activities like camel trekking and falconry. My stay there was truly amazing. The desert literally starts at the doorstep of your lodge. Kids will also love friendly wild animals wandering on-site. If you decide to take part in activities, make sure to book your spot in advance because they are very popular.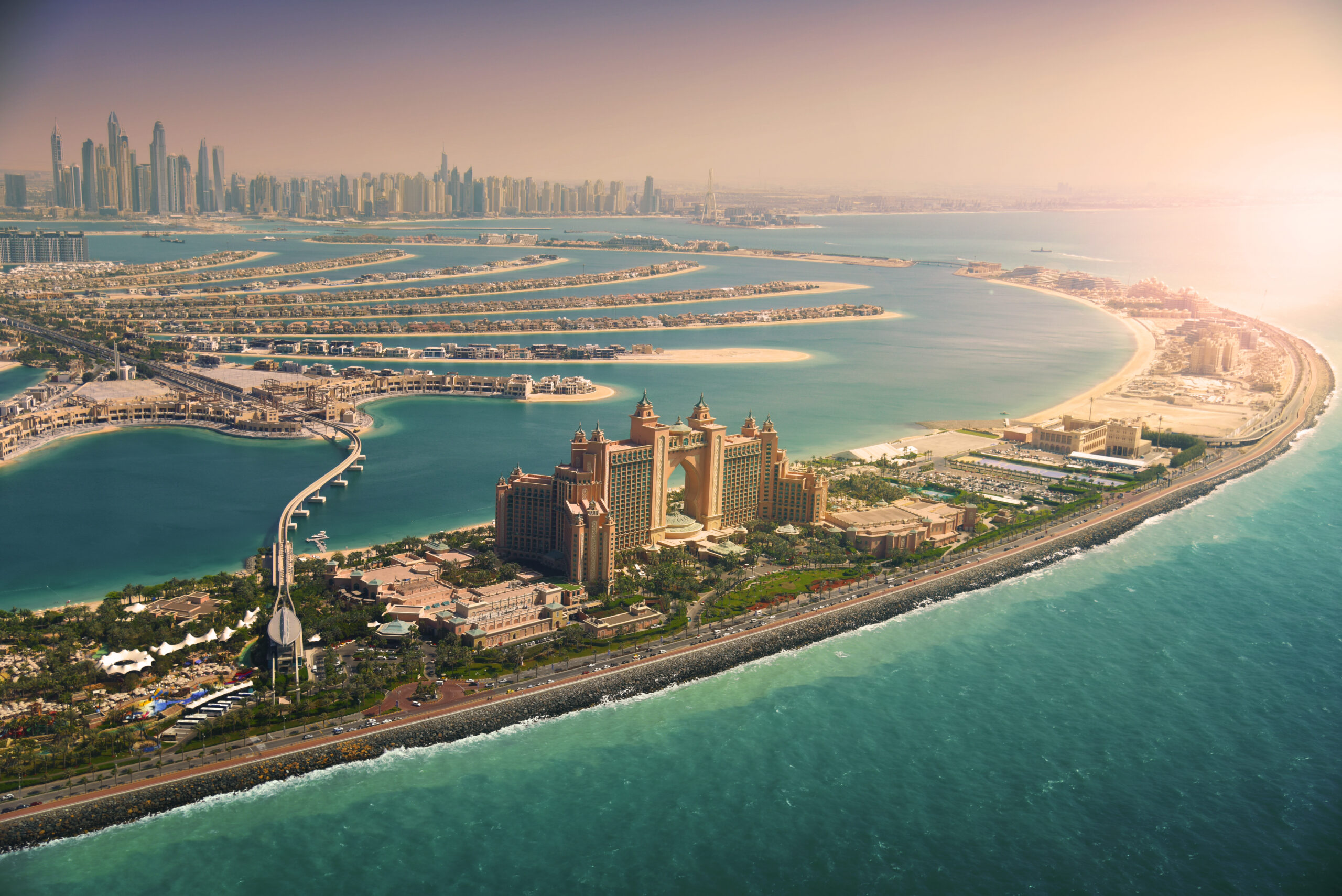 Where to eat in Dubai with children
Dubai's dining scene is as diverse as its population. From street food to fine dining and fast food, there's something to suit every palate. I know that kids can be quite picky when it comes to food, but rest assured in Dubai they will be spoilt for choice.
If your kids are open to the idea of trying local food, visit the Arabian Tea House or Al Khayma Heritage Restaurant I mentioned above. Or try Al Mallah on 2nd December Street for some of the best Shawarma in town.
If you want to play safe, many malls have food courts offering a wide range of international cuisines, perfect for fussy eaters. Cheesecake Factory, McDonalds and Five Guys have many branches in the city.
Alternatively, try Carluccio's for Italian pasta or Masha and the Bear in JBR for all-time kids' favourites and a playground.
Prepare for your Dubai trip
Did you find this post helpful? Then click that little heart below and share it with your friends and family. Have fun in Dubai!