Booking the best beach hotels in Dubai is a guarantee for a paradise-like holiday. They offer stunning beachfront views, luxurious amenities, exciting activities and excellent services. Whether you're a beach enthusiast, a luxury seeker, a family or simply someone looking for a peaceful or romantic getaway, you are sure to find something to your liking. Get ready to be pampered and enjoy fabulous sunsets!
From high-end luxury resorts to more affordable options, there are accommodations for different budgets and preferences. Beachfront hotels in Dubai are known for their breathtaking views of the Arabian Gulf, comfortable rooms and top-notch facilities. Moreover, many surrounding world-known attractions will keep you entertained during your stay. In this article, I will introduce you to the 10 best beach hotels in Dubai which will be a great setting for a vacation of your dreams.
Beaches in Dubai
Firstly, let me tell you a bit more about Dubai beaches. Spoiler — they are just fabulous! You will notice broad stretches of white soft sand in many areas of the city welcoming you to soak up the sun and jump in the refreshing sea water. Most of the beaches are man-made and well-maintained. They are safe and clean: police and lifeguards can be found in many places. Furthermore, I love the fact that the beaches are very diverse and offer anything from tranquillity to adventures, a lively dining scene and water sports.
Jumeirah Public Beach, for instance, is known for its spectacular views of the iconic Burj Al Arab. It's a popular spot for sunbathing, swimming and picnicking. Another notable place is Kite Beach, a haven for water sports enthusiasts. Here, you can indulge in activities such as kitesurfing, paddleboarding and beach volleyball. The Beach JBR offers a perfect blend of activities, shopping and dining, while Palm Jumeirah boasts a mix of seafront clubs and quiet private hotel beaches.
Visiting these places is a pleasure in itself, but staying in a beachfront hotel in Dubai takes the experience to a whole new level. These resorts give you direct access to the beach, allowing you to enjoy the sea and sand any time you wish. Plus, many of these properties have private beaches, providing you with a secluded and peaceful spot to relax and unwind.
I recommend considering the following popular areas for your holiday on the shore:
Jumeirah Beach Residences (JBR)
Palm Jumeirah
Palm West Beach
Jumeirah Public Beach
Umm Suqeim Beach
Kite Beach
Al Mamzar Beach
To find out more about the beaches, follow the link above or read about the best Dubai areas for tourists.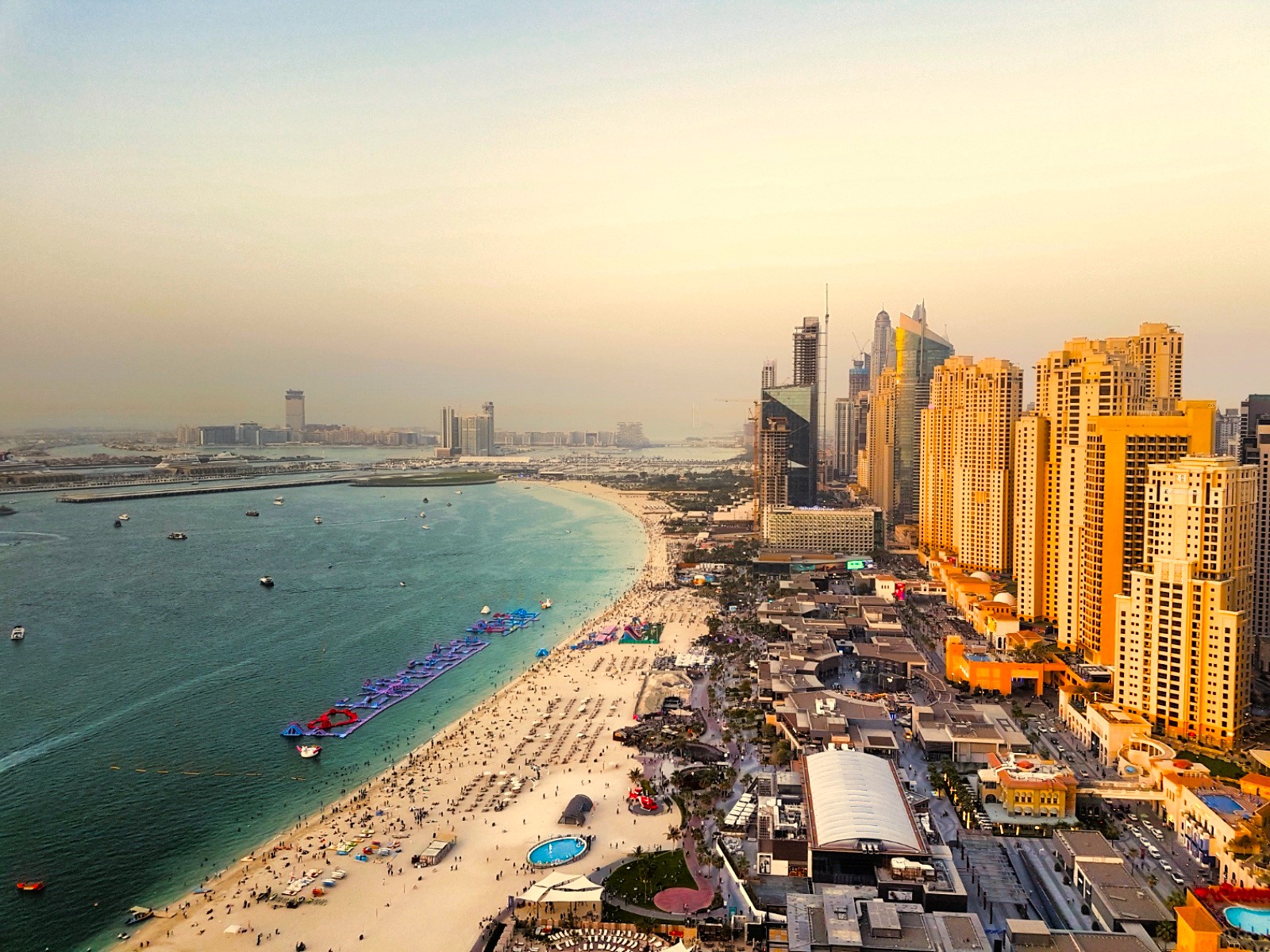 Types of Dubai beach hotels
Dubai's hotels by the beach come in all shapes and sizes, catering to a wide range of preferences and budgets.
First up on the list are the luxury beach hotels in Dubai. These places redefine opulence and comfort. They are equipped with world-class facilities like private beaches, infinity pools, gourmet restaurants and spa centres. Some of the best options in this category include the Burj Al Arab Jumeirah, Atlantis The Royal, One&Only The Palm Dubai and Jumeirah Al Qasr.
If you're travelling on a budget, fret not! There are also affordable beach hotels and hostels, such as Dream Beach Hostel, that offer excellent services without burning a hole in your pocket. They may not have the extravagant amenities of their luxury counterparts or offer direct beach access, but they still provide comfortable accommodations, friendly services or stunning beach views.
Family-friendly beach resorts in Dubai are in great abundance. This is not surprising because the city offers so many attractions for children, like water parks and theme parks. These places feature facilities, such as kids' clubs, swimming pools and spacious rooms, ensuring a fun and comfortable stay for the whole family. Consider the Jumeirah Beach Hotel with free entrance to Wild Wadi Waterpark or Atlantis The Palm with unlimited access to the famous Aquaventure Water Park and Lost Chambers Aquarium.
There are also plenty of accommodation options for beach party lovers. You can look forward to chilling in the sunbed with your favourite cocktail, dancing the night away with well-known DJs, meeting new friends and having pool party vibes. If this sounds like a great plan to you, then the Five Palm Jumeirah Dubai Hotel and Nikki Beach Resort & Spa Dubai are good options.
Finally, if you are looking for a quiet beach getaway, Dubai also offers places away from the hustle and bustle. One of my favourites is the One&Only The Palm Dubai Hotel with a huge swimming pool, a private beach, lush surroundings and cute little rabbits hopping around. A perfect place to completely relax and unwind.
What to consider when booking a hotel near the beach in Dubai
Here are my tips which can help you to make the best choice.
Location: Firstly, location is key. Choose a hotel that is close to the beach and other attractions you wish to visit. This will save you time and transportation costs.
Property type: Next, consider the type of hotel that suits your needs. Are you seeking luxury or are you on a budget? Are you travelling with family or are you on a solo trip? Answering these questions will help you make the right choice.
Amenities and facilities: Amenities are another important factor. Look for hotels with facilities that match your preferences. If you're a water sports enthusiast, for instance, choose an accommodation with or near water sports facilities.
Price: Yes, Dubai is notoriously expensive, but you do not have to pay much to enjoy a seaside holiday. Dubai beach hotel prices range from AED 100 per night for a hostel room to AED 170,000 per night for a penthouse on Palm Jumeirah.
Reviews: Lastly, I always recommend reading reviews and ratings before booking a stay. This will give you a better idea of what to expect, helping you make an informed decision.
10 best beach hotels in Dubai
Now, it's time to reveal my list of top beach hotels in Dubai. I am sure you will find a good option among them for your dream seaside vacation.
1. Five Palm Jumeirah Dubai
The FIVE Palm Jumeirah Dubai Hotel is well-known for its festive atmosphere. Parties featuring famous DJs, pleasant music by the pool, a private 150-metre sandy beach, 7 excellent restaurants and a spa — what could be better? This 5-star beauty with 470 luxurious rooms and suites is located on the man-made island of Palm Jumeirah, from where you can admire endless views of Dubai Marina and amazing sunsets.
Head down to the Beach by FIVE, which boasts the famous infinity pool often featured on Instagram, or sit back with a drink at one of the exclusive cabanas. Every evening, the FIVE Palm Jumeirah organises an exciting entertainment program that attracts a fashionable party crowd. By the way, don't forget to visit its restaurant Maiden Shanghai for traditional Chinese cuisine with a modern twist or the Penthouse Bar and Lounge on the 16th floor. Party vibe lovers return to this Dubai hotel again and again.
Address: Palm Jumeirah, Dubai, UAE
Private beach: Available
Nearby public beach: Palm West Beach
Book your stay at the Five Palm Jumeirah Dubai Hotel here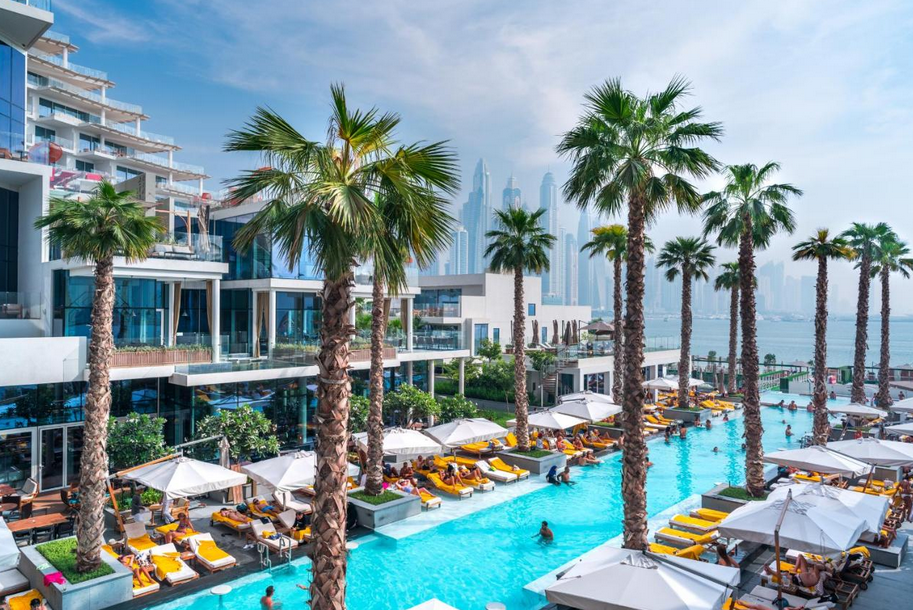 2. Burj Al Arab Hotel
The list of the best beach resorts in Dubai cannot be complete without the famous 5-star Burj Al Arab Hotel, which is also nicknamed "The Sail". It is located on an artificial island connected to the mainland by a bridge and is considered the eighth-tallest hotel in the world. Designed using the 22-karat gold leaf in its interior, the Burj Al Arab in Dubai immerses you in the realm of luxury as soon as you enter. Ruling Sheikh Mohammed Al Maktoum dreamed of creating a hotel in Dubai that would have no equal in the world in terms of amenities and design, and his dream came true.
The hotel has swimming pools, a private beach, a spa complex, a fitness centre and the world's tallest lobby atrium. Moreover, its top is crowned with a helipad. You can relax by one of the several swimming pools with comfortable sun loungers and unobstructed sea views. Moreover, all guests have unlimited access to the nearby Wild Wadi Waterpark. And if you want to arrive at the hotel in style, make sure to book an airport transfer by Rolls-Royce with a personal driver.
The iconic Burj Al Arab Hotel in Dubai features 202 duplex rooms, some measuring up to 780 square metres in size. So don't be surprised when you see the price! For dining, head to one of the 9 world-class restaurants, including Al Mahara, where food is served by a giant aquarium, or Sal, the beachfront restaurant with a relaxing vibe.
Address: Jumeirah Beach Road, Dubai, UAE
Private beach: Available
Nearby public beach: Jumeirah Public Beach, Umm Suqeim Beach
Book your Burj Al Arab Hotel stay here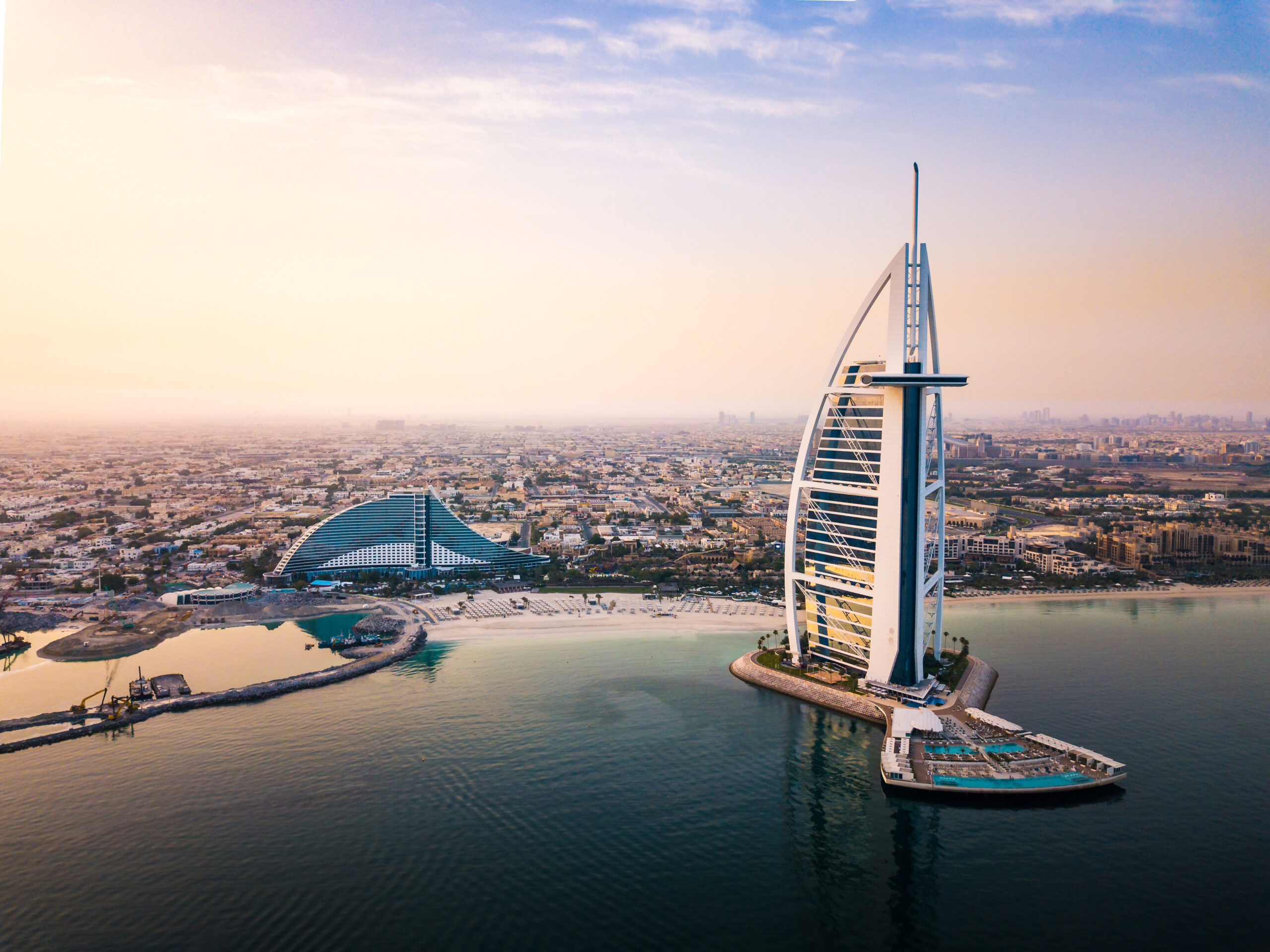 3. Jumeirah Al Qasr Hotel
Jumeirah Al Qasr is one of the fabulous and most popular Dubai beachfront hotels. It is surrounded by a lush garden with canals, where nothing will disturb your heavenly holiday. This traditional Arabic-style resort is nestled along the 2-kilometre private beach. There are comfortable sun loungers, and visitors are offered free refreshing towels and fruit.
You can sample excellent cuisine at its several restaurants, including the renowned Pierchic Italian Restaurant, located at the end of Jumeirah Al Qasr's long private pier. A romantic evening and many fantastic photos are guaranteed.
You can also easily walk to the Madinat Jumeirah complex nearby, nicknamed the "Venice of Dubai". By the way, the canals are lined with many cosy restaurants, and you can take a traditional abra boat to explore the canals. The benefits of the Jumeirah Al Qasr Hotel do not end there. Furthermore, the guests can use a free shuttle to Wild Wadi Waterpark (with complimentary access) and the Mall of the Emirates.
Address: Madinat Jumeirah, King Salman Bin Abdulaziz Al Saud Street, Umm Suqeim, Dubai, UAE
Private beach: Available
Nearby public beach: Jumeirah Public Beach, Umm Suqeim Beach
Book your Jumeirah Al Qasr Hotel stay here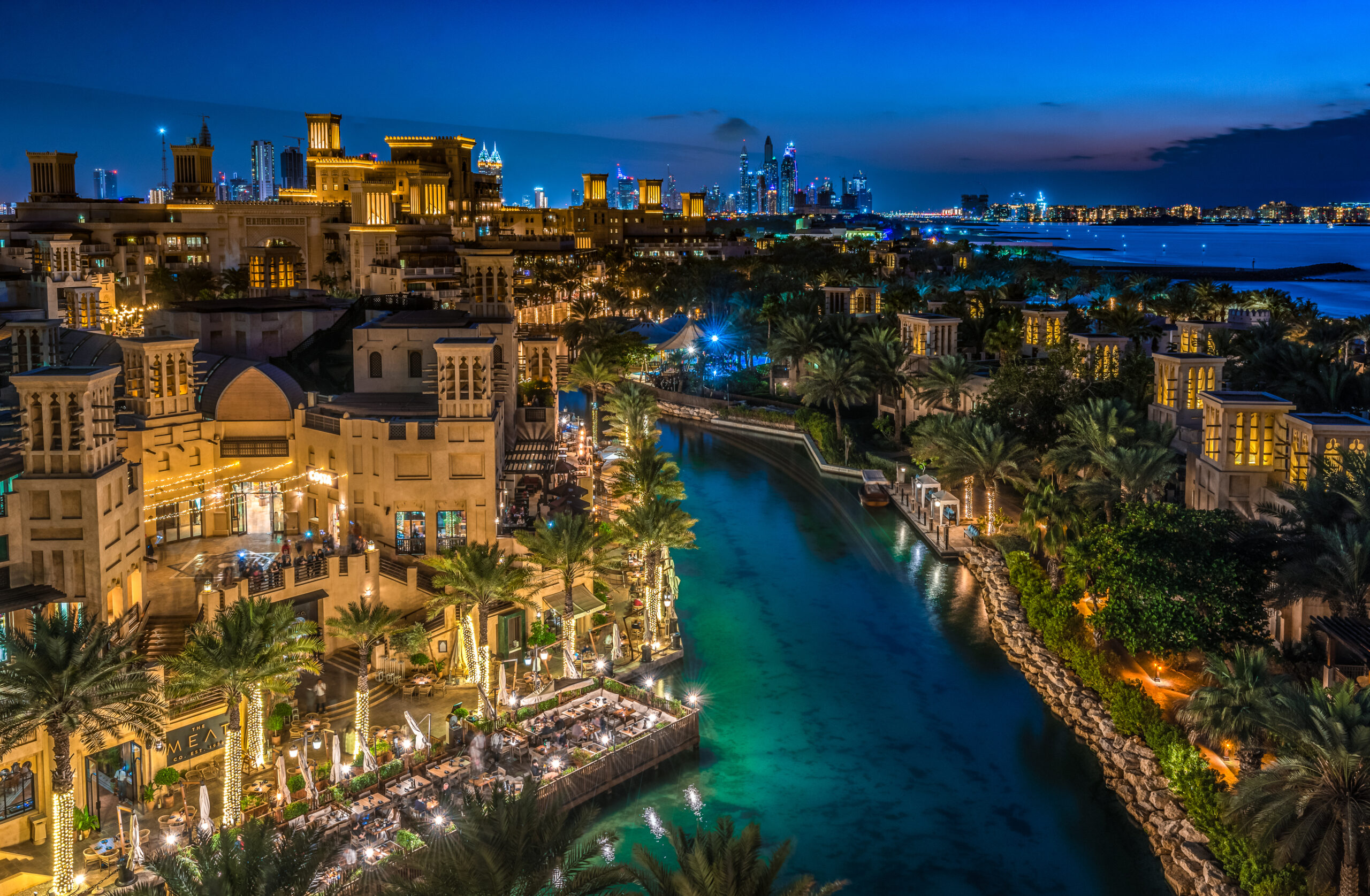 4. One&Only The Palm Dubai
The One&Only The Palm Dubai Hotel is located on the Palm Jumeirah island, at the very end of the crescent-shaped breakwater. This heavenly retreat will transport you to a Moorish fairytale with an Andalusian twist. In the very centre, against the backdrop of sand-coloured buildings with lacy arches, there is a magnificent swimming pool (850 sq. m), where guests can cool off in the shade of palm trees on hot days. The decor of the hotel is impeccable and a fragrant atmosphere of harmony reigns everywhere.
Have Fun Dubai's Tip: If you are an animal lover, you will find cute bunnies on site. They are tame and welcome you already near the parking lot. This really made my day while visiting the hotel. You can take great photos with the rabbits and even touch them.
From cuteness back to business! One&Only The Palm offers rooms and suites with balconies and terraces. Moreover, it boasts 2-bedroom villas with a private pool facing the private beach with water sports facilities. The staff is very attentive, and the concierge can book many activities, including a hot air balloon flight in the desert, Dubai city tours, safaris and even yoga sessions on the beach. The hotel is perfect for a romantic getaway as well.
The hotel's dining options include the French restaurant Stay by Yannick Alléno and Zest, which combines the gastronomic traditions of Europe, Asia and the Middle East. Furthermore, the Pastry Library invites guests to create their own desserts from carefully selected ingredients. By the way, there is a free water taxi from here to the partner hotel One&Only Royal Mirage Dubai, located on the mainland.
Address: Palm Jumeirah, Dubai, UAE
Private beach: Available
Book your One&Only The Palm Dubai Hotel stay here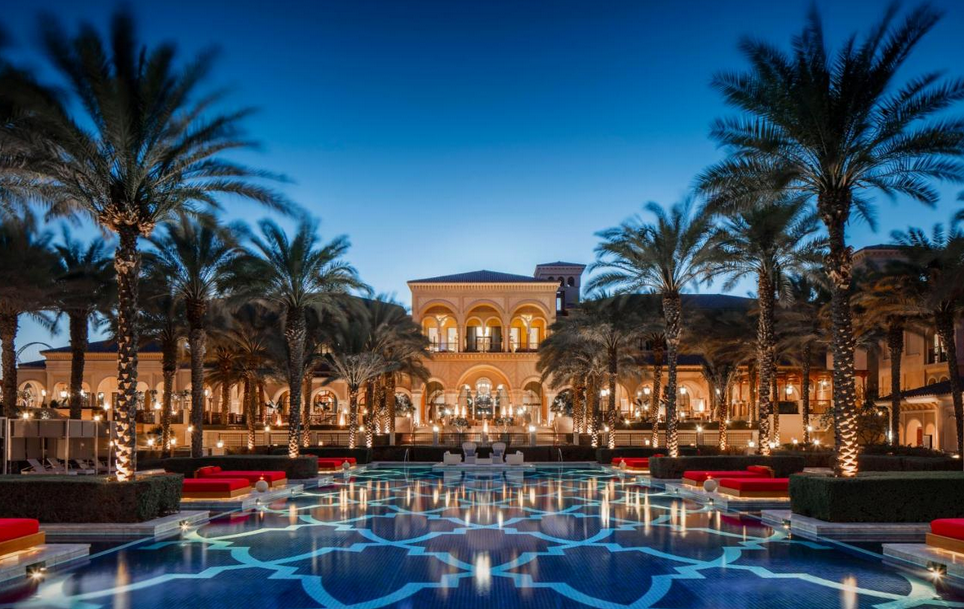 5. Bulgari Hotel & Resorts Dubai
If you zoom in on the map of Dubai, you will notice the Jumeirah Bay Island, shaped like a seahorse. It is connected to the mainland by a 300-metre-long bridge. The island is home to the famous luxury Bulgari Resort Dubai. This is a romantic beach retreat just 4 km away from Downtown Dubai, where everything is designed for the relaxation and enjoyment of its guests. More than 100 rooms and suites, as well as villas with sea views, feature the most modern amenities.
The hotel's private beach is open from dawn to dusk. You can take a dip in the water first before enjoying a delicious all-day breakfast. There is also a beach club, a children's club, a swimming pool and a bar. Moreover, you can have a great time doing water sports. A special highlight of the hotel is the yacht club with around 50 berths and the Mediterranean atmosphere.
The Italian restaurant Il Ristorante – Niko Romito with its magnificent view of the Arabian Gulf and wonderful dishes deserves special mention. And in the spa centre spanning 1,700 sq. m with a hammam and swimming pools you will be transported to a world of bliss and luxury. This is another great beachfront resort in Dubai to escape the hustle and bustle.
Address: Jumeirah Bay Island, Jumeirah 2, Dubai, UAE
Private beach: Available
Book your Bulgari Hotel & Resorts Dubai stay here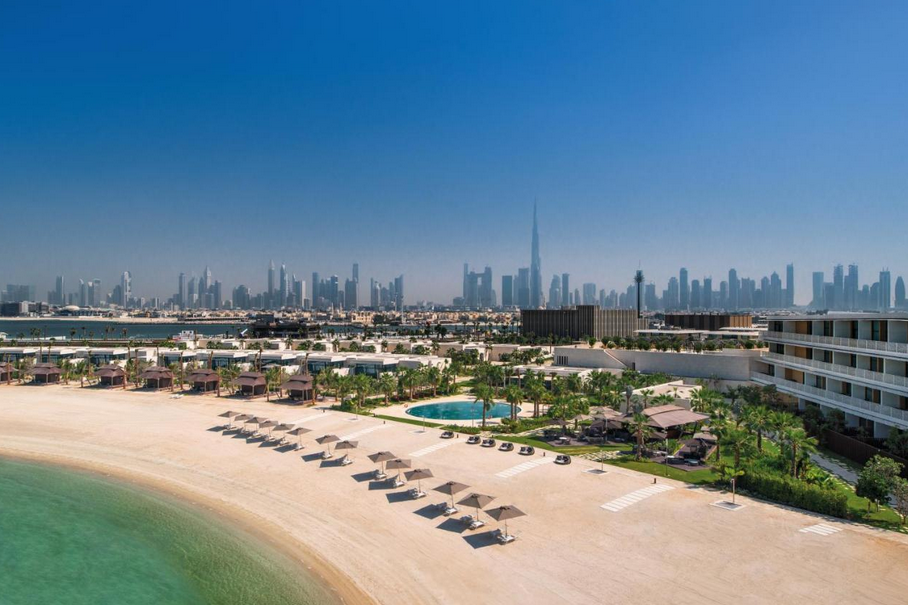 6. Atlantis The Palm
The list of popular Dubai hotels by the beach is incomplete without Atlantis The Palm. This hotel, as if straight out of the pages of an Arabian fairy tale, adorns the famous man-made island of Palm Jumeirah. In just a few minutes you can reach this hotel from the mainland by the Dubai Palm Jumeirah Monorail. Of course, a taxi is also an option, if you prefer.
The elegant rooms are lavishly decorated and boast stunning views of the Arabian Gulf and the island itself. Certainly, staying at the Atlantis The Palm Hotel in Dubai is not a cheap experience, but it is worth it. You can choose from standard rooms with sea or island views to upscale Club Suites with additional privileges, such as airport transfers, access to the Club Lounge, afternoon tea, etc. Moreover, Signature Suites will amaze you with luxury and impeccable service. In the underwater suite, when you open the curtains, you will see not the usual sun and sky, but an aquarium with more than 65,000 marine inhabitants.
The private beach is located on the inner side and open to the guests. This resort is perfect for families with children. You ask why? Because the stay includes complimentary access to the famous Aquaventure Waterpark and Lost Chambers Aquarium for the length of your stay.
Address: Palm Jumeirah, Dubai, UAE
Private beach: Available
Book your Atlantis The Palm stay here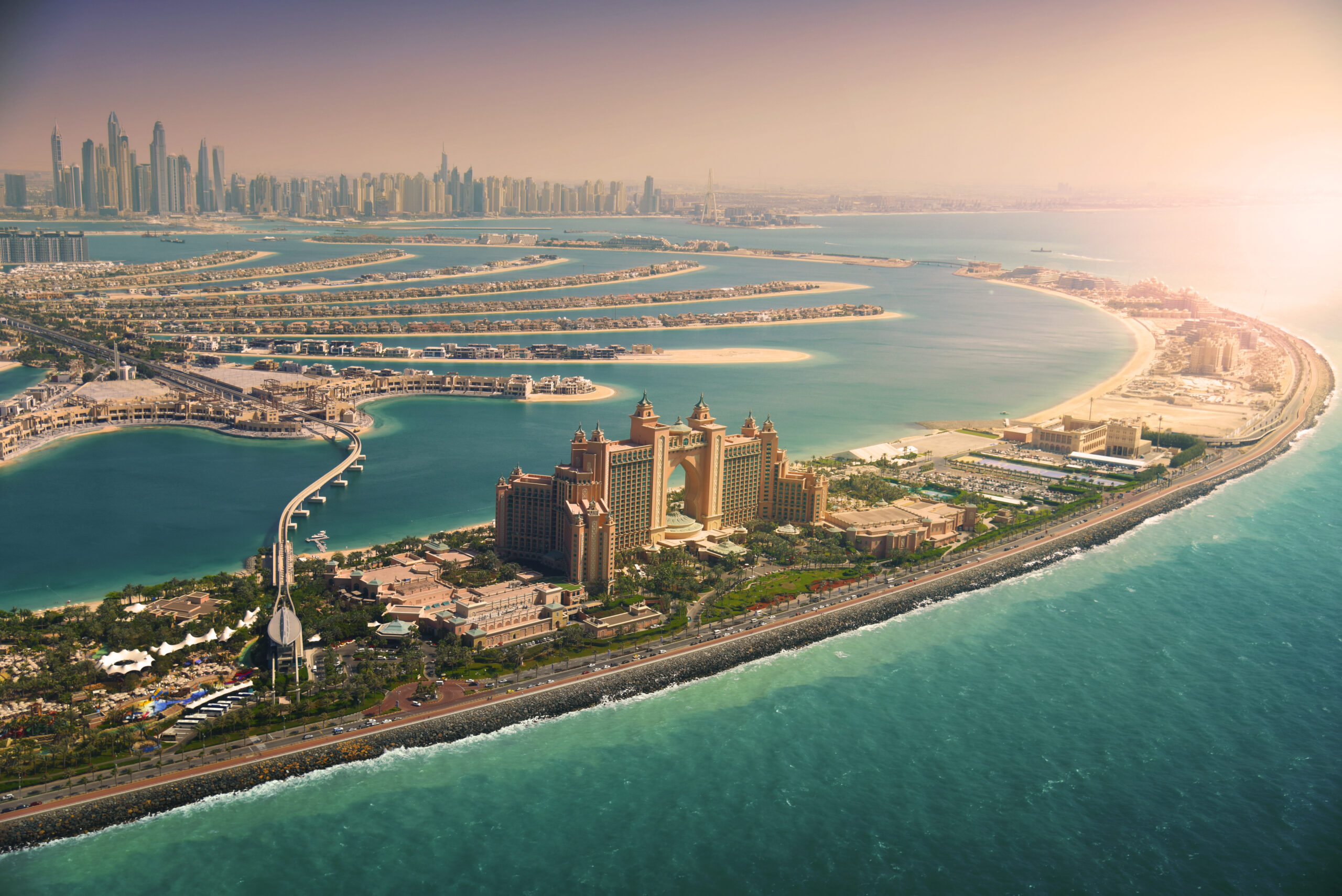 7. Rixos Premium Dubai JBR
If you're looking to stay at Jumeirah Beach Residences, don't miss the Rixos Premium Dubai JBR Hotel. This luxurious five-star resort boasts stunning views of Dubai Marina, Ain Dubai (the world's largest Ferris Wheel) and Palm Jumeirah. It is a long-time favourite for vibrant beach holidays in Dubai.
You can stay active doing water sports or shopping at nearby stores. Or walk to the man-made Dubai Marina from where numerous Dubai boat tours depart. Furthermore, visit the famous Dinner in the Sky restaurant nearby, where you will have the chance to enjoy food at an altitude of 50 metres.
After an active day, unwind at the beach or by the pool in front of the hotel. Or visit Naturelife Spa, where you will regain harmony. Moreover, there is no shortage of restaurants. For instance, savour Italian cuisine at Luigia or try Greek dishes at Ammos. STK will appeal to steak lovers, and Turquoise will introduce you to Turkish cuisine.
Address: The Walk, Jumeirah Beach Residences, Dubai, UAE
Private beach: Available
Nearby public beach: The Beach JBR
Book your Rixos Premium Dubai JBR stay here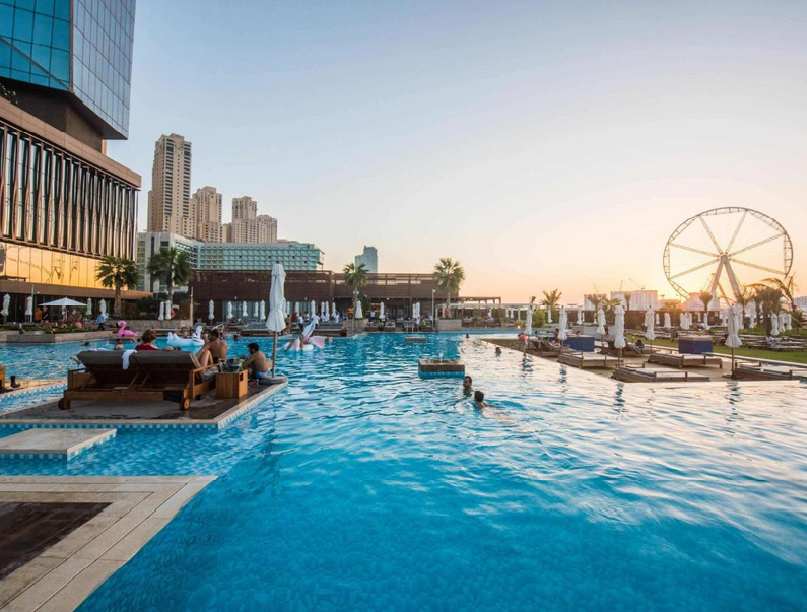 8. Mandarin Oriental Jumeira Dubai
If you are looking for the best hotel near the beach in Dubai, I recommend checking out the Mandarin Oriental Jumeira Hotel. This charming resort of the renowned chain is located in the Jumeirah area, close to Mercato Beach. You'll be treated to serene views of the Arabian Gulf on one side and modern vistas of Downtown Dubai and the Dubai International Financial Center (just a 10-minute drive away) on the other side.
The hotel boasts five outdoor pools. In addition, it offers direct access to the beach with comfortable sun loungers. Relax in a sun lounger or an elegant poolside gazebo, order your favourite drink and simply enjoy the moment. The Mandarin Oriental Jumeira is a true foodie paradise. Home to the renowned Portuguese restaurant Tasca, Japanese steakhouse Netsu and Dubai's only all-caviar restaurant, Beluga. And just 250 metres away you will find the Mercato Mall, where the architecture and decor will transport you to Italy.
Address: Jumeirah Beach Road, Jumeirah, Dubai, UAE
Private beach: Available
Nearby public beach: Mercato Beach, La Mer Beach (J1 Beach)
Book your Mandarin Oriental Jumeira Dubai stay here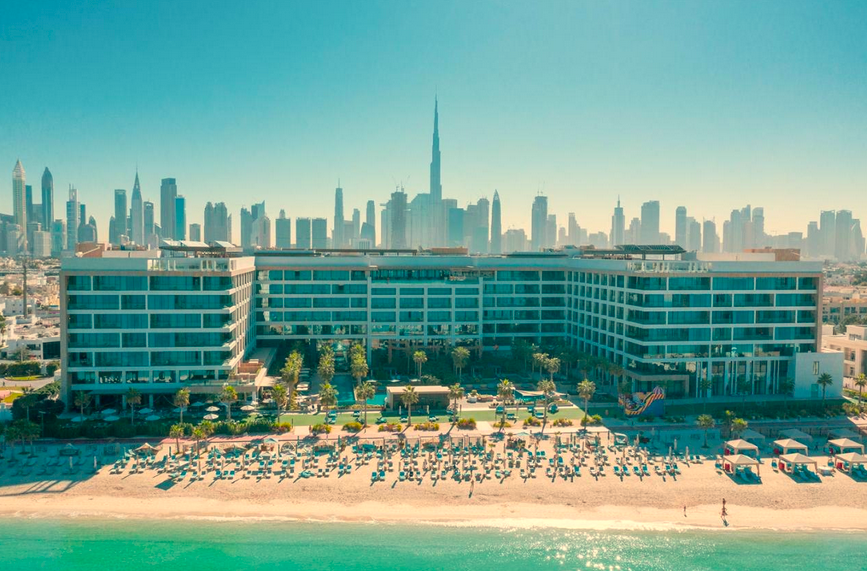 9. Park Hyatt Dubai
Park Hyatt Dubai Hotel is located close to Old City, on the shores of Dubai Creek. It features a unique 100-metre panoramic lagoon-shaped pool and a private sandy beach right by the inlet. Finding a hotel with a beach in this area and so close to Dubai Airport DXB (just 2 km away) is difficult, so grab your chance. This is a magnificent oasis of tranquillity with easy access to the glittering Dubai Frame and the famous souks including the Dubai Gold Souk. Moreover, don't miss the opportunity to sail across Dubai Creek on a traditional abra boat for just 1 dirham.
At the Park Hyatt Dubai you will be surrounded with care and attention from its friendly staff. After an active day on the beach, rejuvenate at the spa, which offers relaxing massages and other treatments. There are several restaurants on site, including The Thai Kitchen, as well as an 18-hole golf course. For a taste of true luxury, charter a private yacht from Dubai Creek Yacht Club.
Address: Dubai Creek Club Street, Port Saeed, Dubai, UAE
Private beach: Available
Book your Park Hyatt Dubai Hotel stay here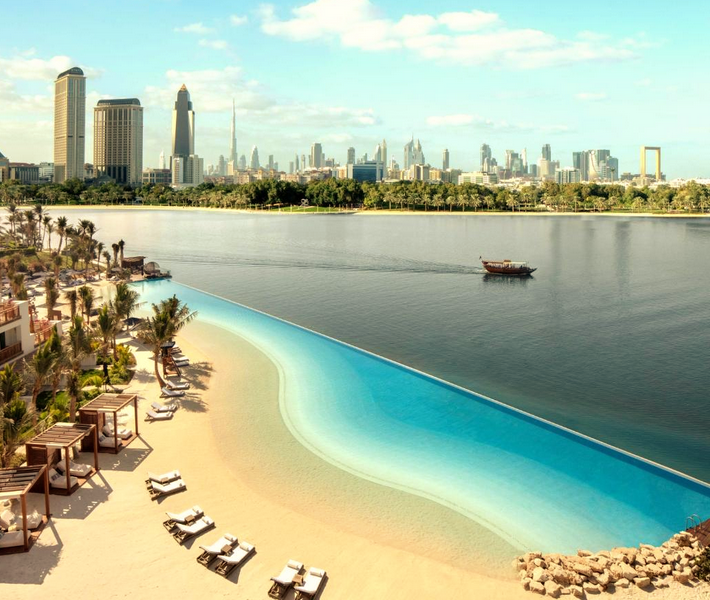 10. Jumeirah Beach Hotel
Finally, I would like to finish my list with the Jumeirah Beach Hotel Dubai, which is popular among families with children. This iconic wave-shaped resort is located directly on the sandy beach and offers the best views of Burj Al Arab. One of the main benefits is that it offers direct and unlimited access to the nearby Wild Wadi Waterpark, already mentioned above, and the KIDS Club.
Besides rooms with different modern amenities, you will find 5 swimming pools with relaxing sun loungers. Unwind at the on-site Talise Spa or book a tour of Burj Al Arab. Moreover, there are multiple dining options, including Nuska Beach with its Mediterranean cuisine and Fika for those who prefer healthy food. If you love the beach, sun, sea and activities, the Jumeirah Beach Hotel is a great choice.
Address: Jumeirah Beach Road, Umm Suqeim, Dubai, UAE
Private beach: Available
Nearby public beach: Jumeirah Public Beach
Book your Jumeirah Beach Hotel stay here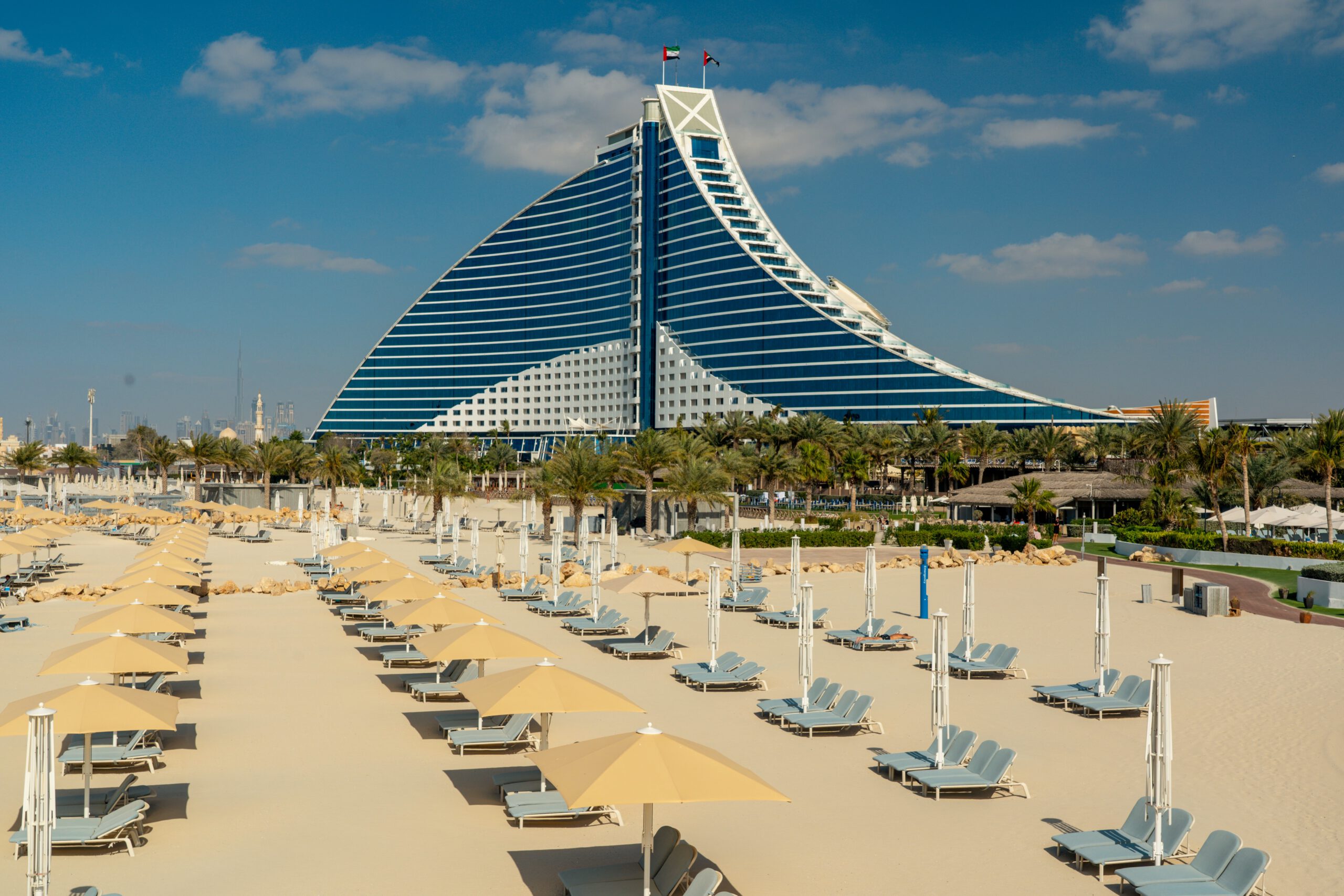 Prepare for your Dubai trip
Did you find this post helpful? Then click that little heart below and share it with your friends and family. Have fun in Dubai!