It is easy to rent a car in Dubai online. Whether you're a seasoned tourist or a first-time visitor, renting a car can provide you with the freedom and flexibility to explore at your own pace. With its sprawling highways and endless sights to see, Dubai is a city best experienced on four wheels. You can look forward to excellent roads, cheap petrol and plenty of parking, making driving a pleasure.
If you hire a car in Dubai, long distances and local hot weather will be the last things to worry about. I recommend finding your car for Dubai and booking it in advance online to save money and choose the right model. I have used car hire in the city many times and was never disappointed. In this article, I will cover everything from the benefits of renting a car and understanding Dubai's car rental policies to the pick-up and drop-off process. I also touch on essential topics like traffic fines, petrol prices, roads and parking. So let's get started!
What are the benefits of renting a car in Dubai
Hiring a car in Dubai comes with plenty of benefits, which include:
Big choice of car models and types
Many trustworthy car rental companies
Competitive rental prices
Ability to explore the city at your own pace
Time-saving (public transport is not available everywhere)
Great road infrastructure
Low petrol prices
Plenty of (free) parkings
I will now elaborate on some of the things I have mentioned above. Firstly, Dubai stretches for many kilometres along the coast and further inland. One of the challenges I encountered here was the distances between different parts of the city and the lack of direct public transport connections.
Different landmarks and attractions are not concentrated in one place but are scattered across the city. Of course, you can get to the most popular places, such as Burj Khalifa, Dubai Fountain, Ski Dubai or different souks, using public transport. However, be aware that many attractions are not reachable directly by metro, so you will either have to change to a different mode or use taxis. If you plan to see a lot and even venture outside of the city, renting a car is a great solution. It will save you plenty of time and money.
The roads in Dubai are well-maintained and clean, there are many expressways and interchanges. Moreover, all traffic signs are in English, so you will easily understand them. In short, the road infrastructure is simply wonderful. You will also find plenty of parking spaces: in the streets, under residential complexes, hotels and shopping malls. They are literally everywhere. Parking is usually free for malls and attractions visitors.
In addition, you can save on fuel, as it is very cheap here. There are plenty of gas stations by the main roads. You don't even have to leave your vehicle because the fueling is taken care of by the staff. All you need to do is just tap and pay!
Select a model and rent a car in Dubai here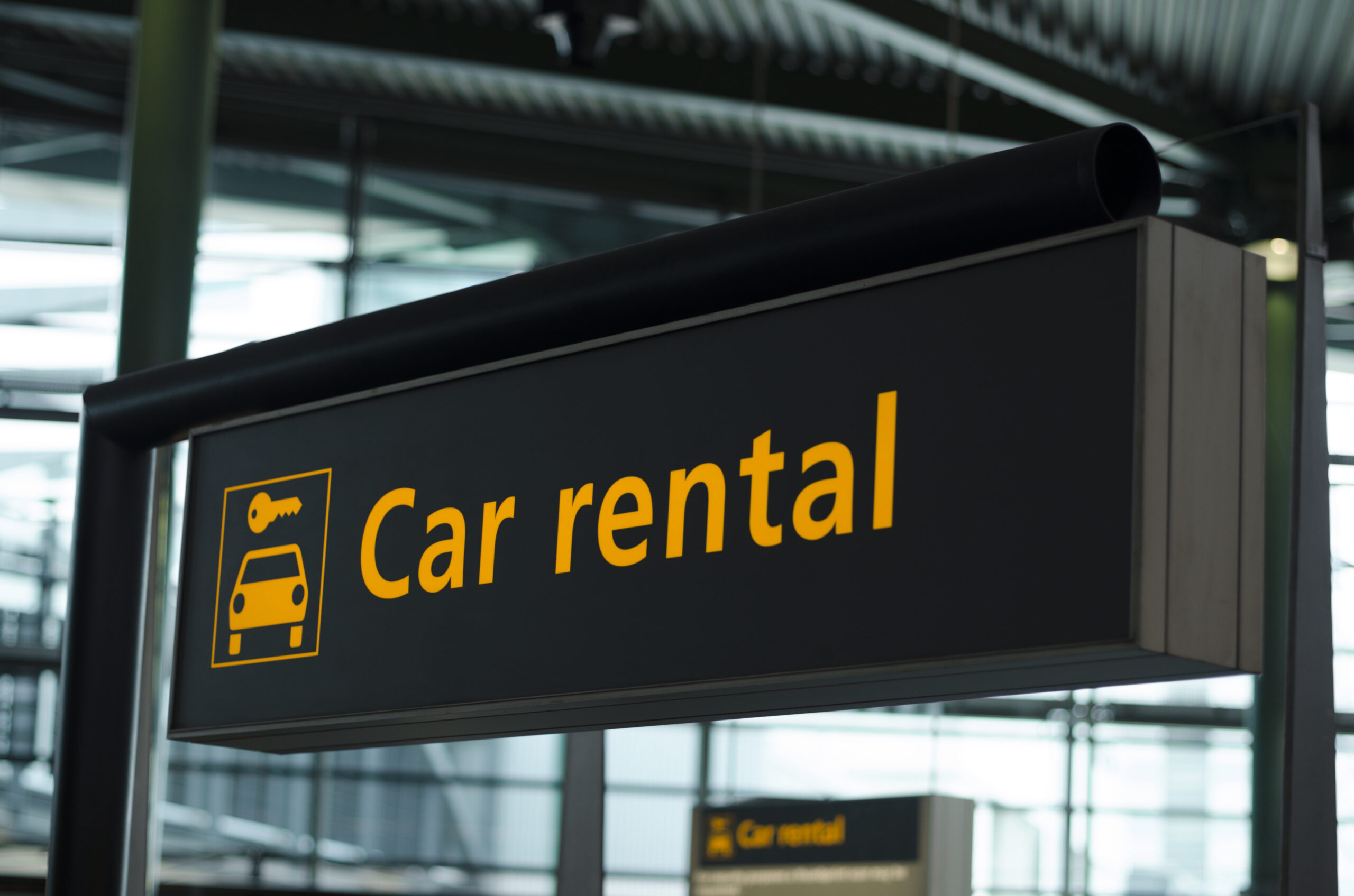 Types of car rentals in Dubai
Local rental companies offer a wide range of options to cater to every need and budget. From economy car rentals for the budget-conscious traveller to luxury, sports and exotic cars for those seeking a touch of extravagance, there's something for everyone.
Hiring a budget car in Dubai is ideal if you prefer not to splash. These vehicles are typically small to mid-sized, fuel-efficient and cost-effective. You can choose anything from cheap Toyota, Kia and Hyundai sedans to Ford, Chevrolet and Volkswagen SUVs. If you travel with a group or a lot of luggage, opt for vans.
On the other hand, if you're looking for a more comfortable and luxurious ride, you might want to consider premium and luxury car models, including Jeep, Volvo, BMW, Lexus and Audi. These vehicles offer superior comfort, top-notch features and a high-performance driving experience. All of the above you can find in regular Dubai car rental companies.
For thrill-seekers and car enthusiasts, sports car rentals in Dubai offer the opportunity to drive some of the world's most exotic cars. Imagine cruising down the city's highways in a sleek Ferrari or a roaring Lamborghini — it's an experience like no other! In this segment, I recommend checking out car hire providers like E and S Luxury Car Rental (Edel & Srark), Paddock Luxury, VIP Rent A Car LLC, Masterkey Rent A Car and Cargets.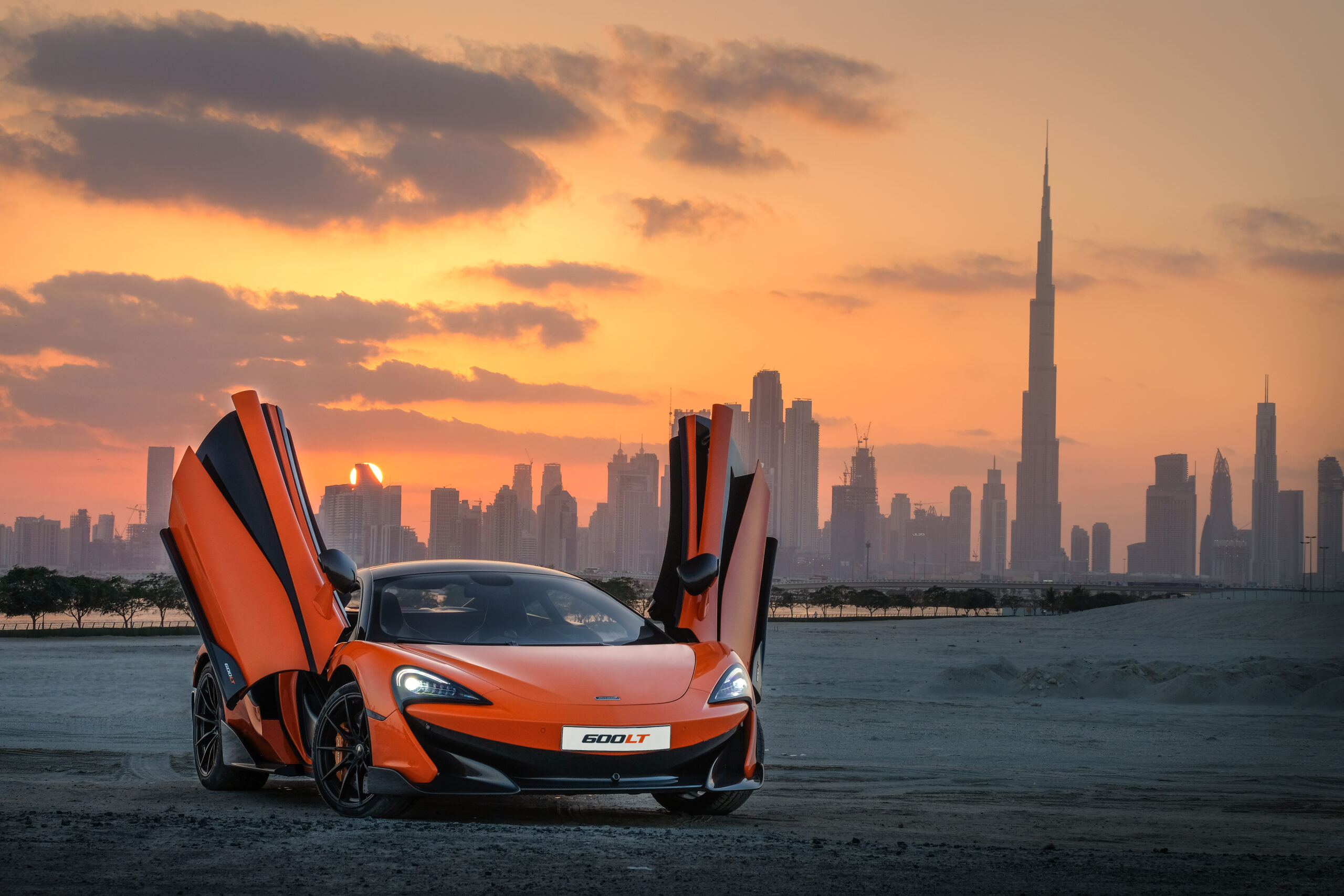 Best car rental companies in Dubai
Some of the best car rentals in Dubai include renowned international chains as well as local companies offering competitive rates.
Top car rental companies in the city include:
Hertz
Avis
Europcar
Thrifty
Gold
Enterprise
Dollar
Alamo
KTC Gulf
Keddy
National
Cargets
Greenmotion
Drivus
I am sure, you see in this list the names which are already familiar to you. When choosing a car rental company, it's important to consider factors such as customer service, vehicle selection, pricing and rental policies. It's always a good idea to read reviews and compare prices before making a decision. I rented a car in Dubai from Dollar and Europecar and was quite happy with the service.
Select a company and rent a car in Dubai here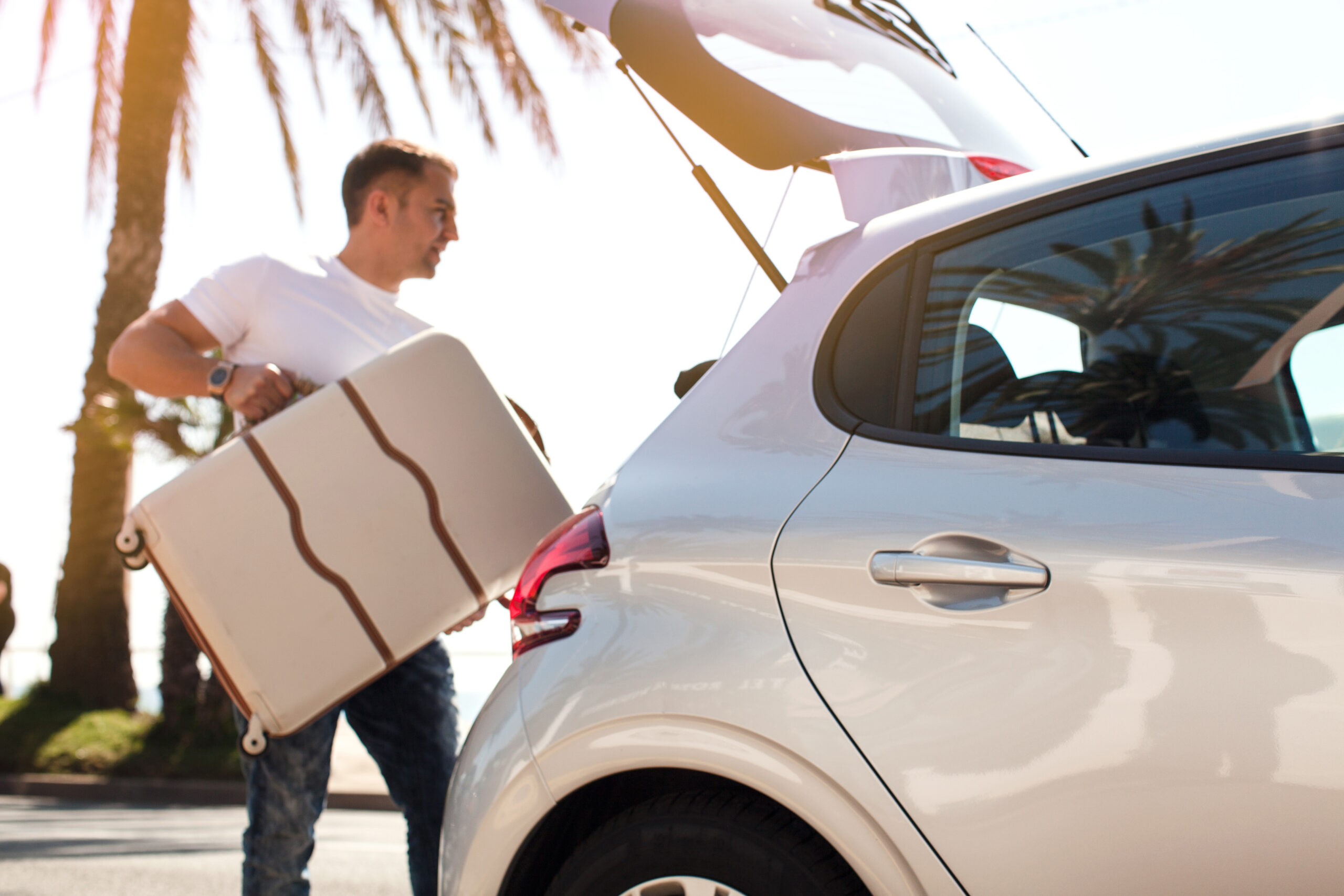 Car rental prices in Dubai
So, how much does it cost to rent a car in Dubai? Of course, it greatly depends on the type of car you choose, the duration and the rental provider. The main factors that impact the price also include how far in advance you book and pick-up/drop-off locations.
Have Fun Dubai's Tip: If you would like to save, consider choosing a pick-up and drop-off point outside Dubai Airport and other central tourist locations. I saved a lot of money using this option. For example, in such areas as Dubai Motor City, Karama or Al Jaddaf. From Karama and Al Jaddaf you can easily reach DXB Airport in just 15 minutes by taxi. Moreover, remember that selecting a drop-off point that is different from a pick-up point will increase the price.
On average, you can expect to pay around AED 120-160 per day for an economy car. Luxury and sports cars can cost anywhere from AED 500 to over AED 5,000 per day.
For those looking for a longer-term solution, monthly car rentals are also available and can be more cost-effective. Monthly rates for economy cars typically start around AED 1,500, while luxury cars can set you back AED 5,000 or more per month.
Remember, these are just average costs, and prices can vary. It's always best to compare prices from different car rental companies to get the best deal. You can easily do it online via the links on this page to my favourite car rental comparison websites such as Rentalcars and Discovercars.
What do you need to rent a car in Dubai
Car hire in Dubai is as simple as in many other places in the world, but there are a few requirements you'll need to meet.
Here are the main things you need if you want to rent a car in Dubai:
Age restrictions: Most providers require renters to be at least 21 years old, although this age limit can be higher for luxury and sports cars.
Booking confirmation: You will need to show a voucher or an email confirmation of your reservation. Please read the policies carefully to learn if you are required to present a print-out or a digital version.
Driving licence: If you're a resident of the UAE, you can use your UAE driving licence. If you're a tourist, you'll need an International Driving Permit (IDP) along with your national driving licence.
Credit card: Moreover, you will need a valid credit card to secure your booking and cover a security deposit and any additional charges such as traffic fines or damages.
ID: Remember to carry your passport or Emirates ID when collecting the vehicle.
Local address: It's also a good idea to have your hotel or local address at hand as this might be required when filling out the rental agreement.
Understanding local rental policies
Dubai's car rental policies are generally straightforward, but it's essential to read and understand your agreement before signing. This will help you avoid any surprises or additional charges at the end of your rental period. The staff at the counter are very pleasant and speak English, so don't be afraid to ask questions.
Typically, your rental fee will cover the cost of the vehicle, basic insurance, such as Theft Protection and Third Party Liability, roadside assistance and a certain mileage limit. In most cases, it is unlimited mileage. I should also mention one important thing: most car rental companies in Dubai have a strict no-off-road driving policy.
In case of any damages or accidents, you'll be required to pay an excess fee, which is usually a predetermined amount outlined in your rental agreement. Some companies offer additional insurance coverage options to reduce or eliminate this excess fee. In short, always read the terms and conditions before booking and then before signing the contract to avoid unexpected extra costs!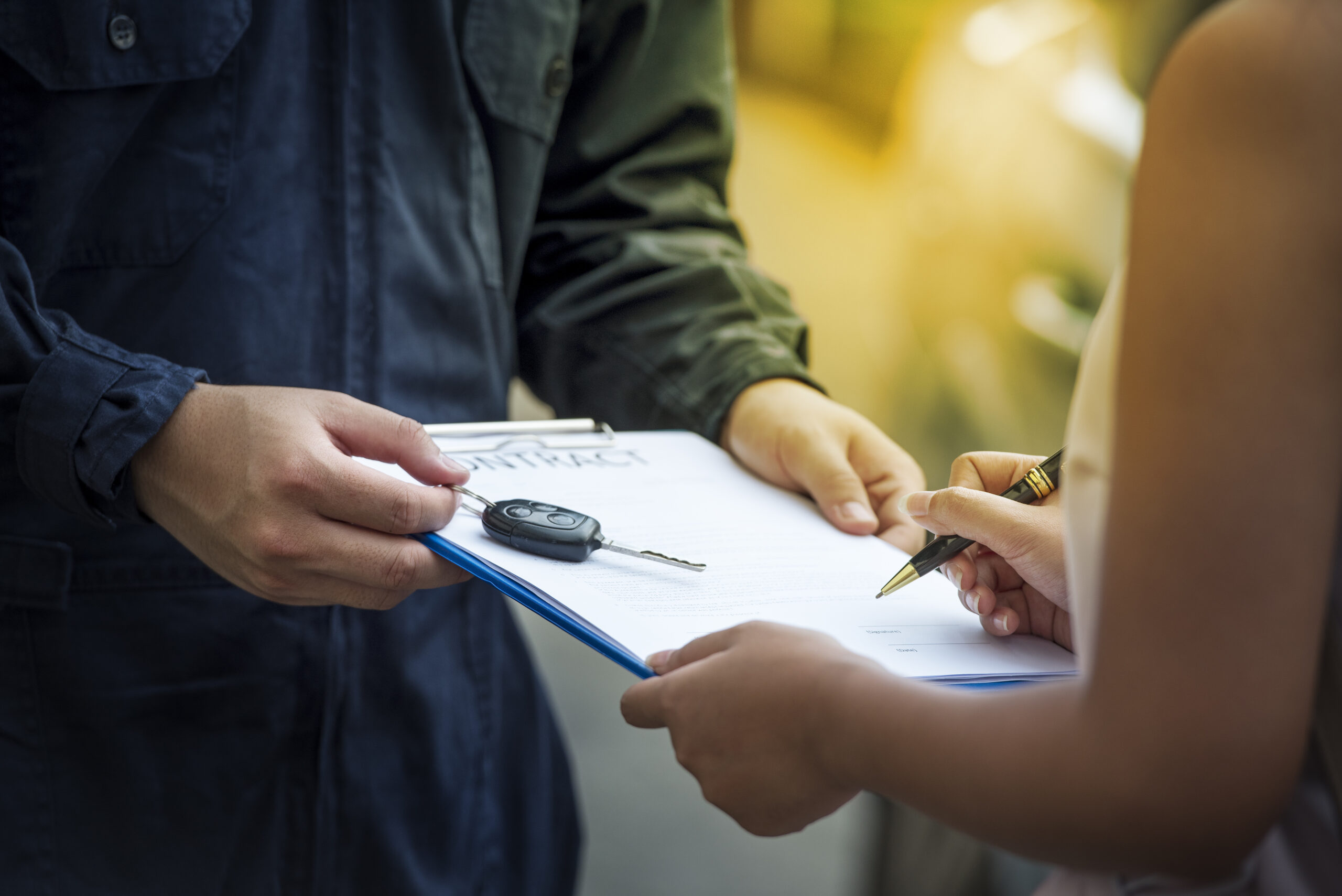 Pick-up and drop-off process
The pick-up and drop-off process is generally quick and hassle-free. When you pick up your car, the rental company will verify your documents and guide you through the rental agreement. Alright, after all the formalities I am sure you can't wait to see your car. Depending on the location, you might be either escorted to the parking or will need to navigate there yourself.
You'll then be given a chance to inspect the car and report any pre-existing damages. Every car brand and model is unique, so if you have any questions about the features and functionalities, do not hesitate to ask. From my experience, the attendants are always very helpful and knowledgeable.
When returning the car, it's important to ensure it's in the same condition as when you picked it up. Remember to read the fuel policies, you might need to have a full tank when dropping off. Any damages or extra charges will be added to your final bill. If you're returning the car to a different location or outside office hours, be sure to communicate this with the rental company.
How to rent a car at Dubai Airport
Hiring a car at Dubai airports is the most convenient option for tourists arriving by plane. Many reputable car rental companies have desks at both Dubai International Airport (DXB) and Al Maktoum International Airport (DWC).
However, remember that rental prices with a pick-up/drop-off at the airport are typically higher in comparison to other less popular locations in the city. I managed to find a cheaper price by choosing a pick-up in the Kerama and Al Jaddaf areas.
To hire a car at Dubai International Airport (Terminals 1 and 3), simply head to the car rental desks in the arrivals area. When you pick up your luggage, you can find the desks right next to the Meet & Greet area. Please keep at hand all the documents I have mentioned above.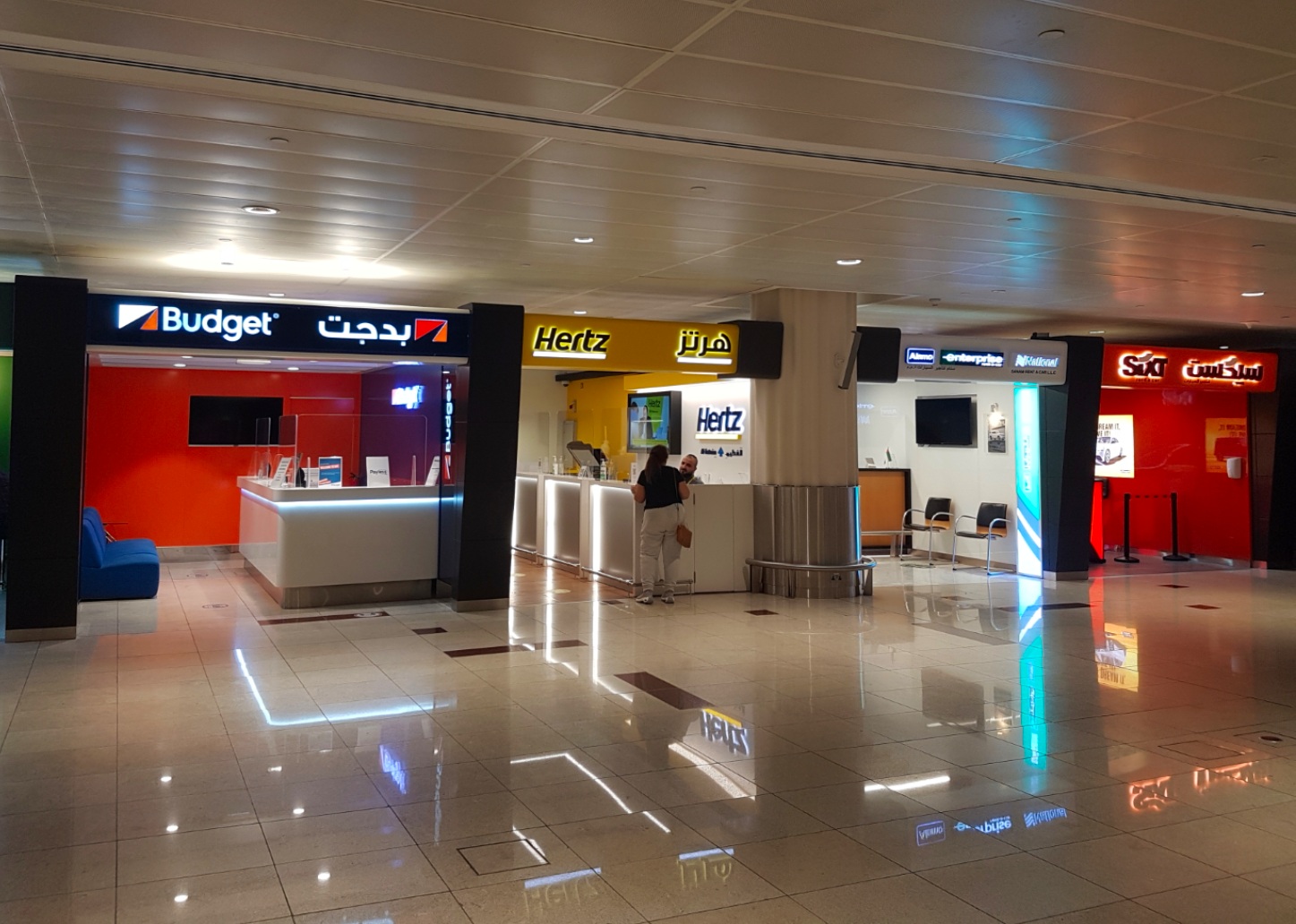 The lines are normally short, but, of course, it depends on the rental provider and your arrival time. The staff member will guide you through the agreement and direct you to your vehicle. Normally it takes me no longer than 10-15 minutes to complete all the formalities. I strongly advise you to rent a car in Dubai online in advance. This will save you much time on your pick-up day and you will have a much bigger choice at lower prices.
After you sign the agreement, you can take the escalator or a lift and proceed to the designated parking area (about 5-minute walk). Go to a white Car Rental Office building and show your agreement to one of the attendants. You will be directed to your car and you can start inspecting it.
When you return the car, drive to the same white building in the parking area. After arrival, ask one of the attendants to check the car and issue a proof of car return.
Check prices and rent a car at Dubai Airport here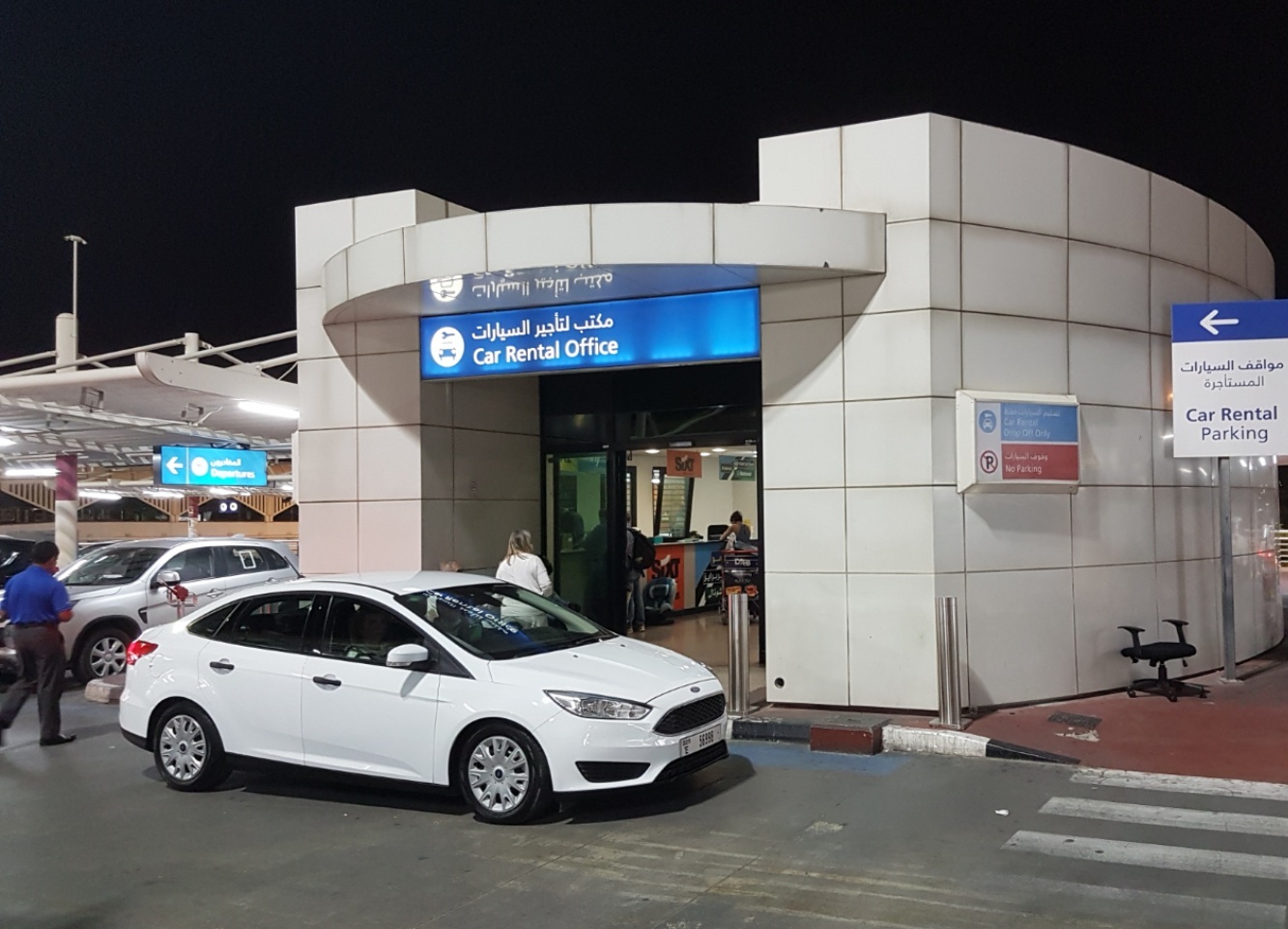 Driving in Dubai: roads and highways
Dubai's road network is extensive and well-maintained, making it easy to navigate the city by car. Here are a few things to keep in mind for drivers in Dubai:
The lanes are clearly marked, so keep the vehicle at the centre within the lines.
Remember, driving in Dubai is on the right-hand side of the road, and overtaking is on the left.
The left-most lane is for fast driving. Move to the lanes on the right if you want to drive slower.
Maximum speed limit is set between 100-120 km/h on the highways and 60-80 km/h on the urban roads.
Moreover, there is a minimum speed limit of 60 km/h on highways and freeways.
Road signs are in both Arabic and English, making it easy for tourists and expats.
Do not forget to keep a safe distance from other vehicles.
The city is connected by a series of highways, including Sheikh Zayed Road that runs parallel to the coastline. It is part of E 11, the longest road in the UAE. By the way, Sheikh Zayed Road links many Dubai attractions and is lined with many skyscrapers. If you plan to drive yourself, there is a big chance you will be on this road not once.
In addition to highways, Dubai has a network of inner-city roads that link various neighbourhoods. Traffic can be heavy during peak hours, especially at exits from the main roads. It's a good idea to plan your travel times accordingly to avoid them. Traffic jams in Dubai typically occur from 06:30 to 08:30 and from 17:00 to 20:00.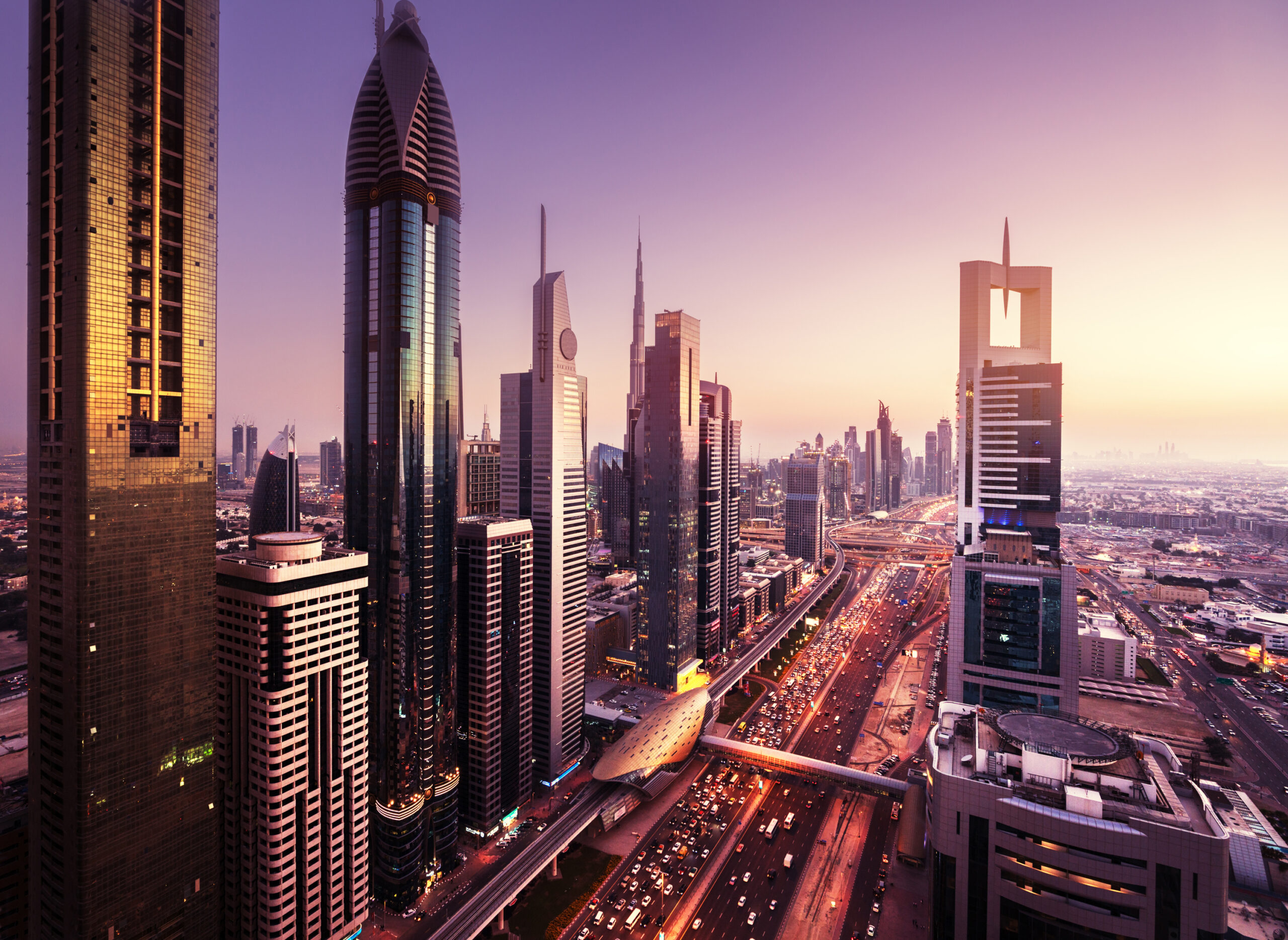 Is it safe to drive in Dubai
I find driving in Dubai generally safe, but it's important to be aware of the local driving customs and rules. Some of them I already mentioned above. However, driving in Dubai can be fast-paced (partially due to a minimum speed limit), and drivers tend to be a bit aggressive. When I first drove on the Sheikh Zayed Road I could really feel the adrenaline rush. But don't get overwhelmed, after a day or two, you will get used to this fast pace.
A few more things to remember to stay safe on Dubai roads:
Buckle up and wear the seat belt at all times.
Using a mobile phone while driving is prohibited (for navigation you can put it in a holder).
Dubai has a zero-tolerance policy towards drinking and driving. Even a small amount of alcohol can lead to severe
penalties, including imprisonment. Trust me — do not risk it and avoid driving if you plan on consuming alcohol.
Keep an eye out for speed cameras. Dubai has an extensive network of such cameras, and speeding fines can be hefty.
Stay safe and enjoy your driving experience in Dubai!
Dubai traffic fines
Dubai has strict traffic laws, and fines can be quite high. If you're renting a car in Dubai, any traffic fines incurred during your rental period will be charged to your credit card. Some rental companies may also charge an additional administrative fee for handling the fine.
The list of traffic fines in Dubai is quite extensive, so I will just summarise some of the frequent ones (amounts are subject to change).
Exceeding the speed limit by 80 km/h: AED 3,000 AED (possible car and licence confiscation for 60 days)
Exceeding the speed limit by 60-80 km/h: AED 3,000 AED (possible car confiscation for 30 days)
Exceeding the speed limit by less than 60 km/h: AED 1,500 AED (possible car confiscation for 15 days)
Driving drunk: AED 20,000 AED (car confiscation for 60 days)
Ignoring the red light: AED 1,000 AED (car confiscation for 30 days)
Traffic blocking: AED 1,000 AED
Wrong parking: AED 500 to AED 1,000
Driving without wearing a seat belt: AED 400
Using a mobile phone while driving: AED 800
Throwing garbage out of the car: AED 1,000
Dubai parking
From my experience, parking in Dubai is generally easy and affordable. What's more, most hotels, shopping malls and attractions offer free parking. To be honest, during all my previous visits, I rarely had to pay for parking. There are, of course, many paid parking zones throughout the city as well.
Anyways, if you carefully plan your route and move around mainly between your accommodation, attractions, malls and restaurants, you can forget about parking fees.
Paid parking zones are operated by the Roads and Transport Authority (RTA) and charges range from AED 2 to AED 10 per hour. You can check the current Dubai parking fees on the RTA official website. Moreover, you will find small private parkings, typically with a fare of AED 10 per hour.
I should also mention one important thing — how to pay the parking fees. Parking metres operated by RTA do not accept cash, but there are plenty of other options.
To pay for parking in Dubai, you can choose between:
Coins
NFC on your mobile
Apple Pay and Samsung Pay
RTA mobile app
Bank cards with RFID
SMS
Seasonal parking cards (for 3, 6 and 12 months)
Remember to pay for parking if it is required, otherwise you can get a fine, which is probably the last thing you want on a holiday. Always check parking signs for timings and restrictions to avoid any penalties.
Dubai petrol prices and gas stations
Finally, let's talk about fuel for your rented car. Dubai's petrol prices are relatively low compared to many other countries. This is, certainly, not surprising because the country is one of the major oil producers in the world.
Petrol prices in Dubai are regulated and typically adjusted monthly. Here are the prices valid in October 2023:
Special 98: AED 3.44 per litter
Super 95: AED 3.33 per litter
E-Plus 91: AED 3.26 per litter
Diesel: AED 3.57 per litter
Gas stations in Dubai are plentiful and most are open 24/7. Besides fueling, many of them offer additional services such as car wash, tire inflation and convenience stores.
It's worth noting that in Dubai, you don't pump your own gas. Instead, petrol station attendants will fill up your tank for you. Simply tell them what type of petrol and how much you want, and they'll take care of the rest. You will only need to pay (without even leaving the vehicle) and you can hit the road again. The service is just fantastic!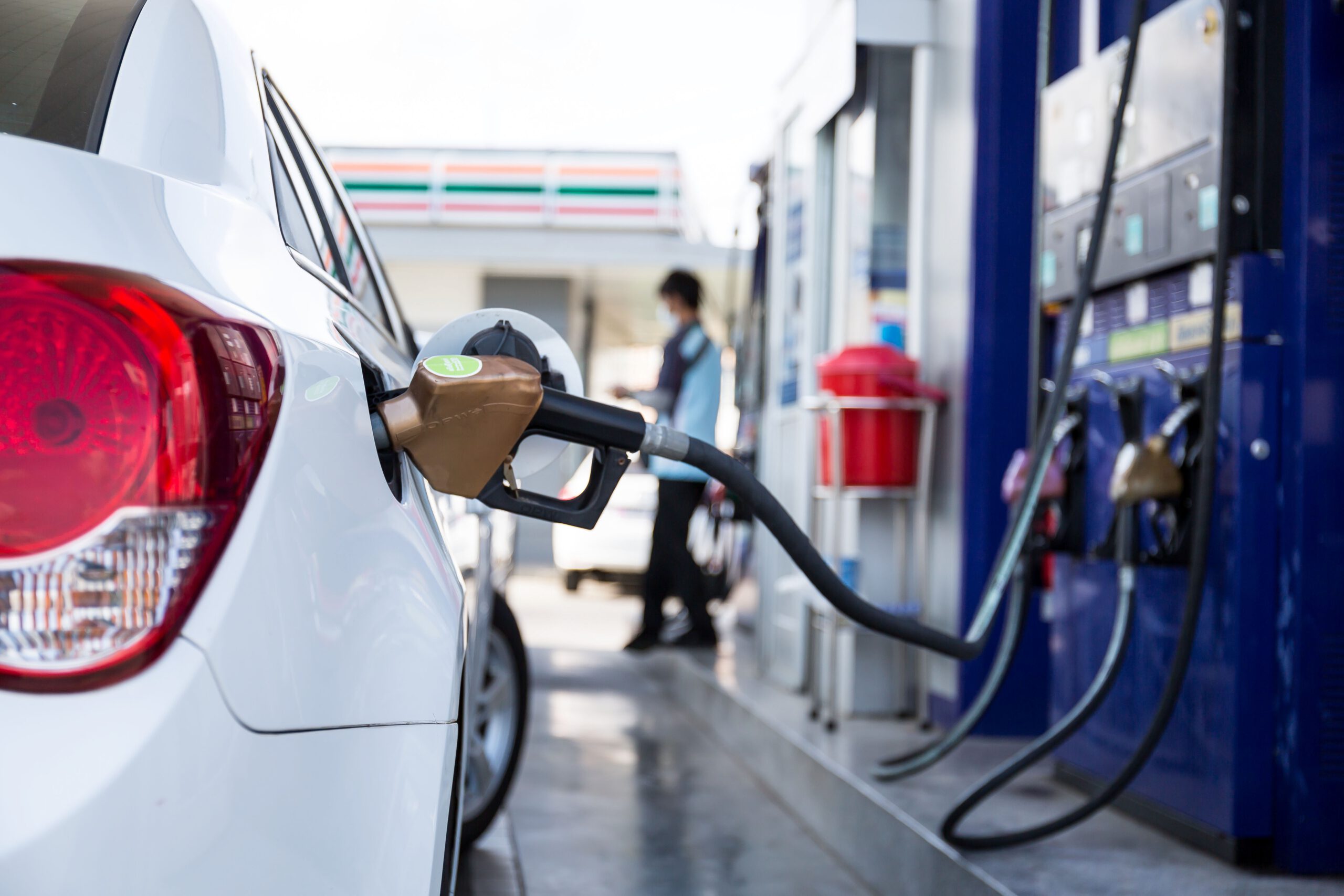 Prepare for your Dubai trip
Did you find this post helpful? Then click that little heart below and share it with your friends and family. Have fun in Dubai!