The Dubai Ice Rink is an Olympic-sized skating rink located on the ground floor of the iconic Dubai Mall. It's a place where both children and adults alike can discover the joy of ice skating in Dubai. The Dubai Mall Ice Rink is one of the coolest attractions in the heart of the desert where you can escape the heat or have a break between shopping.
Moreover, the Ice Rink in the Dubai Mall is a great destination to take skating lessons or watch various sports events. I also love coming here and watching skaters from the higher levels of the mall. In this guide, I will share my experience of visiting this ice skating rink in Dubai. Furthermore, I will tell you all you need to know about the Dubai Ice Rink tickets, rentals, things to do, facilities, location, opening hours and more.
What is the Dubai Ice Rink
The Dubai Ice Rink is a massive Olympic-sized ice skating rink nestled within the luxurious Dubai Mall. If you are looking for ice skating places in Dubai, I highly recommend you visit it. This 60 by 30 metres ice rink in the Dubai Mall spans an impressive 1,800 square metres and can accommodate more than 2,000 guests.
This one-of-a-kind attraction is not just for ice skating enthusiasts but also offers a range of activities for everyone. From figure skating to ice hockey, the Dubai Ice Rink is a hub of sports and entertainment. It's also the perfect place to hold memorable events like birthday parties or corporate gatherings.
Book your Dubai Ice Rink tickets here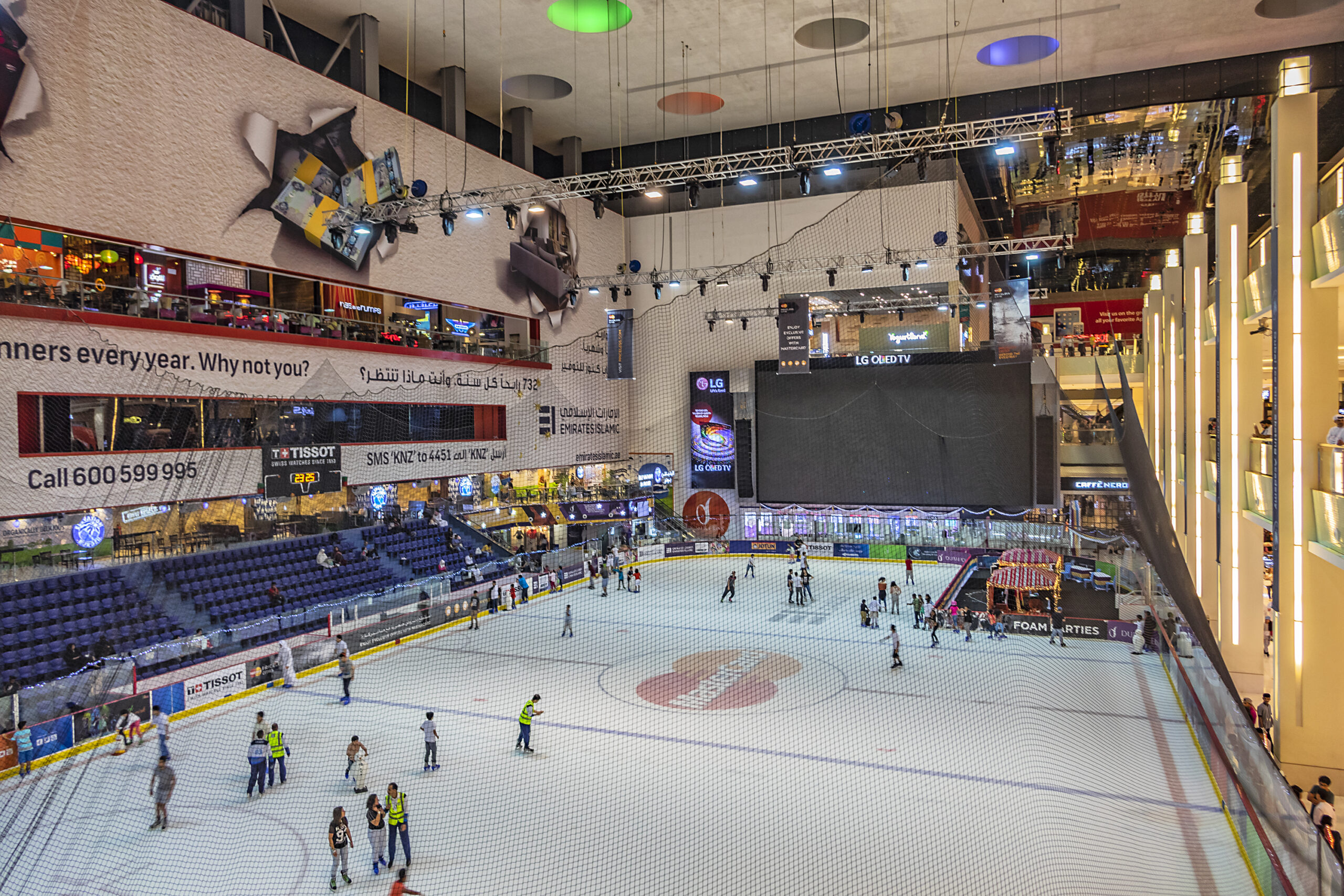 Dubai Mall Ice Rink skating experience: what to expect
Ice skating at the Dubai Mall Ice Rink is a great experience. I just loved how well-organised and quick everything was on entering. After you get the wristband, you can proceed to pick up the skates. There are many sizes available, so you can surely find yours. Moreover, you can rent a locker and leave your belongings in it.
If you are not yet comfortable on the ice, you can rent a helmet and a Snowman or s Penguin aid to lean on while skating. The Dubai Ice Rink offers eight skating sessions per day, each lasting for 1,5 hours, so you will have plenty of time to enjoy.
The moment you step onto the ice, you'll feel a rush of excitement. The cool air, the sound of blades gliding on the ice and the sight of people having fun all contribute to an exhilarating atmosphere. Massive bright displays and music add up to the dynamic vibe at the Dubai Mall Ice Rink. There are even snowfall sessions and DJ night sessions taking place every evening during the weekend.
The ice rink of the Dubai Mall is well-maintained, providing a smooth and safe surface for skaters of all levels. The ice is actually refreshed many times a day. The rink is also equipped with state-of-the-art lighting and sound systems, enhancing the overall skating experience. Furthermore, special ice marshalls ensure safety and navigate skaters if it gets crowded.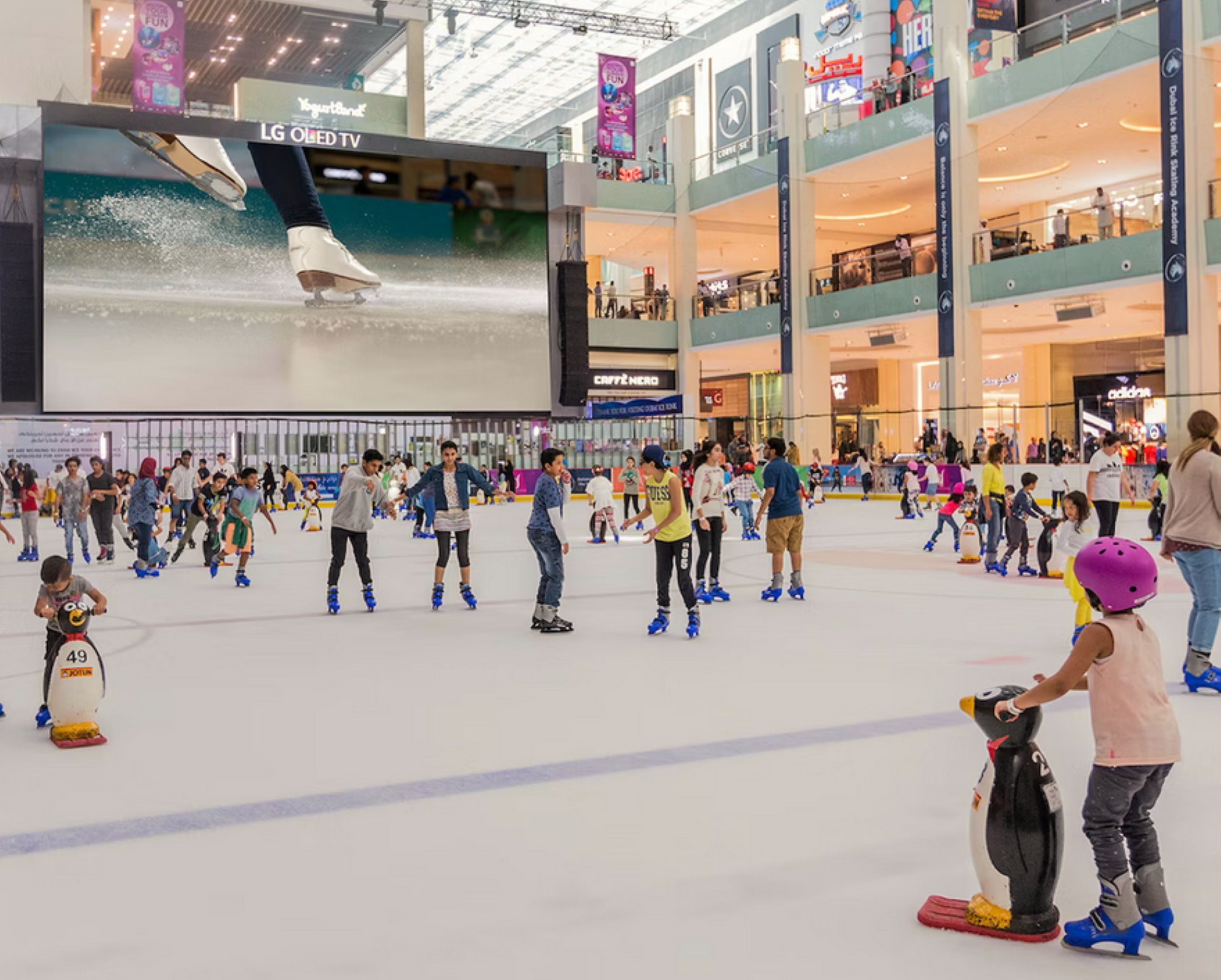 Skating lessons
The Dubai Mall Ice Rink is not just a place for experienced skaters, but also a learning centre for those new to the sport. The rink offers comprehensive skating lessons for all ages and skill levels. These lessons are conducted by professional coaches, ensuring you learn the correct techniques and safety measures.
The rink offers both group and private lessons, allowing you to choose the learning method that suits you best. The lessons are designed to be fun and engaging, making the learning process enjoyable. Through these lessons, you can gradually improve your skating skills, gain confidence, and eventually master the art of ice skating.
Skating coach fee: AED 190 and above
Skating group course: AED 900 for a 6-week course
Sports events
The Ice Rink in the Dubai Mall is also a venue for thrilling sports events. From ice hockey tournaments to figure skating competitions, the rink hosts a variety of sports events throughout the year.
For example, it's a home rink for several clubs of the Emirates Hockey League, such as Dubai White Bears and Dubai Mighty Camels. These events are a fantastic opportunity to witness high-level performances and get inspired.
A venue for celebrations
Furthermore, the Dubai Mall Ice Rink is a fantastic venue for celebrations. From birthday parties to corporate events, the rink offers tailored packages to ensure your event is memorable.
The skating rink in Dubai is equipped with party rooms where you can host your event, complete with food, drinks, and of course, lots of skating. Imagine celebrating your birthday or a special occasion while gliding on ice!
What is the Dubai Ice Rink age limit
The Dubai Ice Rink is recommended for visitors aged 4 and above. Children under 100 cm must be accompanied by an adult on the ice.
Dubai Ice Rink tickets
For a smooth visit, I recommend booking your Dubai Ice Rink tickets online via the link below. The Dubai Mall Ice Rink price includes a 90-minute skating session, socks and skates.
Dubai Ice Rink ticket price: AED 110
Book your Dubai Ice Rink tickets here
Additionally, you can rent the following equipment on-site for an extra fee:
Helmet: AED 15
Skating aid: AED 45
Hockey or figure skates: AED 45
Gloves: AED 10
What to wear to the Dubai Mall Ice Rink
Opt for warm clothing that allows you to move freely. I recommend you wear long pants/jeans and low-sleeve clothing for safety reasons. Don't forget to wear thick socks and gloves for extra warmth and protection, as the ice temperature is always -5 degrees Celsius.
Timings
Dubai Ice Rink opening hours: Monday to Sunday from 10:00 to 00:00
Location
Where is the Dubai Ice Rink?
Dubai Ice Rink address: Ground Floor, Dubai Mall, Downtown Dubai, Dubai, United Arab Emirates
How to get to the Dubai Ice Rink
It's very easy to reach the Ice Rink in the Dubai Mall.
By metro: Use the Dubai Metro to get to the Burj Khalifa/Dubai Mall station (red line) and walk 5 minutes via a footbridge to the Dubai Mall
By bus: Take the bus going to the Dubai Mall or The Palace Hotel bus stops
By taxi: Use taxis and ride-sharing services such as RTA, Uber and Careem available across Dubai
By car: The Dubai Mall boasts several underground parkings, including the Grand Parking, Cinema Parking, Fashion Parking and Zabeel Parking
Other attractions and things to do in the Dubai Mall
Apart from the Dubai Ice Rink, the Dubai Mall offers a plethora of other attractions. Here are my personal favourites:
Shopping: Shop till you drop at the Dubai Mall, the largest shopping centre in the world by land area. You are sure to find something to your liking among 1,200 sores.
Dubai Aquarium and Underwater Zoo: If you are an animal enthusiast, visit the iconic Dubai Aquarium and Underwater Zoo. Home to more than 33,000 aquatic animals, it features the fish tank with the world's largest acrylic panel and a 48-metre-long underwater tunnel. Book your Dubai Aquarium and Underwater Zoo tickets here
Dubai Mall Fountain: One of the most exciting and sought-after Dubai Mall attractions is the Dubai Fountain show. Its jets shoot the water as high as 150 metres accompanied by music, lights and the majestic presence of Burj Khalifa, the tallest building in the world. I recommend watching one of the evening shows starting every 30 minutes from 18:00 and taking a boat ride in the fountain lake. Book your Dubai Fountain boat ride tickets here
Dubai Mall Waterfall: Do not miss the fabulous Dubai Mall Waterfall spanning four levels of the mall. It features the sculptures of pearl divers made of fibreglass as a tribute to Dubai's history.
Dubai Mall Dino: This real dinosaur skeleton, often called Dubai Dino, is located on the ground floor and is 155 million years old! You can watch it for free.
Reel Cinemas: Visit the Reel Cinemas to catch a new movie or a classic blockbuster from a wide selection on offer.
KidZania Dubai: Head to the KidZania Dubai, a minicity created specially for kids where they can role play and learn many useful professions. Your kids will be in good hands while you are skating, dining or shopping. Book your Dubai Kidzania tickets here
Prepare for your Dubai trip
Did you find this post helpful? Then click that little heart below and share it with your friends and family. Have fun in Dubai!