New Year in Dubai is one of the busiest and most popular events in the city. Days before the NYE, millions of tourists from all over the world flock to Dubai to watch record-breaking fireworks against the backdrop of the top attractions, dance the night away with world-famous DJs and artists or have an outdoor NYE dinner at one of the best beach resorts. As the clock strikes midnight and ushers in a new year, there's no place like Dubai to share in the excitement and anticipation.
It is one of my favourite holiday seasons in the city. Dubai certainly knows how to throw a good party, and this one is particularly impressive. The NYE agenda is rich in events, such as concerts, drone shows, festivals and sales. What are the best places to celebrate New Year in Dubai? What to do on New Year's Eve in Dubai? Where are the best NYE fireworks to watch? I understand you may have millions of questions. But no worries! I will help you to navigate the holiday craze and prepare for the celebration in style.
When is New Year in Dubai
The new year in Dubai is celebrated on the 1st of January, just like most of the world. Although Dubai is a predominantly Muslim city and follows the Islamic calendar, the Gregorian New Year is widely recognized and celebrated with great enthusiasm. It is also a public holiday.
The celebrations kick off on New Year's Eve, the 31st of December, and continue well into the early hours of New Year's Day. The city's landmarks, shopping malls, restaurants and hotels are decked out in festive decorations, creating a magical atmosphere that's truly unique to Dubai.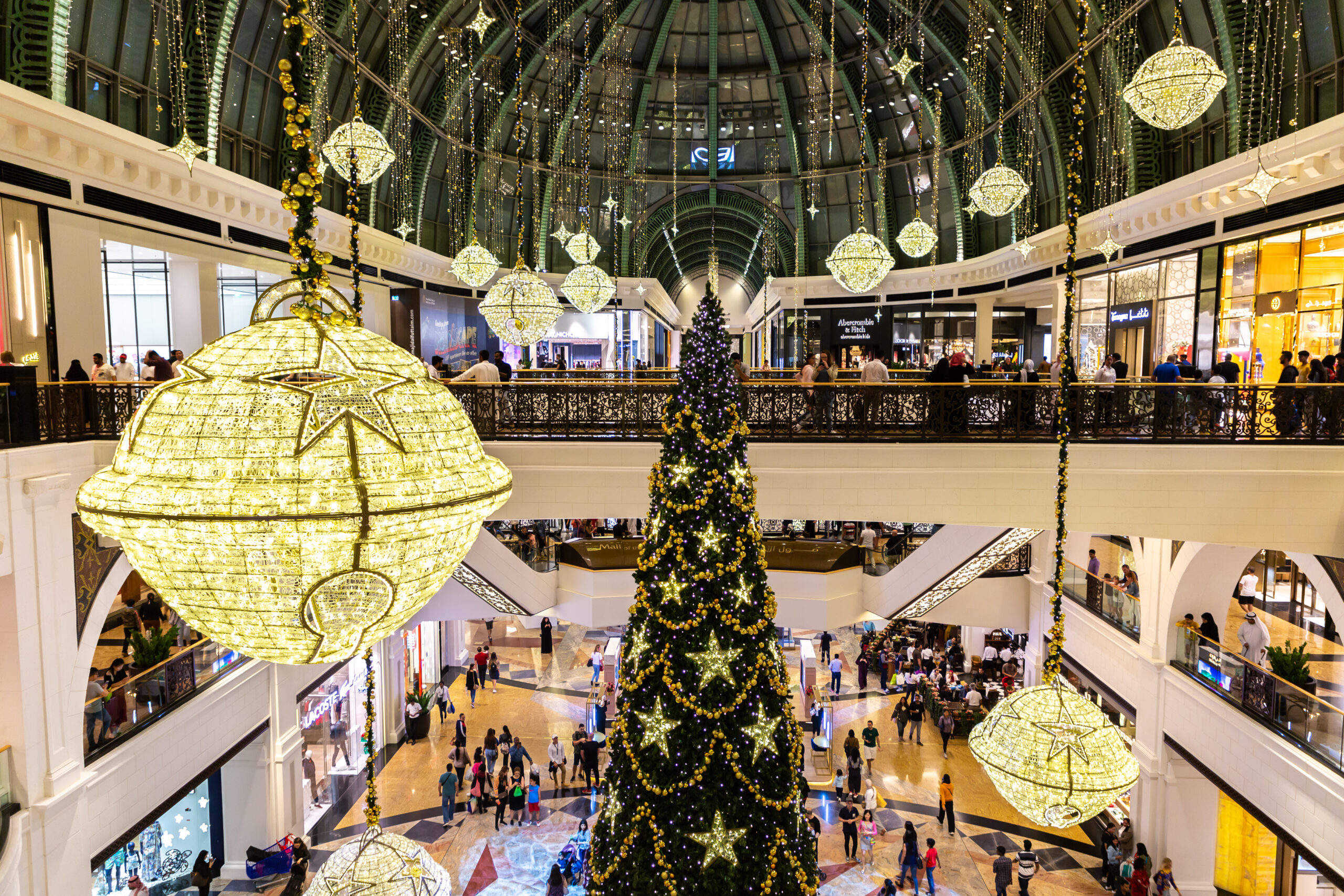 New Year countdown in Dubai
Before I go into more details and share my tips on how to plan your trip and agenda, a few words about what to expect from the moment itself. There's nothing quite like the thrill of the New Year countdown in Dubai. As the clock strikes twelve, the city erupts in a dazzling display of fireworks, making for a truly unforgettable experience.
The entire city comes alive with a festive spirit that's simply infectious. Music echoes through the streets and the city's famous landmarks are illuminated in a spectacle of light and colour. If you've never experienced a New Year's Eve in Dubai, you're in for a treat! The city is renowned for its grand celebrations and parties that last well into the morning hours.
There are several countdown locations. The most prominent countdown happens at Burj Khalifa, where a spectacular light and laser show marks the beginning of the new year. Moreover, several other landmarks across the city host their own countdowns. Palm Jumeirah, Burj Al Arab and the Dubai Festival City Mall are some of the other popular spots for witnessing the New Year countdown in Dubai.
The countdown event is usually accompanied by live music performances, DJ sets and a variety of entertainment acts. It's a night filled with excitement, a night where the city comes together to celebrate the promise of a new beginning.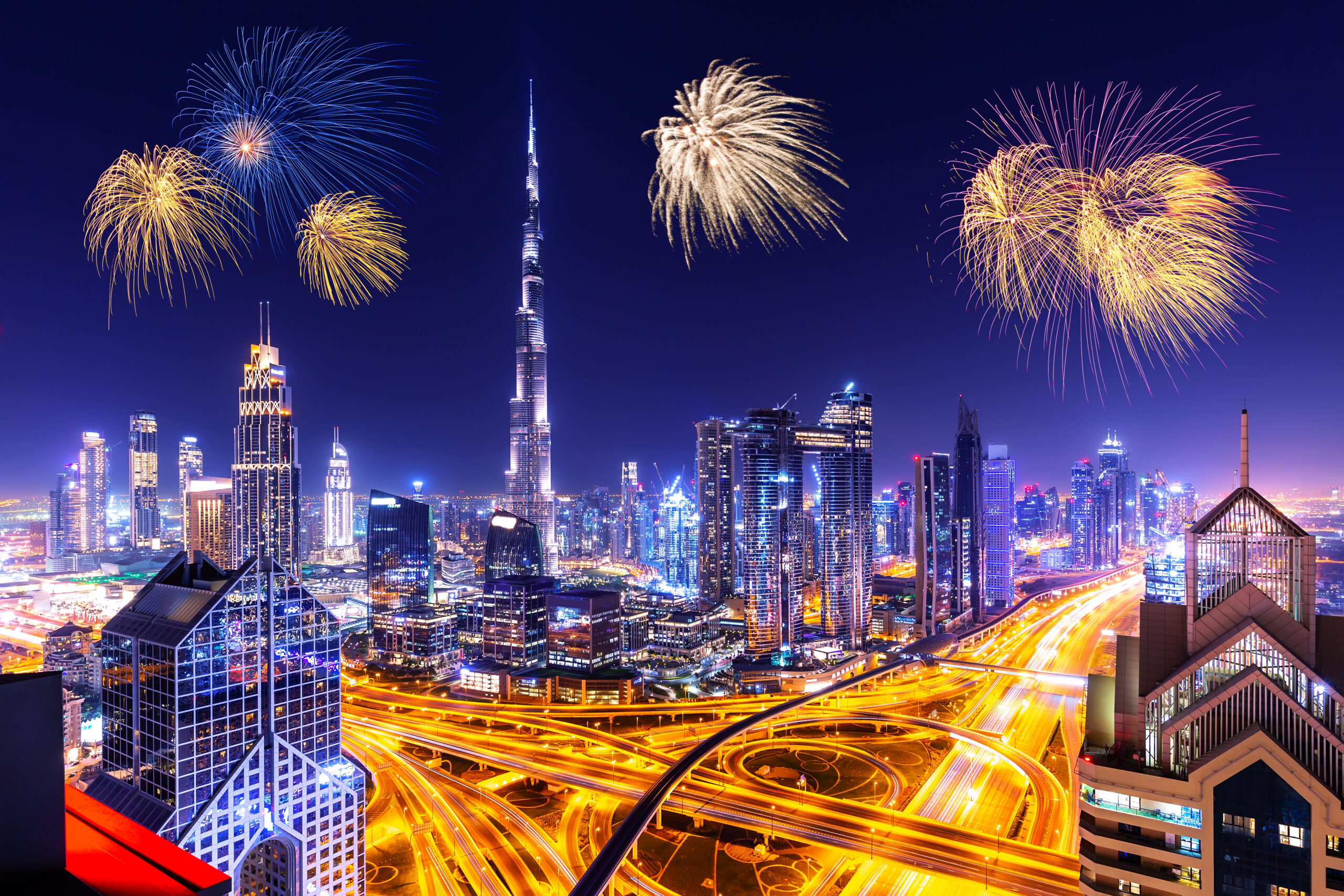 When to plan a New Year's trip to Dubai
So let's start from the beginning — when to plan your trip. Dubai welcomes millions of tourists on December 31st and around this date, and the city's popularity skyrockets during this period. What does it mean? Accommodation and flight ticket prices are soaring the closer you book to the date. Honestly speaking, prices can rise 30 to 50% depending on when you book.
But this is not even the main problem. If you don't hurry up, there simply won't be any available rooms in good and well-established hotels. Especially near fireworks locations and beaches. My advice — reserve your spot far in advance. Many tourists start booking a New Year trip to Dubai 10-12 months in advance.
Of course, a couple of months before the date you may still find options, but the choice will be limited. Don't expect big last-minute discounts and deals. The chance is really low.
Best hotels to celebrate New Year in Dubai
Celebrating New Year in Dubai is a dream for many, and the city's luxury hotels and resorts are perfect for making this dream a reality. They pull out all the stops to ensure their guests have an unforgettable New Year's Eve experience. From lavish gala dinners to stunning views of the fireworks, these hotels offer a range of experiences that cater to all tastes and preferences.
These are the best areas to book hotels for New Year:
Downtown Dubai
Business Bay
Jumeirah
Dubai Marina / JBR
Bluewaters
Palm Jumeirah
Dubai Creek Harbour / Dubai Festival City
One of the best countdown locations is Downtown Dubai where an annual Burj Khalifa fireworks show happens. To avoid the hassle with public transport after the show (you will have to walk for miles to the first available stop), book a hotel nearby. You can either watch the fireworks in the comfort of your room or easily return to your accommodation after the celebration.
Great options are Address Downtown Hotel, Palace Downtown Hotel, Vida Downtown Hotel, Manzil Downtown Hotel, Address Dubai Mall Hotel, Address Boulevard Hotel and Address Sky View Hotel.
Check all Downtown Dubai hotels here
Alternatively, you can stay further away, in the Business Bay and Jumeirah areas, from where you can also see Burj Khalifa.
Then, there is Burj Al Arab, known as one of the world's most luxurious hotels. It hosts a grand New Year's Eve gala that's second to none. The evening includes a gourmet dinner, live entertainment and a spectacular view of the fireworks from the hotel's private beach.
Read more about the Burj Al Arab Hotel here
The Jumeirah Beach Hotel close by offers a family-friendly New Year's Eve experience. The hotel's beachfront location provides an unbeatable view of the fireworks, and the evening includes a buffet dinner, live entertainment and activities for kids.
Book Jumeirah Beach Hotel here
Atlantis, The Palm on Palm Jumeirah is another great option for a luxurious New Year celebration. The hotel hosts several parties and events on New Year's Eve, including a grand gala dinner and a beach party with live music and entertainment. Moreover, you can opt for a recently opened Atlantis The Royal Hotel, which is located nearby.
Book Atlantis The Palm Hotel here
Furthermore, Dubai Marina and Jumeirah Beach Residences (JBR) are among the best beach areas to usher NY in the city. The Ritz Carlton Dubai Hotel, Rixos Premium Dubai JBR, Amwaj Rotana Hotel, Sofitel Dubai Jumeirah Beach and Address Beach Hotel offer their own program and are a stone's throw from the beach fireworks.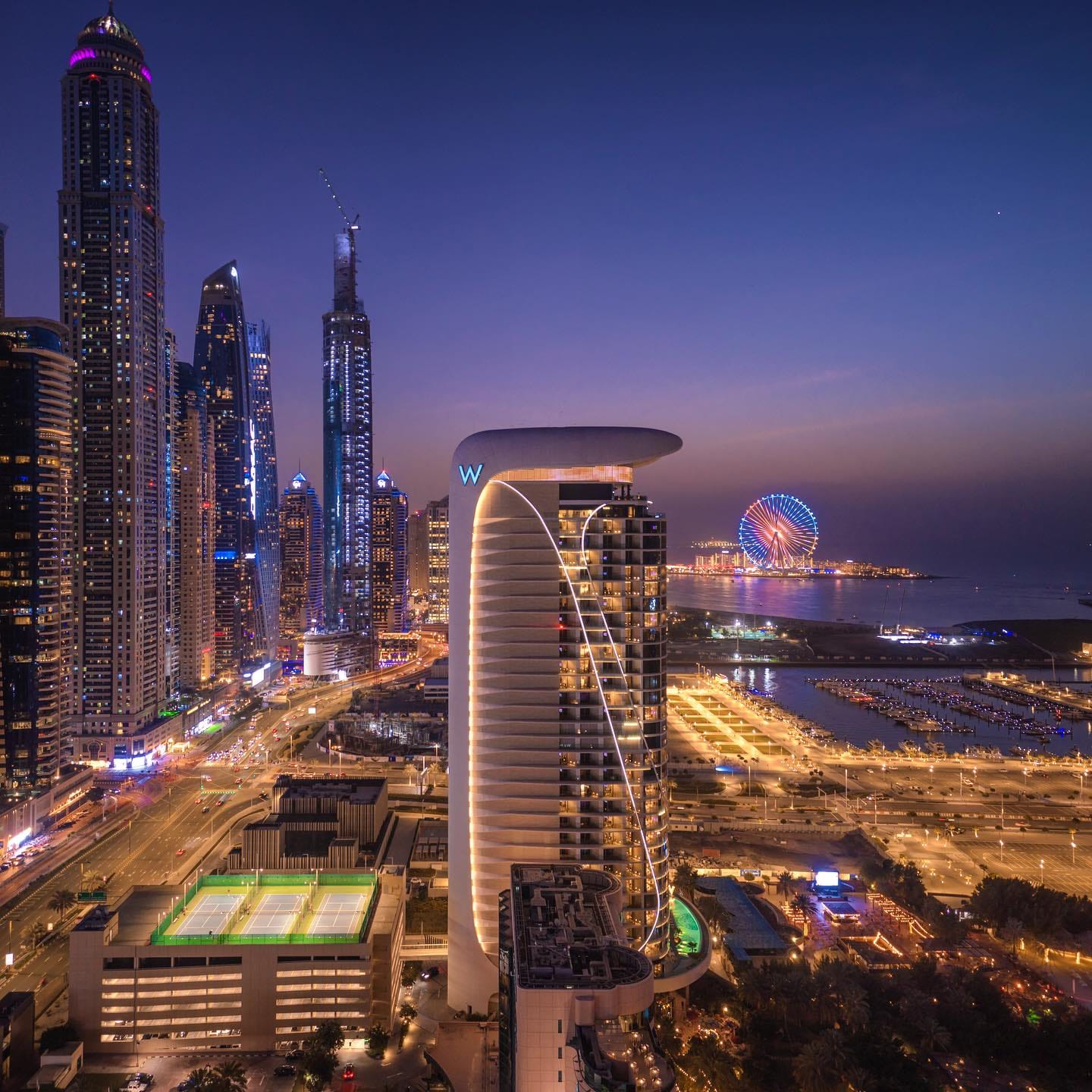 Best places to watch New Year fireworks in Dubai
New Year's Eve fireworks in Dubai are truly memorable. The city puts on a grand spectacle that's recognized as one of the best in the world. I have summarised for you the best spots across the city to watch the fireworks.
1. Burj Khalifa New Year fireworks
Perhaps the most iconic place to watch New Year's fireworks is near the stunning Burj Khalifa, the tallest building on Earth. A spectacular light and laser show begins 2 minutes before the clock strikes midnight. This show, which is also broadcast live internationally, has repeatedly set world records.
Simultaneously with the fireworks that are launched from the tower itself and the surrounding skyscrapers, the famous Dubai Fountain spews jets of water to a height of up to 150 metres.
Have Fun Dubai's Tip: I recommend that you arrive early. Around 16:00, the authorities will start closing many nearby roads. Additionally, Burj Khalifa metro station is generally closed from 22:00 on December 31st until 06:00 on January 1st (it may close much earlier depending on how busy it gets). However, you can have a great time before the show at the Dubai Mall right next to the tower. Be prepared that there will be a lot of people willing to do the same.
Would you like to watch the New Year's fireworks at Burj Khalifa in a more relaxing setting? This year, for the first time, a special celebration is being organised in Burj Park, a few hundred metres away. The ticket includes entertainment, 2 drinks and a meal of your choice from one of the kiosks. And, of course, you are guaranteed a dizzying view of the tallest building in the world. Entry is from 16:00. Important: you need to collect a badge at the Dubai Mall, Dubai Hills Mall or Dubai Marina Mall from the 26th to 30th of December, 2023. Without it, you will not be able to enter Burj Park. Book your Burj Khalifa fireworks tickets here
Please take into account that after the show you will have to walk several miles to the first available taxi rank or public transport stop. Therefore, if possible, book a hotel near Burj Khalifa. It will be much more comfortable! If you park your car under the Dubai Mall or at restaurants or hotels in Downtown Dubai, roads will begin to open between 01:00 and 02:00.
Best places to watch the fireworks: Souq Al Bahar, Dubai Fountain, Dubai Opera, Burj Park, the Dubai Mall restaurants, Sheikh Mohammed bin Rashid Road, Address Downtown Hotel, Palace Downtown Hotel, Vida Downtown Hotel, Manzil Downtown Hotel, Address Dubai Mall Hotel, Address Boulevard Hotel and Address Sky View Hotel. To avoid the crowds, you can also watch these fireworks from Business Bay or Dubai Water Canal further away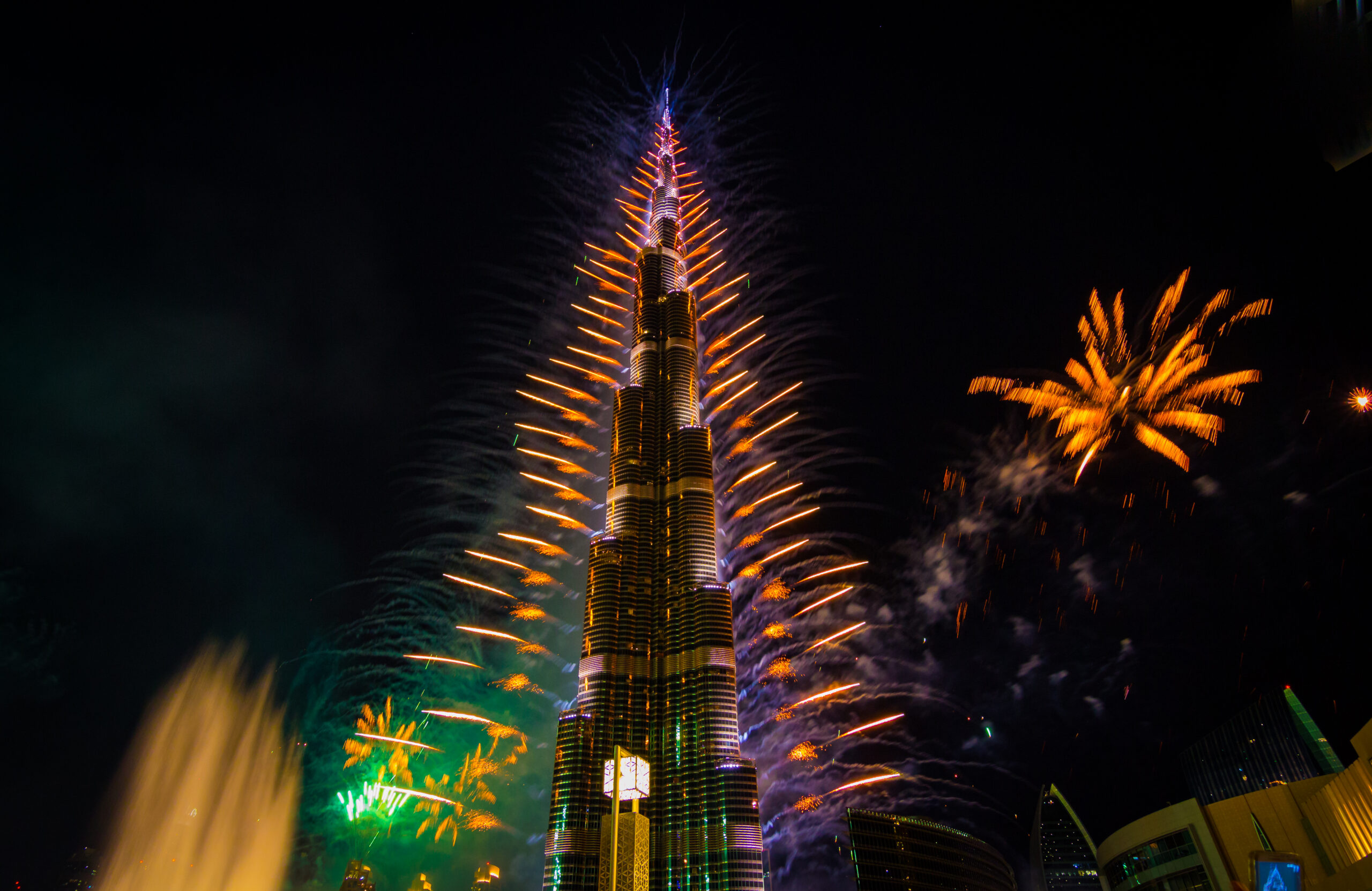 2. Dubai Marina and JBR New Year fireworks
What could be more exciting than watching fireworks from one of Dubai's beaches? One of the best places is the Jumeirah Beach Residence (JBR) area stretching further to Bluewaters Island. To prepare for a festive atmosphere, watch a spectacular drone show. Being part of the Dubai Shopping Festival, it is typically on display every evening at 19:00 and 22:00 from December 8th. Please mind that on New Year's Eve the schedule may change.
On New Year's Eve, a clock is projected onto the world's largest Ferris wheel, Ain Dubai, at Bluewaters. After the countdown, the sky above the beach lights up with thousands of colourful fireworks displays reflected in the seawater.
Have Fun Dubai's Tip: Personally, I love this beach area lined up with hotels for a New Year celebration. Almost all resorts and restaurants on the beach offer their own festive program with dinner and live music, so the fun does not have to stop at midnight. If you just decide to watch fireworks from the beach, remember that many locals and tourists flock here as well.
Best places to watch the fireworks: The Beach at JBR, Bluewaters Island promenade, hotel beaches, boat cruises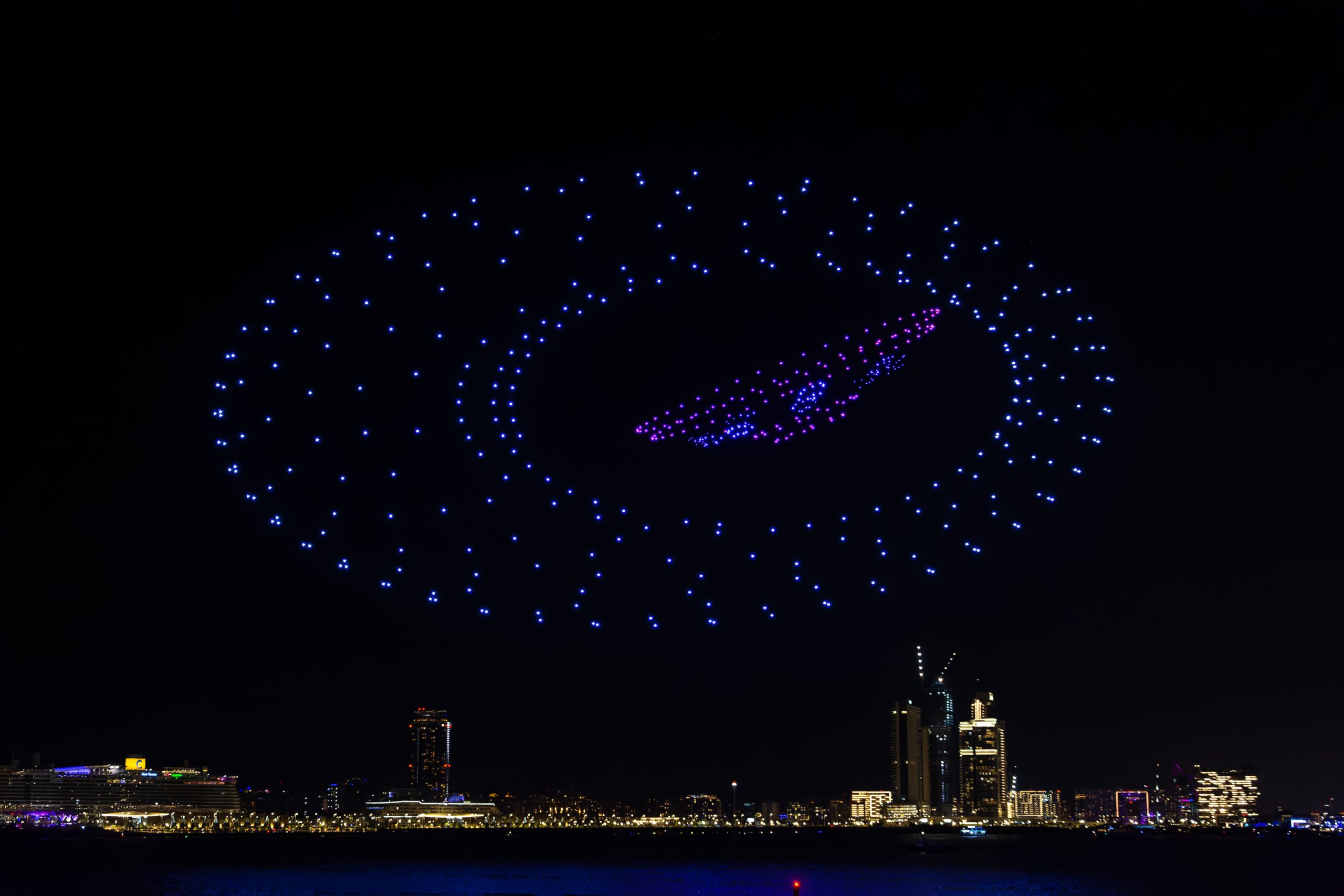 3. Burj Al Arab New Year fireworks
Without a doubt, this is another wonderful spot where you can watch the grand New Year's fireworks in Dubai. The famous sail-shaped Burj Al Arab Hotel looks even more impressive when it is illuminated. To avoid the hassle while watching, book a table at one of the many restaurants in the neighbourhood.
Best places to watch the fireworks: Madinat Jumeirah, Kite Beach, Umm Suqeim Beach and other beaches in the area
4. Atlantis The Palm and Atlantis The Royal New Year fireworks
Palm Jumeirah is another excellent location for viewing the New Year fireworks in Dubai. The man-made island puts on a stunning fireworks display that can be seen from several spots across the city.
The NYE fireworks near the iconic Atlantis The Palm Hotel are legendary. The oriental-looking resort building with fireworks in the background makes you feel like you're in a Disney fairy tale. Recently, a modern resort complex, Atlantis The Royal, was opened next door. It resembles gigantic containers or LEGO blocks stacked on top of each other.
If you haven't booked a table for New Year's Eve gala dinner at one of the many hotel restaurants, head to the 11-kilometre crescent-shaped Boardwalk that wraps around the outer side of Palm Jumeirah.
Best places to watch the fireworks: Atlantis The Palm and Atlantis The Royal hotels, the Boardwalk, boat cruises, Palm West Beach and Club Vista Mare or across the water from Jumeirah Beach Residence and Bluewaters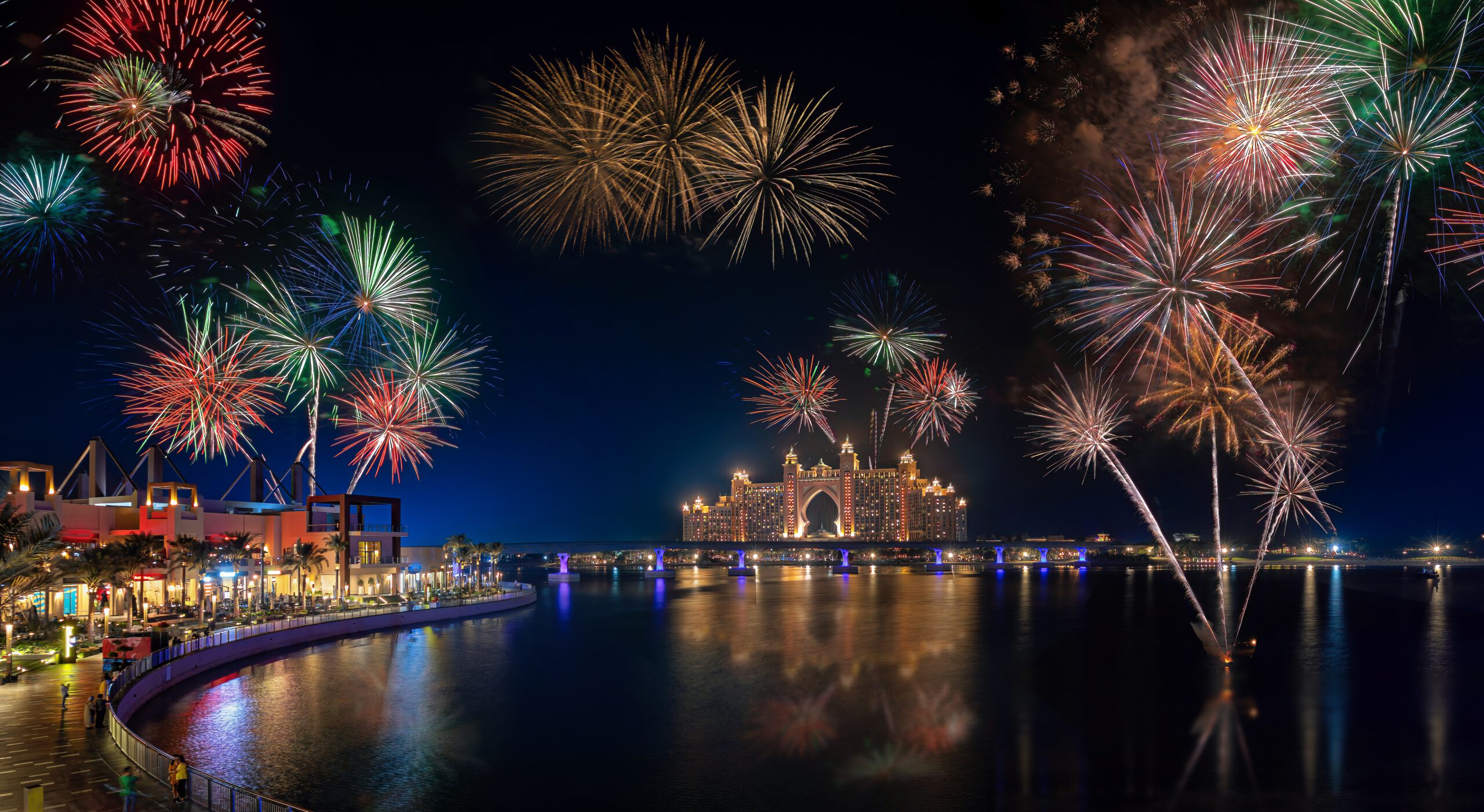 5. Dubai Festival City Mall New Year fireworks
This is another exciting place where you have a chance to watch the fireworks display. The Festival Bay promenade in front of the Dubai Festival City Mall is an epicentre of festive performances. Moreover, on New Year's Eve, you can watch an unforgettable IMAGINE laser show. Though less spectacular than the Dubai Fountain show, it is a great alternative to avoid the crowds in the city centre.
The NYE entertainment program usually starts as early as 18:00. Many waterfront restaurants offer special New Year's Eve dinner packages.
Best places to watch the fireworks: Dubai Festival City Mall promenade, boat cruises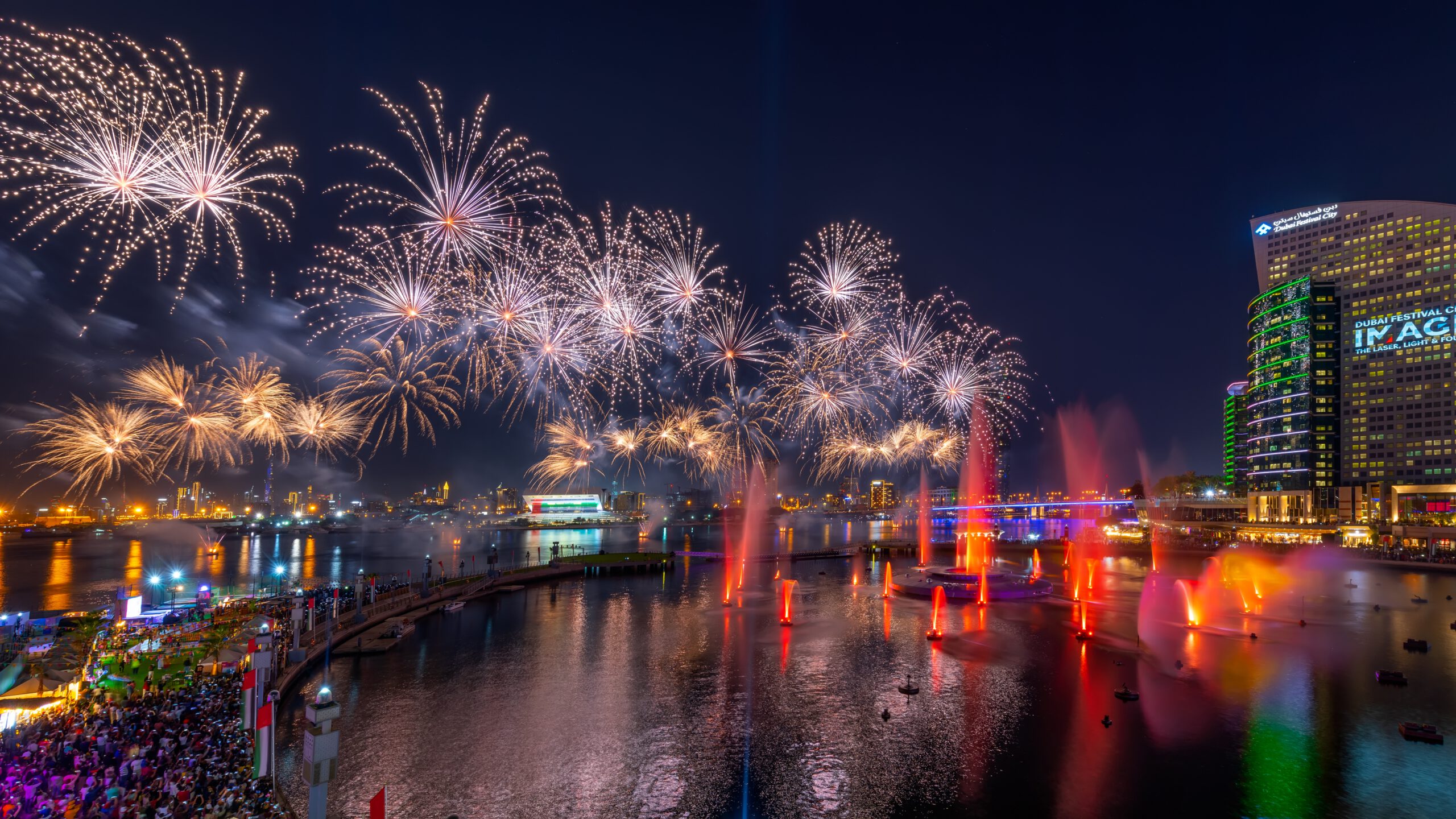 6. Global Village New Year fireworks
Global Village in Dubai is known for offering massive NYE fireworks displays. The highlight of this multicultural shopping and entertainment complex is that during the evening you can see not one, but several fireworks at once. Typically, they are synchronised with the time zones of different countries. Last year, the sky was lit up 7 times from 20:00 to 01:00. The agenda for this year is still being confirmed.
The first New Year's fireworks display at Global Village starts at 20:00, followed by performances on the main stage. This is a great place to celebrate if you are travelling with kids.
Of course, you can watch the opening fireworks here and then continue your evening somewhere else. On New Year's Eve 2024, Global Village in Dubai will operate from 16:00 to 02:00. Click the link above to buy tickets in advance because this place is in high demand.
Best places to watch the fireworks: the main stage, the central square and other spots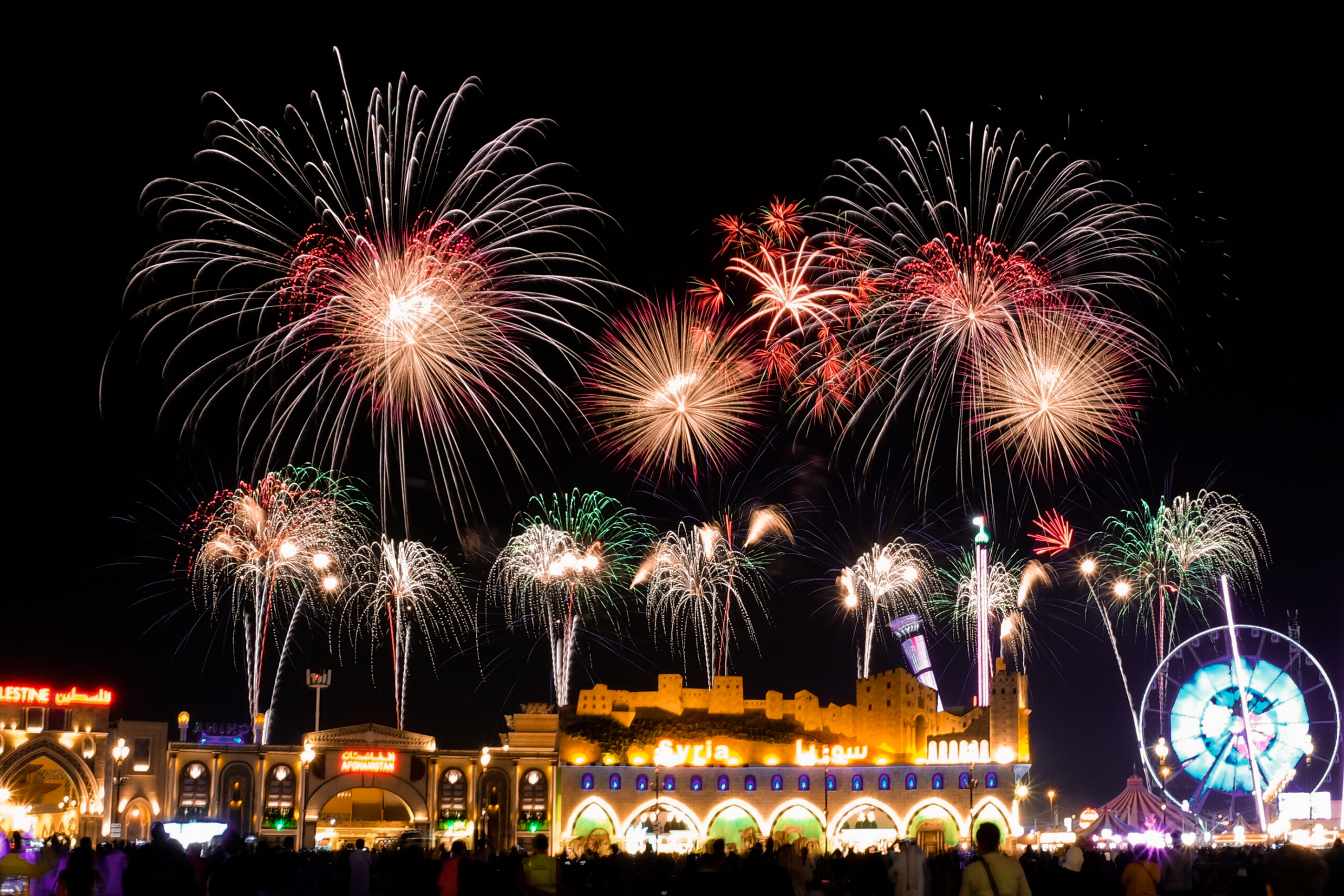 NYE concerts, shows and parties
As the new year approaches, Dubai turns into a hub of entertainment and excitement. The city hosts a range of concerts, shows, and parties to ring in the new year. From international artists to local talents, the line-up of performances is diverse and exciting. Robbie Williams, Mariah Carey, Enrique Iglesias and Kylie Minogue were among the headliners in the past years.
Here are some of the top Dubai NYE 2024 events:
On New Year's Eve 2024, the legendary British singer Sting will be on stage of the gala dinner at Atlantis The Palm. Come to enjoy his famous hits, sip champagne and try delicious buffet meals. The gala dinner and show will begin at 19:00 on December 31st. Book your tickets here
One of the grand gala concerts on NYE 2024 is also being hosted by Dubai Opera, located just 200 metres from Burj Khalifa. You can enjoy dinner, free drinks and entertainment and then watch the stunning fireworks display at the foot of the tallest building in the world. The New Year's show at Dubai Opera will start at 21:00.
The highlight of the New Year's Eve festive program at the Rixos Premium Dubai Hotel is a concert by the young British artist John Newman. Several hits, such as Love Me Again, Feel the Love and Not Giving In, made him popular internationally. You can enjoy unlimited drinks, dinner, an acrobat show and a DJ performance from 19:00. When the clock strikes midnight, John Newman will hit the stage.
At the famous Zero Gravity beach club in Dubai Marina, NYE celebrations will begin as early as 11:00 on December 31st and will last until deep in the night (03:00). You can come early to soak up the sun by the pool or later in the evening for an exciting party featuring international DJs. This is a great spot to watch the fireworks. Buy your tickets here
Not that far away, the Barasti Beach club will host a party featuring many local DJs including CN Williams, Tom Higham, Man Go Funk and Naomi. But that will be only a warming-up! Fedde Le Grand, a famous Dutch DJ, will headline the New Year's Eve 2024 celebrations. Doors open at 20:00. Buy your tickets here
Other popular places for New Year's concerts and parties in Dubai include WHITE Beach, Nammos and Beach by FIVE clubs.
Many New Year's Eve 2024 events are still being confirmed. Check back later for more updates.
Best Dubai rooftop bars and restaurants for a New Year's night
One of the best ways to celebrate New Year is at one of the city's rooftop bars or restaurants. These venues offer a stunning view of the city's skyline and the fireworks display, making for a truly unforgettable New Year's Eve experience.
Which restaurant in Dubai to choose for New Year's Eve? In fact, the choice is enormous, and it depends on your budget, food and ambiance preferences. On December 31st, many restaurants in the city try to outdo each other by offering a special New Year's package with dinner, live music, DJ and other entertainment.
Prices for these deals range from 300 AED to 10,000 AED. Many beach resorts in Dubai set tables and tents outside offering great views. If you're on a budget, you can book a table at more affordable restaurants in Jumeirah Beach Residence, Bluewaters Island, Palm West Beach or Dubai Festival City. These places offer fantastic views of the New Year's fireworks.
If you want to celebrate the New Year in style, opt for more renowned restaurants. For example, Nobu, Ossiano or Hakkasan at the Atlantis Hotel or Al Muntaha and Al Mahara at Burj Al Arab. Expect unmatching vistas from panoramic windows and brilliant flavours at SushiSamba, located at the highest point of Palm Jumeirah.
Alternatively, you can try one of the restaurants at Madinat Jumeirah or at the foot of Burj Khalifa. For a beautiful view of the fireworks and the Dubai Fountain, head to Joe's Cafe, Tribes and Hurricane's Grill, but prices will match the views.
Moreover, you can book a table on the top floor of the Address Beach Resort, home to ZETA Seventy Seven. Check out my list of the best rooftop bars and restaurants in Dubai, many of which are great for watching the New Year's Eve 2024 fireworks.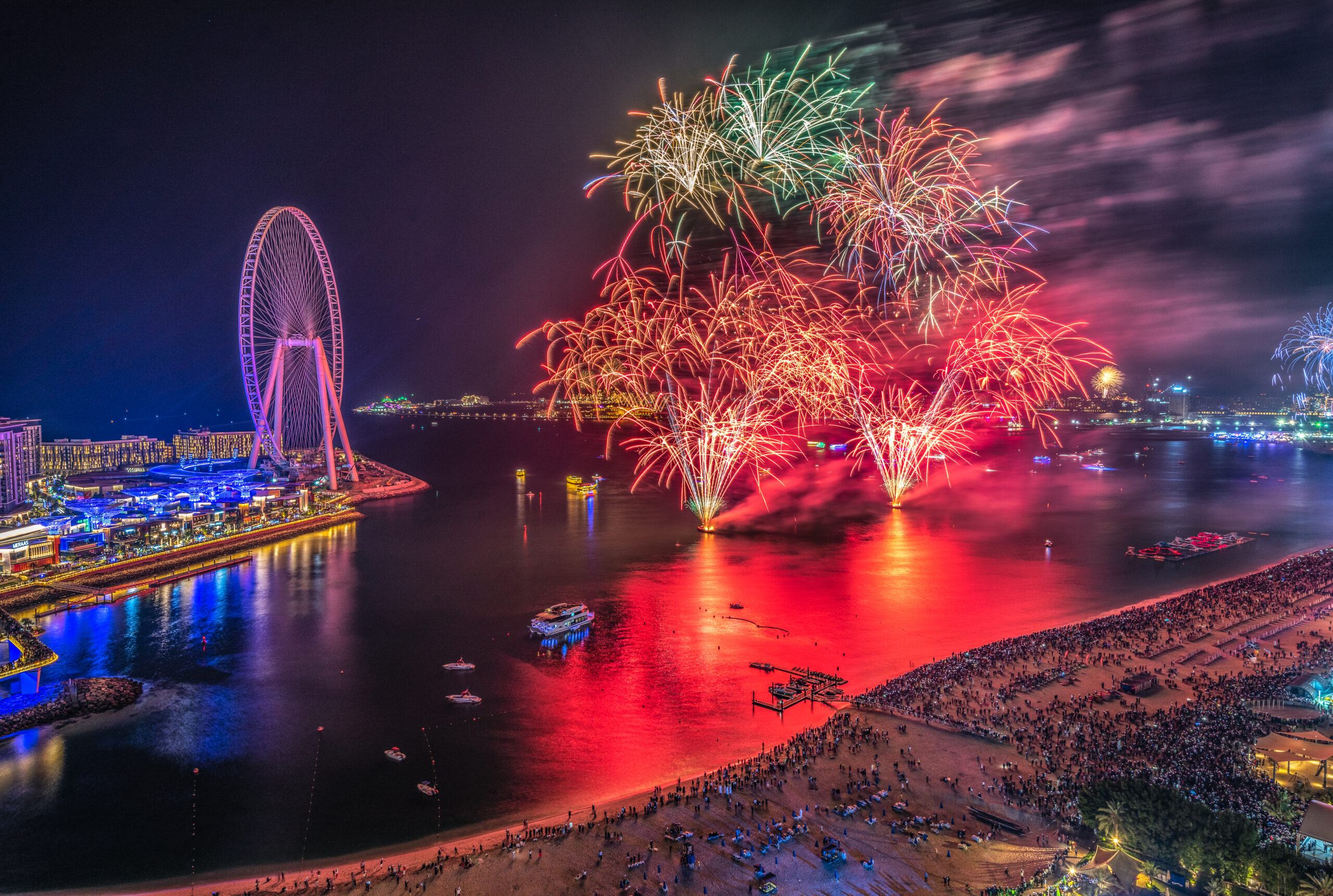 New Year's Eve cruises
For a unique celebration in Dubai, consider taking a New Year's Eve cruise. They offer a luxurious dining experience on the water, accompanied by a stunning view of the city's skyline and the fireworks display.
There are multiple options for a New Year cruise in Dubai, but the best locations include Dubai Marina, Dubai Creek and Dubai Water Canal. You can choose anything from modern boats to traditional dhow dinner cruises and private charters.
Dubai Marina boat cruises allow you to see a lot of iconic landmarks lining up the coastline. From Ain Dubai, the largest observation wheel, to Palm Jumeirah and Atlantis The Palm Hotel. On the other hand, Dubai Creek and Dubai Water Canal cruises are a wonderful option to see the Burj Khalifa laser show at a distance and Festival Bay fireworks.
Read more about Dubai boat cruises here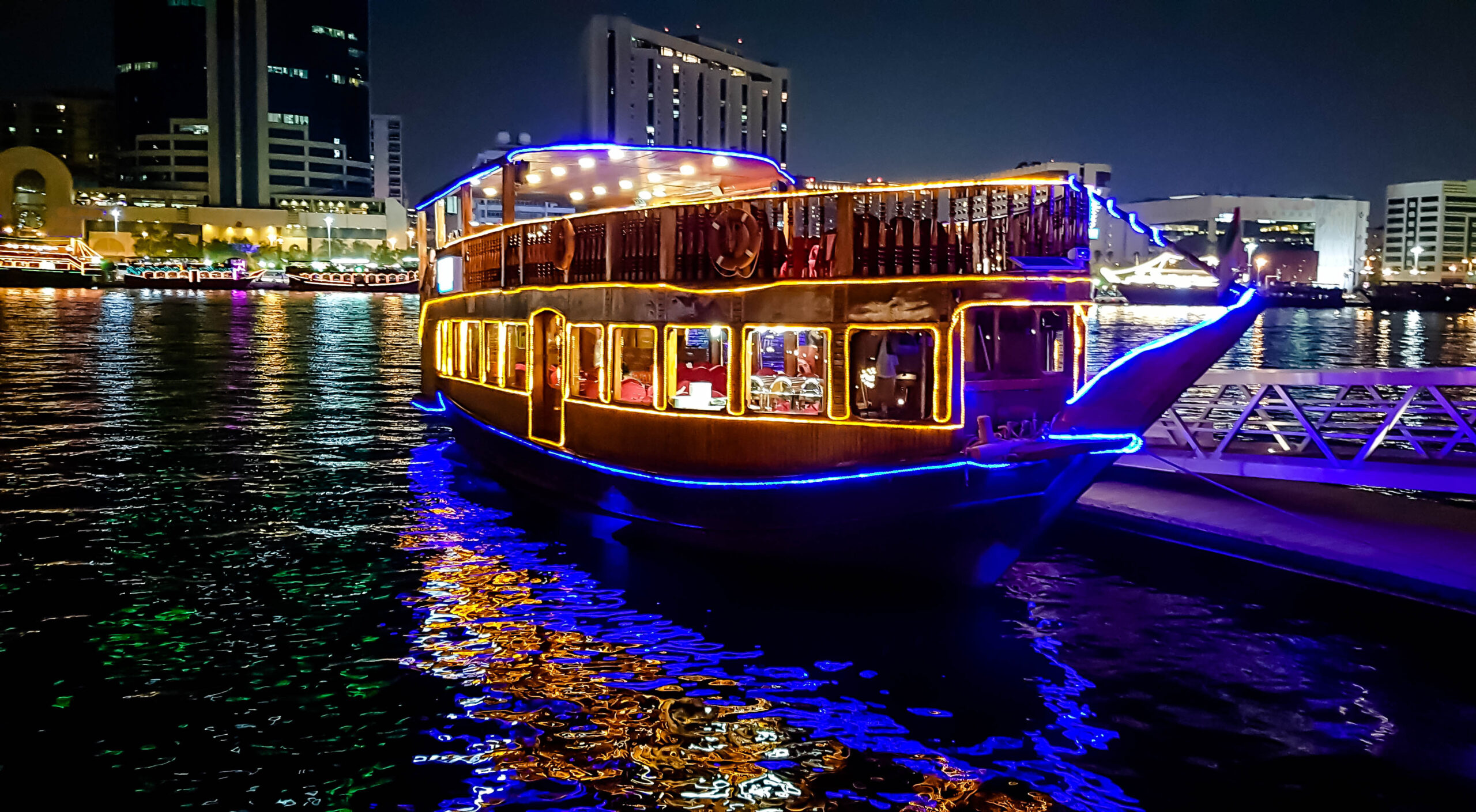 New Year shopping and sales
Dubai is renowned for its shopping scene, and New Year is a great time to take advantage of the city's sales and discounts. Many shopping malls and retail outlets offer great deals on a wide range of products, making it a shopper's paradise.
Many shops compete with each other by arranging window decorations. You can buy everything: from garlands and Christmas tree decorations, to special bedding sets, teddy bears and holiday outfits from the world's leading designers. Particularly beautiful displays await you at the Dubai Mall.
The Dubai Shopping Festival is one of the city's biggest shopping events and coincides with the New Year celebrations. The festival offers great discounts on a wide range of products, from electronics and fashion to jewellery and perfumes. This time, the Dubai Shopping Festival will take place from December 8th, 2023 to January 14th, 2024.
Apart from the shopping festival, multiple retail outlets and shopping malls offer New Year sales. These include the Dubai Mall, the Mall of the Emirates, the Wafi City Mall and the Ibn Battuta Mall.
New Year in Dubai with kids
Celebrating New Year with kids can be a wonderful experience. The city offers a range of family-friendly activities and events that make for a memorable New Year's Eve.
If you are coming to Dubai with children, I recommend booking one of the beach hotels. They usually offer their own NYE program with dinner and entertainment. Children can have fun and make new friends from around the world while you enjoy champagne and delicious buffet meals. Moreover, it will be more convenient to bring them to bed when the celebration comes to an end.
Global Village (which I mentioned above) is a great place to celebrate New Year with kids. The cultural and entertainment park hosts a range of activities and shows that cater to all ages. The park also puts on a spectacular fireworks display.
Dubai Parks and Resorts is another great option for a family-friendly New Year celebration. It features Legoland Dubai and Motiongate theme parks, as well as Legoland Waterpark. The amusement park complex offers a range of rides and attractions for kids and puts on a special New Year's Eve show. You can even stay at one of its hotels.
Have Fun Dubai's Tip: Is it worth watching Burj Khalifa fireworks with kids? This is undoubtedly a once-in-a-lifetime experience. However, unless you are staying nearby, consider these factors. Firstly, it will be extremely crowded. Secondly, local authorities will start closing the nearby roads and the metro station far in advance, so you will need to arrive early. Finally, you will need to walk miles to the nearest open public stops after the show. Young children may find it very tiring.
Check the best activities in Dubai for kids here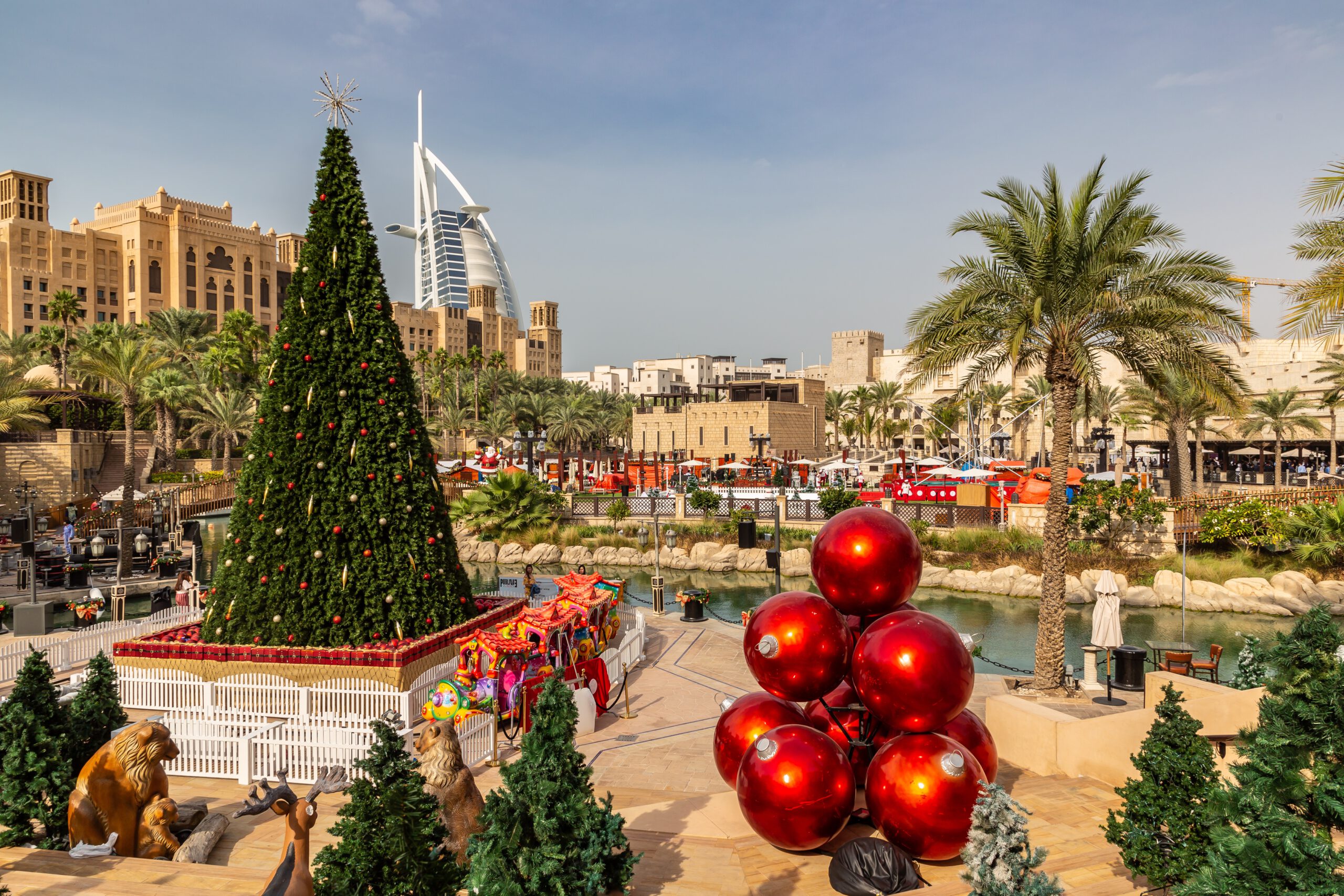 What is the weather like in Dubai on New Year's Eve
Dubai's weather on New Year's Eve is usually pleasant and cool, making it a great time to be outdoors. The temperature typically ranges during a day between 15°C and 25°C, and there's usually little to no rainfall.
The pleasant weather makes it ideal for outdoor celebrations and events. Whether it's a rooftop party, a beach celebration, or a desert safari, the cool weather enhances the experience and adds to the festive spirit.
However, I definitely recommend packing an umbrella, a light jacket or shawl in your suitcase. There can be occasional chilly winds in the evening and very rarely rainfalls. In case of bad weather, Dubai establishments will set up tents for outdoor dinners to still go ahead.
The seawater temperature during the New Year season varies from +19 to + 22 °C. If you find it too cold, you can swim in heated pools.
Public transport on the NYE night
Public transport in Dubai is generally efficient and reliable. On New Year's Eve, the Roads and Transport Authority (RTA) usually extends the operating hours of the metro, buses and trams to accommodate the increased demand. I strongly recommend checking timings in advance as they may change.
The Dubai Metro typically stops operating around 02:00 on January 1st, and trams run until 01:00. Burj Khalifa/Dubai Mall metro station is not accessible from 22:00 to 06:00 (it may close much earlier depending on the crowds).
If you are planning to watch the New Year's fireworks on Palm Jumeirah, you can take the Dubai Monorail back. It typically runs till 02:00 on January 1st.
Taxis are also widely available, and ride-hailing services like Uber and Careem operate throughout the night. However, due to the high demand, be prepared for longer wait times.
Tips for celebrating NYE in Dubai
Celebrating NYE in Dubai can be an exciting experience, but it's important to plan ahead to make the most of your evening. Here are some of my tips to help you have a hassle-free New Year's Eve.
Book in advance: Whether it's a hotel stay, a dinner table or a party ticket, reserve well in advance. Dubai is a popular New Year's Eve destination, and venues tend to get booked out quickly.
Plan transportation ahead: Whether you're heading to a party or planning to watch the fireworks, plan how you will get there in advance. Public transport will be very busy on NYE.
Arrive early: To avoid the last-minute rush and secure a good spot at popular celebration locations, arrive early.
Dress appropriately: While Dubai is a cosmopolitan city, it's important to dress respectfully, especially in public places. It's highly recommended to avoid any overly revealing outfits. Read about Dubai's customs and traditions to learn more.
Watch your belongings: Even though Dubai has low crime rates, be mindful and keep an eye on your purse, bags and other belongings to avoid unpleasant surprises. Keep your documents and money safe!
With its grand celebrations, spectacular fireworks and a myriad of exciting events and activities, the city offers an unforgettable New Year's Eve experience. I wish you a memorable stay. Have a magic New Year in Dubai!
Prepare for your Dubai trip
Did you find this post helpful? Then click that little heart below and share it with your friends and family. Have fun in Dubai!