Taking one of Dubai boat tours and cruises is a great way to explore the city and its sights. Dubai is known for its jaw-dropping architectural marvels, luxurious lifestyle and rich cultural heritage. Yet, one of the city's most enchanting experiences is its thriving waterway culture. Joining Dubai boat trips or rides is one of the most popular tourist activities.
Dubai's expensive Arabian Gulf coastline and its beautiful man-made waterways offer an array of boat tours. They provide an opportunity to witness the city's stunning skyline from a completely different perspective. From a relaxing dhow cruise dinner in Dubai to an adrenaline-pumping Dubai speed boat tour, the options are plentiful. But how to choose Dubai boat tours and cruises ideal for you? In this guide, I will tell you more about different boat rides and help you to pick the boat trip in Dubai that perfectly suits your preferences.
Why take a boat tour in Dubai
First of all, you may be wondering whether Dubai boat trips are worth it. Well, boat tours are an excellent way to soak in the city's spectacular views and unwind amidst the tranquil waves. But that's not all. A Dubai yacht tour or a simple boat ride can take you on a voyage through the city's past and present. From the historic Dubai Creek to the modern marvels of Dubai Marina and JBR, these boat tours are a unique blend of entertainment, relaxation and discovery.
If you're a photography enthusiast, these cruises offer a unique vantage point to capture the city's stunning architecture and sunsets. If you're a food lover, a Dubai cruise dinner will take your taste buds on a delightful journey. If you're seeking adventure, a speed boat Dubai tour will give you the thrill you're looking for. In short, there's something for everyone on a Dubai boat tour.
Here are my top reasons why it is worth joining a Dubai boat ride or trip:
Wide selection of boat tours and boat types
Unparalleled Dubai views and photo opportunities
Plenty of choices to match any budget
Multiple boat ride departure points
Variety of activities on board
Luxurious amenities
High safety level
Professional and friendly crews
Book your Dubai boat tours and cruises here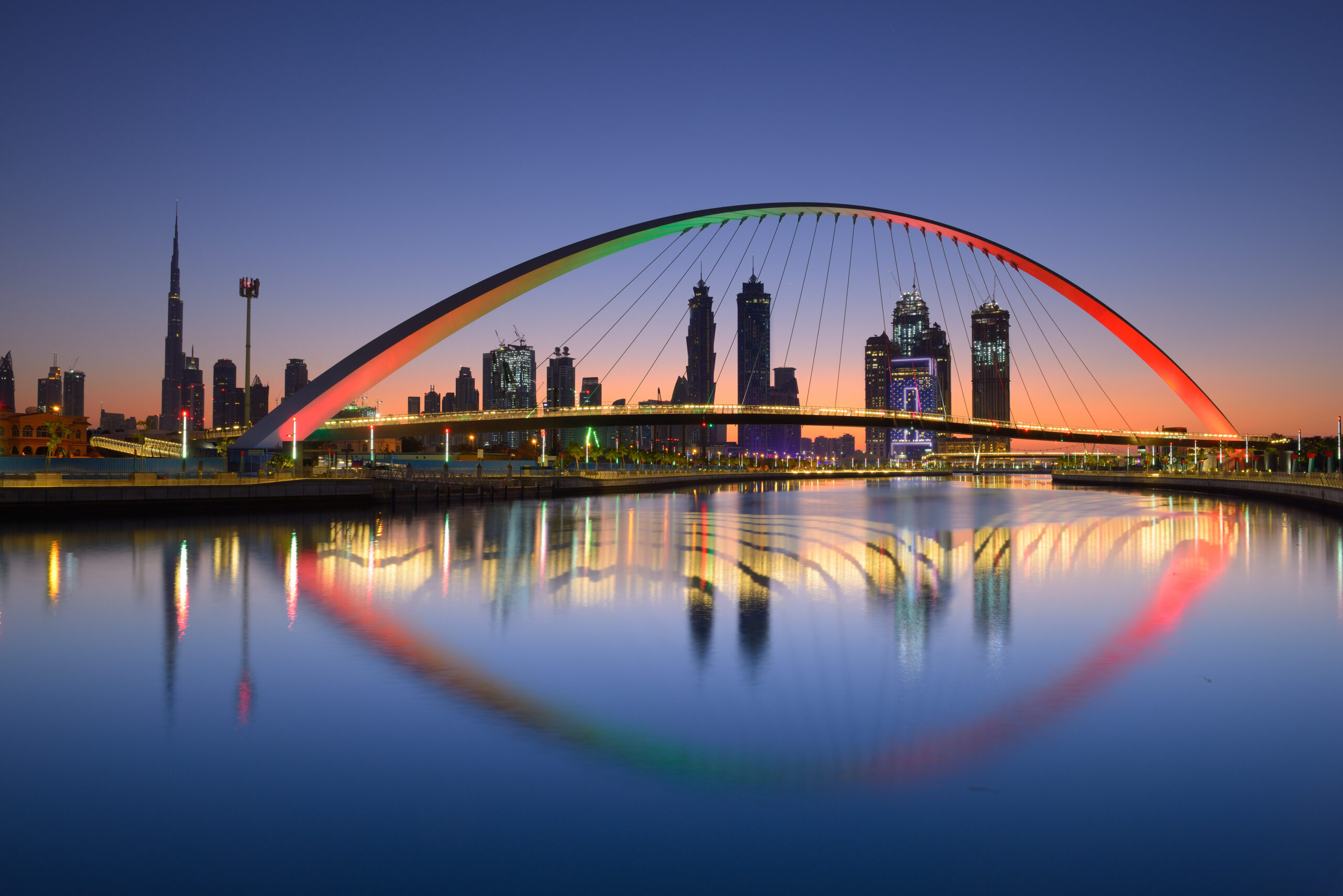 Types of Dubai boat tours, trips and cruises
The variety of Dubai boat tours is truly impressive. For a classic Arabian experience, a dhow cruise in Dubai or an abra tour in Dubai is a must-try. These traditional wooden boats take you through a voyage of cultural exploration, often accompanied by a delicious dinner and enchanting entertainment. The dhow cruise Dubai price is also quite reasonable, making it a popular choice among travellers.
Another popular option is the Dubai yacht tour. These luxurious cruises offer an unmatched sense of extravagance and comfort. Imagine sailing through the azure waters of the Arabian Gulf, with the wind in your hair and the sun on your face, all while sipping on your favourite cocktail. That's what a Dubai marina yacht tour or a private yacht tour in Dubai feels like.
For thrill-seekers, a speed boat Dubai tour is a perfect choice. These trips offer an adrenaline-pumping ride through Dubai's waters, often combining sightseeing with high-speed thrills. You can also opt for a Dubai boat trip that takes you to some of the city's most iconic landmarks, like Ain Dubai and Burj Al Arab.
The choice is big, however, it is also easy to get lost in this variety. What boat tour is ideal for a romantic dinner date, for a family trip or for an exciting party with friends? Now, let's explore boat trips and cruises in Dubai by category and type. This way you can choose the best Dubai boat tour for yourself much quicker.
Book your Dubai boat tours and cruises here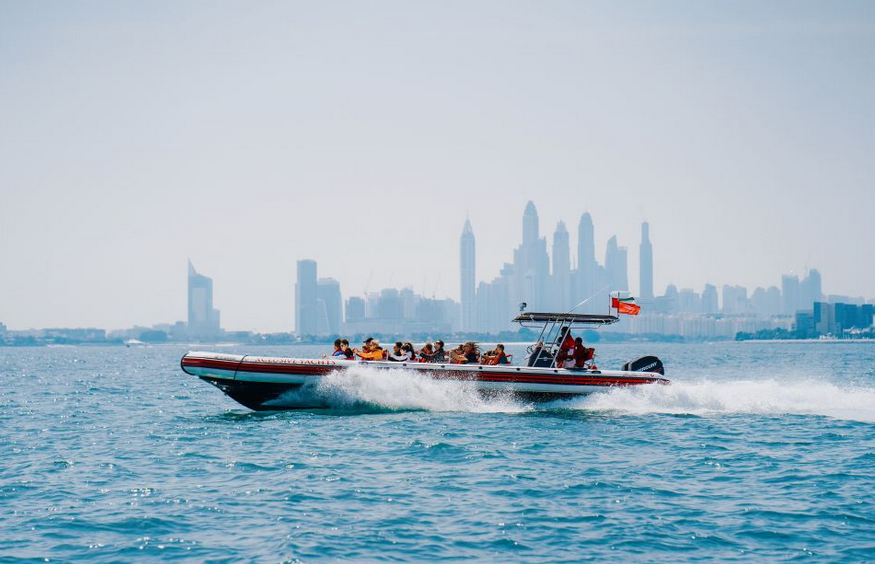 Boat tours and cruises by location
There are the best areas in Dubai for a boat trip:
Dubai Marina
Dubai Creek
Dubai Water Canal
Madinat Jumeirah
Burj Lake
Dubai Global Village
Depending on your interests and preferences, you can choose to take a boat tour in various locations around Dubai. For a slice of history, a dhow cruise in Dubai Creek is an excellent choice. This tour takes you through Dubai Creek in the heart of old Dubai, offering a glimpse into the city's rich cultural heritage.
Alternatively, take a traditional Dubai Creek abra tour between Bur Dubai and Deira for just AED 1. Moreover, short Dubai abra tours are available in Burj Lake around the Dubai Fountain, in Madinat Jumeirah with its labyrinth of winding canals and in Dubai Global Village, which is a popular family entertainment destination.
For a more modern and luxurious experience, a Dubai Marina dinner cruise or a Dubai Marina yacht tour is the way to go. Here, you'll be surrounded by Ain Dubai (the world's largest Ferris Wheel), a laid-back beach vibe, towering skyscrapers and glittering lights, creating a magical atmosphere. For a unique experience, consider a Dubai Water Canal cruise with lovely Burj Khalifa views, where you'll sail through the city's impressive man-made waterway, complete with a beautiful waterfall and bridges.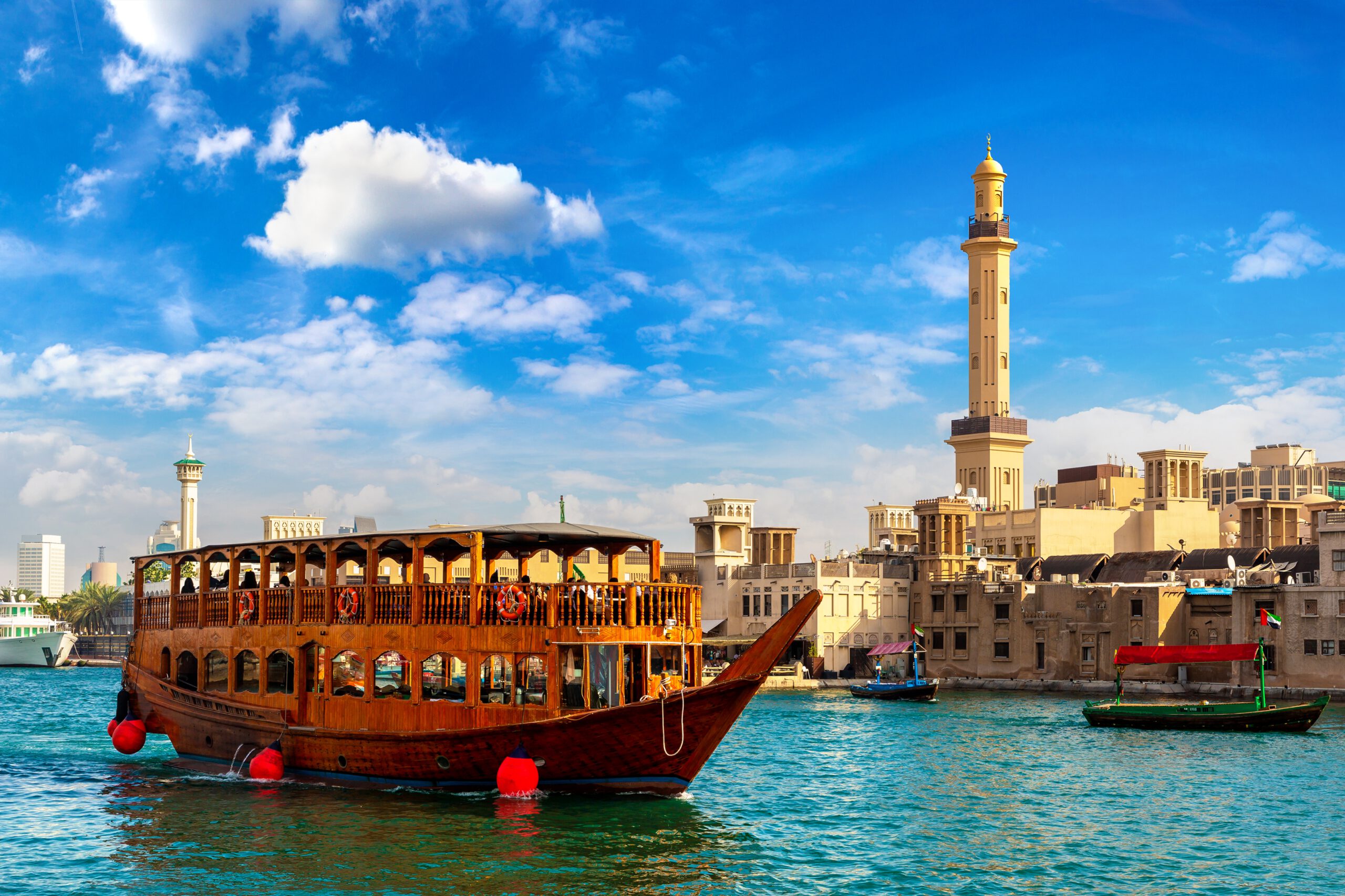 Boat tours and cruises by the boat company
Xclusive Yachts Dubai
Yellow Boats Dubai
Love Boats Dubai
See X Sea
Nemo Boat Tour Dubai
Black Boats
Hero Boat Tours
Dhow Cruise Dubai Marina
Sky Walker Yachts
The quality of your Dubai boat tour depends largely on the company you choose. Some of the top names in the business include Xclusive Yachts, Yellow Boat and Nemo Boat Tour. These companies are known for their high-quality services, an impressive fleet of boats and excellent customer service. They offer a range of tours, from cheap boat rides to luxury yacht cruises in Dubai.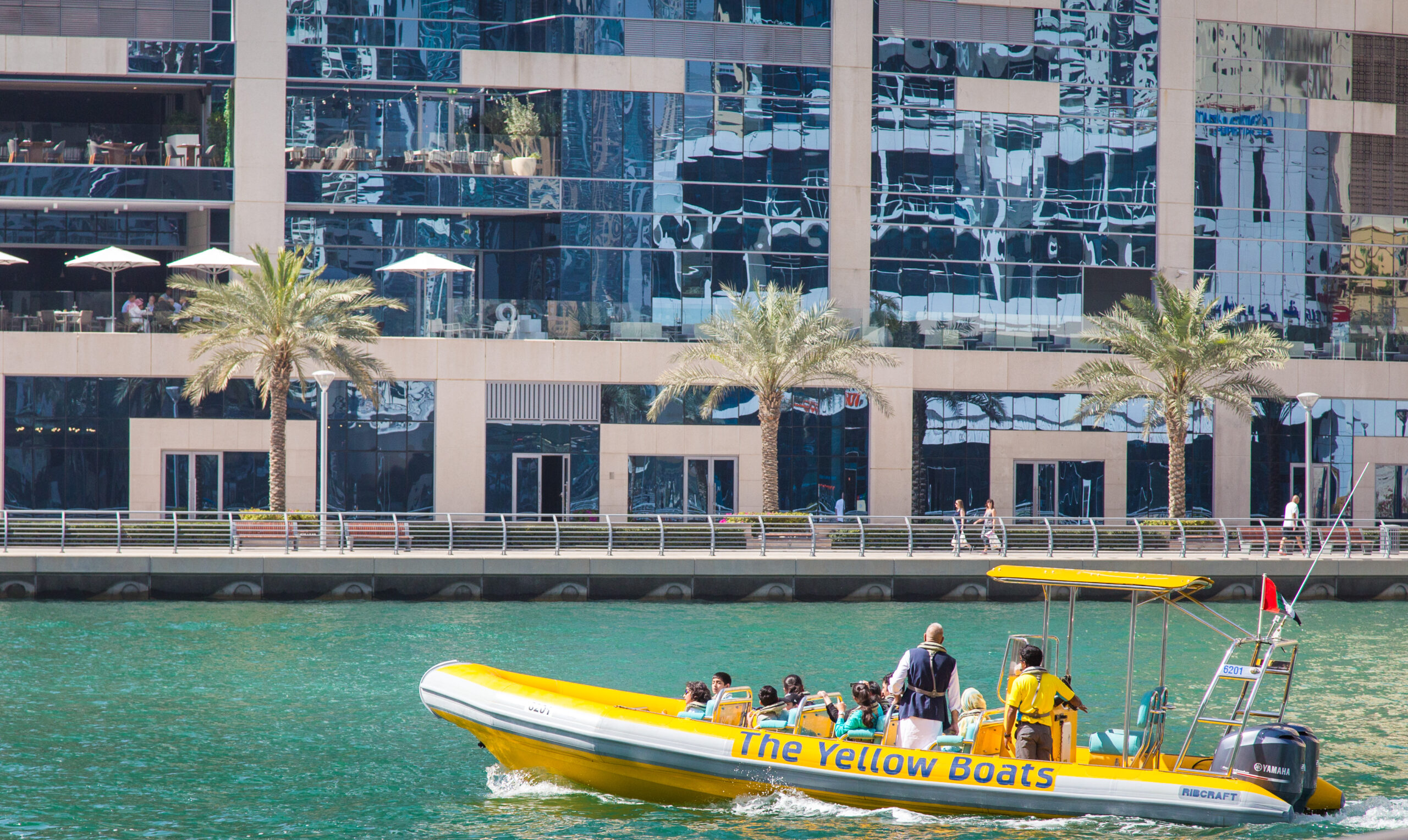 Boat tours and cruises by boat type
Abra boats
Dhow boats
Speedboats
Luxury yachts
Mega yachts
Sail ships
Seakart boats
Catamarans
The type of boat you choose for your tour can also greatly impact your experience. If you're looking for a traditional and cultural experience, a dhow cruise in Dubai is a great choice. These wooden boats offer a unique Arabian experience, complete with delicious food and traditional entertainment. For an adventurous touch, join a Dubai sailing tour on a Gulet boat with a delicious barbecue.
For a more luxurious and modern experience, a Dubai yacht ride is perfect. These state-of-the-art vessels are equipped with all the modern amenities you can imagine, from plush lounges to onboard bars and restaurants. If you're seeking a thrilling adventure, opt for a speed boat Dubai tour in the Arabian Gulf for an adrenaline-pumping ride through the city's waters.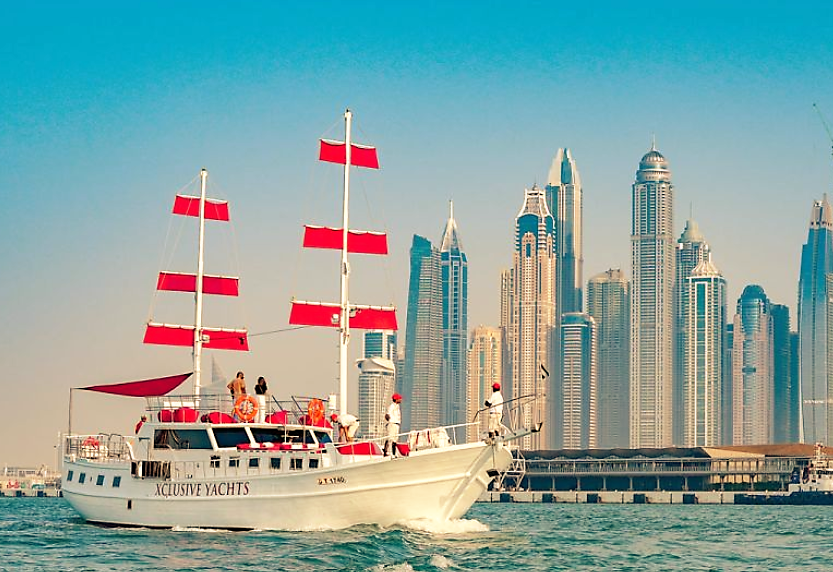 Boat tours and cruises by duration
5 minutes
15 minutes
30 minutes
1 hour
2 hours
3 hours
6 hours
8 hours
Depending on how much time you have, you can choose a boat tour that lasts anywhere from 5 minutes to an entire day. A Dubai Creek abra ride, for example, can be as short as 5 minutes, making it a quick and affordable way to see the city from the water.
A Dubai Fountain boat tour by abra with stunning Burj Khalifa views lasts for about 30 minutes, and a Dubai Marina speedboat tour can take from 1 to 2 hours. For a dhow cruise in Dubai, plan anywhere from 2 to 3 hours.
On the other end of the spectrum, a full-day Dubai yacht cruise can last up to 8 hours, offering a comprehensive tour of the city's coastline and beyond.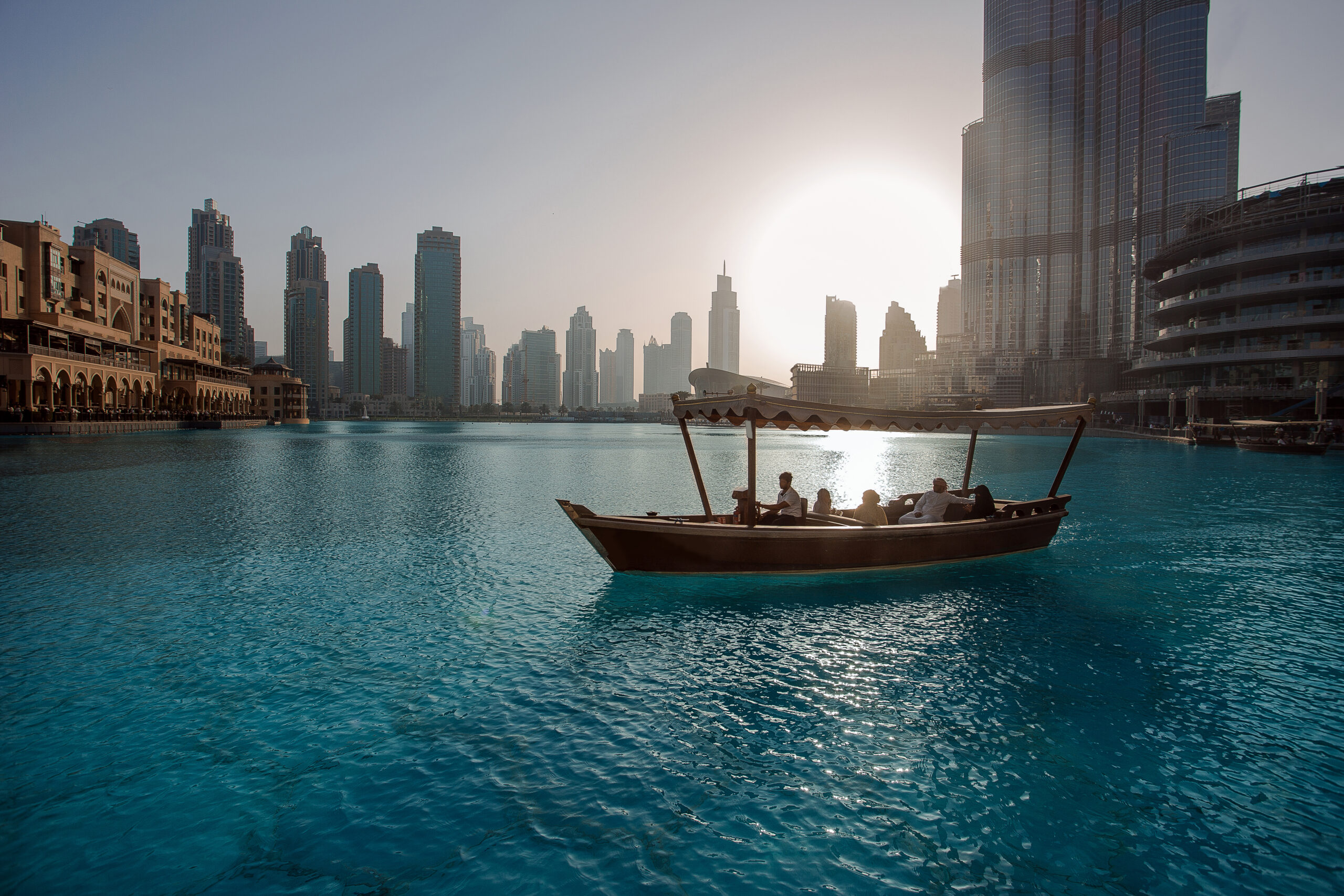 Boat tours and cruises by daytime
Morning boat tours
Afternoon boat tours
Sunset boat tours
Night boat tours
Whether you're a morning person or a night owl, there's a Dubai boat tour for you. A morning boat trip in Dubai can be a refreshing way to start your day, while a Dubai sunset cruise in Dubai Water Canal or Dubai Marina offers a romantic setting as you watch the sun dip below the horizon.
For a dazzling display of lights, a Dubai Marina dinner cruise is a must-do, as the city comes alive with a spectacular light show.
Boat tours and cruises by skipper type
Professional skipper boat tours
Self-drive boat tours
Depending on your comfort level and experience, you can choose a boat tour with a professional skipper or opt for a self-drive boat. A skippered tour offers peace of mind and allows you to sit back and relax, while a self-drive tour gives you the freedom to explore at your own pace.
Boat tours and cruises by group type
Depending on your preference, you can opt for a private or shared boat tour in Dubai. A private Dubai yacht tour offers exclusivity and privacy, perfect for a party with friends, special occasions or a romantic date.
On the other hand, a shared boat tour in Dubai can be a great way to meet new people and save money.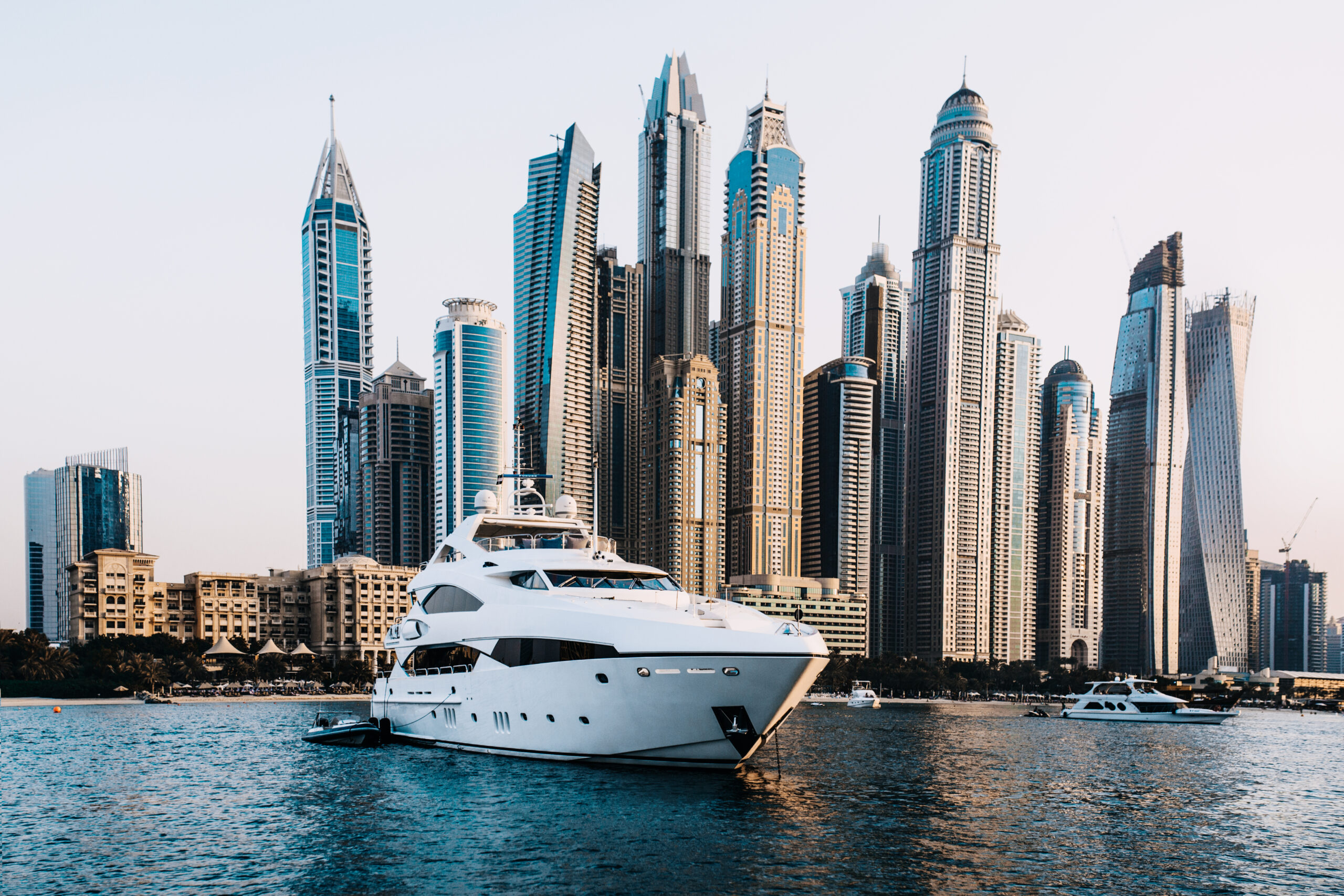 Boat tours and cruises by meal type
Breakfast boat tours
Lunch boat tours
Dinner boat tours
BBQ boat tours
Boat tours with snacks and drinks
No meal boat tours
Many boat tours in Dubai include meals, ranging from simple snacks to lavish multi-course dinners. A dhow cruise dinner in Dubai, for example, is known for its delicious Arabian cuisine and stunning views. On a Dubai yacht tour, you can enjoy a gourmet meal or a BBQ while riding the city's waterways.
Boat tours and cruises by entertainment and activities included
Boat tours with live music and dance performances
Party boat tours
Boat tours with water activities (swimming, snorkelling, water slides etc.)
Boat tours with fishing
Boat tours with photography
Many boat tours in Dubai come with onboard entertainment and activities. From live music and traditional dance performances on a dhow cruise to water sports activities on a yacht cruise, there's never a dull moment on a Dubai boat tour.
If you want to dance a night away with live DJ music and enjoy unlimited drinks, then a Dubai party boat trip is a great option.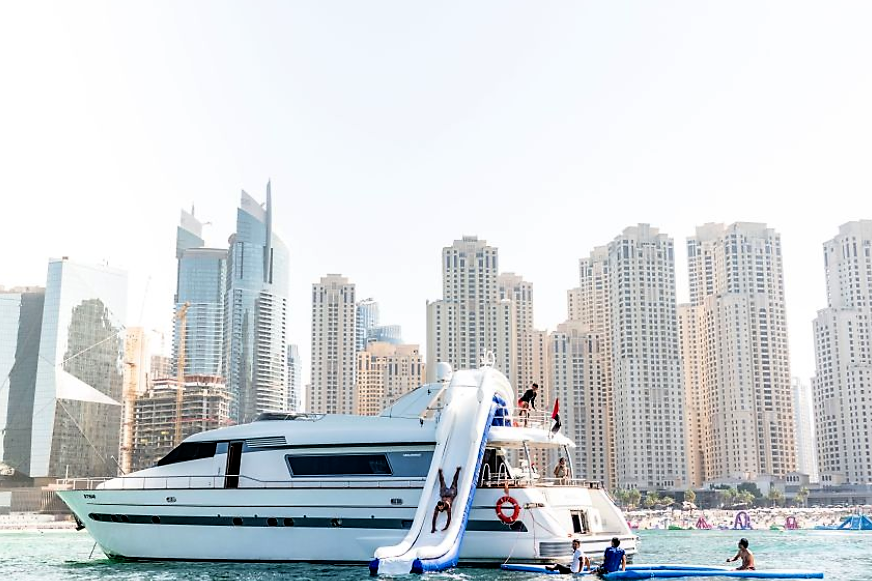 Boat tours and cruises by price
How much are Dubai boat tours? The Dubai cruise price varies greatly, depending on the type of boat, duration of the tour and additional services included. A cheap boat ride in Dubai can cost as little as AED 1 if you take an abra in Dubai Creek or AED 60 for a 1-hour Dubai Marina boat cruise.
A luxury private yacht cruise in Dubai can cost you up to several thousand dirhams, but there are certainly many cheaper options.
Regardless of your budget, there's certainly a boat tour in Dubai that's perfect for you. I hope that thanks to my guide you now have a better idea of what Dubai boat ride suits you best and are ready to book the trip of your dreams. Have fun in Dubai!
Book your Dubai boat tours and cruises here
Prepare for your Dubai trip
Did you find this post helpful? Then click that little heart below and share it with your friends and family. Have fun in Dubai!