Global Village Dubai is a seasonal shopping and amusement park with 27 international pavilions, thrilling rides, shows and over 200 dining venues. Here, you can travel around the globe, all without leaving the bustling city of Dubai. This extraordinary destination, alternatively known as World Village Dubai and Global Village Park, is a cultural extravaganza, a melting pot of traditions and an exhibition of global heritage all rolled into one.
Global Village in Dubai allows you to experience authentic flavours, sights and sounds of more than 90 countries from all over the planet. You can shop for unique handcrafted items from Asia, savour mouth-watering delicacies from Europe, watch jaw-dropping entertainment shows from Africa and learn about the rich heritage of the Middle East. In this article, I will tell you all you need to know about Global Village attractions, top things to do, events, tickets, prices, location, working hours and more. Are you ready for a world journey?
This is a seasonal attraction. Tickets are generally available from October to April.
Is Global Village Dubai visit worth it: pros and cons
Check my quick overview of the pros and cons below to make a balanced decision.
Pros:
Cultural diversity: Dubai Global Village offers a unique opportunity to experience the rich cultural diversity of the world in one place. Visitors can explore pavilions representing different countries, showcasing their traditions, art, music and cuisine. It's a great way to immerse yourself in various cultures, learn something new and broaden your horizons.
Entertainment extravaganza: Global Village in Dubai is known for its spectacular entertainment offerings. From thrilling rides and live performances to cultural shows and concerts, there is something for everyone. Enjoy vibrant parades, traditional dances, acrobatic displays, fireworks and much more.
Shopper's paradise: Global Village boasts a vast marketplace with countless stalls and shops offering a wide range of products. From traditional crafts and souvenirs to international brands and unique merchandise, shopping enthusiasts will be spoilt for choice.
Budget-friendly: In my view, this is one of the most affordable things to do in Dubai. You can have a great time and see a lot without breaking the bank. Keep in mind though that the Global Village entry fee does not include access to some shows, rides or museums which require separate tickets available on-site.
Cons:
Seasonal and evening operation: Global Village in Dubai operates typically from October to April and starts working only late in the afternoon. This is due to the fact that it's an open-air park.
Product quality not consistent: Going shopping in Global Village, always check the quality of the products before purchasing. As goods arrive from around the world, their quality may vary.
Distance from the city centre: Global Village is not located in the main Dubai tourist area, so plan your visit time accordingly. However, there are various transportation options available, including buses and taxis, to make the journey convenient.
Book your Global Village Dubai tickets here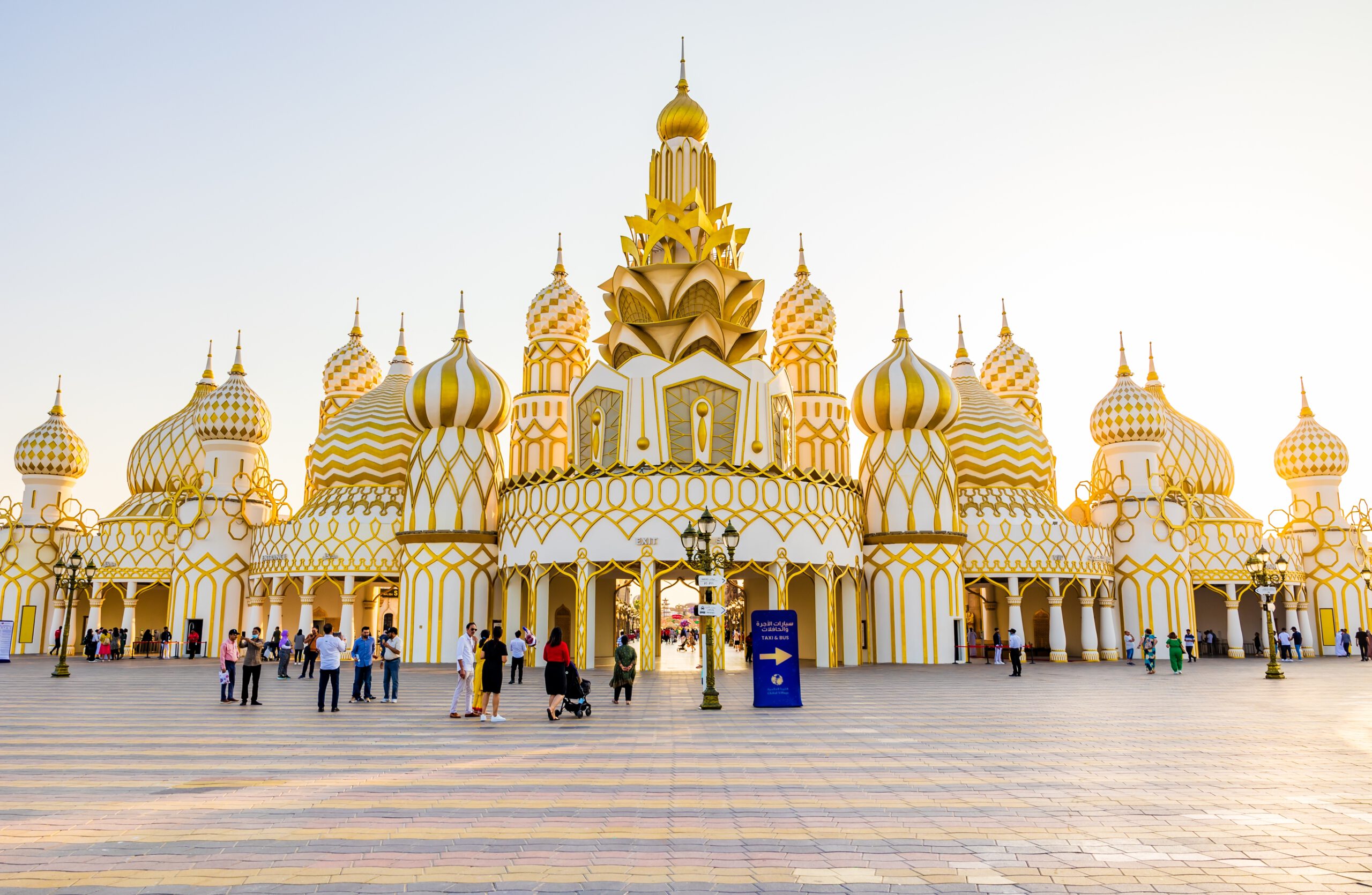 What is Global Village Dubai and what to expect
Global Village Dubai is a family shopping and entertainment park seasonally opened in the Dubailand area. With 27 pavilions, more than 200 dining options, theme park rides and 40,000 performances and shows, it is an international tourism and leisure destination. Opened in 1997, the park showcases the wonders of 90+ countries in a single, captivating space. Shortly, you can travel the whole world in just one day!
Stepping into Global Village in Dubai, you're greeted with colourful pavilions representing more than 90 countries. Each pavilion is uniquely designed to capture the essence of the respective country, showcasing its traditional architecture, products and cuisine. From the majestic Taj Mahal in India to the grandeur of the Eiffel Tower in France, you can experience it all in one place.
Moreover, the charm of Global Village doesn't end with its pavilions. The venue also hosts live shows and concerts featuring local and international artists, thrilling rides and games for all ages, and a plethora of dining options that represent various global cuisines. And the New Year celebration in Global Village with fireworks each hour is truly epic!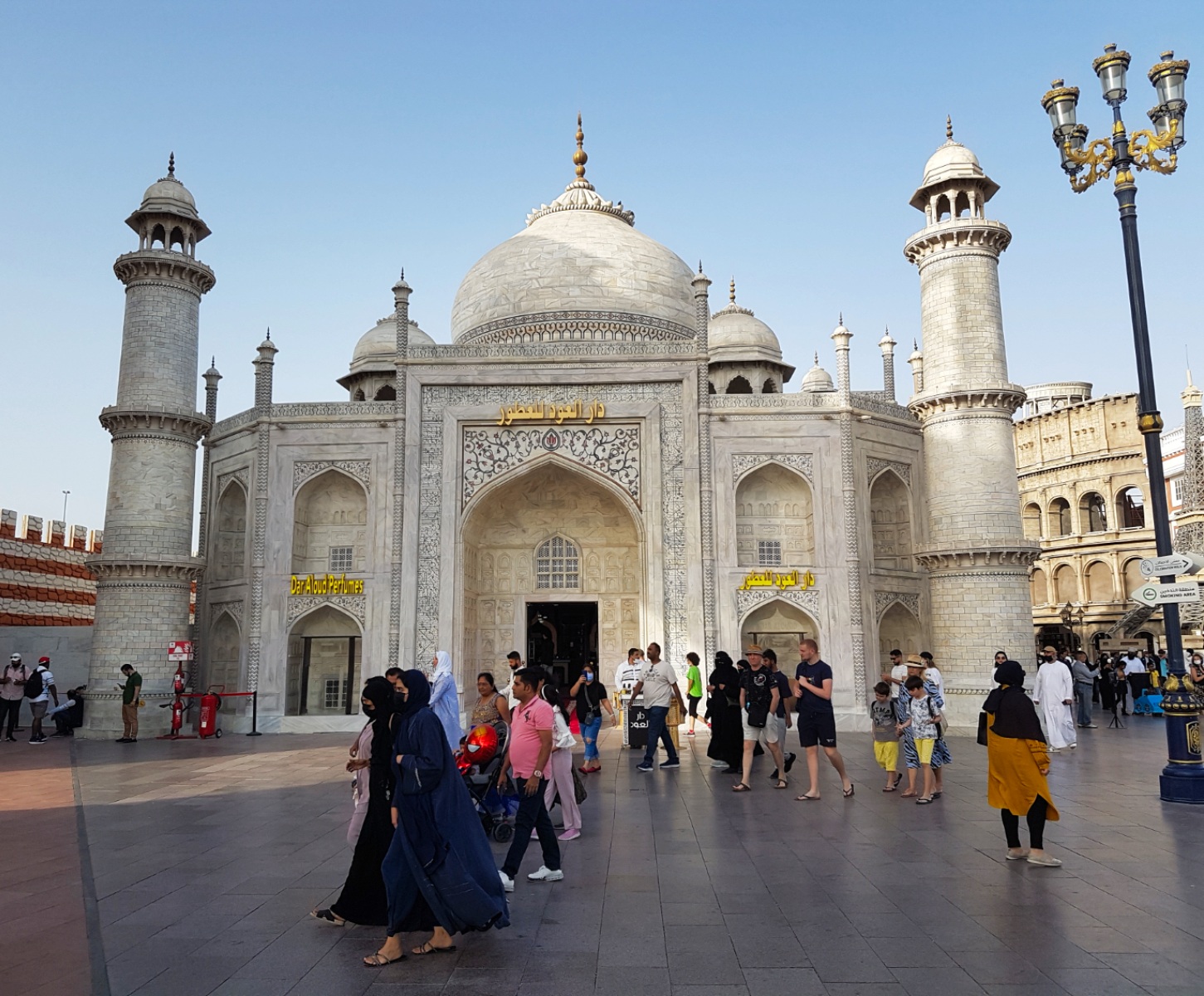 Is Global Village Dubai open all year
No, Global Village Dubai isn't open all year. It operates on a seasonal basis, typically from October to late April. Although it's not a year-round attraction, the anticipation and preparation for the new season make it a must-visit destination once it opens its doors.
Despite being seasonal, Global Village Dubai ensures each season is special, offering new experiences, events and attractions.
Global Village Dubai opening dates in 2023 and 2024
When is Global Village Dubai open in 2023 and 2024? The 28th season in Global Village will take place from 18 October 2023 to 28 April 2024.
What age is Global Village Dubai for
Global Village is a destination for all ages. Whether you're a child eager to explore, a teenager looking for fun and adventure or an adult seeking cultural experiences, World Village Dubai caters to every age group.
For children, there are numerous activities and attractions designed specifically for them. The Fantasy Island is a fun-filled area with rides and attractions, while the Circus Circus show offers delightful entertainment. Moreover, the Wonderers, a special event for children, is filled with exciting games, interactive shows and meet-and-greets with their favourite characters.
Teenagers and adults aren't left out either. They can enjoy thrilling rides at the Carnival, cultural performances at various pavilions, concerts featuring international artists and a multitude of shopping and dining options.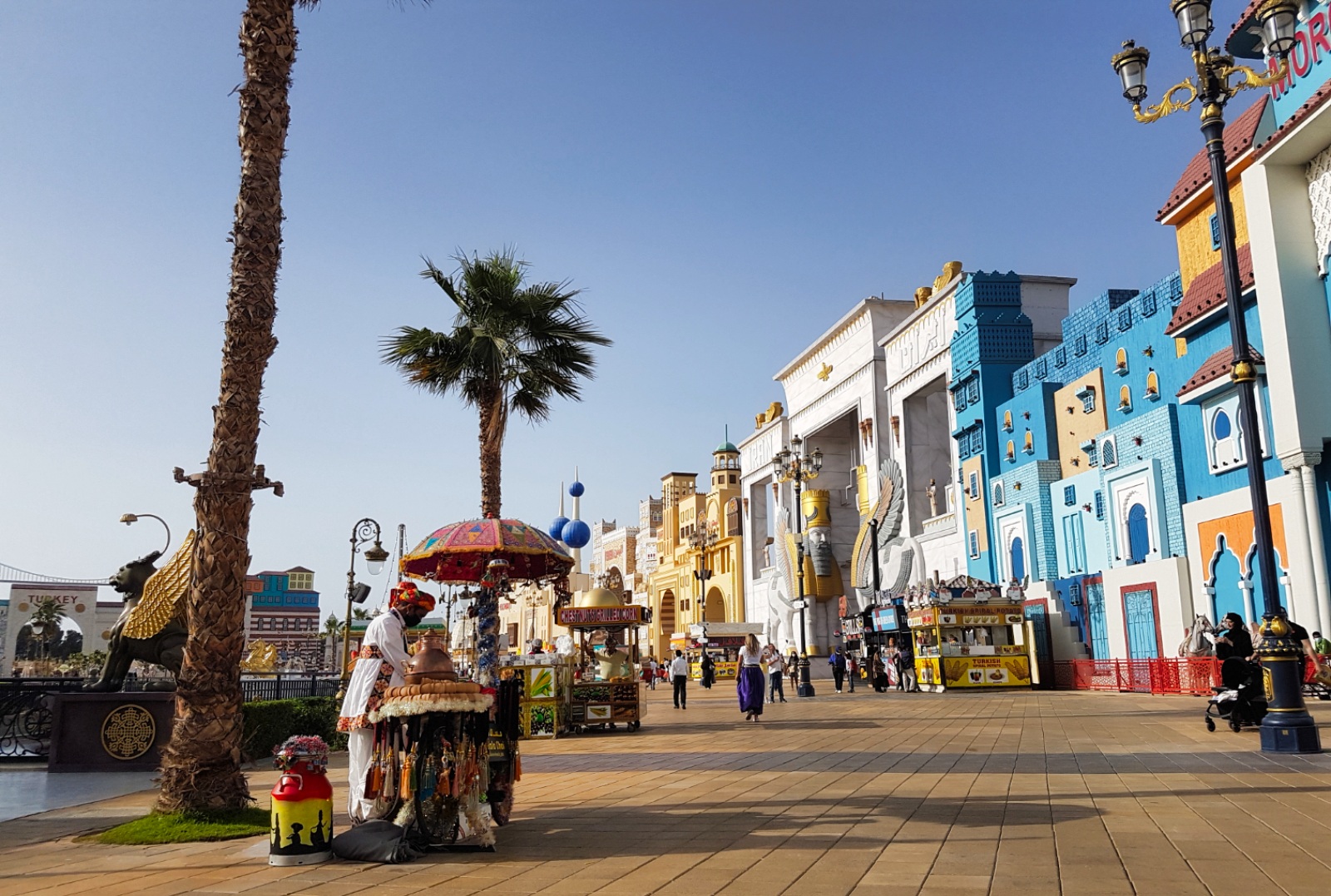 Main attractions, activities and things to do
What to see and do in Global Village Dubai? From exploring different cultures to enjoying thrilling rides, shopping for unique items and savouring global cuisines, there's no shortage of activities and things to do in Global Village. Join me on a tour around the park, so that you can better prepare for your visit.
Country pavilions
The heart of Global Village Dubai lies in its pavilions, each representing a different country or region. The pavilions are designed to reflect the architectural style of the represented country, creating a unique and authentic experience.
Each pavilion offers a glimpse into the country's culture, traditions and typical products. You can shop for authentic goods, from traditional clothing and handicrafts to unique souvenirs and local delicacies. The pavilions also host cultural performances and shows, offering a rich and immersive cultural experience.
Some of the popular pavilions include the UAE Pavilion, India Pavilion, Saudi Arabia Pavilion, Europe Pavilion, Asia Pavilion and Africa Pavilion, each offering unique experiences and products.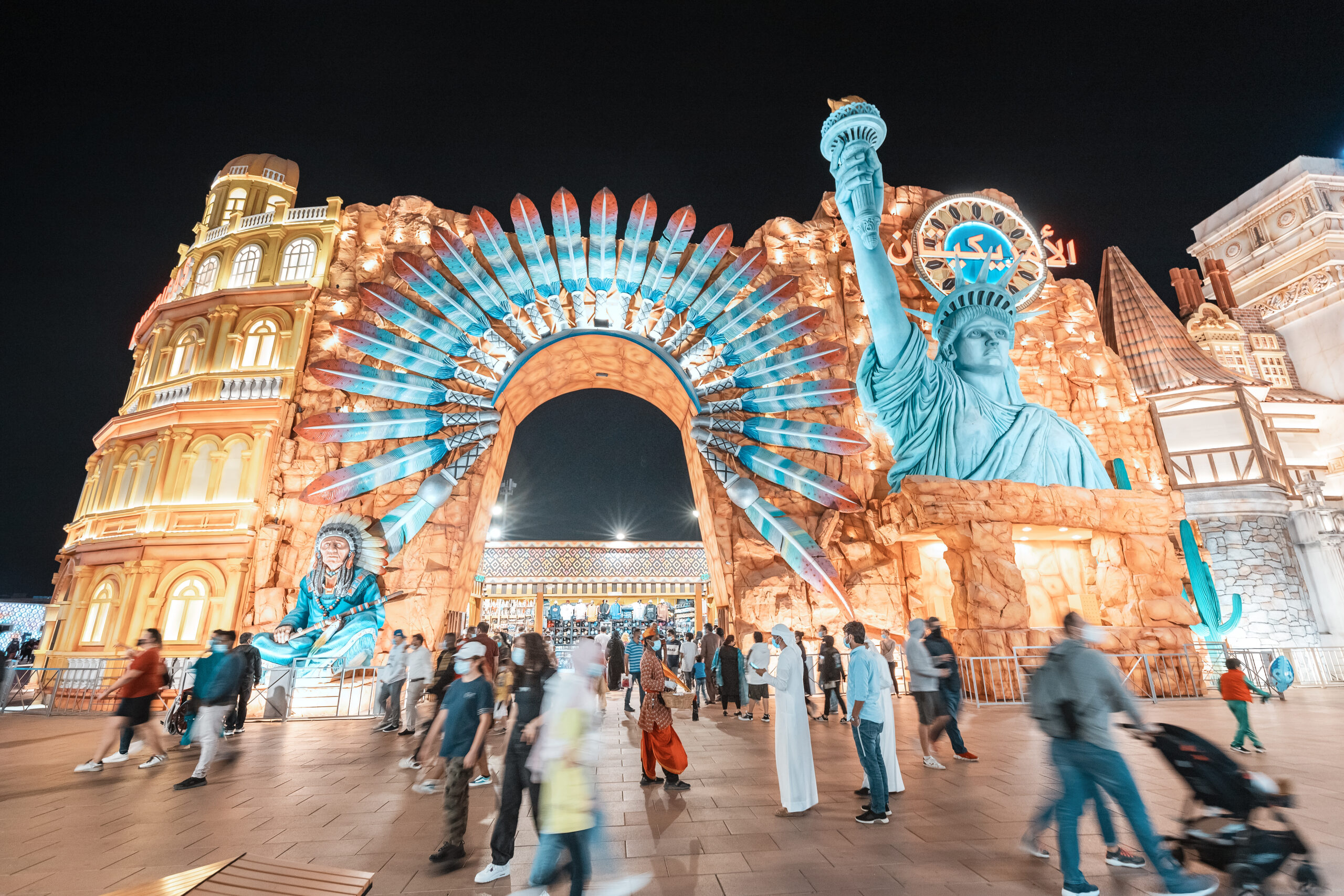 Shopping
Shopping at Global Village Dubai is an experience in itself. With over 3,500 outlets spread across various pavilions, you can shop for unique items from all over the world in this bazaar-like park.
Whether you're looking for traditional handicrafts, authentic clothing, unique home decor, local delicacies or exclusive souvenirs, you can find it all in the pavilions. Each pavilion offers goods that represent the country or region, giving you a chance to bring a piece of the world back home.
While Global Village shopping is an exciting activity, do not forget to check the products' quality before buying. During my visit, I saw both unique high-quality items and cheaply-made trinkets.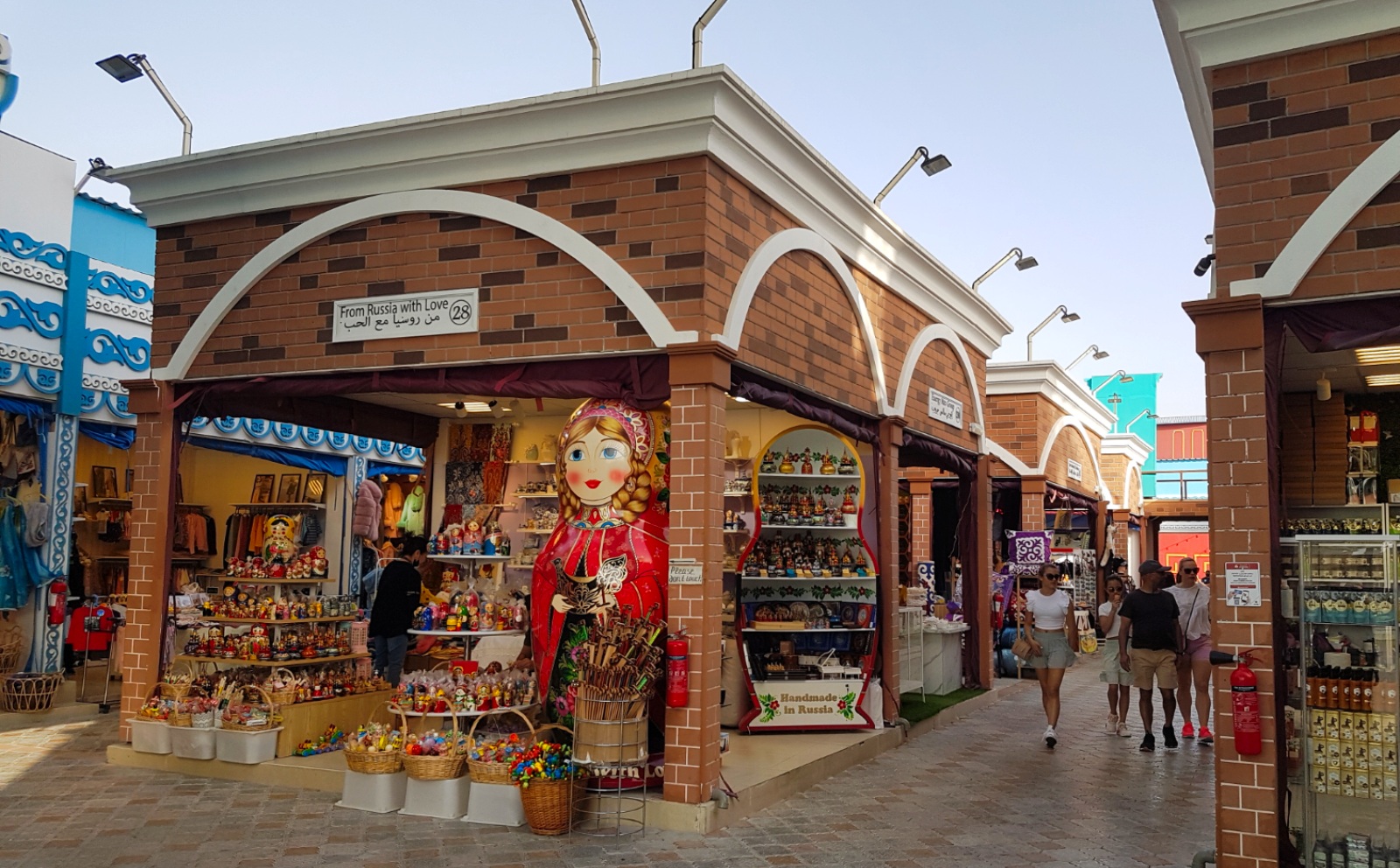 Dining
Your visit to Global Village in Dubai wouldn't be complete without indulging in its diverse dining options. With over 200 food and beverage outlets, the park offers a gastronomic journey around the world.
From street food stalls offering local delicacies to restaurants serving international cuisines, there's something for every palate. You can savour the flavours of the Middle East, Asia, Europe, Africa and the Americas, all in one place.
Some of the must-try foods include Arabic shawarma, Indian chaat, Turkish kebabs, American burgers, Chinese dim sum, Italian pasta and much more.
Check out the Railway Market, inspired by the famous Maeklong Market in Bangkok, or the Floating Market with delicacies from East Asia. Visit Fiesta Street, a bustling Indian Chaat Bazaar or the Road of Asia with multiple food stalls. If you need privacy or a more premium service head to the Cabanas with dedicated butlers.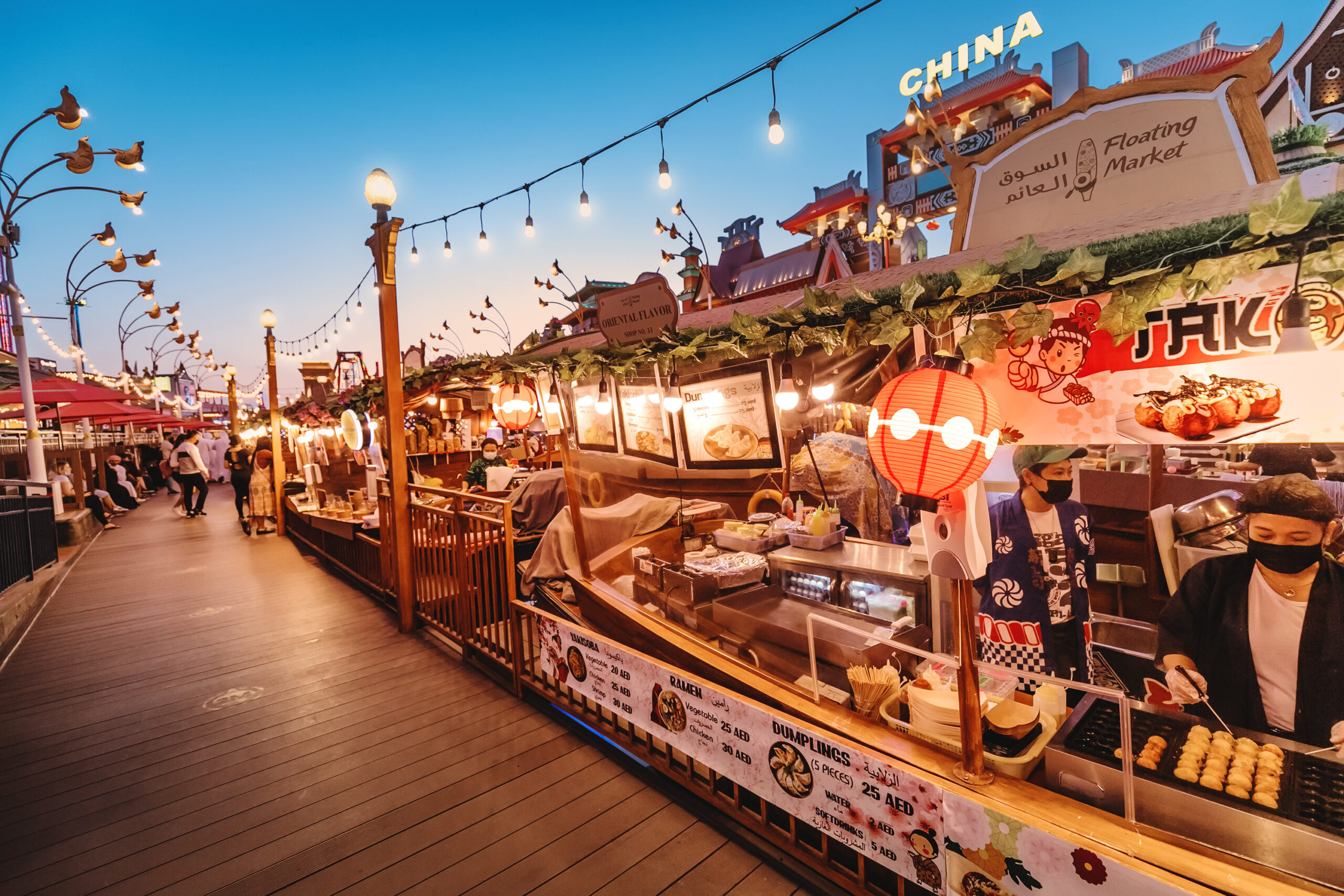 The Carnival
Ready for some adrenaline-pumping fun? The Carnival at Global Village in Dubai is your destination. It's a thrilling world of over 170 rides, games and attractions, suitable for all ages.
Whether you want to enjoy a leisurely ride on the Ferris Wheel, experience the high-speed excitement of the roller coaster or test your skills at the games, there's something for everyone. Do not miss a chance to snap a prize, ranging from plush toys to PlayStation and smartphones.
Furthermore, the Carnival hosts live shows and performances, adding to the fun and excitement. From acrobatic shows and circus acts to musical performances and dance shows, there's always something happening at the Carnival.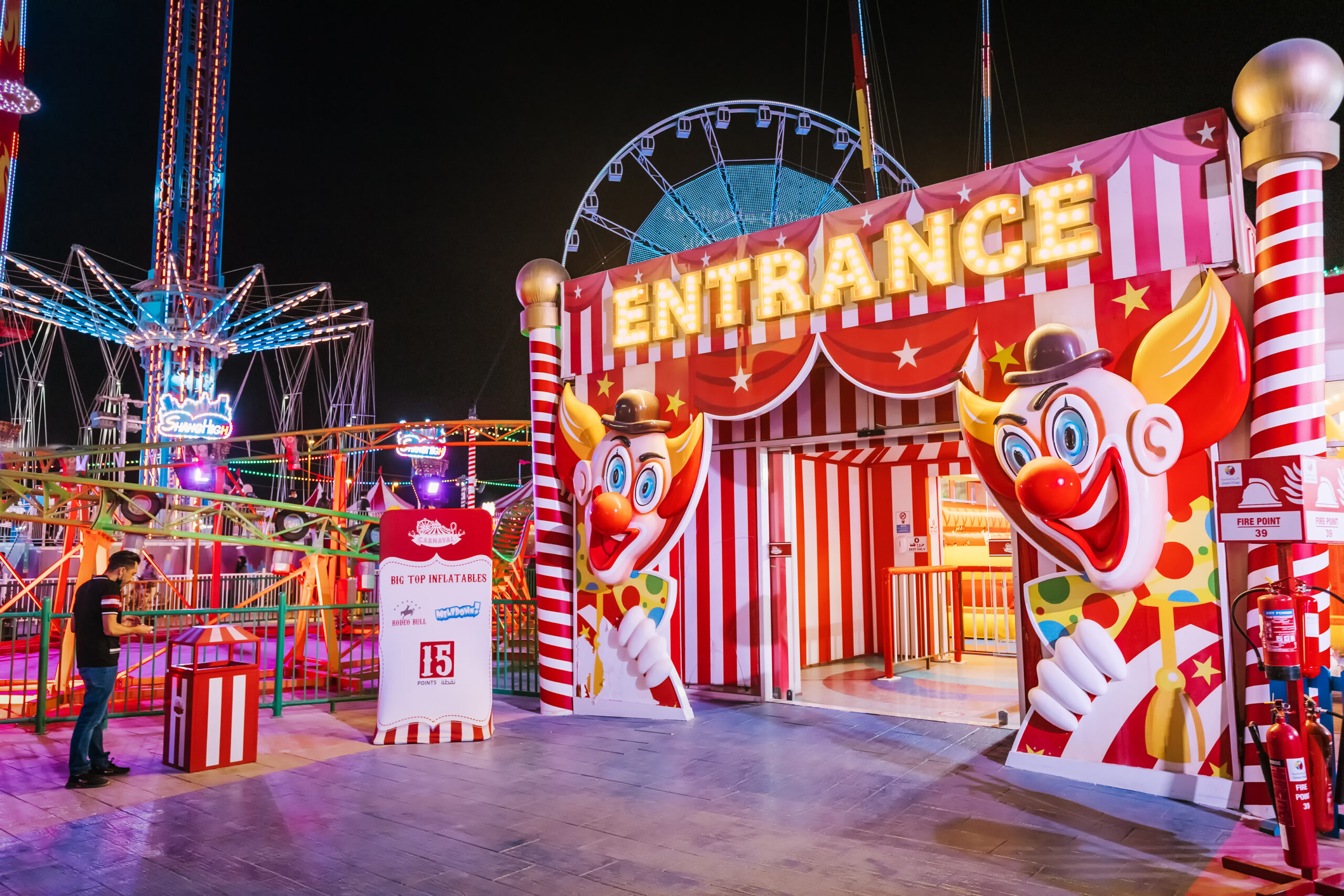 Ripley's Believe It or Not! Museum
One of the popular Global Village attractions in Dubai is the Ripley's Believe It or Not! Museum. Known for its collection of oddities, curiosities and bizarre artefacts, the museum offers a unique and entertaining experience for all ages.
The museum features several galleries, each filled with fascinating exhibits. From a genuine shrunken head and a two-headed calf to a 3-metre tall Transformer made of car parts, the exhibits are sure to amaze and intrigue.
Moreover, this Global Village museum includes interactive exhibits, a Moving 4D Theatre and a mirror maze, offering a fun and immersive experience. Whether you're a fan of the unusual or just looking for an entertaining experience, the Ripley's Believe It or Not! Museum is a great option to visit.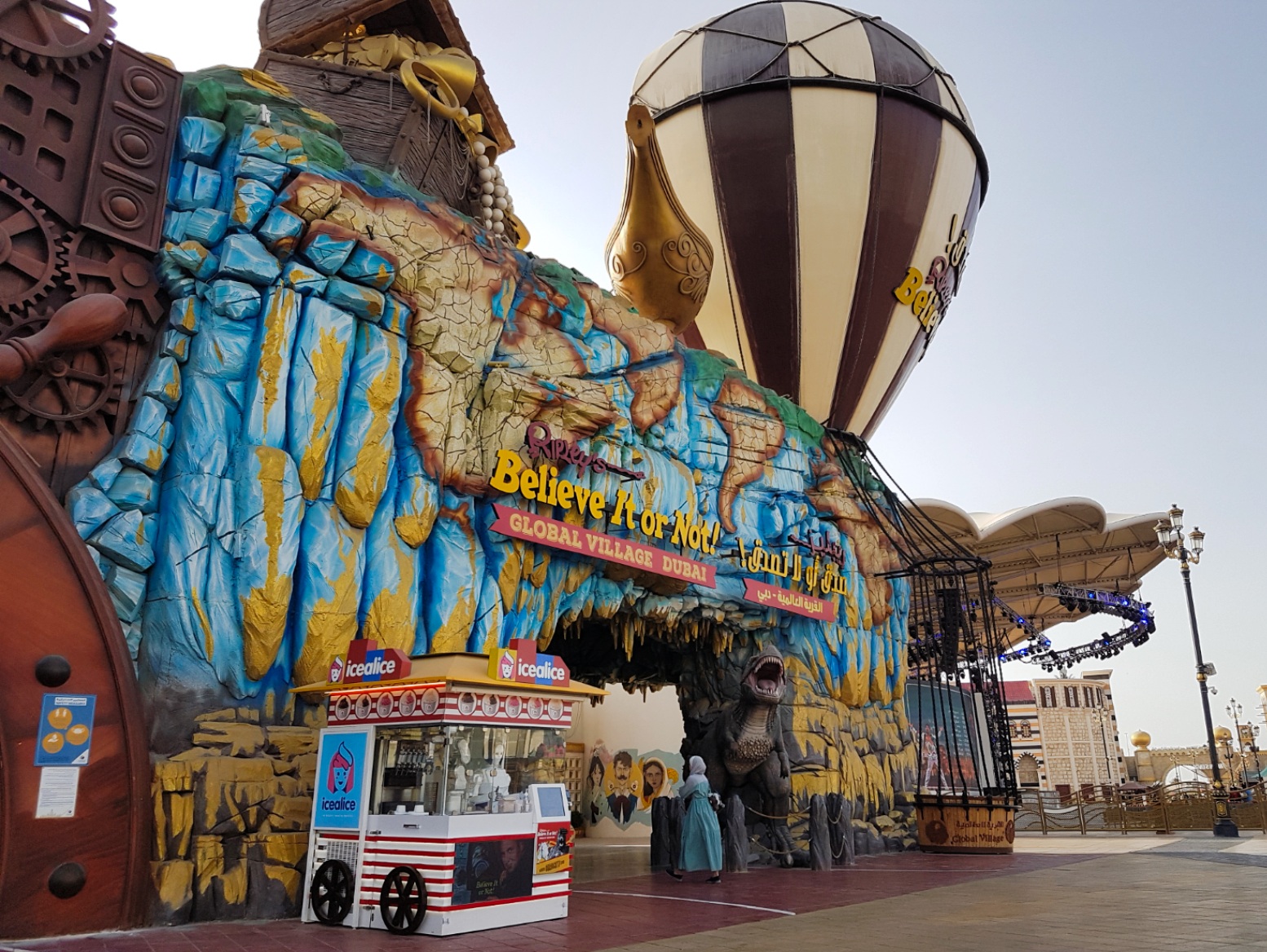 The Wonderers' Kids Fest
Global Village understands the importance of family time and ensures there's something for everyone, including the little ones. The Wonderers in Global Village is a special event designed for children, filled with exciting games, interactive shows and meet-and-greets with their favourite mascots Waleef, Zoya, Ozka and Aiyah.
This experience offers a range of activities, from arts and crafts to science experiments, board games and storytelling sessions. Children can also enjoy a variety of shows, including puppet shows, magic shows and musical performances.
Global Village Dubai events, concerts and shows
There's never a dull moment at Global Village, thanks to its line-up of 40,000 events, concerts and shows throughout the season. The park hosts a variety of live entertainment, featuring local and international artists, held both on the Main Stage, in pavilions and other areas.
From cultural performances showcasing traditional dance and music to concerts featuring popular artists, there's something for everyone. Watch street performances with acrobats and jugglers, the famous Aqua Action! stunt show, Kids' Theatre show and the fascinating Five Fountain spectacle of lights, music and fireworks.
Furthermore, Global Village hosts special events, including New Year celebrations, National Day celebrations and themed festivals. The Main Stage regularly welcomes artists from around the world, including K-Pop and Bollywood shows.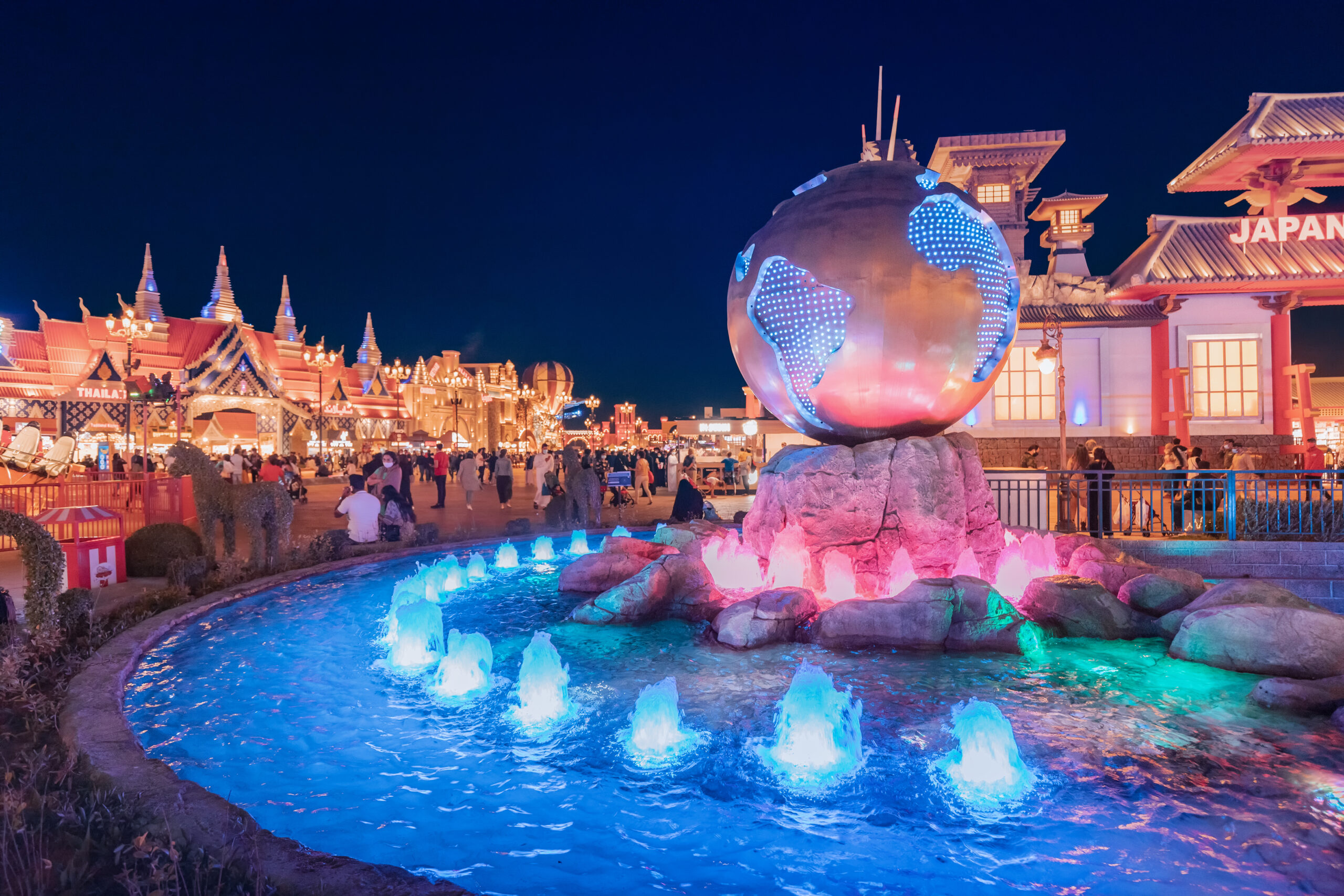 New Year events
Celebrating New Year at Global Village in Dubai is an experience like no other. The park hosts special events and shows to ring in the New Year, making it a memorable celebration for all.
From live concerts featuring popular artists to spectacular fireworks displays, there's plenty to look forward to. The park is decked up in festive decorations, adding to the celebratory atmosphere. If you are a fan of fireworks, then this is your place, as there are not just one but several fireworks synced with New Year celebrations in different time zones.
The highlight of the Global Village New Year celebrations is the countdown to midnight, followed by a grand fireworks display. It's a sight to behold, as the sky lights up with a myriad of colours, marking the start of a new year.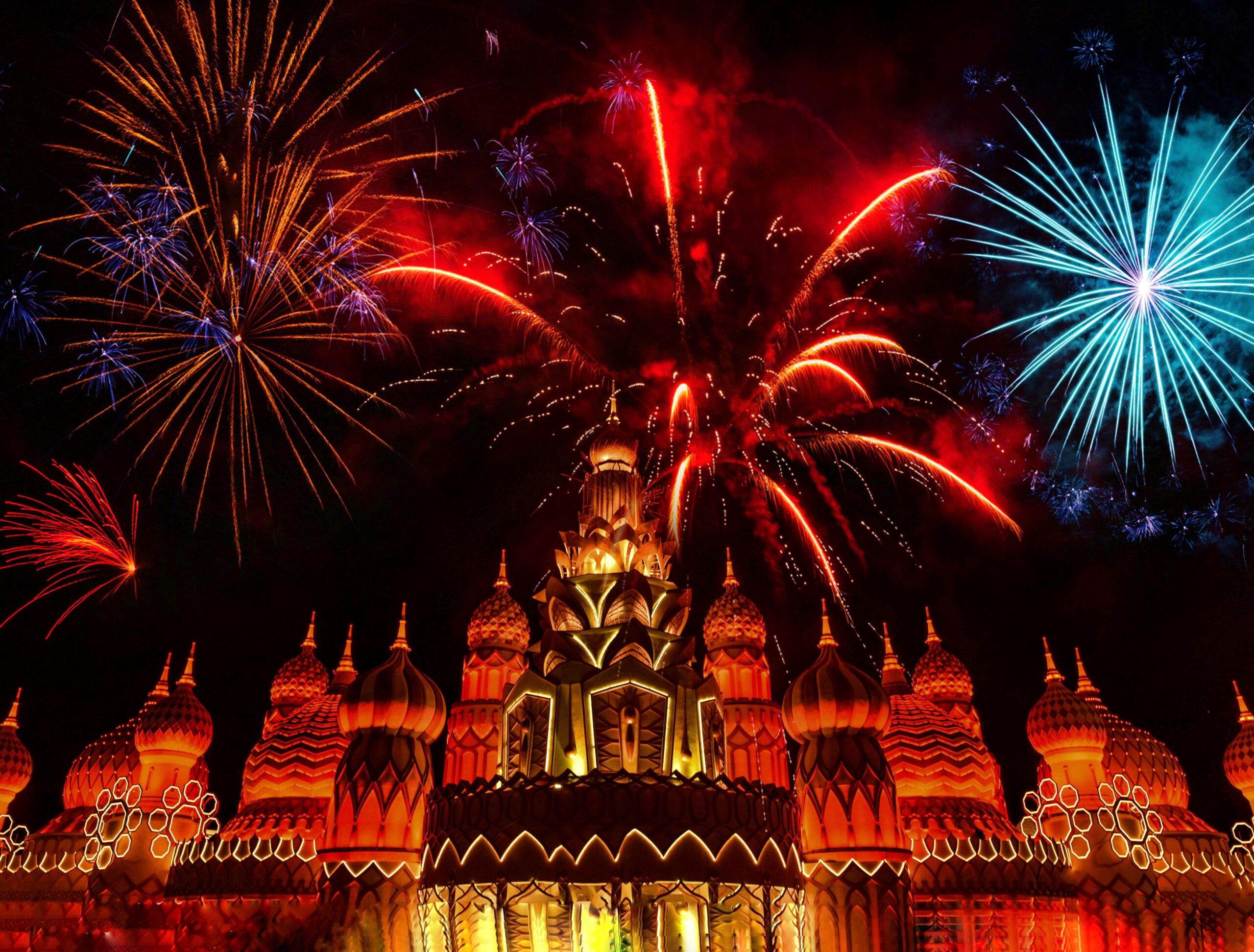 Ramadan at Global Village
During the holy month of Ramadan, Global Village in Dubai transforms into a haven of tranquillity and spirituality. The park offers a unique Ramadan experience, combining cultural heritage with festive celebrations.
During Ramadan, the park operates under special timings, opening in the evening and closing late at night. The pavilions offer special Ramadan products and foods, while the restaurants serve Iftar and Suhoor meals.
One of the highlights of Ramadan at Global Village is the so-called Lantern Festival. The park is adorned with thousands of lanterns, creating a magical and serene atmosphere. It's a beautiful sight that perfectly encapsulates the spirit of Ramadan.
Abra rides
One of the Global Village Dubai activities and attractions is the abra ride. An abra is a traditional wooden boat used for transportation in the UAE. At Global Village, you can enjoy a leisurely electric abra ride around the park's lagoon.
The abra ride offers a unique perspective of the park, allowing you to admire the beautiful pavilions and attractions from the water. It's a relaxing and enjoyable experience, perfect for taking a break from the hustle and bustle of the park.
Price: AED 52.5
Duration: 12–15 min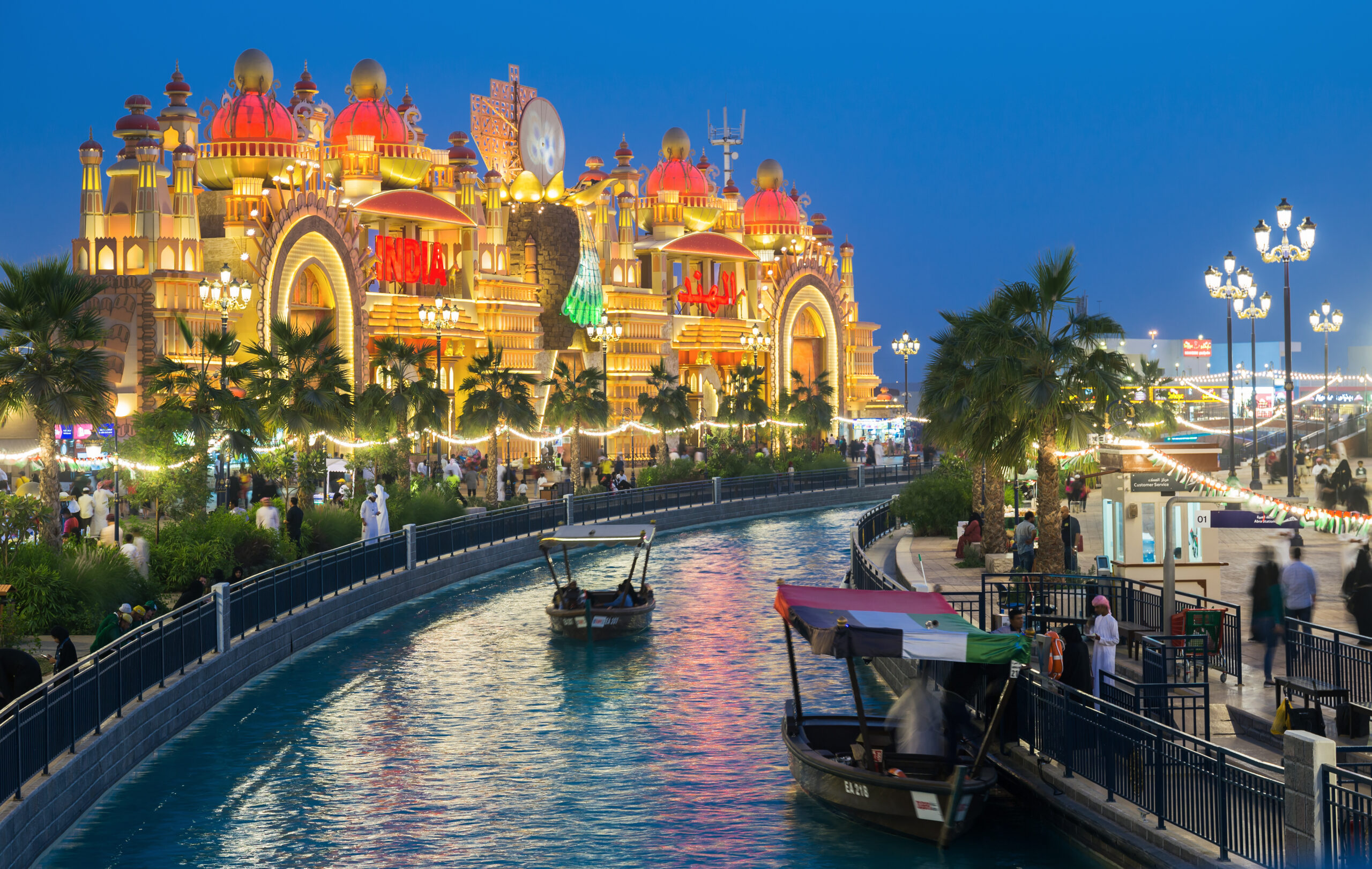 Global Village Dubai tickets
You'll need to purchase a ticket for Global Village. The Global Village tickets are reasonably priced, offering great value for the experiences and attractions the park offers.
The Global Village entry fee gives you access to all the pavilions, certain live shows and attractions. Additional charges apply for rides at the Carnival, Ripley's Believe It or Not!, abra rides, certain shows and special events.
Buy your Global Village Dubai tickets via the link below to save and avoid crowds. Global Village ticket price online is lower than at the park gate. How much are Global Village tickets?
Global Village Dubai ticket price: AED 22.50 (online) or AED 25 (on-site) for visits from Sunday to Thursday, AED 27 (online) or AED 30 (on-site) for visits any day
Global Village tickets are available only seasonally from October to April.
Book your Global Village Dubai tickets here
Timings
Global Village Dubai opening hours: Sunday to Wednesday 16:00 to 00:00, Thursday to Saturday (and public holidays) 16:00 to 01:00
Keep in mind that on Tuesdays (except public holidays) the park is reserved exclusively for ladies and families with kids. This is the so-called Global Village Family Day and Ladies Day. Park's opening hours during Ramadan may be different.
What is the best time to visit Global Village in Dubai
If you want to experience the park in all its glory, the evening is the best time. The park typically comes alive after 18:00 with lights, music and performances, creating a vibrant and festive atmosphere.
If you prefer a quieter and more relaxed experience, weekdays and the first hours after opening are a good option. The park is less crowded, allowing you to explore the pavilions and attractions at your own pace. Tuesdays (except public holidays) are reserved exclusively for a Global Village Family Day and Ladies Day.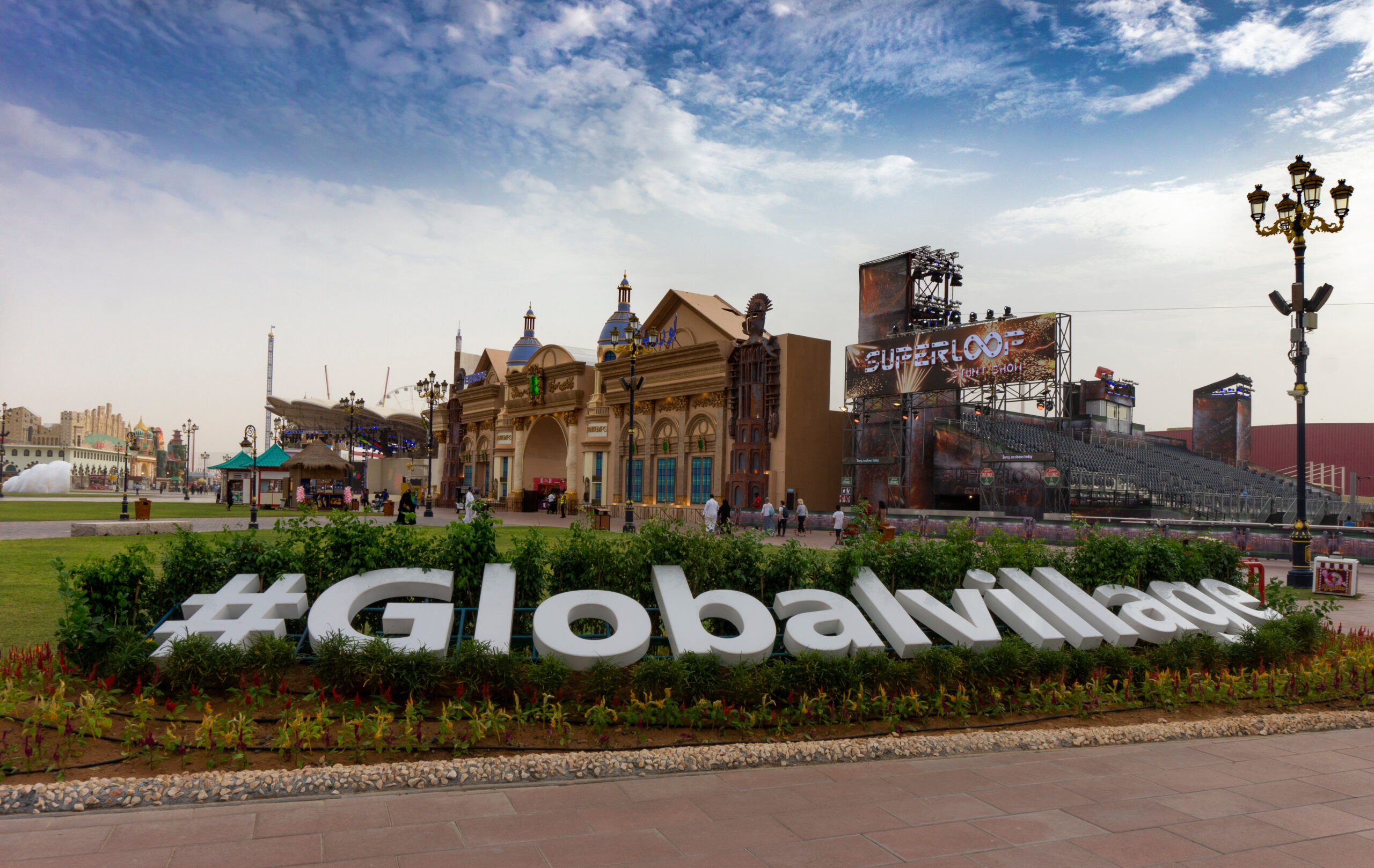 Location
Where is Global Village located?
Global Village Dubai address: Exit 37, Sheikh Mohammed bin Zayed Road, Dubai, United Arab Emirates
How to get to Global Village Dubai
How to reach Global Village in Dubai? There are several options you can choose from.
By bus: Take one of the four seasonally available buses, including bus routes 102, 103, 104, 106 and 107
By car: There are over 23,000 parking places and several entrance points
By taxi: Use one of the official taxi services, such as Careem or RTA, to get to the park and avoid private taxis that will charge you a lot more
Other attractions and things to do nearby
While Global Village attractions are enough to keep you engaged for days, there's more to explore in the vicinity. Here's a list of other activities and things to do near Global Village in Dubai.
FAQs
Is Global Village Dubai open now?
Global Village in Dubai typically opens around October each year and runs until April of the following year. The 28th season in Global Village will run from 18 October 2023 to 28 April 2024.
Is Global Village in Dubai free?
No, you will need an entrance ticket. But don't worry, the Global Village price is very reasonable ranging from AED 22.50 to AED 30. Additional charges apply for certain rides, museums and shows. You can find more information about it above.
Prepare for your Dubai trip
Did you find this post helpful? Then click that little heart below and share it with your friends and family. Have fun in Dubai!