The Dubai Gold Souk in Deira is a dazzling destination that draws millions of visitors each year with its spectacular displays of gold, silver, diamonds, emeralds and other precious stones. It's a world-renowned marketplace for jewellery lovers and treasure hunters alike. As you stroll through the narrow alleys of the Gold Souk in Dubai, the jewellery displayed in more than hundreds of shop windows will leave you in awe. The air is heavy with the scent of incense and the sounds of bargaining between eager shoppers and skilled merchants.
In this guide, I will tell you all you need to know about the history of the Deira Gold Souk, what to buy, the best gold shops, prices, quality, origin of the gold, shopping tips, guided tours and other souks to visit in Dubai. So, let's explore the gold market and its sparkling secrets.
What is Gold Souk Dubai
The Dubai Gold Souk is a traditional gold market located in the heart of the city's commercial district, Deira. It's a labyrinth of narrow, winding streets lined with over 300 hundred shops selling all things gold and other gems, making it one of the most famous jewellery markets in the world. The Dubai Gold Market is not just a place to buy gold, it's also a cultural experience that showcases a different side of Dubai, away from the modern skyscrapers and luxury hotels.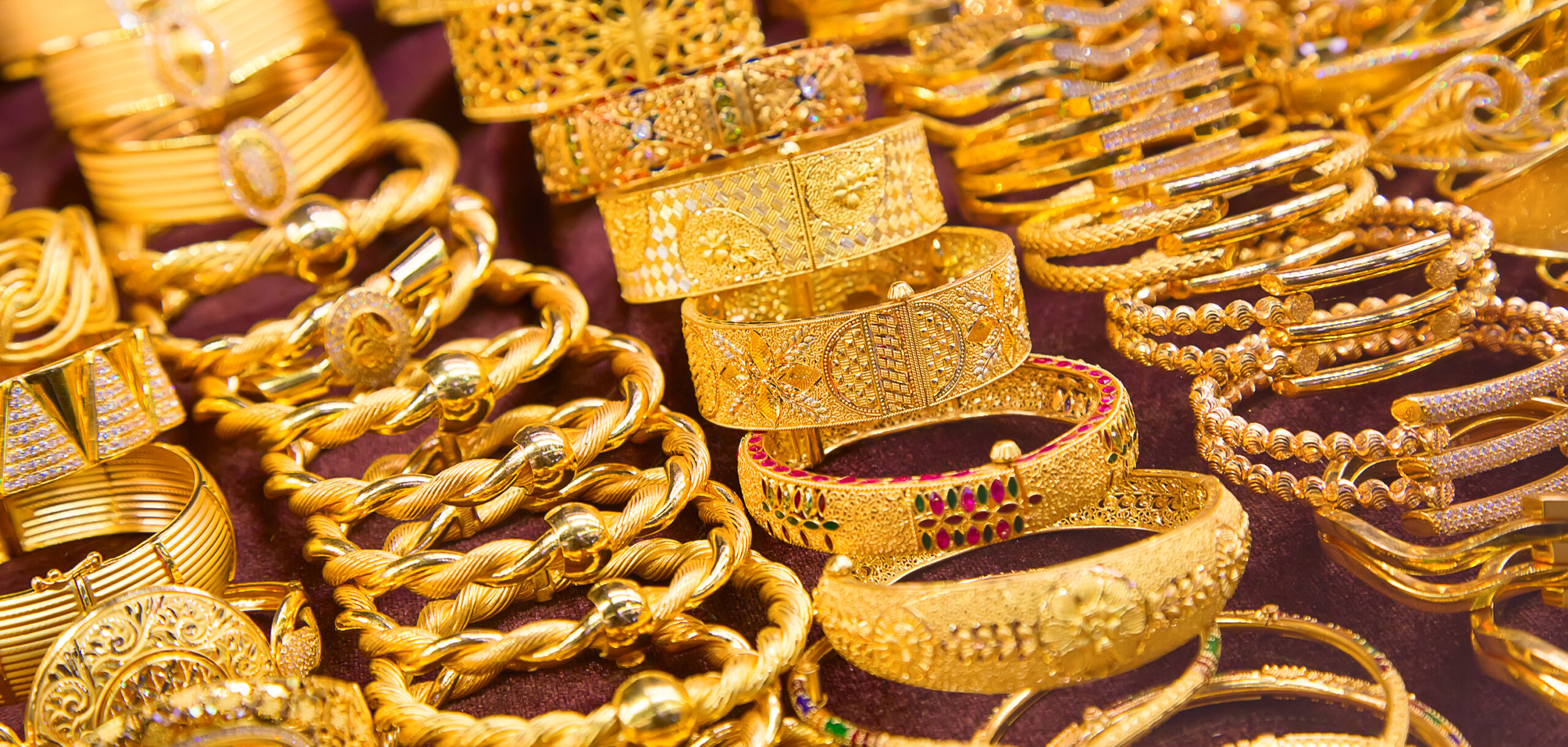 History of Deira Gold Souk
The history of the Deira Gold Souk in Dubai dates back to 1940 when traders from India and Iran set up a small gold market in the city. Over time, the souk grew in size and fame, attracting gold traders and craftsmen from across the region. Today, the Gold Souk is one of the most visited attractions in Dubai, with more than 300 shops selling a wide range of gold, silver and precious stones.
What to buy at the Gold Souk
The Dubai Gold Market offers a vast selection of gold jewellery, including cascading necklaces, bracelets of all sizes and forms, earrings, rings, watches and pendants. You can also find gold bars, coins and even gold-threaded textiles. In addition to gold, the souk also sells silver, platinum, diamonds, emeralds and other precious stones.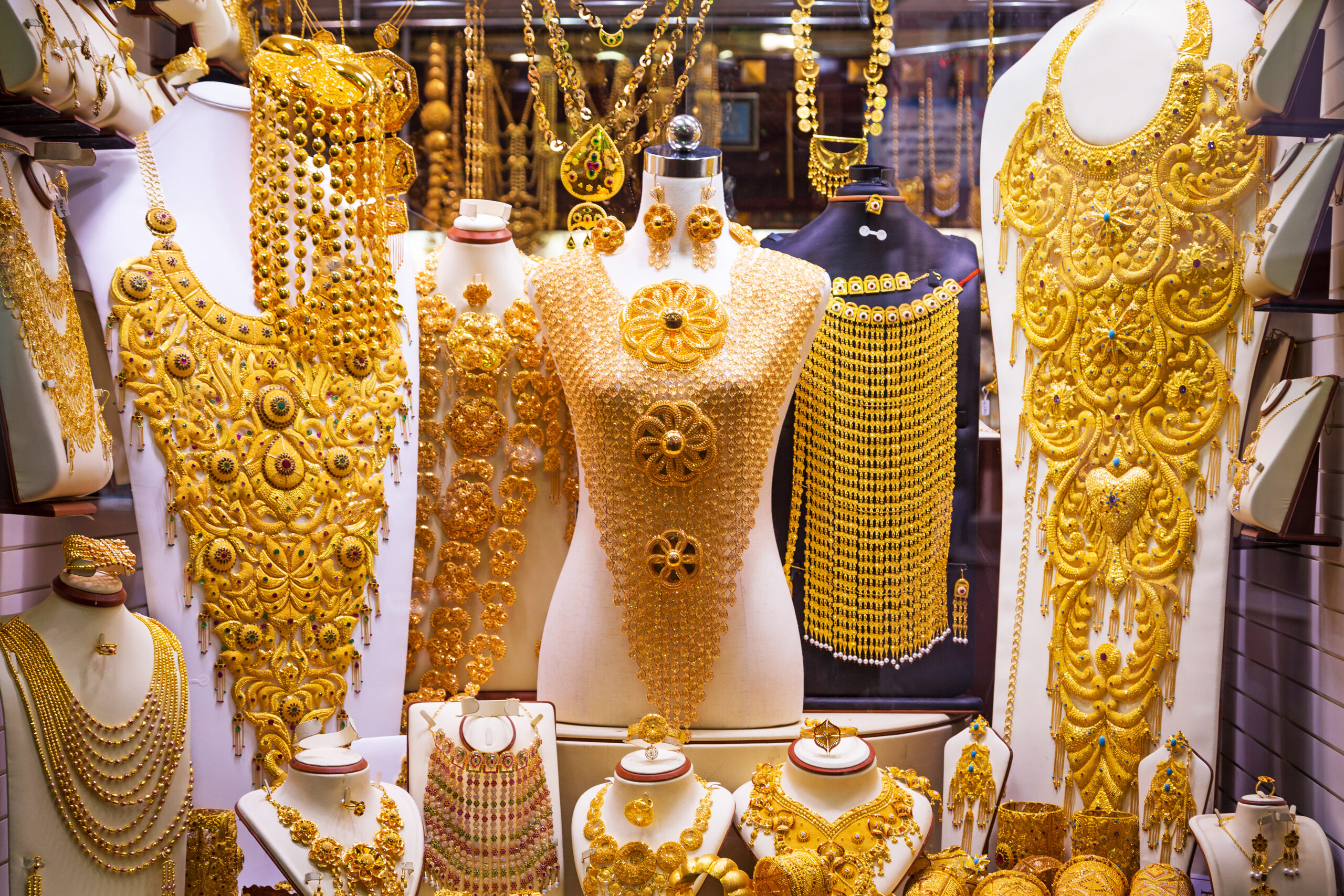 Best gold shops at the Dubai Gold Souk
With hundreds of shops to choose from, it can be overwhelming to find the best gold shops at the Gold Souk Dubai. Some reputable and popular shops include:
Damas Jewellery: Known for its exquisite designs and high-quality gold, Damas is one of the most trusted names in the Dubai Gold Souk.
Joyalukkas Jewellery: Another famous brand, Joyalukkas offers a wide range of gold, platinum, diamonds and precious stone jewellery. You can buy such brands as Zenina, Eleganza and Veda in this shop.
Al Romaizan: For those seeking unique and intricate designs, Al Romaizan is the place to visit.
Kanz Jewels: Known for its great service and customer reviews, Kanz Jewels offers excellent-quality gold and precious stones at competitive prices.
Rossella Jewellery: Famous for its Najmat Taiba, the world's largest gold ring, Rossella Jewellery is a must-visit for gold enthusiasts.
Malabar Gold & Diamonds: A popular shop for both gold and diamond jewellery, Malabar Gold & Diamonds offers a vast selection of designs at competitive prices.
Dubai Gold Souk prices
How much is gold at the Gold Souk Dubai? Gold prices at the Gold Souk in Dubai, as well as diamond and other gem prices, are competitive and often lower than in other countries, thanks to the UAE's tax-free status and low import duties on gold.
The price of gold is determined by the international market, so I suggest that you check the current gold rate before visiting the souk. Keep in mind that the prices are negotiable, and bargaining is a common practice at the Deira Gold Souk.
Is Dubai gold good quality
Yes, the gold sold at the Deira Gold Souk in Dubai is of high quality. The UAE government closely regulates the gold market, ensuring that all gold sold in the country meets specific purity standards. Gold jewellery is typically available in various karats, including 18K, 21K, 22K and 24K, with 24K being the purest form. You can check the karats on the price tags.
22K gold is often used in Dubai to make rings or chains without precious stones, while 18K is a more common option for gold jewellery adorned by gems.
Where does Dubai gold come from
The gold sold at the Dubai Gold Souk comes from various sources, including local UAE gold mines, as well as international gold-producing countries like South Africa, India and Switzerland. The gold is then crafted into jewellery by skilled artisans and sold at the souk.
Dubai Gold Market shopping tips
Here are a few best practices and tips from me if you plan to buy gold at the Dubai Gold Bazaar.
Research the current gold rate and familiarise yourself with the different karats of gold before visiting the souk.
Set a budget and stick to it. It's easy to get carried away with the dazzling selection of jewellery.
Visit multiple shops to compare designs and prices.
Bargaining is expected, so don't be afraid to negotiate for a better price. Never accept the first offered price!
Try to express doubt about whether you really like the product or if it suits you.
Be ready to walk away if the merchant does not give you a good deal.
Be persistent in your bargaining strategy, but remain respectful and polite. After all, it's just a tactical game.
If you're planning to buy a significant amount of gold, consider getting a local guide to help you navigate the souk and negotiate the best deals.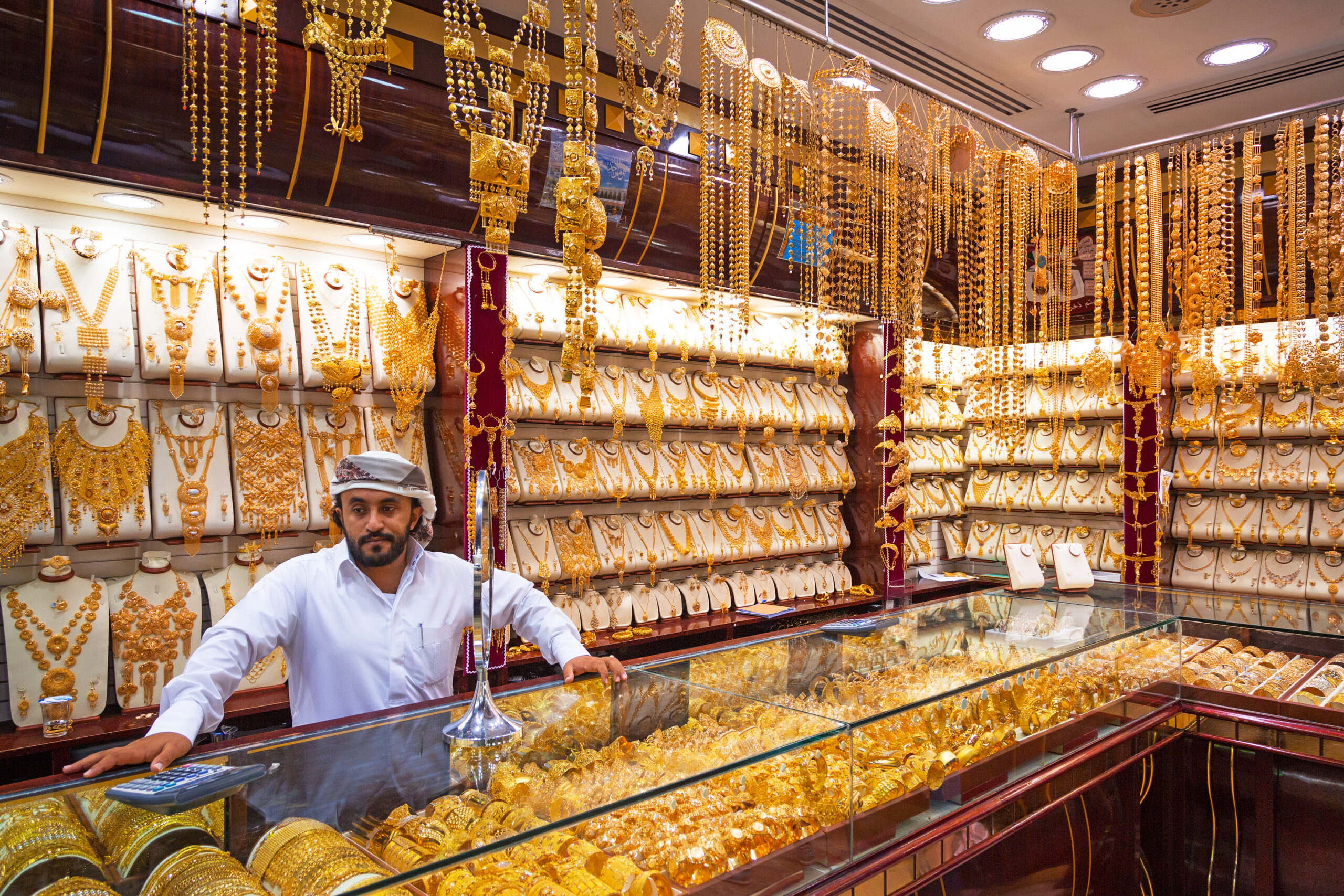 Dubai Gold Souk guided tours
Several guided tours are available to help you explore the Gold Souk and learn more about its history and significance in Dubai's culture. These tours often include visits to other nearby souks, such as the Spice Souk and the Textile Souk. Guided tours provide an added layer of convenience and insight, ensuring you make the most of your visit to the Gold Souk.
Here are a few tours I highly recommend.
| | |
| --- | --- |
| Old Dubai walking tour with a Gold Souk visit and street food tasting | Book here |
| Dubai guided tour with a visit to Blue Mosque, Dubai Frame, Spice Souk and Gold Souk | Book here |
| Gold Souk and Spice Souk walking tour with a Dubai Creek abra crossing | Book here |
The World's largest gold ring: Najmat Taiba
One of the most impressive sights at the Dubai Gold Souk is the Najmat Taiba, the world's largest gold ring. This colossal ring, weighing an astonishing 63.856 kilograms and studded with 5.1 kilograms of precious stones, holds a Guinness World Record. Displayed at the Taiba Gold jewellery shop, the Najmat Taiba is a must-see for gold enthusiasts.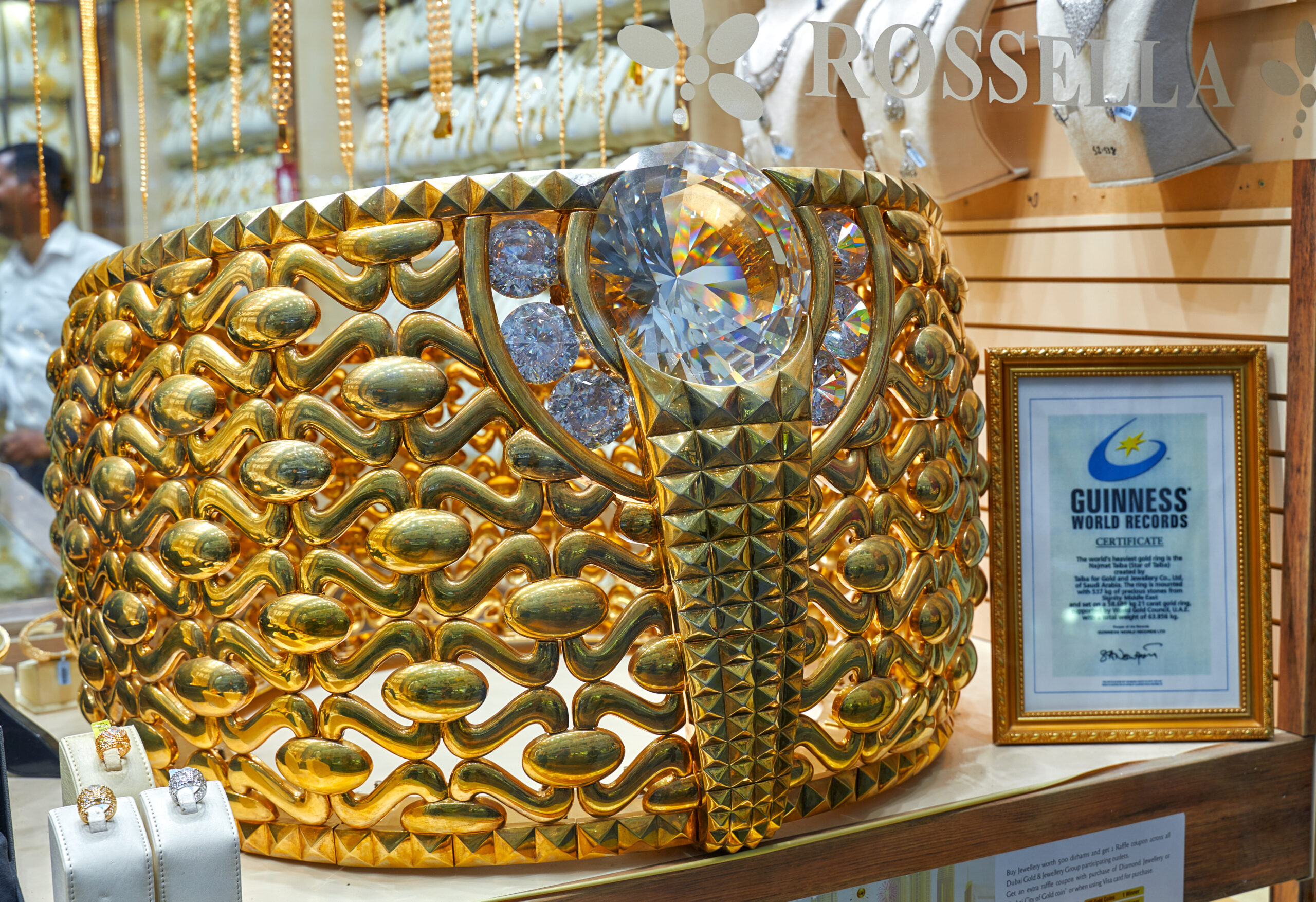 Wedding ring shopping at the Dubai Gold Market
The Dubai Gold Market is an excellent place to shop for wedding rings, thanks to its vast selection and competitive prices. Whether you're looking for a simple gold band or an elaborate diamond-studded design, the Gold Souk has something to suit every taste and budget. Don't forget to bargain for the best price!
Timings
Dubai Gold Souk opening hours: daily, 10:00 to 22:00
Location
Gold Souk Dubai address: Al Khor Street / 103 Street, Deira, Dubai, United Arab Emirates (you can use one of three entrances)
How to get to the Gold Souk
There are several ways to reach the Deira Gold Souk in Dubai:
By metro: Take the Dubai Metro (green line) to the Al Ras or Gold Souk Metro Stations, which are a short walk from the Gold Souk.
By taxi: Taxis are available throughout the city.
By car: Several parking lots are available nearby.
By bus: Take a bus to the Gold Souq or Al Sabkha bus stations.
By marine transport: You can also take an abra (water taxi) across the Dubai Creek to the Al Sabkha or Deira Old Souq Marine Transportation Station.
What other souks to visit in Dubai
In addition to the Gold Souk, Dubai is home to several other markets that are worth exploring:
Dubai Spice Souk: Located near the Gold Souk, the Spice Souk offers a vast array of spices, herbs, teas, nuts and dried fruits.
Dubai Textile Souk: Situated across the Dubai Creek in Bur Dubai, the Textile Souk is a colourful bazaar selling a wide range of fabrics, including silk, cotton and traditional Arabic textiles.
Dubai Perfume Souk: Also located in Deira, the Perfume Souk is the perfect place to find traditional Arabic fragrances and aromatic oils.
Souk Madinat Jumeirah: The modern Souk Madinat Jumeirah offers a unique shopping experience with a mix of local and international brands, as well as many dining options.
Dubai Karama Souk: Al Karama Market in Dubai is one of the city's top destinations to buy replicas of designer goods. Bring cash and practise your bargaining skills in advance.
Prepare for your Dubai trip
Did you find this post helpful? Then click that little heart below and share it with your friends and family. Have fun in Dubai!