The Dubai Spice Souk is a famous traditional market in Deira that takes you back in time and offers a taste of the rich cultural history of the city. This Spice Market in Dubai welcomes you with an abundance of colours and flavours. As a lover of herbs and teas, I took a tour of the Spice Souk and was fascinated by its authentic atmosphere. From the captivating aromas of the spices to the bustling market setting, the Dubai Spice Souk is truly a shopper's paradise.
In this article, I will guide you through the history of the Dubai Spice Market, products to buy, the art of bargaining, tips for shopping and much more.
What is Dubai Spice Souk
The Dubai Spice Souk, also known as the Deira Spice Souk and Grand Souk Deira, is a traditional market located in the Al Ras neighbourhood of Deira. The souk is a labyrinth of narrow alleys lined with shops selling a variety of spices, herbs, teas, dried fruits and nuts. This is a great place to buy good quality spices in Dubai. Moreover, you can find here textiles, waterpipes, teapots, plates, perfumes and multiple souvenirs.
The vibrant colours, tantalising scents and the sound of shopkeepers calling out to potential customers create an unforgettable shopping experience. A visit to the Dubai Spice Souk is not just a shopping trip, but also a sensory journey. It is the perfect place to immerse yourself in the local culture and learn about the traditional way of life in Dubai.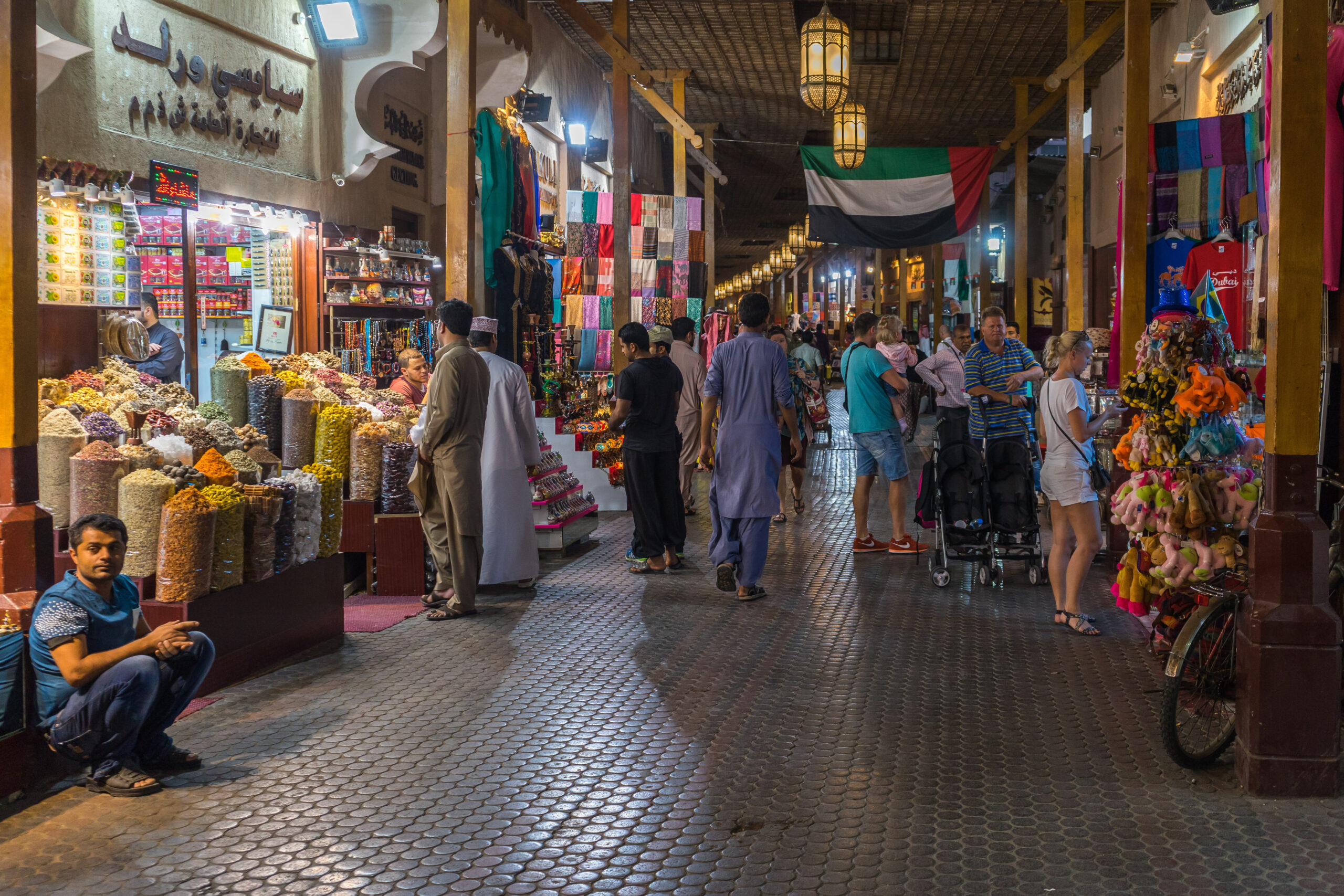 History of the Dubai Spice Market
The history of the Dubai Spice Market dates back to the early days of Dubai, when the city was a small fishing village. The strategic location of Dubai along the ancient trade routes made it an important centre for trading in the region. The spice trade played a significant role in shaping the city's economy and contributed to its growth and development.
The Spice Souk in Dubai has evolved over the years, adapting to modern times while still maintaining its traditional charm. The old Spice Souk has now transformed into a bustling market, attracting both locals and tourists. It is not just a place to shop for spices, but also a cultural experience that offers a glimpse into the rich heritage of Dubai.
Exploring the aromas: spices, teas and herbs
A visit to the Spice Souk Dubai is an aromatic adventure, with the fragrances of various spices, teas and herbs filling the air. As you walk through the narrow alleys, you'll come across an array of colourful and fragrant displays. From familiar spices like cinnamon, cloves, paprika, curry, nutmeg and cardamom to more exotic ones like sumac, turmeric, harissa, za'atar and ras el hanout, the variety is endless.
The Deira Spice Souk is also a haven for tea lovers. You can find a wide range of teas, including traditional Arabic tea, Moroccan mint tea and various flavoured teas infused with ingredients like rose petals, saffron and dried fruits. The herbal teas available here are known for their health benefits and are popular among locals and visitors alike.
Apart from spices and teas, you can also find a variety of herbs, dried fruits, nuts, traditional Emirati sweets and even salt rocks at the Dubai Spice Souk. The dried fruits and nuts are perfect for snacking or gifting, and the traditional sweets like baklava, kunafa and halwa are a must-try.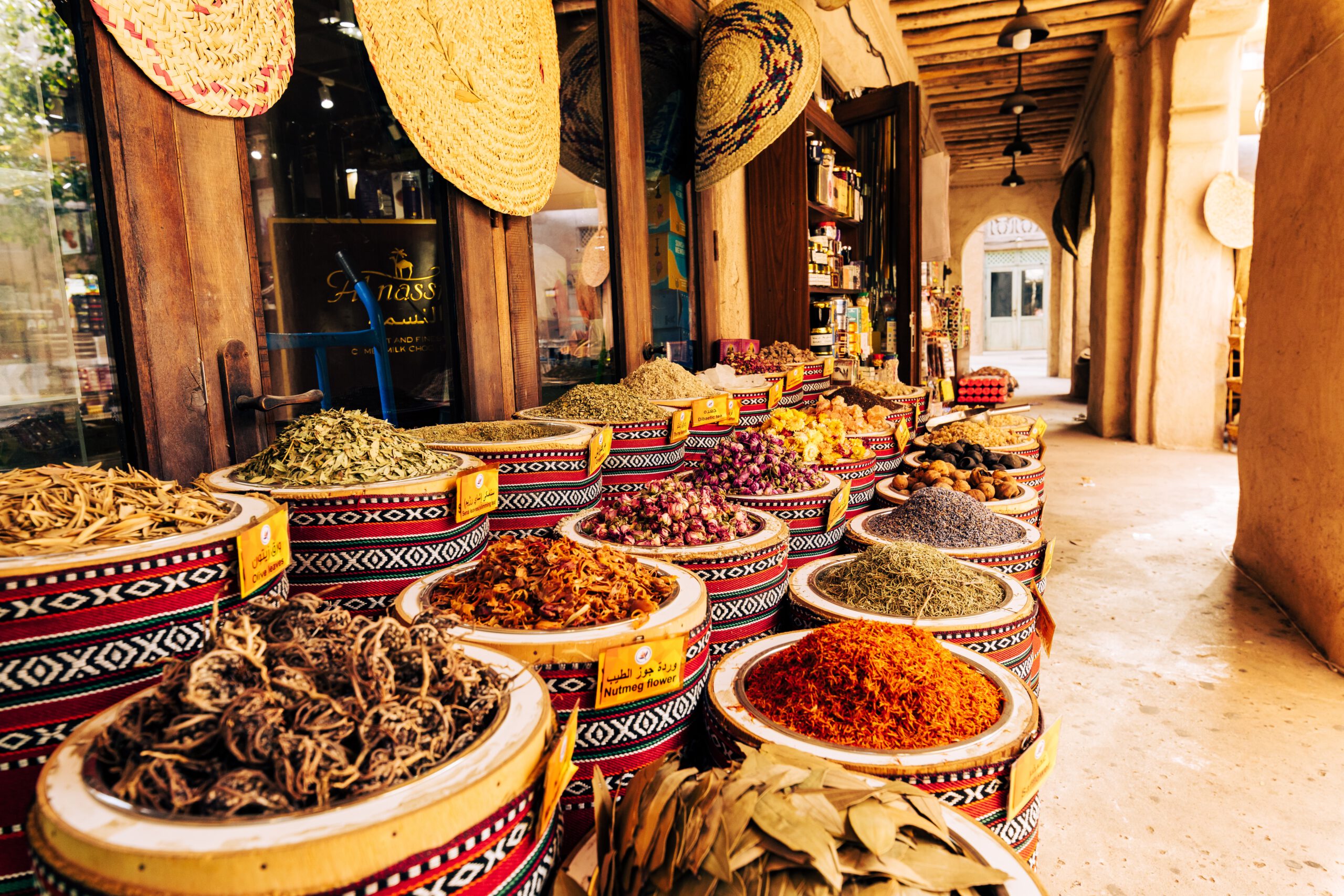 What to buy at the Spice Souk
With the vast variety of spices, teas and herbs available at the Dubai Spice Souk, it can be overwhelming to decide what to buy. You can definitely purchase one of the things I have mentioned above. Here is a description of some of the spices to buy in Dubai:
Saffron: Dubai is known for its high-quality saffron, which is an essential ingredient in many local dishes. It is also one of the most expensive spices in the world, so make sure to buy it from a reputable shop.
Za'atar: This is a popular Middle Eastern spice blend made from dried thyme, sesame seeds, sumac and salt. It is used in various dishes and as a seasoning for bread.
Ras el Hanout: This is a Moroccan (Tunisian and Algerian) spice blend that includes a combination of over 30 spices, including cumin, cinnamon, ginger and coriander. It is used in traditional Moroccan dishes like tagines and couscous.
Sumac: This tangy, lemon-flavoured spice is made from the dried and ground berries of the sumac bush. It is used in Middle Eastern and Mediterranean cuisine and is a key ingredient in the popular Fattoush salad.
Dried limes: These are used in Persian and Middle Eastern cuisine to add a tangy, citrusy flavour to dishes. They are typically used in soups, stews and rice dishes.
Buying saffron
Saffron is one of the most sought-after spices at the Dubai Spice Souk. Known for its distinct flavour and vibrant colour, saffron is used in a variety of dishes, including the famous Emirati dessert, saffron rice. When buying saffron, it is essential to ensure that you are getting the best quality.
How to tell if saffron is good quality? To buy high-quality saffron, look for threads that are long, dark red and slightly moist. Avoid saffron that appears too dry or has a yellowish tinge, as this indicates lower quality. Moreover, low-quality saffron can have a wax coating. It is also important to buy saffron from a reputable shop, as there are many counterfeit products on the market. Don't be afraid to ask the shopkeeper for a sample or to show you the saffron before you buy it.
Dubai Spice Souk prices and bargaining techniques
Compared to supermarkets, Dubai Spice Market prices may be both cheaper or more expensive depending on the product. However, the souk offers a more authentic experience. Bargaining is an essential part of shopping at the Deira Spice Souk. Most shopkeepers expect customers to negotiate, and it is not uncommon to get a significant discount on the initial price. Here are some tips to help you master the art of bargaining at the Dubai Spice Market:
Do your research: Before you visit the Spice Souk, do some research on the prices of the spices you are interested in. This will give you an idea of what to expect and help you negotiate better.
Shop around: Don't be afraid to visit multiple shops and compare prices. This will give you a better understanding of the market and help you identify the best deals.
Be polite: When bargaining, always be polite and respectful. This will make the shopkeeper more likely to give you a good deal.
Be prepared to walk away: If you feel that the price is not fair, don't be afraid to walk away. Sometimes, this can prompt the shopkeeper to offer you a better deal.
Buy in bulk: If you plan to buy a large quantity of spices, teas or herbs, you can negotiate a better price. Shopkeepers are more likely to give discounts on bulk purchases.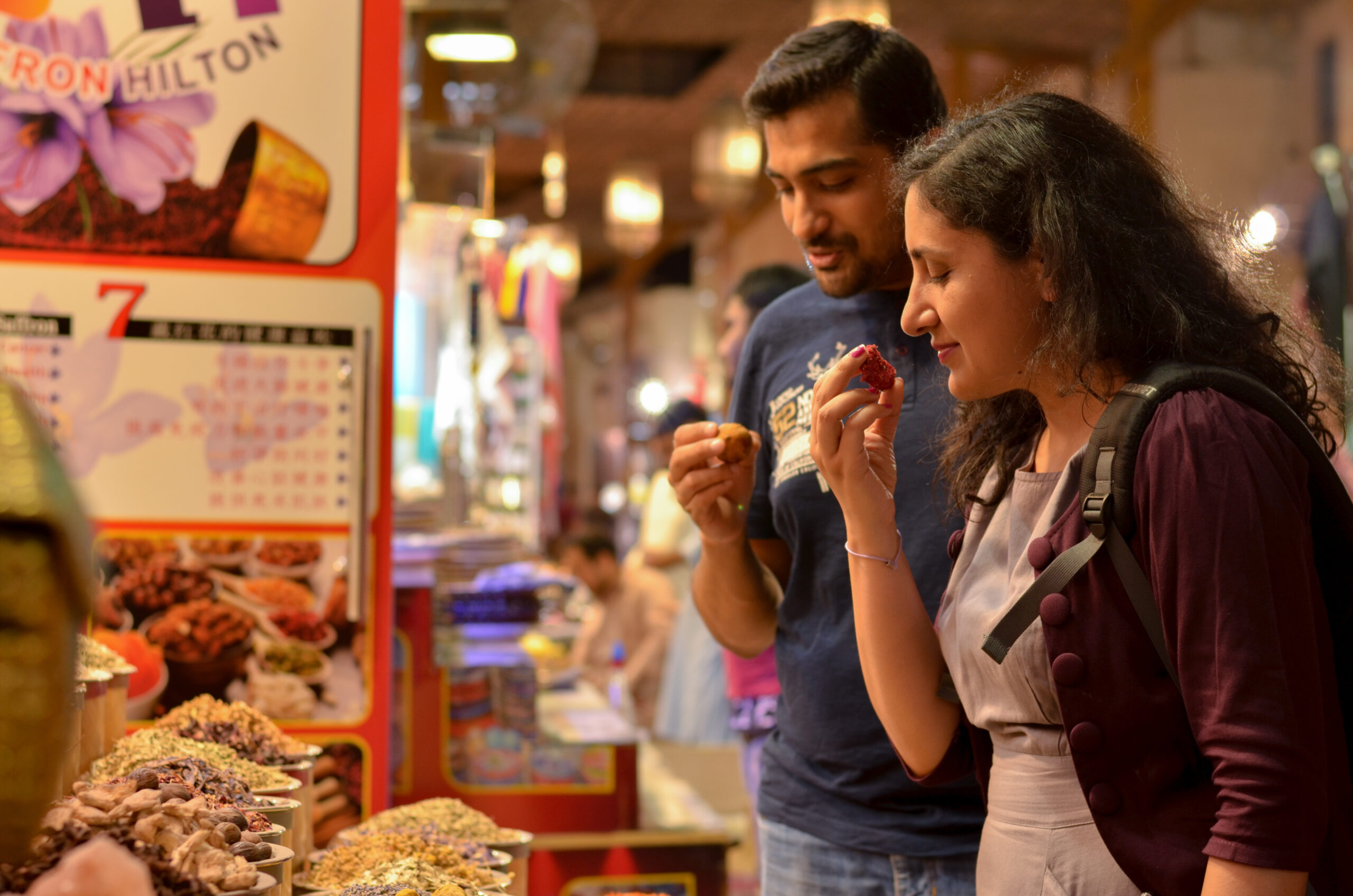 Tips for shopping at the Deira Spice Souk
Visit in the morning or in the evening to avoid crowds: The Spice Souk in Dubai is less crowded in the morning or evening, making it the best time to explore the market at your own pace. If you like the buzz, visit in the afternoon instead.
Wear comfortable clothes and shoes: The Spice Souk is a maze of narrow alleys and can be quite hot during the day. Make sure to wear comfortable clothes and shoes to make your shopping experience more enjoyable.
Carry cash: While some shops accept credit and debit cards, it is a good idea to carry cash, as many smaller shops only accept cash payments.
Bring a reusable bag: As you buy spices, teas and herbs, having a reusable bag will make it easier to carry your purchases, and it is also eco-friendly.
Take your time: The Dubai Spice Souk is a sensory experience, so take your time to explore the market and enjoy the sights, sounds and smells.
Dubai Spice Souk guided tours with a local expert
If you prefer a more structured experience, there are several Dubai Spice Souk guided tours available. These tours, led by a local expert, will take you through the market, providing valuable insights into the history of the Spice Souk, the various spices, teas and herbs available and tips for shopping and bargaining. The guide will provide more context and explain the usage of the spices, it is more comprehensive than just wandering around
Guided tours are a great way to learn about the Spice Souk and its cultural significance. They also provide an opportunity to meet other travellers and share the experience. I recommend the following tours which include a visit to the Spice Souk in Dubai.
| | |
| --- | --- |
| Old Dubai walking tour with a Spice Souk visit and street food tasting | Book here |
| Dubai guided tour with a visit to Blue Mosque, Dubai Frame, Spice Souk and Gold Souk | Book here |
| Spice Souk and Gold Souk walking tour with a traditional abra crossing | Book here |
| Dubai private food tour with 10 tastings | Book here |
Timings
Dubai Spice Souk opening hours: 07:30 till 22:00
The Spice Market in Deira is accessible for visitors throughout the day. However, it is important to note that some shops may close during prayer times, which occur five times a day in Dubai.
Location
Dubai Spice Souk address: Al Abra Street (close to Baniyas Road), Deira, Al Ras, Dubai, United Arab Emirates
How to get to Dubai Spice Souk
By metro: Take the Dubai Metro to the Al Ras Metro Station (green line) and then walk for about 10 minutes.
By taxi: Get a taxi from anywhere in Dubai and ask the driver to bring you to the Spice Souk.
By bus: Take bus routes 5, C09 or C28 to the Deira Old Souq bus stop.
By car: Several parking lots are available nearby.
By marine transport: Take an abra to the Dubai Old Souk Marine Transportation Station.
Other traditional and modern souks in Dubai
Dubai is home to several other traditional and modern souks, each offering a unique shopping experience. Here is a list of some of the popular souks in Dubai:
Dubai Gold Souk: Located in the same area as the Spice Souk, the Gold Souk is a traditional market selling gold, silver and gems.
Dubai Textile Souk: Located in the historic Bur Dubai neighbourhood, the Textile Souk is a traditional market selling fabrics, clothing and souvenirs.
Dubai Perfume Souk: Located in the Deira neighbourhood, the Perfume Souk is a traditional market selling traditional Arabian perfumes and oils.
Madinat Jumeirah Souk: A modern interpretation of a traditional souk, the Madinat Jumeirah Souk is a luxury shopping destination selling high-end fashion, jewellery, and souvenirs.
Souk Al Bahar: Adjacent to the Dubai Mall and Dubai Fountain, Souk Al Bahar is a modern market selling textiles, carpets, waterpipes, oils, lamps and souvenirs.
Global Village: A seasonal market and theme park open from November to April, the Global Village is a multicultural shopping destination selling products from around the world. There is a small entrance fee, but you will see a lot.
Dubai Karama Souk: Al Karama Market in Dubai is one of the main city's destinations to buy replicas of designer products. Bring cash and polish your bargaining techniques in advance.
Whether you are a food lover, a tea enthusiast or simply curious about the local culture, a visit to the Spice Souk Dubai is sure to be a memorable experience. So, plan your visit, explore the market, and unlock the aromatic secrets of the Spice Souk.
Prepare for your Dubai trip
Did you find this post helpful? Then click that little heart below and share it with your friends and family. Have fun in Dubai!