The Dubai Water Canal is one of the city's main waterways, with beautiful views of Burj Khalifa and other towering buildings in Downtown Dubai. It's also a massive urban development project that includes the construction of luxurious villas, residential and office buildings, marinas, floating restaurants, shopping centres and hotels on its banks. A part of the project has already been realised, but there is much more to come, and you can witness it with your own eyes.
In this article, I will tell you more about the history of this engineering marvel, Dubai Canal cruises and other attractions and activities it offers. Needless to say, I will share with you all the essential information for planning your visit.
What is Dubai Water Canal
The Dubai Water Canal is a 3.2-kilometer long and 6-metre deep artificial waterway that stretches from the Dubai Creek in Old Dubai through Business Bay and Safa Park, ultimately culminating in the Arabian Gulf. Its width ranges from 80 to 120 metres. This magnificent waterway has transformed the city's landscape, opening up new possibilities for urban development, transportation and leisure activities.
The canal's blue waters are surrounded by a vibrant ecosystem, including lush greenery, stunning architecture and modern public spaces. The 6,4-kilometre waterfront promenade, also known as the Dubai Canal Walk, offers a picturesque setting for walking, jogging or cycling while admiring the canal's breathtaking views. The Dubai Canal cruises are also a popular attraction, and I will share with you boat tour options below.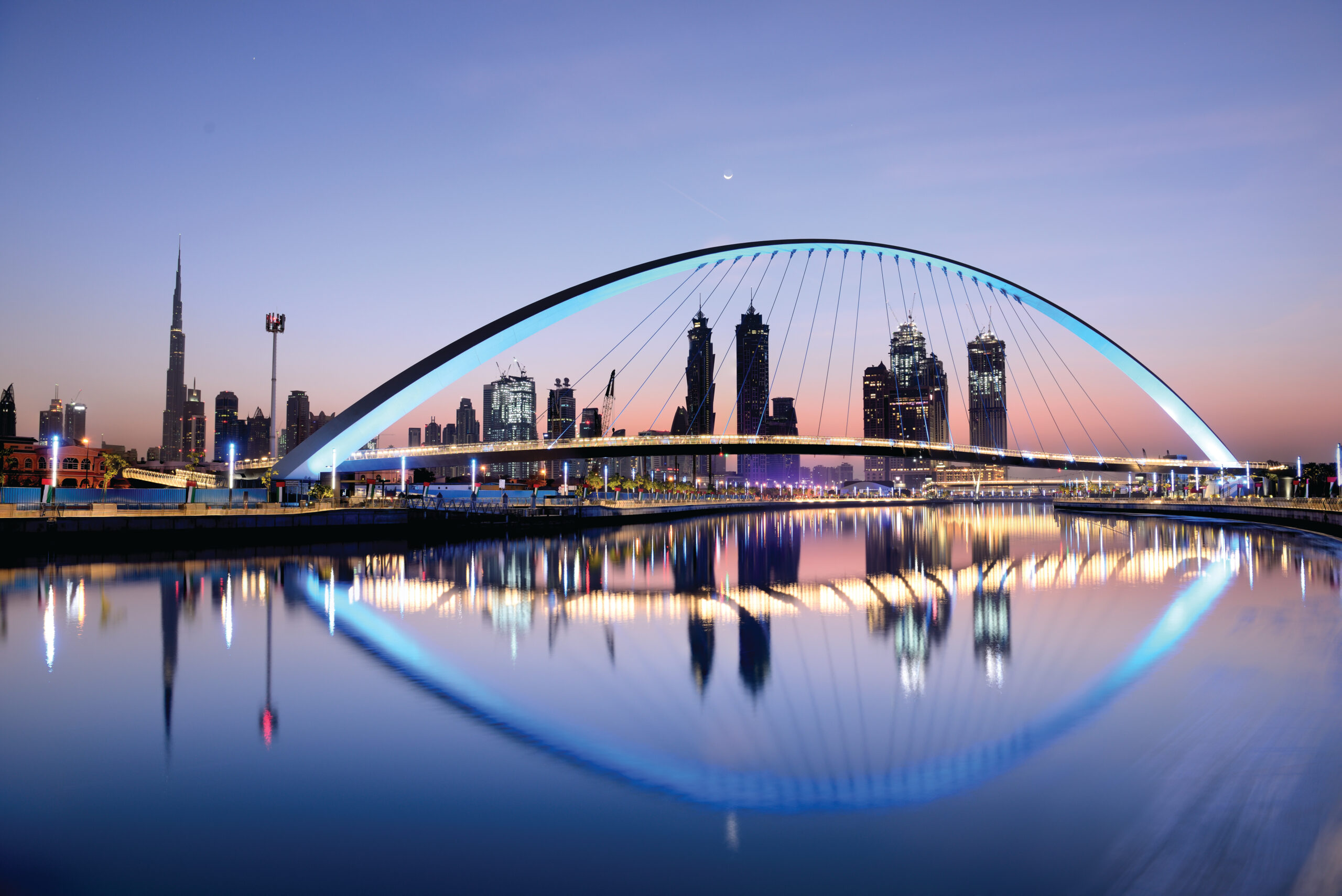 History and development of the canal
The idea for the Dubai Water Canal was conceived as part of a vision to create a vibrant, interconnected city that offers its residents and visitors fascinating experiences. The project was launched in 2013 by Sheikh Mohammed bin Rashid Al Maktoum, the Ruler of Dubai.
The construction of the canal was a colossal undertaking that required the excavation of millions of cubic metres of soil and the construction of several bridges and tunnels. The project was completed by the company called Six Construct in 2016, transforming the city's landscape and adding 6.4 kilometres of new waterfront to Dubai's existing coastline. The urban development along the Dubai Canal still continues, so be prepared to see construction sites as well.
Attractions and activities
The Dubai Canal is well-known for its numerous attractions and activities. I will tell you more about some of them below.
Dubai Water Canal bridges
The Dubai Canal is adorned with several bridges, including magnificent pedestrian bridges, such as the Tolerance Bridge and the Twisted Bridge (or the Dubai Water Canal Bridge). These architectural masterpieces not only offer stunning views of the canal but also serve as symbols of unity, innovation and progress.
The Tolerance Bridge, in particular, is a testament to Dubai's commitment to fostering tolerance, coexistence and cultural diversity. To tell you the truth, when you look at it, you will notice much resemblance with the Golden Gate Bridge in San Francisco.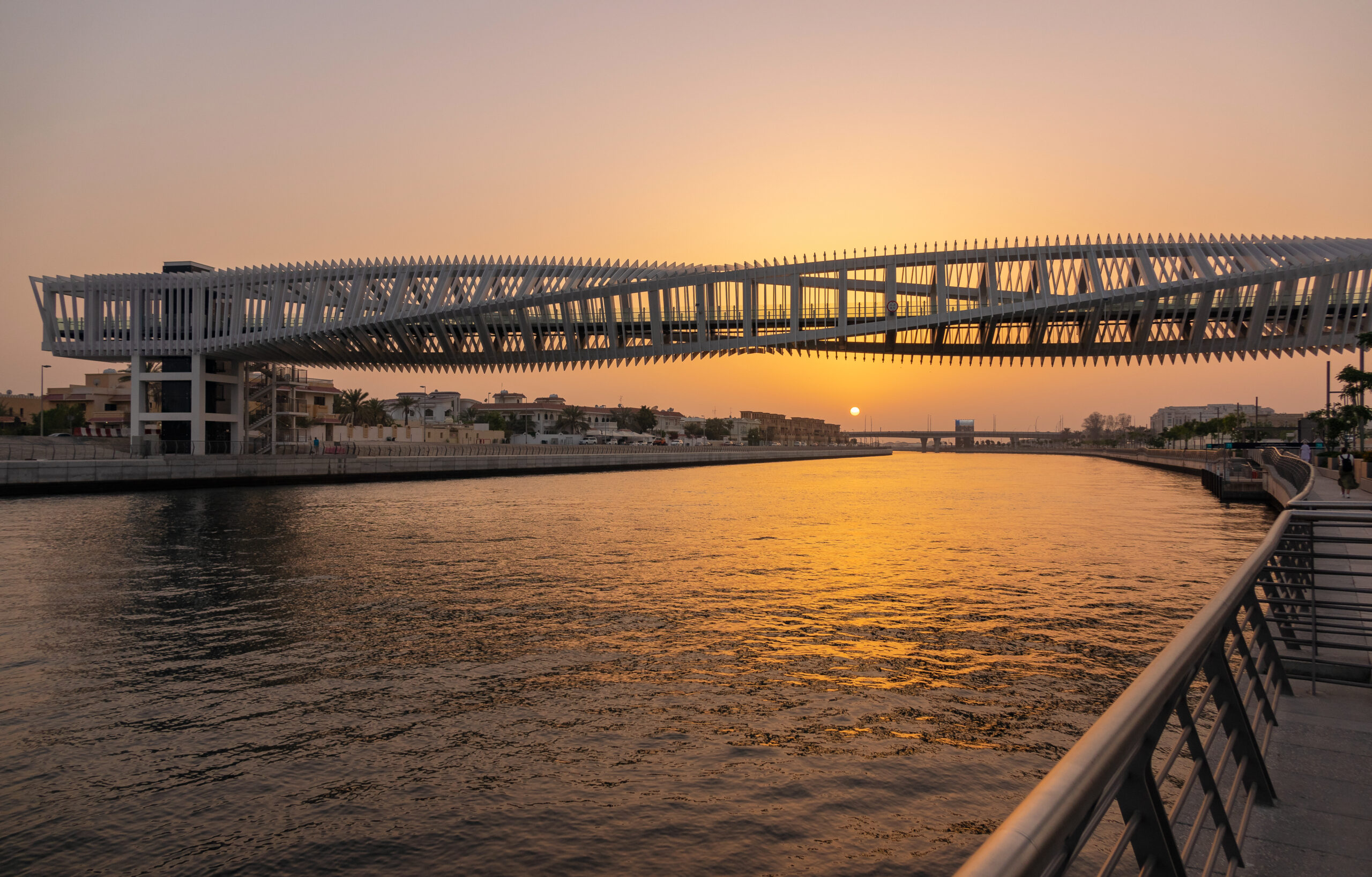 Dubai Water Canal waterfall
One of the most captivating features of the Dubai Canal is its mesmerising waterfall that cascades from the Sheikh Zayed Road Bridge. This stunning spectacle, comprising sheets of water that magically part as boats pass through, is a sight to behold, particularly when illuminated by colourful lights at night.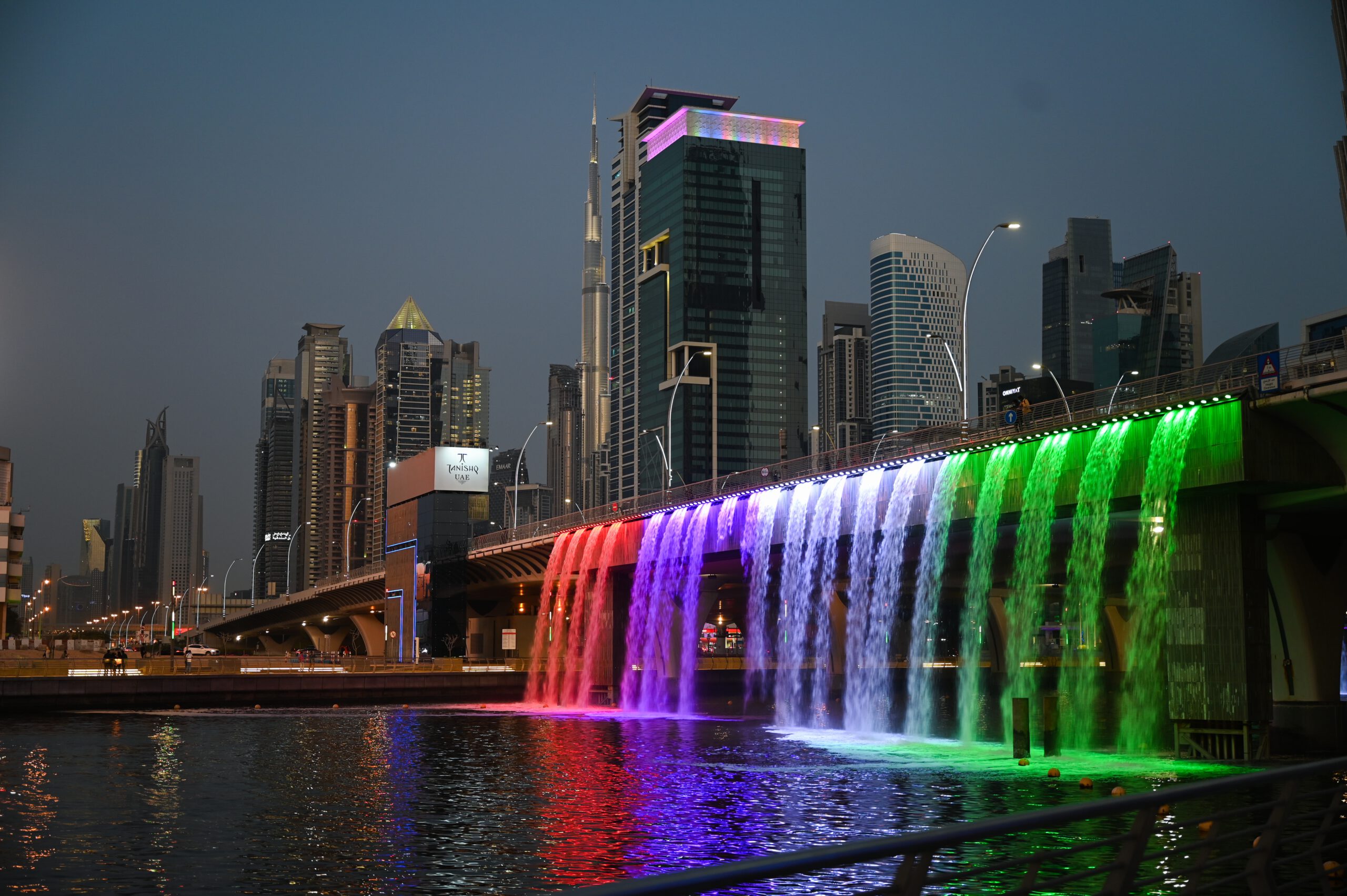 Dubai Water Canal cruises and boat tours
A Dubai Water Canal cruise offers a unique perspective of the city's skyline and its iconic landmarks. You can choose from a range of options, including a traditional dhow cruise or a luxurious dinner cruise. No matter your choice, you'll be treated to breathtaking views of the canal's attractions, such as the Burj Khalifa, the JW Marriott Marquis Hotel, Safa Park and the canal's captivating waterfall.
Most of the cruises depart from the Dubai Festival City Mall.
Dubai Water Canal cruise prices range from AED 70 to AED 1,000
Here are a few Dubai Canal boat tours that I recommend.
| | |
| --- | --- |
| Dubai Canal cruise with a buffet dinner and tickets to La Perle show | Book here |
| Dubai Canal dinner cruise with optional pick-up and drop-off | Book here |
| Dubai Canal sunset cruise with high tea | Book here |
| Dubai Canal sunset abra cruise | Book here |
| Dubai Canal and Dubai Creek Harbour private cruise | Book here |
Dubai Canal heritage abra tour
If you want to explore the Dubai Canal cheaper, you can also hop on the RTA heritage abra that transports you back in time as you glide along the canal's serene waters on a traditional wooden boat.
RTA Dubai Heritage abra tour (Sheikh Zayed Road — Jumeirah (TR6))
Duration: 45 minutes
Opening times: 16:00 till 23:00
Price: AED 25 per person or AED 300 per private charter
La Perle by Dragone show
Another must-see attraction at the Dubai Water Canal is the La Perle by Dragone show. It is a mesmerising fusion of acrobatics, aerial stunts and aquatic performances. This spectacular show, created by renowned theatre director Franco Dragone, is housed in a state-of-the-art, custom-built theatre at Al Habtoor City that features a massive pool and an awe-inspiring stage design.
I have seen the La Perle show in Dubai and I believe you should definitely add it to your cultural agenda. Moreover, a great idea is to combine the show with a Dubai Canal cruise, and this combo deal is available via the link above in the boat tour section.
Book your Dubai La Perle by Dragone tickets here
Dubai Water Canal boardwalk
The Dubai Water Canal Boardwalk, also known as the Dubai Canal Walk, is a 6.4-kilometer waterfront promenade that offers a leisurely escape from the city's hustle and bustle. This picturesque setting is perfect for walking or jogging, with beautiful views of the canal and its surroundings. The boardwalk is lined with lush greenery, modern public spaces and art installations that add to its charm.
You will be able to cross several beautiful footbridges, including the Tolerance Bridge and the Twisted Bridge, or stop to take fantastic pictures of the Dubai Canal Waterfall and boats passing through.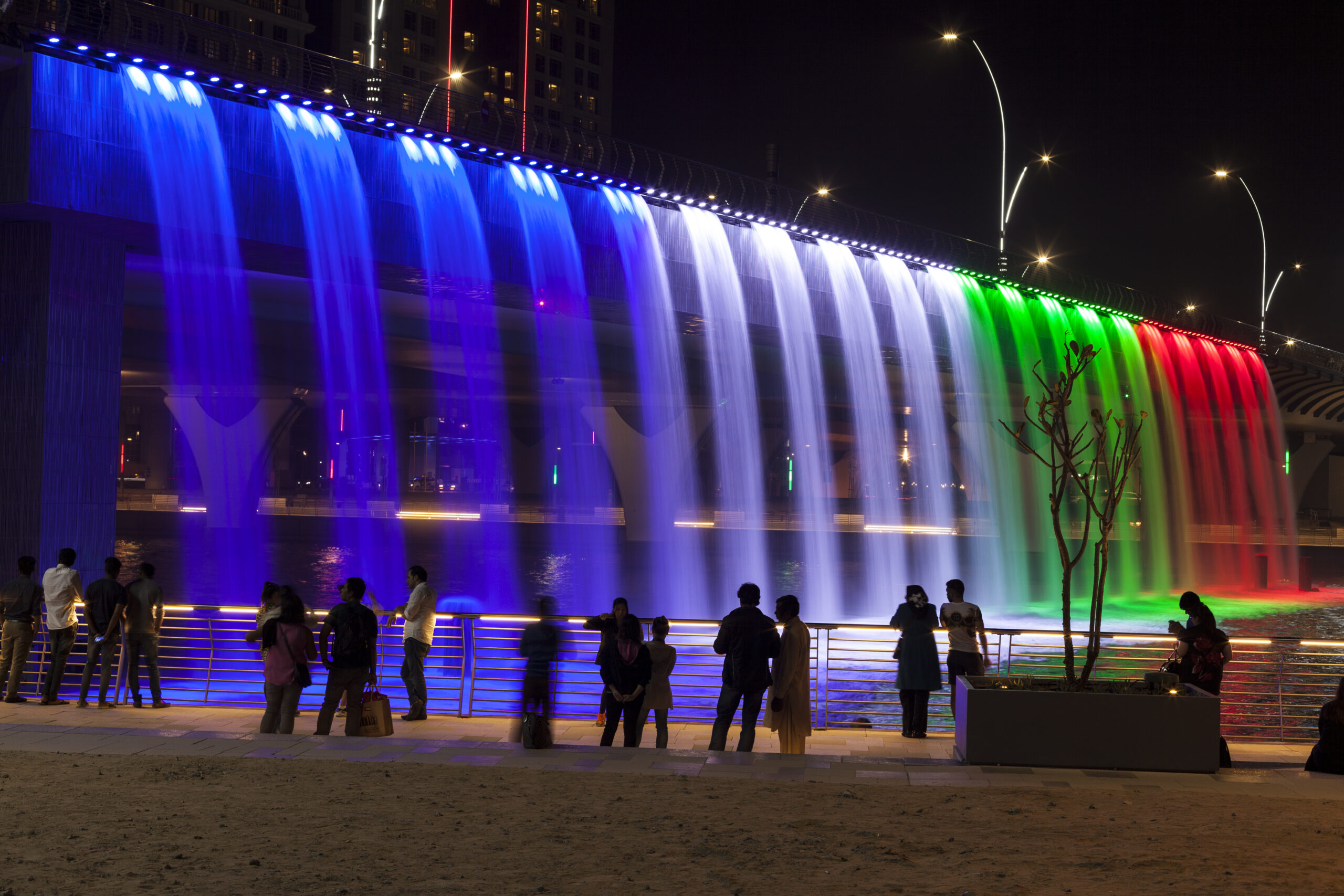 Cycling along the canal
Cycling enthusiasts will be delighted to know that the Dubai Water Canal boasts dedicated cycling paths, making it an ideal destination for a leisurely ride or an invigorating workout. The canal's picturesque surroundings and well-maintained paths provide a safe and enjoyable cycling experience for riders of all levels. The 12-kilometre Dubai Canal cycling track is connected to the Jumeirah Street and Meydan cycling tracks.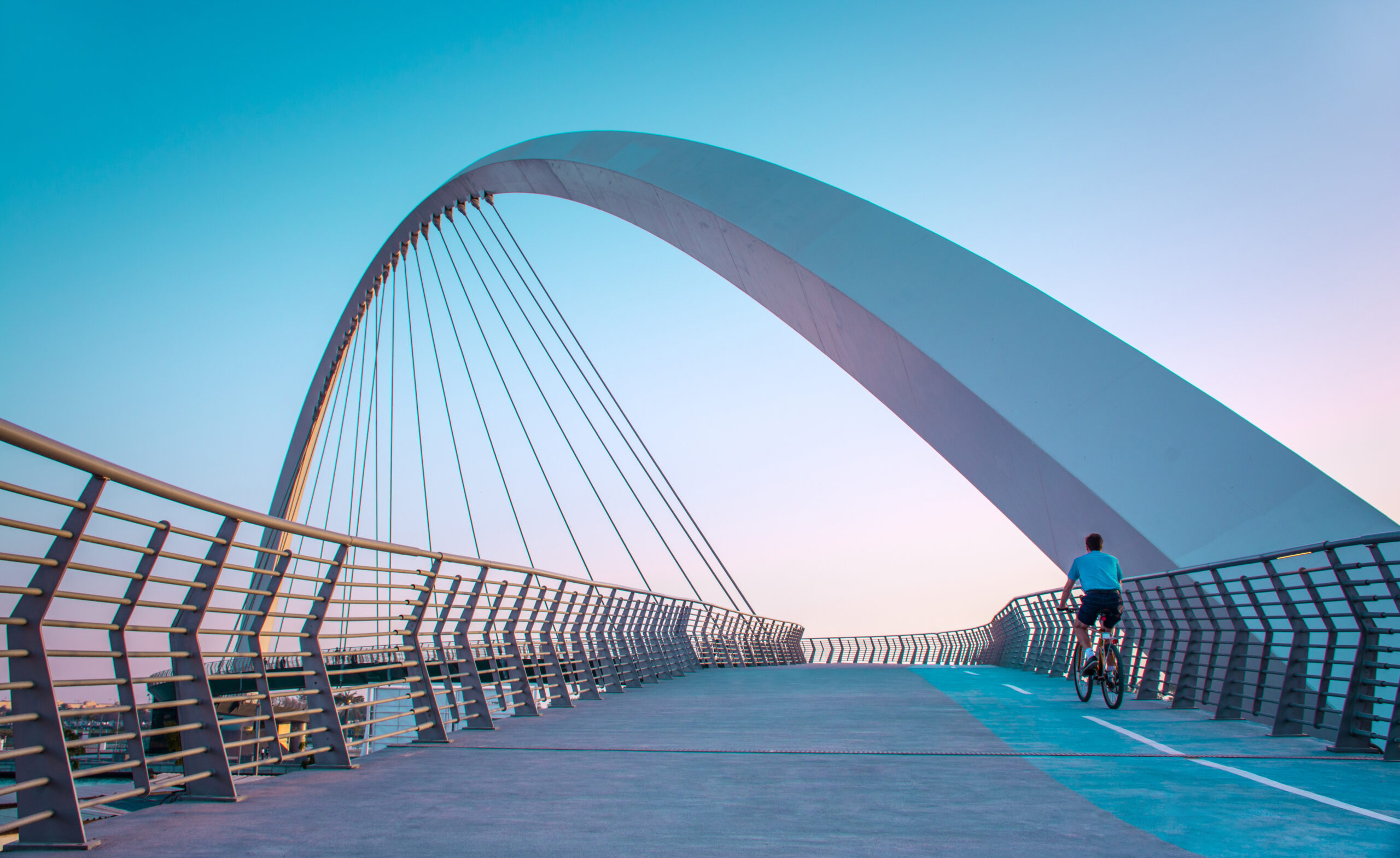 Location
The Dubai Water Canal is located in the heart of Dubai, easily accessible from various parts of the city. The canal stretches from the Dubai Creek in Old Dubai, passing through Business Bay and Safa Park, before connecting to the Arabian Gulf. The closest metro station to the canal is the Business Bay Metro Station.
FAQs
What is the best time to visit the Dubai Water Canal?
The canal is particularly enchanting at night when its sparkling lights and illuminated waterfall create a magical atmosphere. If you want to see more of the surroundings and enjoy daytime activities, I recommend coming while it's still light.
There is no entry fee for the Dubai Water Canal, making it an affordable and accessible attraction for all visitors.
Are there any parking facilities near the canal?
There are many Dubai Canal parking facilities, including the Bay Avenue Mall parking, the Sheikh Zayed Road Bridge parking and the Safa Park parking.
Prepare for your Dubai trip
Did you find this post helpful? Then click that little heart below and share it with your friends and family. Have fun in Dubai!