Public holidays in Dubai include several religious, national and international celebrations. They coincide with the list of UAE bank holidays. If you're planning a trip or considering moving to this city, you may find it handy to know what to expect on those days. Many of them are not just days off, but culturally rich celebrations that offer insights into the local traditions and history. Due to the city's global nature, there are also holidays that are adopted from other cultures.
Some of Dubai's national holidays have fixed dates, while others often vary in when they occur, mainly due to the Islamic calendar's lunar nature. This can make it a little challenging to keep track of when exactly these holidays fall. But don't worry! In this guide, I will help you navigate Dubai's holiday schedule like a pro.
What calendar is used in Dubai
While the Gregorian calendar, predominantly used in the world, is also widely used in Dubai and the UAE for civil purposes, the Islamic calendar (Hijri) is considered official. The Hijri calendar is a lunar calendar, which means it's based on the moon's phases.
As a result, the dates of Islamic holidays shift each year by approximately 11 days in relation to the Gregorian calendar. That means that all Muslim holidays in the country have different dates every year, determined by the UAE Cabinet. Other bank holidays have fixed dates.
Why is this important to know? If you're planning your visit around specific Dubai public holidays, you'll want to be aware of this. Not only will it help you plan your trip (and budget) better, but it will also give you a deeper understanding of the cultural and religious significance of these holidays.
The Hijri calendar begins with the Prophet Muhammad's migration from Mecca to Medina in 622 AD, known as the Hijra. Each month starts with the sighting of the new moon, and the year is 354 or 355 days long. This calendar is used to determine important religious observances, including the fasting month of Ramadan, the two Eids (Eid Al Fitr and Eid Al Adha) and other Islamic holidays.
List of Dubai public holidays 2023
Here is the list of all official UAE national holidays and their dates in 2023:
New Year's Day: January 1
Eid Al Fitr: April 20
Arafat Day: June 27
Eid Al Adha: June 28
Al Hijri (Islamic New Year): July 21
Prophet Muhammad's Birthday: September 29
Commemoration Day: December 1
UAE National Day: December 2 and 3
New Year's Day
New Year's Day, the first day of the Gregorian calendar, is a public holiday in Dubai. It's a day to celebrate the arrival of a new year, and in Dubai, it's done in grand style. The city is famous for its New Year's Eve fireworks, particularly the spectacular display at the Burj Khalifa, the world's tallest building. Other popular fireworks locations include JBR, Atlantis the Palm Hotel, Burj Al Arab, the Festival City Mall and Global Village. On NYE you can visit many parties and gala dinners organised by major hotels, restaurants and beach clubs.
On New Year's Day, the city is in a festive mood. Many locals and expats use the day to relax and recover from the previous night's celebrations, while others continue the festivities with friends and family. Restaurants offer special brunches and there are plenty of events and activities throughout the city to keep everyone entertained.
While NYD might not be a traditional Emirati holiday, it's fully embraced due to Dubai's cosmopolitan nature. The city's ability to blend its local traditions with global customs makes for a unique and enjoyable holiday experience.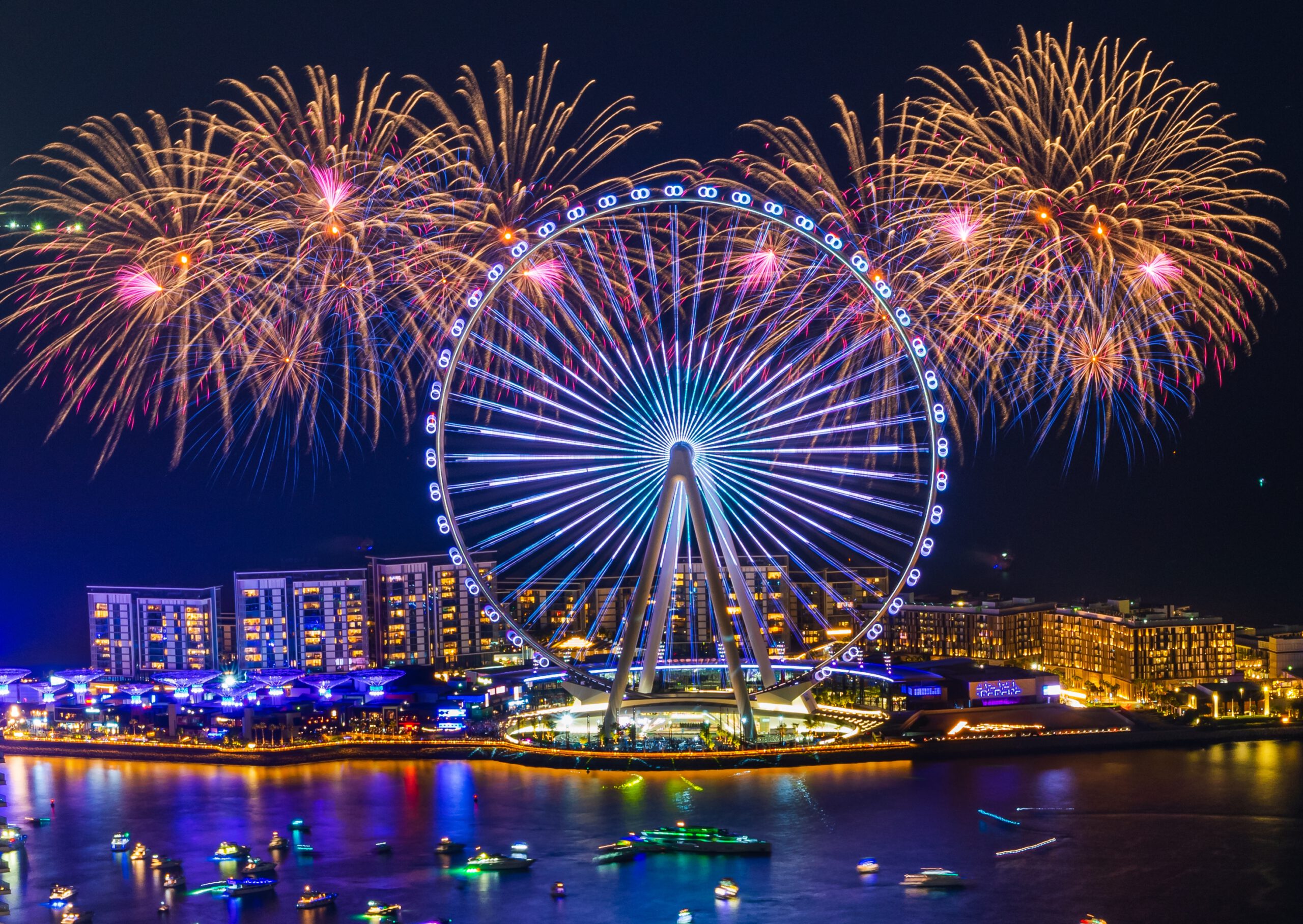 Eid Al Fitr
Eid Al Fitr, one of the most important holidays in the UAE, marks the end of Ramadan, the holy month of fasting. This holiday, which means "Festival of Breaking the Fast," is a joyous celebration of gratitude, unity and renewal. It's a time for prayer, feasting, giving and spending time with loved ones.
Eid Al Fitr begins with a special prayer at the mosque, followed by a festive meal — the first daytime meal Muslims have had in a month. It's customary to give to the poor before the prayer, ensuring everyone can partake in the celebrations. An important part of the festivities is also the giving of 'Eidi', gifts to children.
In Dubai, you'll find a variety of events and activities during Eid Al Fitr. Malls and shops offer special sales, parks and attractions host family-friendly events and hotels offer lavish feasts. It's a time of joy and celebration, and the festive atmosphere is palpable throughout the city.
Date: shifts each year, check the exact date in the list above
Arafat Day
Arafat Day is another significant holiday in the Islamic calendar. It's the second day of the Hajj pilgrimage and the day before Eid Al Adha. On this day, pilgrims gather on Mount Arafat, near Mecca, to pray and repent — a key ritual of the Hajj pilgrimage.
In Dubai and the rest of the UAE, Arafat Day is a national holiday. While it's a quieter holiday compared to the Eids, it's a day of reflection, prayer and fasting for many Muslims. Moreover, it's a day to prepare for the celebrations of Eid Al Adha, which follows Arafat Day.
Even if you're not a Muslim, Arafat Day offers an opportunity to experience the spiritual side of Dubai. Many locals use this day to spend time with their families, reflect on their blessings and prepare for the upcoming Eid celebrations.
Date: shifts each year, check the exact date in the list above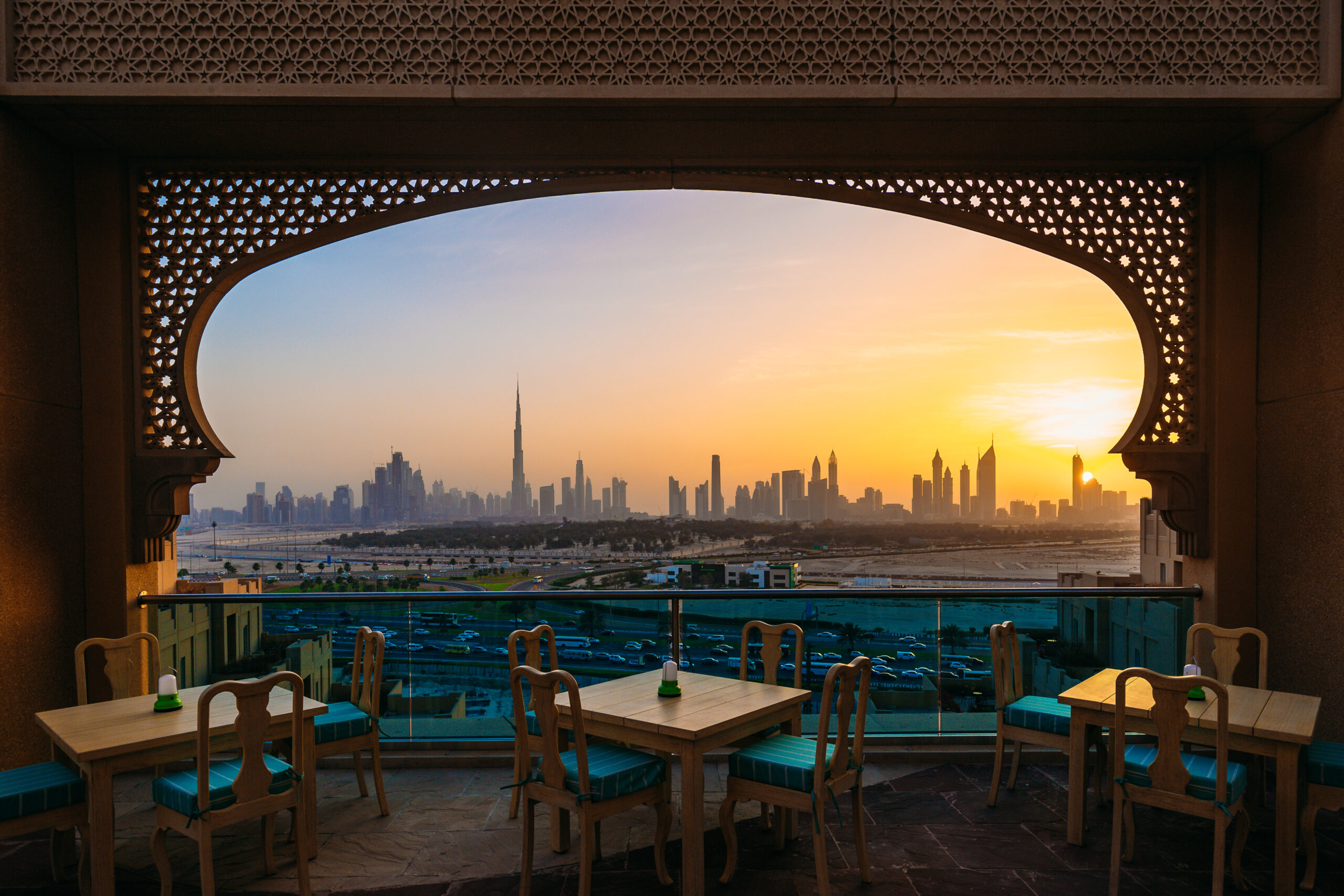 Eid Al Adha
Eid Al Adha, also known as the "Festival of Sacrifice," is one of the most important Islamic holidays. It commemorates the willingness of Prophet Ibrahim (Abraham) to sacrifice his son as an act of obedience to God. But before Ibrahim could carry out the sacrifice, God provided a lamb to sacrifice instead.
In Dubai, Eid Al Adha is a time for prayer, charity and feasting. Muslims attend a special prayer at the mosque, followed by the sacrifice of an animal, usually a sheep or a goat. However, due to hygiene rules such rituals in Dubai are allowed only in designated places and performed by professionals. The meat is then distributed among family, friends and the poor, ensuring everyone can partake in the feast.
Dubai comes alive during Eid Al Adha, with a variety of events and activities around the city. There are special shows, concerts and festivities, making it a great time to immerse yourself in the local culture. Furthermore, the day is marked by spectacular fireworks in a few locations, including the Dubai Festival City Mall.
Date: shifts each year, check the exact date in the list above
Al Hijri
Al Hijri, the Islamic New Year, is another official holiday in Dubai. It marks the beginning of a new Hijri year and commemorates the migration of the Prophet Muhammad from Mecca to Medina in 622 AD. This event, known as the Hijra, is of great significance in Islamic history.
Al Hijri is a quieter holiday compared to the Eids. It's a day of reflection and renewal, where many Muslims attend special prayers at the mosque and spend time with family. While you won't find the same level of public festivities as other holidays, it's a meaningful day for the local Muslim community.
In Dubai, some cultural and educational institutions may host events or exhibitions related to Islamic history and culture. It's an excellent opportunity for non-Muslims to learn more about the Islamic faith and history.
Date: shifts each year, check the exact date in the list above
Prophet Muhammad's Birthday
The birthday of the Prophet Muhammad, known as Mawlid al-Nabi, is another religious holiday. It's a day to celebrate the life and teachings of the Prophet Muhammad, the founder of Islam.
In Dubai, Mawlid al-Nabi is marked by prayer, reflection and communal meals. Many mosques hold special prayer sessions and sermons, and some may also organise communal meals or distribute food to the poor.
While it's not a holiday known for grand public celebrations, it's a day of great significance for Muslims.
Date: shifts each year, check the exact date in the list above
Commemoration Day
Commemoration Day, also known as Martyrs' Day, is a national holiday in the UAE. It's a day to honour the memory of Emirati soldiers who have died in the line of duty. Commemoration Day is observed each year just before the UAE National Day.
Typically, the UAE flag is flown at half-mast, and a minute of silence is observed at 11:30 on September 30th. Various events and ceremonies are held around the city, honouring the sacrifices made by the country's fallen heroes.
By the way, keep in mind that the observance is on September 30th, while the public holiday falls on December 1st. This is done on purpose to avoid a one-day gap before the other celebration I will talk about below.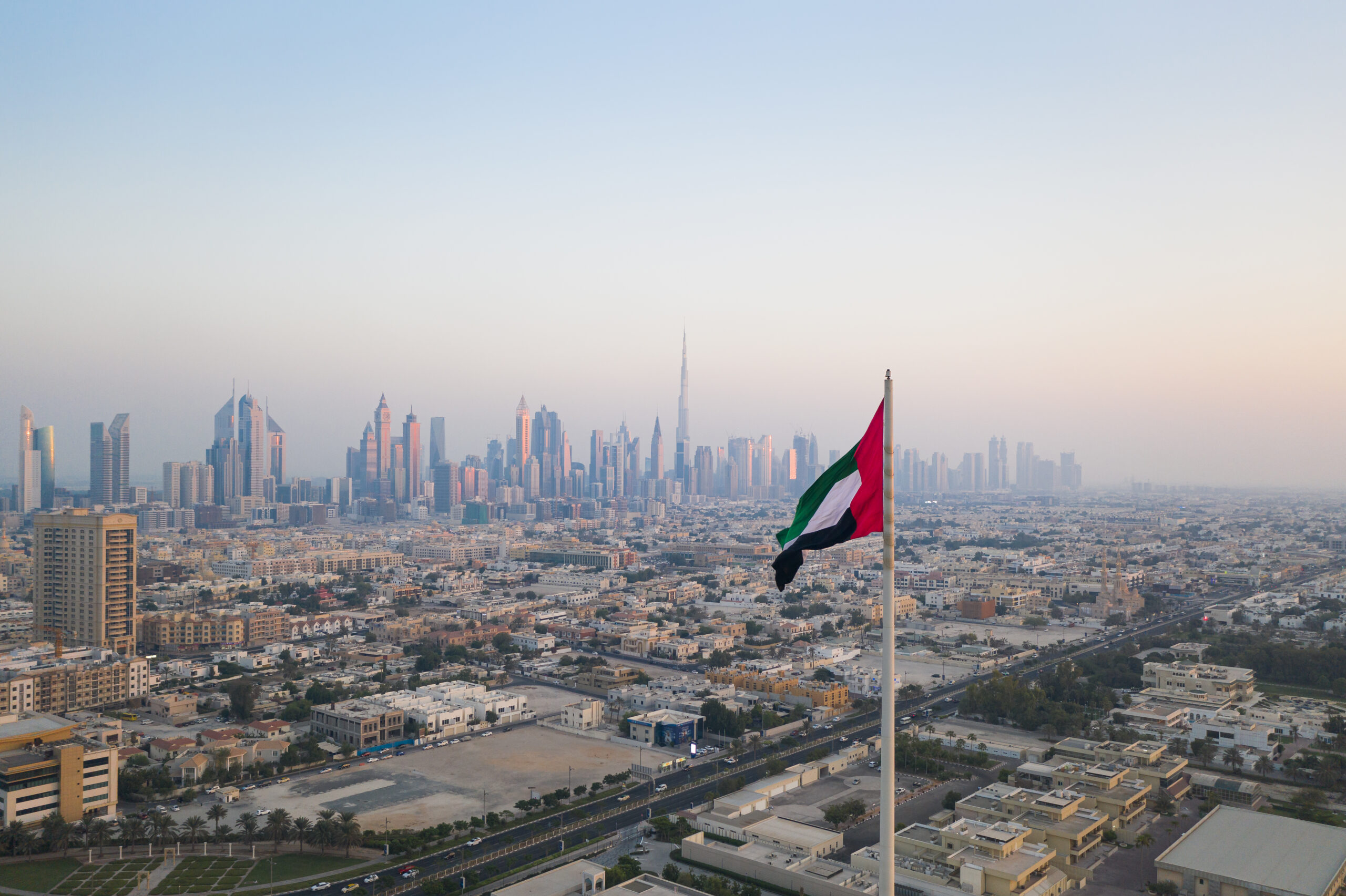 UAE National Day
UAE National Day, celebrated on December 2nd each year, is one of the most important national holidays in the country. Celebrations are typically also extended to December 3rd. It marks the unification of the seven emirates into a single country in 1971. UAE National Day is a grand celebration of the country's unity, progress and national identity.
In Dubai, UAE National Day is marked by a host of festivities and is celebrated with a bang. There are fireworks (including in Downtown Dubai), parades, concerts and cultural events throughout the city. Buildings and streets are decorated with UAE flags and lights in the national colours. Moreover, you can see locals dressed up in the national flag colours: red, green, white and black. You can join them as well!
UAE National Day is a fantastic time to be in Dubai. The city's pride and joy in their country are palpable, and the celebrations offer a fun and exciting way to experience Emirati culture and national spirit.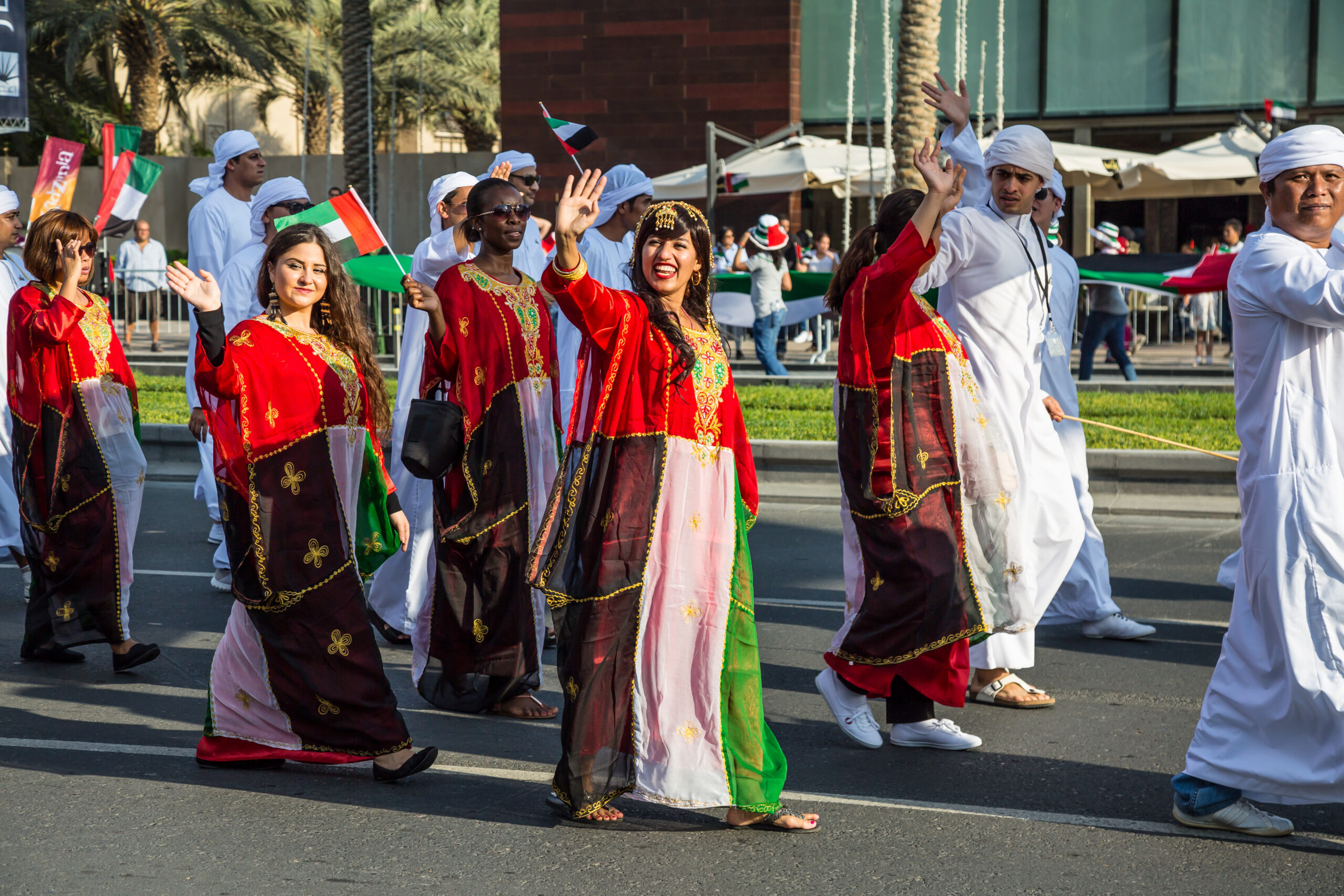 Other popular holidays in Dubai
Besides the official Dubai public holidays, there are other popular observances in this multicultural city. Christmas, for instance, is widely celebrated in Dubai. While it's not a public holiday, you'll find the city adorned with Christmas lights, trees and decorations, and many restaurants offer special menus. Moreover, several Christmas markets are set up in various locations, such as Madinat Jumeirah, Dubai Expo City and Al Habtoor City.
Diwali, the Hindu festival of lights, is another popular event in Dubai. The city's large Indian population means that Diwali is celebrated with much fanfare, including fireworks, light displays and special activities.
Valentine's Day, Chinese New Year, St. Patrick's Day and even Halloween — no matter what time of year you visit, you're likely to find Dubai in the spirit of celebration. It's this multicultural vibrancy that makes it such a unique and exciting city to explore.
When is a weekend in Dubai
In Dubai, unlike some other UAE emirates, the weekend now falls on Saturday and Sunday. The shift was done on January 1st, 2022 to be more in sync with the rest of the world for commercial purposes. The Saturday-Sunday weekend is observed by the private sector and many public sector organisations close already on Friday afternoons. Keep this in mind while planning your trip.
Prepare for your Dubai trip
Did you find this post helpful? Then click that little heart below and share it with your friends and family. Have fun in Dubai!