Are you ready to rub shoulders with your favourite celebrities and immerse yourself in a world of sport, glamour and history at Madame Tussauds Dubai? This museum is the ultimate destination for those who want to meet their favourite stars! Madame Tussauds is a world-renowned wax museum that has been entertaining visitors for over 250 years. With its roots in London, the museum has expanded to numerous cities across the world, and Dubai is now home to the latest addition to this iconic brand.
In this comprehensive guide, I will share my experience of visiting Madame Tussauds in Dubai and will take you on a journey through the magical world of wax figures, where you will learn everything you need to know about this museum and how to make the most of your visit. Get ready to experience a one-of-a-kind adventure packed with glitz, glamour and unforgettable memories! From Hollywood to Bollywood, sports to history, Madame Tussauds Museum Dubai has something for everyone.
Book your Madame Tussauds Dubai entrance tickets here
Is Madame Tussauds Dubai visit worth it: pros and cons
Check my quick overview of the pros and cons below to make a balanced decision.
Pros:
Meet your favourite celebrities: Madame Tussauds Museum in Dubai is home to over 60 lifelike wax figures of famous personalities from around the globe. Get up close and personal with your favourite stars and snap a selfie with them.
Interactive experience: This Dubai wax museum offers an interactive experience where visitors can pose with the figures. Moreover, you can participate in various activities, tours and games that are both fun and educational.
Perfect for all ages: This museum is an ideal destination for teenagers, adults and families with kids. It provides an entertaining experience that is suitable for all ages.
No crowds: Unlike many other Madame Tussauds in other countries, I did not notice any long queues at this wax museum in Dubai, meaning you can visit it at your own pace.
Cons:
Location: The museum is in Bluewaters Island, and I find it a bit hard to get there by public transport, so plan your activity accordingly.
Museum size: The Madame Tussauds in Dubai visit is relatively short, unless you take a guided tour or participate in additional activities. This may not be ideal for those who are looking for an all-day experience.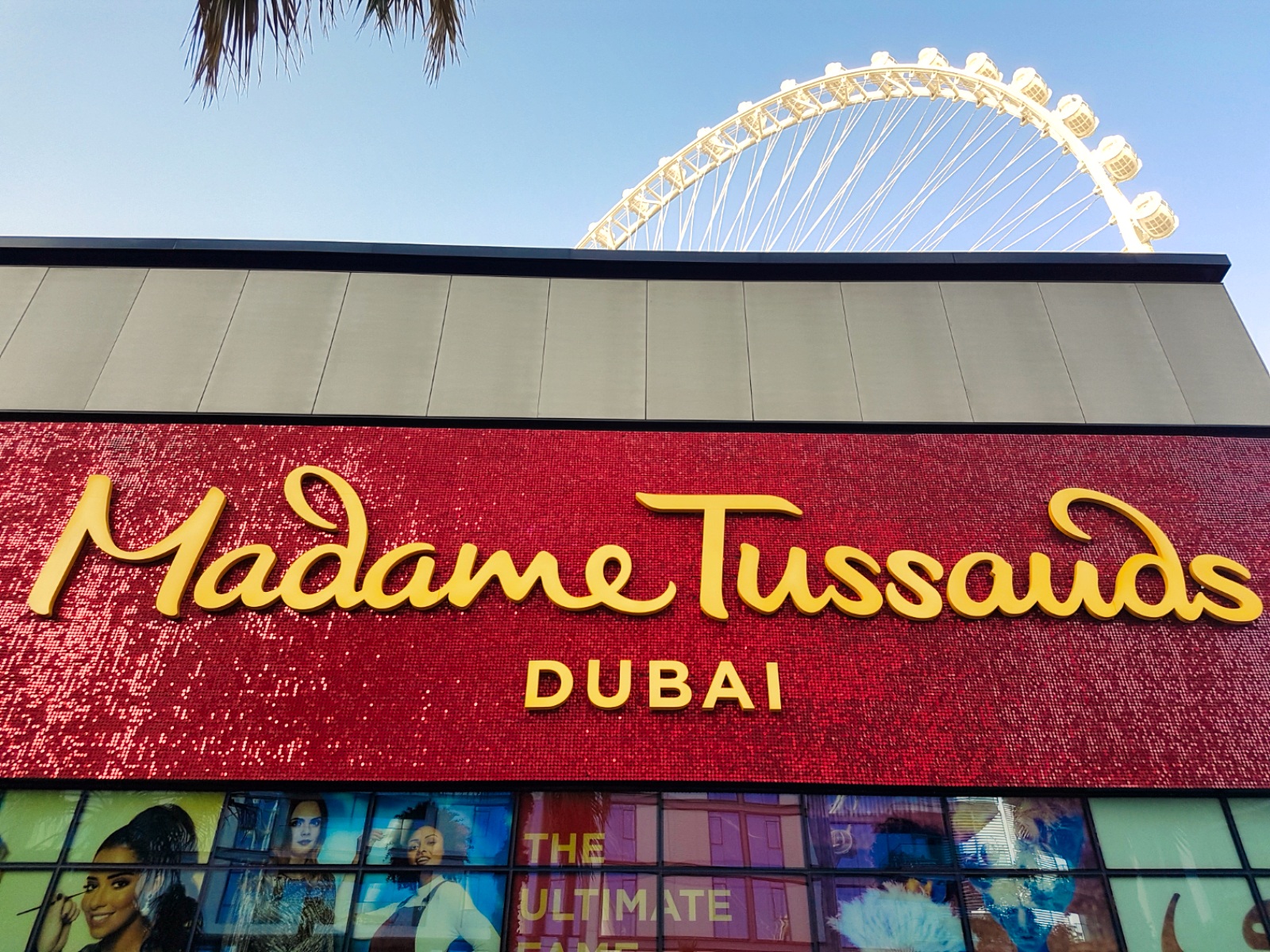 Madame Tussauds history and its expansion to Dubai
The story of Madame Tussauds dates back to the 18th century when the talented Marie Tussaud learned the art of wax modelling in Paris. Her skills were so impressive that she was soon commissioned to create wax figures of famous personalities of the time. Fast forward to 1835, and Madame Tussauds opened its doors in London, becoming an instant hit with the public.
Since then, Madame Tussauds has expanded to numerous locations worldwide, including New York, Amsterdam, Sydney, Tokyo and other cities. In 2021, the world-famous attraction made its debut in the Middle East with the opening of Madame Tussauds Dubai. The Dubai edition of this iconic museum brings together a unique blend of international and regional celebrities, making it a must-visit attraction for tourists and residents alike.
With its state-of-the-art technology, immersive experiences and world-class craftsmanship, the wax museum In Dubai is a great option for your travel program. I will share with you below what you can see there and how to buy Dubai Madame Tussauds tickets.
How Madame Tussauds wax figures are made
Are you, just like me, interested to know how Madame Tussauds wax figures are made? This is what I learned during my visit. The art of creating lifelike wax figures is a meticulous and time-consuming process that requires immense skill, precision and attention to detail. At Madame Tussauds, the process begins with extensive research on the celebrity, gathering hundreds of photographs and measurements to ensure the wax figure is as accurate as possible.
Once the research is complete, the sculpting process begins. Skilled artists create a clay model of the subject's head and body, which is then used to create a mould. The mould is filled with hot wax, and once it has cooled and hardened, the wax figure is carefully removed and assembled.
The finishing touches are what truly bring the wax figure to life. Hair is individually inserted strand by strand, and the eyes and teeth are made from acrylic. The artists then apply multiple layers of oil paint to achieve a realistic skin tone, texture and complexion. The entire process can take three to six months to complete, and the result is a stunningly realistic representation of the celebrity.
Madame Tussauds Museum Dubai celebrities
Madame Tussauds Dubai features an impressive lineup of celebrities from various fields, including film, music, sports and history. Fans of Hollywood can pose with big names like Jackie Chan, Audrey Hepburn and Tom Cruise, while Bollywood enthusiasts can meet the likes of Shah Rukh Khan, Amitabh Bachchan and Kareena Kapoor Khan.
Sports enthusiasts can test their skills against legends such as Cristiano Ronaldo and Lionel Messi, while history buffs can come face-to-face with iconic figures like Narendra Modi, Xi Jingping and Queen Elizabeth II. Regional celebrities are also well-represented, with stars like Nancy Ajram, Balqees Fathi and Mohamed Salah.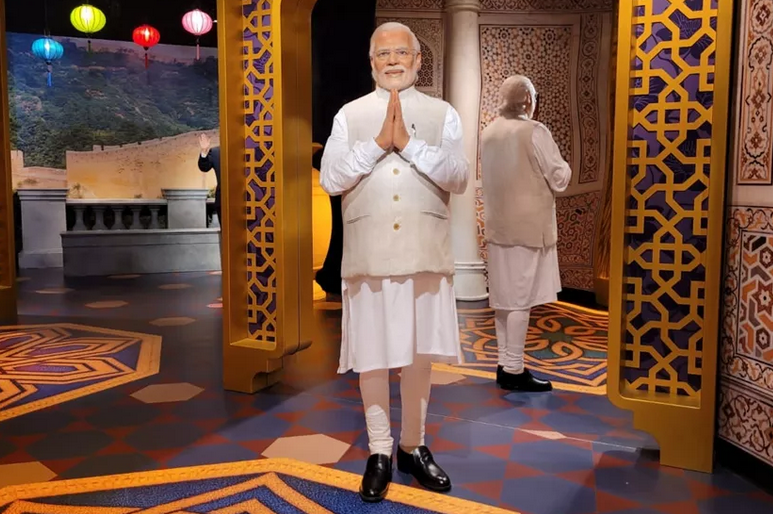 Museum zones
Madame Tussauds Museum is divided into several themed zones, each offering a unique and immersive experience for visitors. The zones include:
Film and Bollywood: Step into the world of cinema and meet your favourite actors and actresses from Hollywood, Bollywood and the Arab film industry.
Music Party: Sing along with international and regional music icons and strike a pose with legendary musicians like Taylor Swift, Justin Beiber and Miley Cyrus.
Sports: Test your skills against some of the world's greatest athletes, including football stars, tennis champions and racing legends.
World Leaders: Meet influential figures from history and learn about their incredible achievements and contributions to society.
Fashion: Walk the runway with stylish icons, such as Cara Delevingne, Zendaya and Victoria Beckham, and admire the stunning outfits worn by world-famous models and designers.
TV and Media: Get up close and personal with your favourite TV personalities and media stars, from talk show hosts to news anchors, including Kris Fade (featured in Dubai Bling) and Ahmed Fahmi.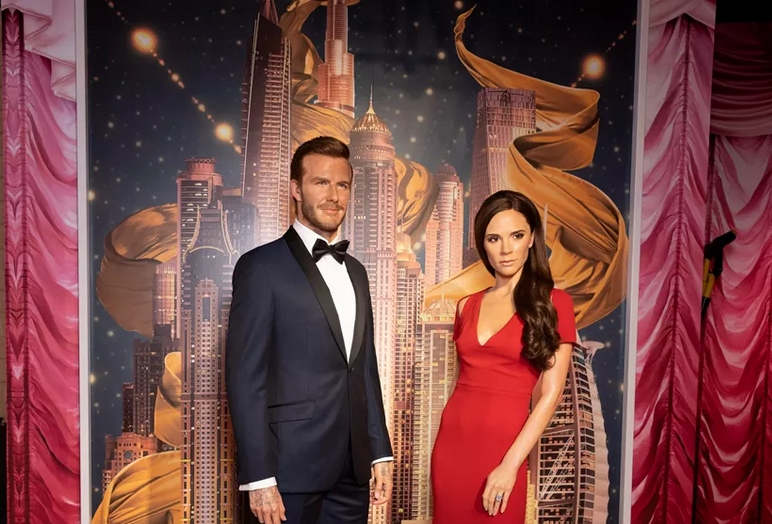 Popular museum experiences
In addition to the incredible wax figures, Madame Tussauds Dubai offers a range of interactive experiences designed to engage and entertain visitors of all ages. These experiences include:
Interactive Catwalk: Walk the red carpet and feel like a true celebrity as you pose for the cameras and mingle with the stars.
VIP Fame Experience: This is a guided tour, lasting about 90 min, that takes you around the Dubai wax museum and features many facts about the figures and how they are made. You will get unlimited photos and meet the artists. Book the VIP Fame Experience here.
Wax Hands: I just loved this exciting experience, where you get a chance to model your own hand using wax.
Tea with the Queen: Just imagine yourself having an audience with Her Majesty, Elizabeth II, and having an afternoon tea with her.
Bollywood Dance Floor: If you are a fan of Bollywood movies, this is your chance to dance to rhythmic music with celebrities like Shah Rukh Khan and shoot fantastic videos.
A-list Music Party: This is your chance to sing along with famous music stars, such as Mylie Cyrus on her Wrecking Ball.
Interactive Sports Zone: A great experience for sports lovers, where you will get an opportunity to score a goal with Ronaldo and Lionel Messi using interactive screens and other equipment.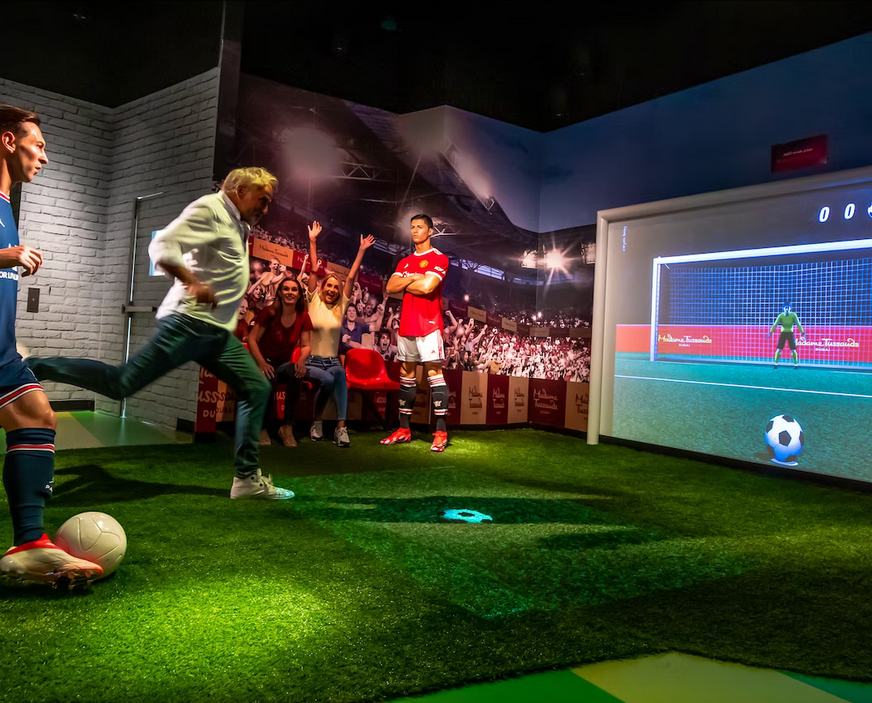 Madame Tussauds Dubai tickets
To enjoy a seamless and hassle-free experience, I recommend purchasing your Madame Tussauds Dubai tickets in advance. There are several ticket options for the Dubai wax museum. Book the general admission using the link below (special deals might be available) or the VIP Fame Experience using the link above. Tickets are delivered instantly, and you can show them on your mobile.
Book your Madame Tussauds Dubai entrance tickets here
Timings
Dubai Madame Tussauds Museum opening hours: 12:00 to 20:00 (Sunday to Thursday) and 11:00 to 21:00 (Friday and Saturday)
Please note that opening hours may be subject to change, and they normally shift during Ramadan.
Location
Dubai Madame Tussauds Museum address: Bluewaters Mall, Bluewaters Island, Dubai, United Arab Emirates
How to get to Madame Tussauds in Dubai
There are several ways to reach Madame Tussauds Museum in Dubai from various parts of the city:
By car: Follow the E11 highway and take the exit for Bluewaters (coming from Dubai) or follow the E10/E11 highway to Dubai and take exit 29 (coming from Abu Dhabi)
By taxi: This is the most convenient way, taxis are readily available throughout Dubai and can take you directly to the museum's entrance
By metro and tram: Take Dubai Metro (red line) to Sobha Realty metro station, change for Dubai Tram and get off at Jumeirah Beach Residence 2, then walk via JBR Beach and the footbridge to Bluewaters Island
What other attractions can I visit nearby
Bluewaters Island is also home to a few other attractions, making it a great destination for a fun-filled day out. In addition to Madame Tussauds Museum, you can enjoy:
Ain Dubai: The world's largest observation wheel, offering stunning panoramic views of the city's skyline.
The Beach at JBR: A picturesque stretch of sand and sea, perfect for a leisurely stroll or a refreshing swim. Return via the footbridge to Jumeirah Beach Residences and enjoy a day swimming and sunbathing.
Retail and dining outlets: A wide selection of shops, restaurants and cafes to suit all tastes and budgets are located in Bluewaters Island, Dubai Marina and JBR.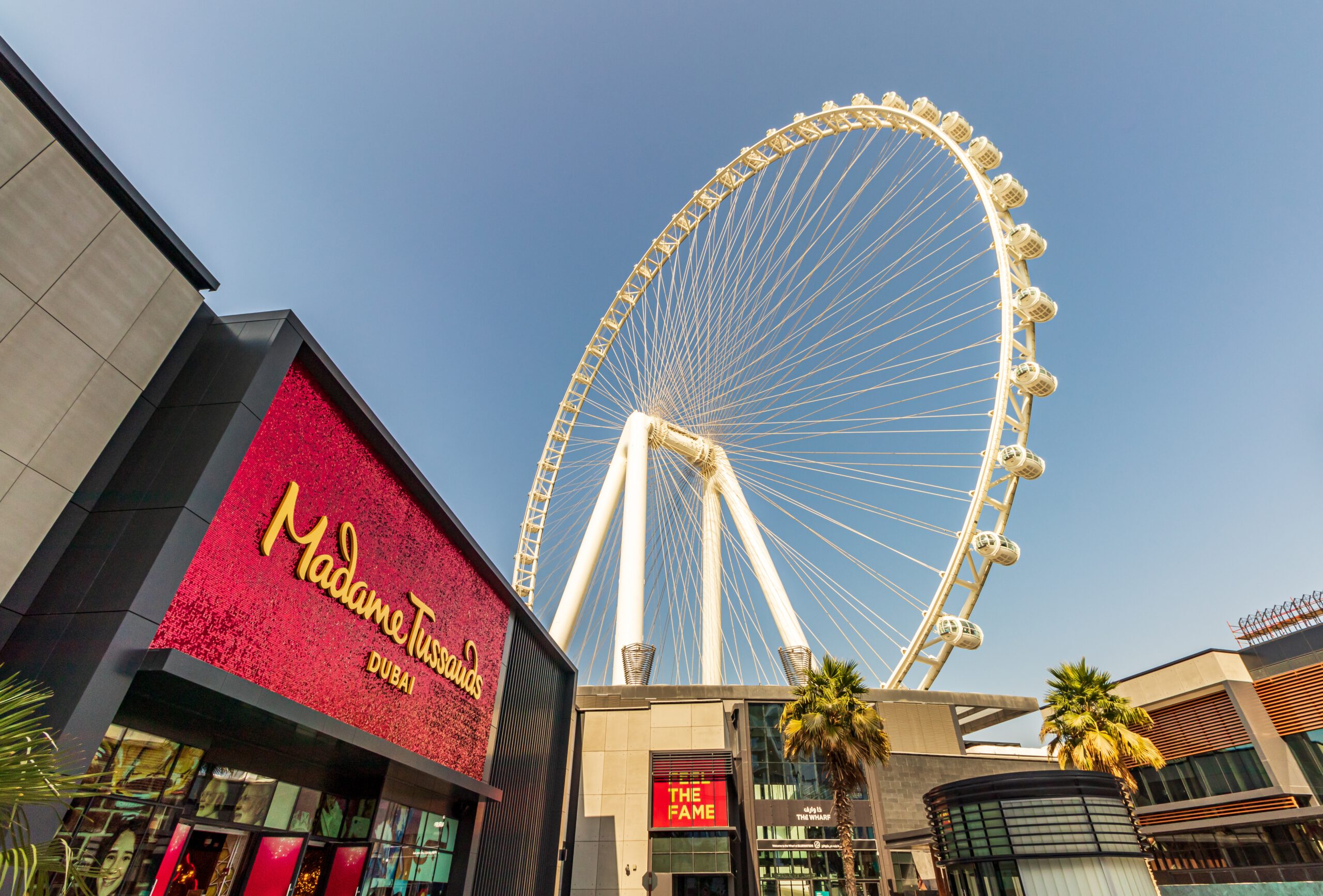 FAQs
Is Madame Tussauds Dubai suitable for children?
Yes, Madame Tussauds is a family-friendly attraction that offers an engaging experience for visitors of all ages. Strollers are allowed.
Is there a dress code for Madame Tussauds Dubai?
There is no specific dress code for the museum; however, no beachwear is allowed.
Are food and beverages allowed at the museum?
No, but you can visit numerous dining options in the surrounding Bluewaters Island area before or after your visit.
Prepare for your Dubai trip
Did you find this post helpful? Then click that little heart below and share it with your friends and family. Have fun in Dubai!