The Dubai Mall is the world's largest shopping destination by land area and the biggest mall in Dubai. A place where luxury meets leisure and shopping meets entertainment. The Dubai Mall is not just a shopping centre, it's a small city unto itself. It is buzzing with life and activity, where every corner you turn unveils a new surprise. With over 1,200 shops and stores to explore and a plethora of entertainment options, it's no wonder the Dubai Mall attracts over 100 million visitors each year. It is more than the combined number of people annually going to see the Great Pyramids of Giza and Niagara Falls. Just imagine that!
The Dubai Mall is located in the heart of the prestigious Downtown Dubai, next to the iconic Dubai Fountain and Burj Khalifa. The largest mall in Dubai is great to visit in any season and on any occasion. You can shop till you drop, savour the best meals, skate, marvel at sea creatures, go karting, enjoy a relaxing massage or a game of tennis. I just love the Dubai Mall and in this article I will tell you all you need to know about the Dubai Mall shops, restaurants, hotels and the best things to do. If you are looking for the best shopping mall in Dubai, this is your destination.
What is the Dubai Mall
The Dubai Mall is not just any other shopping centre, it's the epitome of a shopping extravaganza. It's a place where the world's leading brands and retailers showcase their finest for discerning shoppers. It's where the fashion-forward, tech enthusiasts, home decorators, book lovers and food connoisseurs all come together. But more than that, it's a hub for entertainment and leisure activities. The Dubai Mall is indeed a place that offers something for everyone.
With a total internal floor area of 1,124 million square metres, the Dubai Mall has a total retail floor area of more than 500,000 square metres, making it the world's largest and most-visited retail and entertainment destination.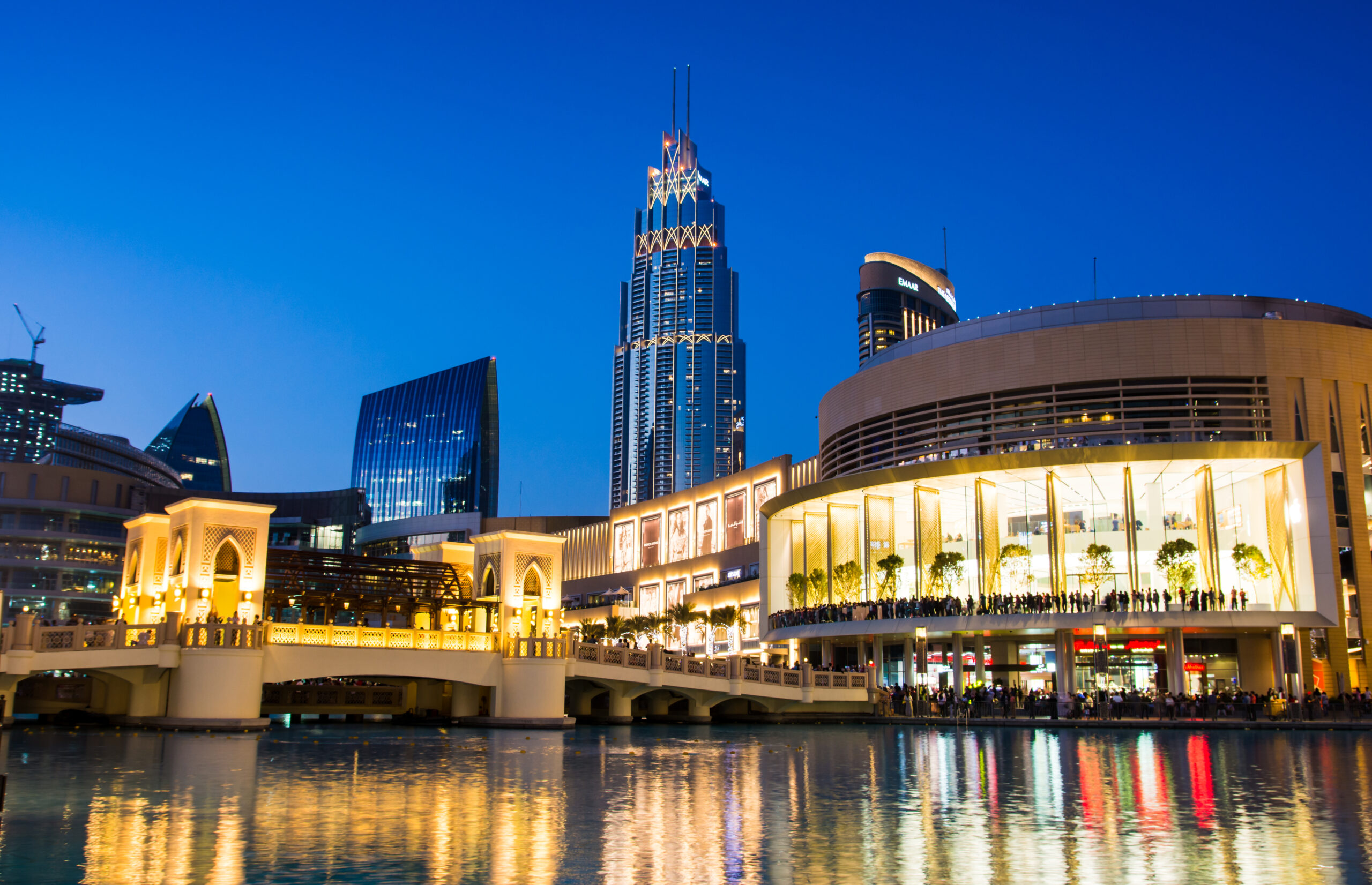 Main mall sections
The Dubai Mall is divided into several sections, each with its unique theme and appeal.
The avant-garde Fashion Avenue is an haute couture destination dedicated to high fashion.
The Souk is an elegantly designed area featuring jewellery shops, accessory outlets, traditional Arab clothing and handicraft stores and several other regional merchandisers.
The Village offers a rich collection of denim brands and brings an outdoor community feel with tree-lined walkways, cafes and restaurants.
The Chinatown is a new section inside the Dubai Mall, where you can experience Chinese architecture and cuisine. This area is still under development but it gradually fills up with new shops and restaurants where the aroma of freshly cooked food will tantalise your senses.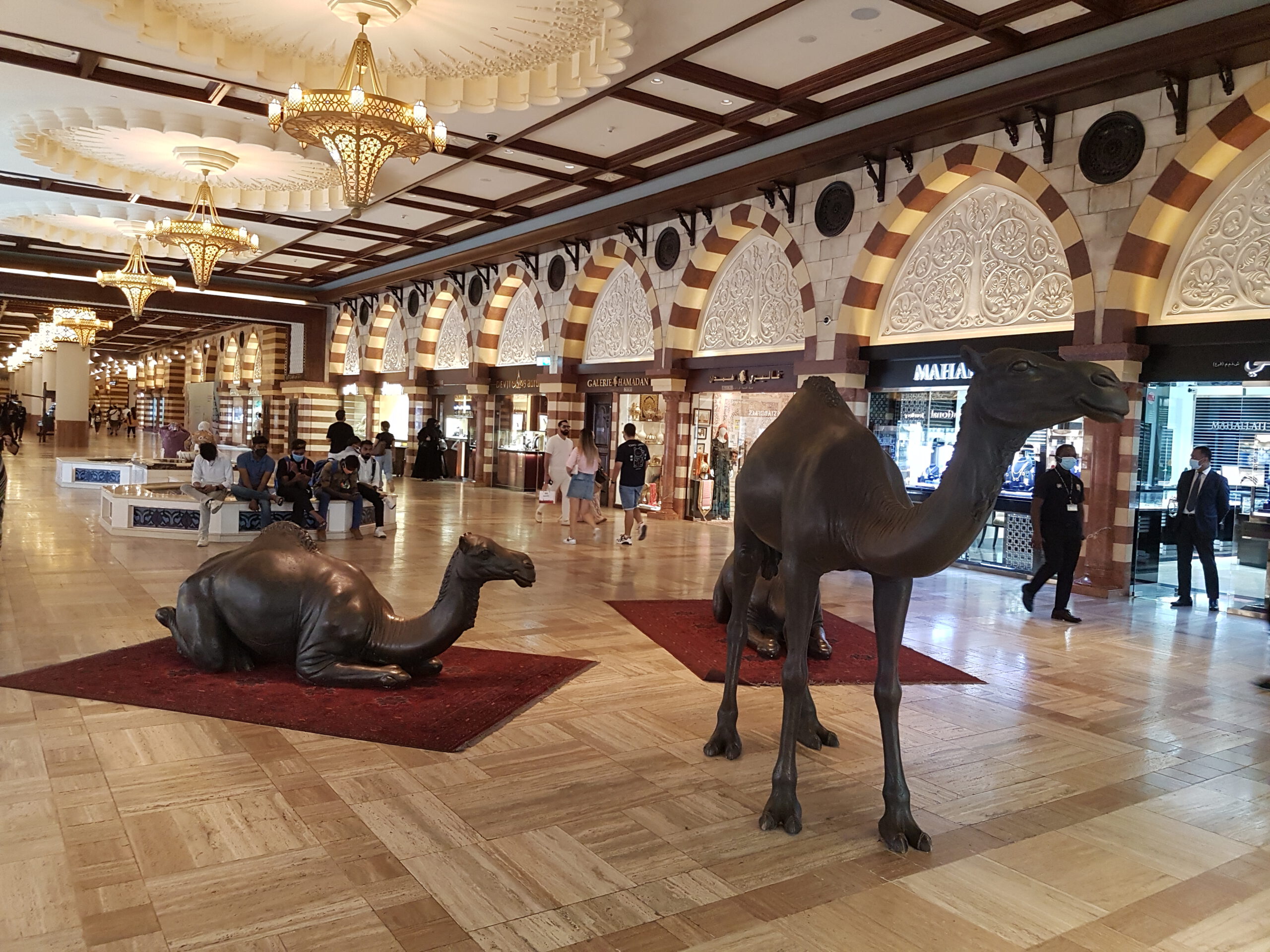 What is a shopping experience like at the Dubai Mall
Shopping at the Dubai Mall is an unforgettable experience. It's where you can find the world's leading fashion brands at Fashion Avenue, buy high-end electronics from dedicated brand stores or shop for exquisite pieces of jewellery. The biggest mall in Dubai also houses several large department stores, such as Galeries Lafayette and Bloomingdale's, that carry a vast selection of goods including clothing, electronics, home furnishings and much more.
Have Fun Dubai's Tip: On the other hand, due to the number of retail venues, shopping at the Dubai Mall can sometimes be overwhelming, especially during the holiday or sales season. Not to rush things, plan at least 2-3 hours for your visit. If you also want to experience entertainment, you can easily spend the entire day. To avoid crowds, come directly after the opening, the first couple of hours are always the most relaxing.
Keep in mind that the Dubai Mall is not cheap, with prices being generally higher than in Europe or North America.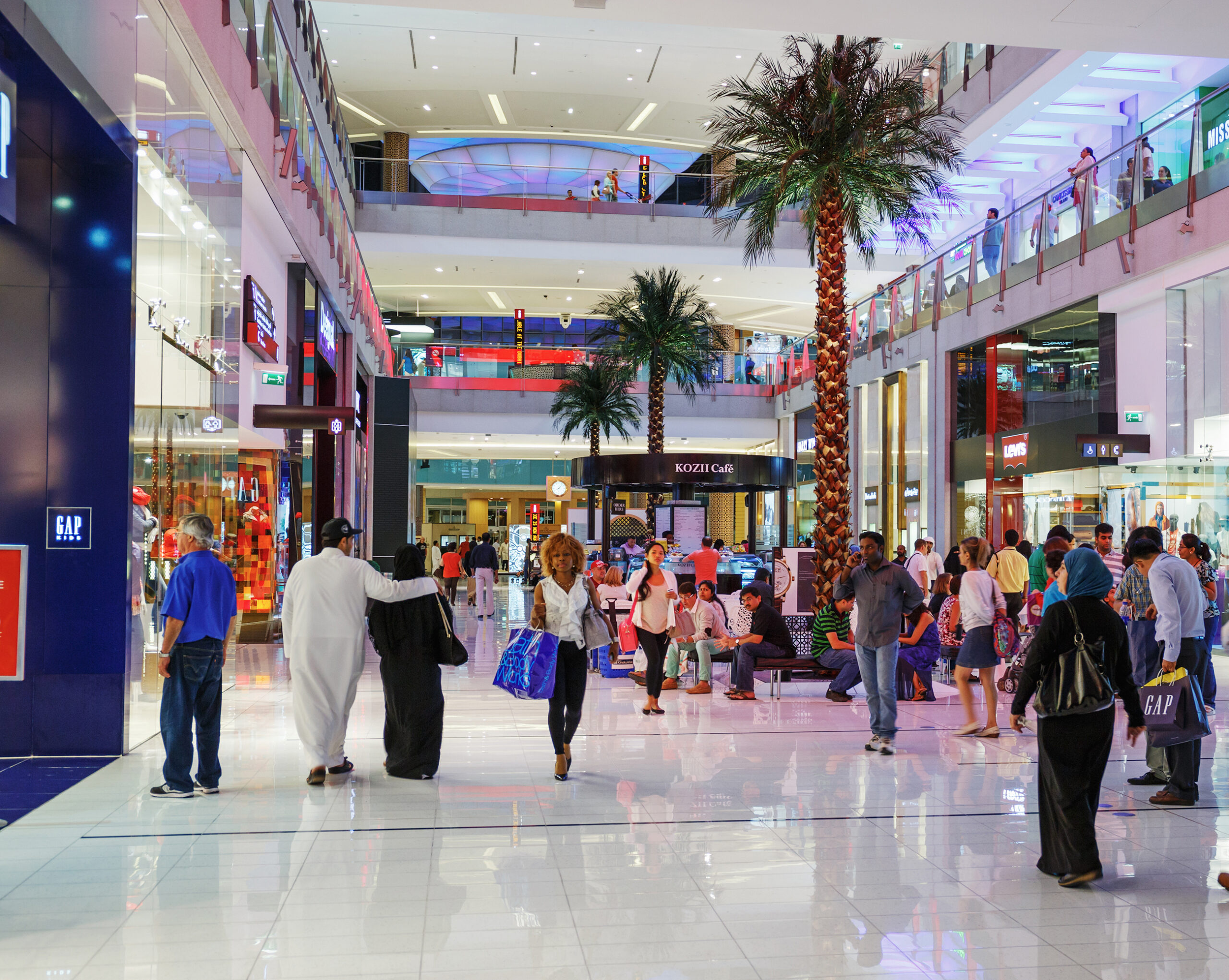 Dubai Mall shops and stores
The Dubai Mall is home to more than 1,200 shops and stores that cater to a diverse spectrum of tastes and budgets. For the fashion-forward, there are over 200 luxury fashion brands at Fashion Avenue, including iconic brands like Chanel, Louis Vuitton, Prada and many more. Tech enthusiasts will find leading electronics brands represented in the mall, offering everything from the latest smartphones to advanced home entertainment systems.
Clothing and fashion shops
When it comes to clothing and fashion, the Dubai Mall is a paradise. From high-street to high-end, the mall has something for every fashion enthusiast. The mall's Fashion Avenue is home to over 200 luxury fashion houses, including the likes of Versace, Gucci, Burberry and more.
Here are some of the popular Dubai Mall store brands:
Womenswear: Alexander McQueen, Guess, Victoria's Secret, H&M, Intimissimi, Longchamp, Michael Kors, Loewe, Burberry, Bulgari, Celine, Chanel, Dior, Christian Louboutin, Givenchy, Fendi, Furla, MaxMara, Prada, Mango, Oakley, Replay
Menswear: Diesel, Calvin Klein, Boss, Lacoste, Levi's, Polo Ralph Lauren, Pierre Cardin, Scotch & Soda, Superdry, Ted Baker, Tommy Hilfiger, Balmain, Massimo Dutti, Dolce & Gabbana, Emporio Armani
Footwear: Puma, Geox, Jimmy Choo, Skechers, Adidas, Nike, Vincci, Ecco, Clarks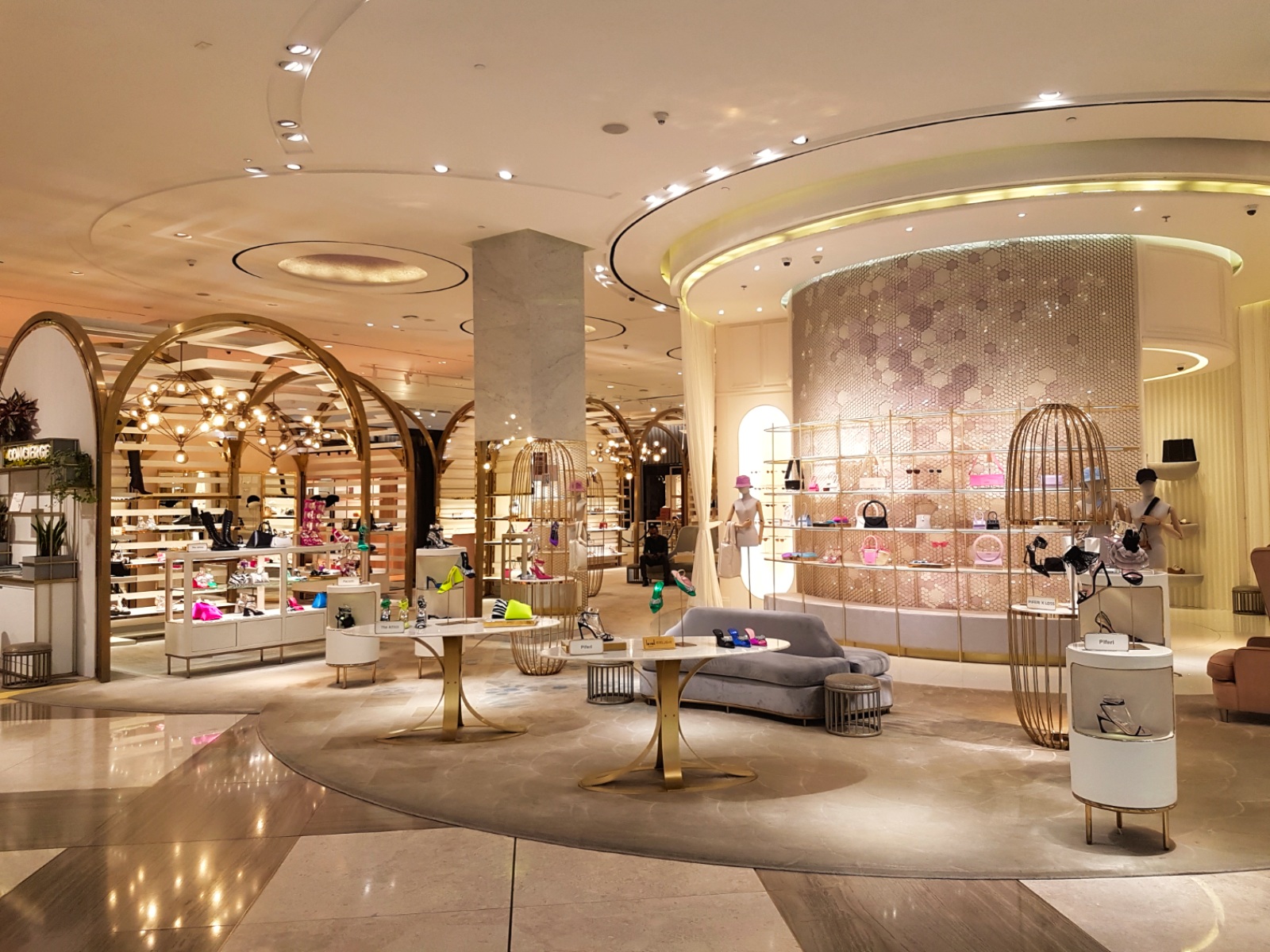 Electronics shops
For those who are into the latest gadgets and high-tech devices, there are plenty of Dubai Mall electronics shops. From Apple, Samsung, Bose and Sony to E Max and SharafDG, you can find dedicated brand stores offering the latest in smartphone technology, audio-visual equipment, home appliances and more.
Perfumes and cosmetics
The Dubai Mall is also home to an extensive range of perfumes and cosmetics stores. From high-end beauty brands like MAC, Dior and Chanel to popular perfume brands such as Jo Malone, Tom Ford, Clinique and Sephora, you can find it all under one roof.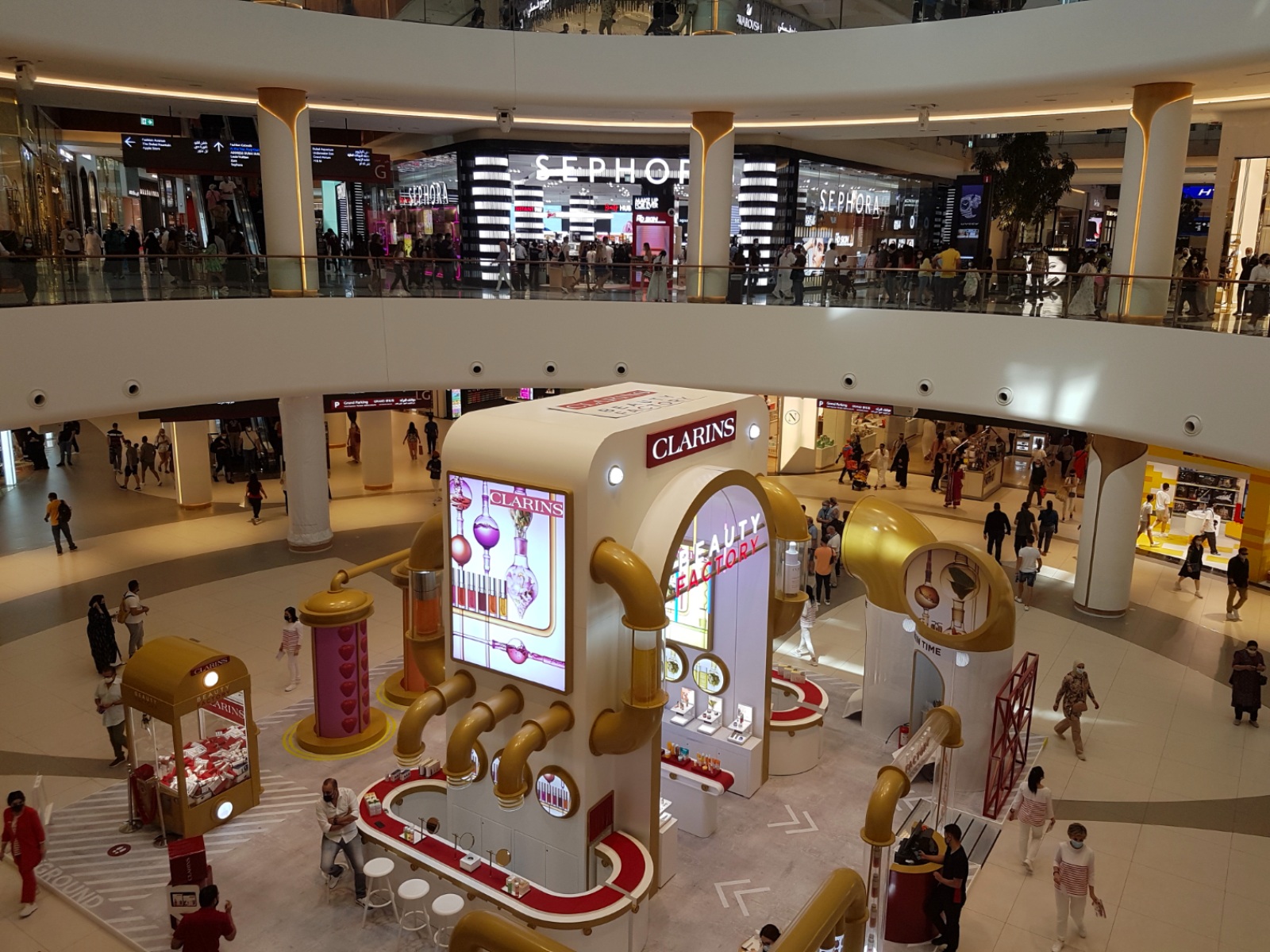 Jewellery and watches
If you're in the market for some bling, the Dubai Mall has got you covered. The mall is home to a number of world-renowned jewellery and watch retailers, including Rolex, Cartier, Tiffany & Co., Bulgari and many more.
Pharmacies
In addition to all the shopping, the Dubai Mall also houses many pharmacies like Boots and BinSina for all your health and wellness needs.
Supermarkets
Unfortunately, there is no Carrefour at the Dubai Mall. For your everyday essentials, you can visit the Waitrose supermarket that offers a wide range of groceries, fresh produce, baked goods and more. Alternatively, try All Day Minimart or Grandiose Supermarket on the second floor of the Dubai Mall Zabeel extension.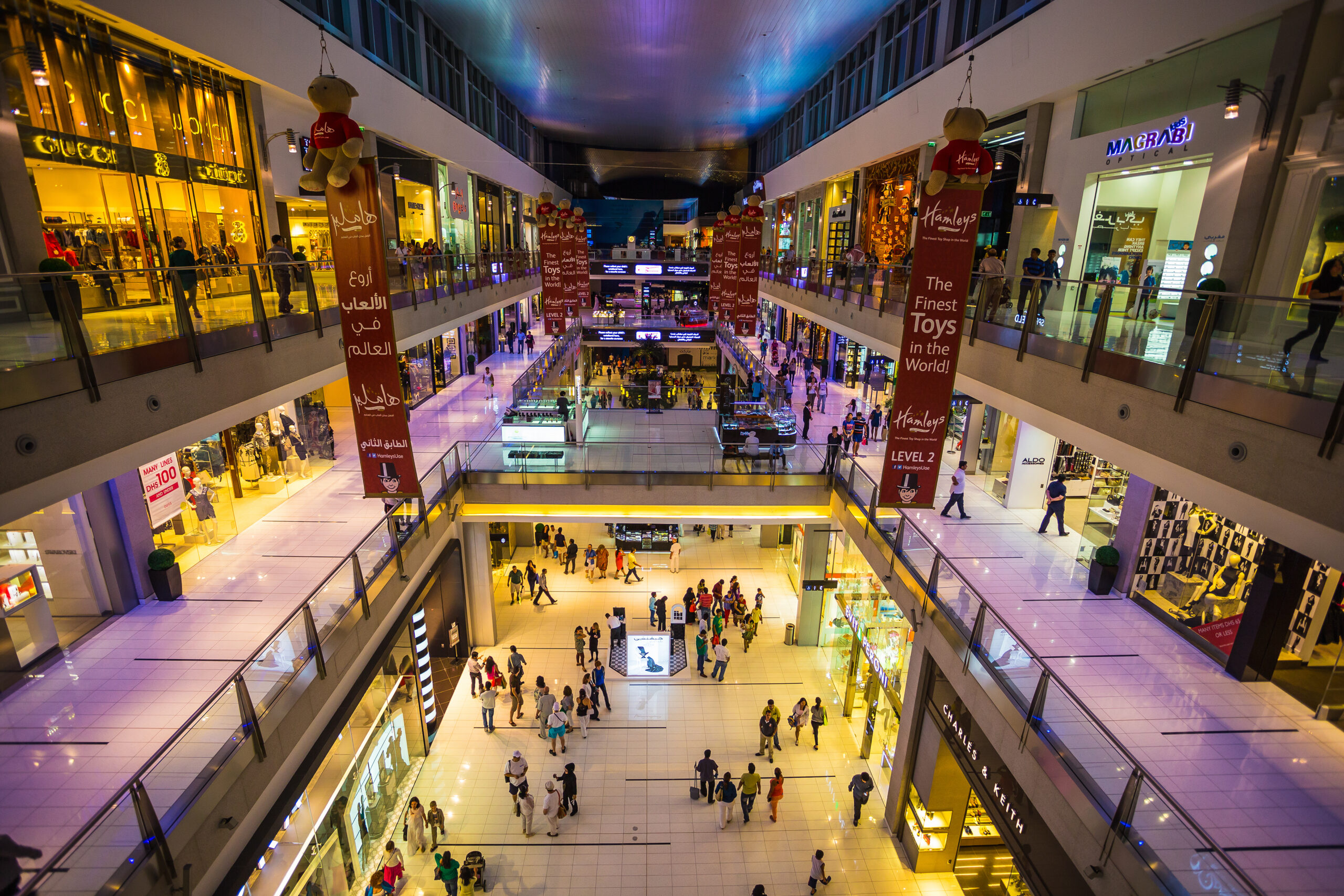 Dubai Mall sale seasons
Sale seasons in the Dubai Mall are very popular. During these times, the mall is bustling with shoppers looking to snag a bargain on everything from designer fashion to high-end electronics. The Dubai Shopping Festival in winter and Dubai Summer Surprises are two of the most popular sale events that draw crowds from all over the world.
You can get discounts up to 80%, but keep in mind that the original prices are higher than in Europe or North America.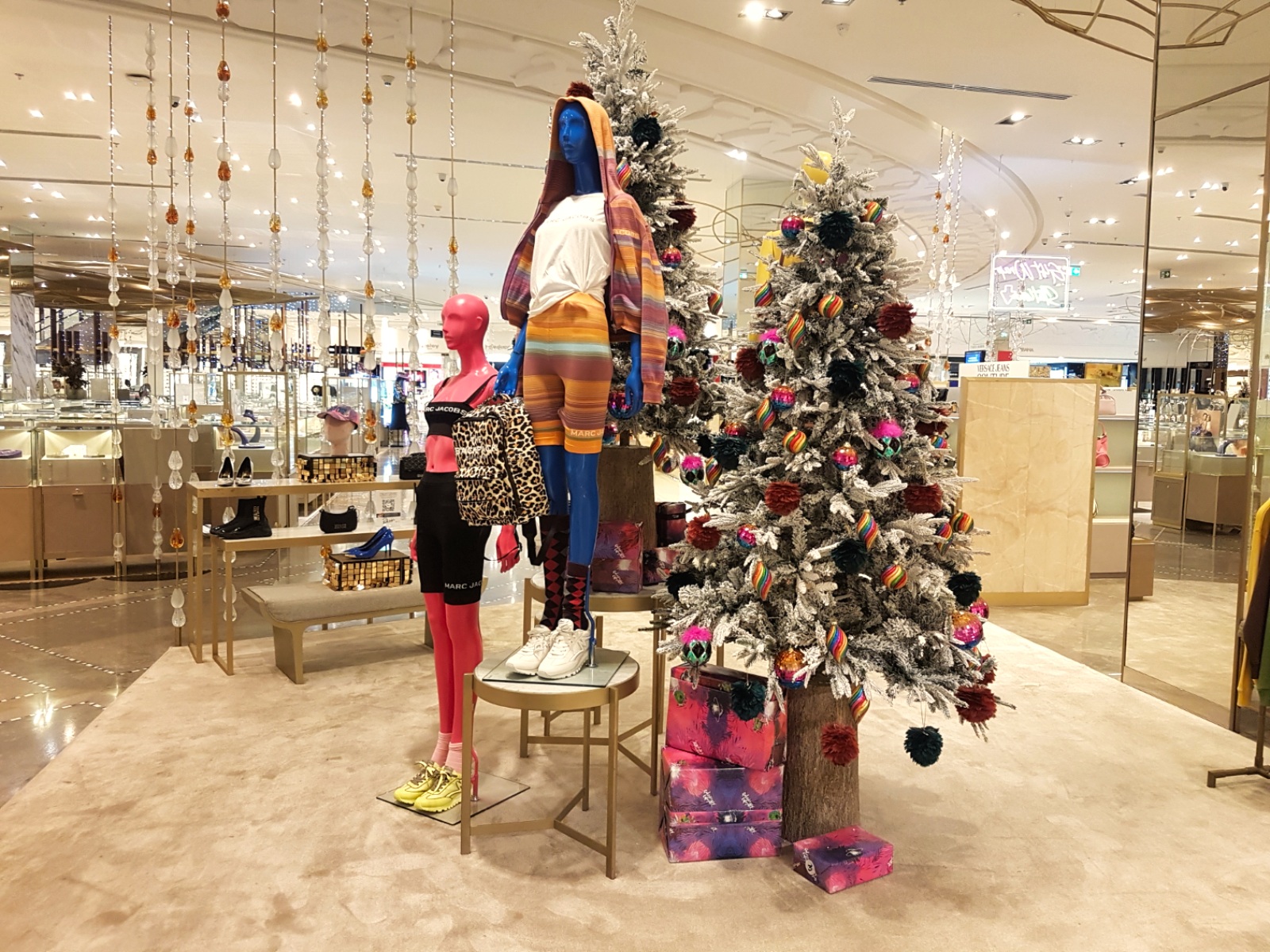 Dubai Mall entertainment and things to do
The Dubai Mall is not just about shopping, it's an entire world of entertainment. The range of Dubai Mall things to do and activities is simply staggering. From a full-size ice rink to a mesmerising fountain and waterfall, the mall ensures that there's never a dull moment. I visited many entertainment venues in the Dubai Mall and I will tell you more about them below. I can assure you that you are guaranteed a day of fun!
Dubai Aquarium and Underwater Zoo
One of the key highlights of the Dubai Mall is the Dubai Aquarium and Underwater Zoo. Home to over 33,000 aquatic animals, and featuring the world's largest acrylic panel, the aquarium offers an immersive experience of the deep sea and its diverse inhabitants.
The Dubai Mall Aquarium is a must-visit. Walk through the 48-metre-long tunnel, and you'll feel like you're in the ocean, surrounded by 270-degree views of marine life. The Underwater Zoo, located on the level above the aquarium, houses fascinating creatures from all over the world. It's a great place for both adults and children to learn and have fun.
Book your Dubai Aquarium and Underwater Zoo tickets here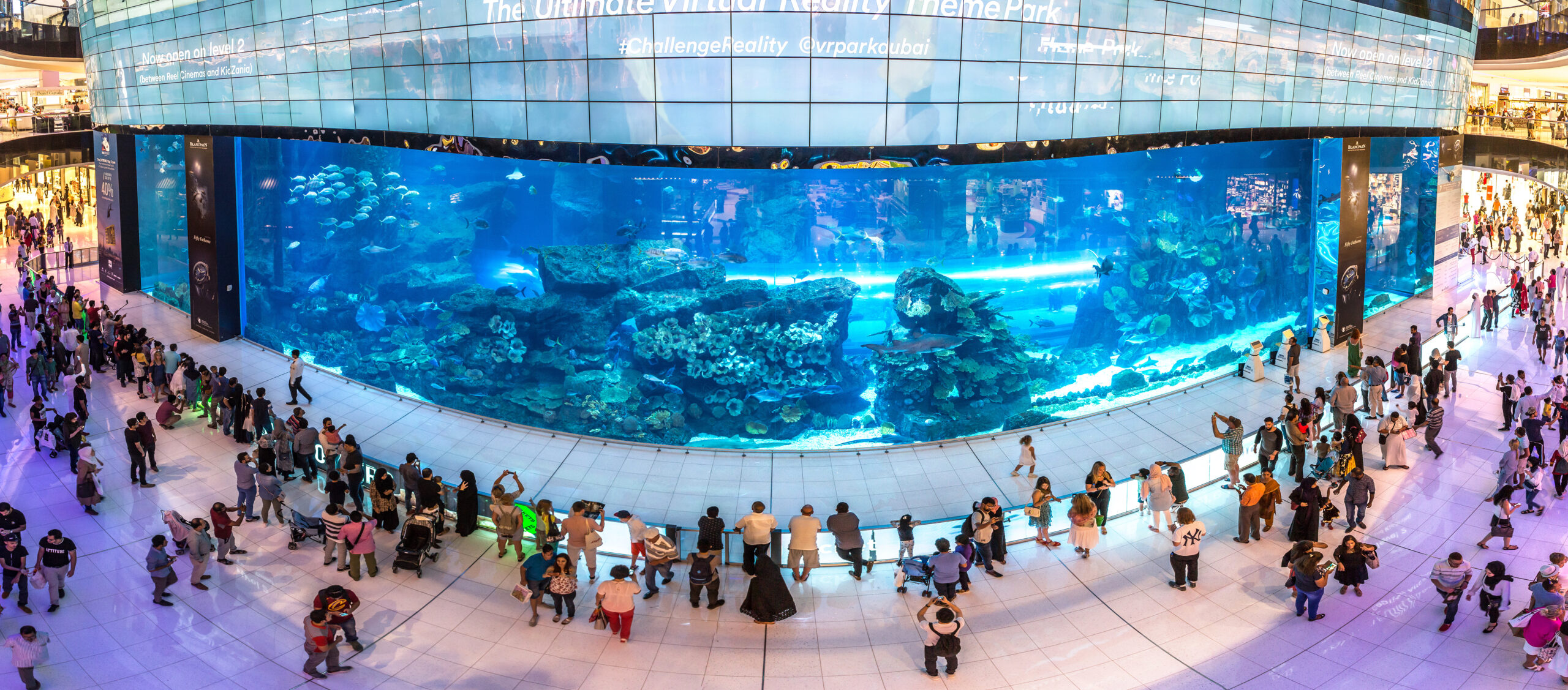 Dubai Ice Rink
The Dubai Ice Rink is another fabulous attraction in the Dubai Mall. Whether you're a seasoned skater or a novice, the ice rink offers a fun and exciting experience for all.
This Olympic-size ice rink offers a variety of activities, from public skating sessions to disco nights. You can even take ice skating lessons if you're new to it. So, whether you're a pro or a beginner, the Dubai Mall ice rink is sure to offer a fun and chilling experience from the outside heat.
Book your Dubai Ice Rink tickets here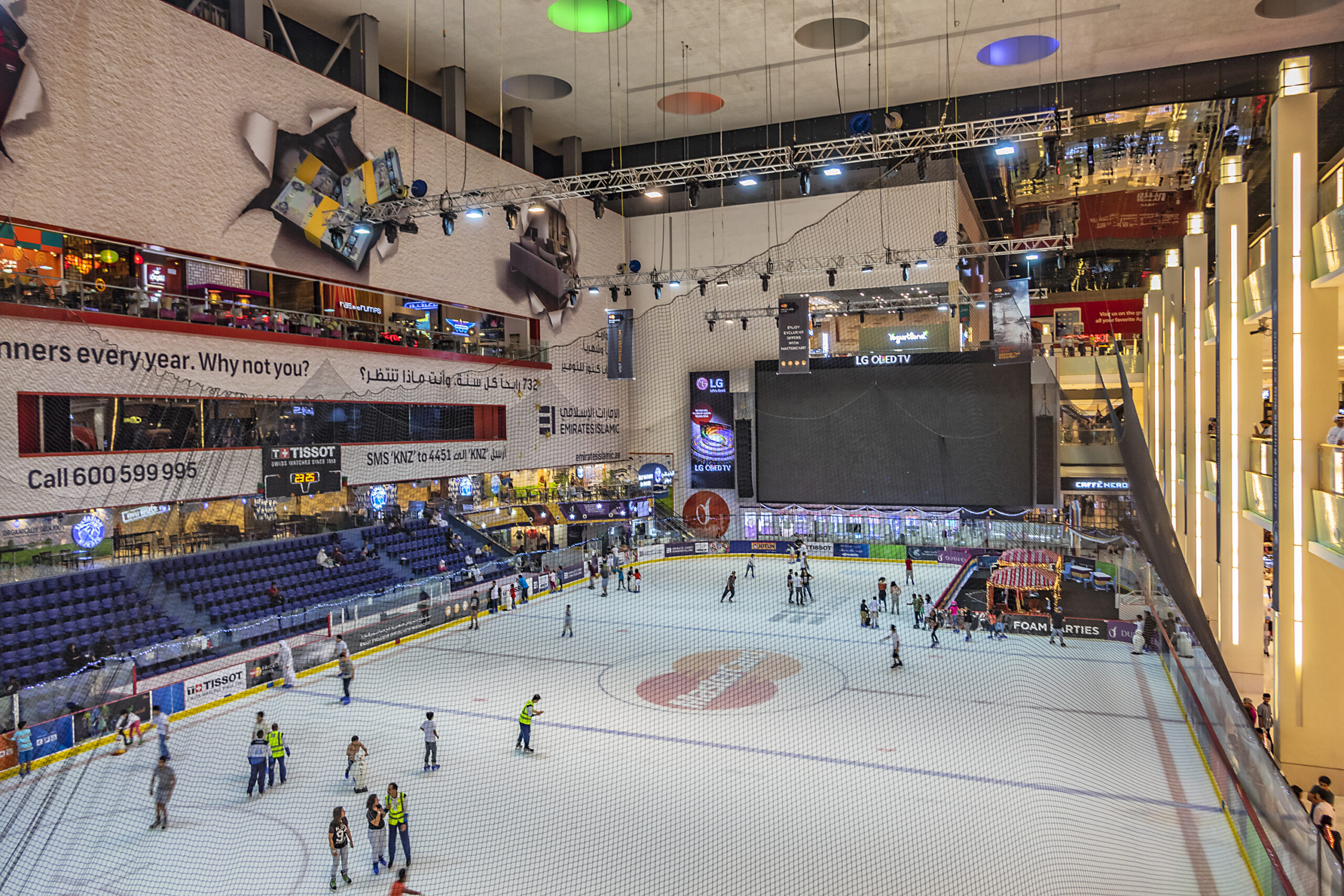 Dubai Mall Fountain
When it comes to the Dubai Mall Fountain, think of it as an aquatic dance. This mesmerising spectacle is the world's largest choreographed fountain system, with water shooting up as high as 150 metres! Set to music and illuminated by 6,600 lights, the performance is nothing short of magical. It's definitely one of the best Dubai Mall attractions you shouldn't miss.
The Dubai Fountain shows start every 30 minutes from 18:00 to 23:00, and watching it from the promenade or one of the restaurants is a great way to wrap up your shopping day. The show is free, but you can also buy tickets to the Boardwalk to watch it close by or take a lake ride in a traditional abra boat. This is truly magical!
Location: Lower ground floor (outside)
Book your Dubai Fountain boat ride tickets here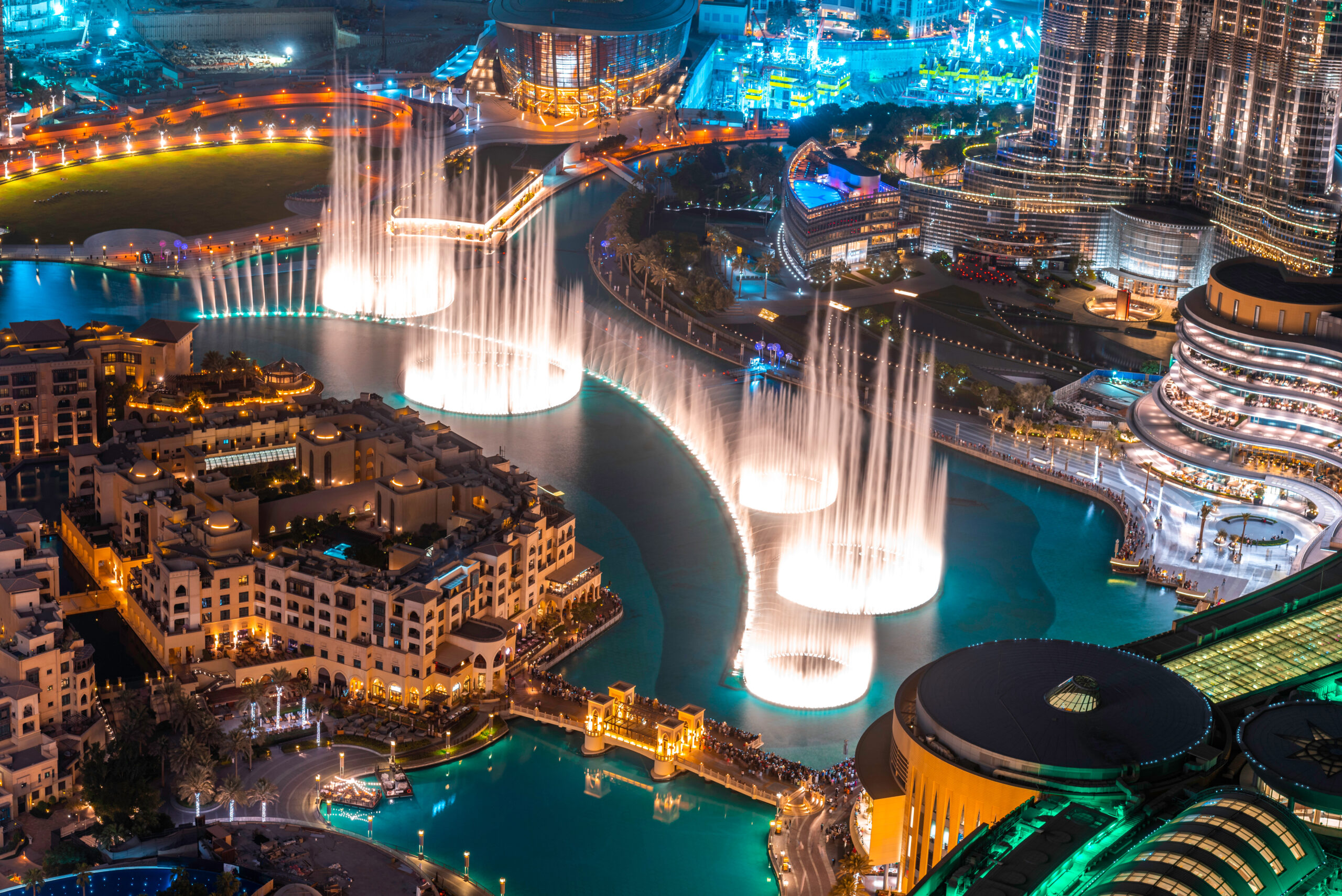 Dubai Mall Waterfall
The Dubai Mall Waterfall is another visual treat. Spanning all four levels of the mall, this indoor waterfall is a marvellous piece of art. The sculpture of human divers made of fibreglass is a tribute to Dubai's history and it adds a unique touch to the cascading water. It's a great spot for photos, so don't forget to snap a few!
The Pearl Divers waterfall at the Dubai Mall is free to visit!
Location: Ground floor and above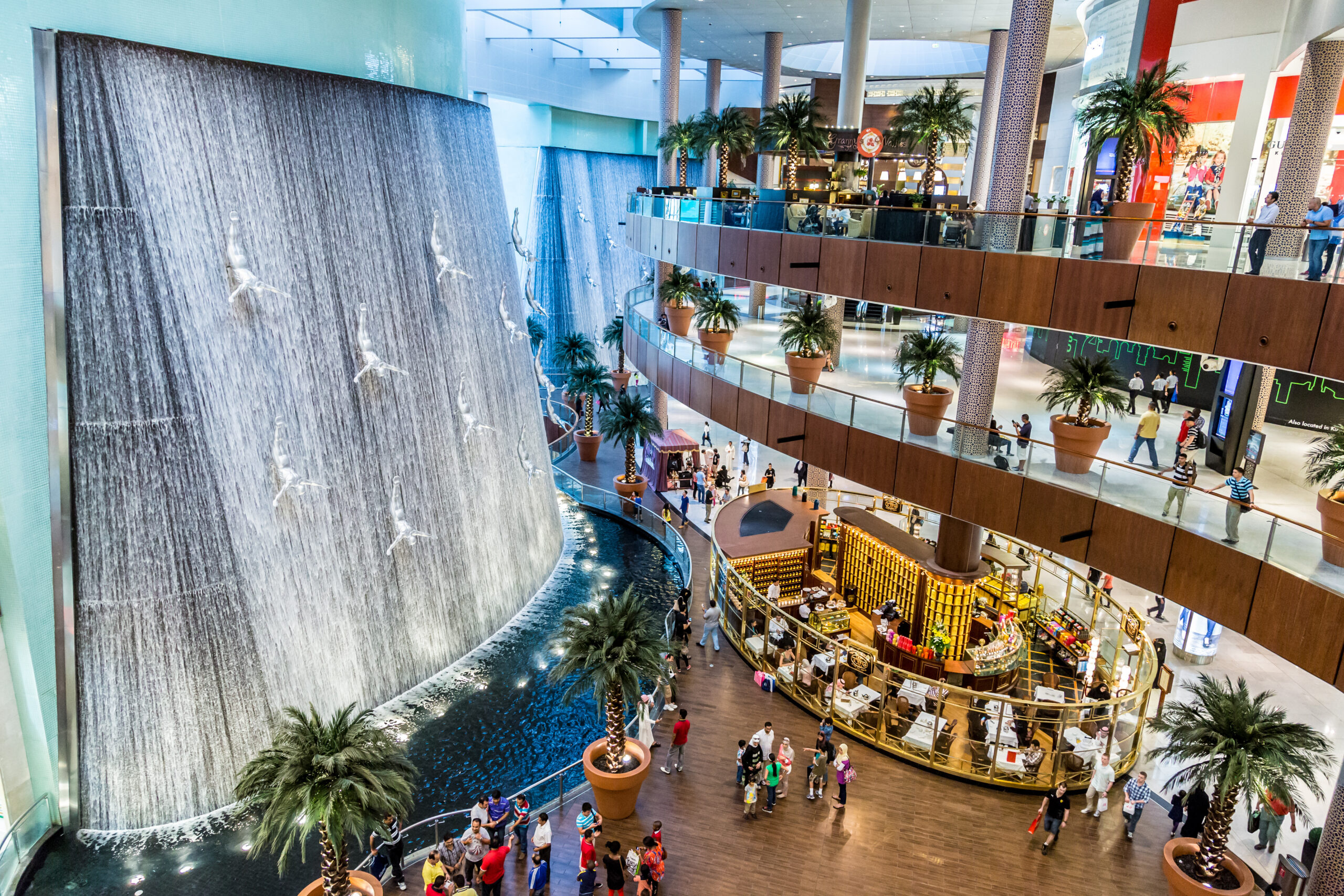 KidZania Dubai
Dubai Mall KidZania is a miniature city where children can role-play various professions. From being a firefighter to a chef, kids can choose from over 80 different roles. It's a fun and educational experience that your little ones will surely love.
You can leave your child with trusted caretakers for a couple of hours and enjoy shopping. It's gonna be a win-win for you both!
Book your Dubai Kidzania tickets here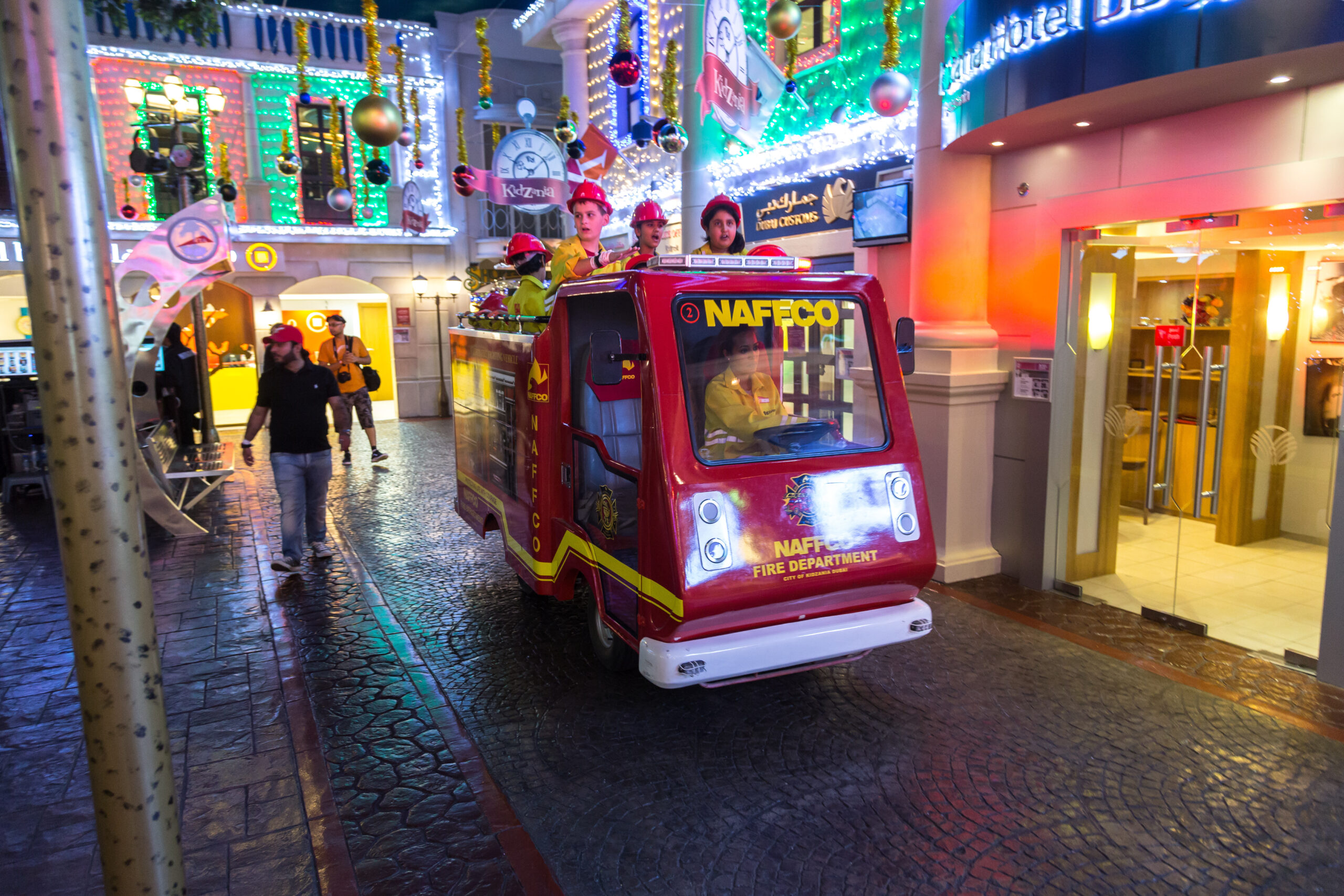 Dubai Mall Dino
The Dubai Mall Dino on the ground floor is a sight to behold. And you can watch it for free! This enormous dinosaur skeleton, aptly named Dubai Dino, is an impressive 155 million years old! It's the perfect attraction for anyone fascinated by prehistoric creatures.
Is Dubai Mall Dino real? Absolutely, the skeleton was found in 2008 at the Dana Quarry in Wyoming, USA and it was transported to Dubai.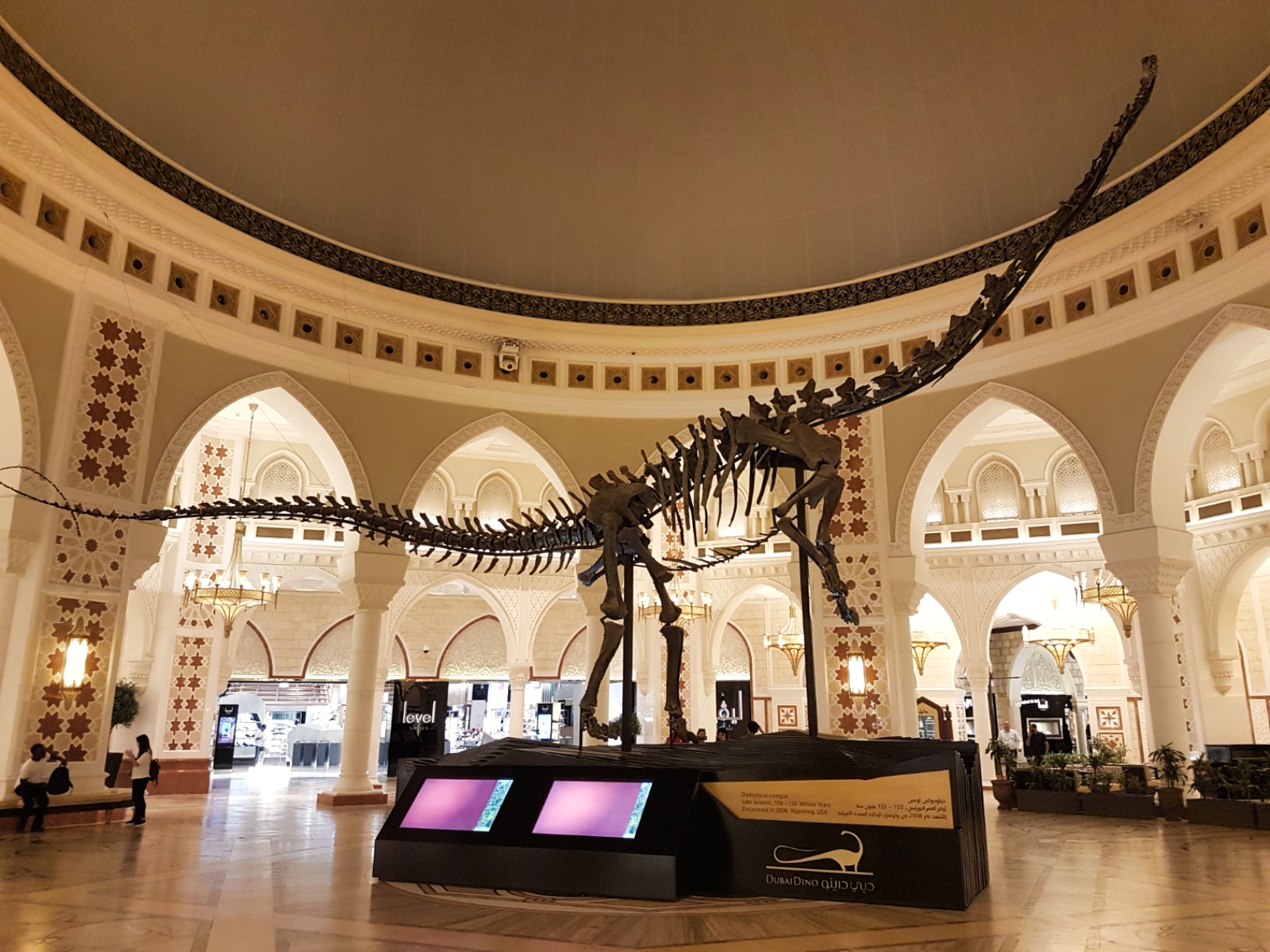 Reel Cinemas
Fancy catching a movie after a long day of shopping? Head to the Reel Cinemas, the Dubai Mall cinema that offers a luxurious movie-watching experience. With its state-of-the-art screens and comfortable seating, it's the perfect place to unwind.
PlayDXB
PlayDXB, previously known as VR Park, is the ultimate gaming zone in the Dubai Mall. With its extensive selection of arcade games, virtual reality experiences and more, it's a paradise for gamers. In my opinion, it is more suitable for kids, but adults can enjoy it too.
Book your PlayDXB Dubai tickets here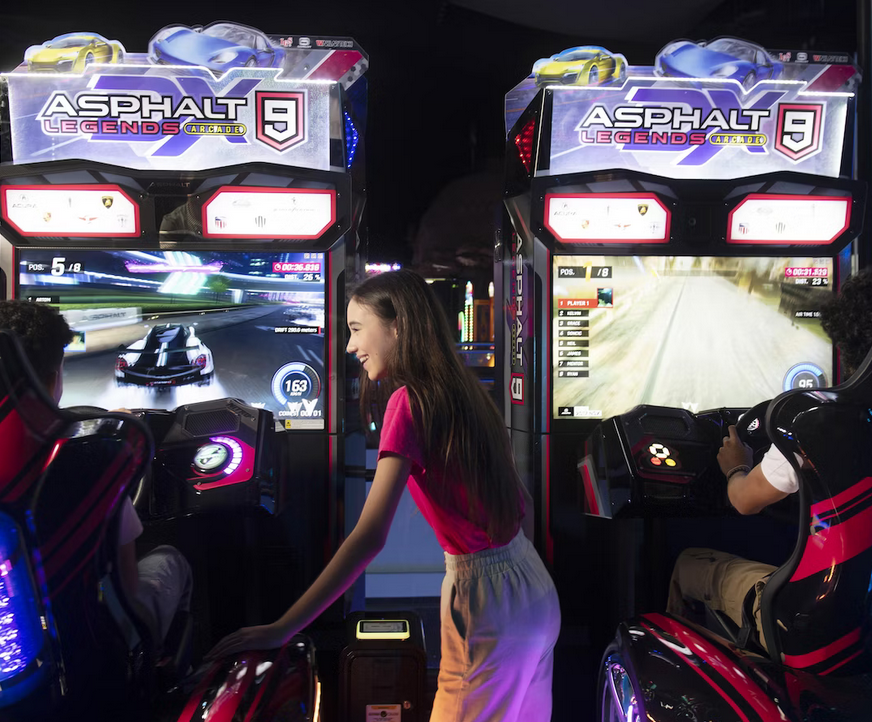 Trampo Extreme
Trampo Extreme Dubai is a fun-filled indoor trampoline park. Whether you want to bounce around or practise your flips, this place guarantees a good time.
Book your Trampo Extreme Dubai tickets here
Hysteria
For those who love a good scare, Hysteria is a haunted house experience that is sure to send chills down your spine.
Zabeel Sports District
Located on the roof of the Dubai Mall Zabeel (an extension of the main shopping centre), the Zabeel Sports District with beautiful Burj Khalifa views is a multi-purpose facility that offers a variety of sports activities. From basketball to cricket, there's something for every sports enthusiast.
Location: Lower ground floor
Find out more and book slots on the official Zabeel Sports District website
Ekart Zabeel
Ekart Zabeel is the first electric karting track in the UAE. It offers an exhilarating racing experience for both beginners and experienced drivers. Ekart Zabeel go-karting track is also located inside the Dubai Mall Zabeel, which is an extension of the main shopping centre.
Book your Ekart Zabeel tickets here
Luxury cars spotting
Are you a fan of supercars or exotic cars spotting? One of the unique experiences at the Dubai Mall is luxury car watching. It's a real hotspot!
The mall's parking lot often showcases some of the world's most expensive cars. It's not uncommon to spot a Ferrari, Bugatti, Lamborghini, Bentley, Porsche or Rolls Royce while strolling around. Go to one of the valet parking places, for example, next to the Dubai Mall's main entrance on Financial Center Road.
Dubai Mall restaurants and food court
The Dubai Mall is also a food lover's paradise. With a massive food court offering a variety of cuisines, and numerous restaurants and cafes, the mall caters to every palate. From local Arabic delicacies to international favourites, the Dubai Mall restaurants offer something for everyone.
Here is a list of some of the popular restaurants and cafes in the Dubai Mall:
Restaurants: Joe's Cafe, Social House, Eataly, Texas de Brazil, PF Chang's, Hurricane Grill. Gia, OFK
Fast food restaurants: McDonald's, KFC, Shake Shack, Five Guys, Subway
Coffee and tea places: Starbucks, Costa Coffee, Tim Hortons, Caribou Coffee, %Arabica, Coffee Club, TWG
Bakeries and cake shops: Magnolia Bakery, Ladurée, Hummingbird Bakery, Home Bakery, Hafiz Mustafa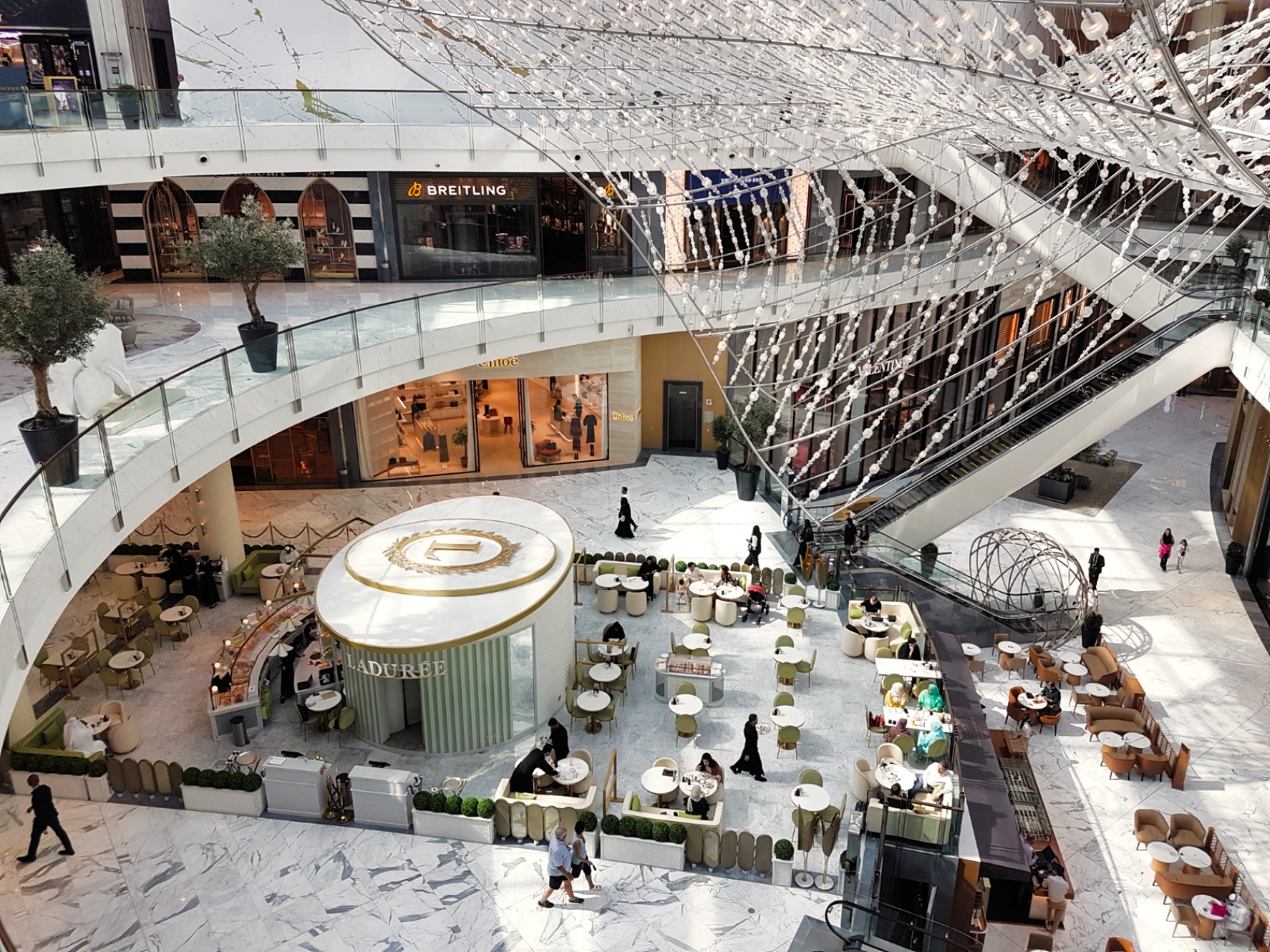 Best hotels near the Dubai Mall: stay close to the action
For those who want to stay close to the action, there are several hotels near the Dubai Mall. Downtown Dubai is one of the best areas to stay for tourists due to its proximity to the public transport system and famous Dubai landmarks, as well as a direct metro link to Dubai International Airport (DXB).
Here is a list of my favourites:
Check out all hotels around the Dubai Mall here
Other attractions and things to do nearby
Around the Dubai Mall, there are plenty of other best Dubai attractions which you can combine with your shopping experience.
Burj Khalifa: The tallest building in the world majestically rises above the desert at a height of 828 metres and makes all other Dubai buildings look like dwarfs. Visiting Burj Khalifa observation decks is a must-do activity in Dubai, and you can conveniently access them directly from the Dubai Mall. Book your Burj Khalifa tickets here
Sky Views Dubai: Directly connected to the metro station and the Dubai Mall via a footbridge, the famous Dubai Sky Views observation deck offers a fantastic Burj Khalifa panorama, the Glass Slide, made entirely of glass, and the Edge Walk outdoor experience that will make your heart race faster. Book your Dubai Sky Views tickets here
Dubai Opera: The Dubai Opera with a dhow-shaped modern design is a concert venue where you can see world-known artists in action. Book your Dubai Opera tour here
Souk Al Bahar: Adjacent to the Dubai Mall, Souk Al Bahar is a modern market where you can buy textiles, carpets, lamps and souvenirs. Furthermore, it offers plenty of dining venues with amazing Burj Khalifa and Dubai Fountain views.
Timings
Dubai Mall opening hours: 10:00 to 23:00 from Monday to Thursday and 10:00 to 00:00 from Friday to Sunday (shops), 10:00 to 00:00 from Monday to Thursday and 10:00 to 01:00 from Friday to Sunday (restaurants), 10:00 to 02:00 daily (waterfront restaurants)
Location
Dubai Mall address: Downtown Dubai, Dubai, United Arab Emirates
How to get to the Dubai Mall
The Dubai Mall is easily reachable, thanks to Dubai's efficient public transportation system.
By metro: Take the Dubai Metro to the Burj Khalifa/Dubai Mall station (red line), then walk via a footbridge to the Dubai Mall
By bus: Take the bus to the Dubai Mall or The Palace Hotel bus stops
By taxi: Taxis and ride-sharing services such as RTA, Uber and Careem are available across Dubai
By car: Several free parkings available under the Dubai Mall, including the Grand Parking, Cinema Parking, Fashion Parking and Zabeel Parking
Is Dubai Mall and Mall of the Emirates the same
The Mall of the Emirates (often abbreviated to MOE) and the Dubai Mall are two different shopping centres in Dubai. The Mall of the Emirates is situated in the Al Barsha neighbourhood, while the Dubai Mall is located in Downtown Dubai, close to the renowned Burj Khalifa.
Though both offer a wide range of shopping, dining and entertainment opportunities, MOE is famous for Ski Dubai, an indoor ski resort, and a Carrefour Hypermarket. On the other hand, the Dubai Mall boasts the Dubai Aquarium and Underwater Zoo, an Olympic-sized ice-skating rink, a waterfall and a 155-million-year-old dinosaur skeleton.
Ultimately, it all comes down to personal preferences and priorities when choosing which to visit. Personally, I enjoy both malls, but the Dubai Mall stands out with its luxury brands, eateries and entertainment, due to its proximity to Burj Khalifa, the Dubai Fountain, Dubai Opera and Sky Views Observatory.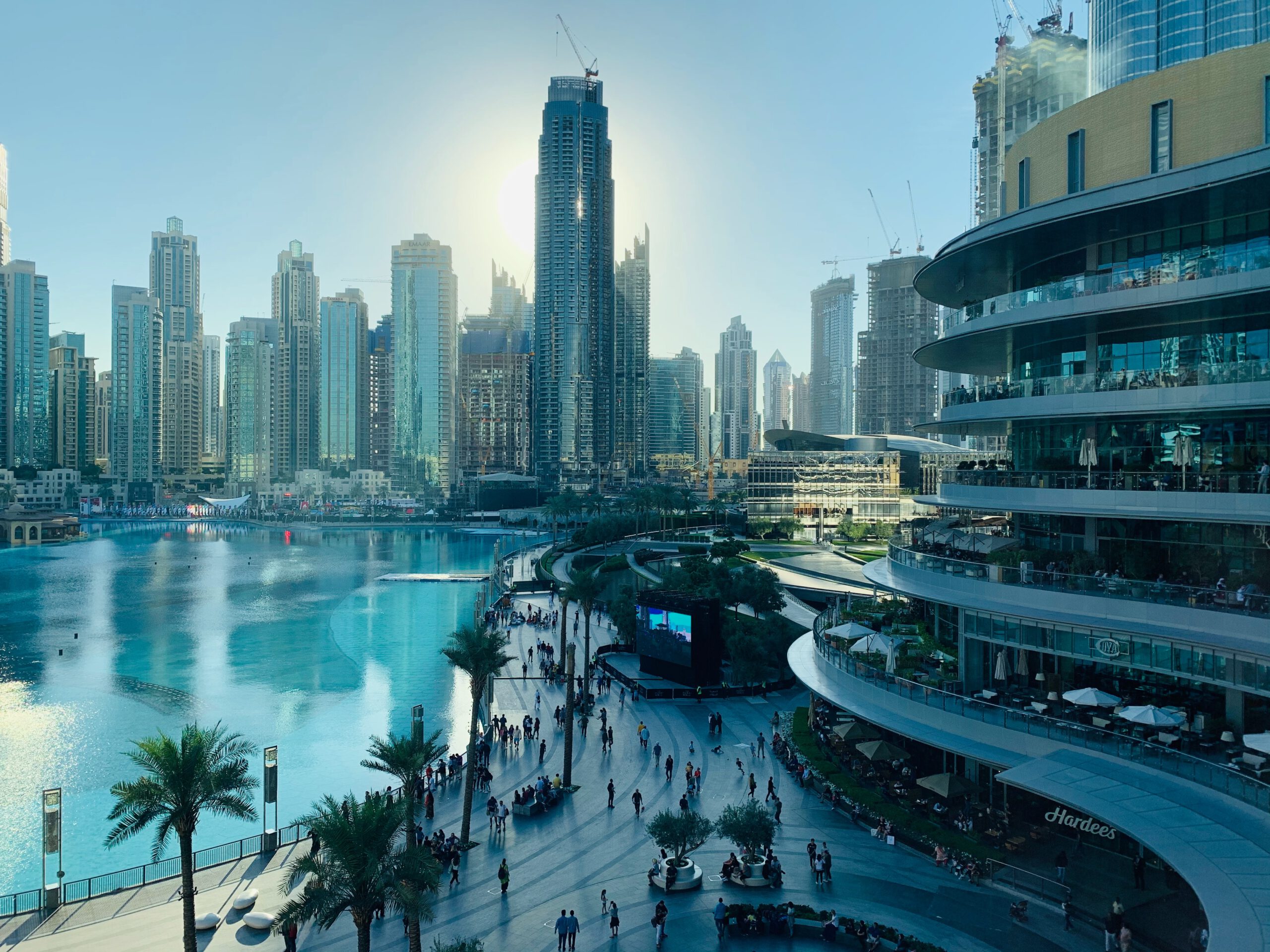 FAQs
Is the Dubai Mall the biggest mall in the world?
Yes, the Dubai Mall holds the title of being the biggest mall in the world by total area. It astounds locals and tourists alike with its sheer scale and variety of offerings. The mall houses an overwhelming 1,200 stores, from high-end designer boutiques to local artisan shops, guaranteeing an unrivalled shopping experience. With the Dubai Mall shops covering every possible retail category, you are sure to find what you're looking for and much more.
How big is the Dubai Mall?
To put it in perspective, the Dubai Mall spans a staggering 1,124 million square metres — that's the equivalent of more than 50 soccer fields! This mammoth mall is home to various attractions like the Dubai Mall Aquarium, Dubai Ice Rink and the Dubai Mall Fountain, which is the world's largest choreographed fountain system. Each corner of this vast mall offers a unique experience, making it a must-visit Dubai shopping destination.
What to do at the Dubai Mall?
The options are endless! Beyond shopping, you can explore the mesmerising Dubai Mall Aquarium, home to thousands of aquatic animals. If you're an adventure enthusiast, you'll love the Olympic-size Ice Rink. For a cinematic experience like no other, the Dubai Mall Reels Cinema is the place to be.
Indulge in a gastronomic journey at the Dubai Mall food court or dine in style at one of the many Dubai Mall restaurants. The biggest shopping centre in Dubai also hosts regular events and shows, such as the jaw-dropping spectacle at the Dubai Mall Fountain.
To put it short, no. However, with a plethora of stores encompassing various price ranges, the Dubai Mall caters to every budget. While it houses high-end designer boutiques, you can also find stores that offer more affordable fashion, electronics and more. Furthermore, the Dubai Mall sale periods are a great time to snag some fantastic deals.
Is Burj Khalifa near the Dubai Mall?
Yes, the iconic Burj Khalifa is just a stone's throw away from the Dubai Mall. In fact, the mall provides direct access to the Burj Khalifa and the Dubai Fountain. Imagine shopping with the world's tallest building as your backdrop — it's truly a unique experience!
Which hotels are close to the Dubai Mall?
Numerous luxe accommodations surround the Dubai Mall, making it a convenient shopping destination for tourists. Some popular Dubai Mall hotels include The Address Dubai Mall, Armani Hotel Dubai and the Palace Downtown Dubai. These hotels offer a seamless blend of comfort and luxury, complementing the extravagant Dubai Mall experience.
Is there a supermarket at the Dubai Mall?
Absolutely! The Dubai Mall houses a Waitrose supermarket, where you can find an extensive range of everyday essentials, gourmet foods and more. It's the perfect place to grab a quick snack or pick up some groceries.
Does the Dubai Mall have free Wi-Fi?
Yes, the Dubai Mall offers free Wi-Fi to all its visitors. So, whether you want to check the latest Dubai Mall shops list, post a selfie or stay connected with family and friends, you can do it all without worrying about data charges.
Is the Dubai Mall parking free?
The Dubai Mall provides free parking to all its visitors, with multiple car parks and over 14,000 parking spaces. So, you don't have to stress about parking fees and can enjoy your shopping spree without any worries.
Is the Dubai Mall and Mall of Dubai the same?
Yes, the Dubai Mall and Mall of Dubai refer to the same place. Do not mix it with the Mall of the Emirates (you can learn more about it above).
What should I wear at the Dubai Mall?
While Dubai is a cosmopolitan city, it's also respectful of its traditional values. When visiting the Dubai Mall, it's advisable to dress modestly. Avoid overly revealing clothing and ensure your knees and shoulders are covered. Read more about Dubai"s customs and traditions here.
Dubai Mall is more than just a shopping centre, it's a world of its own. With its wide array of entertainment, dining and shopping options, it's a destination that offers something for everyone. Whether you're a shopaholic, a foodie or an adventure seeker, you're sure to have an unforgettable experience at the largest mall in Dubai. So, on your next visit to Dubai, make sure to include the Dubai Mall in your itinerary. Trust me, you won't regret it!
Prepare for your Dubai trip
Did you find this post helpful? Then click that little heart below and share it with your friends and family. Have fun in Dubai!