If you're looking for a night filled with awe-inspiring entertainment, look no further than La Perle by Dragone show in Dubai. This breathtaking show, created by renowned director Franco Dragone, is a spectacular fusion of acrobatics, aquatic performances and stunning visual effects. La Perle Dubai is a must-see for anyone visiting the city, as it offers a unique experience that will leave you spellbound.
In this article, I will tell you all you need to know about La Perle by Dragone Dubai. From the captivating plot and storyline to the venue at Al Habtoor City, tickets, best seating, dress code and more.
Is La Perle by Dragone Dubai visit worth it: pros and cons
Check my quick overview of the pros and cons below to make a balanced decision.
Pros:
Unforgettable experience: La Perle by Dragone is a world-class show that combines awe-inspiring acrobatics, stunning visual effects and a captivating storyline to deliver an unforgettable experience.
Perfect for families: With its family-friendly atmosphere and a range of seating options, La Perle by Dragone in Dubai is the perfect choice for families looking to enjoy a night out together in the city.
Convenient location: La Perle Dubai venue is located centrally next to Sheikh Zayed Road, making it easy to get to and from the show from many city areas.
Cons:
Neighbourhood: In my opinion, one of the main drawbacks of visiting La Perle by Dragone show is the neighbourhood next to Dubai Water Canal. The area is still in development and lacks other entertainment options to enjoy before or after the show.
Book your Dubai La Perle by Dragone show ticket here
Show plot and storyline
La Perle by Dragone takes you on an enchanting journey through a fantastical world inspired by the rich history and culture of the region. The show tells the story of the Pearl Girl and a brave pearl diver Antar who embarks on a daring adventure to find the legendary Pearl of Dubai.
Along the way, he encounters a host of mythical creatures, breathtaking landscapes and thrilling challenges, which are brought to life through amazing acrobatics, breathtaking stunts and mesmerising visual effects. Will Antar be able to bring the pearl back to the greedy King, fight the cyborgs and resist the intrigues of the Prince? Come to see the show to find out what happens in the end.
The captivating storyline is complemented by a dramatic score, which perfectly sets the mood for the show. From the first moment to the final applause, you'll be completely immersed in the magical world of La Perle by Dragone show in Dubai.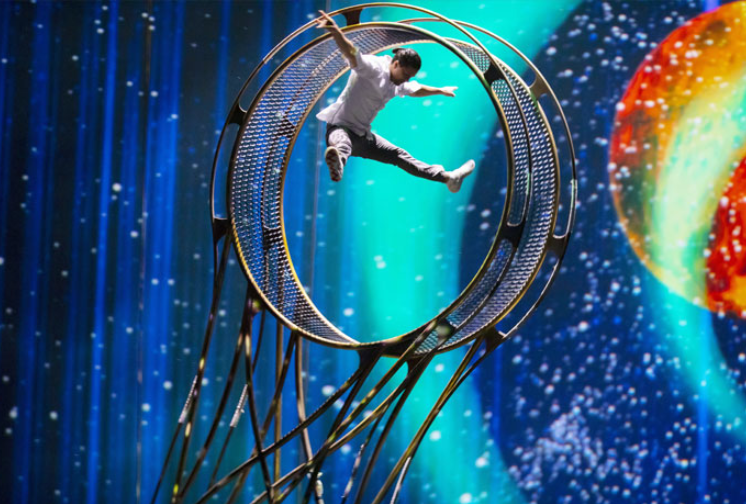 La Perle cast and performers
The incredibly talented cast of La Perle Dubai brings the show's captivating story to life with their awe-inspiring performances. This diverse group of international performers includes world-class acrobats, aerialists, divers and dancers who have honed their skills through years of training and experience.
Each performer plays a crucial role in the show, from the daring acrobats who defy gravity to the graceful dancers who add a touch of elegance to every scene. My personal favourite is the high-speed show with the motorcycle riders locked inside a gigantic spheric cage. The seamless coordination and collaboration between the cast members make the performances truly breathtaking, as they push the boundaries of what is possible on stage.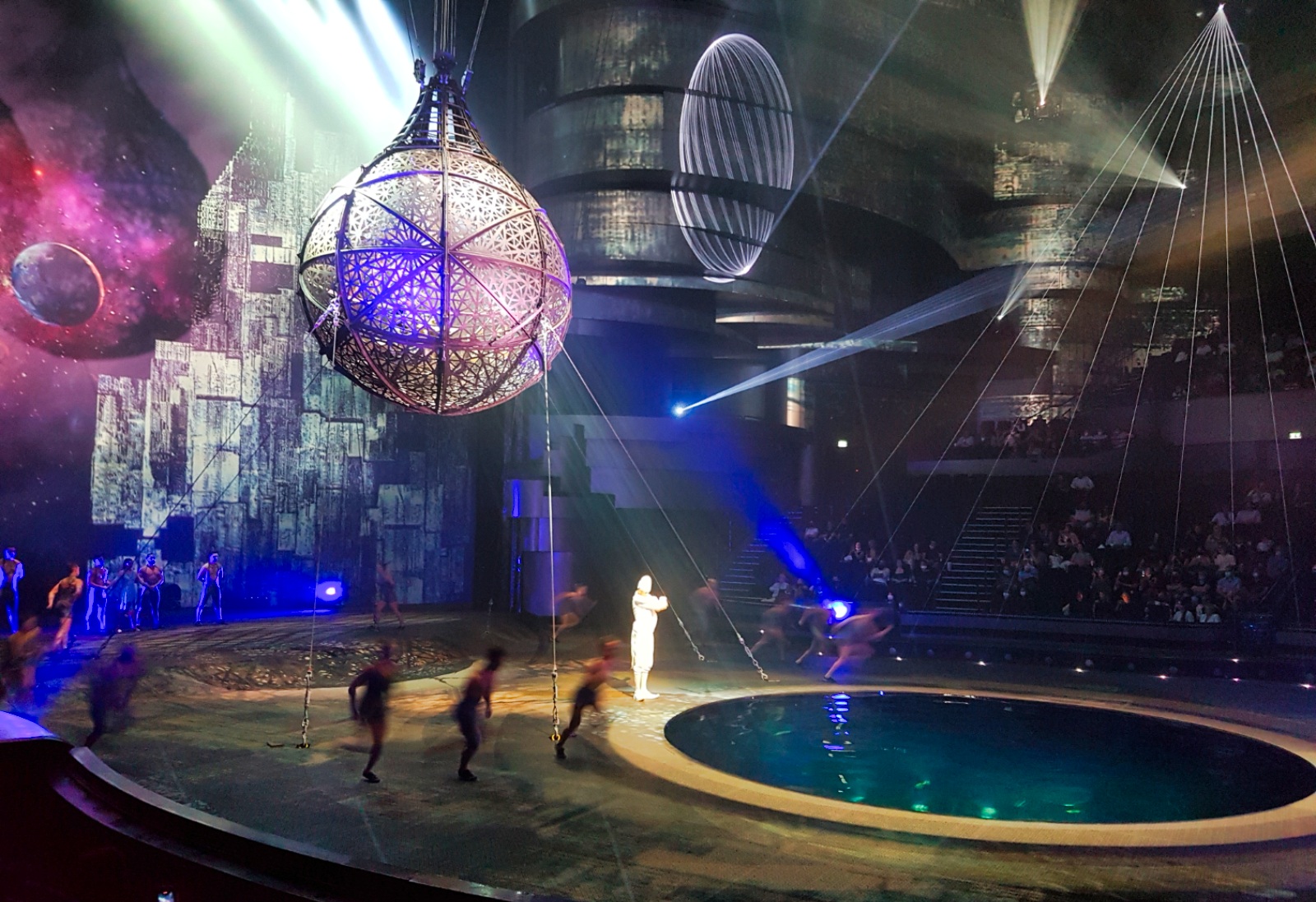 Show venue: Al Habtoor City
Located in the heart of Dubai, Al Habtoor City is home to the spectacular La Perle by Dragone Dubai venue. This state-of-the-art theatre has been custom-built to accommodate the show's unique aquatic and aerial performances, providing the perfect setting for La Perle's dazzling displays of skill and artistry.
The theatre features a massive, 1300-seat auditorium with a 270-degree viewing angle, ensuring that every audience member has an unobstructed view of the action. The stage itself is a marvel of engineering, with a massive pool of water (2,7 mln litres) that can be drained and refilled in a matter of seconds, allowing for seamless transitions between the show's aquatic and aerial scenes.
La Perle show seating
What are the best seats at La Perle by Dragone show in Dubai? The La Perle Dubai theatre has been designed to offer an immersive experience for every audience member, with a 270-degree viewing angle and comfortable seating arrangements. The theatre is divided into several seating categories, including
Bronze
Silver
Gold
Platinum
VIP
Have Fun Dubai's Tip: Each category offers a different perspective of the show, with the higher categories providing a closer view of the action. I sat in the Gold zone close to the stage, and the view was spectacular. Nevertheless, no matter which category you choose, you're guaranteed an unforgettable experience, as every seat in the house offers an unobstructed view of the stage.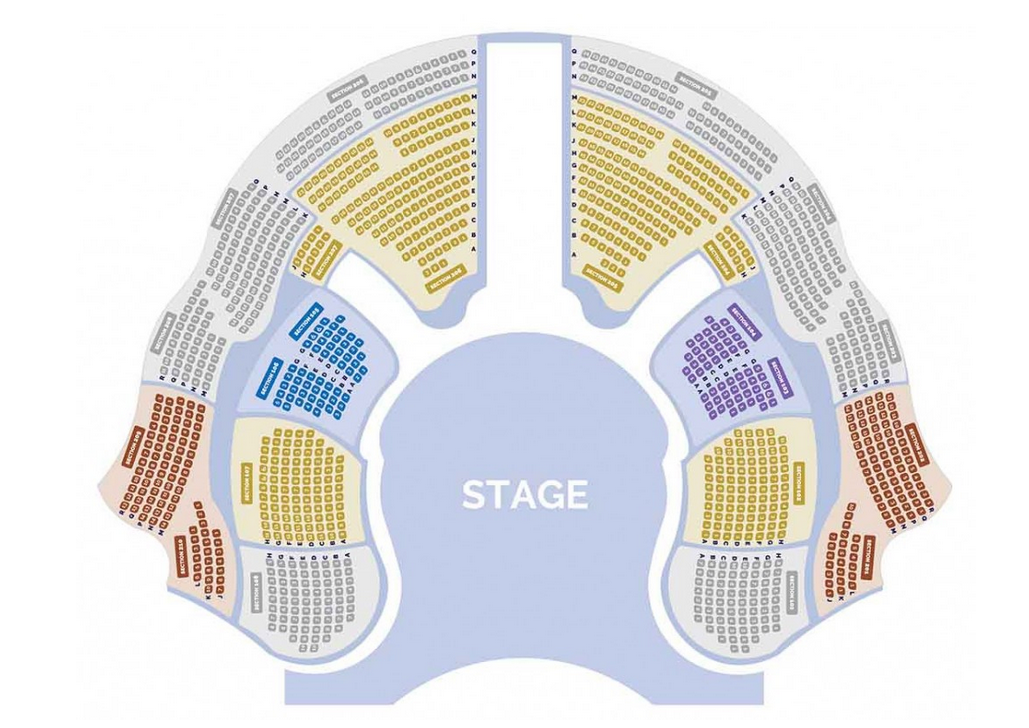 La Perle Dubai tickets and prices
To experience the magic of La Perle by Dragone Dubai, you'll need to secure your tickets in advance. The ticket prices vary depending on the seating category.
La Perle ticket price: AED 209 for a Bronze ticket, AED 259 for a Silver ticket, AED 309 for a Gold ticket, AED 459 for a Platinum ticket with lounge access and AED 699 for a VIP ticket with lounge access
I recommend booking your La Perle tickets online. Be sure to book early to secure the best seats and avoid disappointment, as the show is known to sell out quickly on certain days.
Book your Dubai La Perle by Dragone show ticket here
Show timings and duration
La Perle Dubai opening hours: 18:00 and 21:00, Tuesday to Saturday
La Perle by Dragone show in Dubai runs from Tuesday to Saturday, with two shows on most days. The show timings are typically at 18:00 and 21:00, though I recommend confirming the schedule when you book your tickets online.
La Perle show's duration is approximately 90 minutes, with no intermission. It's recommended to arrive at least 30 minutes before the show's start time to allow for using the bathrooms, buying snacks and finding your seats.
La Perle Dubai show and dinner cruise
For a truly unforgettable evening, consider combining your La Perle show experience with a dinner cruise along the enchanting Dubai Water Canal. Several tour operators offer packages that include La Perle tickets and a scenic dinner cruise, providing the perfect way to explore the city's sights and enjoy world-class entertainment.
I recommend the following Dubai Water Canal dinner cruise with a La Perle silver ticket. Please mind that the cruise departure location is not the theatre location, but you will be dropped off close to the venue after the cruise.
Cruise departure point: Dubai Festival City promenade
Cruise departure time: 18:30
Cruise duration: 90 minutes
Book your La Perle Dubai show ticket and dinner cruise here
La Perle by Dragone dress code
While there is no strict dress code for attending La Perle aqua show in Dubai, it's recommended that guests dress smart casual. Keep in mind that the theatre is located within the luxurious Al Habtoor City complex, so dressing appropriately will ensure you feel comfortable in the surroundings.
Location
La Perle Dubai address: Al Habtoor City Theatre, next to Sheikh Zayed Road
How to get to La Perle by Dragone show in Dubai
Al Habtoor City, the home of La Perle by Dragone Dubai, is easily accessible by car, taxi or public transportation.
By car: The venue is located just off Sheikh Zayed Road, with ample parking available for those driving to the show (follow the signs and drive to the entrance of the underground parking behind the building)
By metro: The closest metro station is Business Bay, which is a 15-minute walk away from the venue
By taxi: Taxi services, such as RTA, Careem, Uber and Hala, are available throughout the city.
Prepare for your Dubai trip
Did you find this post helpful? Then click that little heart below and share it with your friends and family. Have fun in Dubai!