Dubai Garden Glow is a night theme park featuring colourful glow installations, full-sized dinosaur figures and much more. Launched in 2015, it's the world's largest glow-in-the-dark garden, a fantasy land that transforms into a glowing wonderland after sunset. This famous glowing park in Dubai features more than 100 million light bulbs, all arranged in creative displays of animals, flowers, arches, buildings and much more. I love coming here in the evening to walk around this visual feast.
Glow Garden is not just about the spectacle of lights, but also an eco-friendly place. The installations are made from recycled materials, and the energy-efficient lighting adds to the garden's commitment to sustainability. It's a place where fun, entertainment and education come together in a magical blend. In this post, I will share my comprehensive guide about Dubai Garden Glow tickets, attractions, prices, location, timings and more. I will give you all the information you need to enjoy this unique experience to the fullest.
This is a seasonal attraction. Tickets are generally available from September to July.
Is Dubai Glow Garden visit worth it: pros and cons
Check my quick overview of the pros and cons below to make a balanced decision.
Pros:
Stunning light displays: Garden Glow offers a captivating spectacle of vibrant lights and illuminations that are sure to impress you. From intricately designed light tunnels to glowing structures, the garden offers a truly magical experience and is perfect for photography.
Family-friendly entertainment: The garden provides a wide range of entertainment options suitable for all age groups. Families can enjoy exciting performances, such as acrobatics and stage shows, a glow-in-the-dark park and a dinosaur park.
Great evening activity: If you are looking for evening activity ideas, this glowing park in Dubai offers a charming setting. It is great for a leisurely walk, enjoying the light displays and relaxing from the heat.
Cons:
Seasonal operation: Glow Garden operates during cooler months and closes for July, August and part of September. If you visit Dubai in the summer, you will miss this attraction.
Magic Park extra ticket: The entrance fee to Magic Park Dubai is not included in the general Garden Glow ticket.
Book your Dubai Garden Glow tickets here
What is Dubai Garden Glow and what to expect
Dubai Garden Glow is the world's largest glowing garden occupying around 162 thousand square metres in Zabeel Park. It boasts beautiful glow figures created from more than 100 million LED lamps. It's divided into different zones, each with its theme and unique attractions.
The entire park is illuminated with energy-saving bulbs and yards of recycled luminous fabric, creating a mesmerising landscape of light and colour that you won't find anywhere else in Dubai. The garden is mainly a family destination, but I also recommend it to photography enthusiasts, romantic couples and simply for a pleasant walk.
Expect to be dazzled by the creativity of the installations and designs made by more than 150 international artists. As you walk through the park, you'll come across illuminated replicas of global landmarks, glowing animals and a magical underwater world. Moreover, it is home to Dino Park Dubai, Magic Park Dubai and Art Park Dubai. Keep reading to learn more details about each of them.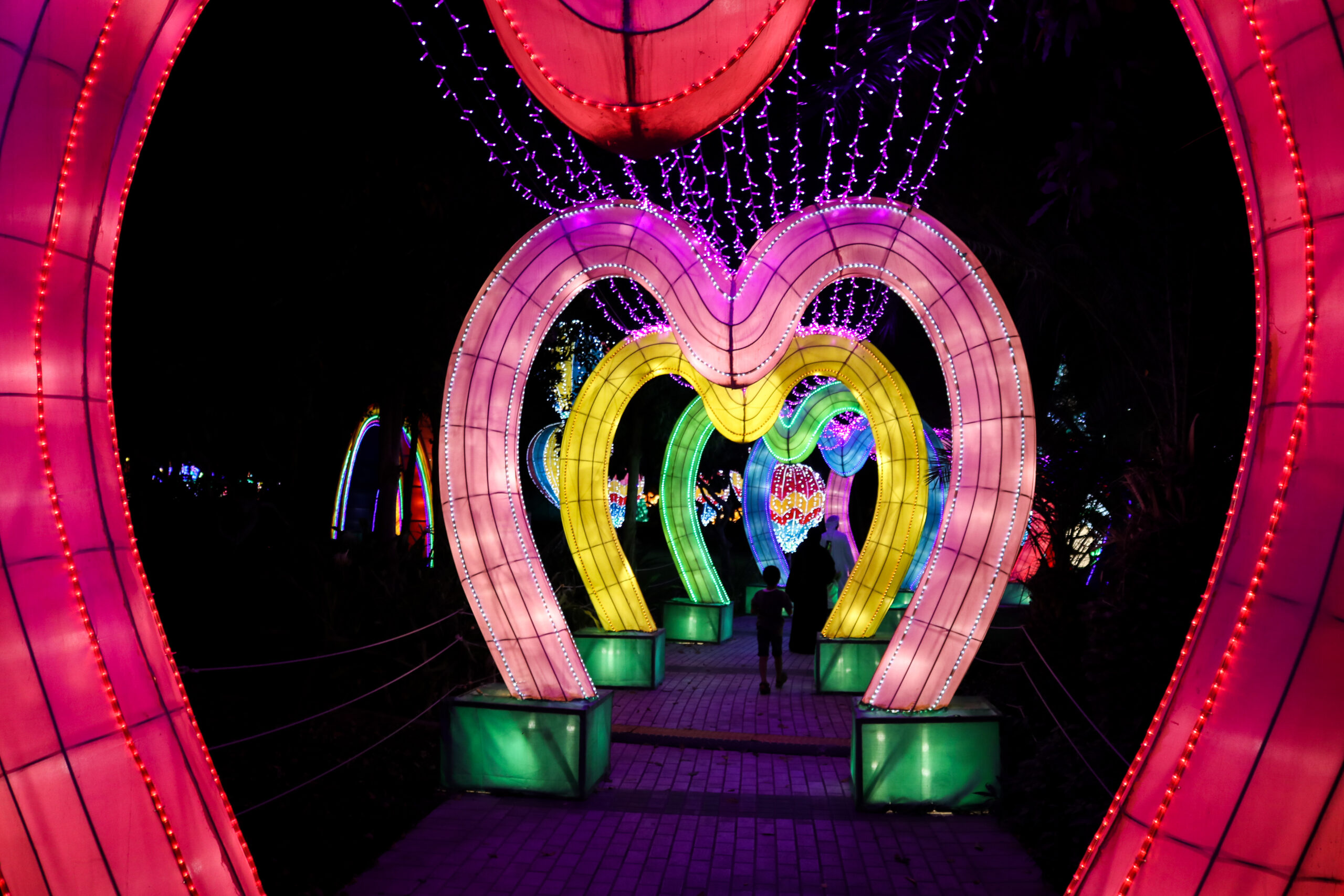 Is Dubai Glow Garden open all year
No, Garden Glow is a seasonal park operating typically from mid-September to mid-July. It's an outdoor attraction, so it's best enjoyed when the weather is pleasant. The exact opening dates can vary from year to year.
Dubai Glow Garden opening dates in 2023 and 2024
When is Dubai Garden Glow open in 2023 and 2024? The park will be open from 15 September 2023 to 14 July 2024.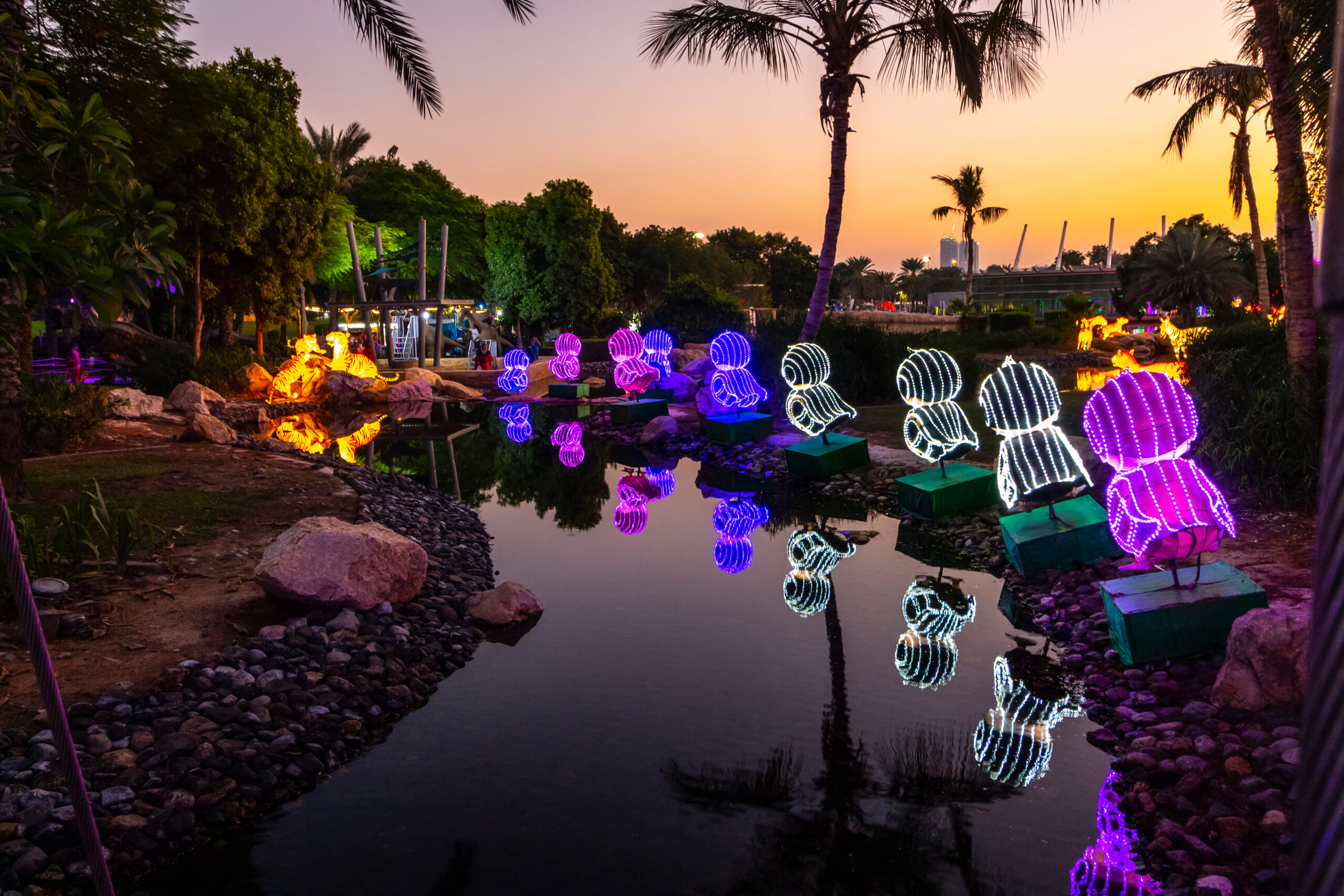 Garden's top attractions
This Glow Garden in Dubai is divided into different zones, each offering a unique experience. Here's a rundown of the main Glow Garden attractions.
Glow Park Dubai
Glow Park is the heart of Dubai Garden Glow. It's a dazzling spectacle of art, light and creativity. The park features installations inspired by different themes, from aquatic life to wildlife, and global landmarks, all beautifully illuminated and crafted from recycled materials.
Have Fun Dubai's Tip: Don't forget to bring your camera and prepare to take tons of stunning photos. Glowing structures produce enough light, so even in the dark you will be able to capture all the details in your images.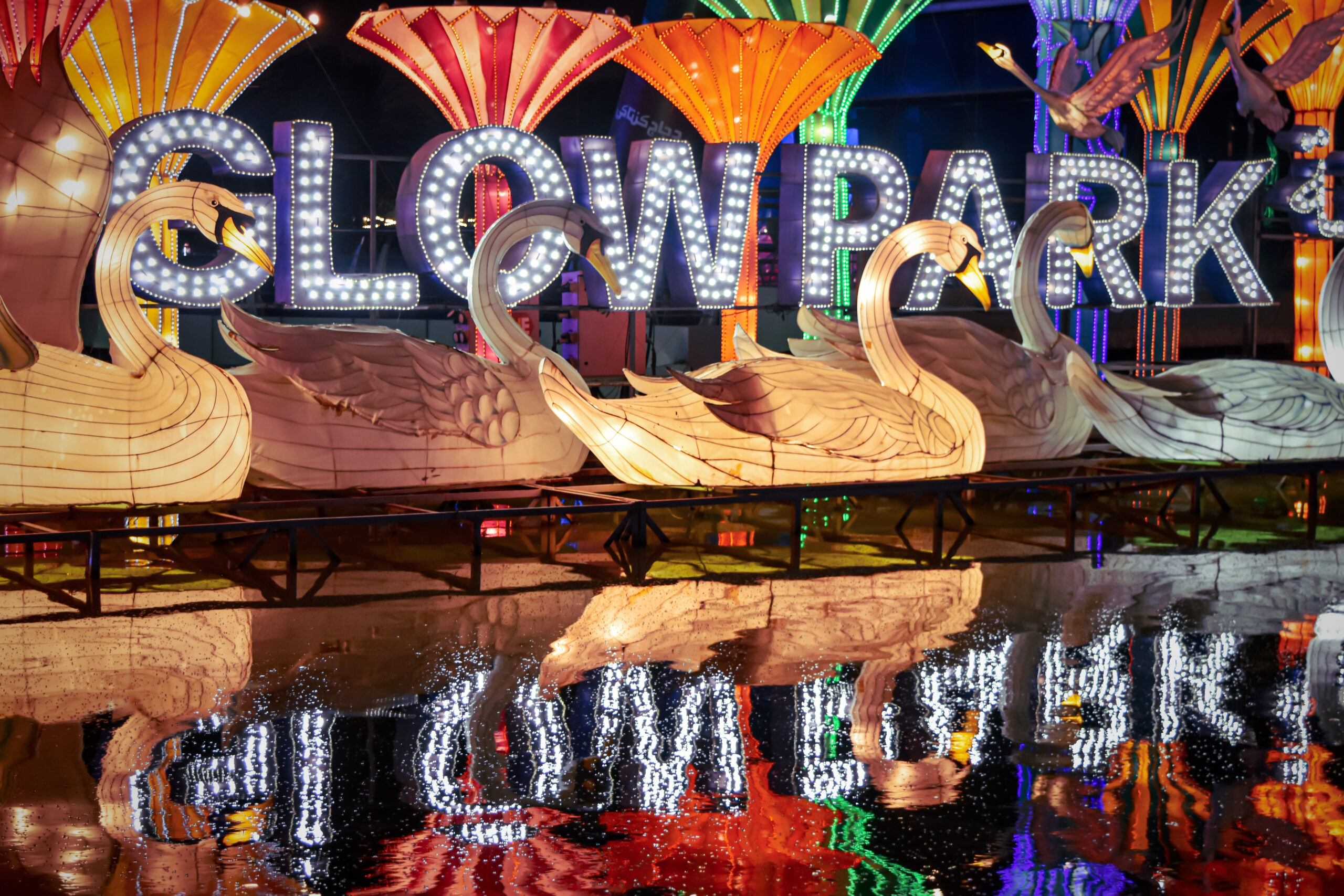 Dinosaur Park Dubai
Step back in time at Dino Park Dubai, home to more than 120 life-size dinosaur replicas. It's an immersive experience that takes you to the prehistoric era, where you can learn about these magnificent creatures and their fascinating world.
While visiting the park, you will have a chance to see the Dinosaur Lab, showcasing these prehistoric reptiles in chronological order, and the Dinosaur Lab.
In this dinosaur world in Dubai you will meet face to face with different figures that come to life when you pass by. They roar, twist and turn, flap their wings and clap with their tails against the ground. If your kids love dinos, this is their land! The downside though is that the outside dino statues stand behind the railing which is done for their protection.
Have Fun Dubai's Tip: If you would like to better see the animal sculptures, come before the sunset. If you prefer more special effects, then visit when it gets dark. However, it will be more difficult to capture dinos in the photo.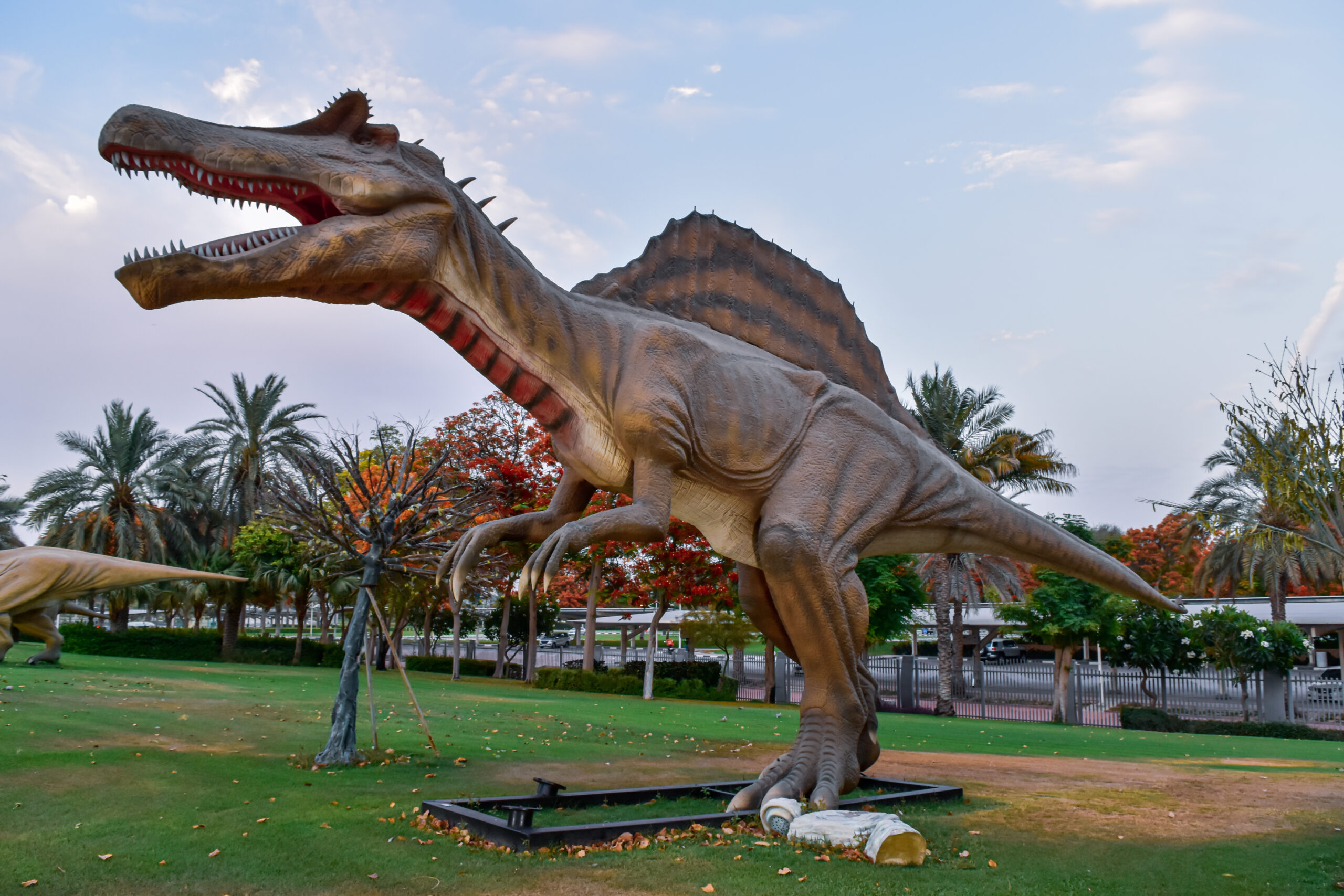 Art Park Dubai
Nothing should go to waste! This is clearly the ambition of Art Park in Dubai. Through the use of recycled materials, discarded objects are transformed into stunning works of art. Thousands of old plastic bottles, medicine bottles, CDs, newspapers and other trash are now a captivating display of glowing sculptures.
As you explore the park, you will see colourful sculptures, from animals to iconic buildings, telling a unique story. In my view, this is a great initiative to raise awareness about environmental issues and encourage kids from an early age to take care of the planet.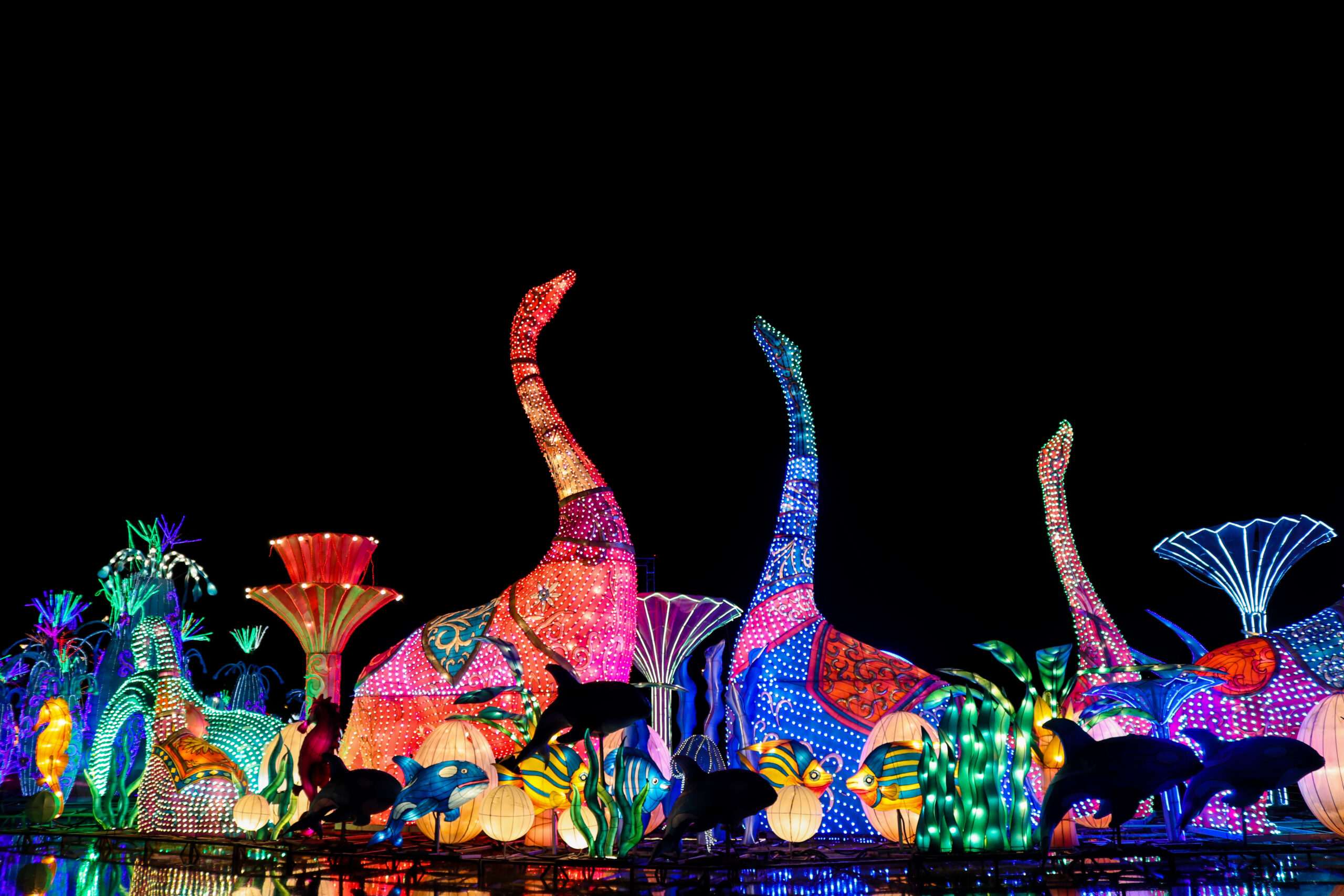 Magic Park Dubai
Next on our tour is Magic Park Dubai — a world of 25 optical illusions and mind-boggling art installations. From 3D paintings to interactive exhibits, this place is all about challenging your perceptions and immersing you in a world where nothing is as it seems.
Visit the Sloping House, get Lost on the Chessboard, pose in the mouth of a dinosaur or test your senses in the Upside Room. Magic Park in Dubai is not big and you need to buy a separate ticket for it. If you like this sort of entertainment, I recommend visiting the Dubai Museum of Illusions which has twice as many exhibits.
Book your Magic Park Dubai ticket here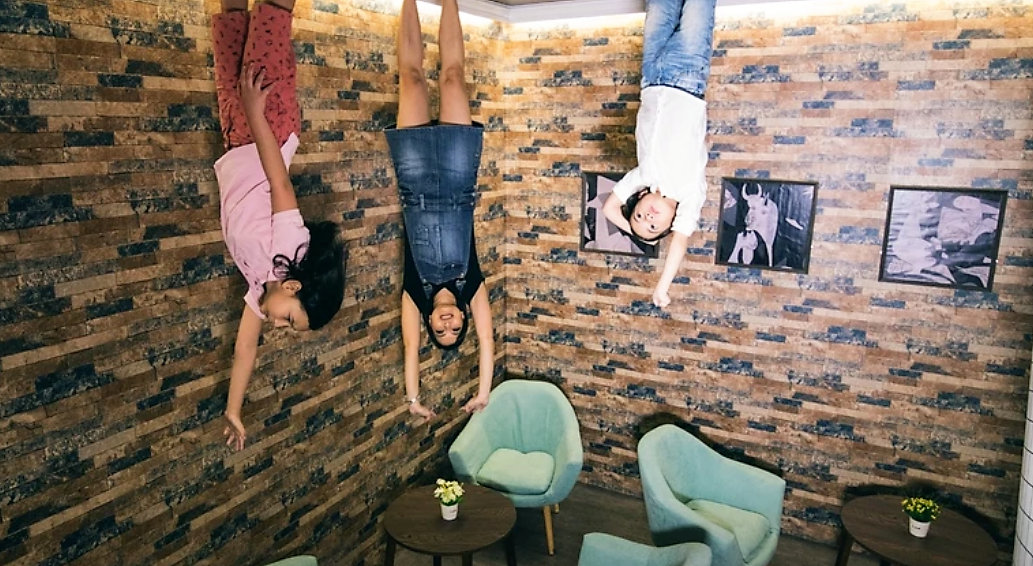 Ice Park Dubai
Experience the chill of the Arctic in the heart of Dubai at this Ice Park. It's a winter wonderland, filled with ice sculptures of animals, monuments and abstract art, all maintained at freezing temperatures of about -7°C.
 Ice Park Dubai is currently closed.
Dubai Garden Glow tickets
Dubai Garden Glow price includes access to Glow Park Dubai, Dinosaur Park Dubai and Art Park Dubai. There is a separate entrance fee for Magic Park Dubai. Book your tickets via the link below to avoid any hassle.
Dubai Garden Glow ticket price: AED 70
Tickets are available only seasonally from September to July.
Book your Dubai Garden Glow tickets here
Timings
Dubai Garden Glow opening hours: Sunday to Friday 17:00 to 23:00, Saturday 17:00 to 00:00
What is the best time to visit Dubai Garden Glow and Dinosaur Park
The best time to visit this glowing park in Dubai is in the evening when the installations are all lit up. To better see the dinosaurs come right before the sunset. You can then proceed to Glow Park and Art Park and see bright glowing installations.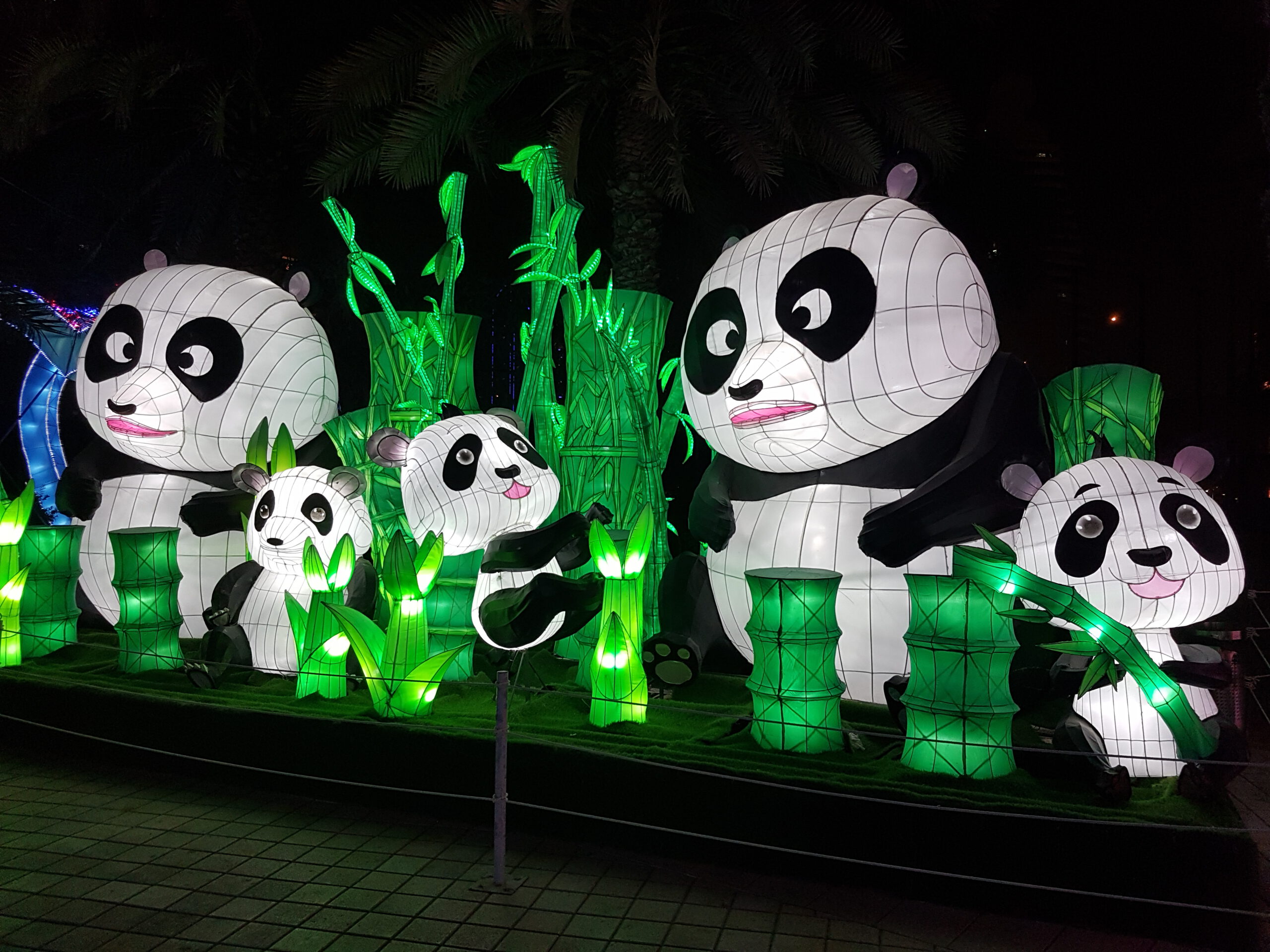 Location
Dubai Garden Glow address: Zabeel Park, Gates 6 and 7, Area B, Dubai, United Arab Emirates
How to get to Dubai Garden Glow
Garden Glow is located in Zabeel Park, one of the largest public parks in Dubai. It's easily accessible by car, taxi or public transport.
By bus: There is no bus stop in front of the park but you can take nearby bus routes 21, 27, 29, 55, 61, 88, F09 and X22
By metro: Take Dubai Metro to the Max metro station (red line)
By car: There are plenty of parking spaces available next to the park
By taxi: Take one of the official taxis to the Glow Garden entrance
Other attractions and things to do nearby
If you're planning a visit to the glowing park in Dubai, why not explore some other attractions nearby?
Dubai Frame: Dubai Frame is an iconic 150-metre structure that offers breathtaking views of the city and is often called a window between old and new Dubai. Enjoy the golden colours of this Dubai observation deck which happens to be the largest picture and photo frame in the world. Book your Dubai Frame tickets here
Zabeel Park: Zabeel Park in Dubai is a popular destination with green spaces and recreational activities. Visitors come to the park to enjoy Dubai Frame views, picnics, BBQs and outdoor sports, making it an ideal place for families and friends to spend time together. Moreover, the park boasts a mini-golf course, a jogging track and a children's play area.
Prepare for your Dubai trip
Did you find this post helpful? Then click that little heart below and share it with your friends and family. Have fun in Dubai!