Dubai Butterfly Garden is the world's largest covered butterfly park. Imagine stepping into a world where 15,000 butterflies from around 50 different species flutter about with their colourful wings. Dubai Butterfly Park is a magical oasis that offers an unforgettable experience for both kids and adults alike. This incredible paradise, tucked away from the hustle and bustle of the city, is also adjacent to Dubai Miracle Garden, the largest flower park on the planet.
From the carefully maintained temperature and humidity levels that mimic a butterfly's natural habitat, to the beautiful plant life that flourishes within the park, everything about this place is a testament to the wonder of nature. The garden is home to a vast array of butterflies, each with its unique patterns and colours. And you can see them with your own eyes. But before you go, I have prepared this guide to tell you all you need to know about Dubai Butterfly Garden attractions, tickets, prices, location, timings and best tips.
Is Dubai Butterfly Garden visit worth it: pros and cons
Check my quick overview of the pros and cons below to make a balanced decision.
Pros:
World's largest indoor butterfly garden: Dubai Butterfly Garden is a beautiful and unique attraction that offers visitors the chance to explore the world's largest covered butterfly garden. With over 15,000 butterflies from 50 different species, the garden is a stunning sight.
Get up close and personal with thousands of butterflies: Visitors to Butterfly Park in Dubai can get up close and personal with thousands of butterflies. The garden provides a serene and peaceful environment where you can watch the butterflies flutter around freely.
Low price: Butterfly Garden is one of the cheapest attractions and things to do in Dubai. It's a great opportunity to have a day of fun without damaging your budget.
Cons:
Potential issues for those with allergies or aversions to insects: Dubai Butterfly Park is a paradise for butterfly lovers, but it may not be ideal for those with allergies or aversions to insects.
Not ideal for visitors seeking a fast-paced experience: It is a place to relax, unwind and take in the beauty of nature. It may not be the best fit for visitors seeking a fast-paced experience or those who prefer more action-packed attractions. The garden is best enjoyed at a leisurely pace.
Book your Dubai Butterfly Garden tickets here
What is Dubai Butterfly Garden and what to expect from it
Dubai Butterfly Garden is the largest indoor butterfly park in the world that boasts 15,000 butterflies. The Butterfly Garden, which spans across over 6,600 square metres, is divided into nine domes. Each dome is filled with thousands of butterflies, host plants for butterflies and flowers, creating a picturesque setting that's sure to take your breath away. The park's temperature is controlled and remains in the range of 18-25 degrees Celsius.
The moment you step into Dubai Butterfly Park, you're greeted by a riot of colours. The vibrant hues of the fluttering creatures, the lush greenery and the beautiful flowers all combine to create a great sensory experience. It's like stepping into a fairy tale, where you're surrounded by these delicate creatures fluttering about.
But the park isn't just about the visual spectacle. It's also an educational experience. Here, you can learn about the different butterfly types, their life cycles and their importance to the ecosystem. It's a place where you can understand and appreciate the beauty of nature and its many wonders. Great activity for both kids and adults!
To extend the fun, I absolutely recommend visiting Dubai Miracle Garden next door to see millions of flowers in bloom arranged in brilliant installations and compositions.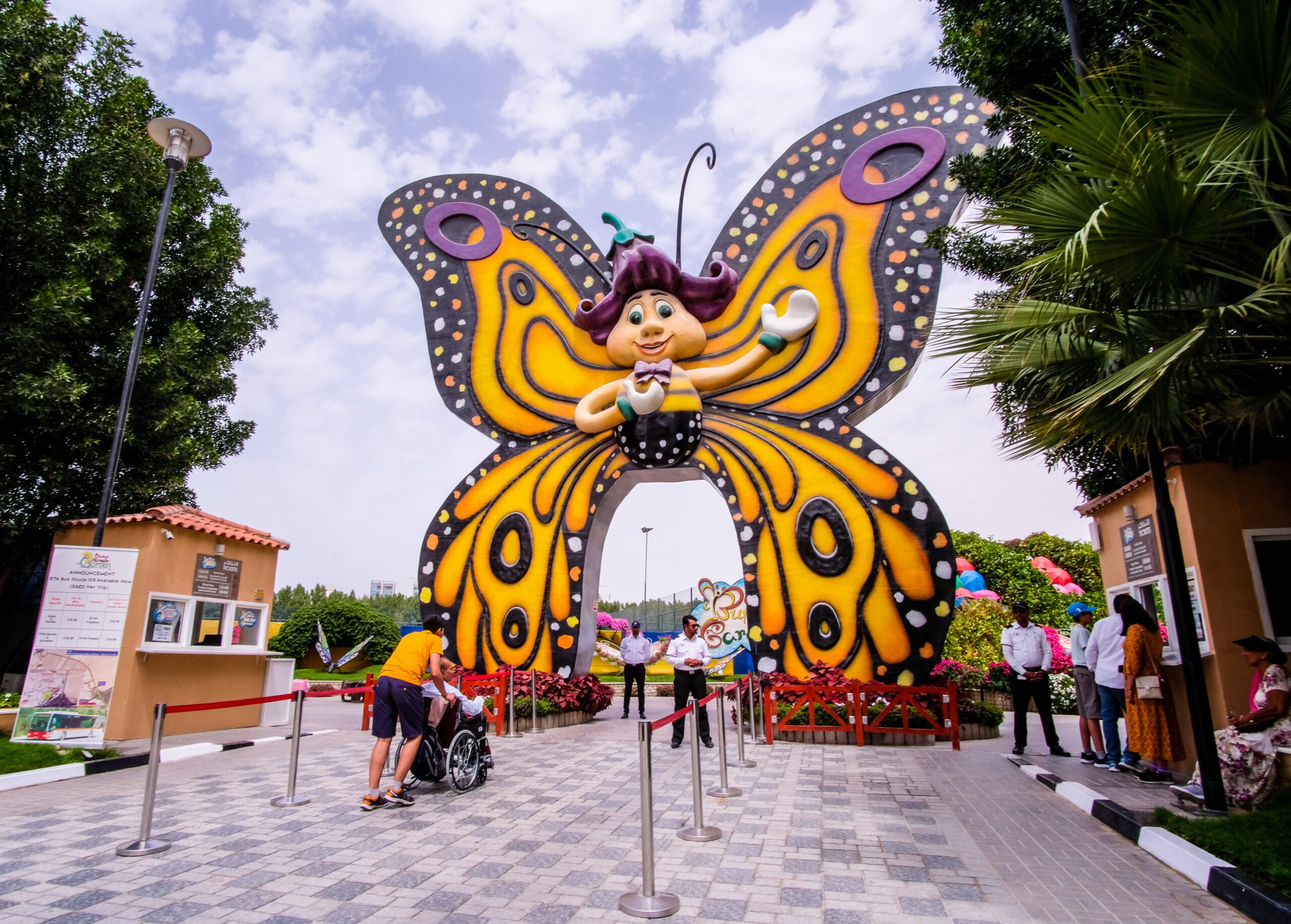 Is Dubai Butterfly Garden open all year
One of the best things about the Butterfly Garden in Dubai is that it's open all year round, making it a perfect destination for a family outing, a date or even a solo adventure. You will have ample time to explore and discover the many wonders it has to offer.
Unlike other outdoor attractions in Dubai, the Butterfly Garden is not affected by the scorching summer heat or the cooler winter temperatures. The climate inside the domes is carefully controlled to ensure the comfort and survival of the butterflies. So, whether you're planning to visit Dubai in the peak of summer or in the cooler winter months, Dubai Butterfly Garden promises a delightful experience.
What butterfly types can you see
Dubai Butterfly Garden is home to a wide variety of butterfly types, mostly native to Thailand, Costa Rica and the Philippines. From the majestic Swallowtails and the vibrant Blue Morphos to the delicate Glasswings and the unique African Moon Moths, you can see a vast array of butterflies here. To tell you the truth, each butterfly species has its unique characteristics and beauty, adding to the overall allure of the garden.
Moreover, the Butterfly Garden in Dubai is home to several rare and exotic butterfly species. These include the Atlas Moth, considered the largest moth in terms of total wing surface area, and the Owl Butterfly, known for the unique eye-like patterns on its wings.
The garden's staff are always on hand to answer any questions you may have about the butterflies. They can help you identify the different species and share interesting facts about them. So, not only do you get to enjoy the beauty of these creatures, but you also get to learn about them.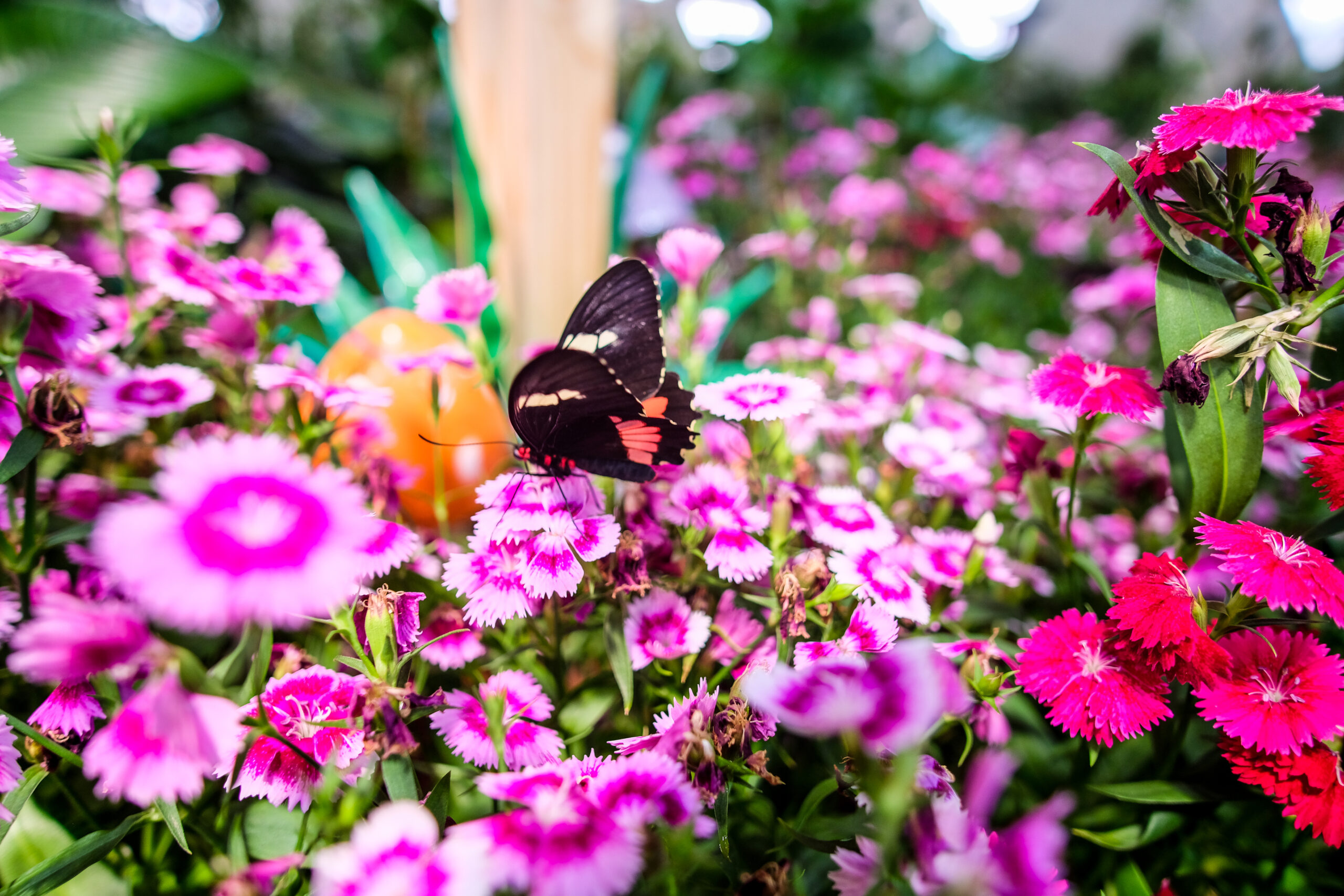 Main attractions and things to do
This Butterfly Park in Dubai has lots of exciting attractions and things to do. Now, let's take a little tour around to learn more about them.
Butterfly Garden domes
Dubai Butterfly Garden is made up of nine climate-controlled domes, each housing thousands of butterflies. These domes are interconnected, allowing visitors to walk from one to the other, experiencing the different environments and butterfly species in each.
Each dome is a world in itself, with its unique layout and design. They're filled with beautiful plants and flowers, creating the perfect environment for the butterflies to thrive.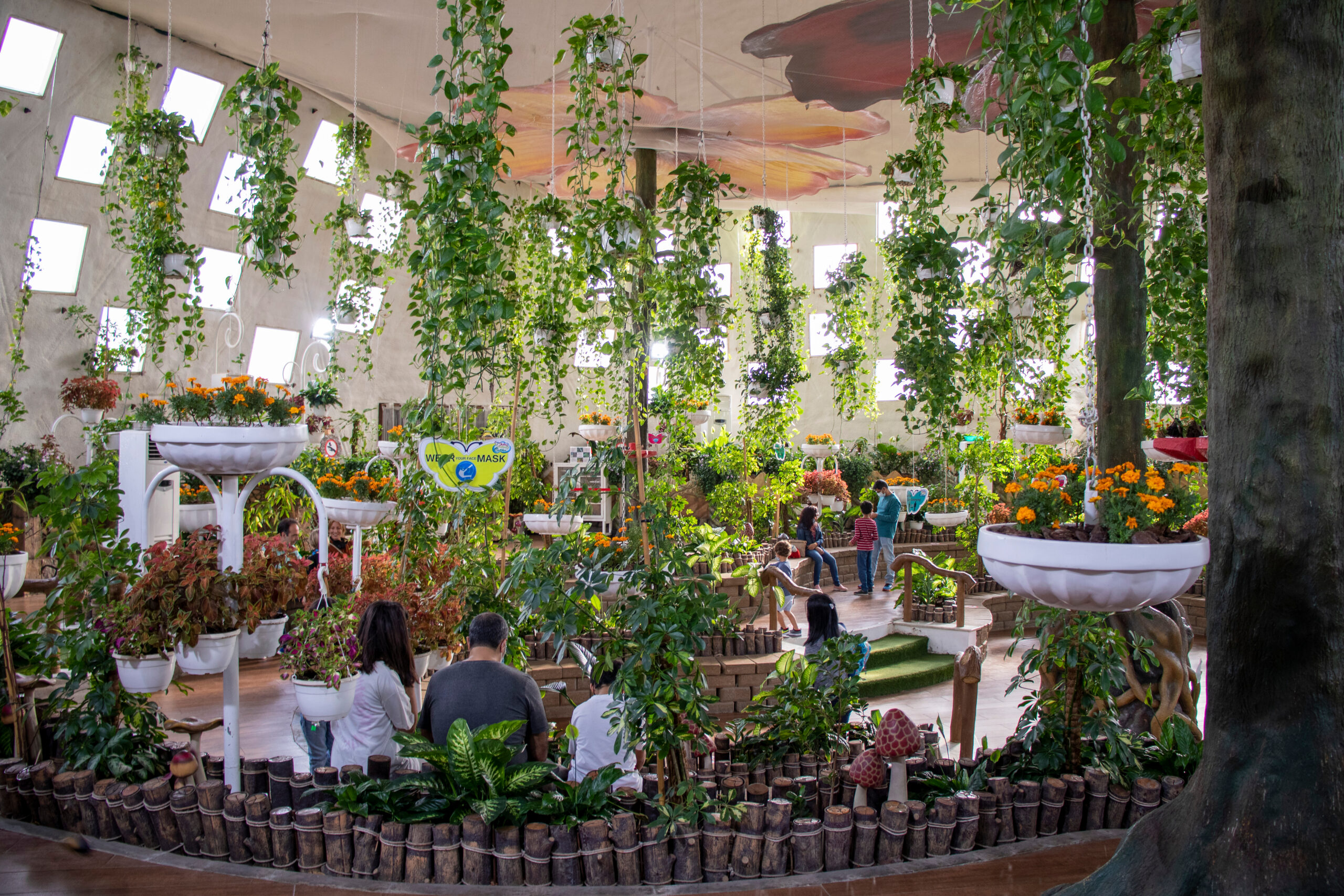 Butterfly Museum
The Butterfly Museum at Dubai Butterfly Park is a unique experience for visitors. Located in the first section of the garden, the museum offers an up-close look at the diverse and beautiful world of butterflies in the form of art.
The walls are adorned with collages and paintings made from pressed butterflies. Do not worry, none of them was actually killed in the process. In fact, the life of a butterfly is very short. On average, butterflies live just 2-3 weeks, but the good thing is that they continue to dazzle us as a piece of art, even when their life comes to an end. All the paintings at the Dubai Butterfly Museum are on sale. In my opinion, one of the notable masterpieces is the artwork displaying the butterfly portrait of the ruler of Dubai.
Koi Pond
Another major attraction at Dubai Butterfly Garden is the Koi Pond. This beautiful pond, filled with colourful Koi fish, adds to the overall serenity of the park. The Koi Pond is located in the centre of Dome 2, creating a tranquil spot where you can soak in the beauty of the surroundings.
Educational area
Dubai Butterfly Garden isn't just about entertainment. It's also a place of learning. The garden has an educational area where you can learn about the life cycle of butterflies, their habitats and their importance to the ecosystem. There are informative displays and interactive sessions, making learning a fun and engaging experience for both kids and adults.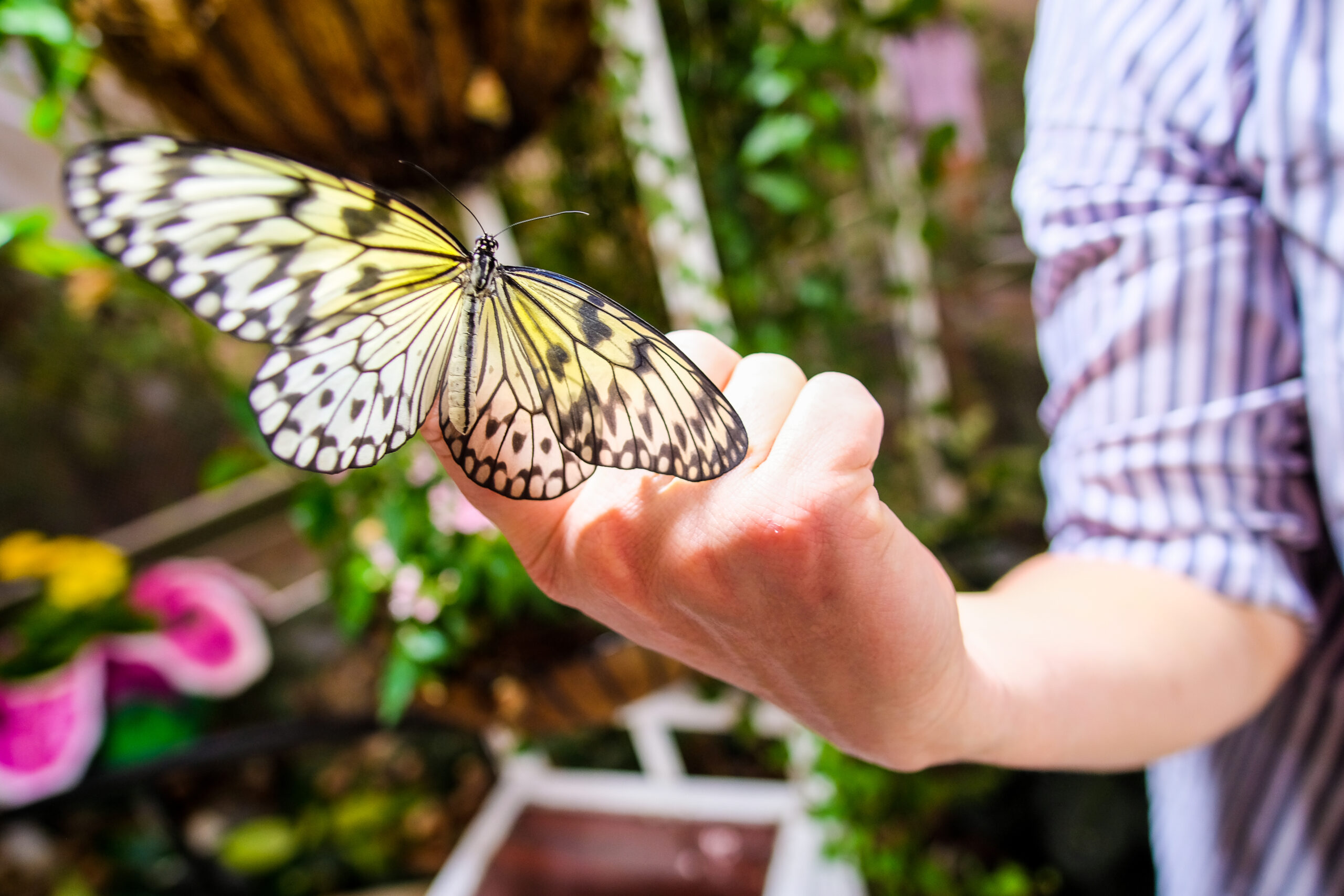 Kids Cinema
The Kids Cinema at Dubai Butterfly Park is a favourite among younger visitors. Here, kids can watch educational films about butterflies and other aspects of nature. It's a great way to keep the kids entertained while also imparting valuable knowledge.
Dubai Butterfly Garden tickets
I recommend booking Dubai Butterfly Garden tickets in advance to avoid any hassle. A Dubai Butterfly Park entrance fee includes access to all the attractions. How much is a Dubai Butterfly Garden ticket?
Dubai Butterfly Garden ticket price: AED 55, free entrance for children under 3
Book your Dubai Butterfly Garden tickets here
Timings
Dubai Butterfly Garden opening hours: 09:00 to 18:00 daily
Location
Where is Dubai Butterfly Park located?
Dubai Butterfly Garden address: Al Barsha South 3, Dubailand Area, Dubai, United Arab Emirates
How to get to Dubai Butterfly Garden
Dubai Butterfly Garden is located in Al Barsha, which is not a central area, but there are several transportation options.
By bus: Take a seasonal RTA bus 105 (not available in summer) from the Mall of the Emirates metro station (red line) to Dubai Miracle Garden / Butterfly Garden
By car: There is a free parking lot next to the park
By taxi: Taxi is one of the most convenient options to get to the park or back (do not use private taxis near the park exit and take only official metered taxis to avoid high fares)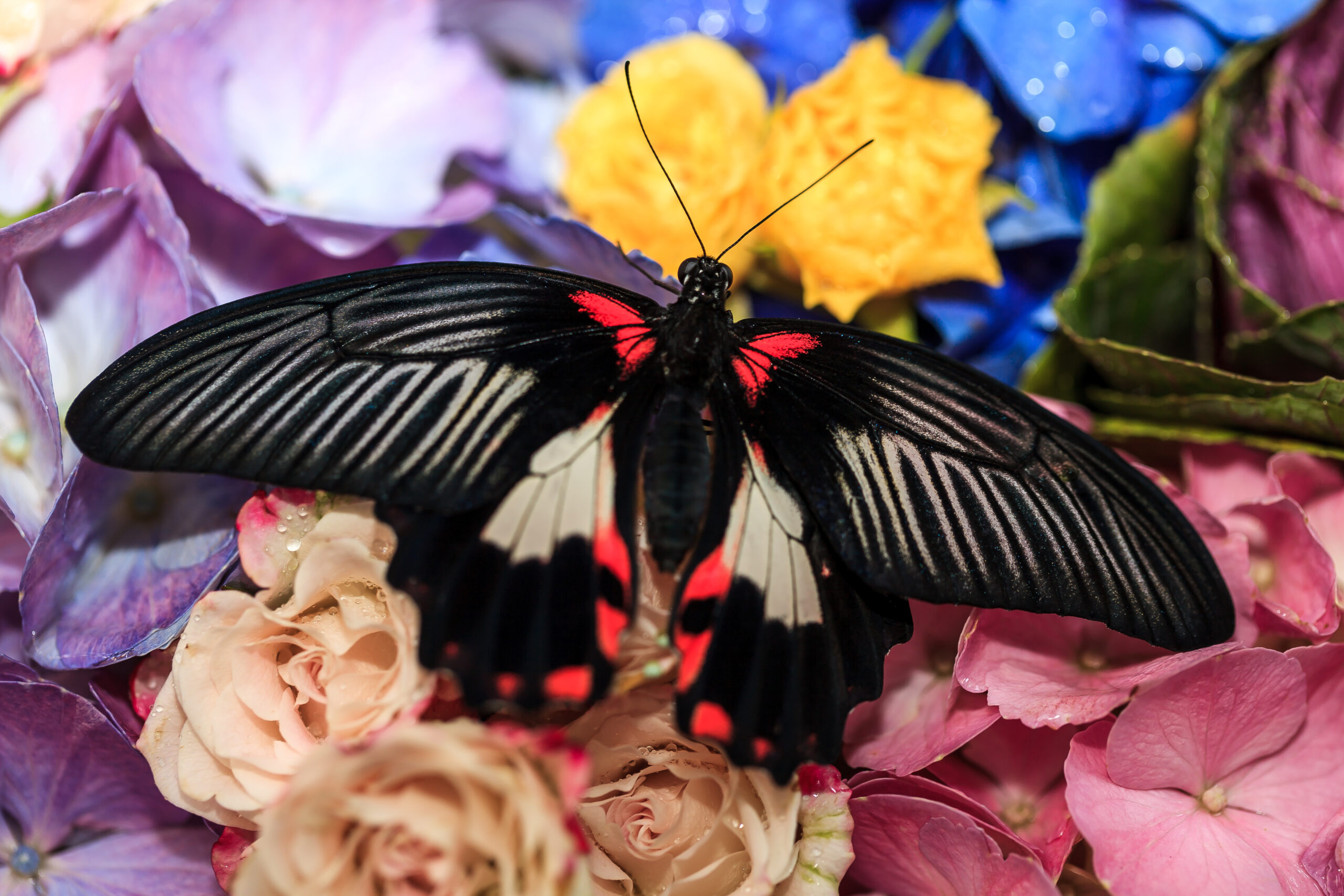 Other facilities
Food kiosks and dining
First aid
Wheelchairs
Toilets
Gift shop
Prayer room
Butterfly Park rules
Dubai Butterfly Garden has a set of rules that visitors should follow. They are in place to ensure the safety and well-being of the butterflies and to maintain the beauty and cleanliness of the park. Here are the main guidelines to keep in mind:
Do not bring food or drinks inside because they can attract insects harmful to butterflies (there are only special feeding stations arranged by the staff)
Do not cross areas that are clearly marked as restricted
Watch out for butterflies on pathways and do not step on them
Butterflies can sit on your arm but do not touch their delicate wings not to damage them
Children should always be accompanied by an adult
As mentioned before, the life of butterflies is short, so please take care of them and help them enjoy those precious moments.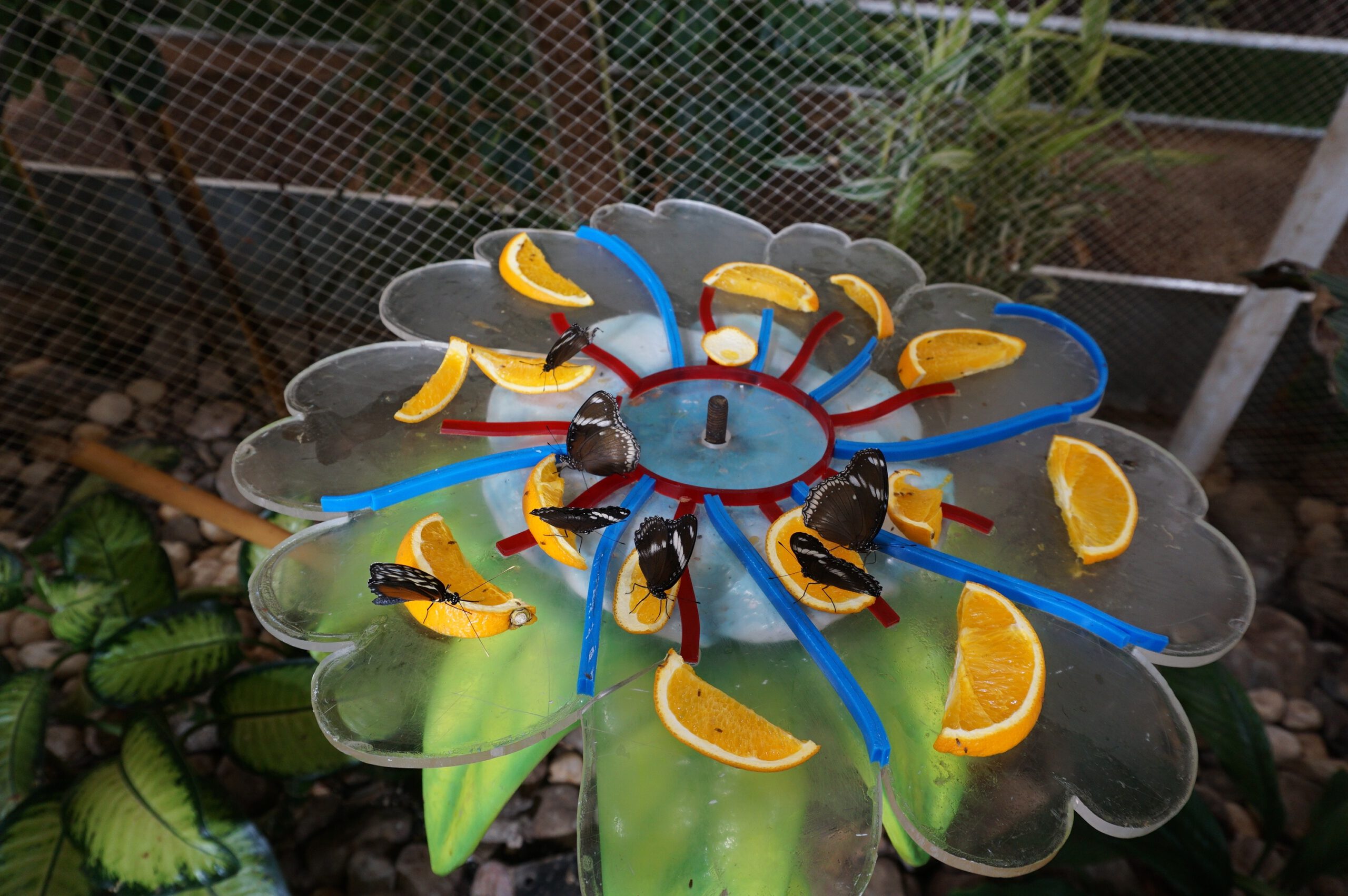 Other attractions and things to do nearby
Your adventure does not have to stop here, as there are plenty of other attractions and things to do near Dubai Butterfly Park:
Dubai Miracle Garden: Literally next door, you can find Dubai Miracle Garden, which is a seasonally opened biggest floral park in the world full of vibrant colours and aromas. Take a stroll in this outdoor garden with unique flower arrangements and installations made of 150 million flowers. This is a must-do and a great add-on to your butterfly park visit. Tickets are available from October to May only. Book your Miracle Garden tickets here
Dubai Global Village: Just 15 minutes away, you can explore Dubai Global Village. Popular among families, this entertainment and shopping park features pavilions, which are replicas of well-known sights, representing over 80 countries. You can travel the whole world in just one evening. Dubai Global Village generally opens at 16:00 and also boasts shows, playgrounds and theme parks. Tickets are available seasonally except in summer. Book your Dubai Global Village tickets here
IMG Worlds of Adventure: Explore IMG Worlds of Adventure, the world's largest indoor theme park with 20+ rides and other attractions. This Dubai theme park is divided into 6 zones, including Marvel and Cartoon Network. Book your IMG Worlds of Adventure tickets here
Dubai International Stadium: Visit Dubai International Stadium, a multi-purpose arena hosting different sports and entertainment events.
Arabian Ranches Golf Club: If you are a golf fan, explore Arabian Ranches, a prestigious golf club with a challenging course and high-rated facilities.
Butterfly Park is a place where you can escape the city's hustle and bustle and immerse yourself in the beauty of nature. If you're planning a trip to Dubai, include it in your itinerary. It's an experience you wouldn't want to miss!
Prepare for your Dubai trip
Did you find this post helpful? Then click that little heart below and share it with your friends and family. Have fun in Dubai!