Dubai Safari Park is a 119-hectare wildlife preserve that houses about 3,000 animals from around the globe. Transforming the desert landscape into a lush space, the park attracts families, as well as nature and animal enthusiasts. I love this place because here you can escape from the urban jungle to an actual one (well, sort of), with wildlife from different continents. From African elephants and lions to Arabian wolves and Asian moon bears, it offers an immersive experience into the world of exotic fauna.
Dubai Safari Park is a new home for many animals relocated in 2017 from the former Dubai Zoo. It is a more sustainable and eco-friendly place where animals are treated with care. Apart from visiting different zones, you can join shows or feeding sessions and even go on a wildlife safari. Visit it if you want to learn more about different animal species, their behaviours and habitats, all while having a great time. In this article, I will tell you all you need to know about Dubai Safari Park sections, attractions, tickets, location, timings and more.
This is a seasonal attraction. Tickets are generally available from October to May.
Is Dubai Safari Park visit worth it: pros and cons
Check my quick overview of the pros and cons below to make a balanced decision.
Pros:
Diversity of animals: You will be able to see around 3,000 wildlife animals, including those from the region, and learn a lot about them.
Safari: You can explore the park not only on foot but also by joining a guided Safari Journey and an Arabian Village drive-through imitating wildlife safaris.
Interactive experiences: You can feed the animals, watch bird shows or live presentations, enriching your experience.
Cons:
Location: The safari park is not located centrally. However, it is done to ensure that animals have enough space and feel comfortable.
Book Dubai Safari Park Day Pass here
When is Dubai Safari Park open
Due to the desert climate, Dubai Safari Park operates only from October to May. In the new season, the park is open from October 5, 2023. It typically closes for the summer to give animals some rest from visitors and the heat.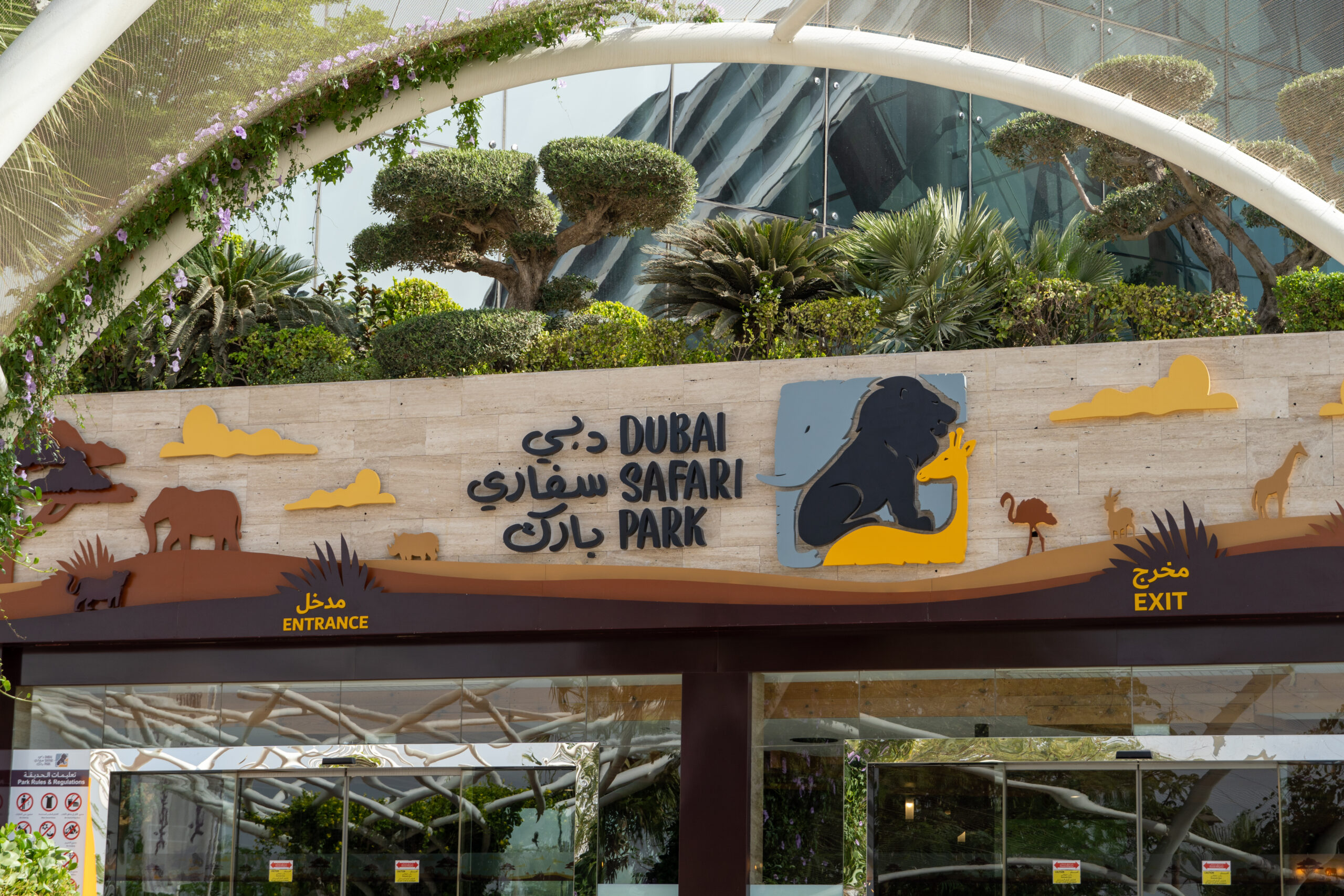 Park's wildlife animals
Before I guide you through the preserve, let's talk a bit about the true stars of the preserve — its animals. The park is home to about 3,000 animals, including almost 80 species of mammals, 50 types of reptiles and 111 sorts of birds. By the way, it is almost 3 times more than what the old Dubai Zoo had before. From the majestic African elephants and the elegant Arabian oryxes to the adorable meerkats and the quirky ostriches, the park has a diverse array of wildlife.
Moreover, if you are a fan of monkeys, you can see gibbons, baboons and chimpanzees in their natural habitats. Birds are represented by beautiful cranes, owls, white storks, mandarin ducks, parrots, peacocks and other species. There are also many exotic and less-known animals, so it is a great opportunity to see them in reality and get some extra information.
Furthermore, the park's commitment to conservation is evident in its efforts to protect and preserve endangered species. They work closely with international organisations to ensure the well-being and survival of these species.
Dubai Safari Park areas and activities
What I really liked is that Dubai Safari Park is well-structured and divided into distinct areas or villages. These include the African Village, Asian Village, Explorer Village, Arabian Desert Safari, Wadi Area and Kids' Farm. Each village offers a unique experience and a glimpse into the diverse wildlife of that region.
In addition to exploring these villages, you can also enjoy other activities like animal feeding, bird shows and more. Now, let me introduce you to each of them more in detail.
African Village
The African Village is a must-visit for anyone fascinated by the wildlife of the African continent. This area is designed to replicate the African savannah, complete with its diverse flora and fauna. Here, you'll come across some of Africa's most iconic animals like lions, elephants, giraffes, zebras and cheetahs.
Walking through the African Village, you'll feel like you're visiting the continent. You'll see herds of zebras grazing, giraffes towering above the treetops, and if you're lucky, you might even spot a lion basking in the sun.
Have Fun Dubai's Tip: Furthermore, the village has an open-air Grand Aviary where you can see a variety of African birds. The birds sometimes literally walk between your feet. I found this place really impressive. After all, it is the largest aviary in the UAE. It is centred around artificial giant trees connected by a footbridge. You can climb it and see the birds from above. And don't forget to visit a small lake with gracious pink flamingos a bit further away.
Animals spotted: African elephant, cheetah, impala, gorilla, bongo, hyena, pygmy hippo, iguana, golden pheasant, white lion, sable, lizard, lorikeet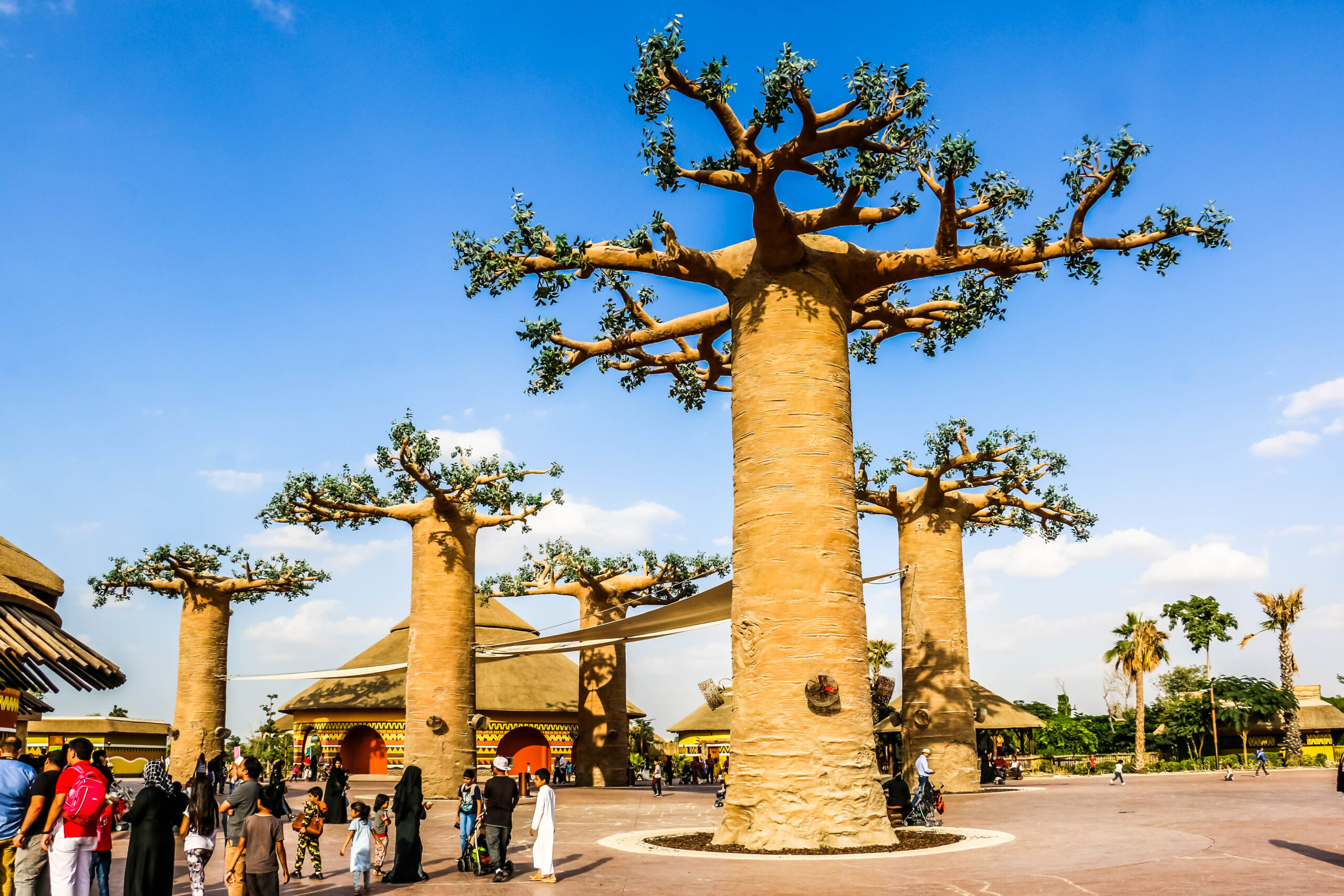 Explorer Village
From the African Village, you can move directly to the Explorer Village which offers a unique blend of animals from different regions. It's a place where you can see a gracious cheetah, a famous Nile crocodile or a hippo wallowing in the water. The Explorer Village is a melting pot of wildlife, offering an eclectic mix of animals from Africa, Asia and the Middle East.
This is the largest, and, in my opinion, one of the most interesting areas of the park. Here you can also watch a fascinating 25-minute bird show or go on a drive-through safari journey. Visit the Hippo Aquarium to see these big animals navigating in the water or get some carrots on-site to feed long-necked giraffes. It is a rewarding experience!
Animals spotted: hippo, giraffe, guineafowl, baboon, antelope, deer, Nile crocodile, lion, tiger, hyena, Arabian oryx, zebra, rhino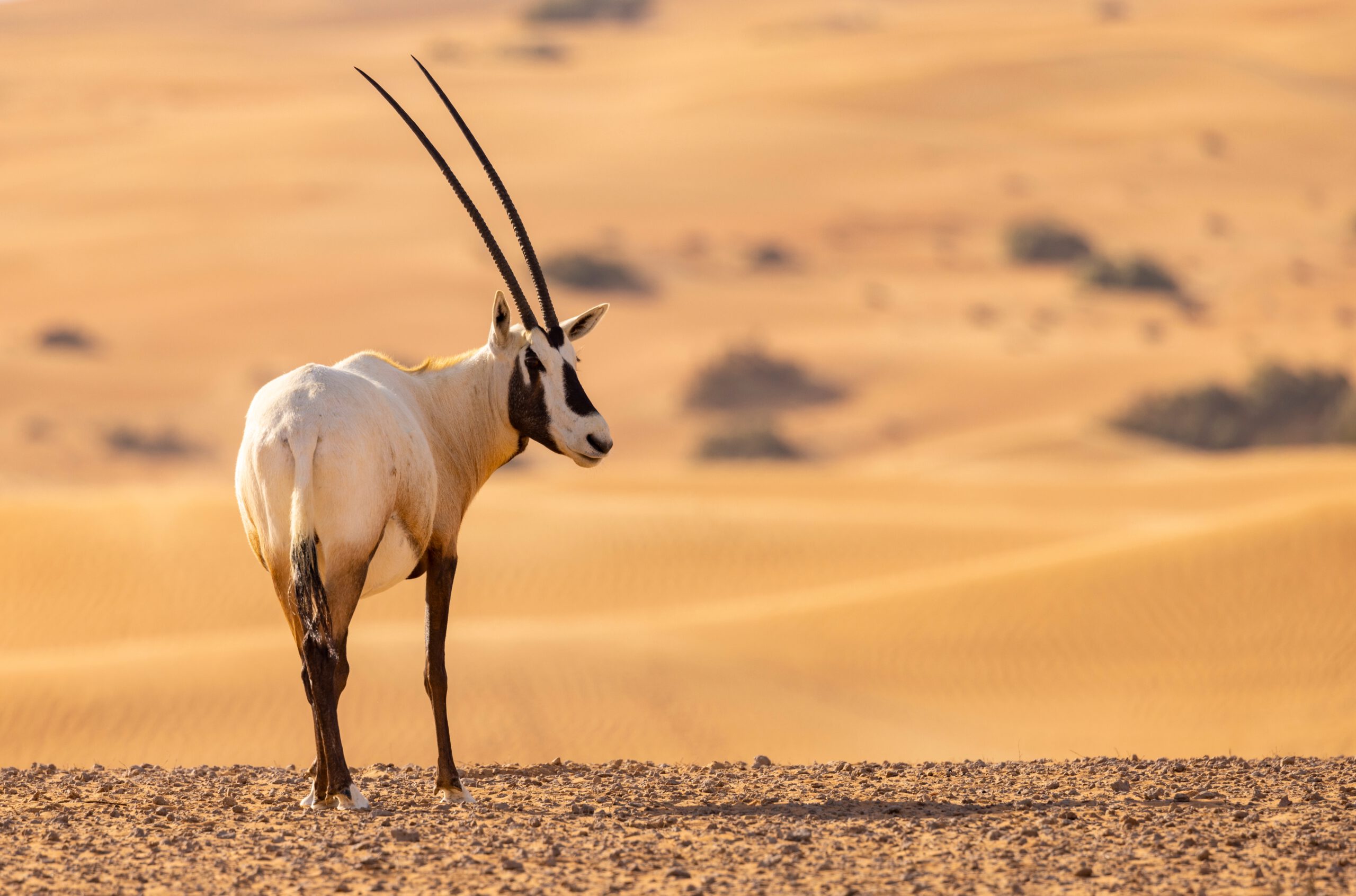 Asian Village
The Asian Village in the safari park in Dubai is a tribute to the wildlife of Asia. This section is smaller in comparison to others, but you can still see some impressive animals, such as moon bears. It is also pleasant to just walk around passing the waterfall and a series of caves.
Furthermore, it is home to The Asian Village Theatre which organises regular animal shows.
Animals spotted: moon bear, mandarin duck, southern cassowary
Arabian Village (Arabian Desert Safari)
The Arabian Village at the safari park in Dubai is a great section to get familiar with the animals of the UAE and the Arabian Peninsula. You will get on a minibus and go for a 10-minute ride. By the way, the bus has no windows so it is handy for taking beautiful pictures with no obstruction. And the scenery will be indeed worth the pictures.
Here, you can see animals that have adapted to survive in the harsh desert environment, like the Arabian oryx, the Arabian wolf and the sand gazelle. The area is designed to replicate the desert landscape, complete with sand dunes, rocks and desert vegetation. So, prepare your camera, I am sure the Arabian Desert Safari will be a great backdrop!
Animals spotted: gazelle, Arabian oryx, Arabian wolf, addax
Guided Safari Journey
If you want to add an extra touch to your visit, you can join a 35-minute Safari Journey around the park with a guide. As you drive through in an air-conditioned bus you will witness many animals I have mentioned above.
The cool thing about this journey is that you will also learn many interesting facts from a knowledgeable and friendly guide. Like what is the fastest, tallest or biggest inhabitant of the park. In my view, the Safari Journey is a great option for those who don't like walking (the park is indeed big) or would like to see a lot in a short period.
Operation hours: 09:00 to 16:30
Duration: 35 min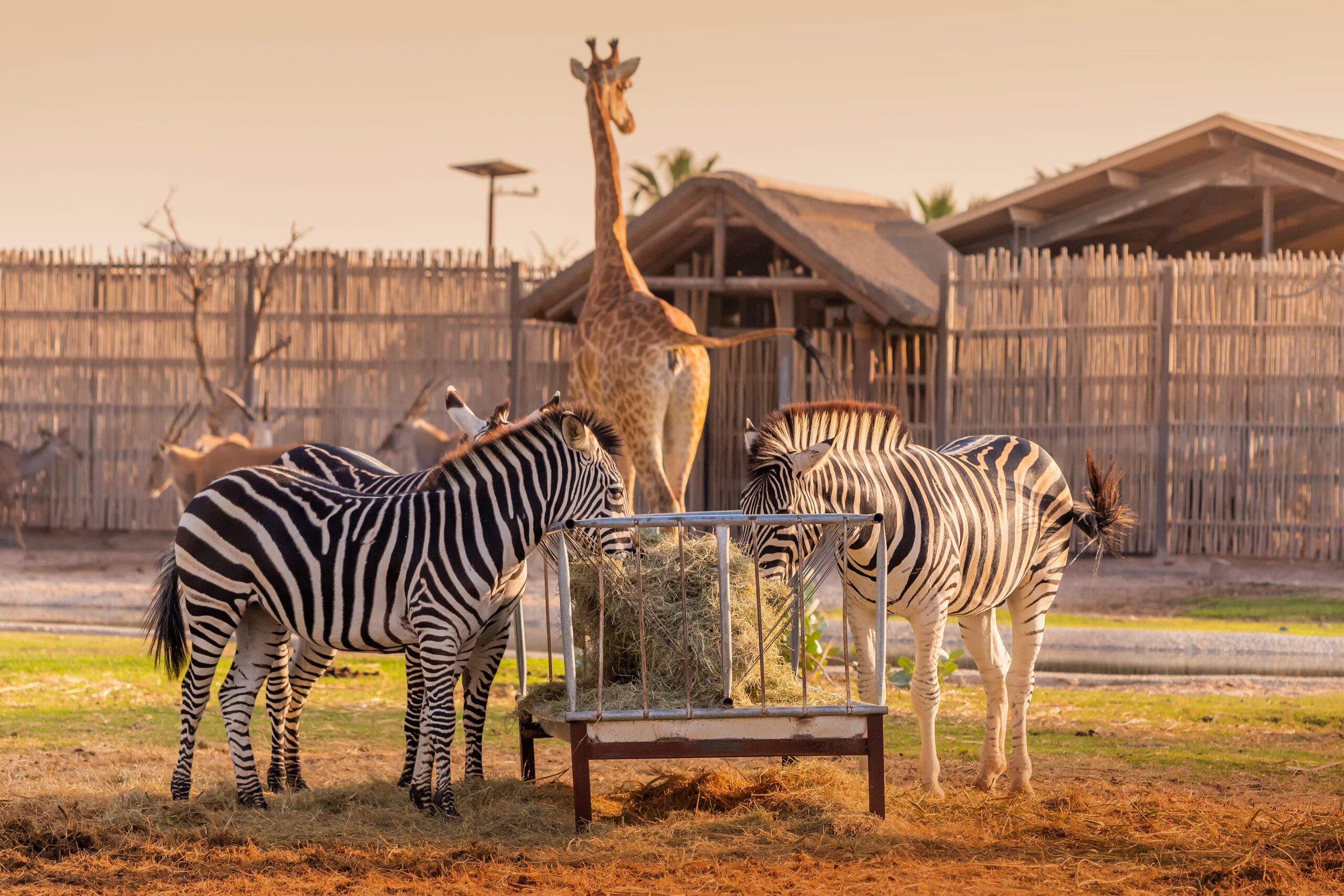 Wadi Area
The Wadi Area is a tranquil retreat within the bustling park. It's a place where you can take a break from the wildlife exploration and simply relax. The Wadi Area is designed to mimic a natural wadi, a dry riverbed found in the Arabian desert.
The centrepiece of the Wadi Area is a beautiful waterfall, cascading down a rocky cliff. There are also several shaded seating areas where you can sit back and enjoy the serene surroundings. Moreover, there are a couple of restaurants, so you can grab some food.
The Wadi Area of the safari park is also home to a variety of bird species, such as swans, ducks and peacocks. The birds flitting about add to the charm of the place.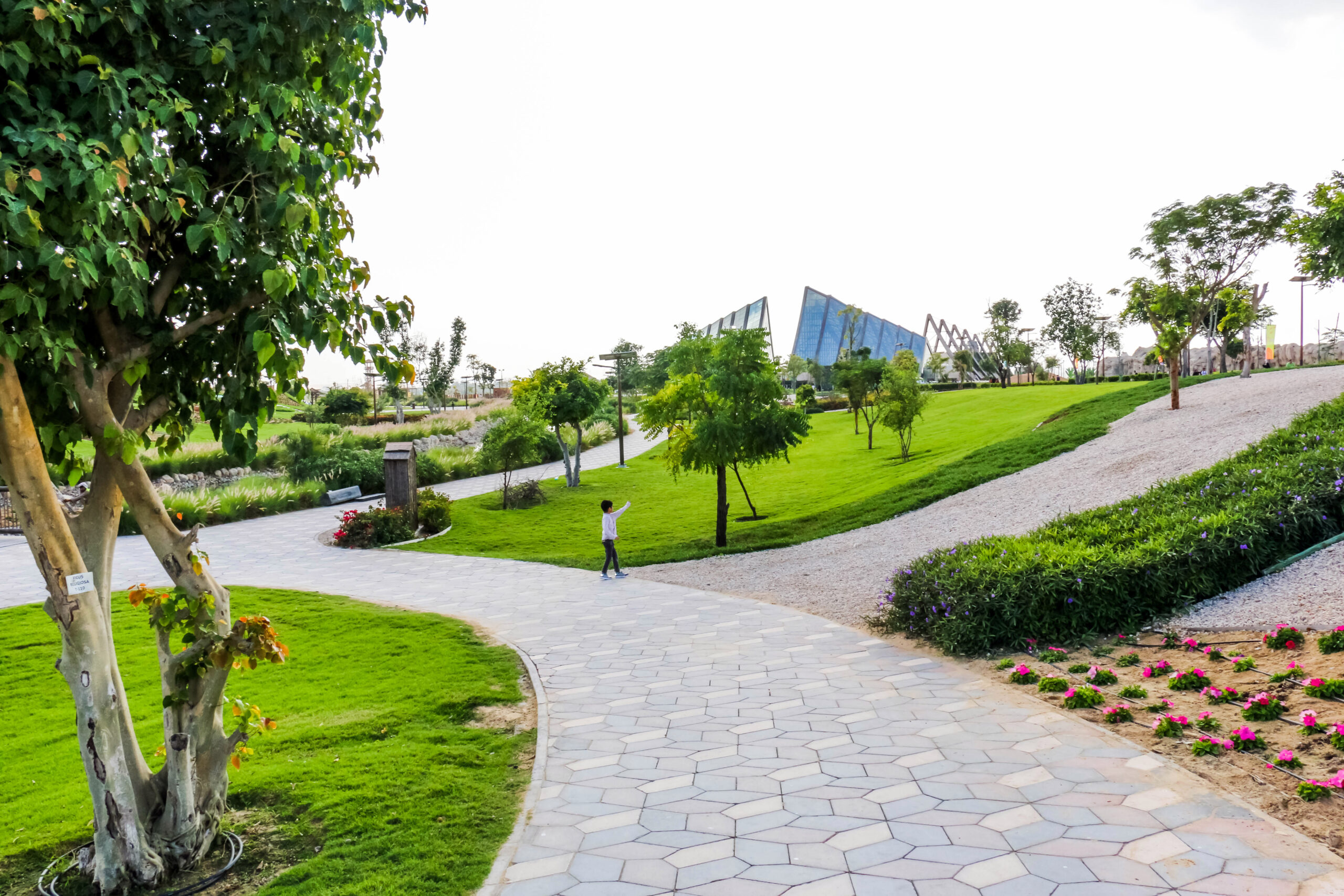 Kid's Farm
The Kid's Farm is a paradise for the little ones. It's a place where kids can get up close and personal with farm animals like goats, sheep, tortoises, ostriches and rabbits. It is a vibrant place painted in all the rainbow colours where children really have fun. The Kid's Farm is designed to engage children in a fun and interactive way.
I would say that one of the highlights of the Kid's Farm is the petting zoo. Here, kids can pet and feed the animals under the supervision of trained staff. It's an experience that not only delights the children but also teaches them about the animals.
Moreover, there is an interactive play area where kids can burn off some energy. With slides, swings and climbing structures, it's a hit with the young ones. So, let your kids loose in the Kid's Farm and watch as they have the time of their lives!
Animal feeding
One of the most popular activities at Dubai Safari Park is animal feeding. It's an opportunity to interact with the animals and get a closer look at them. From feeding the giraffes to tossing treats to the goats, it's an experience that's sure to delight visitors of all ages.
Animal feeding sessions are held at specific times and locations throughout the park. I have listed them below. However, I recommend checking the schedule when you arrive as timings are subject to change.
By the way, these sessions are supervised by trained staff to ensure the safety of both the visitors and the animals. And, of course, do not bring food from outside in order not to harm the animals of the safari park.
Giraffe feeding timings: 10:30, 12:30, 14:30, 16:00
Bird feeding timings: 12:00 to 12:30 and 15:45 to 16:15
Goat feeding timings: 11:30 to 11:45 and 16:15 to 16:30
Safari Park dining options
Exploring the park can be a tiring affair. Thankfully, Dubai Safari Park has several dining options to cater to your hunger pangs. From quick bites to sit-down meals, you'll find a variety of food and beverage outlets spread across the park.
There are four main restaurants:
Oregano (in African Village): Italian cuisine
Local House (near Explorer Village): Mediterranean cuisine
Bait Al Qadeem (near Chimpanzee stop): Arabic cuisine
La Venecia (in Glass Building): Italian cuisine
Whether you're craving a juicy burger, a hearty pasta or a refreshing salad, you'll find it all here. There are also several kiosks where you can grab a quick snack or a refreshing drink.
Dubai Safari Park tickets
The park offers several ticket options and packages.
The cheapest one is a Day Pass which includes access to all villages, a 10-minute Arabian Desert Safari drive and live presentations. You can also add upgrades at the park entrance, such as train rides between the zones and a Safari Journey.
Dubai Safari Park Day Pass price: AED 50 per adult, AED 20 per child 3 to 12 years, free for children under 3 years
Price Alert: If you want to get a discount and buy the Day Pass cheaper than at the park gate, click the link below.
Book Dubai Safari Park Day Pass here
Safari Journey tickets include access to all villages, a 10-minute Arabian Desert Safari drive, a 35-minute Safari Journey, unlimited train rides and live presentations.
Safari Journey ticket price: AED 90 per adult, AED 35 per child 3 to 12 years
Via the link below you can buy Safari Journey tickets (though price is a bit higher than at the gate) + add a shared transfer to the park from your hotel.
Book Safari Journey ticket with an optional transfer here
Timings
Dubai Safari Park opening hours: 09:00 to 17:00 (entry until 15:30)
I suggest that you arrive early if you want to avoid the crowds. A lot of families with kids attend the park in the afternoon.
How long does it take to visit Dubai Safari Park
It ranges from 2 hours for a quick visit to 4 hours or longer for a more thorough exploration. Given the size of Dubai Safari Park and the number of attractions it offers, you should ideally allocate at least half a day. However, the actual time may vary depending on your pace, the activities you choose to participate in and whether you are with children
If you're planning to explore all the villages, attend the animal shows, participate in the animal feeding sessions and enjoy a meal at one of the restaurants, it can easily take up to 4 hours. However, if you're short on time, you can prioritise the areas and activities that interest you the most.
Have Fun Dubai's Tip: If you do not have much time, I recommend taking a Guided Safari Journey (35 minutes) or using little trains that will help you to move between the areas of the park quicker. However, both of these options cost extra and are not included in the basic day ticket.
Is safari park in Dubai ethical
One of the concerns many people have about zoos and safari parks is their ethical aspect. I too believe that all animals should be treated with respect. The good news is that Dubai Safari Park is committed to animal welfare and conservation. The park provides a comfortable and natural habitat for the animals, ensuring they're well taken care of. The former Dubai Zoo had a lot of criticism for caging animals, so that lesson was learned before.
The park also works with international organisations to protect and preserve endangered species. They're involved in several conservation programs and initiatives, contributing to the global efforts to save wildlife. Moreover, the park promotes education and awareness about wildlife conservation.
When you see the size of the bird aviary or the main park villages, you will notice that animals have enough space.
Location
Dubai Safari Park address: Al Warqa 5, Dubai, United Arab Emirates
How to get to Dubai Safari Park
The park is not located centrally, however, there are still several options you can choose from.
By taxi: The quickest and most convenient way to get to the safari park is by taxi
By metro: Take the red line of the Dubai Metro to Centrepoint station (previously called Rashidiya) and then change to a bus (see below) or a taxi
By bus: Take the bus F10 from Rashidiya bus station located near the metro station
By car: Around 3,000 parking spaces available for the park's visitors
Prepare for your Dubai trip
Did you find this post helpful? Then click that little heart below and share it with your friends and family. Have fun in Dubai!