Dubai Dolphinarium is a magnificent marine facility nestled in the heart of Dubai, at Creek Park. Opened in 2008, it's the first fully air-conditioned indoor dolphinarium in the Middle East. It boasts an array of marine life, interactive experiences and exciting shows that will captivate both the young and old.
Dubai Creek Park Dolphinarium is a place where you can witness the playful antics of dolphins and seals, marvel at the exotic birds and even swim with the dolphins! This state-of-the-art facility ensures the welfare and happiness of its inhabitants, so you should not worry about the ethical aspect. In this post, I will tell you about my visit experience and share with you all you need to know about Dubai Dolphinarium tickets, shows, activities, location, timings and more.
What is Dubai Dolphinarium and what to expect from It
Dubai Dolphinarium, opened in May 2008, is a 1200-seat venue featuring marine animal and bird shows. Here, you can marvel at the elegant dolphins, mischievous seals and other marine life as they perform tricks, play and interact with their trainers. You can expect a day full of fun, laughter and learning — perfect for a family outing.
This Dolphinarium in Dubai is not simply a marine attraction. It's an experience that brings you closer to nature and allows you to appreciate the sheer beauty and intelligence of marine life. The Dolphinarium is home to several bottlenose dolphins and fur seals, each with their unique characteristics and personality.
Trained by professional staff, these intelligent creatures perform a range of tricks and stunts that will leave you in awe. From playing ball to painting, the dolphins and seals never fail to impress.
But that's not all. The dolphinarium also houses a variety of exotic birds, a mirror maze and a 5D/7D cinema that offers an immersive experience. Now, let me tell you more in detail about different attractions and things to do at Creek Park Dolphinarium.
Book your Dubai Dolphinarium tickets here
Is Dubai Dolphinarium indoor or outdoor
Dubai Dolphinarium is an indoor facility, providing a comfortable environment for both marine life and visitors, regardless of the weather. The indoor setting allows you to enjoy the attractions and shows without worrying about the scorching heat or unexpected rain showers.
Dolphin and Seal Show Dubai: an exciting experience
One of the highlights of my visit to Dubai Dolphinarium was the Dolphin and Seal Show. Dolphins and seals perform incredible acrobatics, dance, sing and even paint! It's an experience that will leave you clapping in delight and marvelling at the intelligence and skills of these charming creatures.
In the beginning, the trainers introduce the stars of the show — dolphins and seals. Each animal has its own unique story. The bond between the trainers and the animals was palpable, and it was heart-warming to see how they interacted with each other.
As the Creek Park Dolphin Show progresses, the dolphins and seals perform a series of tricks that are spectacular. They dance, juggle, leap into the air and paint! There is a friendly atmosphere, and you are sure to have fun watching this Dubai dolphin show.
Dolphin and Seal Show Dubai times: 11:00, 14:00, 18:00
Dolphin and Seal Show Dubai duration: 45 minutes
Dolphin and Seal Show Dubai price: AED 99 and above per adult, AED 49 and above per child (2-11 years)
Book your Dolphin Show Dubai tickets here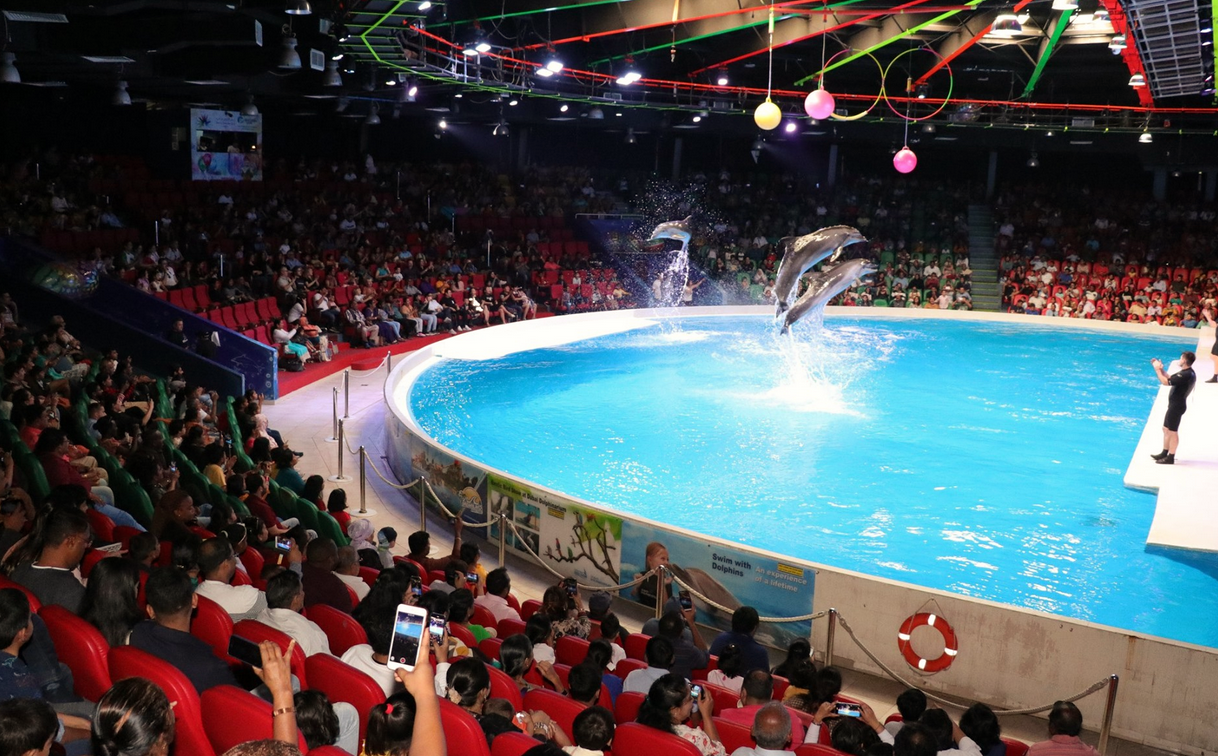 Exotic Bird Show Dubai: a colourful adventure
Exotic Bird Show at Dubai Dolphinarium takes place in a smaller hall and features a variety of colourful, exotic birds from around the world. Watch as they showcase their flying skills and engage in playful antics.
The show begins with the introduction of the birds. They include cockatoos, macaws, toucans, parrots, falcons and more. The trainers share interesting facts about each bird, including their habitat and unique characteristics.
The stars of the Creek Park Exotic Bird Show perform a series of tricks, such as bike riding, basketball playing and even solving puzzles. Kids and bird lovers will truly appreciate this performance with bright feathery celebrities.
Dolphin and Seal Show Dubai times: 12:15, 15:15, 19:15
Dolphin and Seal Show Dubai duration: 30 minutes
Dolphin and Seal Show Dubai price: AED 50 and above per adult, AED 30 and above per child (2-11 years)
Book your Exotic Bird Show Dubai tickets here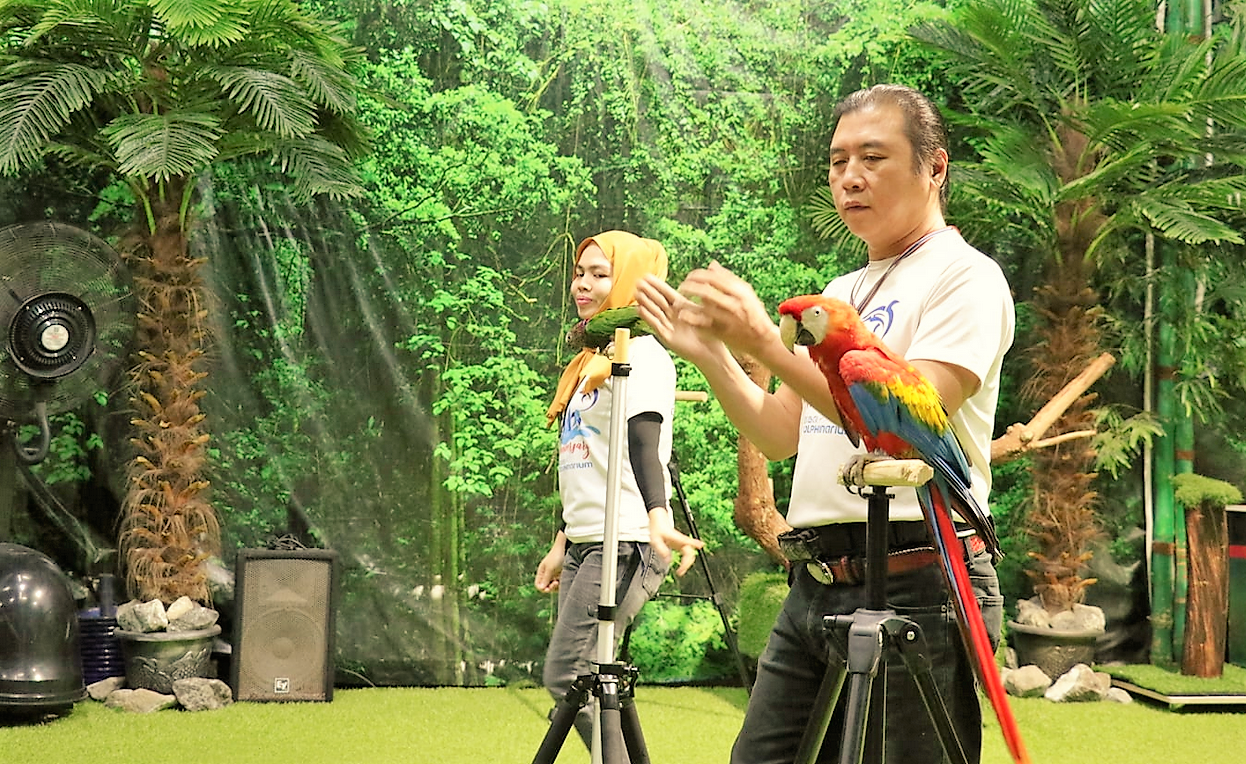 Swim with Dolphins Dubai: dive into the cuteness
Is it possible to swim with dolphins at Dubai Dolphinarium? Yes, if you ever dreamt of swimming with dolphins, your dream can come true here. Experience the thrill of interacting with dolphins up close and personal. It's a once-in-a-lifetime opportunity that you won't want to miss.
Firstly, the trainers will introduce you to the dolphins and brief you about their behaviour and general safety measures. Dolphins are really cute and harmless! And as you swim with them you can truly appreciate their intelligence and gentleness. They are playful, curious and incredibly friendly. It is an experience that you will remember for the rest of your life.
Swim with Dolphins times: 09:45, 10:45, 01:30, 02:30, 17:15, 18:15
Swim with Dolphins duration: 20 minutes
Packages available: Deep Water and Shallow Water
Group type: Mixed group up to 4 people or private
Children age info: Children must be aged 5 to 8 for a Shallow Water Swim and 5 to 12 for a Deep Water Swim
Swim with Dolphins price: AED 630 and above per adult, AED 475 and above per child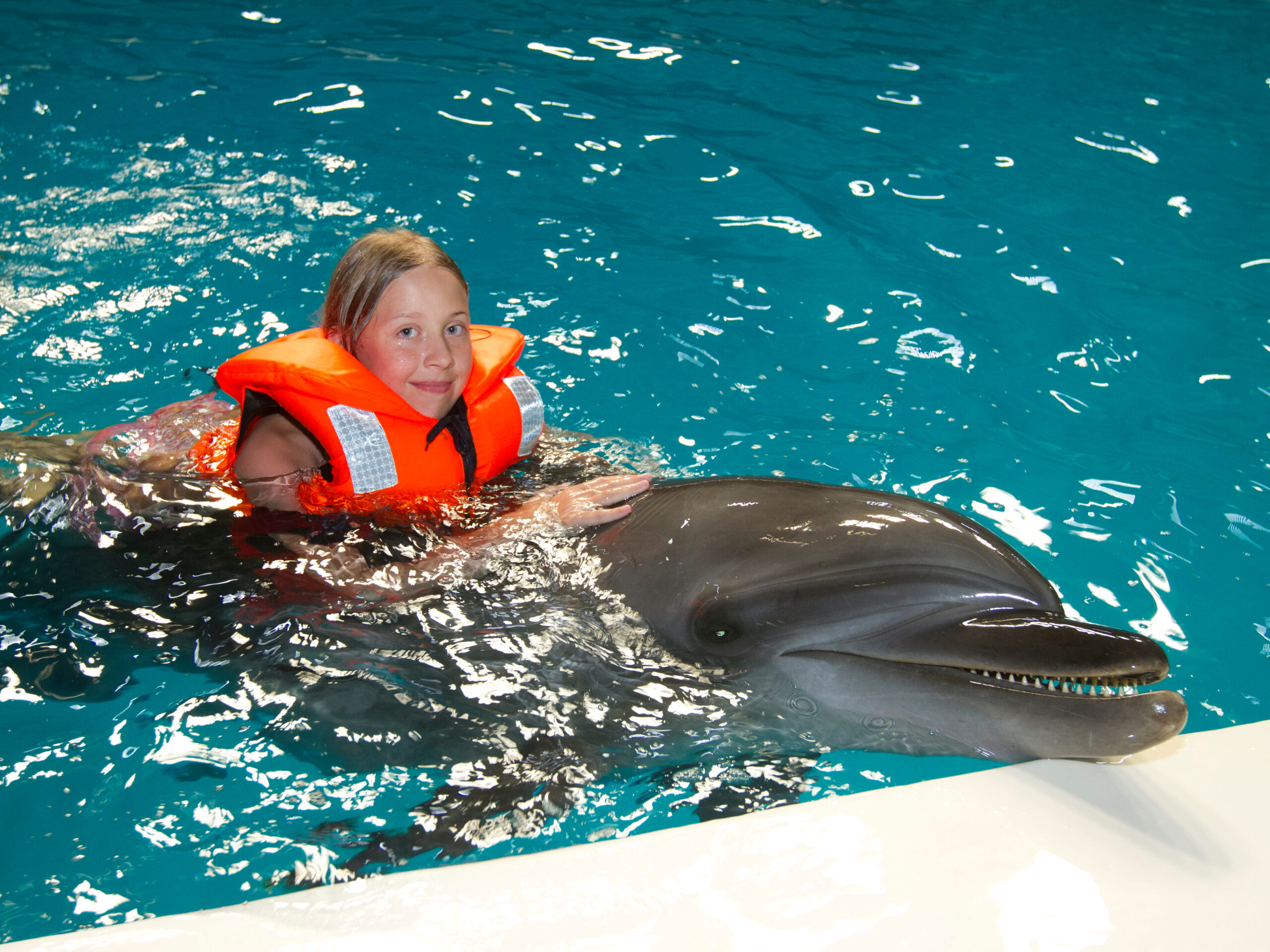 Dubai Dolphinarium tickets
Dubai Dolphinarium offers several ticket options, with Dolphin Show Dubai tickets and Exotic Bird Show tickets being the most popular. I always recommend booking in advance to avoid disappointment. Buy via the link below to get the Dubai Dolphinarium offers and discounts. Tickets are often cheaper here than at the gate.
Dubai Dolphinarium ticket price: AED 99 and above per adult, AED 49 and above per child (2-11 years) for the Dolphin and Seal Show
Book your Dolphin Show Dubai Dolphinarium tickets here
Dubai Dolphinarium ticket price: AED 50 and above per adult, AED 30 and above per child (2-11 years) for the Exotic Bird Show
Book your Exotic Bird Show Dubai Dolphinarium tickets here
Other attractions and activities
Besides the shows and dolphin swims, there's still more to explore at the Dolphinarium! So, here are the other activities you can experience at Creek Park Dolphinarium.
Mirror Maze Dubai
Get lost in the Mirror Maze, a mind-boggling labyrinth of mirrors that will challenge your sense of direction. It's a fun and unique experience that will have you laughing and scratching your head in confusion. You can set the timer and compete with your family members trying to find the way out.
5D/7D Cinema
Immerse yourself in the 5D/7D Cinema of Creek Park Dolphinarium, where you can experience movies like never before. With state-of-the-art technology, you'll feel as if you're part of the action, making it a truly unforgettable experience. Some of the special effects include movements, wind, fog and even scents. It is a fun experience for the whole family.
Art Factory
Unleash your creativity at the Art Factory, where you can participate in various art and craft workshops. It's a great way for kids to learn and express their imagination. Here, they can draw, paint and do other creative things with their hands.
Dubai Dolphinarium photo services
Want to capture your memorable experiences at Dubai Dolphinarium? Take advantage of their professional photo services. Whether it's a photo of you swimming with the dolphins or a family portrait with the exotic birds, these high-quality photos will serve as a perfect keepsake.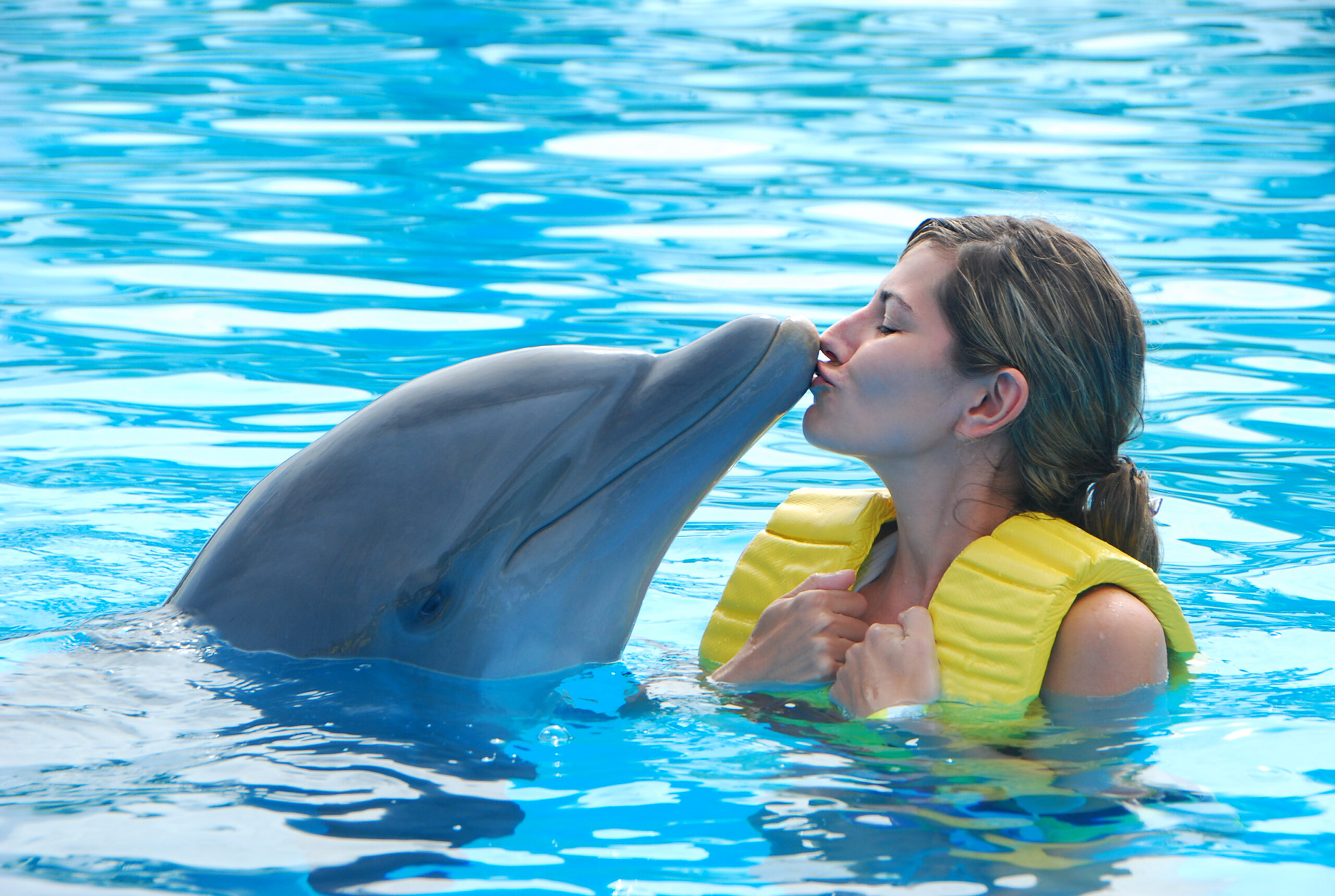 Happy Valley Restaurant
After all the excitement and fun, you can refuel at the Happy Valley Restaurant. Offering a variety of delicious meals and refreshments, it's the perfect spot to relax and recount the day's adventures. They offer several Asian dishes with rice, noodles and meat. Moreover, you can order a hamburger or a hot dog with French fries.
Timings
Dubai Dolphinarium opening hours: 09:00 to 20:00, closed on Tuesdays
Location
Dubai Dolphinarium address: Creek Park Gate 1, Umm Hurair 2 St., Dubai, United Arab Emirates
Have Fun Dubai's Tip: Dubai Dolphinarium is located in Creek Park. You need to have a NOL card with a balance of AED 5 per person in order to enter the park. The entrance fee for the park is charged separately at the main gate, and your dolphinarium ticket does not include it. I recommend buying a NOL card anyway if you plan to use Dubai public transport. You can learn about NOL cards and book them via the link above.
How to get to Dubai Dolphinarium
Getting to the Dolphinarium is easy, thanks to its central location. You can opt to drive, take a taxi or use public transportation like the metro or bus.
By metro: Take the Dubai Metro to the Dubai Health Care City metro station (green line)
By taxi: Use any official taxi service in Dubai to Creek Park Gate 1
By bus: You can also take bus number 6 to the Creek Park Main Gate bus stop
Other attractions and things to do nearby
The fun doesn't stop at the Dolphinarium in Dubai. You can also explore the surrounding area for more attractions and activities.
Dubai Creek Park: Dubai Creek Park is a beloved destination in Dubai that provides a delightful escape for people of all ages. With its peaceful lawns, play areas and botanical gardens, Creek Park is a great place to discover after visiting the Dolphinarium.
Dubai Creek: Take a traditional abra ride in Dubai Creek and enjoy the picturesque views of the city from the waterway separating Deira and Bur Dubai. You can also enjoy a dhow cruise with dinner here.
Children's City Dubai: This is a captivating educational centre that offers an array of interactive exhibits and activities for young learners. From hands-on science experiments to cultural displays, Children's City provides a stimulating and engaging environment where children can learn and explore in a fun-filled way.
Jameel Arts Centre: The Jameel Arts Centre in Dubai is a stunning architectural marvel that seamlessly blends traditional Emirati design with contemporary aesthetics. With its cluster of white cubes on the waterfront, expansive gallery space and vibrant desert gardens, the centre is a great place to see contemporary art from the Middle East, Turkey and North Africa. The entrance is free!
Prepare for your Dubai trip
Did you find this post helpful? Then click that little heart below and share it with your friends and family. Have fun in Dubai!