Located at the heart of Downtown Dubai, the Sky Views Dubai Observatory offers an unforgettable experience for those seeking to enjoy the most stunning views of the city. This iconic destination boasts an array of attractions, including the Sky Glass Slide and Sky Edge Walk. It's a dream for many to climb Burj Khalifa, but if you want to avoid crowds, you can also visit the Sky Views observation deck in Dubai to enjoy a similar panorama but from a lower floor.
Recently, I had the pleasure of visiting the spectacular Sky Views Observatory Dubai, and it was an amazing experience. In this comprehensive guide, I will provide you with everything you need to know about Sky Views Dubai tickets, attractions, location, opening hours and more. Besides, I will share tips about other viewpoints with the best views in Dubai.
Is Sky Views Dubai visit worth it: pros and cons
Check my quick overview of the pros and cons below to make a balanced decision.
Pros:
Breathtaking views: Sky Views Observatory provides incredible panoramic views of Dubai's skyline and iconic landmarks, such as Burj Khalifa, making it a must-visit attraction.
Multi-experience attractions: This is not simply an observation deck, but also an experience zone where you can feel the adrenaline rush while trying the Sky Edge Walk Dubai and Sky Glass Slide Dubai.
Accessible location: Located in the heart of the city, Sky Views Dubai by Emaar is easily accessible by public transport and is adjacent to the metro station.
No crowds: One of the Sky Views Observatory's advantages is that it is relatively quiet, so you can enjoy the best Dubai views at your own pace.
Cons:
Indoors: In my opinion, one of the downsides of Dubai Sky Views is that it is a covered viewing platform (unless you choose the Sky Edge Walk experience of course).
Book your Sky Views Dubai tickets here
Observation deck with Burj Khalifa views
The Sky Views Dubai Observatory is a state-of-the-art observation deck situated on the 52nd and 53rd floors of the Sky View Towers. This awe-inspiring vantage point offers unrivalled views of Burj Khalifa, the world's tallest building, as well as the entire cityscape of Dubai.
As one of the best viewpoints in Dubai, the observatory provides an unparalleled opportunity to witness the city's architectural marvels and breathtaking skyline. You can enjoy the views from the observation deck and the slide made completely of glass or even step outside at the Edge Walk Dubai. Are you ready to feel the adrenaline pump into your veins? Let's talk about each of the attractions a bit more in detail.
Sky Views Dubai Observatory
Soaring almost 220 metres above the ground, this observatory is a masterpiece, featuring floor-to-ceiling windows that provide an unobstructed, 360-degree view of the city. By the way, the Sky Views observation deck in Dubai is relatively new, as it opened in 2021.
Firstly, you will go up in a glass panoramic elevator and get the first taste of the wonderful views that await you at the top. To be honest, the upper level on the 53rd floor is a bit less impressive. The lower level has large window panes, and most of its floor is made of thick glass. You can walk on the glass, hovering above the city.
Have Fun Dubai''s Tip: From one side of the Sky Views Dubai, you can enjoy spectacular views of Burj Khalifa, the Dubai Fountain, the Dubai Mall and the rest of Downtown Dubai. The other side features vistas of the busy Sheikh Zayed Road, lined with skyscrapers, and other neighbourhoods all the way to the Arabian Gulf. I really liked the Dubai Sky Views because it was not crowded and I could see Burj Khalifa from a different angle.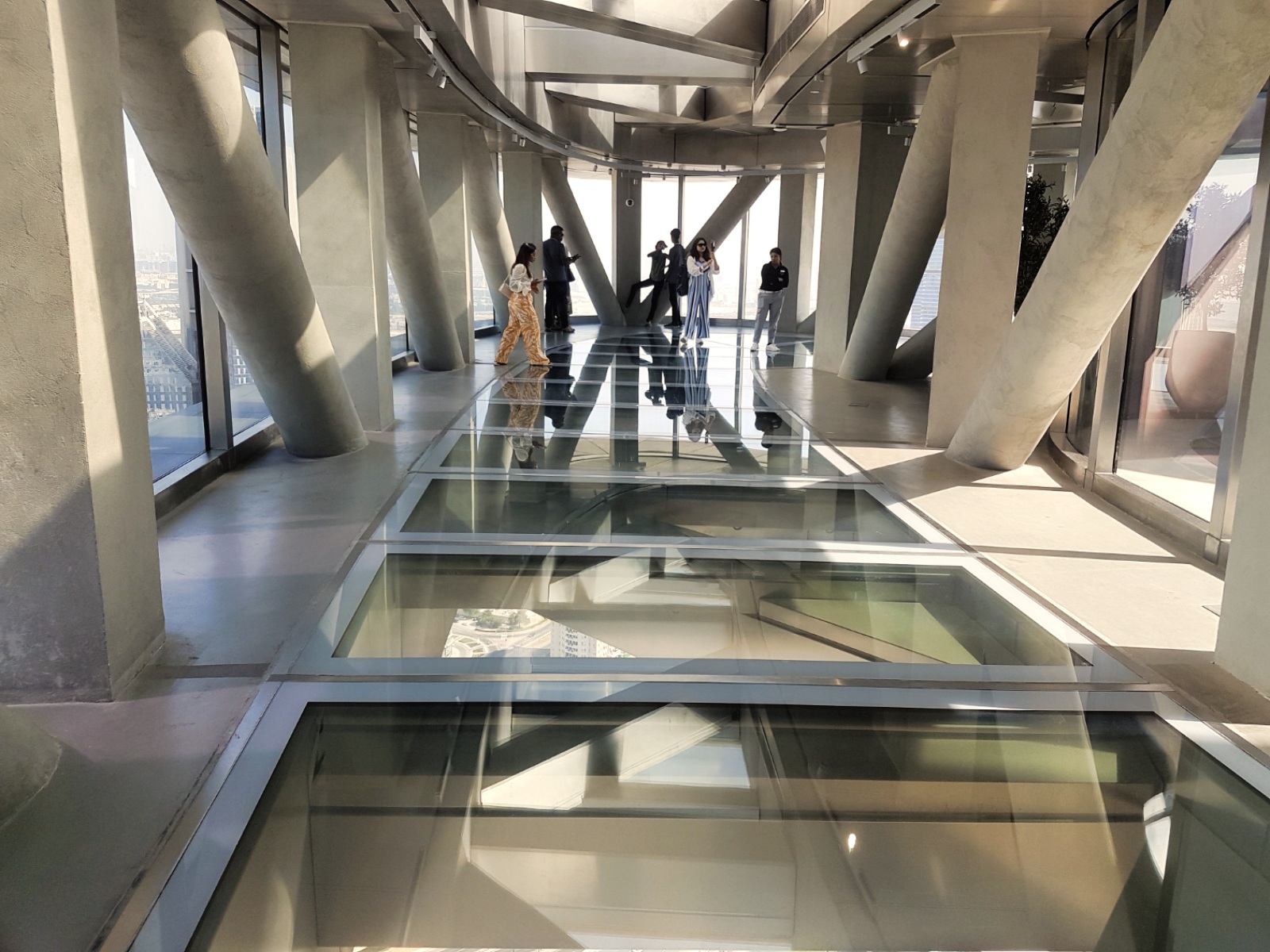 Sky Glass Slide
One of the most thrilling attractions at Sky Views Dubai is the Sky Glass Slide. This exhilarating, 20-metre-long slide is made entirely of glass, allowing you to enjoy a heart-pounding ride while taking in the breathtaking views of the city below. Before you ask, the floor, ceiling and walls are all made of glass, so this Dubai slide is fully transparent.
As you slide down from the 53rd to the 52nd floor on a mat, you'll feel as if you're floating on air, offering an adrenaline-pumping experience like no other. One ride is included in your Sky Views Observatory ticket, and for extra rides, you need to pay 25 AED. To enjoy the slide ride, your weight must be from 30 to 150 kg, and your height must range from 120 to 200 cm. There is a small queue, and the waiting time is short.
Book your Sky Views Dubai and Sky Glass Slide tickets here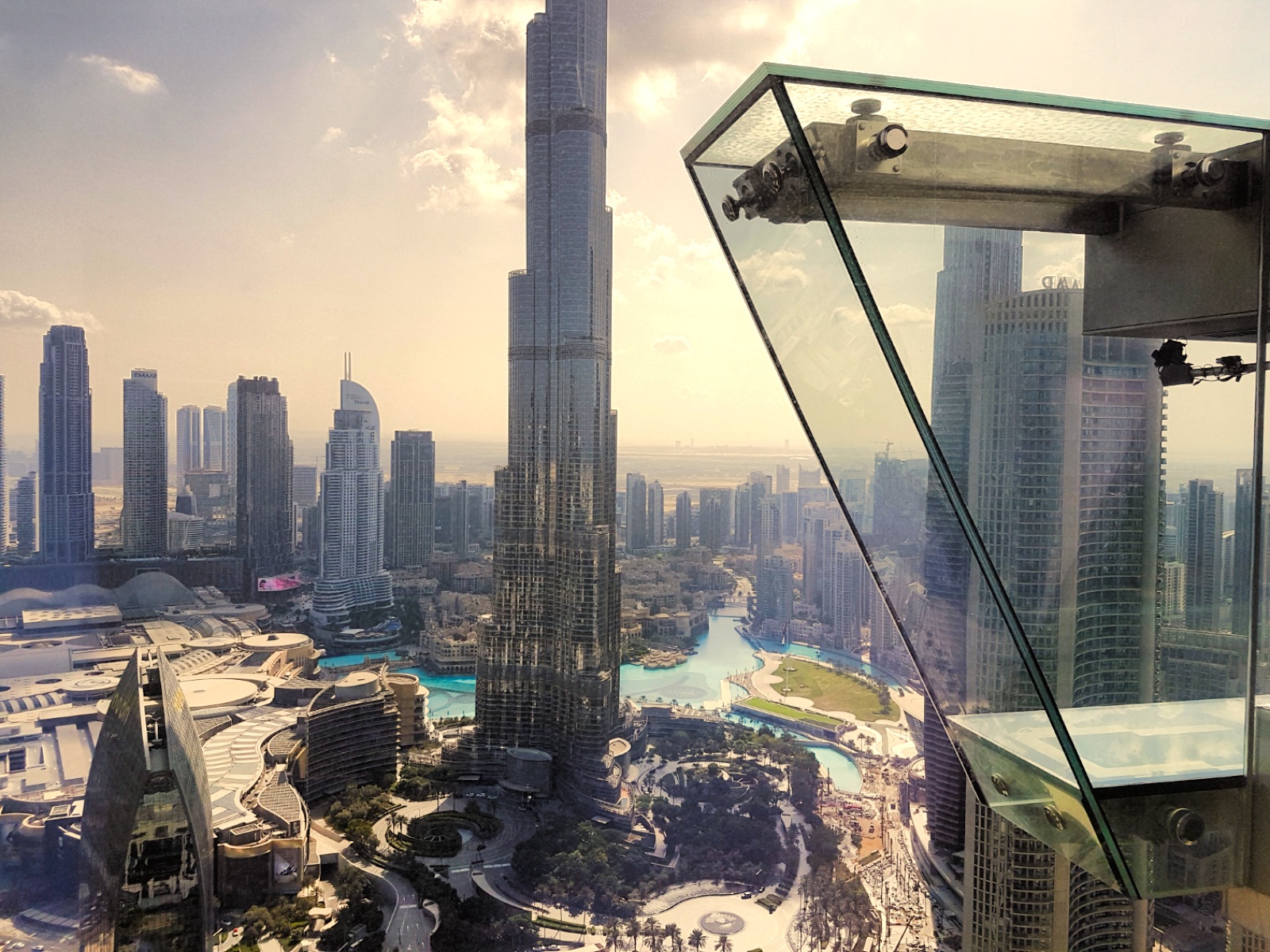 Sky Edge Walk
For those seeking an even more daring adventure, the Sky Edge Walk is the perfect challenge. This thrilling, open-air walkway encircles the 53rd floor of the Sky View Tower, providing you with an unparalleled opportunity to step out onto the edge and experience Dubai from a whole new perspective. Firstly, you will have time to put on a special uniform and get to hear the safety instructions. As you traverse the walkway, you'll be securely harnessed, ensuring your safety as you take in the breathtaking views. This is a truly challenging and breathtaking experience at the same time.
To enjoy the Edge Walk Dubai, your weight must be from 30 to 120 kg, and your height must range from 135 to 200 cm. Sky Walk Edge ticket includes access to the Sky Views observation deck and one Sky Glass Slide ride.
Book your Sky Edge Walk Dubai tickets here

Sky 52 restaurant
After your thrilling adventures at the observatory, you can wind down and enjoy a meal at the Sky 52 restaurant. Located on the 52nd floor, this luxurious dining establishment offers a selection of international cuisines, accompanied by panoramic views of the city. The Sky 52 restaurant is a great place to relax and savour a memorable dining experience.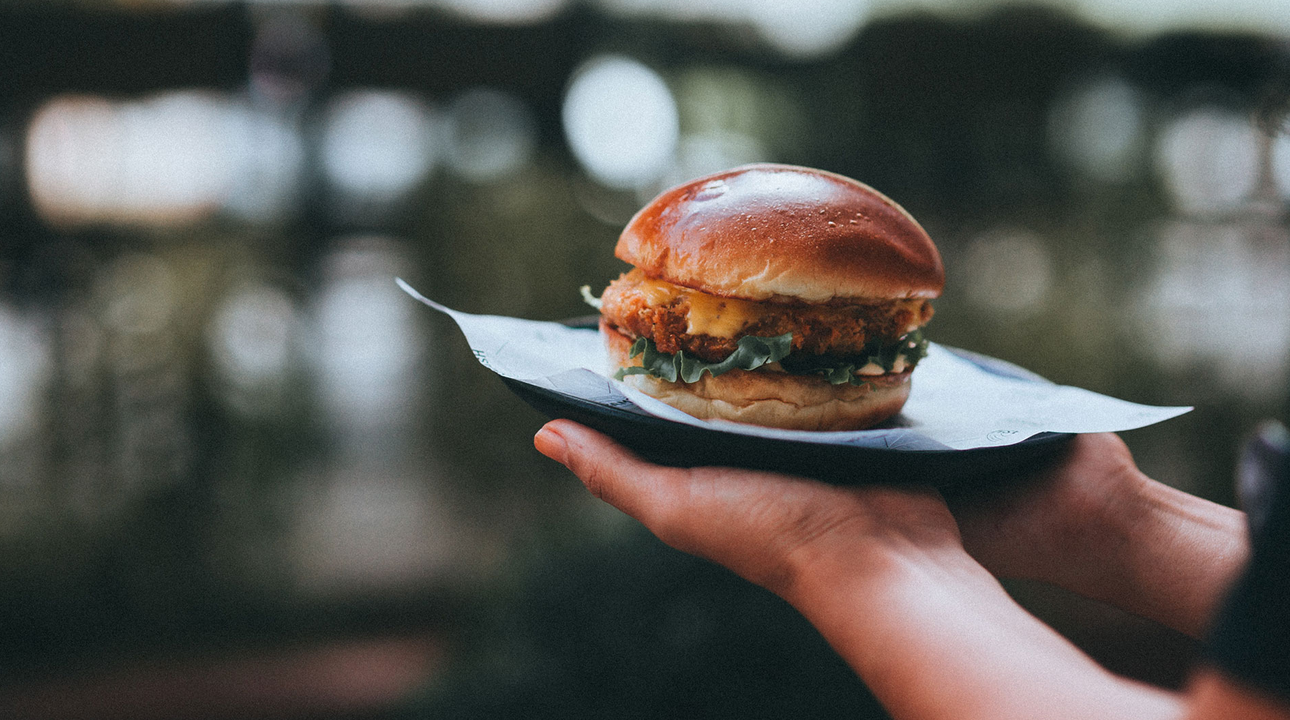 Sky Views Dubai tickets
To experience Sky Views Dubai, you'll need to purchase tickets for entry. The ticket prices vary depending on the attractions you wish to experience, with options available for the Observatory + Sky Glass Slide and Observatory + Sky Glass Slide + Sky Edge Walk. I recommend booking your tickets online in advance, ensuring you secure your preferred time slot and avoid any disappointment. How much is Sky Views Dubai?
Sky Views Dubai ticket price: AED 80 for Observatory + Dubai Glass Slide, AED 499 for Sky Edge Walk Dubai
Book your Sky Views Dubai tickets here
Timings
Sky Views Observatory opening hours: 10:00 to 22:00 (last entry 1 hour before closing)
Location
Dubai Sky Views address: Address Sky View, Emaar Square Area, Downtown Dubai, Dubai, United Arab Emirates
Situated in the heart of Downtown Dubai, the Sky Views Observatory is conveniently located for visitors to access. The observatory is found within the Sky Views Towers, which are adjacent to the iconic Dubai Mall and just a short walk from the Burj Khalifa.
How to get to Sky Views Dubai
Getting to Dubai Sky Views Observatory is relatively easy, with several convenient transportation options available.
By metro: Get by metro to the Burj Khalifa/Dubai Mall station, and from there, it's just a brief walk via a covered footbridge to the Sky Views Observatory
By car: If you're travelling by car, you'll find ample parking available at the Dubai Mall, which is just a short walk from the Sky Views Towers via a covered pedestrian bridge.
By taxi: Taxis are available throughout the city
By bus: Take a bus to the Dubai Mall bus stop and walk a short distance
Sky View Towers and Address Sky View Dubai Hotel
The observation deck is located inside the Sky View Towers. It is a magnificent architectural marvel, featuring two 60-story towers connected by a unique 46-metre sky bridge. Within the towers, you'll find the luxurious Address Sky View Dubai Hotel, offering an amazing level of comfort and sophistication.
With its world-class amenities, including a spa, fitness centre and rooftop infinity pool, the Address Sky View Dubai Hotel is the perfect destination for those seeking a lavish and indulgent getaway. Moreover, if you stay at the hotel, you will be able to daily enjoy the fantastic Burj Khalifa views.
Book your stay at the Address Sky View Dubai Hotel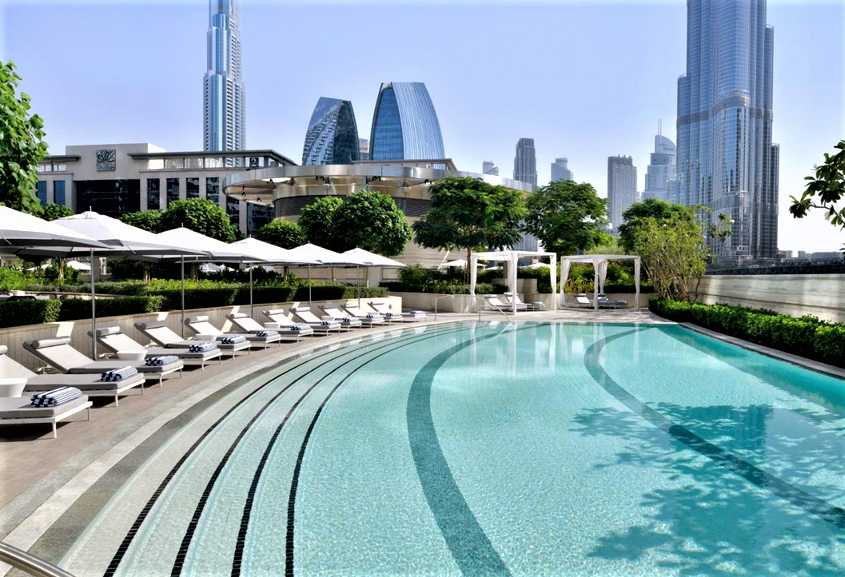 Best viewpoints in Dubai: Other must-see observation decks in Dubai
While the Sky Views Dubai Observatory undoubtedly offers some of the most stunning views in the city, there are several other observation decks worth visiting during your time in Dubai.
Here are the observation decks with the best Dubai views:
Other attractions and things to do nearby
If you're looking to explore more of Dubai's exciting attractions, there are several other must-visit destinations located near the Sky Views Observatory in Dubai.
Dubai Mall: Just a short walk away, you'll find the iconic Dubai Mall, one of the world's largest shopping centres, featuring over 1,200 retail stores, an indoor aquarium, a skating rink and a theme park.
Dubai Aquarium and Underwater Zoo: Located inside the Dubai Mall, the Dubai Aquarium features a 10-million litre tank with more than 33,000 sea creatures. Book your Dubai Aquarium and Underwater Zoo tickets here
Dubai Ice Rink: Go ice skating on the Olympic-sized Dubai Ice Rink inside the Dubai Mall, surrounded by desert sands. Book your Dubai Ice Rink tickets here
Dubai Opera: For those seeking a cultural experience, the Dubai Opera House provides a fascinating venue, where the world-known and local artists give concerts regularly. Book your Dubai Opera tour here
Dubai Fountain: If you're looking to enjoy some outdoor activities, the Dubai Fountain, located just outside the Dubai Mall and Burj Khalifa, offers an unmissable water and light show. It is synchronised to music and provides a magical and captivating experience. Enjoy the shows daily from 18:00, every 30 minutes. They are free to watch, but to get closer views, you can take an abra ride in the lake. Book your abra ride in the Dubai Fountain Lake here
Souk Al Bahar: Linked to the Dubai Mall, Souk Al Bahar is a modern bazaar featuring textiles, carpets, lamps, souvenirs and a lot of dining venues with gorgeous views of Burj Khalifa and the Dubai Fountain.
The observatory is a truly remarkable destination, offering a great opportunity to witness the beauty and grandeur of Dubai from above. With its breathtaking views and thrilling attractions, this iconic viewing platform is a must-visit for anyone seeking to experience the best of Dubai.
Prepare for your Dubai trip
Did you find this post helpful? Then click that little heart below and share it with your friends and family. Have fun in Dubai!