The Museum of Illusions Dubai is a place where reality and fantasy collide, and your perceptions are challenged at every turn. As the name suggests, this museum is dedicated to the art of illusion, and it houses an incredible collection of about 60 exhibits that will leave you speechless and questioning your own senses.
The Dubai Museum of Illusions is not just any ordinary museum. It is a place where you can immerse yourself in a world of deception, where your mind will play tricks on you and where you'll be constantly amazed by what your eyes see. This unique and exciting attraction is perfect for people of all ages and interests, making it a must-visit destination for tourists and residents of Dubai alike.
So, are you ready to step into this magical realm and explore the mysteries of the Museum of Illusions Dubai? Join me on a journey through the fascinating history and concept behind illusion museums, the top attractions and exhibits you can expect to find, and all the practical information you need to plan your visit.
Is the Dubai Museum of Illusions visit worth it: pros and cons
Check my quick overview of the pros and cons below to make a balanced decision.
Pros:
Unique and captivating experience that stimulates the mind and senses
Perfect for families with kids as it provides educational and interactive activities
A great opportunity to take stunning photos and share them on social media
Cons:
Some visitors may find the exhibits overwhelming or disorienting
The museum is not big, so the admission fee might be perceived as relatively expensive
Book your Museum of Illusions Dubai tickets here
The history and concept behind illusion museums
The concept of illusion museums dates back to the 19th century, with the first such museum opening in Germany. The idea behind these museums was to showcase the power of human perception and the ways in which it can be deceived. As our understanding of the mind and its workings has grown, so too has the number and variety of illusions that can be found in these museums.
The Museum of Illusions Dubai is part of a global chain of museums dedicated to the art of illusion. The first branch was opened by the company named Metamorfoza in Zagreb in 2015. With locations in cities like New York, Istanbul, Berlin and Kuala Lumpur, the Museum of Illusions has become a worldwide phenomenon, attracting millions of visitors every year.
The Museum of Illusions in Dubai is no exception. Since its opening in 2018, it has quickly become a popular attraction among tourists and locals alike. The museum features over 60 exhibits, each designed to challenge your perception and make you question what you see. From optical illusions to interactive displays, there's something to amaze and inspire every visitor.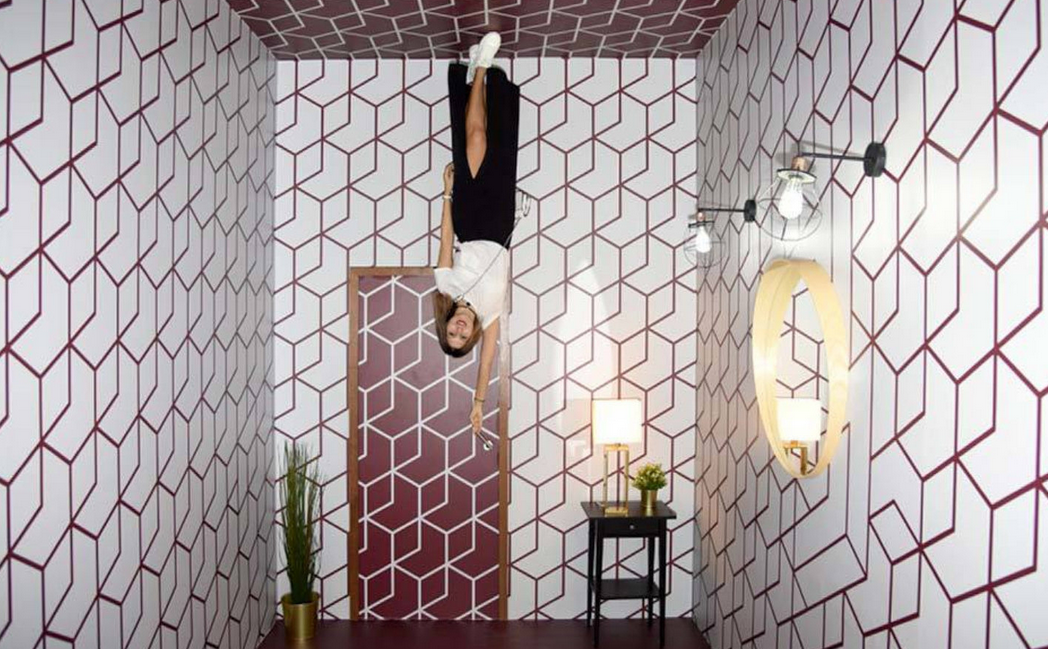 Top attractions and exhibits at the Museum of Illusions Dubai
Here is the list of the main rooms and exhibits of the Dubai Illusions Museum:
Ames Room
Anti-gravity Room
Chair Illusion
Clone Table
Head on the Platter
Hollow Face Illusion
Holograms
Infinity Room
Infinity Tunnel
Kaleidoscope
Magic Box
Optical Illusions
Rotated Room
Rubin's Vase
Swap Noses
Tricky Stick
Turntables
Vortex Tunnel
Zoetrope
As you step through the doors of the Museum of Illusions Dubai, prepare to be amazed by the sheer variety of exhibits on offer. Each room you enter will present a new and unique challenge to your senses, making for an unforgettable experience.
One of the highlights of the museum is the Rotated Room (or the Upside Down Room), where everything appears to be inverted. As you explore this area, you'll feel as if you're defying gravity, with the floor above you and the ceiling below. Another popular exhibit is the Ames Room, which plays with your perception of size and scale. In this room, you'll be left wondering if you've shrunk or grown as you move around the space.
For those seeking a more interactive experience, the Vortex Tunnel is a must-visit attraction. As you walk through this spinning tunnel, you'll feel as if the ground is moving beneath your feet, leaving you disoriented and off-balance. The Infinity Room, on the other hand, offers a more serene and mesmerising experience. With its floor-to-ceiling mirrors, this room creates the illusion of an endless space, leaving you feeling as if you've stepped into another dimension.
This trick eye museum in Dubai is also filled with 3D paintings and pictures that come to life as you interact with them. For example, I suggest that you visit such exhibits as Hollow Face Illusions, Holograms and Optical Illusions.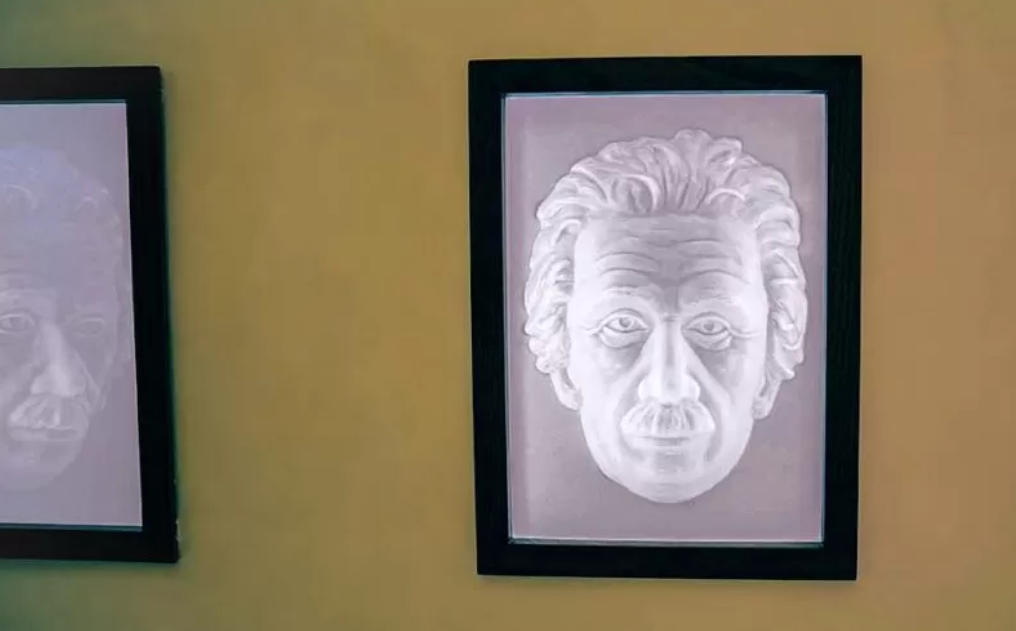 Capturing the perfect photo at the museum
In my opinion, one of the best things about the Museum of Illusions in Dubai is the countless photo opportunities it offers. With its mind-bending exhibits and interactive displays, you'll be able to create memories that will last a lifetime.
To make the most of your visit, be sure to bring a camera or smartphone with a good-quality lens. This will allow you to capture the intricate details of the illusions and share them with your friends and family. When taking photos, try to get creative with your angles and perspectives. This will help to enhance the illusory effect of the exhibits and make your photos stand out.
Don't be afraid to ask the museum staff for help. They are well-versed in the art of illusion and can provide tips and tricks for capturing the perfect shot. With their guidance, you'll be able to create stunning images that you'll be proud to share.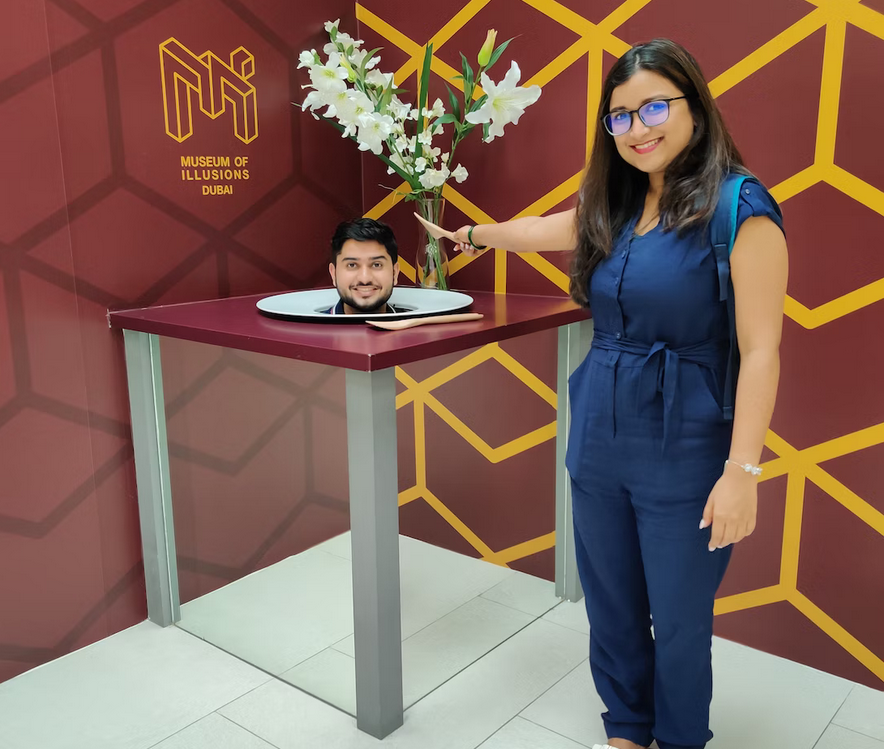 Museum of Illusions Dubai tickets
To visit the Dubai Illusions Museum, you'll need to purchase a ticket. I recommend buying Museum of Illusions Dubai tickets in advance to guarantee your spot and save time on-site. The museum offers a range of ticket options to suit different budgets and requirements.
Museum of Illusions Dubai ticket price: AED 80 for adults, AED 60 for children (free entrance for children under 5 years old) and AED 225 for a family package that includes two adult tickets and two child tickets
Book your Museum of Illusions Dubai tickets here
Timings and visit duration
Dubai Museum of Illusions opening hours: daily from 10:00 to 22:00 (Monday to Thursday) and 10:00 to 23:00 (Friday to Sunday).
On average, I suggest that you plan around 1 to 2 hours for visiting the Illusions Museum in Dubai. This allows you enough time to experience all the exhibits and take plenty of photos. However, if you're a true fan of illusions and want to spend more time experimenting with each exhibit, you can easily spend several hours at the museum.
Location
The Museum of Illusions Dubai location: Bld. 17, Heritage Area, Al Seef, Dubai, United Arab Emirates
The museum is in the Al Seef neighbourhood, which is known for its rich cultural heritage and vibrant atmosphere, right in the heart of the old city. It is just a short distance from many of Dubai's top attractions, making it the perfect addition to your sightseeing itinerary.
How to get to the Dubai Museum of Illusions
By metro: Get off at the Burjuman metro station (red line) or the Sharaf DG metro station (green line).
By car: Plenty of parking spaces in close proximity.
By bus: Take bus route F70 to the Heritage Village bus stop.
By marine transport: Get off at the Al Fahidi Marine Transportation Station.
By taxi: Taxis are widely available throughout the city.
Exploring the Al Seef neighbourhood
After you've finished exploring the Museum of Illusions in Dubai, go for a walk around the Seef neighbourhood. This area is known for its historic architecture, bustling markets and diverse dining options.
Take a leisurely stroll along the Dubai Creek, where you can watch traditional dhows (wooden boats) and abra water taxis or enjoy a picturesque sunset over the water. For shopping enthusiasts, the nearby Al Seef Heritage Souq and shopping area offer a mix of international brands and local boutiques to satisfy your retail cravings.
If you're feeling peckish, the Seef neighbourhood boasts an array of restaurants and cafes, serving everything from Emirati cuisine to international favourites. You can try some local dishes, such as shawarma or camel burger, for a truly authentic taste of Dubai.
What other attractions can I visit nearby
The Museum of Illusions Dubai is just one of many fantastic attractions that can be found in the city. If you're looking to explore further afield, there are several other must-see destinations within easy reach of the museum.
With so much to see and do in Dubai, you'll never be short of exciting experiences and unforgettable memories. Get your portion of positive travel vibes!
Prepare for your Dubai trip
Did you find this post helpful? Then click that little heart below and share it with your friends and family. Have fun in Dubai!