Ain Dubai is the world's largest Ferris wheel which opened in October 2021 in Bluewaters Island of Dubai. Also known as the Dubai Eye or Dubai Giant Wheel, it is an engineering marvel that stands tall near Dubai Marina. Towering over the skyline, this colossal Ferris wheel leaves visitors speechless with its sheer size and grandeur. In this post, I'll help you to explore the ins and outs of this amazing attraction, from its unique experiences and breathtaking views to its location, tickets, opening hours and more.
Ain Dubai is currently closed for maintenance and enhancement works
What is Ain Dubai
Ain Dubai is the world's largest observation wheel, located in Dubai, United Arab Emirates. How tall is Ain Dubai? This magnificent structure stands at an impressive height of 250 metres (820 feet), making it the tallest and biggest Ferris wheel in the world. The wheel is situated on the picturesque man-made Bluewaters Island, located off the coast of Dubai.
The word "Ain" in Arabic means "eye," and the Ain Dubai truly offers a bird's-eye view of the city's iconic skyline. A ride on this Ferris wheel is an unforgettable experience, providing unparalleled panoramic views of the stunning architecture and picturesque landscape.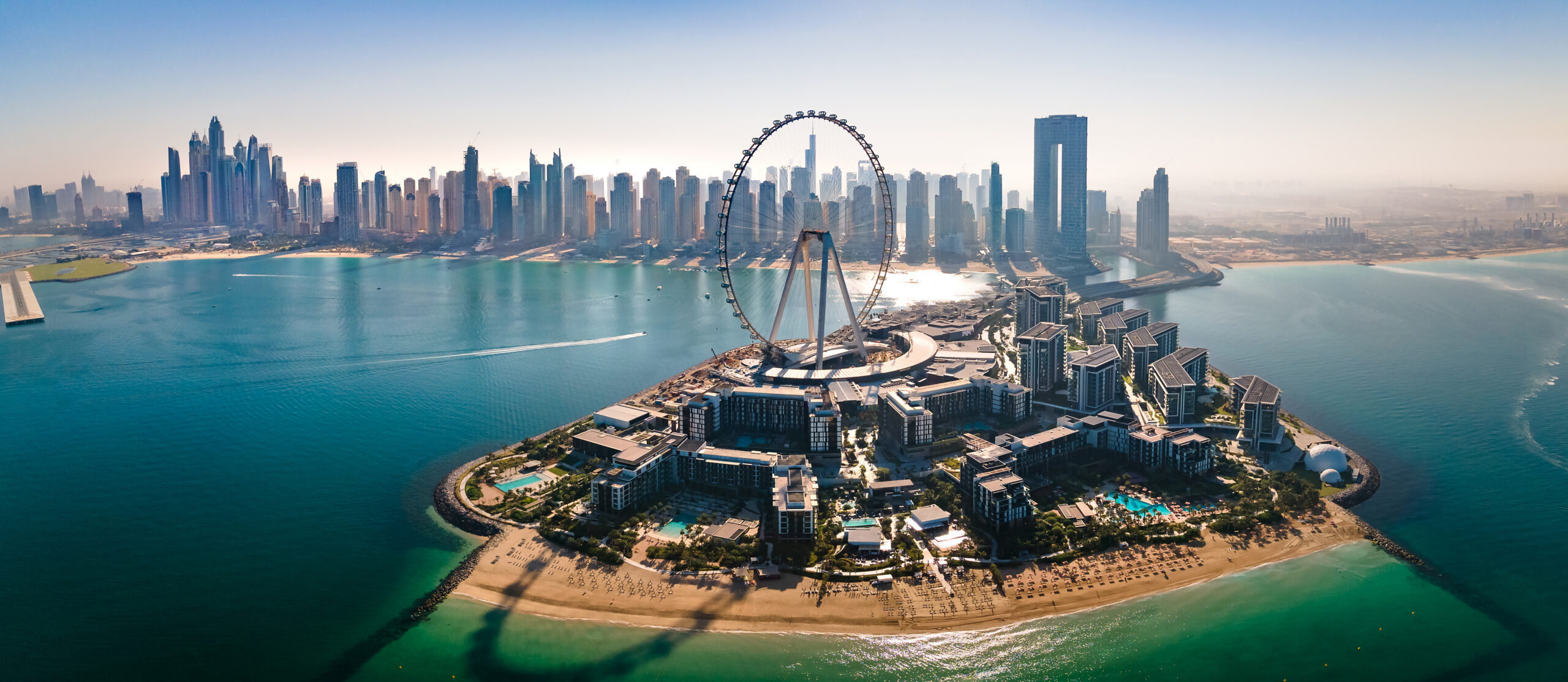 Top-5 world's largest observation wheels
The Dubai Eye is not the only giant wheel that has captured the hearts of visitors worldwide. How does it compare to others? Here are the top-5 largest observation wheels in the world:
Ain Dubai (Dubai, UAE): 250 metres (820 feet)
High Roller (Las Vegas, USA): 167.6 metres (550 feet)
Singapore Flyer (Singapore): 165 metres (541 feet)
Star of Nanchang (Nanchang, China): 160 metres (525 feet)
London Eye (London, UK): 135 metres (443 feet)
Unique experiences at the Dubai Eye Ferris Wheel
Getting on the giant wheel in Dubai is more than just a ride; it's an experience of a lifetime. All 48 air-conditioned cabins, which in total fit 1,750 people, offer a luxurious and comfortable ride. They have floor-to-ceiling glass windows to provide an unobstructed view of the city's breathtaking skyline. The Ain Dubai full ride lasts 38 minutes, so you will have plenty of time to take stunning photos.
To elevate your experience further, you can opt for a premium cabin that offers additional amenities such as leather seating, a private lounge, a dedicated entrance and even an onboard Sky Bar. Ain Dubai also offers a range of dining options, from casual snacks to fine dining.
For those looking for a truly unique and memorable experience, the Dubai Eye also offers exclusive packages for special occasions, such as birthdays, anniversaries and even marriage proposals. Imagine saying "yes" to your loved one while soaring high above the city!
The total weight of Dubai's big wheel is about 10,000 tons, and two giant tower cranes were involved in its construction. Four support structures, all 130 metres high, hold a massive axle that weighs 1,800 tons. By the way, there is also a huge 80-metre LCD (certainly the largest in the world) mounted in the centre, onto which light shows and videos are projected. Illumination can be seen every evening, and the Ain Dubai Ferris wheel looks especially impressive on New Year's Eve, with the clock counting down the final seconds.
The entrance/exit platform of the Dubai observation wheel was designed so that the wheel does not have to slow down or stop when cabins approach the lowest point. Besides, the Dubai Eye can withstand sandstorms and even earthquakes, at least its engineers say so. In addition, double air-cos are installed in each cabin. So if suddenly one of them stops working, you will still be guaranteed cooled fresh air. This is handy because in summer temperatures in Dubai can reach 50 degrees Celsius.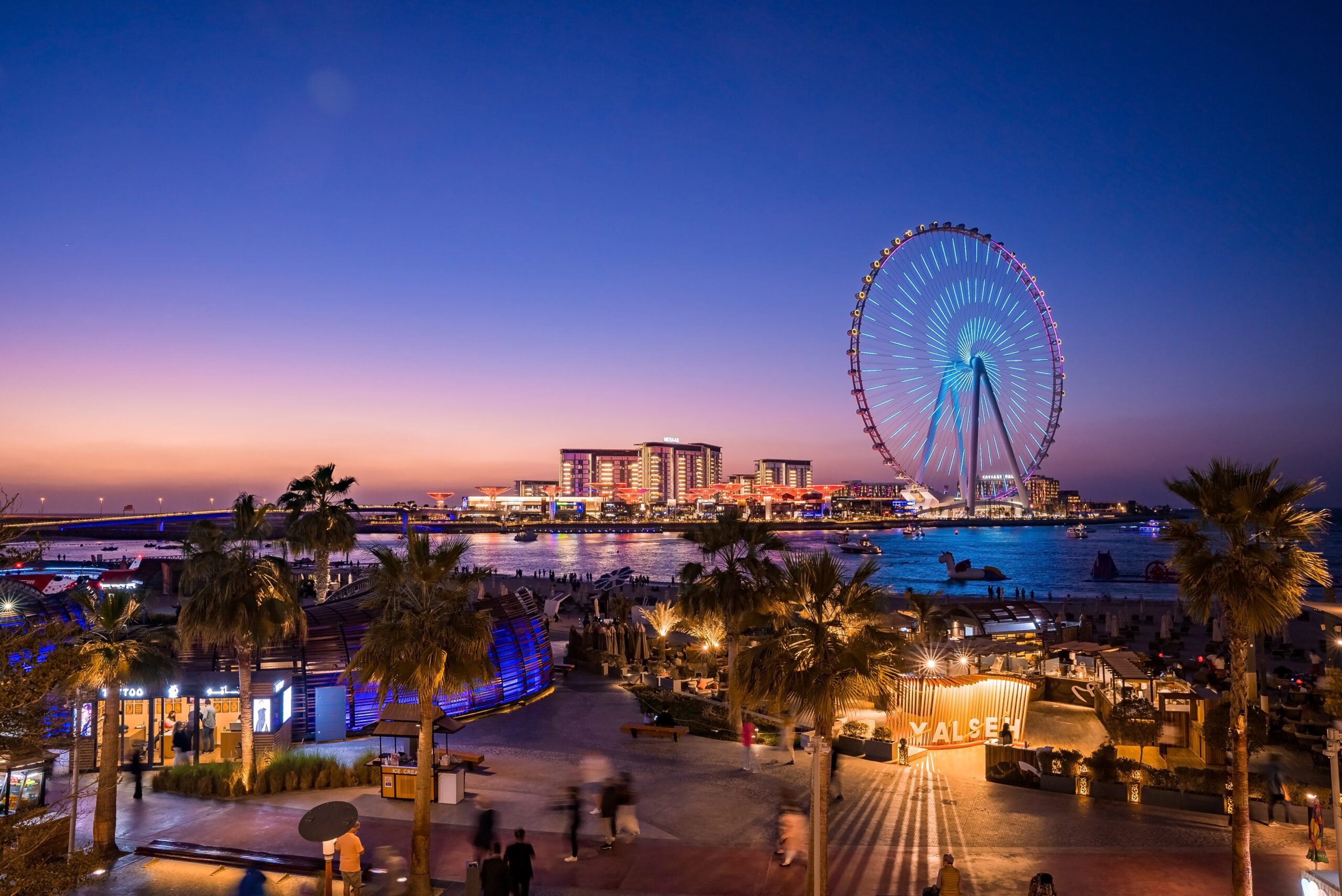 Breathtaking views from Ain Dubai
The views from Dubai Eye are possibly its most stunning feature. As you slowly ascend to the top of the wheel, you'll be treated to a panoramic vista of the city's most iconic landmarks, which include:
Dubai Marina
Jumeirah Beach Residences
Bluewaters Island
Palm Jumeirah
Atlantis The Palm Hotel
Atlantis The Royal Hotel
Burj Al Arab
Arabian Gulf
The wheel's location in Bluewaters Island offers unmatched views of the Arabian Gulf's azure waters and the surrounding landmarks, making for a picture-perfect backdrop.
A ride on the observation wheel of Dubai is a visual treat, whether you choose to visit during the day or night. While daytime rides offer clear views of the city's architectural marvels, nighttime rides showcase Dubai's glittering skyline, illuminated by thousands of lights. Whichever you choose, you're sure to leave with memories that will last a lifetime.
Have Fun Dubai's Tip: Even though Ain Dubai views are fabulous at any time of the day, I suggest that you come towards the end of the afternoon to enjoy the sunset. You will see the golden-coloured buildings on one side and the sun sinking into the sea on the other side. This is a truly spectacular experience!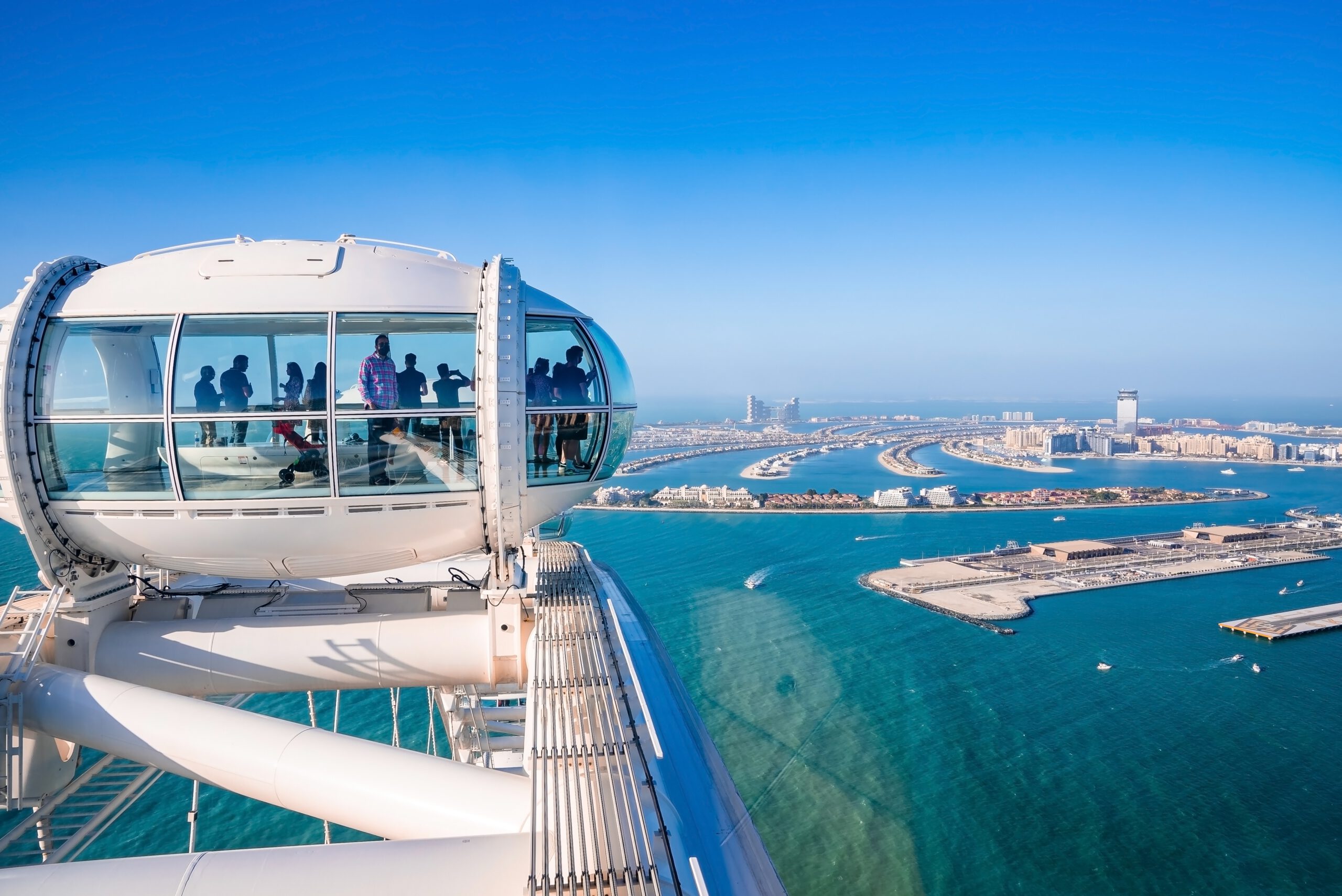 Boat cruises offering Ain Dubai views
A different, yet equally mesmerising way to experience the Dubai Eye is by taking a boat cruise that offers stunning views of the Ferris wheel. There are a variety of boat cruises available, ranging from luxury yachts to traditional wooden boats, known as dhows.
These cruises not only allow you to marvel at Dubai's observation wheel from a distance but also provide a unique perspective of the city's skyline as you sail along the beautiful Arabian Gulf. Most boat cruises depart from Dubai Marina nearby. Here is the list of the best boat cruises with Ain Dubai views.
| | |
| --- | --- |
| Speedboat tour by Xclusive Yachts | Book here |
| Luxury yacht tour with breakfast or BBQ | Book here |
| Dinner cruise with live music and drinks | Book here |
| Sailing Tour with BBQ and Swimming | Book here |
| Private yacht charter | Book here |
| Jet ski rental at Jumeirah Beach Residences  | Book here |

Ain Dubai tickets
Ain Dubai ticket price: Dubai Eye tickets are currently unavailable due to the observation wheel closure. Before the closure, the Dubai Ferris Wheel ticket price varied depending on the type of cabin and experience. I will add more information about ticket options, as soon as the observation wheel reopens.
Timings
Ain Dubai opening hours: Currently closed for maintenance and enhancement works
When is Ain Dubai reopening
Ain Dubai had its grand opening on October 21, 2021 to match the opening dates of Expo 2020. However, it closed for maintenance works in March 2021, right after the World Expo. When will Ain Dubai open again? The reopening date has been moved several times, and now remains uncertain. The wheel will be closed until further notice.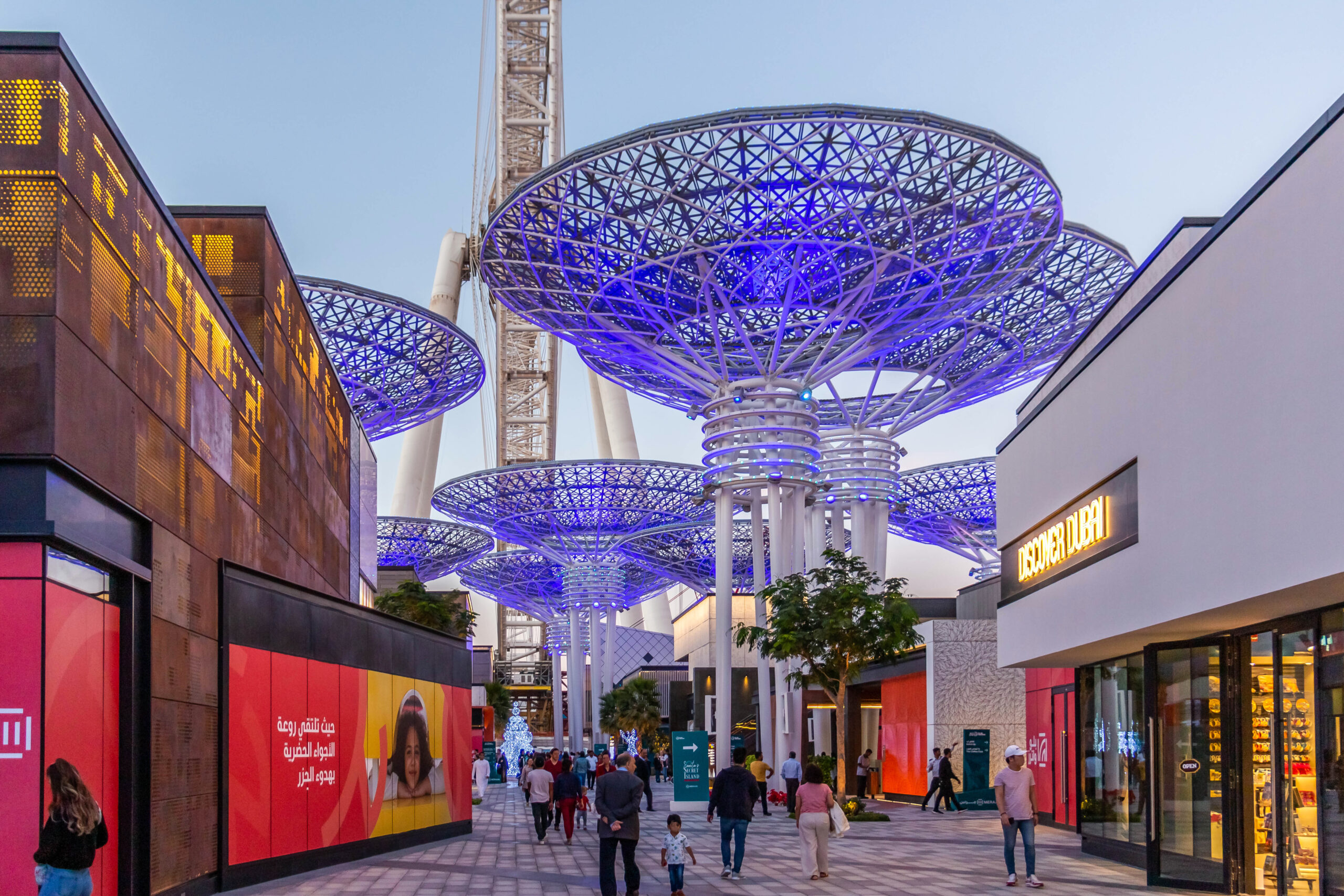 Location
Ain Dubai address: Bluewaters Island, Dubai, United Arab Emirates
Ain Dubai is located at Bluewaters Island, a man-made island situated off the coast of Dubai Marina. The island is a destination in itself, offering a variety of attractions, dining options and shopping experiences for visitors to enjoy.
How to get to the Dubai Eye
There are several ways to reach Ain Dubai Ferris wheel from different Dubai areas:
By car: Follow the E11 highway and take the exit for Bluewaters (coming from Dubai) or follow the E10/E11 highway to Dubai and take exit 29 (coming from Abu Dhabi)
By taxi: This is the most convenient way, taxis are available throughout Dubai and can take you directly to Bluewaters Island
By metro and tram: Take Dubai Metro (red line) to Sobha Realty metro station, change for Dubai Tram and get off at Jumeirah Beach Residence 2, then walk via JBR Beach and the footbridge to Bluewaters Island
What other attractions can I visit near the Dubai Eye observation wheel
Bluewaters Island, where Ain Dubai is located, is home to many attractions and things to do that cater to visitors of all ages. Some of the popular landmarks near Ain Dubai include:
Madame Tussauds Dubai: The branch of the famous Madame Tussauds wax museum in Dubai features figures of over 60 celebrities, including Jackie Chan, Audrey Hepburn, Tom Cruise, Donald Trump, David Beckham, Mohammed Ali and Queen Elizabeth II.
The Beach at JBR: A popular public beach offering a range of leisure and dining options, just a short walk from Ain Dubai via a footbridge.
Retail and dining outlets: A wide selection of shops, restaurants and cafes to suit all tastes and budgets are located at Bluewaters Island, Dubai Marina and JBR.
Caesars Palace Bluewaters Dubai (will be replaced by Banyan Tree Dubai Hotel in November 2023): A luxurious resort offering world-class accommodation, dining, entertainment and relaxation experiences, including the famous Venus Beach Club. Book your Venus Beach Club pool pass here
Hell's Kitchen restaurant: Try Gordon Ramsay's signature dishes at his Hell's Kitchen restaurant, located inside the Caesars Palace Bluewaters Dubai Hotel. Book your 3-course meal at Hell's Kitchen Dubai here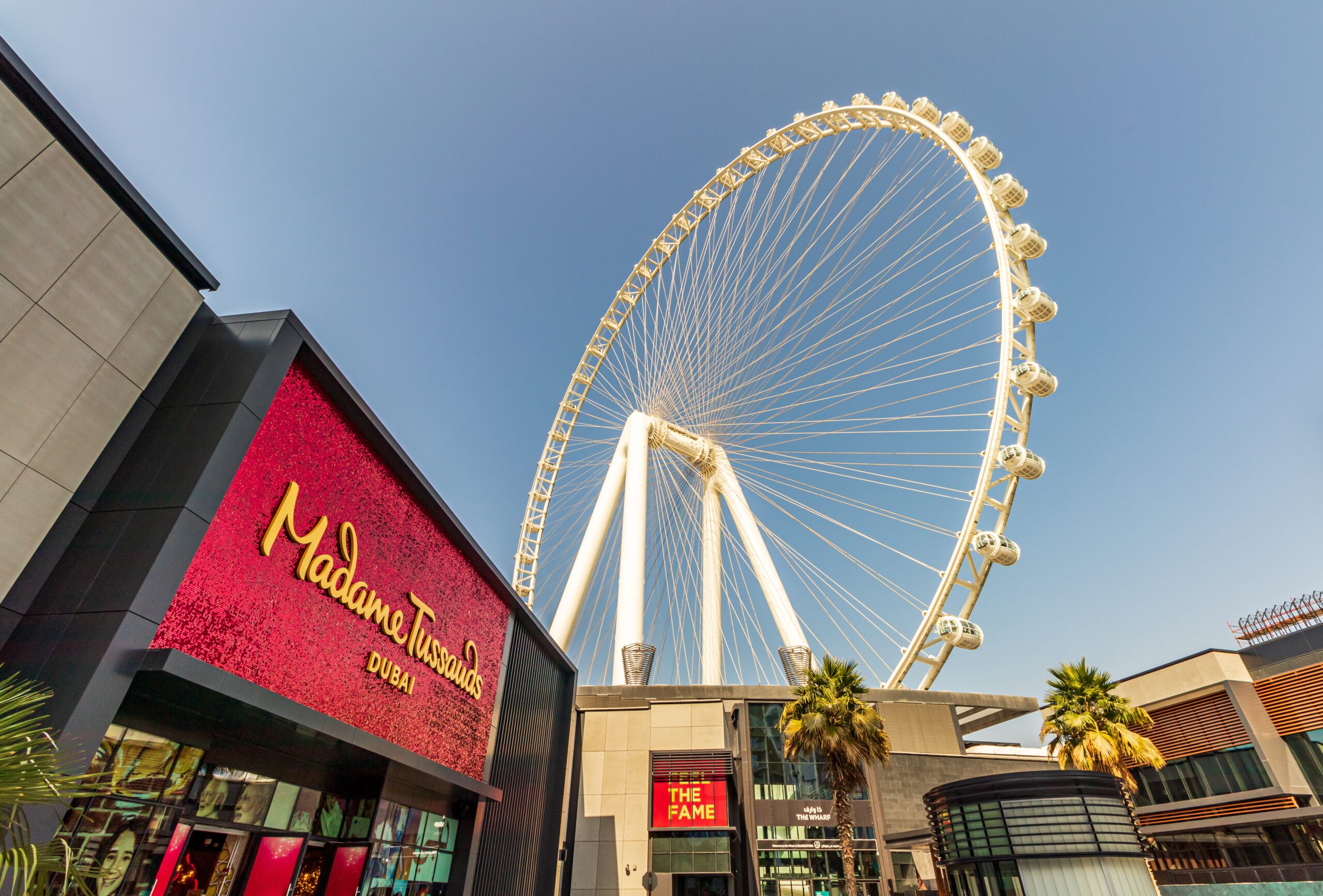 Quick facts about Ain Dubai
To wrap up, here are some interesting facts about the giant Ferris wheel in Dubai:
Ain Dubai has a total of 48 cabins, each capable of accommodating up to 40 passengers.
The wheel's outer rim has a diameter of 250 metres (820 feet), which is equivalent to the length of more than two football fields.
Dubai Eye's construction required over 9,000 tons of steel, enough to build more than two Eiffel Towers.
The wheel's rim is supported by 192 spoke cables, with the total length of the cables being more than 2,400 kilometres (1,491 miles).
The entire ride takes 38 minutes to complete.
Prepare for your Dubai trip
Did you find this post helpful? Then click that little heart below and share it with your friends and family. Have fun in Dubai!