Jumeirah Mosque Dubai is a cultural gem that showcases the beauty of Islamic architecture and offers a unique insight into the Emirati way of life. As one of the few mosques in the city open to non-Muslims, the Jumeirah Mosque provides a rare opportunity for visitors to learn about the rich history and traditions of Islam in an open and welcoming environment. The Jumeirah Mosque is not just a place of worship; it is also a cultural centre that holds various events and educational programs to promote understanding and tolerance among different faiths. In this article, I will explain about the history, architecture and cultural significance of the Jumeirah Masjid. You will also learn how to visit the Dubai Jumeirah Mosque and how to dress to respect local traditions.
Is Jumeirah Mosque visit worth it: pros and cons
Check my quick overview of the pros and cons below to make a balanced decision.
Pros:
Awe-inspiring architecture: One of the most beautiful mosques in Dubai, the Jumeirah Mosque is a must-visit for those interested in architecture.
Cultural experience: Visiting the mosque offers a unique opportunity to learn more about Islamic culture, religion and local lifestyle.
Great photo opportunities: With its striking exterior and ornate interior, Jumeirah Mosque provides plenty of opportunities for taking amazing photos.
Cons:
Limited access: As a still-functioning religious building, Jumeirah Mosque is only open to non-Muslim visitors during tours organised at certain times of the day, so plan your visit accordingly.
Crowds: While the guided tours are informative, they may not be suitable for those who prefer to explore on their own.
Dress code: Visitors are required to dress modestly and follow certain clothing etiquette rules, which may be uncomfortable or inconvenient for some.
Jumeirah Mosque history
The Grand Jumeirah Mosque was opened in 1979 and has since stood as a testament to the city's commitment to preserving its cultural heritage amidst rapid modernization. Commissioned by Sheikh Rashid bin Saeed Al Maktoum, the Masjid (another name for mosque) was built in the traditional Fatimid style, a homage to the ancient Islamic empire that once ruled over parts of North Africa and the Middle East.
The construction of the Jumeirah Mosque was a significant milestone for Dubai, as it was one of the first major projects undertaken by the city's rulers to promote Islamic culture and values. Over the years, the Mosque has become a symbol of unity and tolerance, attracting visitors from all around the world who are eager to learn more about the Islamic faith and Emirati culture.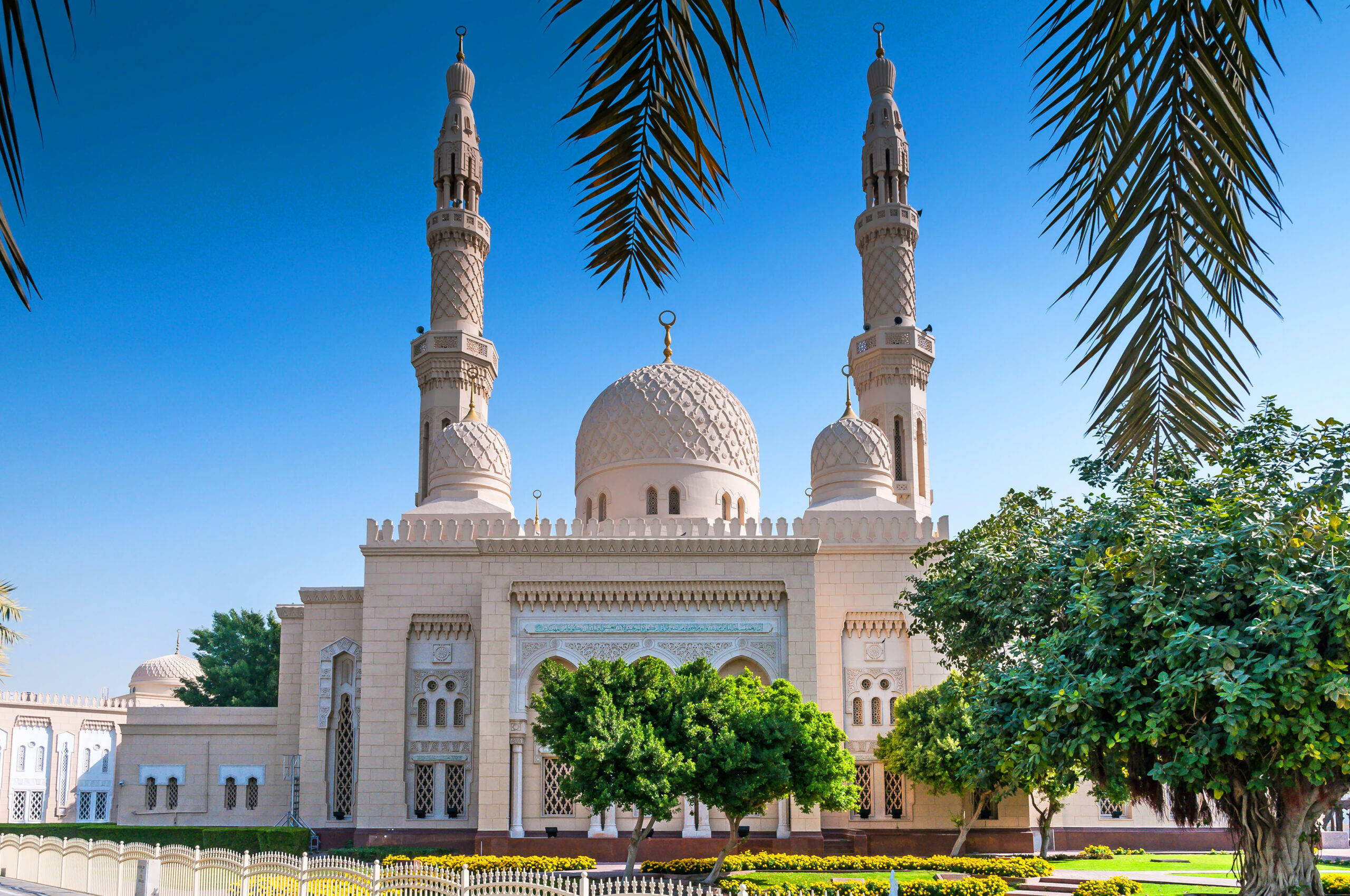 Architecture and design
The Jumeirah Mosque in Dubai is a fantastic example of Islamic architecture, characterised by its intricate carvings and elegant design. The Mosque's exterior is made from light pink sandstone, which not only highlights the beauty of its geometric patterns but also keeps the interior cool during the hot summer months.
The Mosque features two towering minarets, which are used to call the faithful to prayer, and a large central dome that dominates the skyline of the district. The Jumeirah Mosque interior is equally breathtaking, with its ornate mihrab (prayer niche), detailed mosaics and sophisticated chandeliers. You will walk on a soft green carper (green colour is essential in the Islamic world) and will be able to take in all that beauty.
The Jumeirah Mosque is a perfect blend of traditional and modern design elements, reflecting the city's ability to embrace its past while looking towards the future. By the way, the Mosque has two facades: one on a bustling Jumeirah Beach Road, surrounded by palm trees, is a popular spot for photography enthusiasts, and the other on the inner side is intended for locals who come to pray there.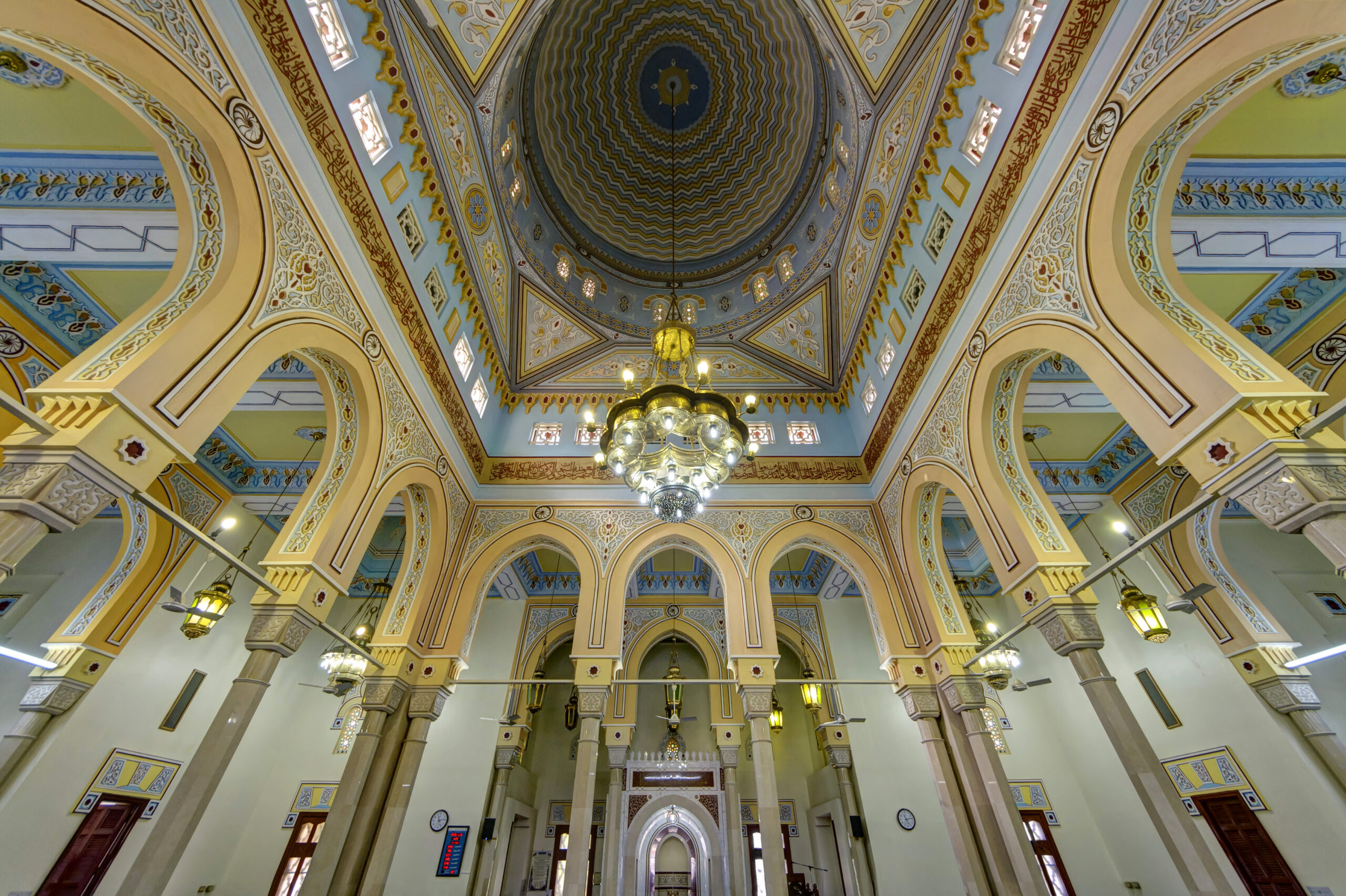 Once Upon a Time Museum
One of the unique features of the Jumeirah Mosque is the Once Upon a Time Museum, which offers visitors a rare glimpse into the history of Islam in Dubai, culture and traditions. The museum showcases an extensive collection of artefacts, manuscripts and photographs related to the 70th and 80th that tell the story of how the Islamic faith has shaped the city's culture and identity.
The museum is divided into several sections, each dedicated to a different aspect of Islamic history and culture. Visitors can explore the evolution of calligraphy, the art of Islamic geometric patterns, and the science of astronomy as practised by Muslim scholars. You can also see a photo exhibition of the world's most beautiful mosques. I recommend visiting the Once Upon a Time Museum at the Jumeirah Mosque to everyone interested in Islamic culture and traditions.
Once Upon a Time Museum opening hours: 09:00 to 17:00 (except Fridays)
Once Upon a Time Museum ticket price: AED 20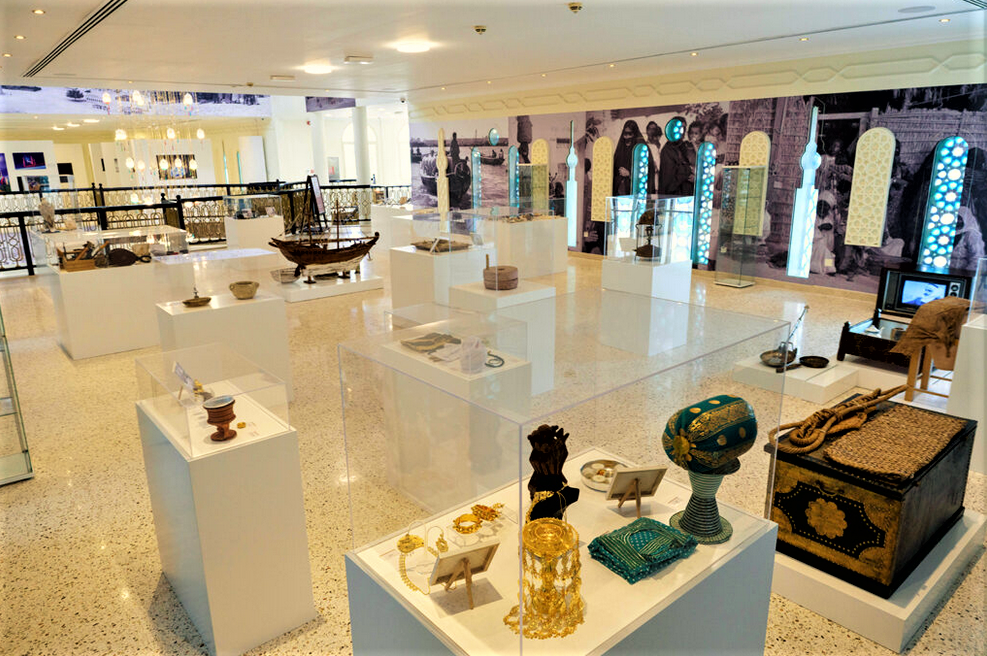 Mosque cultural events
To tell you the truth, the Jumeirah Masjid is more than just a place of worship; it is a vibrant cultural hub that hosts a variety of events and activities throughout the year. These events are aimed at promoting cultural understanding and fostering a sense of community among people from diverse backgrounds.
Some of the most popular events at the Jumeirah Mosque include the Cultural Understanding Program, which offers interactive sessions on Emirati culture and traditions. The Mosque also regularly hosts lectures, workshops and exhibitions on various aspects of Islamic history and culture.
Jumeirah Mosque Dubai dress code and conduct guidelines
What is Dubai Jumeirah Mosque dress code? As a place of worship and cultural significance, visitors to the Jumeirah Mosque are expected to adhere to a certain dress code and observe proper conduct while on site. Both men and women are required to wear modest clothing that covers their shoulders and knees, and women must also cover their hair with their own headscarf. If needed you can borrow a kandoora (traditional male dress) or abaya (traditional female dress) on the premises to cover the body.
Visitors should refrain from wearing tight or transparent clothing, as well as beachwear or clothing with inappropriate slogans or images. Be prepared to remove shoes before entering the prayer hall, and visitors should remain quiet and respectful during their visit. Photography is allowed, but taking pictures of worshippers without their permission is prohibited.
Dubai Jumeirah Mosque guided tours
One of the best ways to explore the Masjid and learn about its history and cultural significance is by joining a Dubai Jumeirah Mosque guided tour. The Sheikh Mohammed Centre for Cultural Understanding (SMCCU) offers tours of the Mosque, led by knowledgeable and friendly guides who are more than happy to answer any questions you may have about the Islamic faith and Emirati culture.
The tours start at 10:00 and 14:00 daily (except Fridays) and usually last for about 75 minutes. Before the tour, you will be seated in a traditional lounge and offered local refreshments, including tea, coffee, water, dates and delicious luqaimat (sweet dumpling).
The Jumeirah Mosque tour program covers various aspects of the Mosque, including its architecture, history, and the role it plays in the local community. The guides also provide a fascinating overview of the basics of Islam, including the Five Pillars, prayer rituals and the significance of the holy month of Ramadan.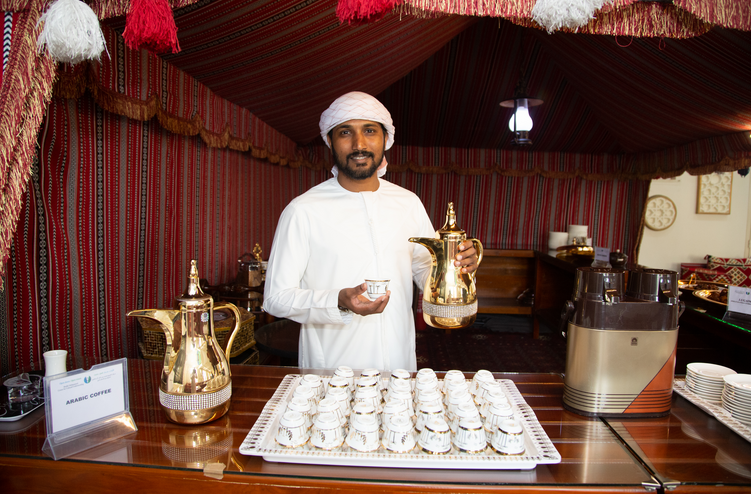 What is Jumeirah Mosque entry fee and how to buy Jumeirah Mosque tickets
Check the Jumeirah Mosque ticket price below:
Jumeirah Mosque tour entry fee: AED 35
You can only buy Jumeirah Mosque tour tickets on-site in order to visit it. There are no other ticket options. For a hassle-free visit, I recommend arriving 30 minutes before the tour starts to ensure you have enough time to purchase your tickets and adhere to the dress code requirements. Prior booking is not necessary.
Timings
Dubai Jumeirah Mosque opening hours: Daily (except Fridays), tours start at 10:00 and additionally at 14:00 in high season
Location
Jumeirah Mosque address: Jumeirah Beach Road, Jumeirah 1, Dubai, United Arab Emirates
How to get to Jumeirah Mosque in Dubai

Use one of the following options to get to the Dubai Jumeirah Mosque:
Bus: Take the bus 8, 9, 88, C10 or X28 to the Jumeirah Grand Masjid or Palm Strip Center stops
Car: Plenty of parking spaces nearby
Bike
The Jumeirah Mosque is located in the Jumeirah district of Dubai, along Jumeirah Beach Road. The Mosque is easily accessible by car, with ample parking available in the surrounding area. If you prefer to use public transportation, the Mosque is just a short walk from several bus stops serviced by various routes.
For those staying in the city centre, the Jumeirah Mosque is a short taxi ride away. Besides, you can rent a bicycle and enjoy a leisurely ride along the scenic Jumeirah Beach Road, taking in the stunning views of Dubai's coastline as you make your way to the Mosque.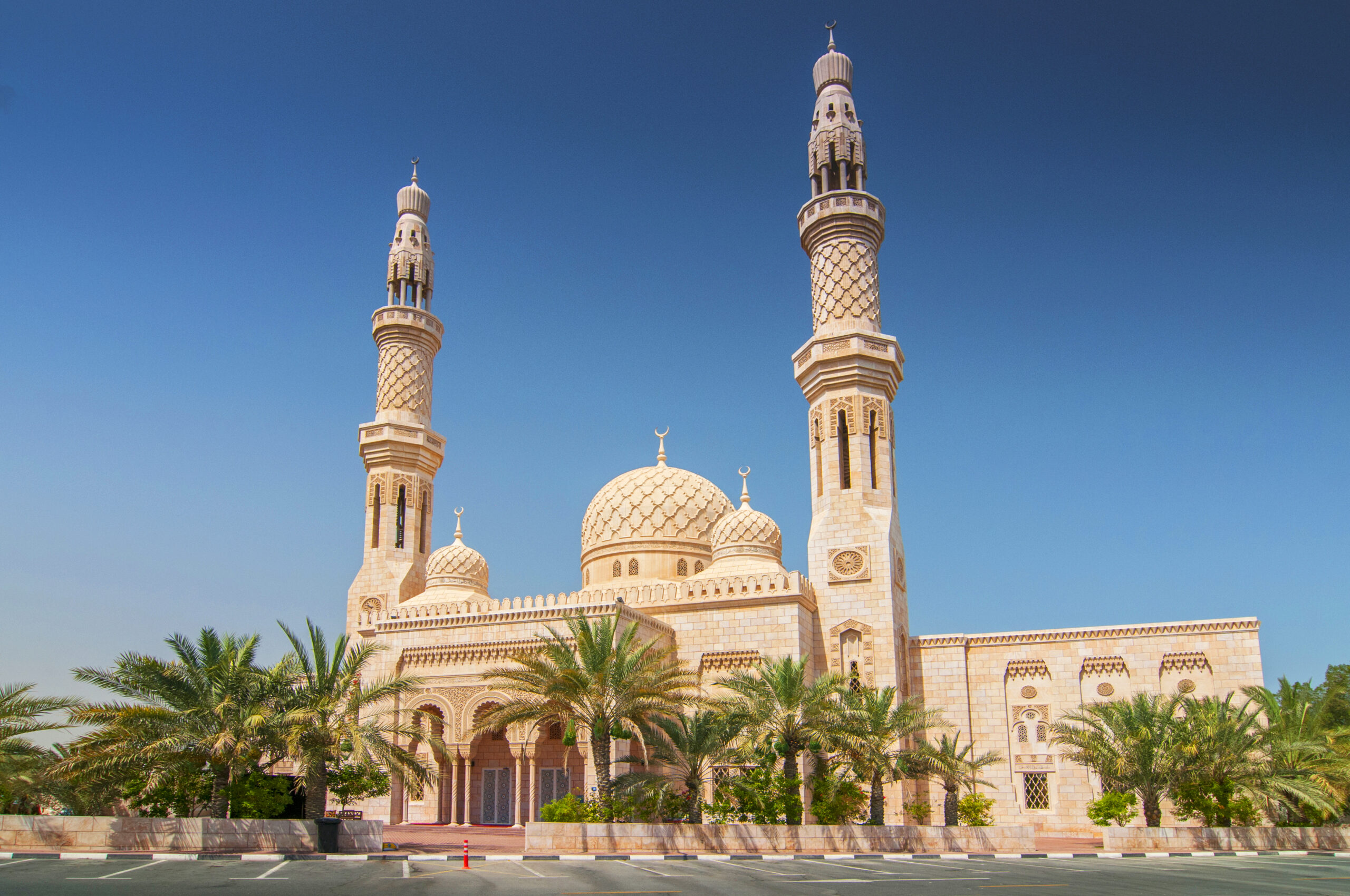 What other attractions can I visit nearby
The Jumeirah Mosque is located in close proximity to some of Dubai's most popular attractions, making it an ideal starting point for exploring the city. Nearby points of interest include multiple beaches, such as relaxing La Mer Beach, and the Etihad Museum.
You can also walk in 30 minutes to the Italian-styled Mercato Mall or take a short ride by taxi to the City Walk district or in the opposite direction to Bur Dubai and the Al Fahidi Historical Neighbourhood to continue your journey through traditional Emirati history and architecture.
Prepare for your Dubai trip
Did you find this post helpful? Then click that little heart below and share it with your friends and family. Have fun in Dubai!