Legoland Waterpark Dubai is a LEGO-themed aquapark with more than 20 exciting waterslides and other attractions. This Dubai waterpark is located inside Dubai Parks and Resorts and caters mainly to families with kids aged 2 to 12 years. It's more than just a water park, but also a fascinating LEGO experience and a journey into a realm of creativity and enjoyment. You can look forward to zooming down the Legoland rides and waterslides, building your own raft or boat and catching gentle waves in the pool.
Whether you are a LEGO enthusiast or just looking for a fun-filled day in the sun with your family, this place has something for you. In this article, I will share with you my experience of visiting the waterpark and will tell you all you need to know about Legoland Waterpark Dubai best rides, prices, tickets and facilities. Moreover, you will learn about other Dubai aquaparks to extend your water adventure.
Is Legoland Waterpark Dubai visit worth it: pros and cons
Check my quick overview of the pros and cons below to make a balanced decision.
Pros:
Unique waterpark experience: Legoland Waterpark Dubai offers a one-of-a-kind experience with its LEGO-themed attractions and water activities.
Family-friendly environment: The park is designed to cater to families, with rides and attractions suitable for children of various ages, ensuring a fun and safe environment for families to enjoy together.
Strong brand reputation: Legoland is a well-known and respected brand globally, which attracts a large number of visitors who trust the brand and its commitment to quality and entertainment.
Cons:
Height restrictions: Even though this LEGO waterpark in Dubai is designed for kids, including toddlers, many waterslides have height restrictions. Several waterslides allow kids not lower than 91 cm, and most slides and rides cater to children with a minimum height of 102-107 cm. Keep this in mind when you plan your visit.
Limited thrill rides: While this Dubai aquapark offers a unique and family-friendly experience, it may not have as many thrilling rides and attractions compared to other water parks in the city. It may not appeal to adrenaline-seeking adult visitors.
Book your Legoland Waterpark Dubai tickets here
What is Legoland Waterpark Dubai
Nestled within the expansive Dubai Parks and Resorts and opened in 2016, Legoland Waterpark Dubai is a unique and exciting attraction that promises an unforgettable experience for all. It's a place where the magic of Lego comes to life, offering a blend of imaginative play and water-based fun, all designed around the LEGO concept.
This renowned water park in Dubai boasts in total over 20 water slides, playgrounds, pools and other attractions. Legoland Aquapark Dubai offers a plethora of experiences designed especially for families with children aged 2-12. However, it's not just for the little ones. Adults too can channel their inner child and dive into the fun. If you have older kids or are looking for more thrill, check out other Dubai waterparks.
Your LEGO experience doesn't just stop there. One of the benefits of Legoland Waterpark is that it is adjacent to Legoland Dubai Theme Park offering more than 40 fascinating rides and attractions, as well as shops selling LEGO toys and dining options. You can even stay at the Legoland Hotel Dubai a few steps away with room prices including tickets to either the Legoland theme park or water park. Got excited? Check out more details below in this article.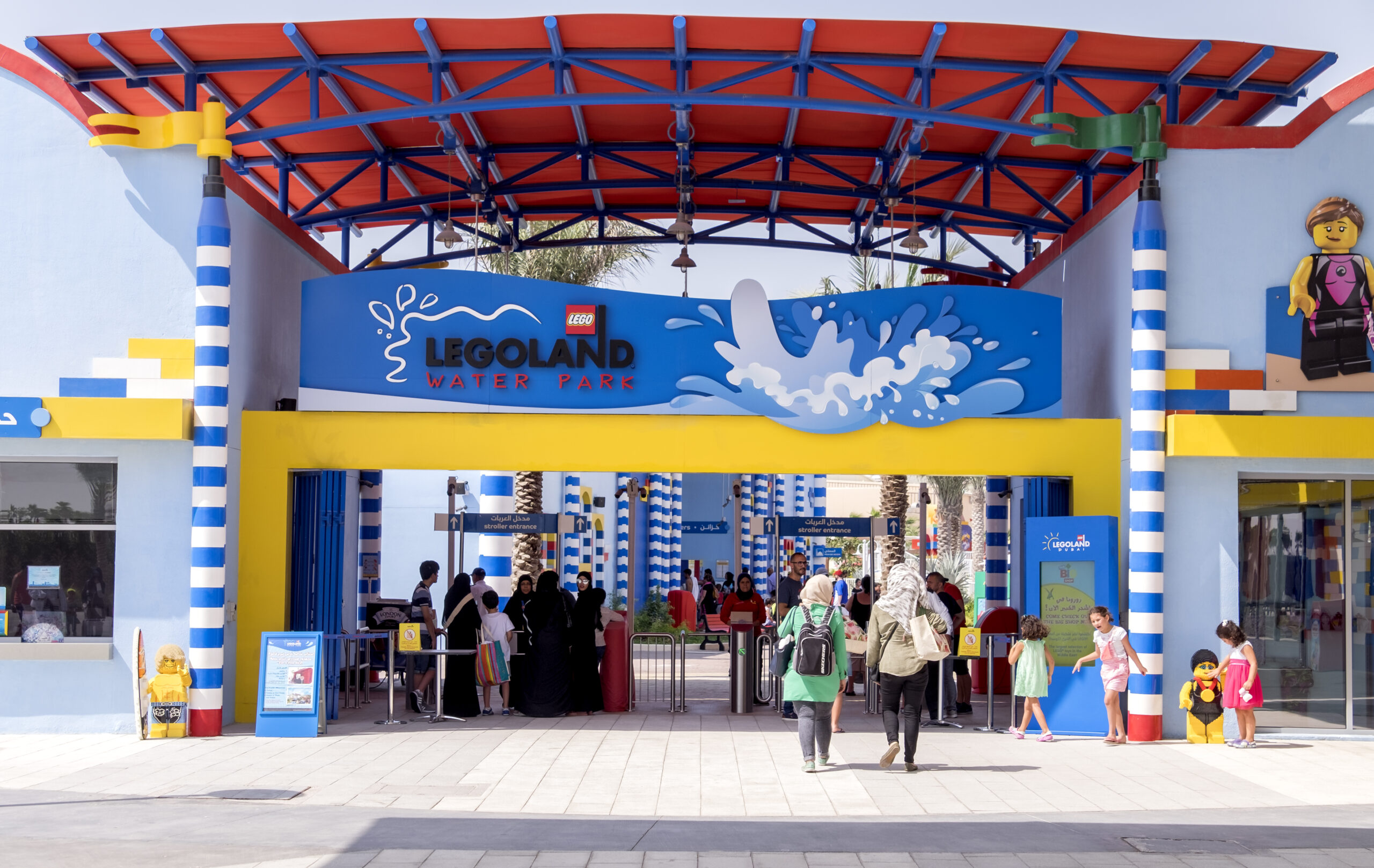 What age is Legoland Waterpark Dubai for
While Legoland Waterpark Dubai is primarily designed for families with kids aged 2-12, the truth is, age is no barrier to enjoying this place. From toddlers to teenagers and adults, the exciting rides, the interactive play area and the creative workshops may appeal to everyone. It's a place where you can unleash your imagination and create unforgettable memories.
Waterpark main attractions and waterslides
Dubai Parks and Resorts Waterpark is a treasure trove of attractions, each with its unique charm. The park features over 20 water slides and rides, including the adrenaline-inducing Lego Slide Racers, the exhilarating Splash Out and the interactive Build-A-Raft River where you can design your custom-made LEGO raft.
Now, I will tell you more in detail about the best Legoland Aquapark Dubai water slides and rides.
Build-A-Boat
At Build-A-Boat, your creativity is the captain. This interactive attraction allows you to construct your own LEGO boat using countless LEGO bricks. Once your masterpiece is ready, you can race it down a swiftly flowing river against your family and friends. It's one of the many ways Legoland in Dubai fosters imagination and brings families together.
Build-A-Raft-River
Build-A-Raft-River is a unique attraction where you can personalise your own LEGO raft. Once you've constructed your raft, it's time to set sail on a long lazy river, adorned with palm trees and LEGO models. This fun-filled journey is a perfect blend of relaxation and adventure.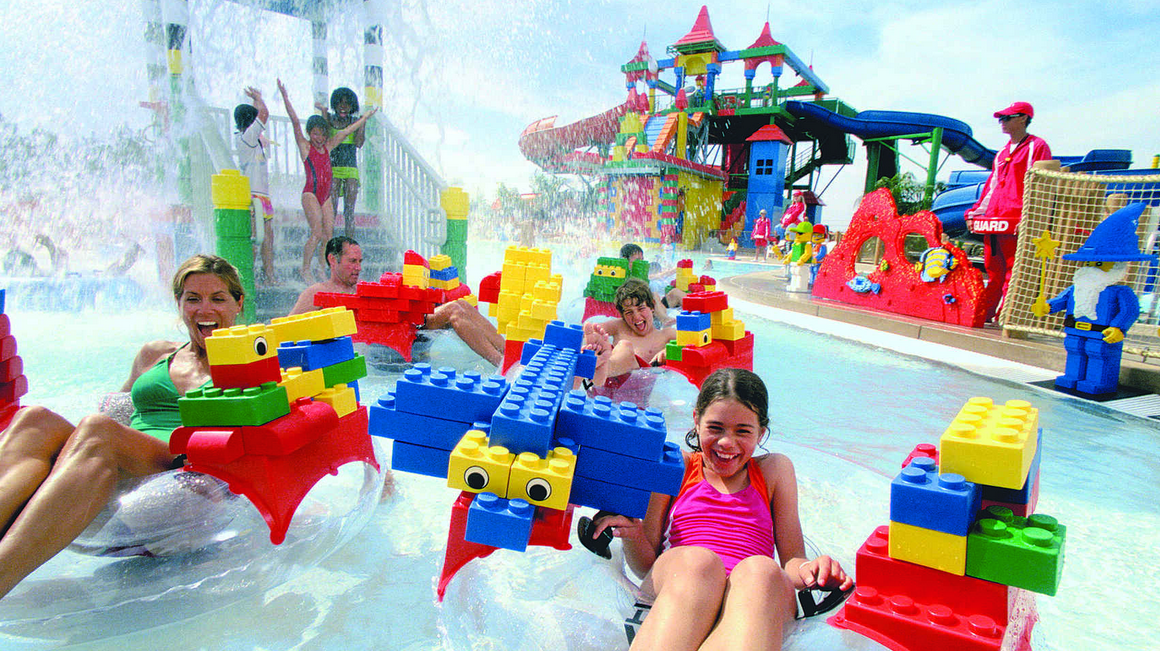 Duplo Splash Safari
In my opinion, the Duplo Splash Safari is an exceptional area designed for toddlers. It features water slides suitable for the little ones and giant Duplo animals, making it a perfect spot for family photos. In this section of the LEGO waterpark in Dubai, your little ones can have fun safely, under the watchful eyes of lifeguards.
Height restriction: 91 cm and above
Joker Soaker
The Joker Soaker is a playground filled with slides, climbing frames and a gigantic bucket that showers water on the unsuspecting adventurers below. It's a perfect spot to cool down and let the kids burn off some energy.
Height restriction: 91 cm and above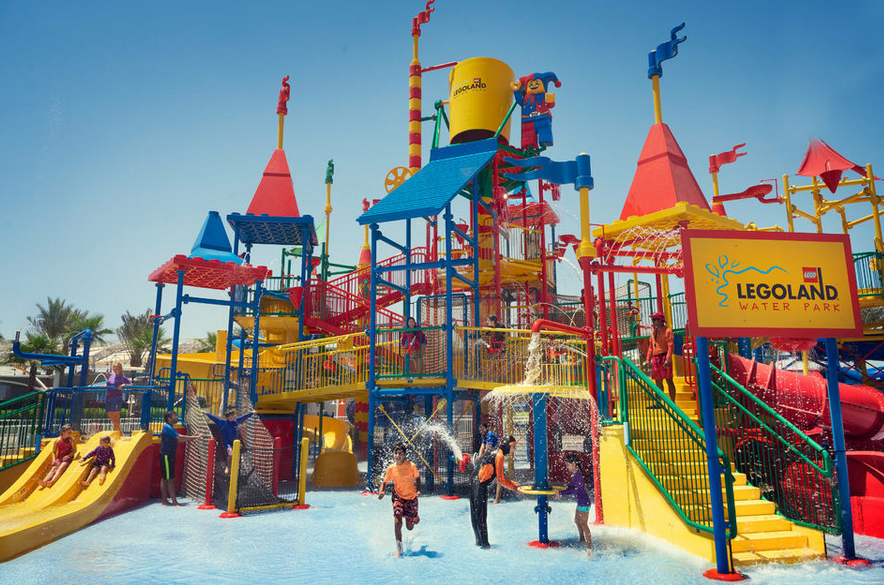 Lego Slide Racers
The Lego Slide Racers, a six-lane race slide, is a thrilling attraction that will have you and your friends racing down the slide on a mat. It's a high-speed race to the finish line, making it one of the most exciting sections of this waterworld in Dubai.
Height restriction: 91 cm and above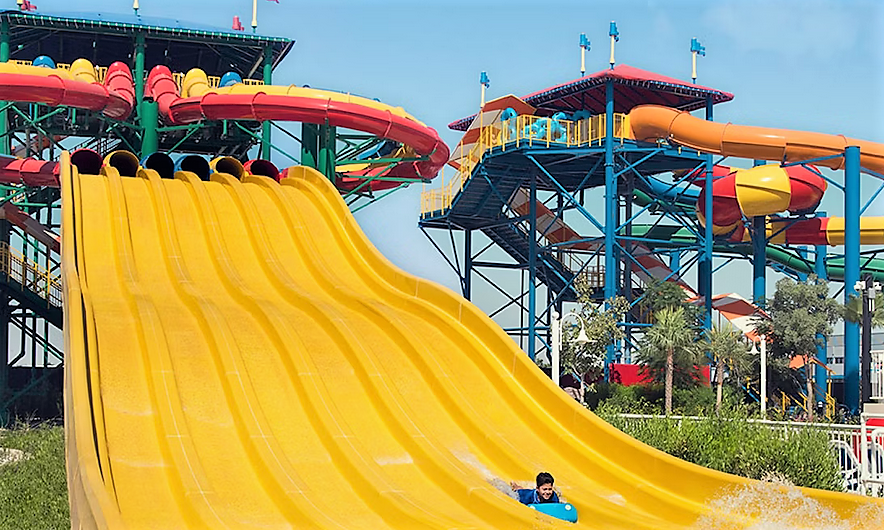 Lego Wave Pool
The Lego Wave Pool, in my view, offers a fantastic beach-like experience right in the heart of Dubai Parks and Resorts aquapark. It's an excellent place for families to relax, swim or enjoy the gentle waves. With life jackets available for everyone, safety is a top priority at this Dubai water park.
Red Rush
Experience the thrill of the Red Rush, a family-sized raft slide that takes you through a 95-metre-long curving track. Its unique design and exciting twists and turns make it a must-try for every visitor at Legoland waterpark in Dubai. I just love this Legoland water slide.
Height restriction: 107 cm and above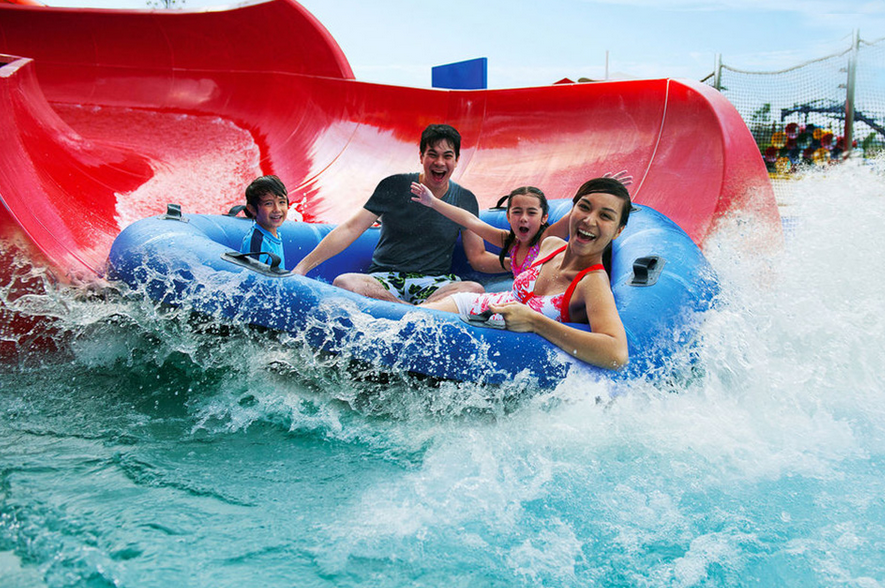 Splash 'N' Swirl
The Splash 'N' Swirl is a thrilling tube slide that spins you in circles before dropping you into a pool. It's a heart-pumping ride that adds an extra layer of excitement to your visit to this Dubai water theme park.
Height restriction: 122 cm and above
Twist 'N' Spin
Want more fun? Get ready for an exhilarating ride on the Twist 'N' Spin. This slide will have you spinning and twisting in a giant bowl before you splash out into a pool. It's a dizzying, adrenaline-filled experience that will leave you wanting more.
Height restriction: 107 cm and above
Splash Out
If you're seeking a high-speed thrill, the Splash Out is a perfect choice. It's an 18-metre drop slide that will have your heart racing and your adrenaline pumping. It's one of the most exhilarating attractions at this one of the newest waterparks in Dubai.
Height restriction: 102 cm and above
Tidal Tube
The Tidal Tube offers an enclosed slide experience, where you twist and turn in darkness before splashing into the pool below. It's a thrilling ride that will have you screaming in excitement.
Height restriction: 102 cm and above
Twin Chasers
Looking for more water adventures? Race your friends down the Twin Chasers, two side-by-side enclosed slides that will have you twisting and turning all the way down. This ride is a fantastic opportunity for some friendly competition at Dubai Legoland Waterpark.
Height restriction: 102 cm and above
Wave Rider
Finally, the Wave Rider is a high-speed body slide that will have you zooming down a steep drop into a splash pool. It's a must-try for adrenaline junkies visiting Legoland Aquapark Dubai.
Height restriction: 102 cm and above
Legoland Waterpark Dubai tickets
A visit to Legoland Waterpark is a ticket to an unforgettable adventure. There are various types of tickets available, including single-day passes, annual passes and combo tickets that provide access to other attractions within Dubai Parks and Resorts. Keep in mind that a Legoland water park ticket does not include access to the Legoland theme park and vice versa. To access both, you need to buy the Two Parks combo pass.
You can purchase your Legoland tickets online or at the entrance of the park. But I recommend booking your Legoland Dubai tickets in advance to guarantee a place and get good deals. So how much is a Legoland Waterpark Dubai ticket?
Legoland Waterpark Dubai ticket price: AED 295 and above, children under 3 enter for free
Book your Legoland Dubai tickets here
Deal Alert: Are you looking for Legoland Waterpark Dubai discount tickets and deals? Klook regularly provides Legoland tickets with big discounts. I love booking on Klook for their unbeatable prices and the loyalty program allowing you to save more. Check out Legoland Waterpark Dubai prices here
Have Fun Dubai's Tip: If you are a fan of theme parks and water parks, buy a 2 Parks Pass for Dubai Parks and Resorts. You can visit two parks in one day and save a lot of money because the pass is substantially cheaper than buying two separate entrance tickets. Book your Dubai Parks and Resorts Two Parks Pass here
Legoland Dubai Hotel and why you should book a stay there
Are you a LEGO enthusiast or want to surprise your child? If you're looking to extend your LEGO experience, the Legoland Hotel in Dubai is a great place to stay. Each room in the hotel is themed, adding to the overall LEGO adventure. Moreover, the hotel provides accessible and wheelchair-friendly rooms for its guests.
The following five Legoland Hotel Dubai room types are available:
Lego Friends rooms and suites
Kingdom rooms and suites
Pirate rooms and suites
Adventure rooms and suites
Lego NinjaGo rooms and suites
If you stay at the Legoland Dubai Hotel, you will be steps away from both the theme park and the water park. Besides, you will get many additional benefits like free park entrance and exclusive meet-and-greet sessions with LEGO characters.
Here is the list of the top Legoland Hotel Dubai benefits:
Free access to Legoland Park Dubai or Legoland Waterpark Dubai
Creative workshops
Pool
Play areas
Treasure hunt in every room
LEGO characters meet & greet
LEGO shop inside
Due to its location away from other main Dubai attractions, I would recommend booking this hotel for one or two nights. You can then move to another hotel in one of the popular Dubai areas and experience other things to do.
Book your Legoland Hotel Dubai stay here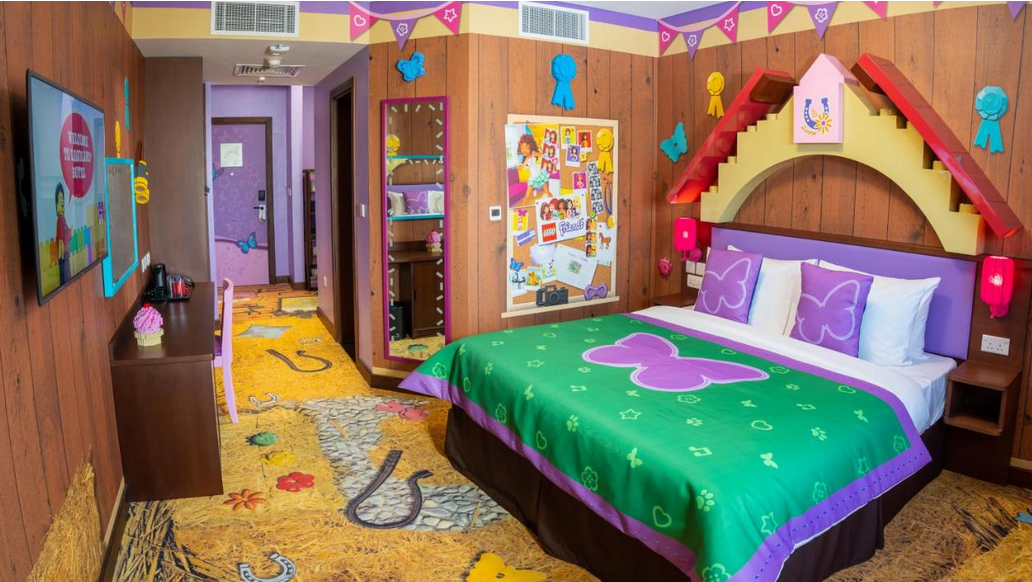 Restaurants
No adventure is complete without delicious food, and Legoland Waterpark Dubai understands this well. The park is home to several dining options, where you can try a variety of cuisines in between your water escapades.
Restaurants at Legoland Waterpark include:
Waterside Snacks
Waves Bistro
Additional facilities and services
Beyond the thrilling water slides and attractions, Legoland waterpark in Dubai offers a range of additional facilities and services.
These include:
Bricks Beach Shop (LEGO toys and other products)
Locker and towel rental
VIP Experience package (cabana rental for a max. of 4 persons)
Legoland Aquapark swimwear rules
Like any other water park, safety and hygiene are paramount at Legoland Dubai. Therefore, guests are required to follow several swimwear guidelines.
What to wear at Legoland Waterpark Dubai? I have collected a list of things you can and cannot wear in the water at the aquapark.
You are allowed to wear in the water:
Male speedos, boardshorts or rash guards
Female 1 or 2-piece swimsuits, burkini or rash guards
Aqua socks or shoes
You are not allowed to wear in the water:
Slippers, sandals, shoes, trainers or Crocs
Long shorts and shirts, pants, jeans, underwear, abaya, saree, transparent or sheer clothing
Swimwear with exposed zippers, rivets, buckles or any metal details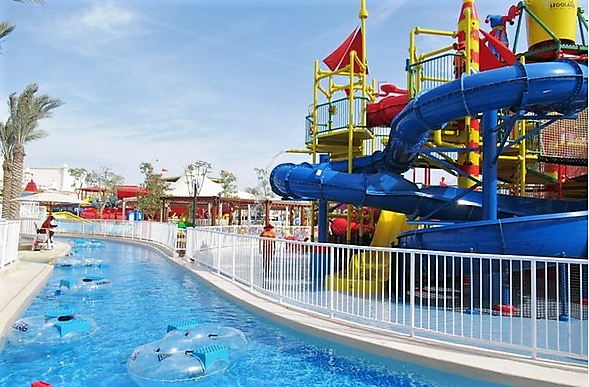 Safety and regulations at Legoland
Is the LEGO waterpark in Dubai safe? While fun is the primary focus at Legoland Waterpark, the safety of guests is equally important. The park implements strict safety measures, including height restrictions for certain rides, the requirement of parental supervision for young children and the presence of trained lifeguards at all times.
Timings
Legoland Waterpark Dubai opening hours: Monday to Sunday 10:00 to 19:00 (opening hours may fluctuate per season, the waterpark may be closed on Wednesdays)
Location
Where is Dubai Legoland Waterpark located?
Legoland Waterpark Dubai address: Dubai Parks and Resorts, Sheikh Zayed Road (opposite Palm Jebel Ali), Dubai, United Arab Emirates
How to get to Dubai Legoland Waterpark
While the park is not located centrally, you can use one of several options for getting to Legoland water park in Dubai. It's situated on Sheikh Zayed Road, opposite Palm Jebel Ali. It is possible to get to Legoland by car, taxi or public transportation from all major areas in Dubai. Check out the details below.
By metro: Take the Dubai Metro (red line) to the Ibn Battuta metro station, then either take a taxi or the RTA shuttle bus (plan your route here)
By car: From both Dubai and Abu Dhabi first follow the E11 highway and then take Dubai Parks and Resorts Exit 5
By taxi: RTA, Careem, Uber and other taxi services offer their services throughout the city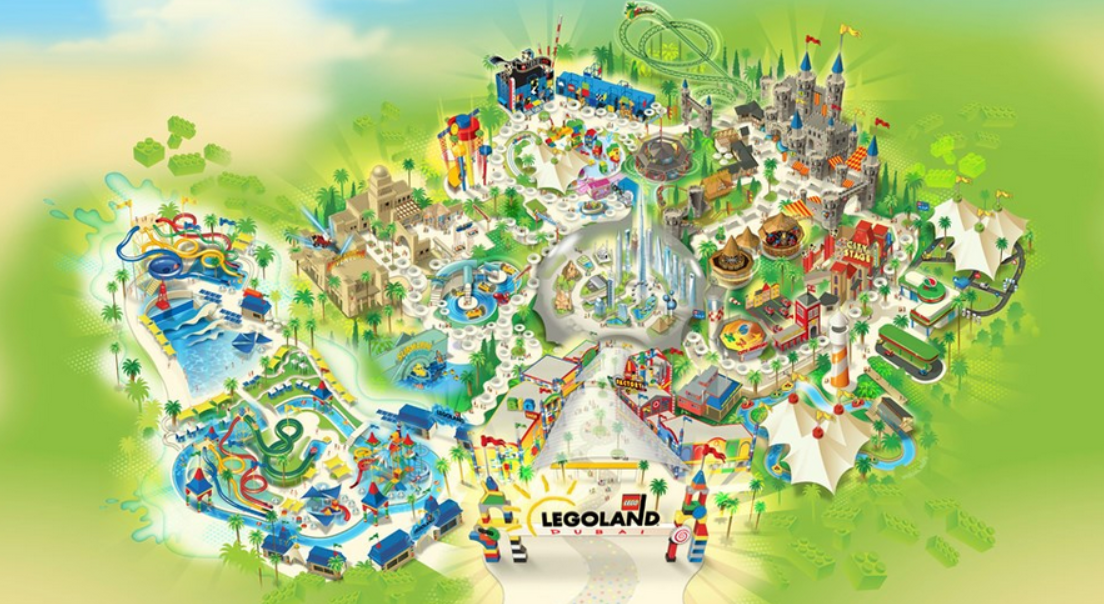 Other parks and activities at Dubai Parks and Resorts
Apart from Legoland Waterpark, Dubai Parks & Resorts also houses Motiongate Dubai, Legoland Theme Park, Neon Galaxy and the yet-to-open Real Madrid football-themed park which will replace Bollywood Parks Dubai (closed in 2023). Each of them boasts a unique set of rides and attractions, making your visit to Dubai Parks & Resorts an exciting experience.
Motiongate Dubai: If you are a fan of Hollywood movies and cartoons, visit Motiongate Dubai. In my view, this is one of the best theme parks in Dubai featuring four studio zones with 40 themed rides and two additional event zones. You will have a chance to meet your favourite characters from Madagascar, Kung Fu Panda, Shrek, Hunger Games and other films. Book your Motiongate Dubai tickets here
Legoland Dubai: Let your imagination run wild at this interactive theme park, where you can build, create and explore with LEGO bricks. Furthermore, you can choose from 40 exciting rides and attractions. Legoland Dubai is a great destination for families with children aged 2 to 12. Your Legoland water park ticket is not valid for the theme park. You can either book a single ticket here or a cheaper combo ticket for 2 parks below. Book your Legoland Dubai tickets here
Neon Galaxy: Designed for young kids and teenagers, this large indoor playground features rope climbing, slides, ball pits and much more. Your children will have a day of fun and excitement visiting the Space Jungle, Solar Storm and Slide Central zones, among others.
Bollywood Parks Dubai: Until 2023, visitors could also experience the magic of Bollywood with live shows, colourful attractions and vibrant entertainment dedicated to Indian cinema. Unfortunately, this park was closed and is no longer in use.
Real Madrid Dubai: This upcoming venue will be the first Real Madrid football theme park in the world. Families and sports fans will soon be able to visit the park to immerse in the world of one of the most celebrated football clubs on the planet.
Have Fun Dubai's Tip: If you are a fan of theme parks and water parks, buy a 2 Parks Pass for Dubai Parks and Resorts. You can visit two parks in one day and save a lot of money because the pass is substantially cheaper than buying two separate entrance tickets. Book your Dubai Parks and Resorts Two Parks Pass here
Other recommended water parks in Dubai
Dubai is a hub of great aquaparks, each offering unique experiences and relief from the desert heat. If you're looking to explore beyond Legoland Waterpark at Dubai Parks and Resorts, consider other options below. Each of these parks promises a day filled with fun, excitement and water-based adventures.
Here is the list of the best Dubai waterparks:
Aquaventure Waterpark: Explore Aquaventure Waterpark at Atlantis Dubai, acclaimed the waterpark with the largest number of waterslides in the world. Enjoy thrilling rides, relax on the white sandy beach with nice views and even get up close and personal with dolphins. Book your Atlantis Aquaventure Waterpark tickets here
Wild Wadi Waterpark: Immerse yourself in Arabian folklore at Wild Wadi Waterpark. Zoom down exciting rides, the tallest and fastest free-fall water slide in the Middle East and enjoy fabulous Burj Al Arab views. Book your Wild Wadi Waterpark tickets here
Aqua Fun Waterpark Dubai: Fancy visiting the largest inflatable water park in the world? Located just off the shore in Jumeirah Beach Residences, it offers more than 110 floating obstacles. This JBR water park is open all day until sunset and boasts one of the best Dubai views. Keep in mind that due to its location in the Arabian Gulf, Aqua Fun Waterpark is not suitable for toddlers or young kids. Book your Aqua Fun Waterpark tickets here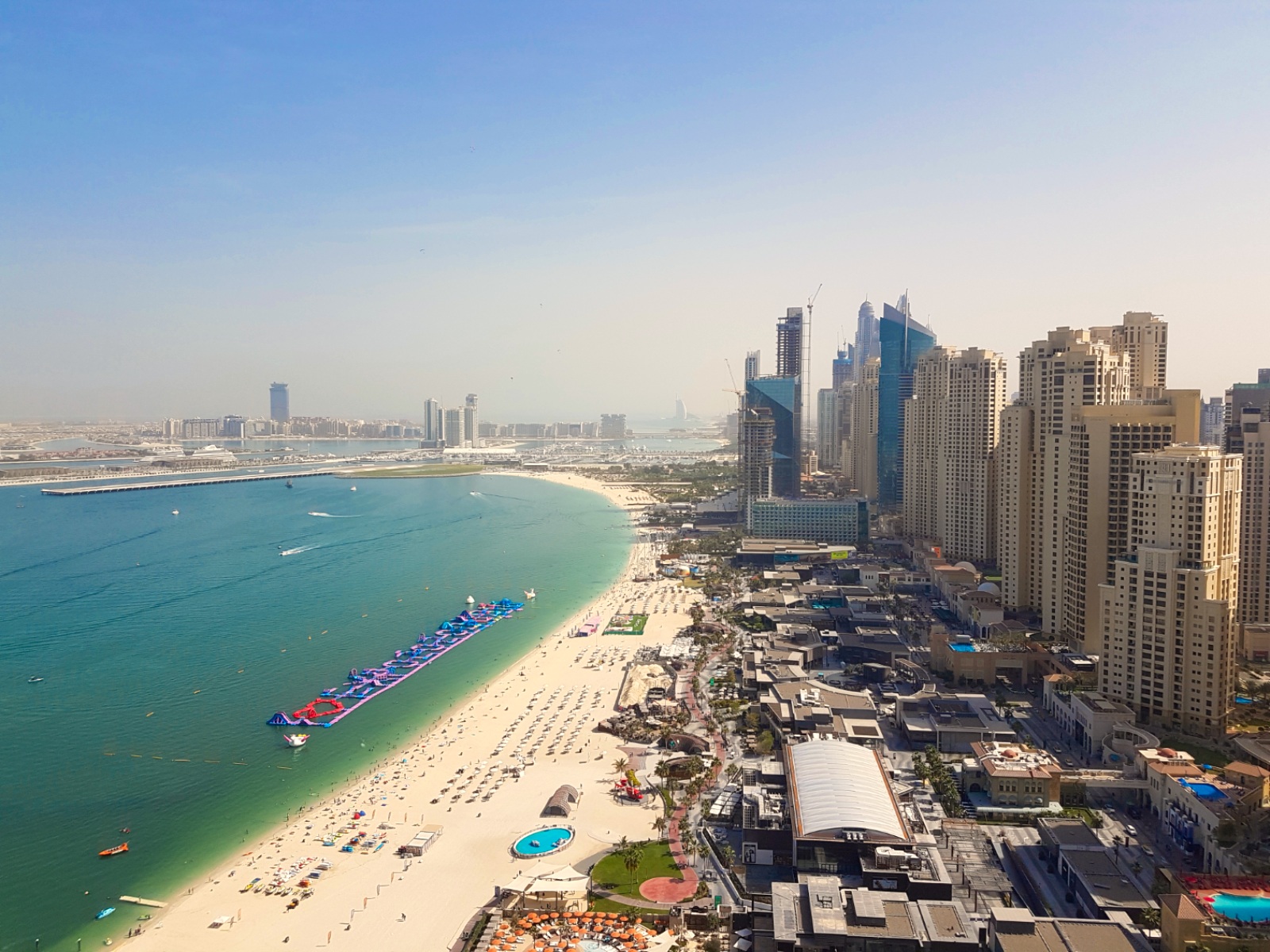 Prepare for your Dubai trip
Did you find this post helpful? Then click that little heart below and share it with your friends and family. Have fun in Dubai!