Dubai Creek, or Khor Dubai, is the heart and soul of this bustling Old Dubai. This saltwater creek, which divides the city into two main areas, Bur Dubai and Deira, is not just a mere body of water. It is a significant portal into the rich history and culture of Dubai. From vibrant souks and mesmerising dhow cruises to captivating heritage sites and breathtaking modern urban developments, Dubai Creek has it all.
In this guide, I will tell you all you need to know about the Dubai Creek attractions and things to do, including cruises, parks, neighbourhoods, markets and guided tours. Moreover, you will learn about the Creek's history, location and how to get there.
What is Dubai Creek
Dubai Creek is a 14-kilometre saltwater creek that flows through the heart of Dubai, extending from the Arabian Gulf to the Ras Al Khor Wildlife Sanctuary. Its strategic location played a significant role in the city's development, making it a vital trading and fishing hub in the region.
Today, Dubai Creek is a bustling area teeming with a mix of old and new attractions, from traditional wooden boats and bustling souks to modern architectural marvels and luxury hotels.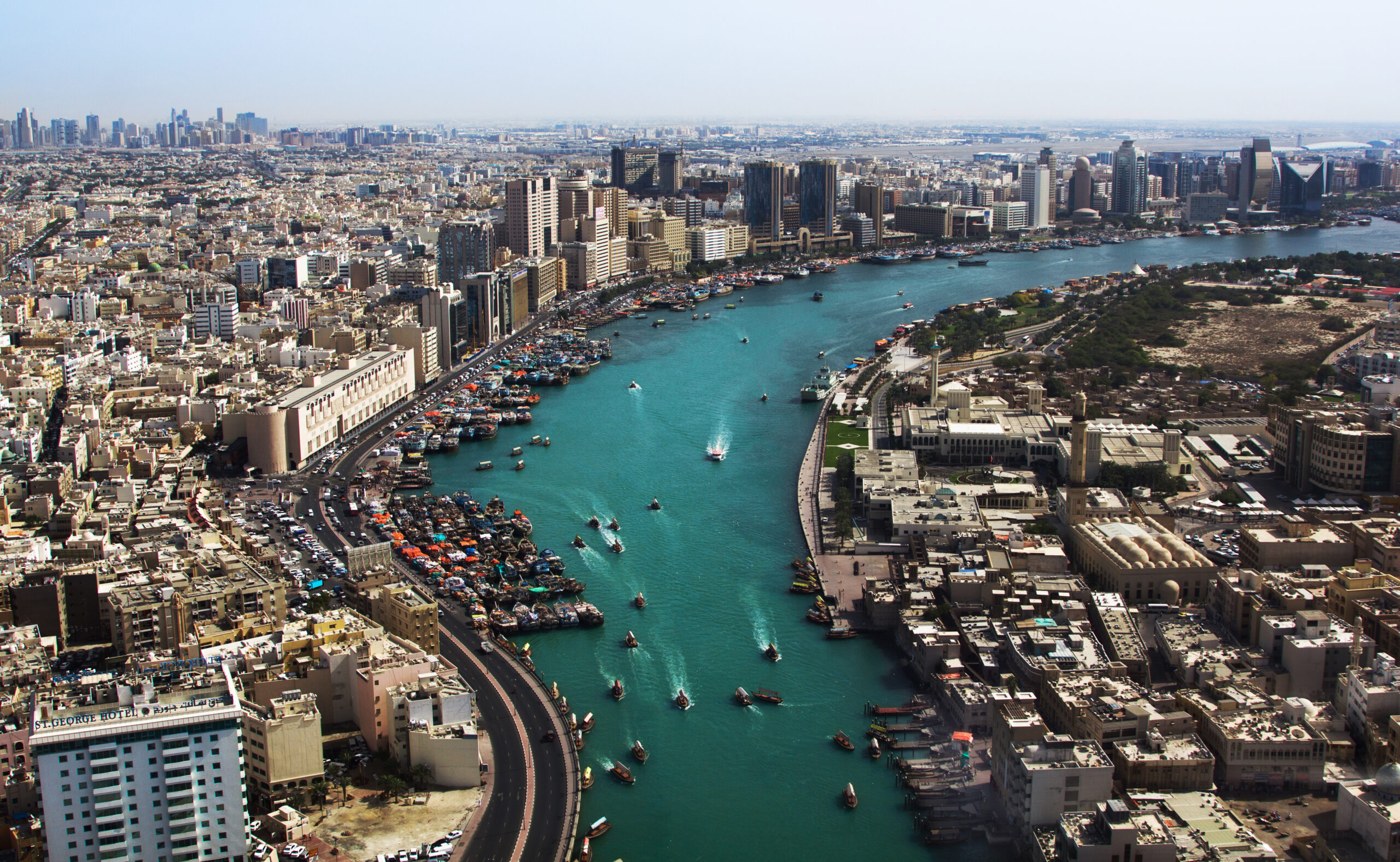 A bit about the history
The history of Dubai Creek dates back thousands of years. It was settled by the indigenous Bani Yas tribe around the 1830s. You probably heard about the Al Maktoum family, Dubai's ruling dynasty. They are descendants of the Bani Yas tribe.
The creek's natural harbour and easy access to the Arabian Gulf made it an ideal location for trade, pearl diving and fishing, leading to the growth of the city around it. In 1902 Dubai Creek was proclaimed a free trade zone. Its banks witnessed a large-scale transformation with the appearance of souks, warehouses and piers.
In 1961, the creek was deepened to accommodate larger vessels. Later on, the creek's urban development continued, with the construction of such sights as Dubai Creek Park, Dubai Creek Golf Club, the Dubai Festival City Mall and the Mohammed Bin Rashid Library. Furthermore, there are ambitious plans to build the Dubai Creek Tower which should kick off the pedestal Burj Khalifa as the world's tallest building.
Things to do in the Dubai Creek area
I have collected a few things to do in the Dubai Creek area for a fun experience, whether you are exploring it by yourself or with friends and family.
Dubai Creek cruises: abra and dhow boats
One of the best ways to experience Dubai Creek is by taking a leisurely cruise along its calm waters. Two popular options to explore the creek are by boarding a traditional wooden boat called an abra or a more luxurious dhow cruise. Abras are small, motorised boats used by locals to travel between Bur Dubai and Deira. For a small fare, you can hop on an abra and cross the creek while enjoying the stunning views of the city's skyline. I definitely recommend catching a Dubai Creek abra for an authentic experience. Prices start from AED 1.
On the other hand, Dubai Creek dhow cruises offer a more refined experience. These traditional wooden boats have been converted into floating restaurants, allowing you to enjoy a sumptuous meal while taking in the breathtaking views of the creek. Many Dubai Creek dhow cruises feature various entertainment options such as live music, cultural performances and even live cooking stations to complete your magical evening on the creek.
Dubai Creek dhow cruise price: AED 200-300 on average
Dubai Creek dhow cruise duration: 2-3 hours
Book your Dubai Creek dhow dinner cruise here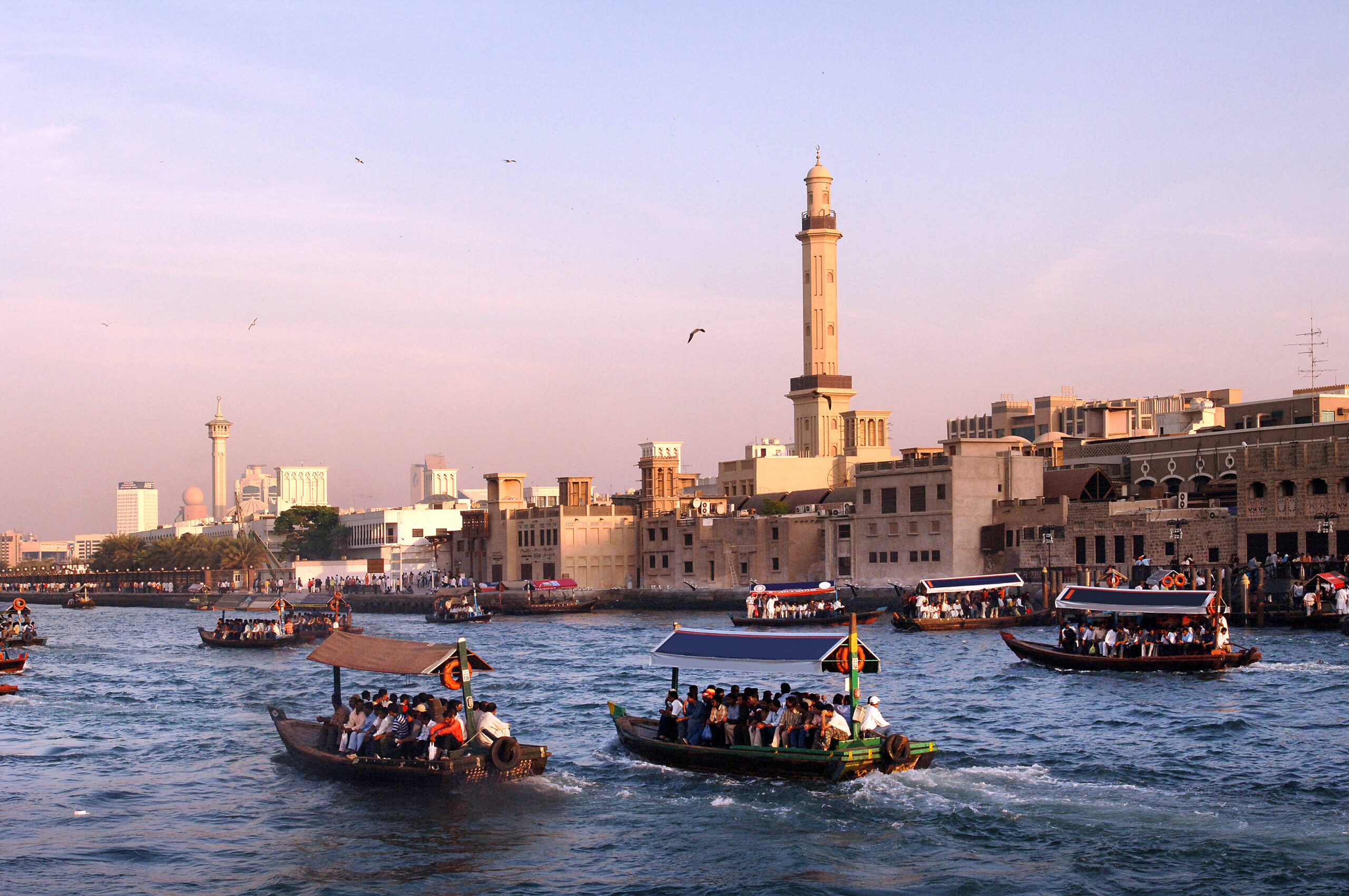 Dubai Creek souks
No trip to Dubai Creek would be complete without exploring its bustling souks. The most famous of these markets are the Gold Souk and the Spice Souk, both located in the Deira district. The Gold Souk is home to hundreds of retailers offering a dazzling array of gold, silver and precious stone jewellery. Meanwhile, the Spice Souk offers a sensory feast, with the fragrant aromas of spices, herbs and other traditional goods filling the air.
If you wish, you can also explore other Dubai Creek markets, including the Perfume Souk, the Textile Souk and the Naif Souk.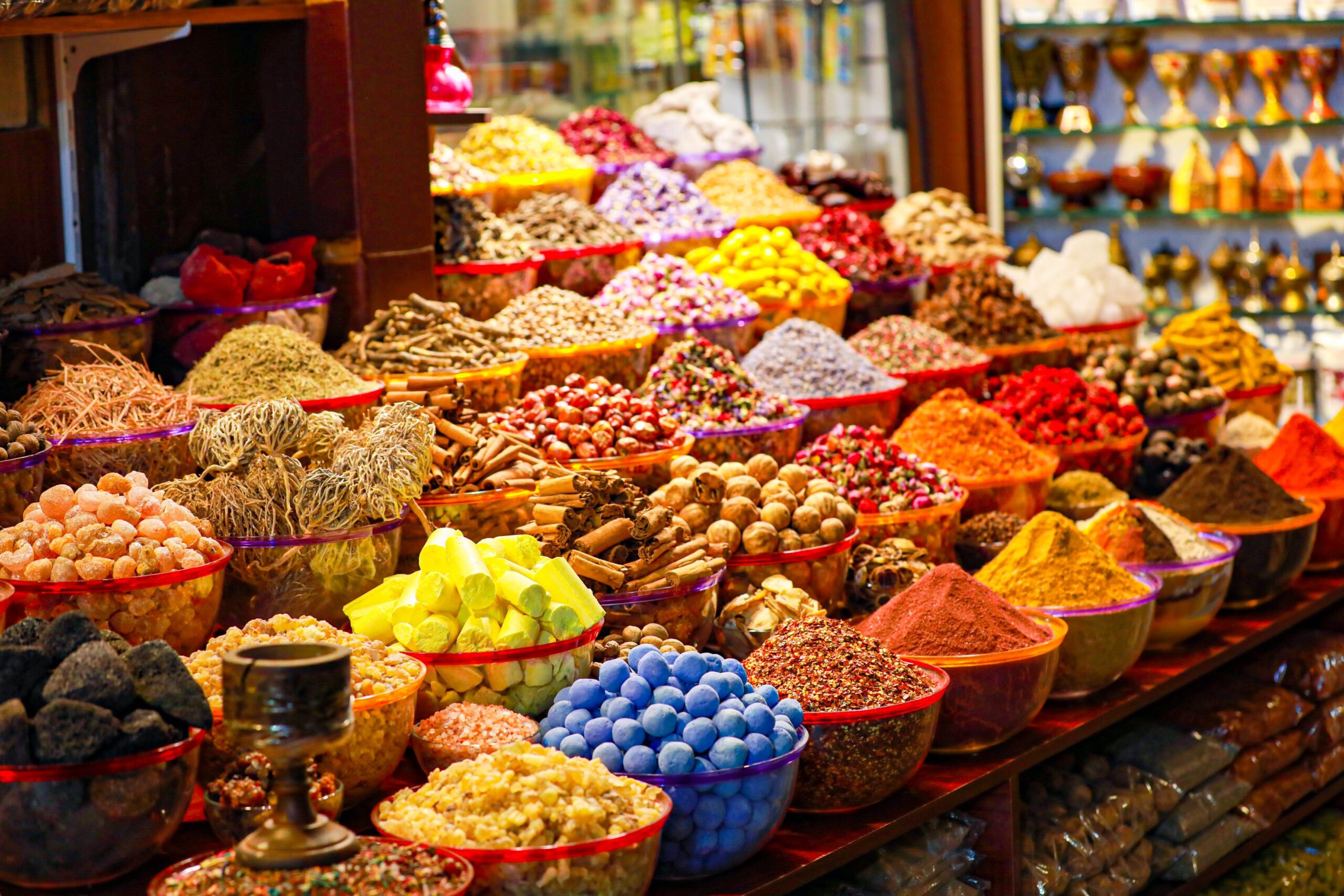 Dubai Heritage Village
To get a glimpse of Dubai's past, visit the Dubai Heritage Village. This living museum, located near the mouth of the creek in Al Shindagha, showcases traditional Emirati architecture, crafts and way of life. Stroll through the village to discover how the pearl divers, fishermen and traders of old Dubai lived and worked.
Have Fun Dubai's Tip: The village also hosts various cultural events and performances throughout the year, giving you a chance to experience traditional Emirati customs and hospitality. Visit the Al Shindagha Museum in the area to learn more about Dubai's past and see the Sheikh Saeed Al Maktoum House, where the ruling dynasty used to live.
Book your Al Shindagha Museum Dubai tickets here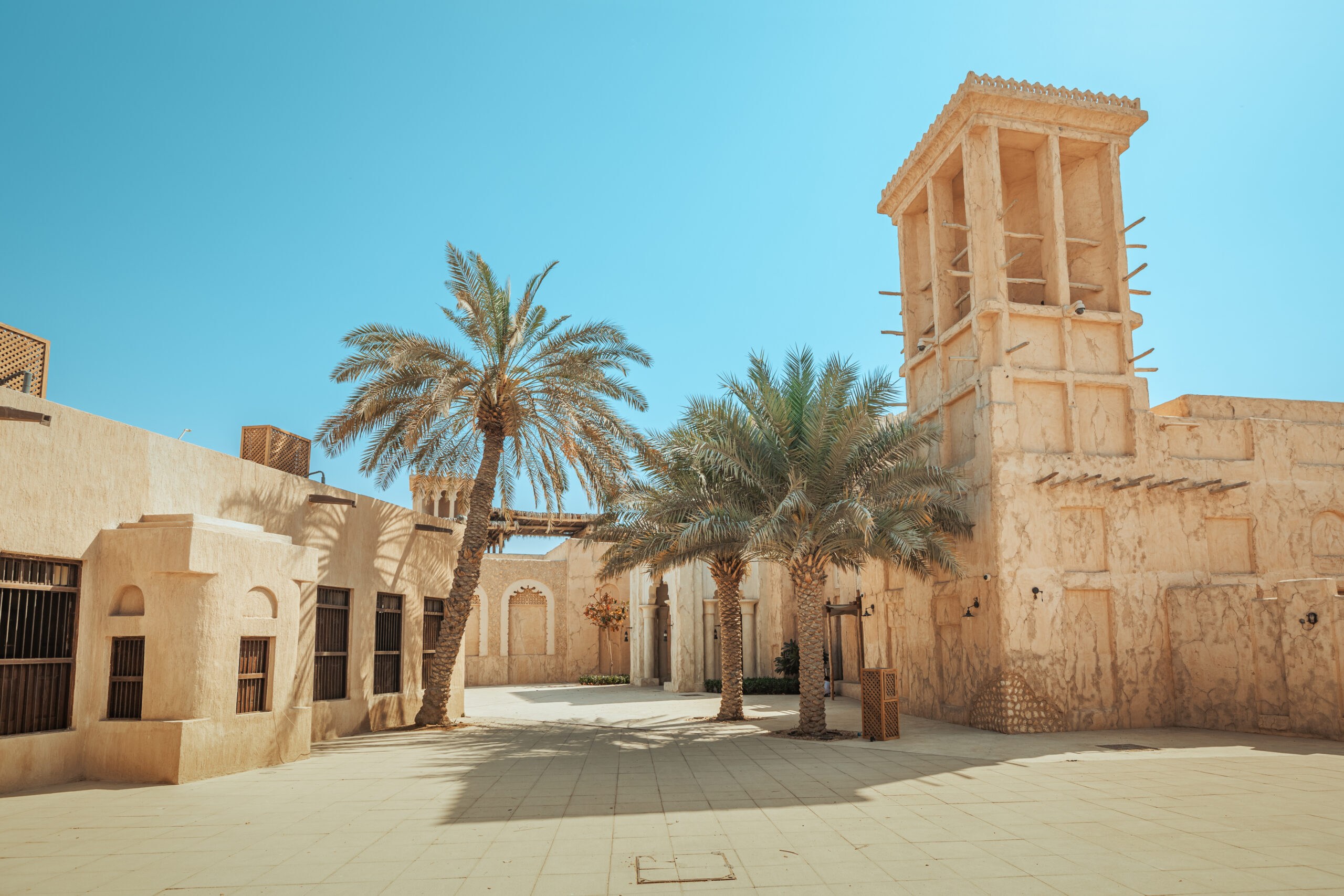 Dubai Al Fahidi Historical Neighbourhood
Another must-visit historical site near Dubai Creek is the Al Fahidi Historical Neighbourhood. This well-preserved district, also known as Bastakiya, features narrow lanes and traditional wind-tower houses, offering a window into Dubai's past. The area is home to several museums, art galleries and cafes, making it a perfect destination for history buffs and art enthusiasts alike.
Dubai Creek Park
If you're looking for some greenery and fresh air, head to Dubai Creek Park. This lush, sprawling park features beautiful gardens, picnic spots, children's play areas and even a cable car ride offering panoramic views of the creek. It is the perfect spot for a family day out or a leisurely stroll by the water.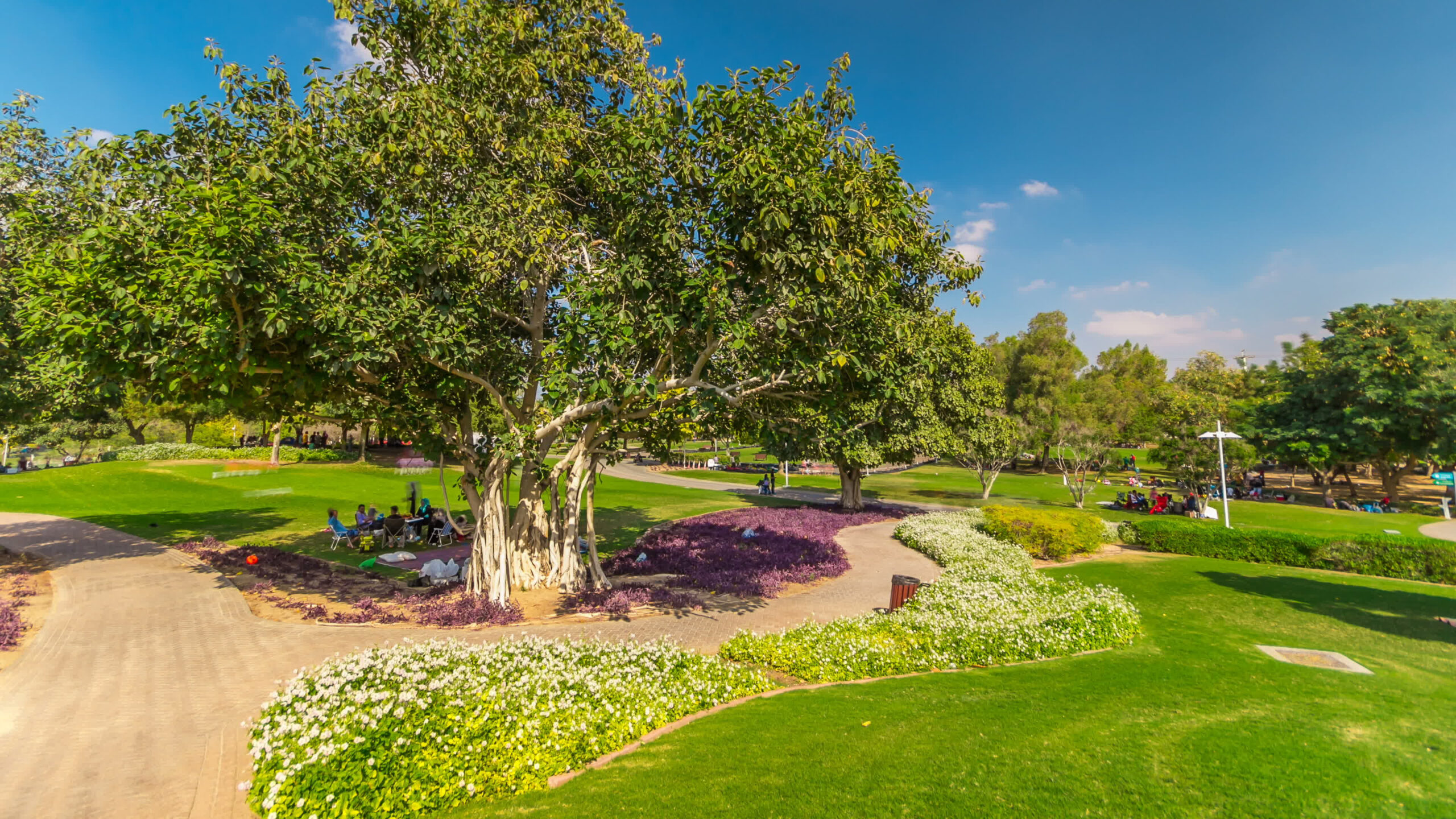 Dubai Creek Dolphinarium
The Dubai Dolphinarium is another popular attraction in the area, located inside Dubai Creek Park, especially for families with children. This marine facility hosts dolphin and exotic bird shows, interactive experiences and even a 5D cinema. Don't miss the chance to watch these incredible creatures showcase their intelligence and agility during the live performances.
Book your Dubai Dolphinarium ticket here
Dubai Creek Harbour
Dubai Creek Harbour is a stunning modern development located along the banks of the creek. This mega-project, sometimes referred to as the new Downtown Dubai, features luxurious residential towers, high-end retail and dining options, as well as the picturesque 6-kilometre promenade.
According to the plan, the new Dubai Creek Tower comes right in the middle of this neighbourhood. Moreover, the area offers fantastic views of the city's skyline with Burj Khalifa in the backdrop and is set to become a major destination in Dubai.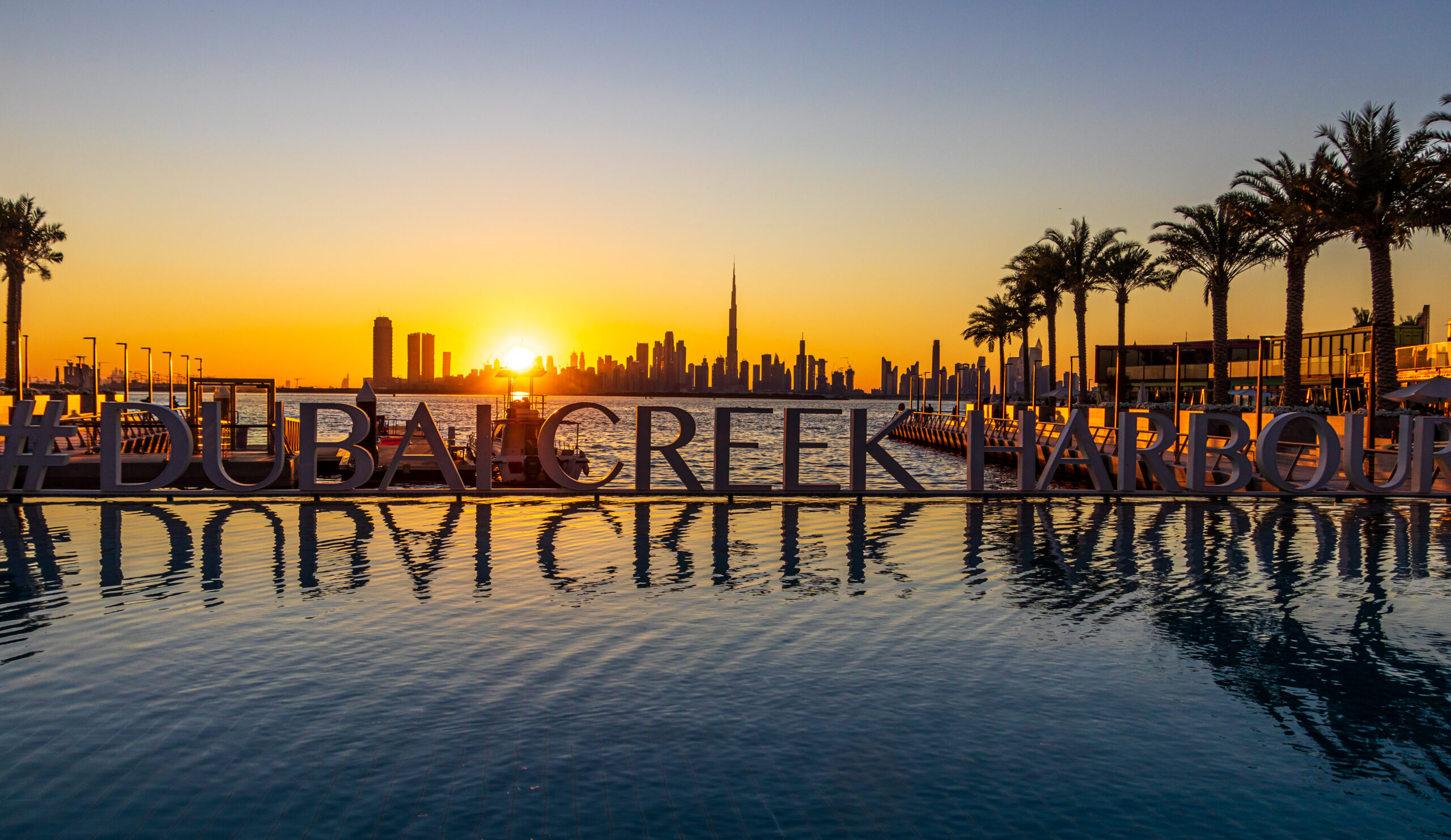 Dubai Al Seef
Another trendy spot along the creek is Al Seef, a charming waterfront promenade that combines the old and the new. Stroll along its cobbled streets lined with traditional Emirati architecture or explore the contemporary side with its sleek cafes, boutiques and restaurants. Al Seef is the perfect place to spend a leisurely afternoon or evening by the water.
Dubai Creek guided tours
To fully appreciate the rich history and diverse attractions of Dubai Creek, consider joining a guided tour. A knowledgeable guide will help you uncover the hidden gems of Dubai Creek, making your visit even more memorable.
Here are some of my favourite Dubai Creek area guided tours:
| | |
| --- | --- |
| Old Dubai walking tour with the souks visits and street food tasting | Book here |
| Dubai Creek area private tour | Book here |
| Spice Souk and Gold Souk walking tour with a traditional abra crossing | Book here |
| Old Dubai private food tour with 10 tastings | Book here |
Is Dubai Creek a good place to stay
Dubai Creek's central location, rich history and diverse attractions make it an ideal base for exploring the city.
Here are several pros and cons of staying in the Dubai Creek area:
Staying in the creek area allows you to easily access both the modern and traditional sides of Dubai, providing an immersive experience
Easily and quickly accessible from Dubai International Airport
Depending on the neighbourhood in the Dubai Creek area, you can get more budget-friendly accommodation options
Many authentic shopping and dining options
If you are a beach-lover, this area is less suitable for you, opt instead for Dubai Marina, Jumeirah Beach Residences or Palm Jumeirah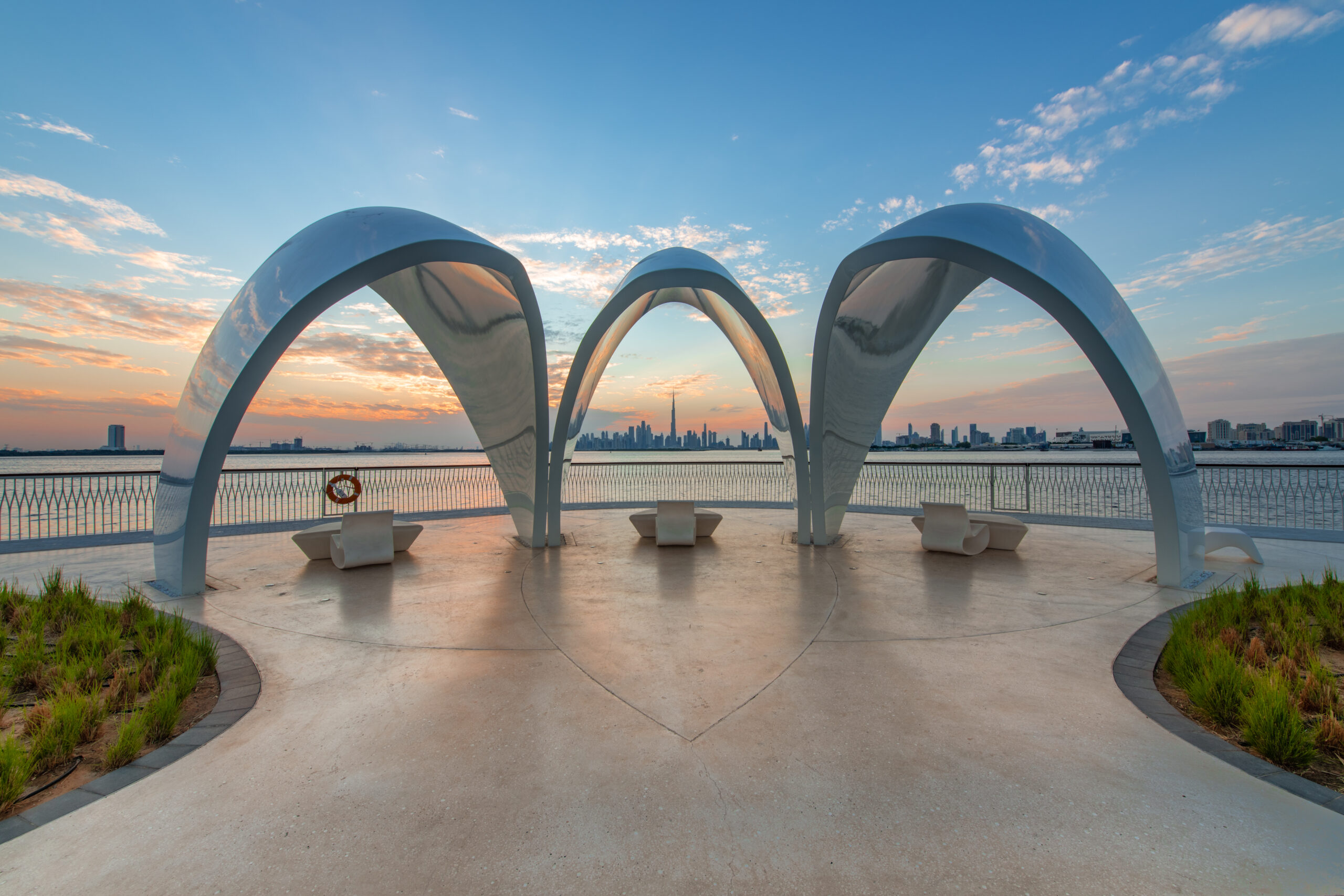 Dubai Creek hotels
There is no shortage of accommodations in the Dubai Creek area, catering to all budgets and preferences. From luxurious options like the Golden Sands Dubai Creek Hotel and the Vida Creek Harbour Dubai Hotel to more affordable choices, you're sure to find the perfect place to rest your head after a day of exploring.
Book your hotel in Dubai Creek here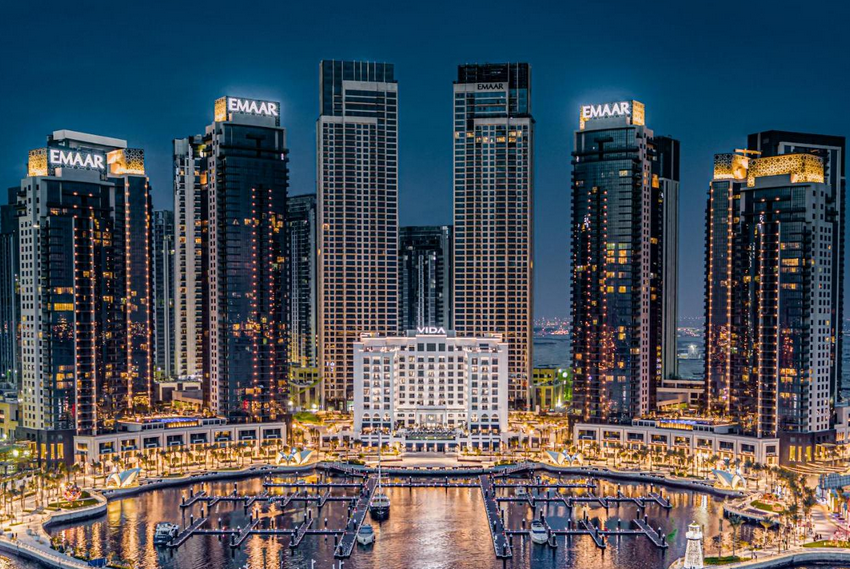 Dubai Creek Tower
One of the most anticipated developments in the area is the Dubai Creek Tower, designed by renowned architect Santiago Calatrava. Once completed, this observation tower will be the tallest structure in the world, offering breathtaking views of the city and beyond from the projected height of 928 to 1,400 metres.
Currently, the construction is on hold but keep an eye out for this architectural marvel, as it's sure to become an iconic landmark in Dubai.
Discovering the Creek at night
Dubai Creek truly comes alive at night. The vibrant colours of the city's skyline reflecting on the water, the illuminated dhow boats gliding along the creek, and the bustling souks create a magical atmosphere. Whether you choose to enjoy a romantic dhow dinner cruise, wander through the lively streets of Al Seef or simply admire the view from a waterfront restaurant, Dubai Creek at night is an unforgettable experience.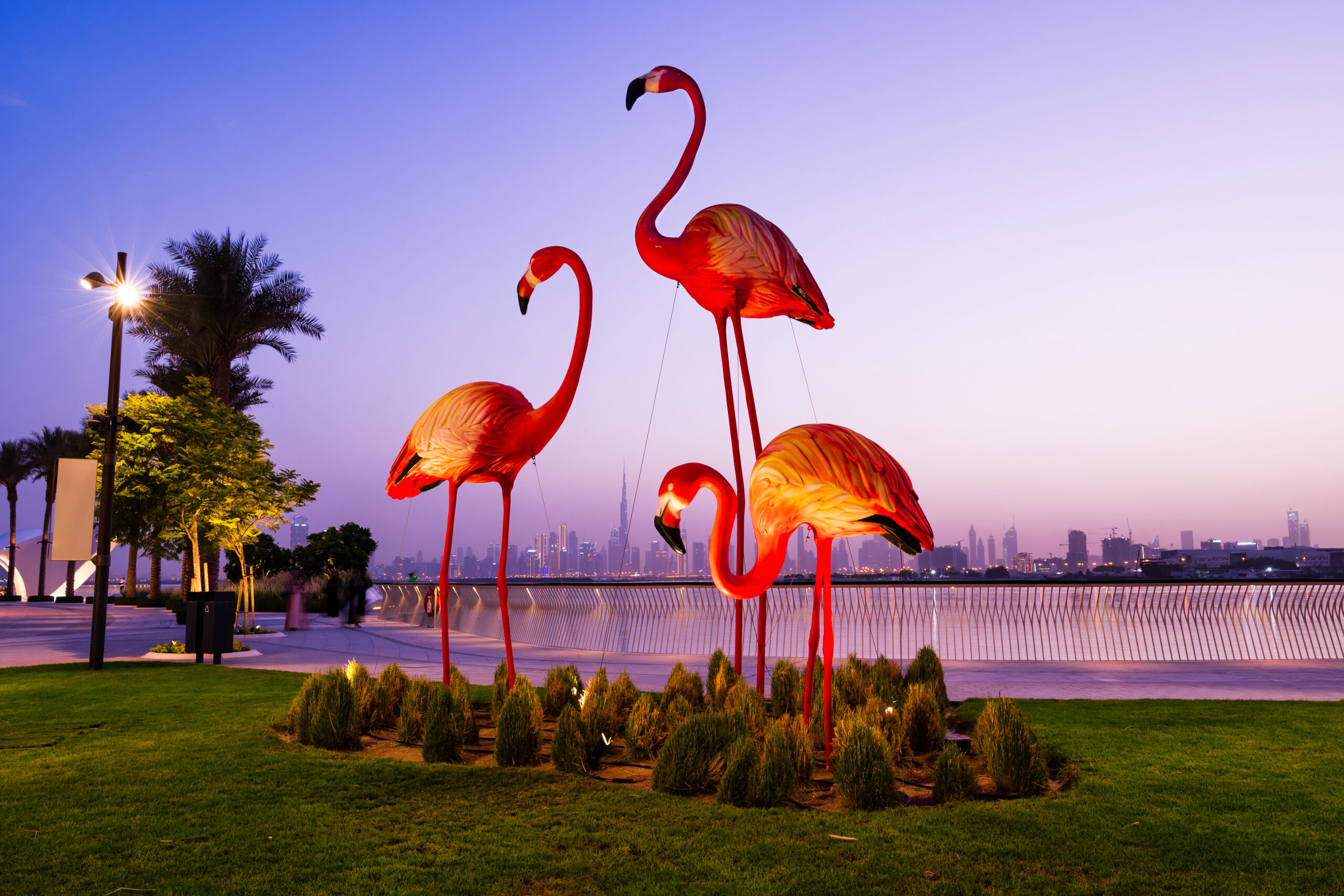 Location
Where is Dubai Creek? Dubai Creek is located in the heart of the city, dividing it into the Bur Dubai and Deira districts. Its strategic location makes it easily accessible from many of Dubai's main attractions and transportation hubs, including Dubai International Airport.
How to get to Dubai Creek
Reaching Dubai Creek is relatively easy, thanks to the city's extensive public transportation network.
By metro: You can take the Dubai Metro and alight at several metro stations along Dubai Creek, such as Al Ghubaiba, Al Ras, Baniyas Square, Sharaf DG, Oud Metha and Creek
By marine transport: Take the FR1 ferry route to Al Ghubaiba marine station or enjoy abra rides between various marine stations in the Dubai Creek area, including the Dubai Old Souk, Deira Old Souk, Al Fahidi, Al Seef and Baniyas stations
By taxi: Taxis are available throughout the city
By car: Plenty of parking spaces in the area
By bus: Numerous bus routes depending on the area you are heading to
FAQs
Is Dubai Creek man-made or natural?
Dubai Creek, also known as Khor Dubai, is a natural saltwater creek that has been an essential part of Dubai's history and development. It served as the main port for trading ships and pearling vessels in the past, playing a crucial role in the city's growth and prosperity. While there have been man-made enhancements to Dubai Creek, its origins are natural.
The depth of Dubai Creek varies depending on the location and tidal conditions. On average, the creek is around 6 to 7 metres deep, allowing for the passage of small to medium-sized vessels. The government of Dubai has undertaken various dredging projects over the years to maintain and increase the depth of the creek, ensuring that it remains navigable for the numerous boats and ships that use the waterway daily.
The width of Dubai Creek varies along its 14-kilometre length. In some parts, it is as narrow as 100 metres, while in other areas, it can be up to 500 metres wide. The creek meanders through the heart of Dubai. The varying width of Dubai Creek adds to its charm and appeal, providing a diverse range of waterfront experiences.
Where does the Dubai Creek water come from?
Dubai Creek is a saltwater inlet connected to the Arabian Gulf. The water in the creek comes primarily from the Gulf, with tidal movements causing fluctuations in water levels throughout the day. In addition to its connection with the Arabian Gulf, Dubai Creek also receives water from various underground wells and springs, as well as from the city's drainage systems.
Is Dubai Creek Harbour free?
Dubai Creek Harbour is a mixed-use development that combines residential, commercial and leisure facilities in a stunning waterfront setting. While there is no entrance fee to access the public spaces within the development, certain attractions and activities may have associated costs.
Is Dubai Creek Tower finished?
Dubai Creek Tower, designed by renowned Spanish architect Santiago Calatrava, is an ambitious project that aims to redefine the city's skyline. Once completed, it will be the tallest structure in the world, surpassing even Burj Khalifa. As of now, the Dubai Creek Tower construction is on hold.
When will Dubai Creek Tower be completed?
The exact completion date for Dubai Creek Tower has not been confirmed, as construction timelines can be subject to change due to various factors. However, the tower is expected to be completed in the coming years, and it will undoubtedly become a must-visit attraction for both residents and tourists alike.
How tall is Dubai Creek Tower?
Once completed, Dubai Creek Tower is expected to stand at an impressive height of at least 928 metres, making it the tallest structure in the world. The exact height has not been revealed. The tower's unique design features a slender, elongated structure supported by a network of cables, creating an architectural masterpiece that will dominate the Dubai skyline.
Dubai Creek is a great destination that offers a unique blend of history, culture and modernity. Whether you're a first-time visitor or a seasoned traveller, there's always something new to discover in this captivating part of the city. Set sail on a dhow cruise, haggle for spices in the souks or simply take a stroll along the picturesque waterfront. Dubai Creek is waiting for you to explore its many wonders.
Prepare for your Dubai trip
Did you find this post helpful? Then click that little heart below and share it with your friends and family. Have fun in Dubai!