Dubai Miracle Garden is the largest flower park in the world boasting 150 million flowers arranged in stunning compositions and installations. The moment you step into this park, which is also referred to as Dubai Magic Garden or Dubai Wonder Garden, you feel like you've stumbled into a fairy tale. This is a horticultural marvel that astounds its visitors with its enchanting beauty. Imagine a world where houses, animals and even aircrafts are made of vibrant, blooming flowers. It's a panorama of colours, fragrances and awe-inspiring creativity, all in one place.
I love Miracle Garden in Dubai for its kaleidoscope of colours, textures and scents. The aromas and fragrances hanging in the air cannot be described with words, you just need to experience them yourself. Miracle Garden offers an extraordinary experience for nature lovers, families and anyone seeking a memorable day out in Dubai. In this article, I will tell you all you need to know about Dubai Miracle Garden attractions and things to do, tickets, prices, location and opening hours. Moreover, I will share my tips about the best time to visit the flower park.
This is a seasonal attraction. Tickets are generally available from October to May.
Is Dubai Miracle Garden visit worth it: pros and cons
Check my quick overview of the pros and cons below to make a balanced decision.
Pros:
Stunning floral paradise: Miracle Garden is a botanical wonderland, boasting over 150 million colourful flowers arranged in breathtaking designs. Visitors can immerse themselves in the beauty of nature and take Insta-worthy photos amidst the vibrant blooms.
Unique attractions: Besides the beautiful flowers, the garden offers a range of unique attractions that add to the overall experience. From the heart-shaped pathway for a romantic date to the giant floral structures like the Emirates A380 plane, visitors can enjoy a variety of eye-catching displays that are sure to leave a lasting impression.
Family-friendly environment: This Dubai flower garden is a fantastic destination for families. Children will be delighted by the Disney-themed displays, while parents can relax and enjoy a leisurely stroll. The garden offers various amenities such as dining options, seating areas, and even live entertainment, making it a fun-filled outing for all.
Open until late: One of the greatest benefits of the park is that it is open from early morning until late in the evening. This allows you to experience the flower garden in Dubai in daylight and see its other magic colours after sunset.
Cons:
Seasonal availability: Dubai Miracle Garden operates on a seasonal basis, usually from October to May, with the garden being closed during the summer months for maintenance.
Crowded during peak times: The garden's popularity means that it can get crowded, especially during weekends and peak hours. You may need to wait a bit to take a selfie without other people at certain attractions.
Book your Dubai Miracle Garden tickets here
What is Dubai Miracle Garden and why is it famous
Opened on Valentine's Day in 2013, Dubai Miracle Garden is the world's biggest natural floral park, covering over 72,000 square metres and featuring more than 150 million flowers. This renowned Dubai Wonder Garden.is a magical oasis amidst the desert landscape. It is a place where millions of flowers bloom in harmony to create the most incredible displays.
Needless to say, It's not just the size that impresses, but also the remarkable creativity and craftsmanship involved in creating such intricate displays. This famous garden in Dubai has won numerous awards, including the Guinness World Record for the largest vertical garden in 2013 and the world's largest floral installation in 2016. You guessed it right if you thought about Airbus A380.
I definitely recommend visiting this famous botanical garden in Dubai. You won't be disappointed! Besides, you might be interested in the adjacent Dubai Butterfly Park, so check it out too.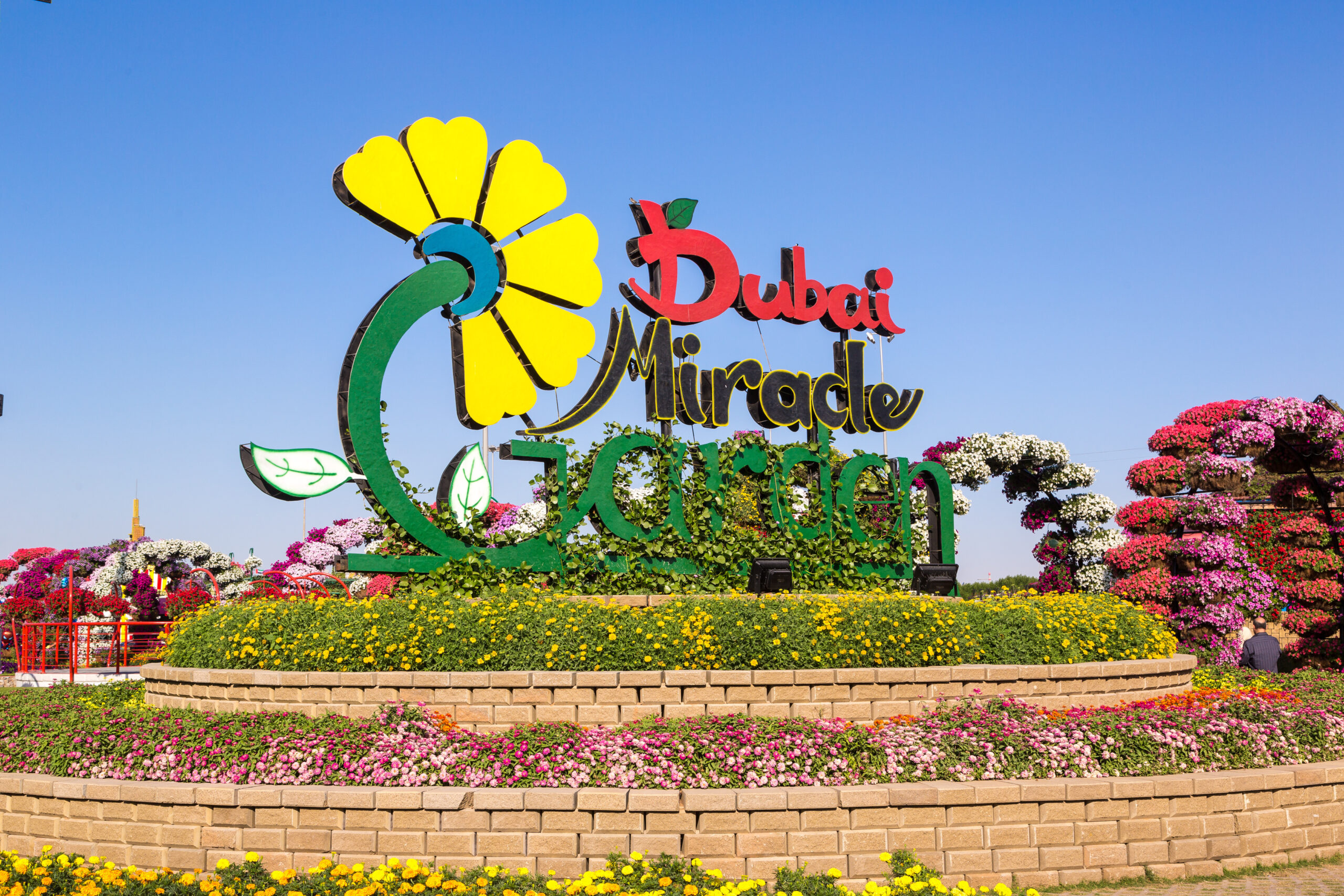 Is Dubai Miracle Garden open all year
Miracle Garden in Dubai is a seasonal attraction. It usually opens in October, when the weather starts to cool down, and closes in May, when summer begins to set in. Given the extreme summer temperatures in Dubai, maintaining a flourishing garden all year round would be indeed a miracle.
Although it's not open year-round, each season offers a brand-new experience. This Dubai flower park undergoes a complete transformation during the off-season, with different themes and floral displays designed for the new season. This ensures that every visit to Dubai Miracle Garden is unique and enchanting.
Dubai Miracle Garden opening dates in 2023 and 2024
When is Miracle Garden open in 2023 and 2024? The Dubai flower park will be open from September 29, 2023 to April 30, 2024.
Main attractions and flower displays
As you stroll through Dubai Wonder Garden, you are greeted by a dazzling array of floral displays. The famous flower garden in Dubai has numerous attractions, but a few stand out for their sheer scale and creativity.
The heart-shaped pathway, adorned with fragrant blooms, is a favourite among couples and photographers. The floral clock, made entirely of flowers and plants, is a timeless masterpiece that changes design with the season. The peacocks, with their vibrant plumes made of flowers, are a sight to behold.
One of the most iconic attractions is the Emirates A380 display. This life-size replica of an Emirates Airbus A380, covered in a vibrant floral display, holds the Guinness World Record for the largest floral installation. Other attractions include the Lost Paradise, an underground floral cascade, and the Butterfly Passage, a tunnel filled with thousands of colourful butterflies.
The Disney Avenue is another popular display, featuring floral sculptures of beloved Disney characters, including a 18-metre high Mickey Mouse, the tallest topiary structure in the world. Another awe-inspiring display is the floral amphitheatre. This colossal structure, made entirely of flowers, is a popular venue for concerts and shows. The Umbrella Passage, with its ceiling of colourful floral umbrellas, offers a surreal experience, as if you're walking under a rain of flowers.
Do you want to know more about top Miracle Garden attractions? Then join me in a little tour below. Otherwise, proceed to the information about Miracle Garden tickets.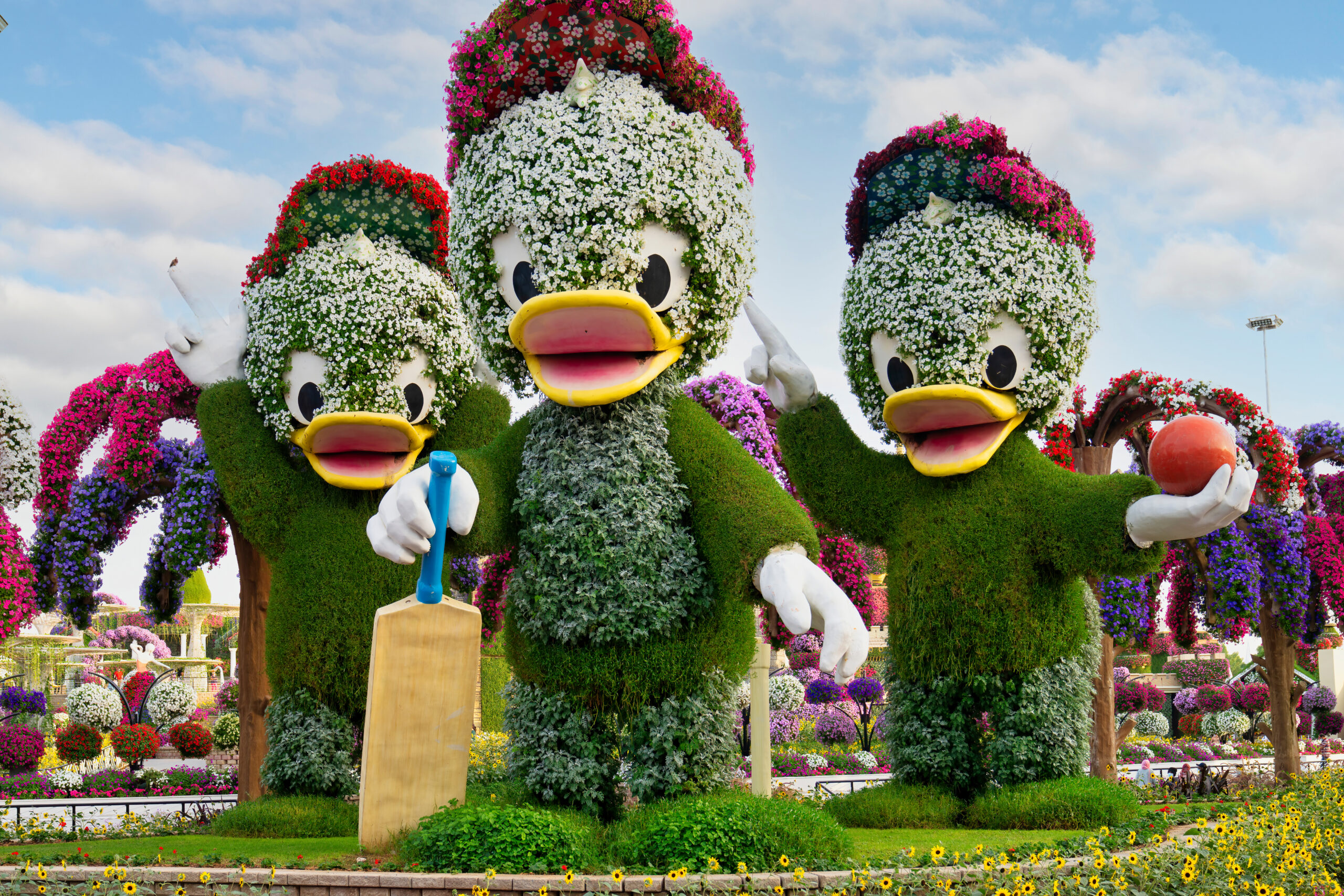 Emirates A380
Emirates A380 at Miracle Garden is a life-size replica of the iconic aircraft, meticulously crafted with vibrant flowers. It's a sight that immediately mesmerises, setting the tone for other magic to come.
This floral tribute to the world's largest passenger airliner is also the largest flower installation on Earth. Adorned with more than 500,000 fresh flowers and plants, the Emirates A380 is a sight to behold, especially when the flowers are in full bloom. Walking around this colossal structure, it's hard not to be awed by the intricate detail and the sheer scale of this grand spectacle.
Strike a pose and take stunning pictures of the Emirates A380 from either the terrace above or close by.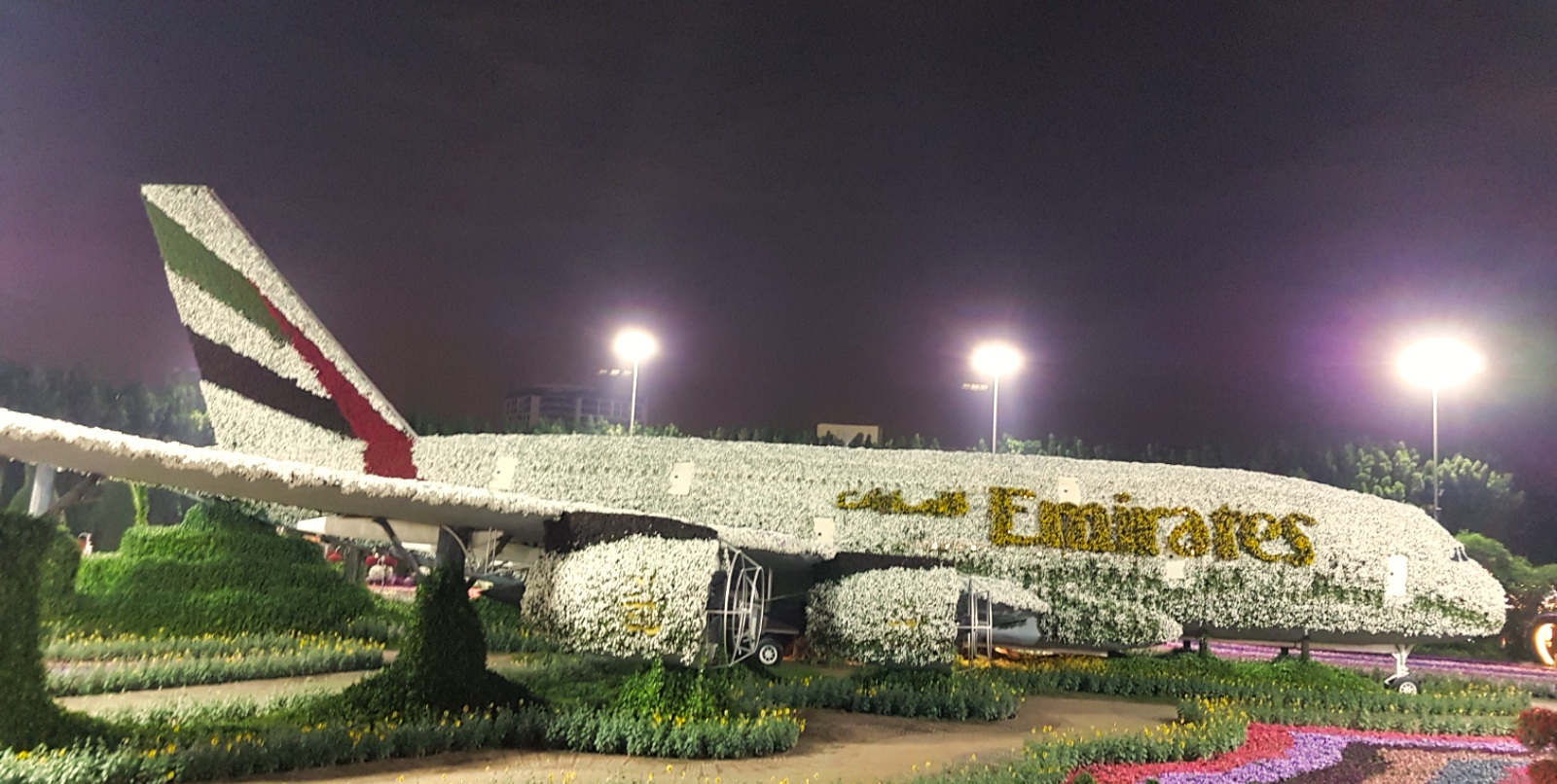 Teddy Bear
A massive Teddy Bear made entirely of flowers brings out the child in every visitor. Standing at a towering height of 12 metres, this floral teddy bear is a beloved attraction, especially among children who visit Miracle Garden in Dubai.
The Teddy Bear, with its vibrant hues and intricate flower arrangement, is a sight that would make even the grumpiest among us break into a smile. As you stand there, looking up at this gigantic teddy with a red heart in his paws, you can't help but marvel at the creativity of talented creators.
Around the Teddy Bear, the Dubai flower park has arranged a series of smaller floral installations that add to the charm of the area. The sight of children running around, their faces alight with joy, is enough to make this spot one of the highlights of Miracle Garden.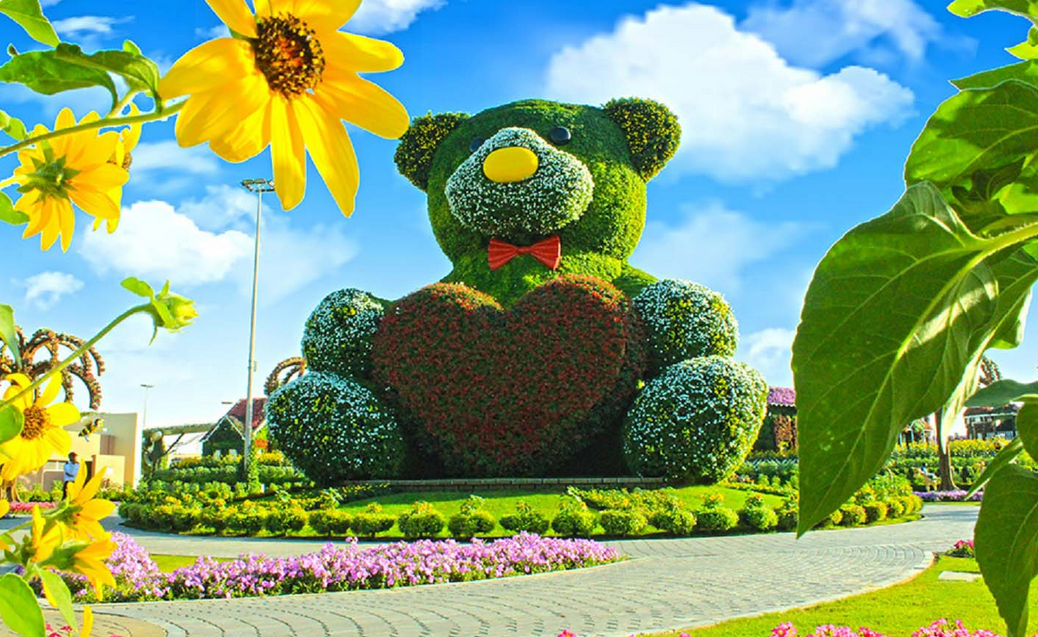 Smurfs Village
Next up on our tour is the Smurfs Village, a delightful corner of Miracle Garden that transports us into the nostalgic world of the Smurfs. This is where childhood memories come alive, surrounded by the charming blue characters many of us have grown to love. The Smurfs Village in this famous flower garden in Dubai is an absolute delight for fans of the iconic comic franchise.
Walking among the mushroom-shaped houses, each adorned with vibrant flowers, you can't help but feel a sense of whimsy. The characters, too, are recreated with remarkable attention to detail, making it feel like you've stepped into a scene from the Smurfs comics.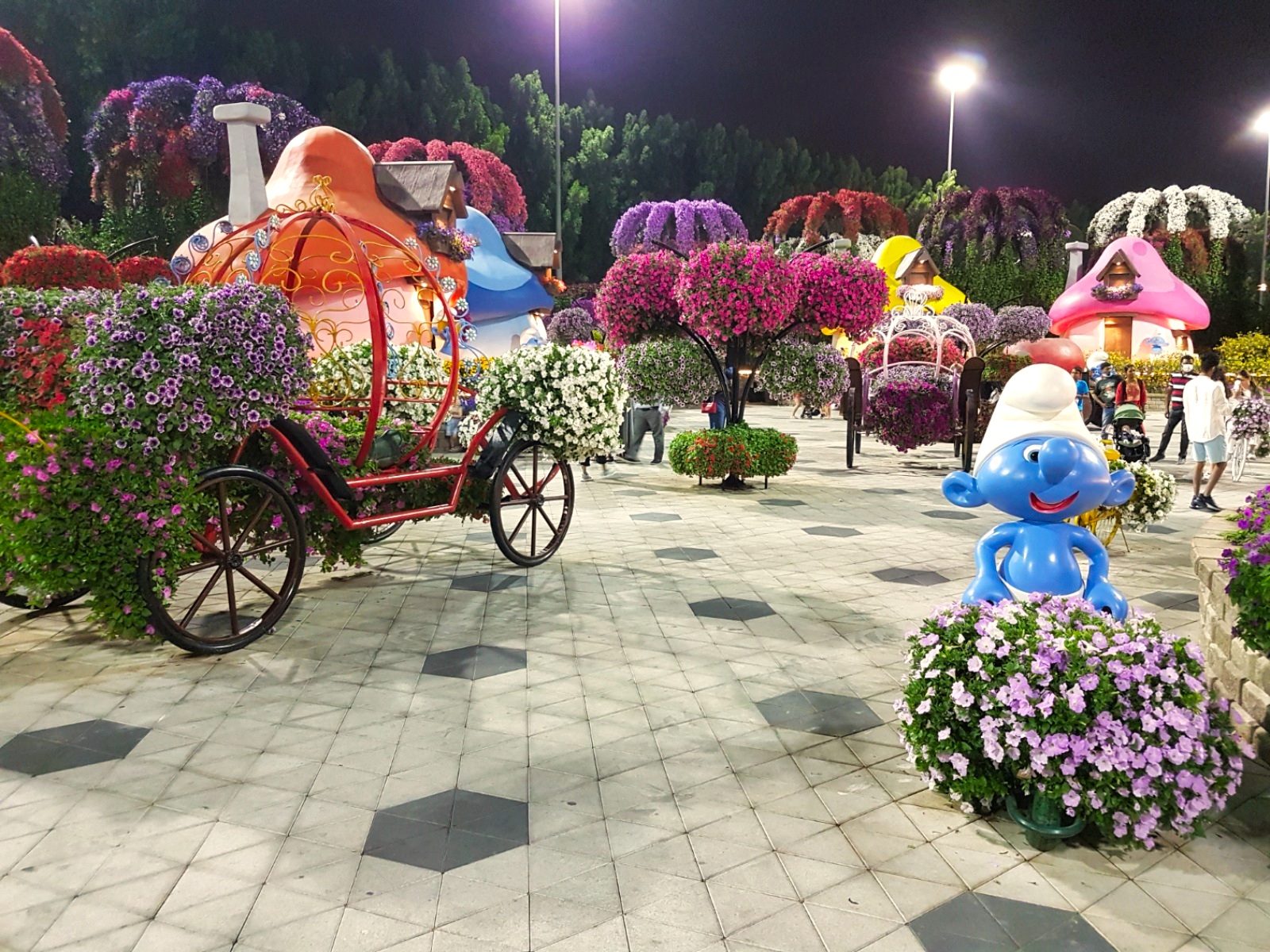 Floral Castle
From the whimsical world of the Smurfs, we move to the grandeur of the Floral Castle. This is where the Dubai Magic Garden truly showcases its flair for spectacle. Standing tall amid the sea of flowers, the Floral Castle is impressive. It's a fairytale dream come true, a castle made entirely of flowers.
The Floral Castle is a sprawling structure, complete with towers, turrets and a drawbridge. It's adorned with a myriad of flowers, each meticulously arranged to create a breathtaking spectacle. As you walk around the castle, you can't help but admire the intricate detail that has gone into crafting this architectural marvel.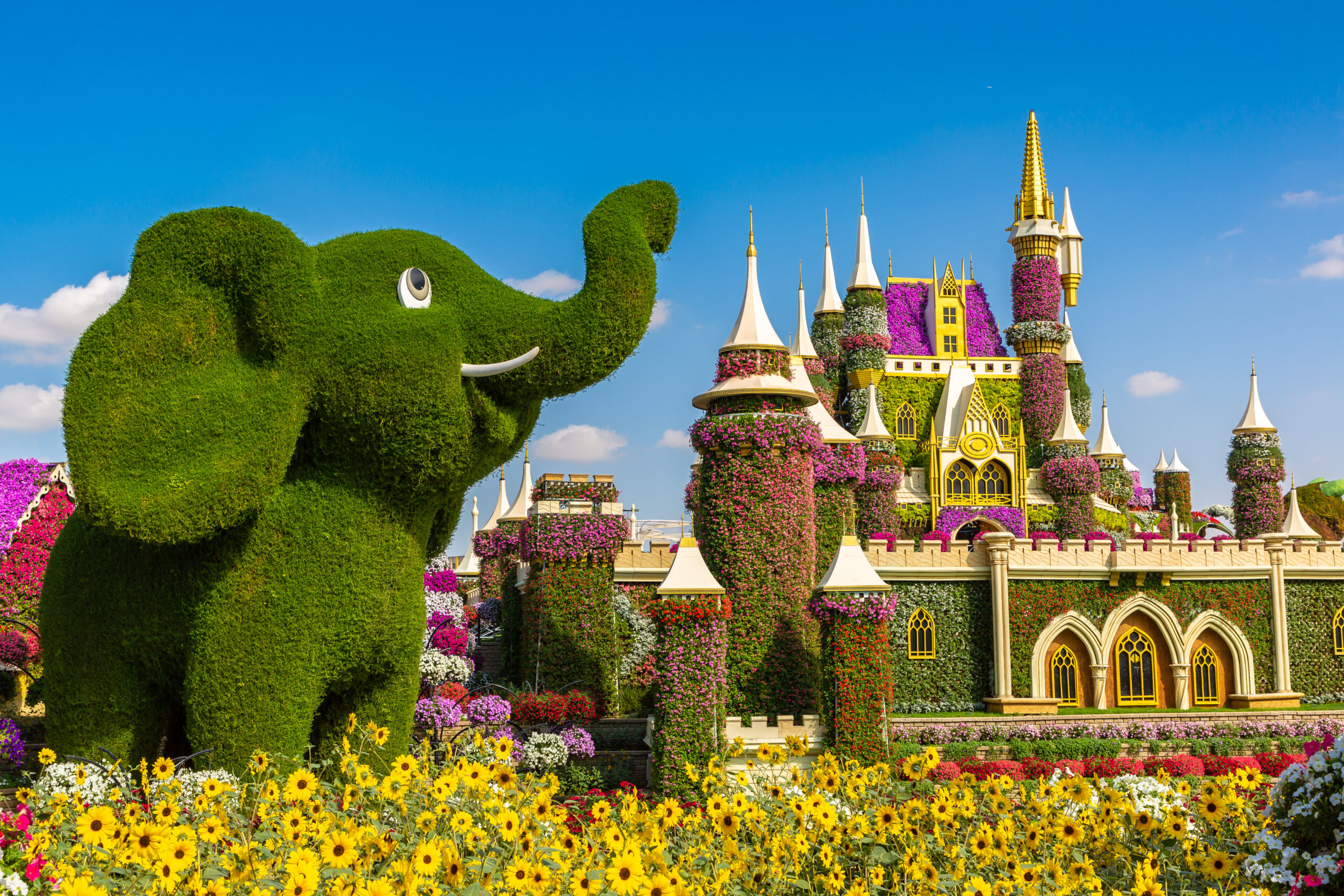 Floral Village
Next, let's visit the Floral Village, a quaint corner of Miracle Garden. Here, it's all about the charm of simplicity. The Floral Village is a collection of cute little houses, each adorned with vibrant flowers.
The Floral Village is a delightful sight, with its narrow lanes and colourful houses. It's a place that brings to mind the charm of small-town life, albeit with a floral twist.
Floral Clock
As we continue our tour, we come across a gigantic Floral Clock at Miracle Garden. The Floral Clock, with its vibrant flowers and functioning mechanism, is a sight that will certainly make you turn on your camera.
The clock, which is 15 metres in diameter, is fully functional and changes design with the season.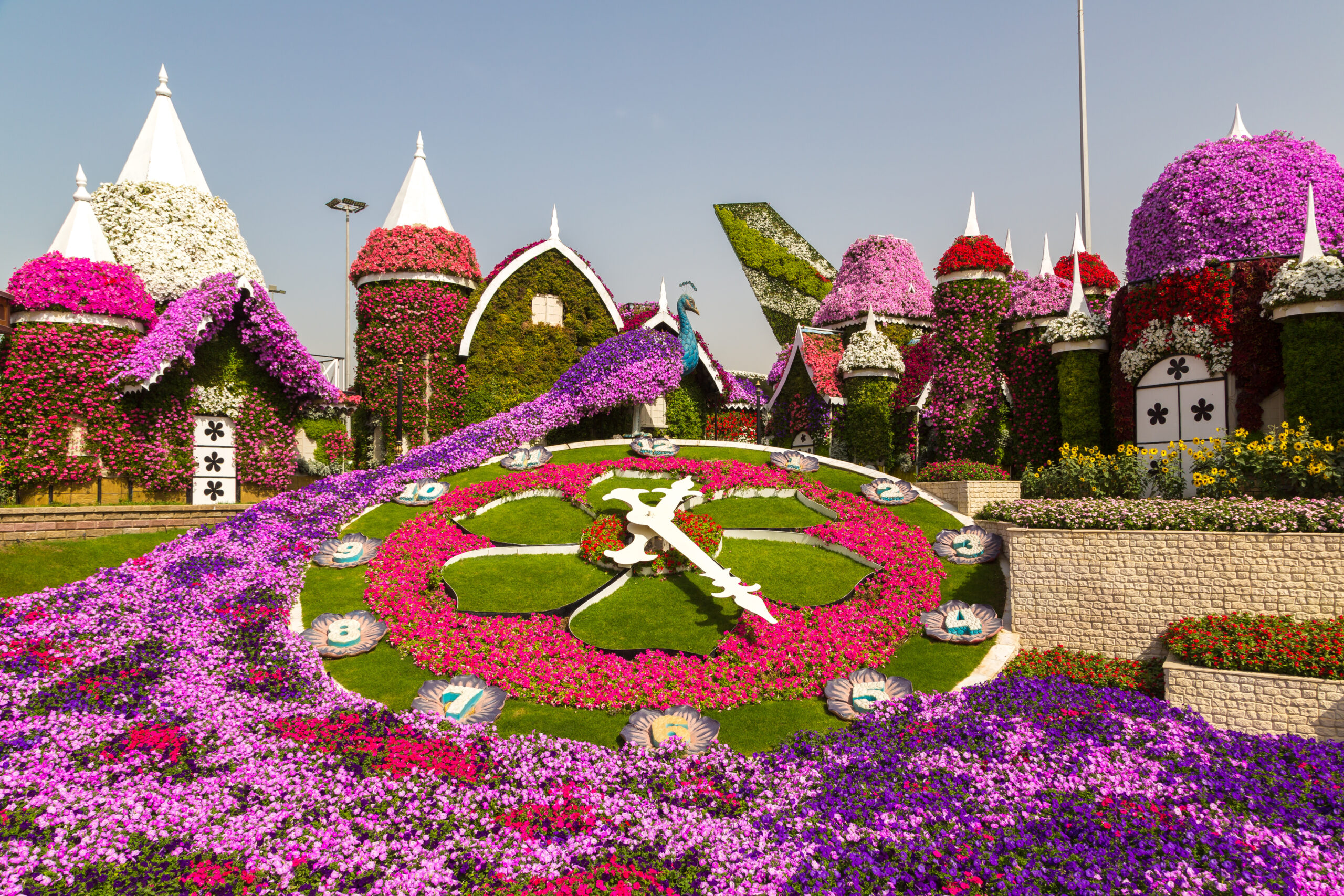 Lake Park
Located close to the Floral Village is the Lake Park. This is the place where vibrant flowers and a serene lake create a lovely combination that leaves you feeling calm.
Walking around the lake, where flower aromas and scents hang in the air, you can also spot pink flamingos graciously moving in the water.
Heart Tunnel
Next Miracle Garden floral installation is a spectacle that's sure to make your heart flutter — the Heart Tunnel. This is where the Dubai flower park showcases its romantic side. The Heart Tunnel, with its vibrant colourful and heart-shaped arches, is a sight that will leave you feeling warm and fuzzy.
Walking through the tunnel, surrounded by vibrant flowers and heart-shaped arches, you can't help but feel a sense of romance. It's a popular spot for couples, who often can be seen taking photographs under the floral arches.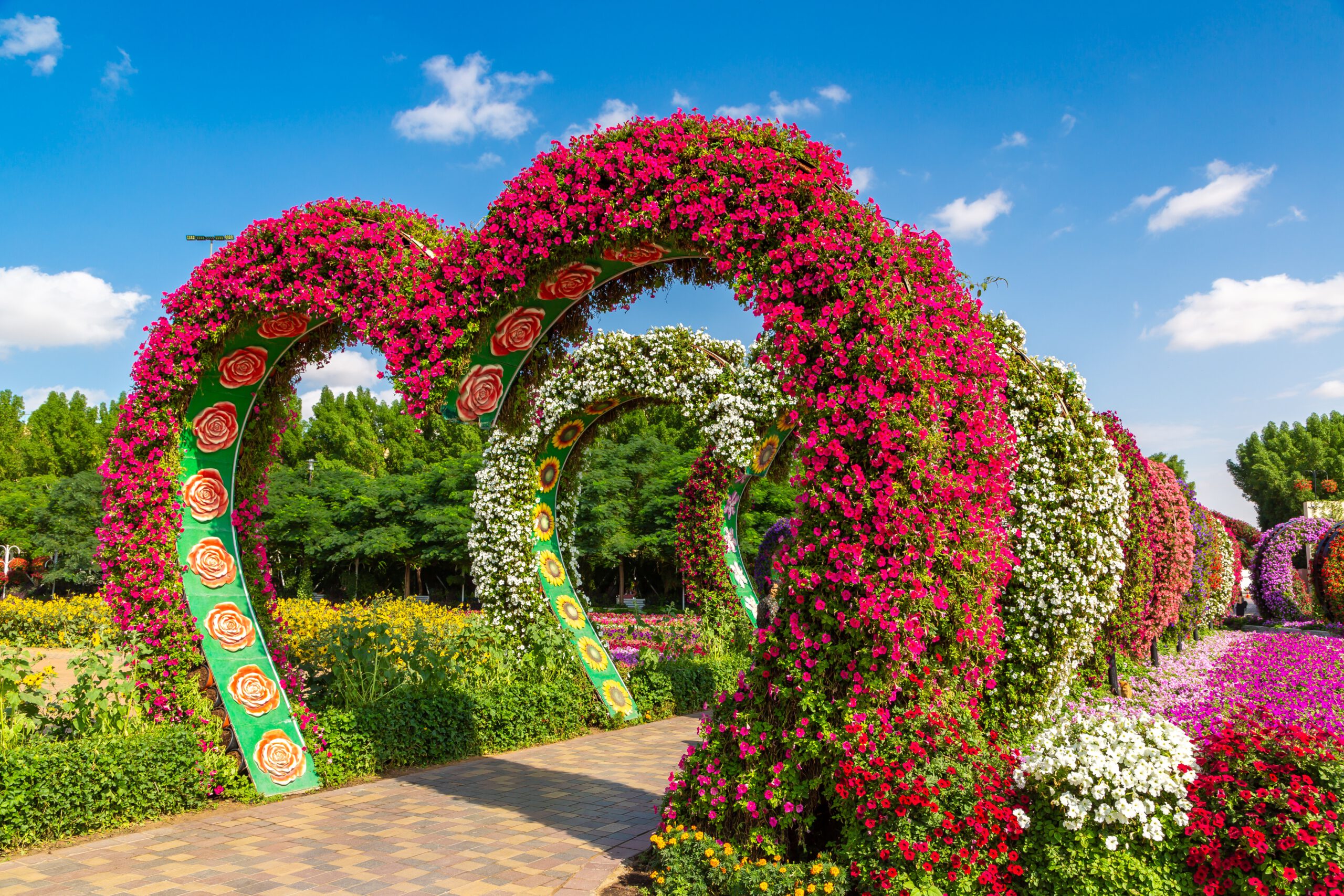 Butterfly Tunnel
From the romantic charm of the Heart Tunnel, we move to the whimsical world of the Butterfly Tunnel. The Butterfly Tunnel, with its butterfly-shaped arches and fragrant flowers, is another popular installation at Miracle Garden, especially among children.
Umbrella Tunnel
The spectacular Umbrella Tunnel is one of the most creative spaces at Miracle Garden in Dubai. The passage is made of colourful umbrellas arranged between plants.
Here, you can take one of the tables to relax in the shade, enjoy a meal and recharge before continuing your tour.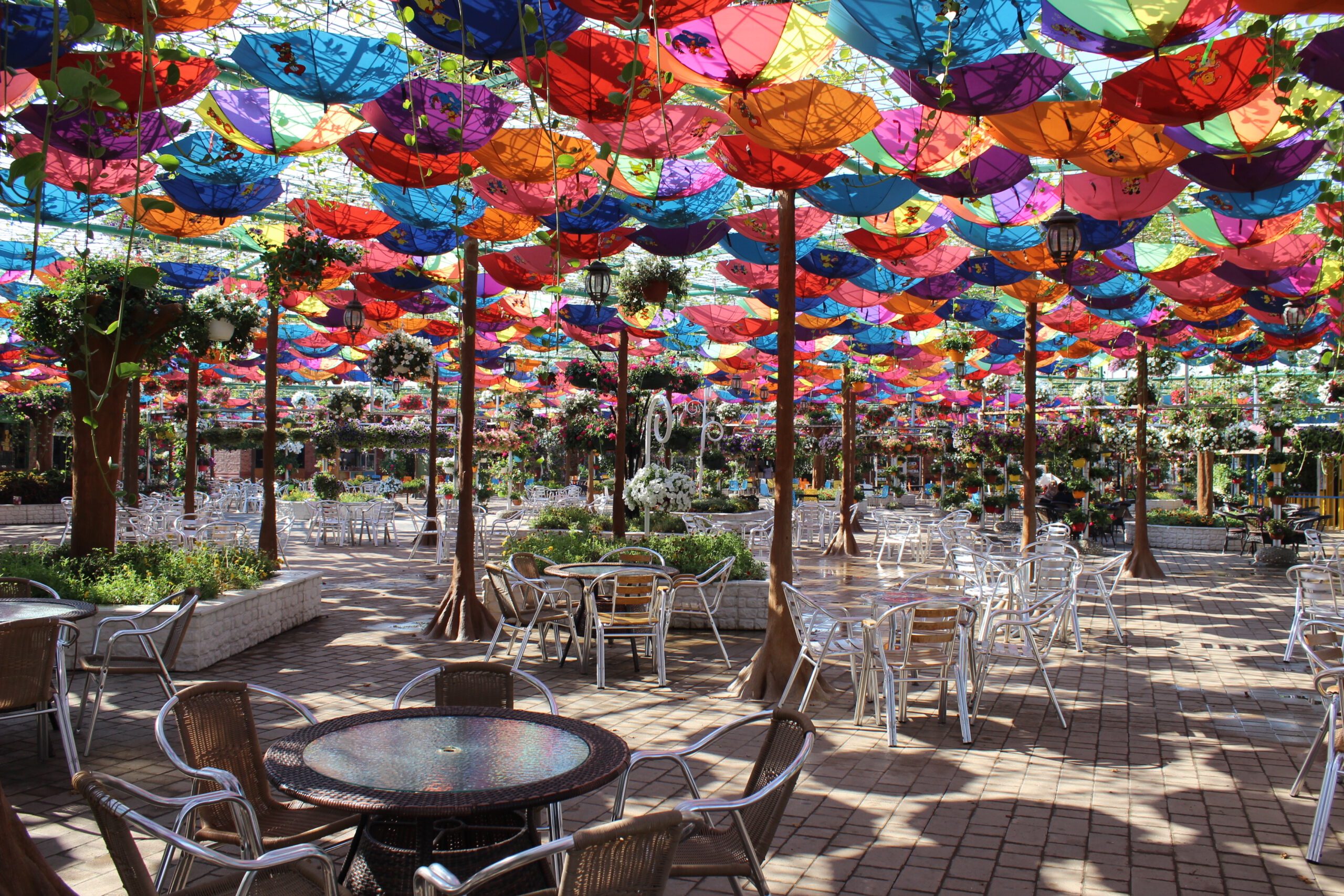 Mickey Mouse
Mickey Mouse at Miracle Garden in Dubai is the floral display that pays tribute to one of the most beloved characters of all time. The Mickey Mouse installation, with its vibrant flowers and iconic silhouette, is surrounded by other well-known Disney characters.
Moreover, what makes this Mickey Mouse famous is that it is the World's Largest Topiary Structure according to the Guinness World Records. It is made of 100,000 flowers and weighs 35 tons.
Sunflower Field
Next on our tour is the Sunflower Field filled with thousands of bright yellow flowers. As you probably know, sunflower heads always follow the sun, so this is a dynamic display that changes throughout the day.
The Sunflower Field at Miracle Garden is a popular spot for visitors, who often can be seen taking photographs among the vibrant sunflowers.
Cabanas
Make some time for a stop at one of the cabanas, with their beautiful colours and comfortable seating. Sitting there, surrounded by flowers, you can relax and take in the beauty of the Dubai flower park without hassle.
Hill Top
Finally, if you want to enjoy a 360-degree panorama visit the Hill Top, the highest point of Miracle Garden in Dubai. This is where the garden truly showcases its grandeur. The Hill Top, with its panoramic view of the entire garden, is a sight that leaves you feeling awestruck.
Standing at this vantage point, overlooking the entire magic flower park in Dubai, you can spot many top attractions, including the Emirates A380, and take in breathtaking views.
I hope you enjoyed this virtual tour. If you got excited and are ready to see the Dubai flower garden with your own eyes, book your tickets via the link below.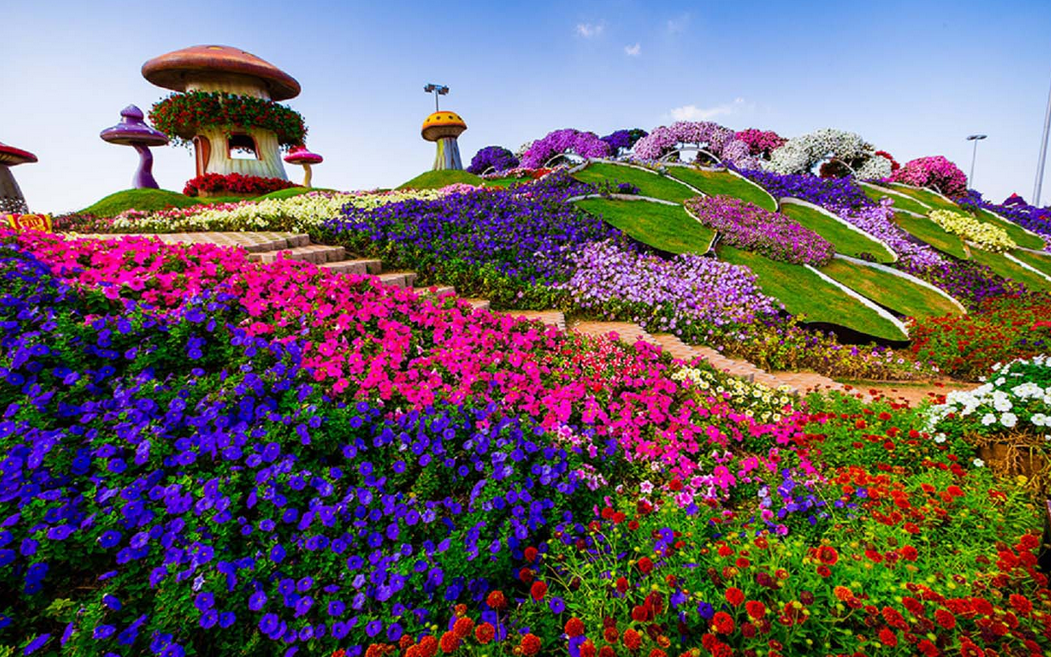 Dubai Miracle Garden tickets
I recommend buying Dubai Miracle Garden tickets in advance online. A Dubai flower garden ticket gives you access to all the park's attractions. Remember, that to visit the nearby Dubai Butterfly Garden you need to pay a separate entrance fee. So how much is a Miracle Garden ticket?
Dubai Miracle Garden ticket price: AED 95 per adult, AED 80 per child (3 to 12 years), kids under 3 and people with disabilities can enter for free (proof required)
Book you Dubai Miracle Garden tickets here
What is the best time of the day to visit the flower park
When is it better to visit Miracle Garden in Dubai? Choosing the best time to visit Dubai Miracle Garden depends largely on your preferences, but I can give you some tips. If you're a fan of breezy mornings and love to watch the flowers in the soft morning light, then the early hours after opening might be your best bet. This is a great time to take beautiful photos when the park's true colours come to life.
For those who prefer a less crowded experience, mid-afternoon on weekdays is a good time. The garden is usually less crowded during these times, and you can take your time exploring the various displays at your leisure. However, it will be rather hot which can affect your experience. Remember to stay hydrated and take breaks in shady spaces.
Have Fun Dubai's Tip: if you want to witness the garden in a different light, literally, the evening hours are magical. I love coming to Miracle Garden at the end of the afternoon when the heat is less scorching. You can still first see this botanical garden in Dubai in daylight. Afterwards, as the sun sets and the garden lights up, the atmosphere becomes enchantingly beautiful and the scents more intense.
Exploring Dubai Miracle Garden at night
Exploring the so-called Dubai Wonder Garden at night is a mesmerising adventure. As soon as the sun sets behind the horizon, the garden transforms into a luminous wonderland, with twinkling lights illuminating the floral displays and walkways.
The vibrant colours of the flowers juxtaposed against the night sky create a surreal and magical atmosphere. The garden's lighting design accentuates the beauty of the floral displays, making them even more impressive.
In addition, many of the garden's attractions, like the floral clock and Disney Avenue, come alive at night, offering a whole new perspective. The garden also hosts various night-time events, including occasional concerts and light shows, adding to the overall charm and excitement.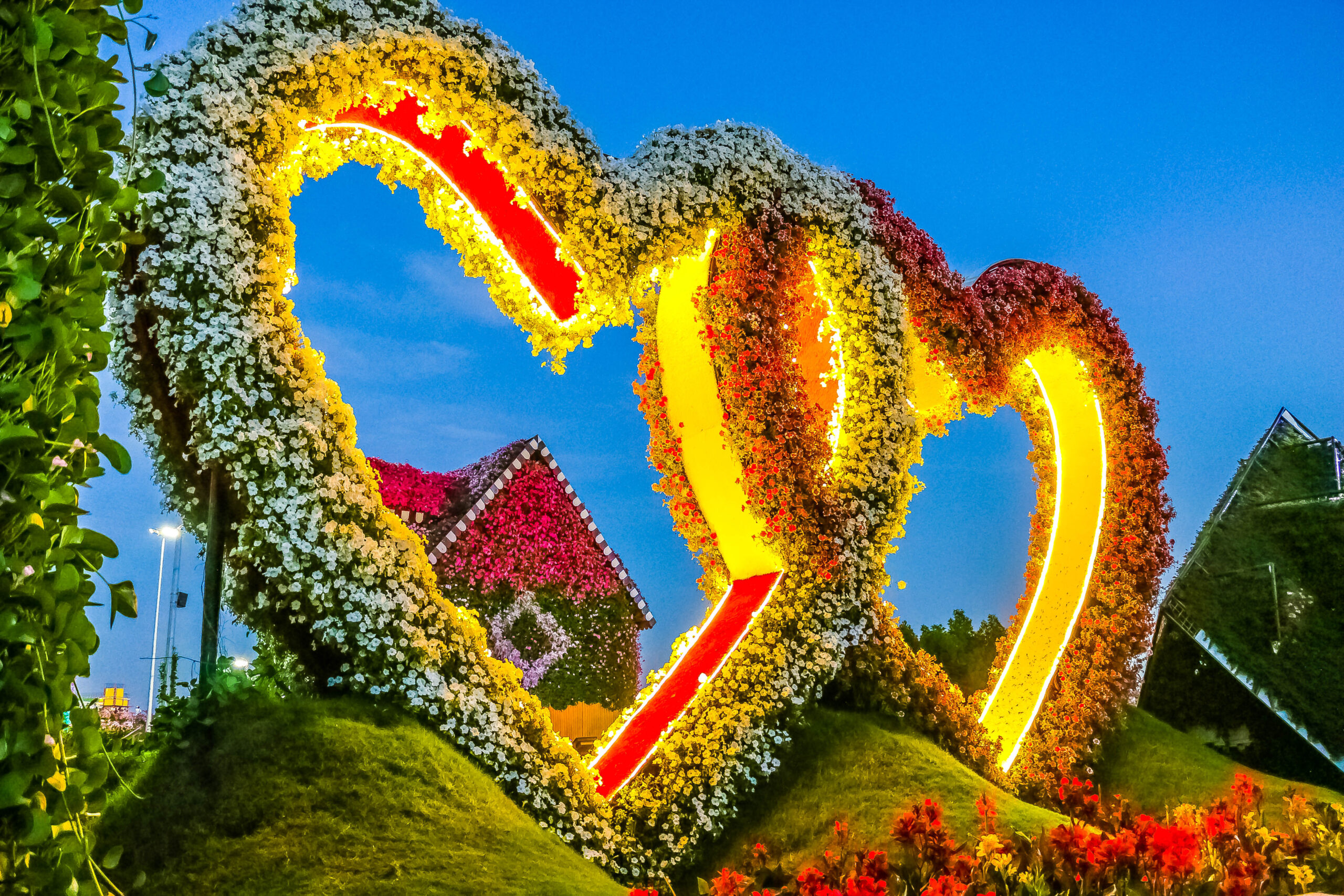 Dining and shops
Miracle Garden in Dubai boasts 30 dining vendors, offering a range of cuisines to cater to diverse tastes. Whether you're in the mood for a quick snack, a refreshing drink or a hearty meal, you'll find plenty of options.
The Cabana-style dining area is a popular spot, offering a relaxed setting amidst the floral displays. Moreover, you will find several kiosks and stalls selling snacks, ice cream, candies, fresh juices and other beverages.
As for shopping, the Dubai flower garden's retail stores offer a range of products, from souvenirs and gifts to gardening supplies. Whether you're looking for a memento of your visit, a gift for a loved one or something to spruce up your own garden, you'll find it here.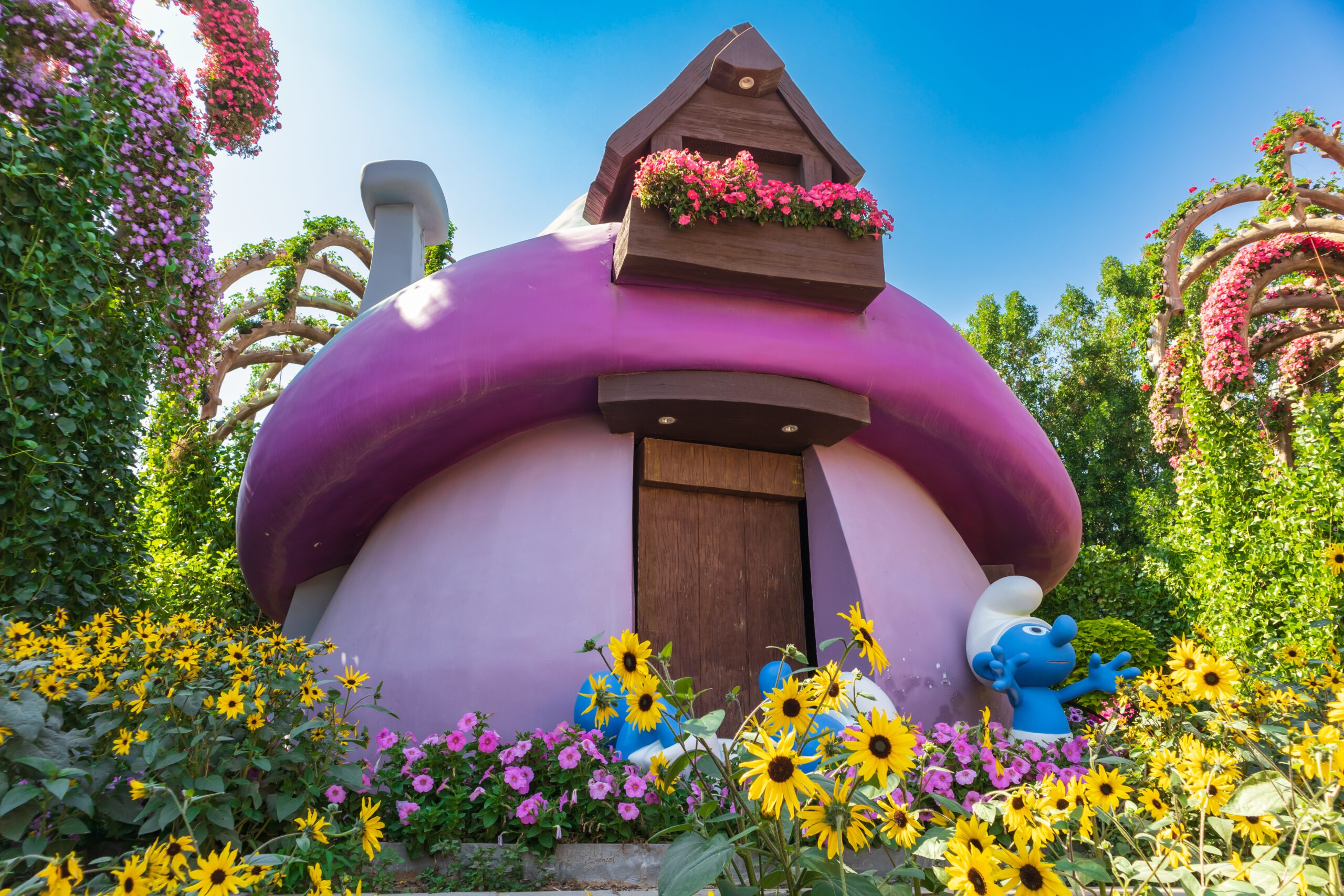 Timings
The garden's opening hours depend on the season, with extended hours during the cooler winter months. So, whether you're an early bird or a night owl, the garden accommodates your schedule.
Dubai Miracle Garden opening hours: Monday to Friday 09:00 to 21:00, Saturday and Sunday 09:00 to 23:00
Location
Where is Miracle Garden located?
Dubai Miracle Garden address: Al Barsha South 3, Al Barsha, Dubailand, Dubai, United Arab Emirates
How to get to Dubai Miracle Garden
Dubai Miracle Garden is not located centrally, but there are several transportation options.
By bus: Take a seasonal RTA bus 105 from the Mall of the Emirates metro station (red line) to Dubai Miracle Garden
By car: Plenty of free parking spaces available
By taxi: Taxi is one of the most convenient transportation options to or from the park (beware of private taxis near the park exit and take only official metered taxis to avoid extra costs)
Other attractions and things to do nearby
There are several other attractions and activities you can enjoy in the vicinity of Dubai flower park:
Dubai Butterfly Garden: Located next to Miracle Garden, Dubai Butterfly Garden is home to 15,000 colourful flying beauties. It is the largest covered butterfly park in the world. Book your Dubai Butterfly Garden tickets here
Dubai Global Village: Just a 15-minute drive away, you can find Dubai Global Village, a cultural fair featuring pavilions from different countries, offering food and shopping. Moreover, you can look forward to live shows, fireworks, theme parks and other entertainment. Global Village is also open from October to April, so tickets are only available seasonally. Book your Dubai Global Village tickets here
IMG Worlds of Adventure: Explore IMG Worlds of Adventure, the world's largest indoor theme park, offering thrilling rides, games and entertainment for all ages. Book your IMG Worlds of Adventure tickets here
Arabian Ranches Golf Club: Enjoy a round of golf at the Arabian Ranches, a prestigious golf club offering a challenging course and excellent facilities.
Cityland Mall: A shopping mall with a botanical concept, featuring a central park surrounded by shops and restaurants. It is located close to Dubai Global Village. I would not recommend choosing it as your main destination, as the mall is still under development, but it is good for food shopping at Carrefour without crowds.
FAQs
Is Miracle Garden in Dubai open now?
It depends on the season when you are asking it. The Dubai flower garden is usually open from October to May, as these months offer the most conducive climate for the flowers to bloom. Miracle Garden's standard opening hours are from 09:00 to 21:00, but it can close later seasonally.
Is Dubai Miracle Garden free?
Unfortunately, the answer is no. Only children under 3 and people with disabilities can enter for free when presenting appropriate proof.
How big is Miracle Garden in Dubai?
Miracle Garden, alternatively known as Dubai Magic Garden or Dubai Wonder Garden, is an extraordinary 72,000 square metre floral spectacle.
How many flowers does the park have?
Miracle Garden in Dubai boasts an astonishing 150 million flowers! This famous flower garden in Dubai is full of colours and fragrances, with flowers of various varieties, shapes and sizes. From petunias to marigolds and geraniums, the diversity is mind-boggling.
How long will it take to visit Miracle Garden in Dubai?
Considering the size and the number of attractions, you can spend from 1 hour for a quick visit to around 2-3 hours with breaks and photo stops. Trust me, once you step into the world of Dubai flower park, you wouldn't want to leave in a hurry.
Can I have a professional photo session at the park?
Yes, it is possible, but you need approval. Reach out directly to the park's management office to get approval.
How to reach Miracle Garden by metro?
Unfortunately, there is currently no direct metro connection. You need to take the red line and get down at the Mall of the Emirates metro station. From there, you can catch a taxi or take seasonal bus number 105, which will take you directly to Miracle Garden. The bus journey should take around 20-30 minutes depending on traffic.
How far is Miracle Garden from the Dubai Mall?
Miracle Garden is approximately 20 kilometres away from the Dubai Mall, making it a 20-30 minute drive depending on traffic and the route.
Alternatively, take the Dubai Metro (red line) from the Dubai Mall to the Mall of the Emirates station and then catch bus number 105 (seasonal) to Miracle Garden. This option is cheaper than taking a taxi, but you will spend more time and will need to have a NOL transportation card to pay for your trip.
Prepare for your Dubai trip
Did you find this post helpful? Then click that little heart below and share it with your friends and family. Have fun in Dubai!